In collaboration with Tasty, Easy Lamb.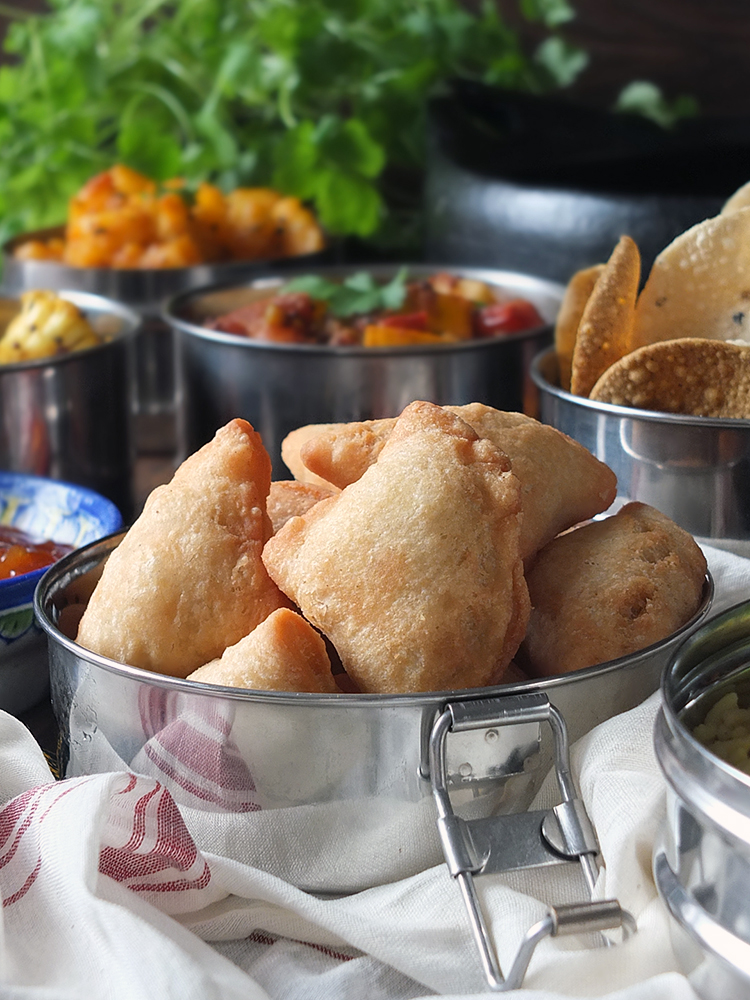 It's National Curry Week! The week of 9-15 October 2017 has been designated the week to celebrate all that is wonderful about curries. As an aside, it's also National Chocolate Week (isn't this the best week ever!).
To help celebrate National Curry week the team over at Tasty, Easy Lamb asked me to come up with an Indian tapas-style recipe featuring lamb. I pondered for awhile, and then, while out on a long cycle one sunny day, was struck by the idea of making samosas.
It's been absolutely ages since I've made samosas, and I don't know why as my family love them. To bring things up a notch and make the samosas more tapas-like I thought I'd make them miniature in size, and this mini lamb, pea and potato samosas recipe was created!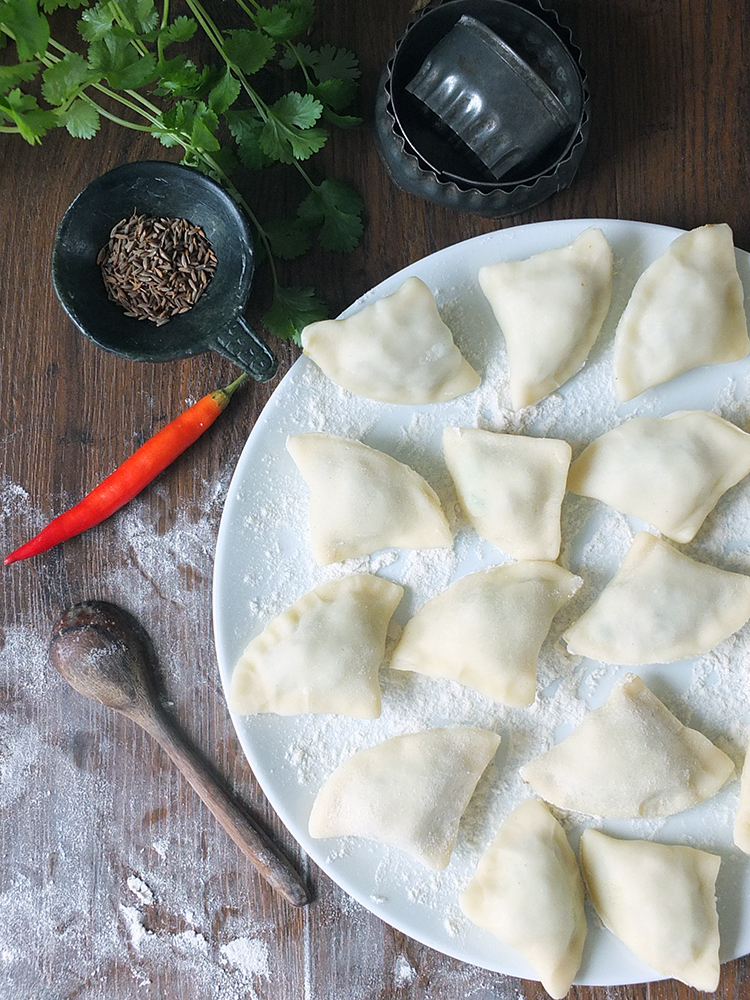 Samosas are actually remarkably easy to make, especially if you buy ready-made pastry. I've used shortcrust pastry for mine, but you could use filo pastry if you wished. Shortcrust pastry is really easy to use, and my kids love it, so I've opted for that version for this recipe.
The trick is to roll the pastry out as thin as you can so that it doesn't tear. Cut the pastry into rounds, and then cut each circle in half to make two semi-circles. Using a finger dipped in water, moisten the cut edges all around and pinch the straight sides together to make a small cone shape.
Spoon in a little of the lightly spiced lamb filling and then carefully pinch the top edge closed.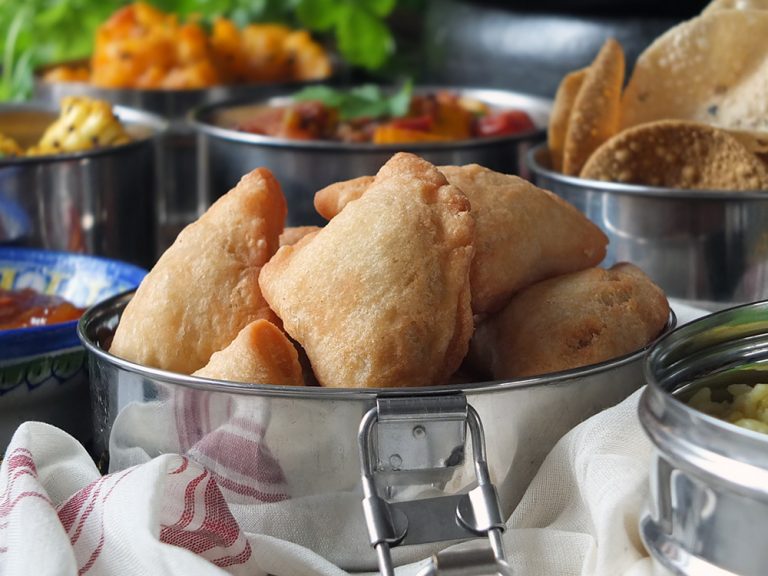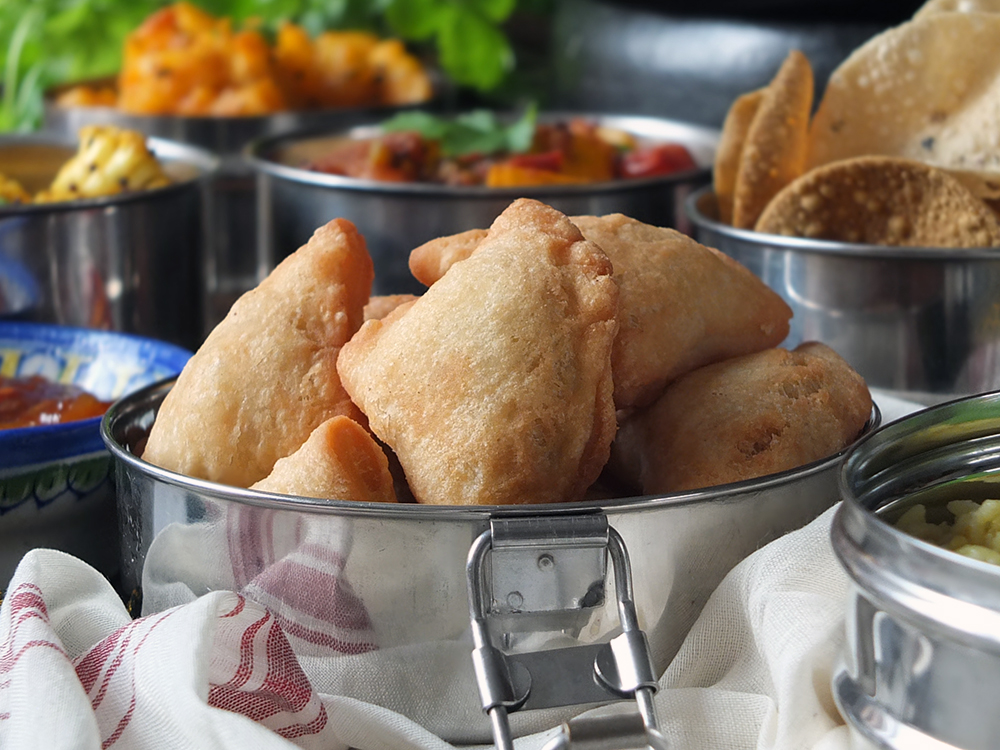 Samosas are traditionally fried or baked, and for my recipe, I've deep fried them in sunflower oil. You can, if you want, brush them with some oil or melted butter and bake them at 180ºC/350ºF/gas 4 for around 25-30 minutes, until golden brown.
If you're deep frying, I would highly recommend using a digital thermometer to keep an eye on the temperature of the oil. If the oil is not hot enough you'll get soggy samosas, and you risk a fire if it's too hot. You want it between 165 – 175 C.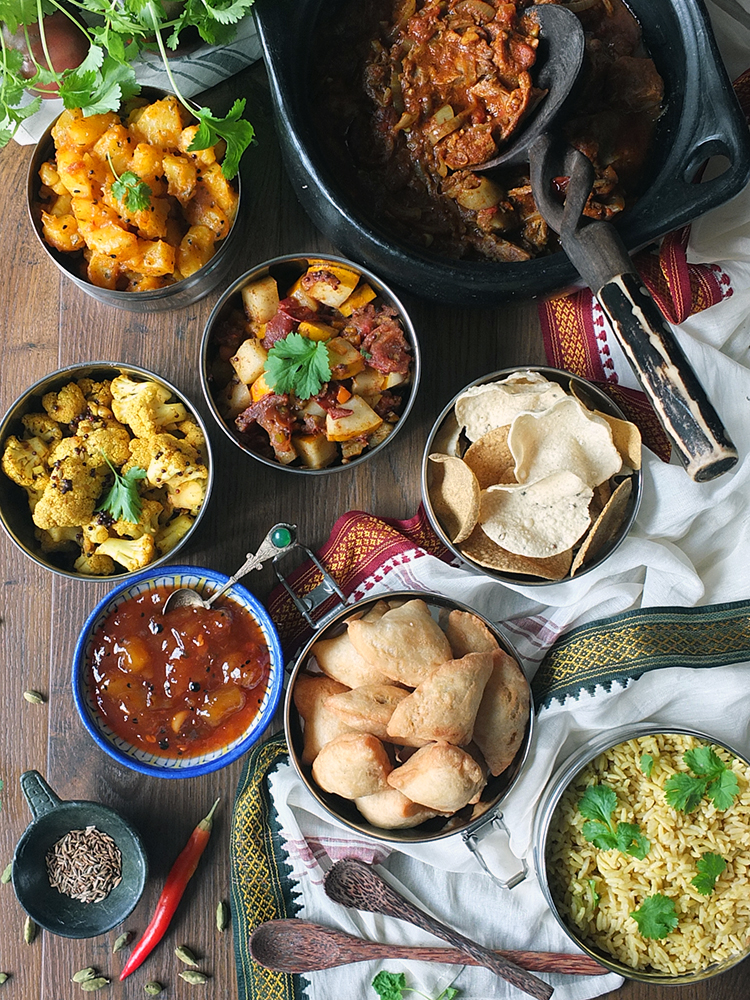 Samosas can be eaten hot, right away, or served at room temperature. Any leftovers work really well in packed lunches the next day.
Serve your samosas with some mango chutney and a selection of other Indian dishes – I made Bombay potatoes, a cauliflower and fennel curry, a kheera cucumber and tomato curry, rice and a lamb madras to go with mine.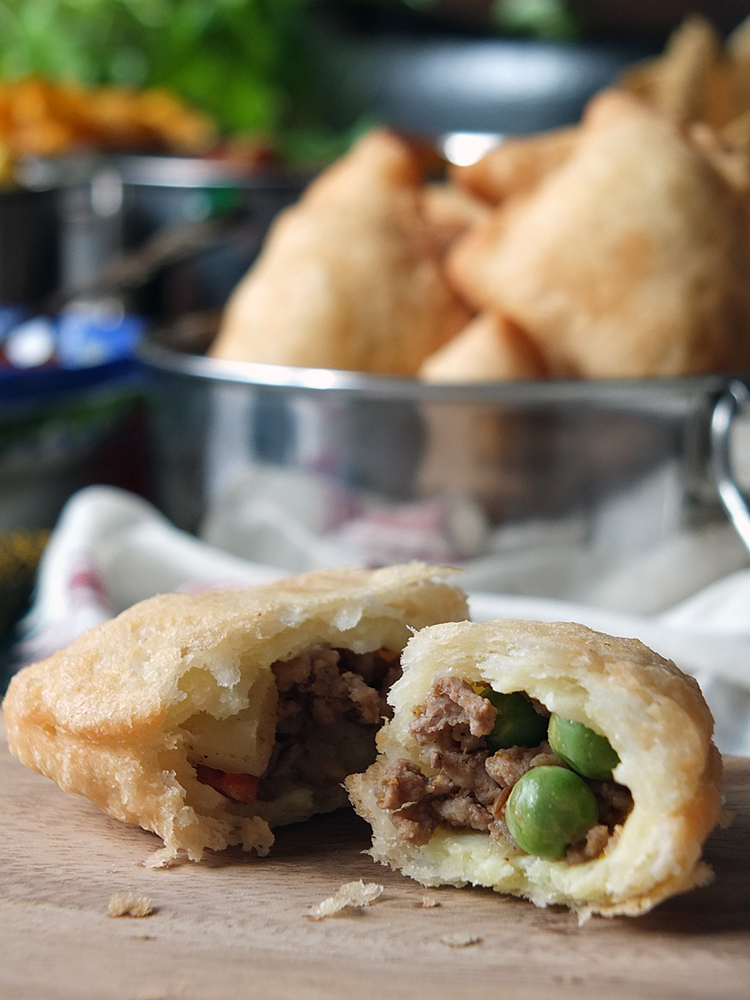 I've also kept my samosas more on the mild side, so the whole family could enjoy them. While I enjoy more of a kick in my recipes, my husband and children prefer milder flavours.
If you want to up the heat a bit, add a bit more chilli to the mixture.
How will you be celebrating National Curry Week? What's your favourite curry? Let me know in the comments!
For more lamb recipe inspiration visit the Tasty Easy Lamb website, and follow them on Facebook, Twitter or Instagram.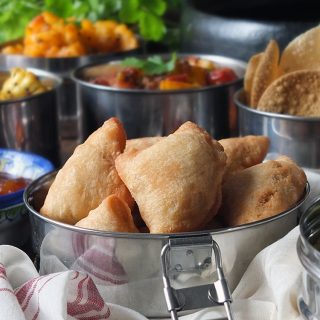 Mini Lamb, Potato & Pea Samosas
Mini samosas with lightly spiced lamb mince, fresh peas and chunks of potato. Perfect for an Indian tapas, or even lunch boxes!
Print
Rate
Affiliate Links
This recipe card may contain affiliate ingredient and equipment links. As an Amazon Associate I earn from qualifying purchases.
Instructions
Heat sunflower oil in a frying pan and fry the cumin seeds until they begin to pop and smell lovely and toasted. Add the onion and chilli and cook for a few minutes, until the onion begins to soften.

Add the lamb mince and cook until browned.

Stir in the garam masala and the peas. Cook for a further minute and remove from the heat to cool completely.

Cut your cool, boiled, peeled potatoes into 0.5 cm dice and fold into the lamb mixture.

Bring your shortcrust pastry to room temperature and roll out as thin as you can.

Cut the pastry into 10 cm circles, and divide each circle in half with a sharp knife.

Moisten all the edges of the half circle with a finger dipped in a bowl of water. Pinch the straight edge together to make a cone shape.

Add a teaspoonful of the cooled lamb, pea and potato mixture, and carefully pinch the top edges closed. Make sure you pinch well, because if you don't they will open when you fry them.

Pour enough sunflower oil into a heavy based pan to measure a depth of 4 cm. Bring the temperature up to 175 C and carefully drop the mini samosas, 6-8 at a time, into the oil.

Deep fry until the samosas are golden browned all over. Remove with a slotted spoon and transfer to some paper towel to drain.

Bring the oil temperature back up to 175 C and repeat with the remaining samosas.

Serve warm or at room temperature.
Notes
You can buy lamb mince in the supermarket usually in 500-gram packets, so why not double the filling recipe and freeze the extra for another time? That way all you need to do is roll out the dough, assemble and fry!
You can also bake the samosas in the oven - brush them with some oil or melted butter and bake them at 180ºC/350ºF/gas 4 for around 25-30 minutes, until golden brown.
Environmental Information
OTHER LAMB CURRY RECIPES YOU MIGHT LIKE
Ceylon Lamb Curry
Mamta Gupta's Keema Meatball Curry
Mamta's Delicious Lucknowi-Style Lamb Biryani
Lamb Keema Nachos
Slow Cooker Lamb Curry
Slow Cooked Lamb Massaman Curry
Laal Maas – a Fiery Lamb Dish
makai ka soweta – Lamb & Sweetcorn Curry
Slow Cooker Lamb Shank Rogan Josh
Pulled Lamb Curry
Achari Mutton Curry
OTHER CURRY RECIPES YOU MIGHT LIKE
Kheera Cucumber & Tomato Curry
Butternut Squash & Chickpea Curry
Lentil & Nettle Curry
Cheap & Easy Beef Curry
Easy Chickpea & Carrot Curry
Chicken Murgh Makhani
Chicken Curry, Jeera Rice & Yoghurt Side
This is a commissioned recipe for Tasty, Easy Lamb. Thank you for supporting the brands who make it possible for me to do what I love: mess up my kitchen and share recipe stories!
[color-box]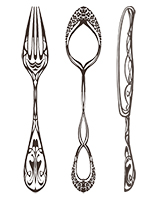 Have you made this recipe?
Take a photo and tag @tangoraindrop or use the hashtag #elizabethskitchendiary and share on Instagram and Twitter. It would make my day to see your creations!
[/color-box]