In collaboration with Aruba Tourism.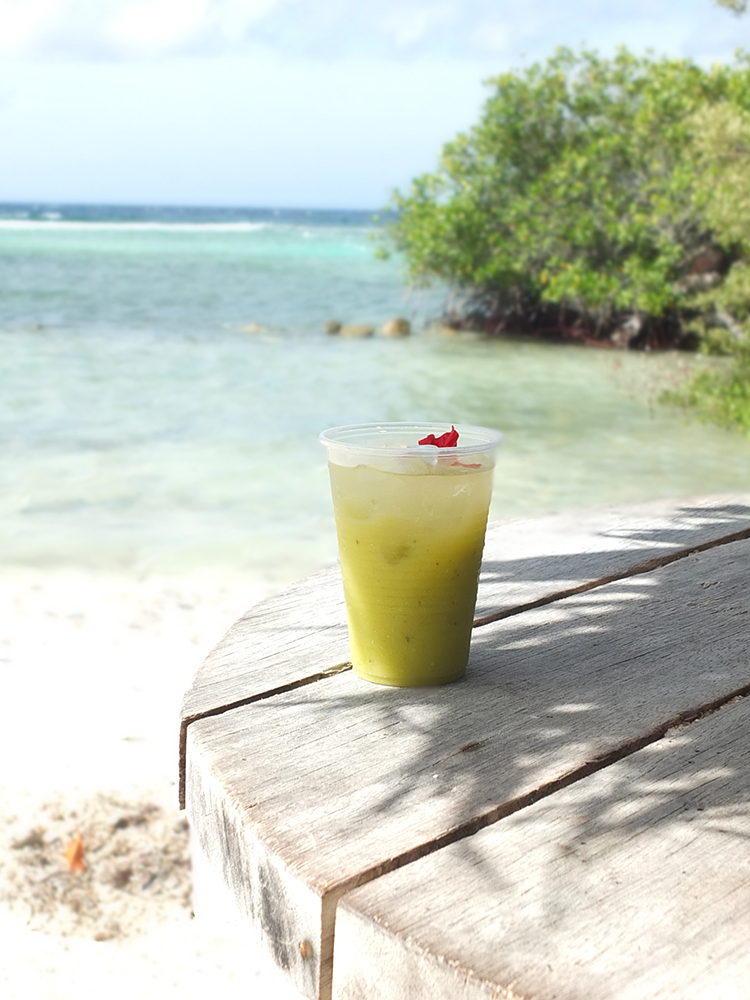 Good morning from the sunny Caribbean!
It's currently 6:30 in the morning here in Aruba, and I'm just so excited to share this recipe with you that I couldn't wait until I got home to blog it!
I arrived on the tiny island of Aruba late Wednesday afternoon after a very pleasant 10-hour trans-Atlantic flight with KLM, and, after a wonderfully restful sleep in the Renaissance Aruba Beach Resort, found myself early Thursday morning walking through mangroves at Mangel Halto, on the southeast coast of the island, waiting to meet a local forager – Frank Kelly.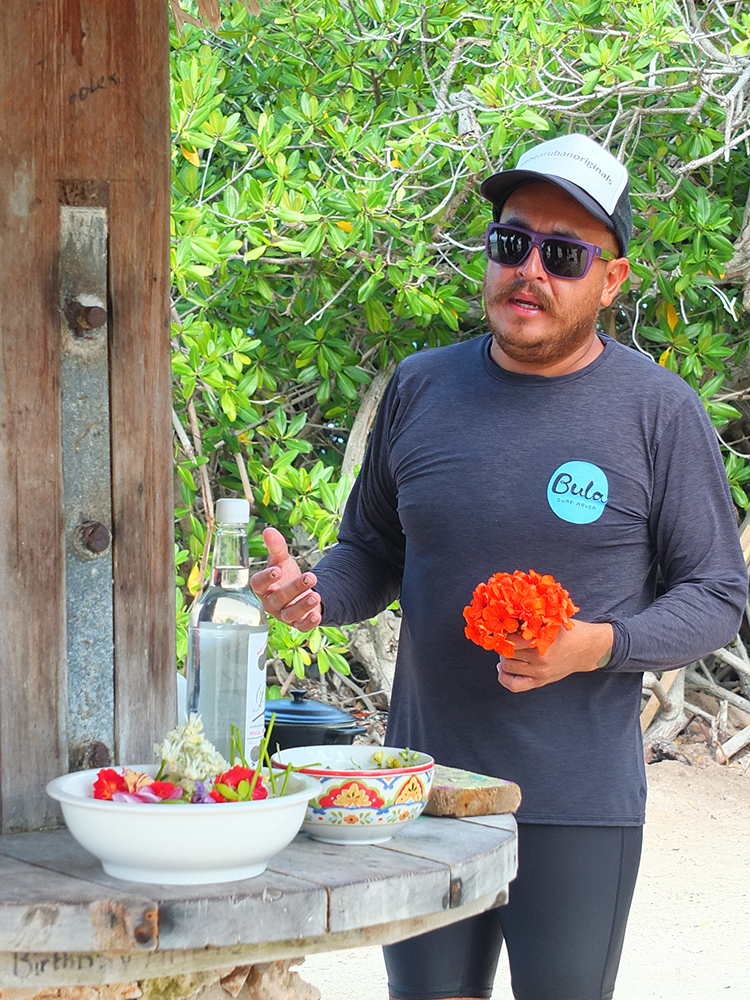 Standing in the shade of a beach hut with the powdery white sand of the beach beneath our feet and Venezuela visible on the horizon, we met Frankie as he climbed out of the sea in his wetsuit with a handful of edible seaweed clutched in his hand.
What a character Frankie is! A natural born story-teller, he learned the old ways of foraging from his grandmother who taught him the medicinal properties of local plants while he was growing up.
Now, Frankie has teamed up with local restaurant White Modern Cuisine, supplying them with freshly picked flowers, petals, buds and seaweed to incorporate into their seasonal menu, ingredients we for to taste test on the beach ourselves. There will be more about that later as I ended up dining twice at that restaurant on my first full day in the Caribbean.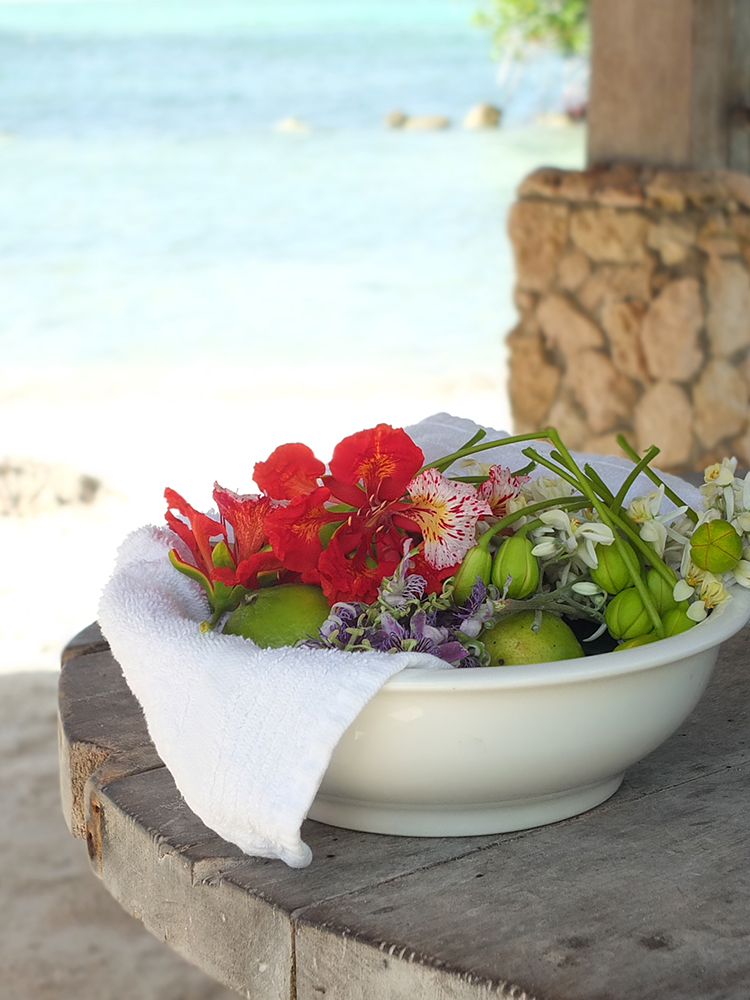 It was quite remarkable how flavoursome the flowers were – from incredibly sweet to bitter and sour, and even salty in some cases.
Afterwards, Frank served up one of his popular rum cocktails which he's named Abaco, after a local colourful green parakeet. A deliciously refreshing drink with white Caribbean rum, a squeeze of fresh lime juice and, unusually, pureed avocado! It's very much like an avocado daiquiri, but Frank's put his own twist on the drink by adding some fresh wild basil leaves to the mixture and topping it with a wildflower petal.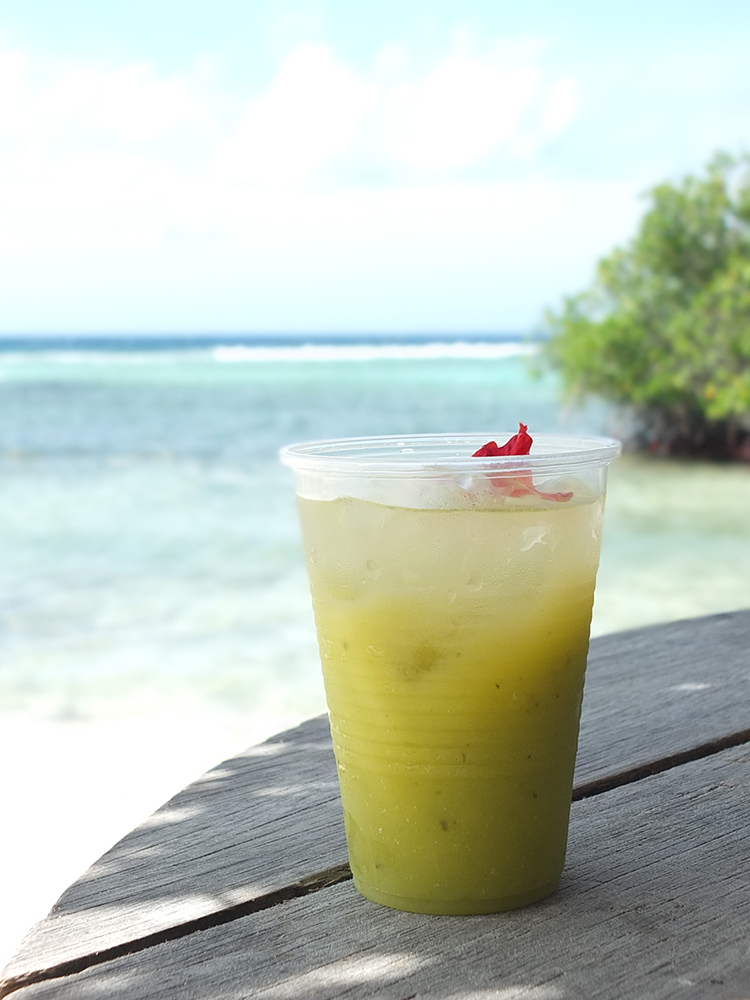 After our drinks, Frank dished up one of his specialities for us to taste test: octopus he'd caught just off the coast yesterday served with a fried pumpkin and polenta cake. Served with a dollop of sauce he'd made it was a rather delicious experience under the hot sun.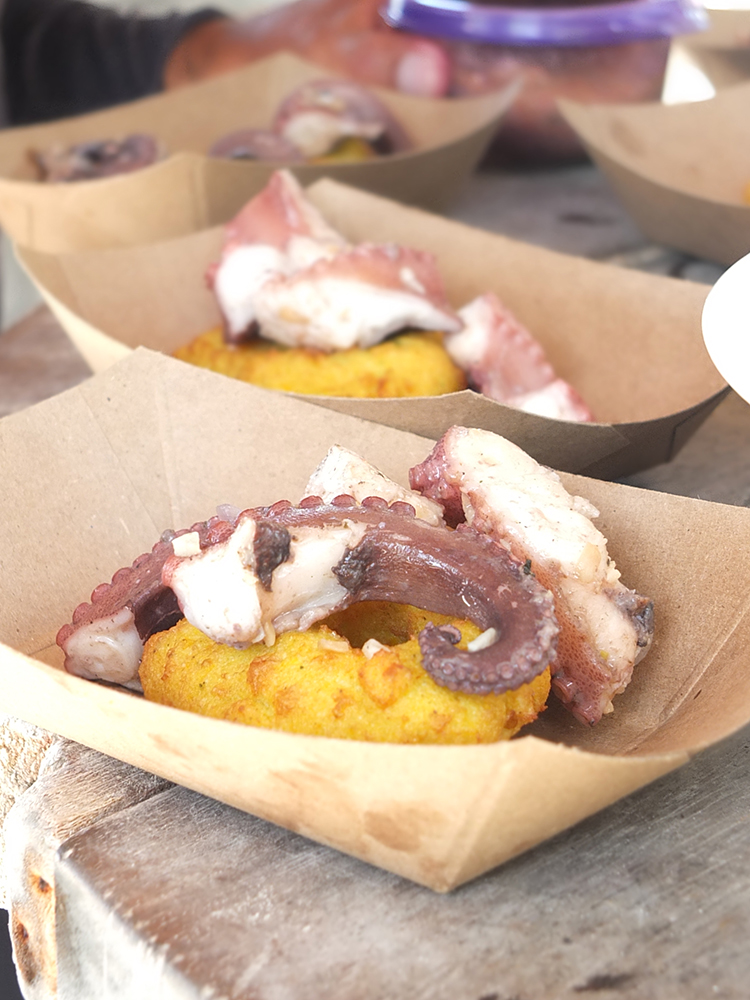 This is the first time I have ever been to the Caribbean, and I have to say it truly is paradise. A few observations already: the sun rises and sets at very nearly 6:30 am and pm every day as we are so close to the equator. It comes straight up, across the sky and straight down with a very short, but stunningly beautiful, period of twilight.
The wildlife is amazing! More photographs and blog posts will follow, but I've seen pelicans, frigate birds and all manner of other birds I couldn't identify. And the lizards! They're everywhere, remnants of their dinosaur ancestors keeping their place on this little bit of paradise.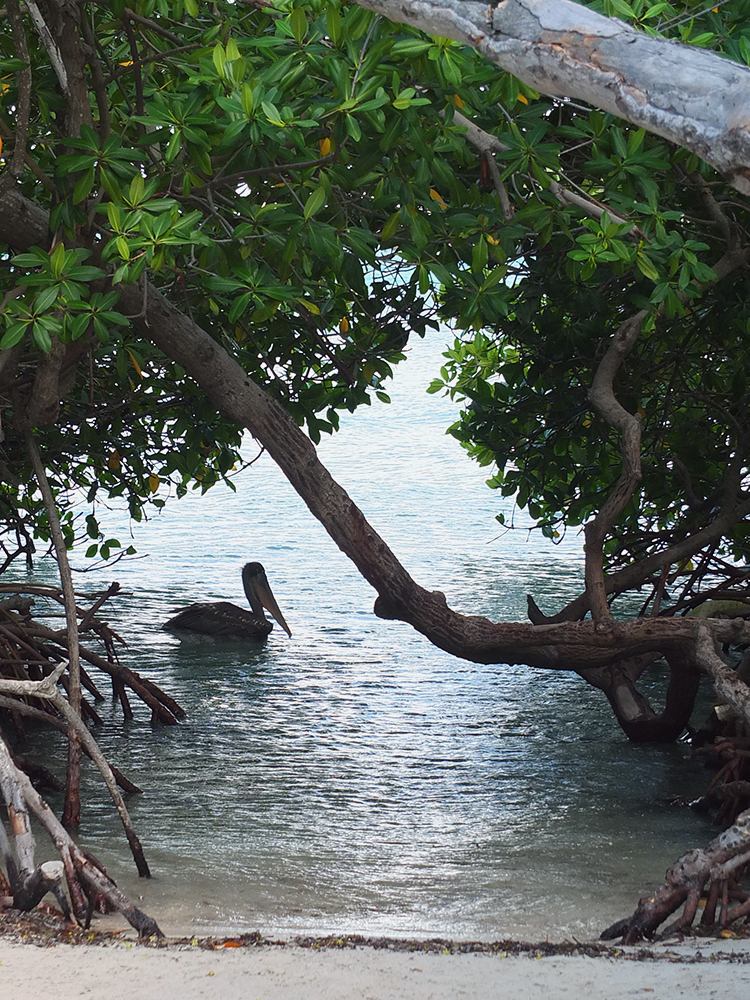 It's just a short blog post today folks, for now I must go and get ready to spend the day on a luxury cruise and visit Renaissance Island to feed the flamingos!
Do follow me on Instagram, if you're not already, as I'll be regularly sharing photos there.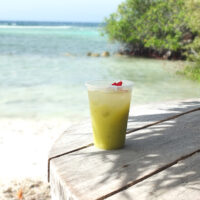 Frankie's Abaco Avocado & Rum Cocktail Recipe
A Caribbean avocado and white rum cocktail recipe based on one prepared by Aruban forager Frank Kelly.
Print
Rate
Ingredients
0.5

avocado

45

ml

lime juice

freshly squeezed

90

ml

white Caribbean rum

4

wild basil leaves

2

cups

ice cubes

plus extra, to serve

2

Caribbean flower petals

to garnish
Affiliate Links
This recipe card may contain affiliate ingredient and equipment links. As an Amazon Associate I earn from qualifying purchases.
Instructions
Place ice in a blender and crush.

Add the avocado, lime juice, rum and basil and blend until smooth.

Pour into a glass filled with ice cubes and garnish with a wild Caribbean flower petal.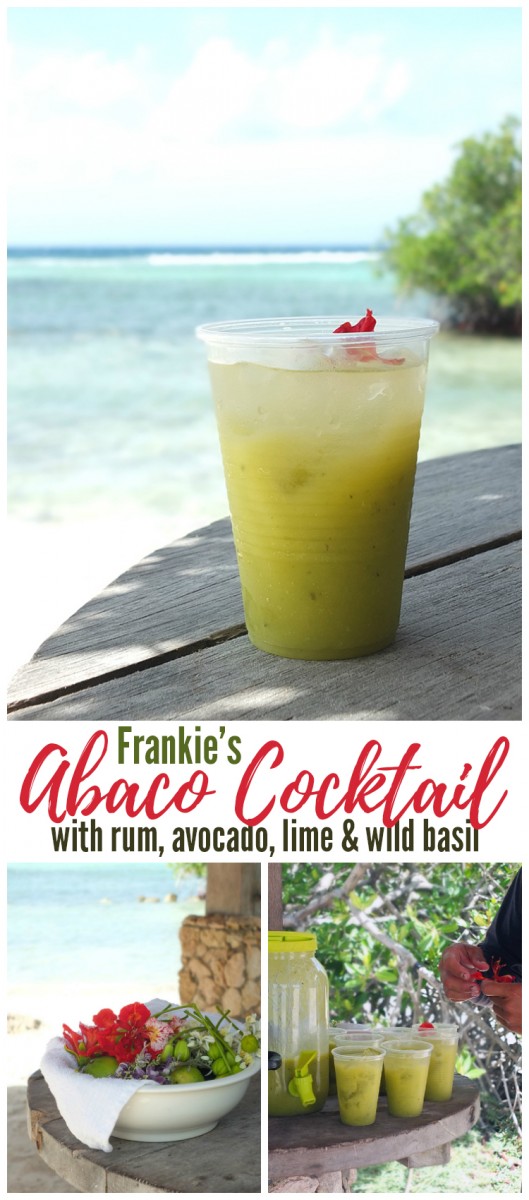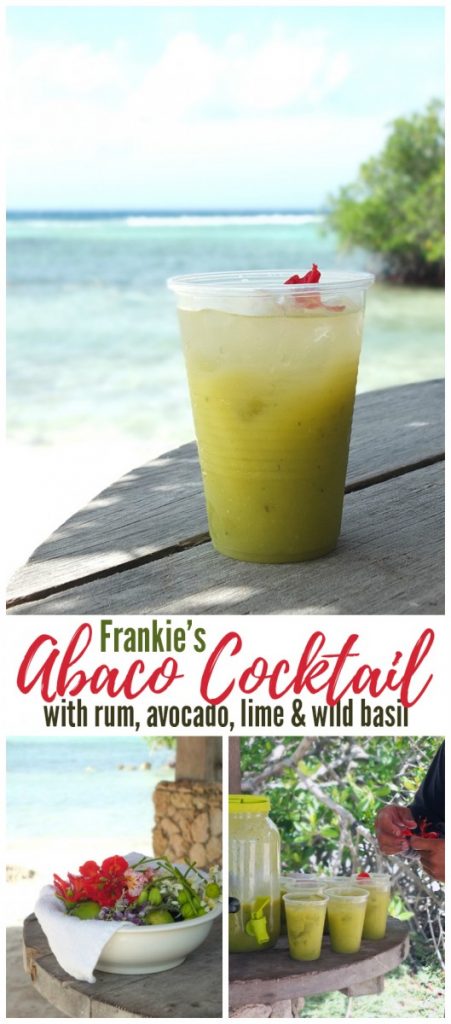 Elizabeth's Kitchen Diary is a guest of Aruba Tourism.