In collaboration with Tasty, Easy Lamb.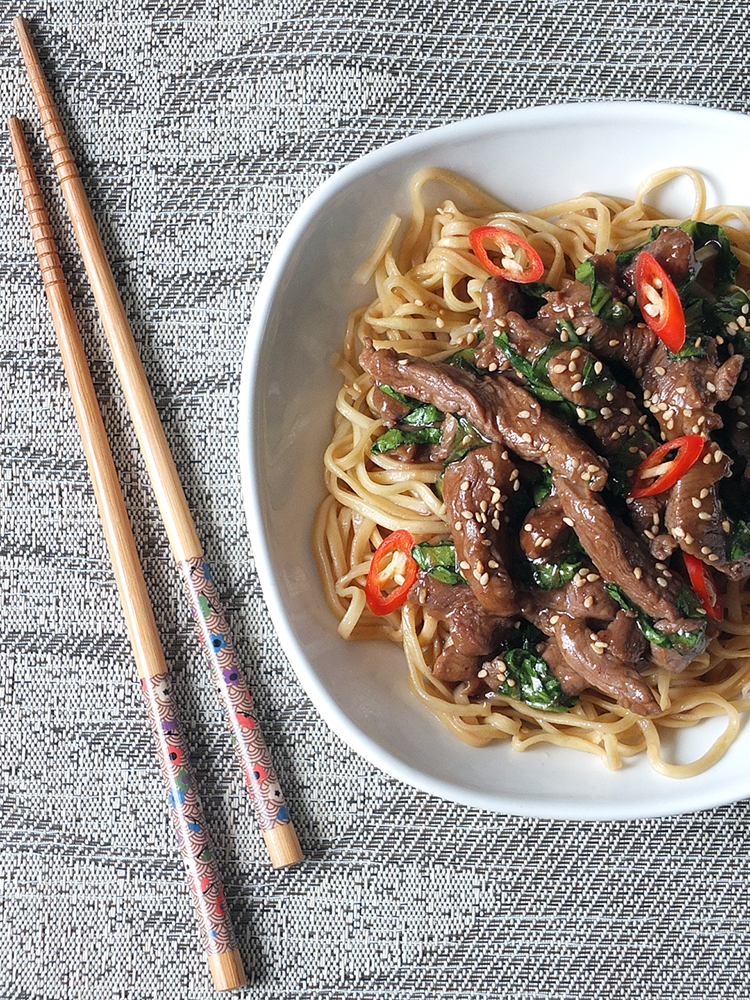 This recipe was originally supposed to be a marinade for a lamb leg steak BBQ. I purchased all the ingredients and waited for the Shetland weather to give us a good barbecue day in August, and it never did happen. Typical British weather!
So, I ended up with some lamb leg steaks stuck in the freezer, and stuck for recipe inspiration for dinner one evening I thought I'd try the marinade as a stir-fry sauce.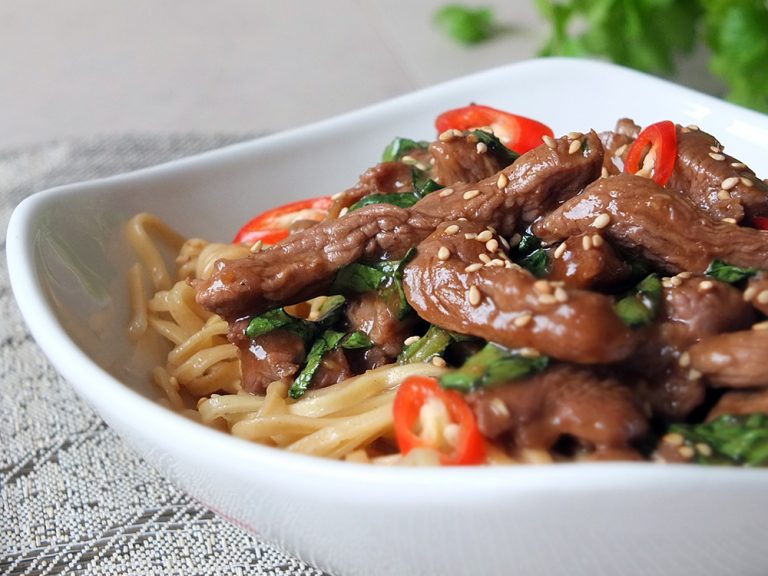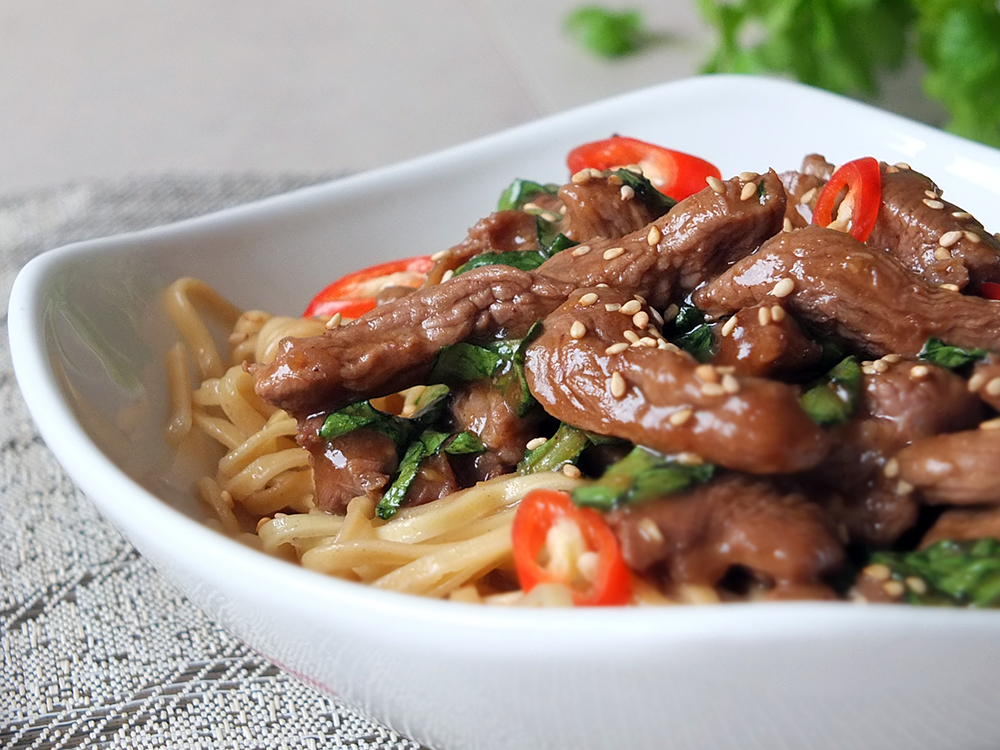 It was an entirely successful experiment! I added the marinade to the stir-fried lamb strips once they'd browned nicely and thought it was too thin for a stir-fry so I thickened it with a bit of cornflour dissolved in some cold water and it worked perfectly!
My daughter, who can be terribly fussy when it comes to dinner, ate two helpings of this the first time I made it, and it's been a firm family favourite since.
It's a perfect quick midweek recipe when you've got to get the kids off to their respective clubs/sporting events or if you're really just not in the mood to be faffing over a hot stove after a long day.
Seriously, ten minutes, that's all it takes. Pop the kettle on to boil water and make the noodles before you even start cooking the meat, as that's the bit that takes the longest!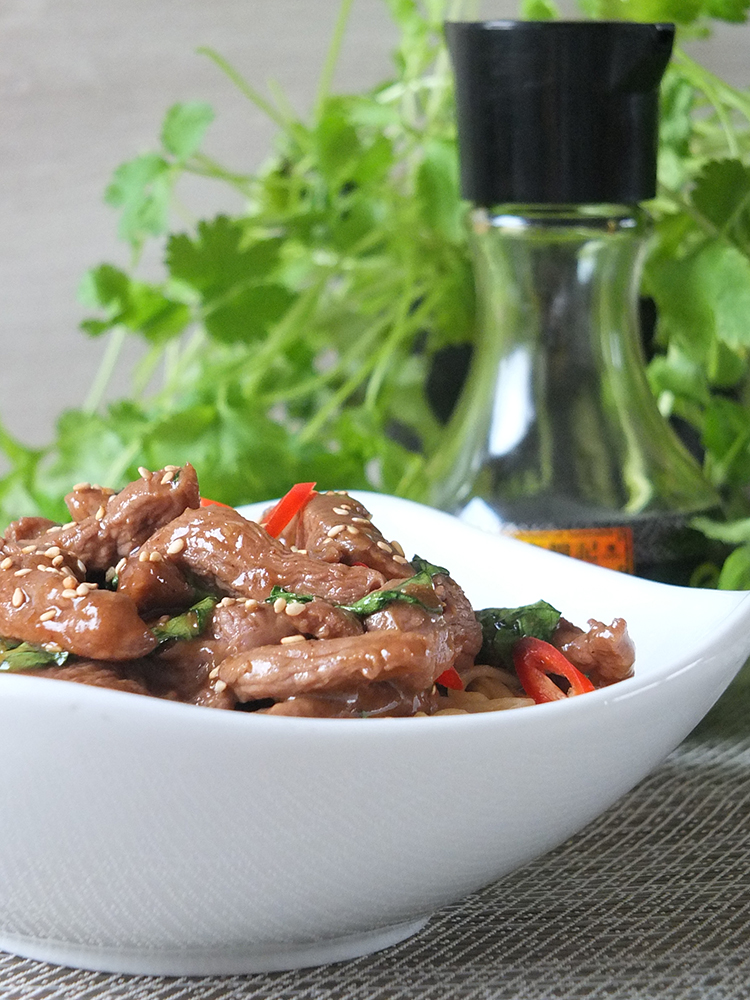 A little note here about soy sauce. Up until recently, I thought soy sauce was just soy sauce. You could get soy sauce, or you could get light soy sauce (which is a lower calorie version, no?). No. There is a whole range of different soy sauces, each one pairing with different ingredients/cooking methods for perfect results. For example, light soy sauce is great for marinading meat (ie: I'd use in this recipe if I was popping the lamb leg steaks on the BBQ), for curries and in salad dressings, while dark soy sauce is good for marinating chicken or for colouring stews. I've used double deluxe soy sauce in my recipe which is ideal for people who like a stronger soy flavour in their dishes.
Another thing I am loving right now is fortune cookies. I picked up a box some time ago on offer in the supermarket – such inspiring little things!
Another tip to save time while making this meal: boil some extra medium egg noodles for packed lunches the next day. Cool the extra under cold water, drizzle with plenty of sesame seed oil and pop them into the fridge for tomorrow's lunch.
For more lamb recipe inspiration visit the Tasty Easy Lamb website, and follow them on Facebook, Twitter or Instagram.
You might also like my sweet and sour pork stir-fry recipe.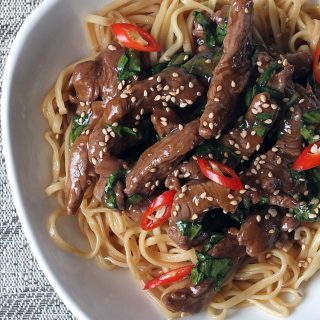 Quick & Easy Chilli & Lemongrass Lamb Stir-Fry
A simple midweek dinner idea ready in under 10 minutes.
Print
Rate
Affiliate Links
This recipe card may contain affiliate ingredient and equipment links. As an Amazon Associate I earn from qualifying purchases.
Instructions
Boil the kettle and put the medium egg noodles on to cook according to packet instructions.

Finely slice the lamb leg steaks into 0.5 cm thick pieces and set aside.

Mix the soy sauce, honey, ginger, lemongrass, garlic, chilli flakes and Chinese Five Spice together in a small bowl and set aside. Dissolve the cornflour in a little water and set aside too.

Heat the oil in a wok and stir fry the lamb leg steaks for 2 minutes, until browned.

Add the stir-fry sauce and bring to the boil, stirring to coat the meat.

Add your vegetables now if they need a little extra cooking time (ie: carrots, sweetcorn, peppers) and stir fry for another minute.

Stir in the cornflour dissolved in water. The mixture will thicken quickly, so cook for another 30 seconds or so.

Remove from the heat and stir in any finely sliced greens you're using (ie: pak choi).

Serve immediately with cooked egg noodles and garnish with the sliced red chilli and toasted sesame seeds.
Environmental Information
This is a commissioned recipe for Tasty, Easy Lamb. Thank you for supporting the brands who make it possible for me do what I love: mess up my kitchen and share recipe stories.