Events over the last ten months have significantly changed my life, but I received some good news recently and to celebrate, I bought myself a new, limited edition Shetland-designed skirt. This is my first ever fashion post, I hope you like it!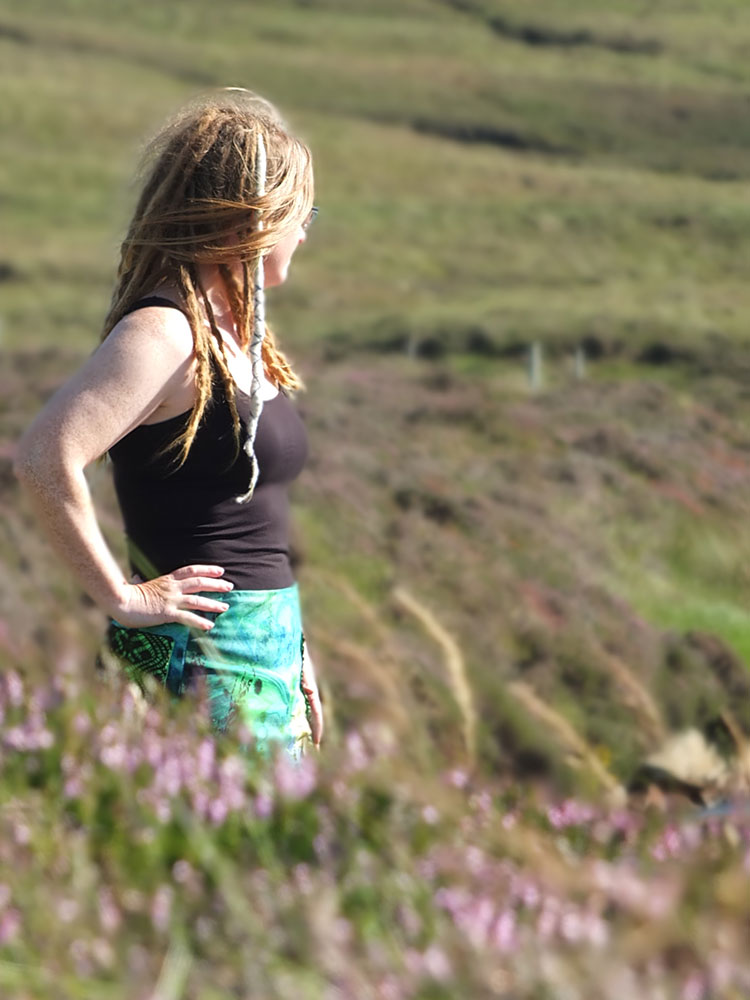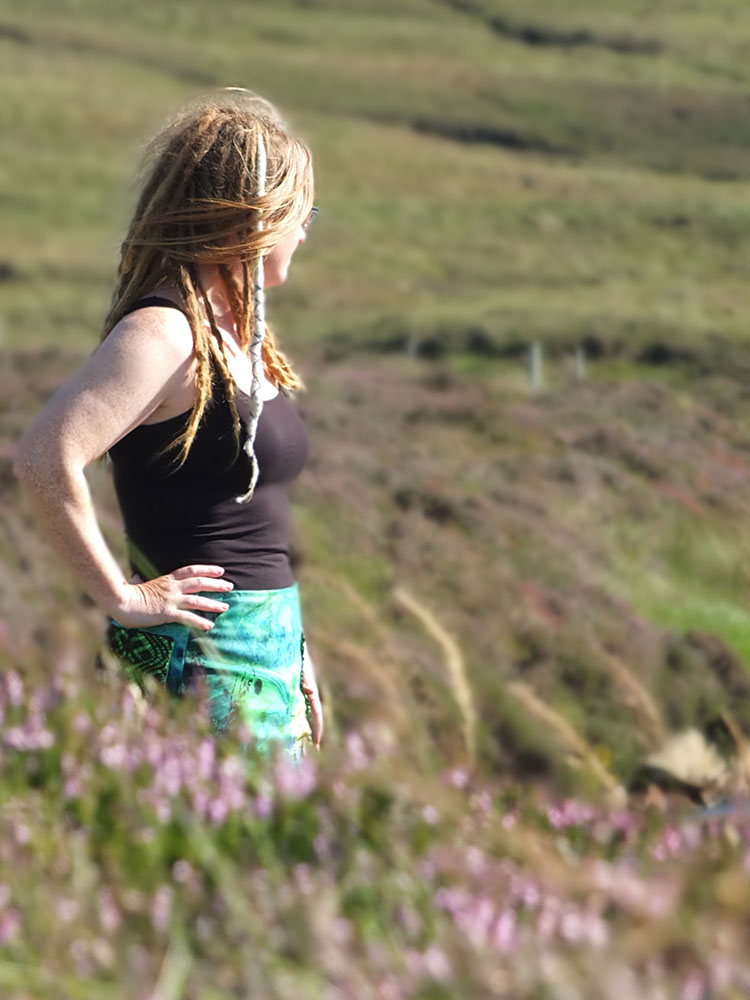 Two in a million, my surgeon said to me recently. That's how often my tumor occurs. I'm not one in a million, so I'm not to let it go to my head, he added, with a hint of dry humour in his voice.
Two years ago I was bike-packing through the highlands of Scotland with a friend of mine. We were on an epic adventure – 400 miles of bumpy tarmac culminating in a climb of Britain's highest mountain. Somewhere between Bettyhill (Betty on the top of a really flipping huge hill, I might add, if you're using your own leg power to get up there) and Lairg, I remember stopping by the roadside for a moment and thinking to myself "life doesn't get much better than this".
Then a little voice in the back of my head said, "You've got a tumor".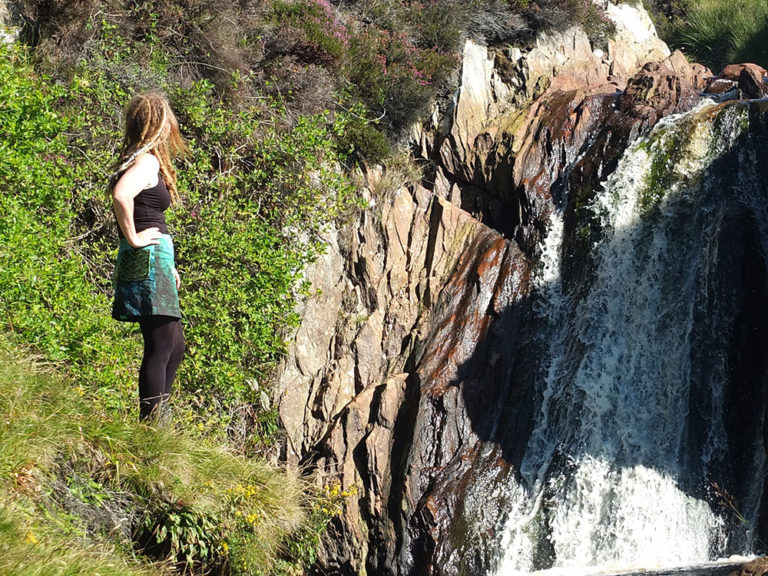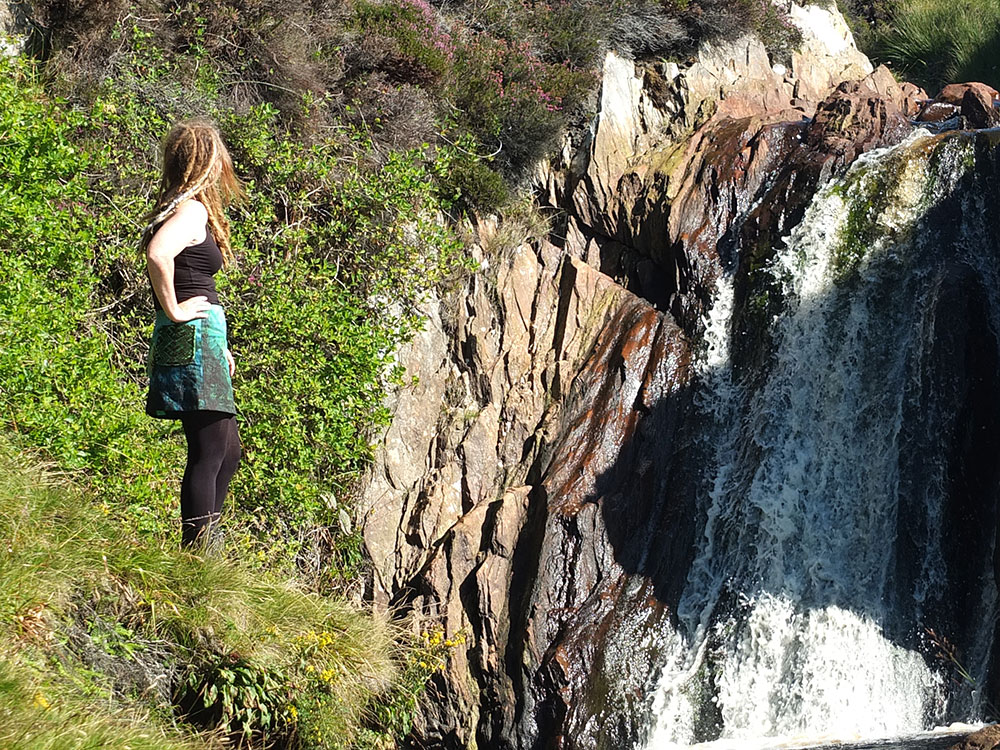 I remember berating myself at the time for being so negative, and I dismissed it. Life was good – I was coming up to my 40th birthday, I was as fit as I've ever been in my life, with three wonderful children and a loving husband. I had a job I loved, one flexible enough that meant I could take a week or so off to go on an epic adventure like bike-packing from Shetland to Fort William to climb Ben Nevis just because I wanted to.
The thing is, I did have a tumor.
I don't know how long it had been there, silently and painlessly growing in the buccal space in my cheek. I found the pea-sized lump one evening last Autumn as I absent-mindedly brushed my cheek with my fingertips while reading my book in bed (I was reading Diana Gabaldon's Voyager, if these details interest you).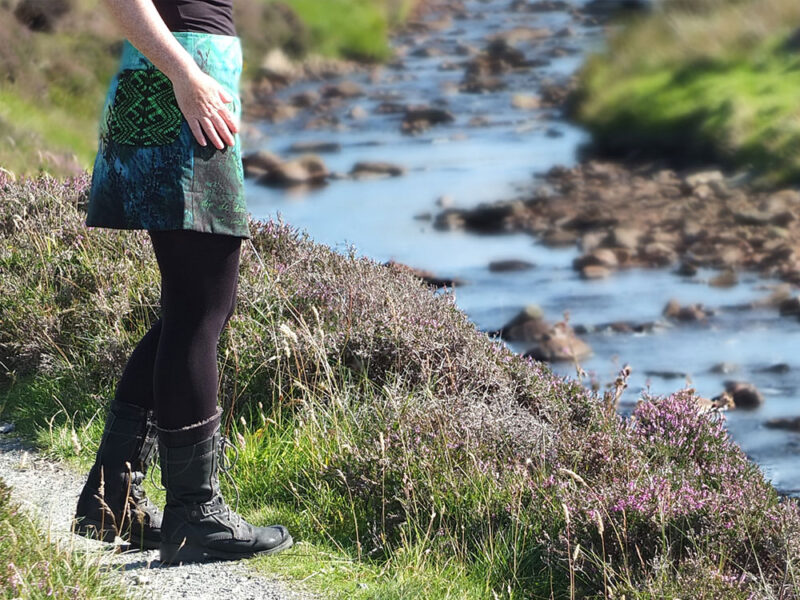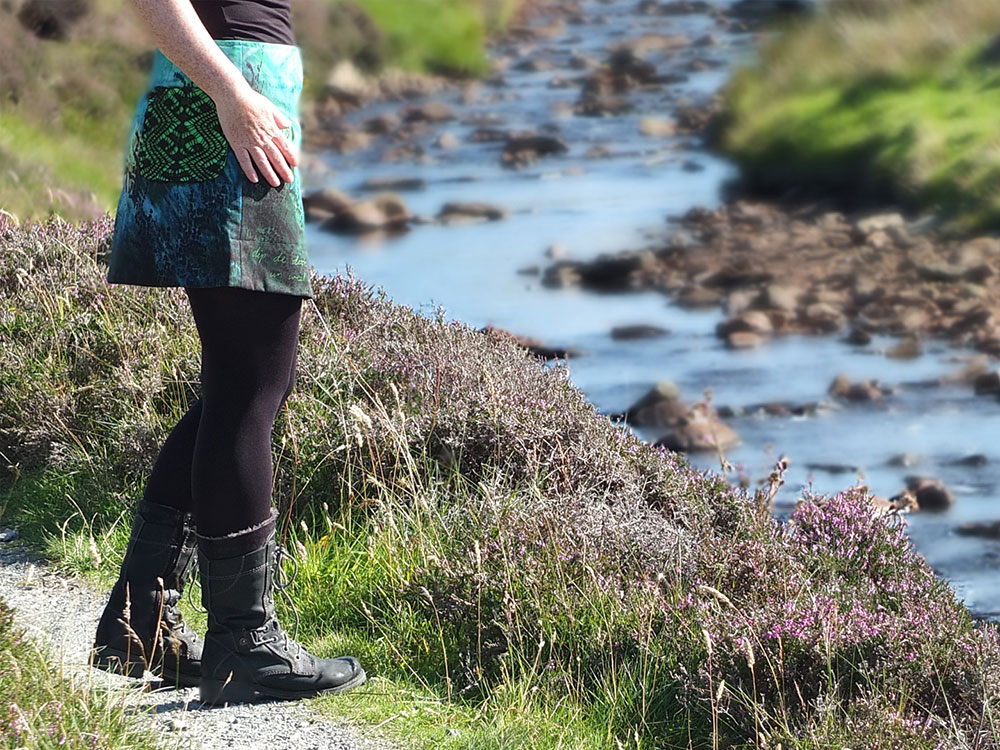 Fast forward ten months and I've recovered well from surgery. In six months the tumor had grown from the size of a pea to 3.1 x 2.0 x 2.0 cm. My surgeon skillfully removed it intraorally, so I have no visible scar (17 stitches inside my mouth though, and that was no fun!). It took the pathology lab six weeks to figure out what exactly it was, too, finally diagnosing it after cytology and immunology tests as a solitary fibrous tumor.
Solitary fibrous tumors are very, very rare neoplasms which, when they do appear, usually appear in the lung pleura, and even then there are only around 800 cases reported, worldwide. There are only 38 cases of solitary fibrous tumors appearing in the buccal space – two in a million, my surgeon said, and I was the first one he'd ever seen in his 30-year career. Trust me to grow something weird.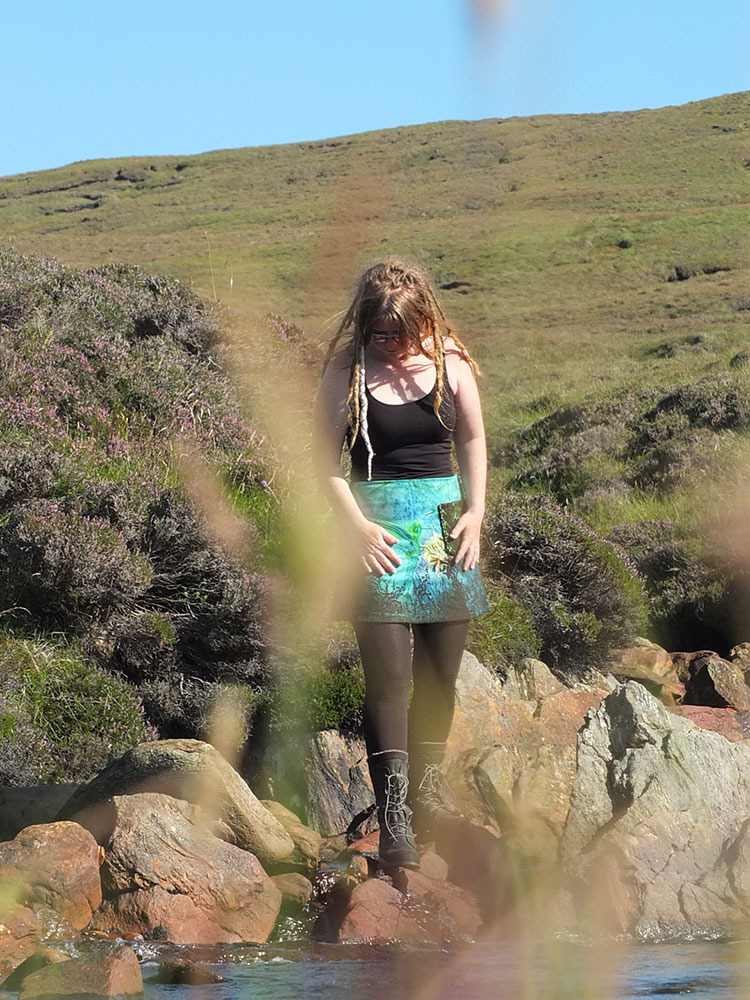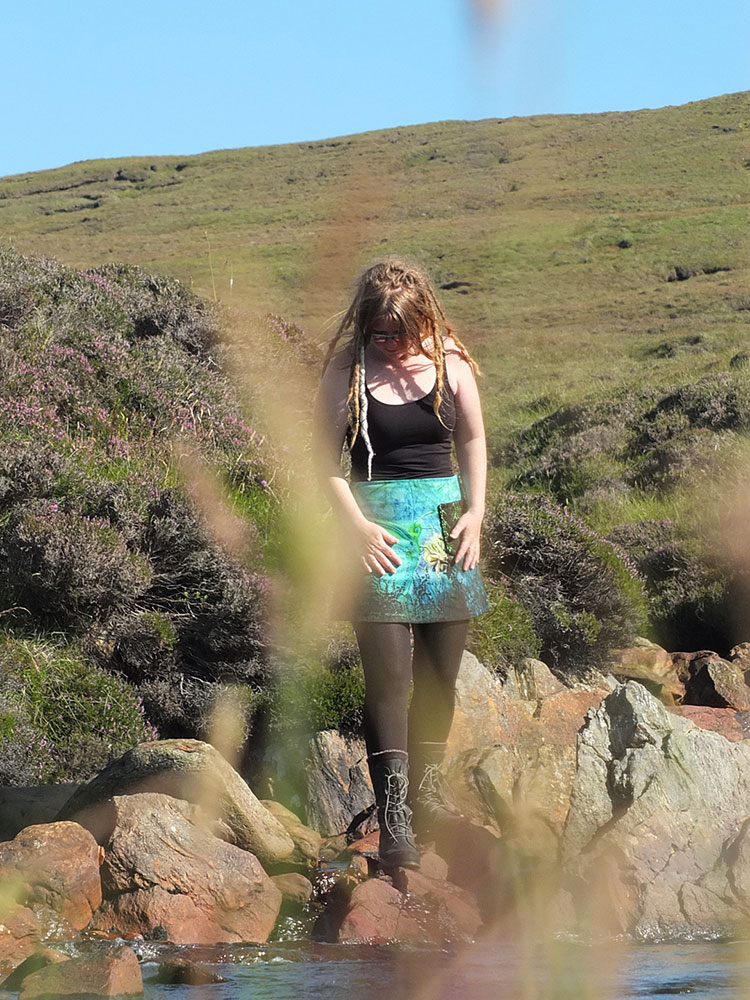 They're usually benign, but solitary fibrous tumors (even benign ones) have been reported to metastasize, recurring or appearing elsewhere in the body up to 15 or even 20 years later. Very little is known about the behaviour of this neoplasm, so although mine was considered benign, they're going to keep a very good watch on me for the next 20 years, just in case.
I can't possibly express to you how reassured I am about this. Despite the fact that the final pathology report indicated that there may have been incomplete excision (which, from the literature I've read, is a contributing factor to recurrence/spread. I've spent the last few weeks worrying that I was going to need radiotherapy or further surgery), my surgeon is very confident that he did indeed get it all out.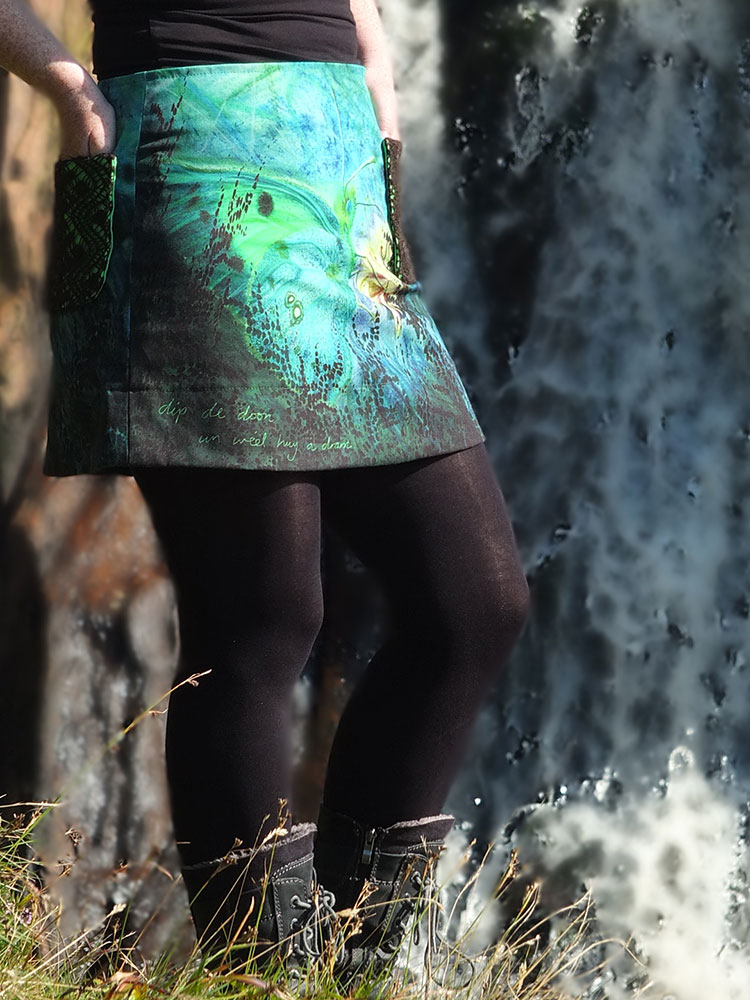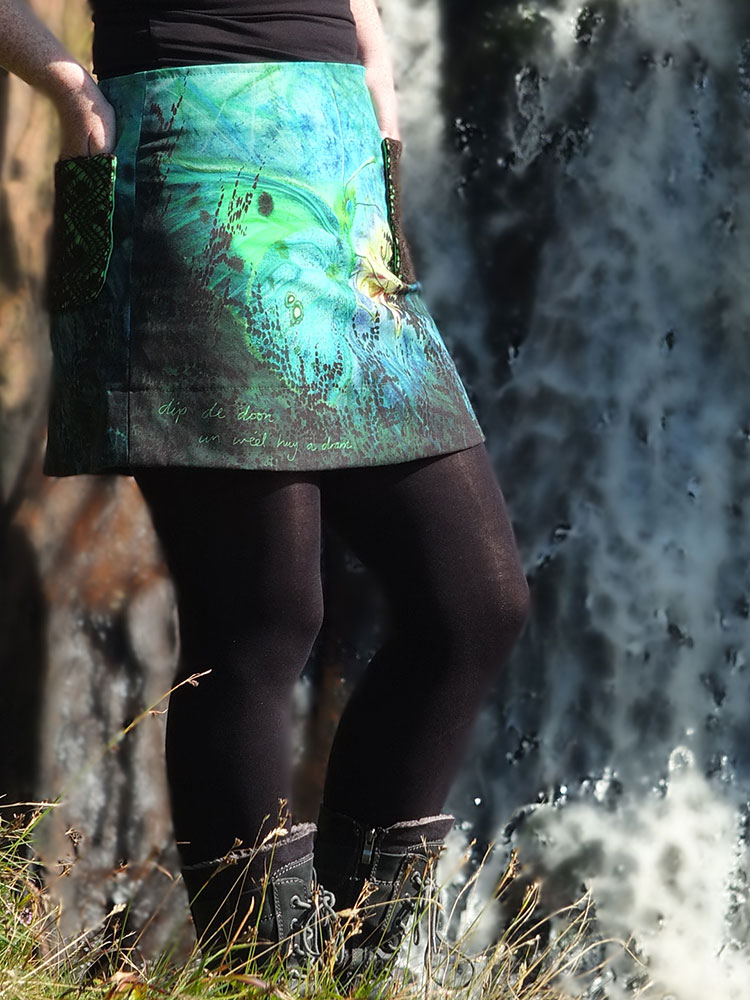 So, to celebrate the good news of finally feeling I can move on with my life and stop worrying, I went clothes shopping last Friday after my follow-up appointment with my surgeon. I've got a couple of press trips lined up at the end of this month and the start of next, so I wanted to get something new and nice to wear on them.
The thing is, I utterly detest clothing shopping. I tend to buy my clothes from the village charity shop and then wear them until they fall apart so I don't have to do the whole new clothes shopping thing. The only thing I dislike more than shopping for clothes is shopping for shoes. I remarked this to the shop assistant in the new Burns Lane Clothing shop on the Lerwick high street, saying I'd probably only browse for five minutes before my attention span waned and I'd leave.
In that five minute window, my eyes fell upon a row of skirts – their bright colours and unusual patterns lured me over. The shop assistant said that they were a new range launched that day by local Shetland textile artist Angela Irvine. I kept going back to the blue and green one, with its fairy-like butterfly pattern. My husband suggested I try it on, just to see.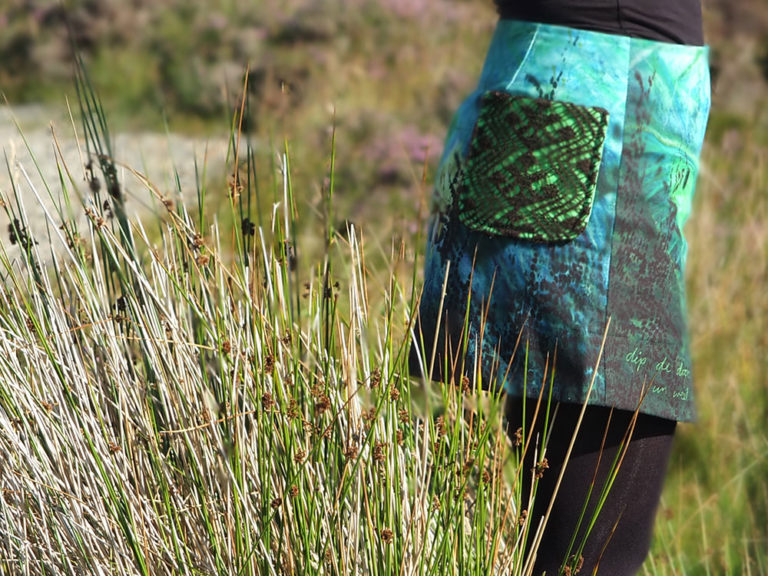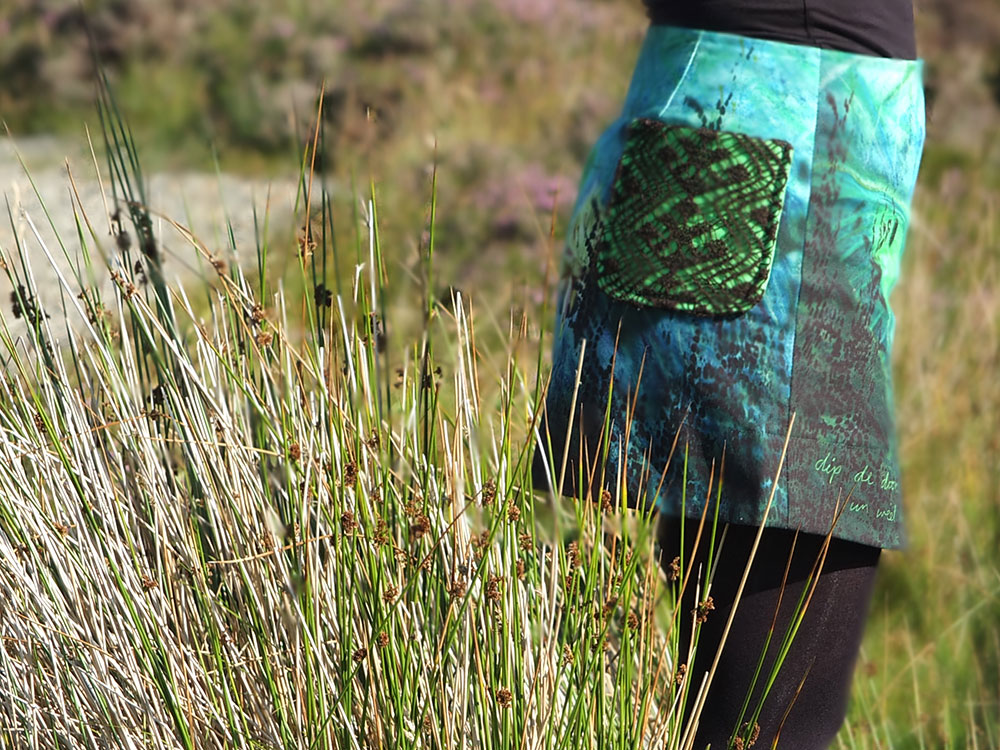 It fit perfectly! While waiting, and worrying for surgery, I'd put on a stone in weight from inactivity. It wasn't that I was over-eating (although there may have been a degree of comfort eating involved), it was just that I stopped exercising and the weight crept on. I'm delighted to report that I've lost most of that weight now, having restarted my fitness program once my energy returned after surgery. Having this skirt fit perfectly was… a rather nice feeling.
So I bought it.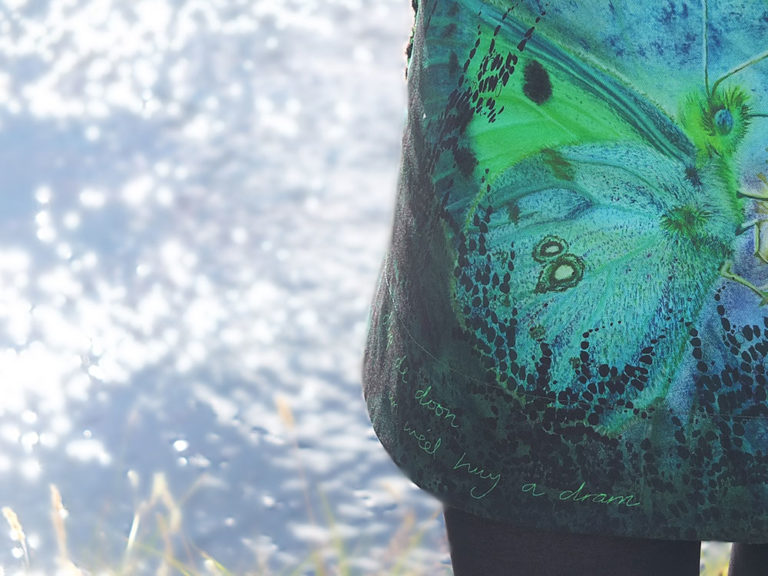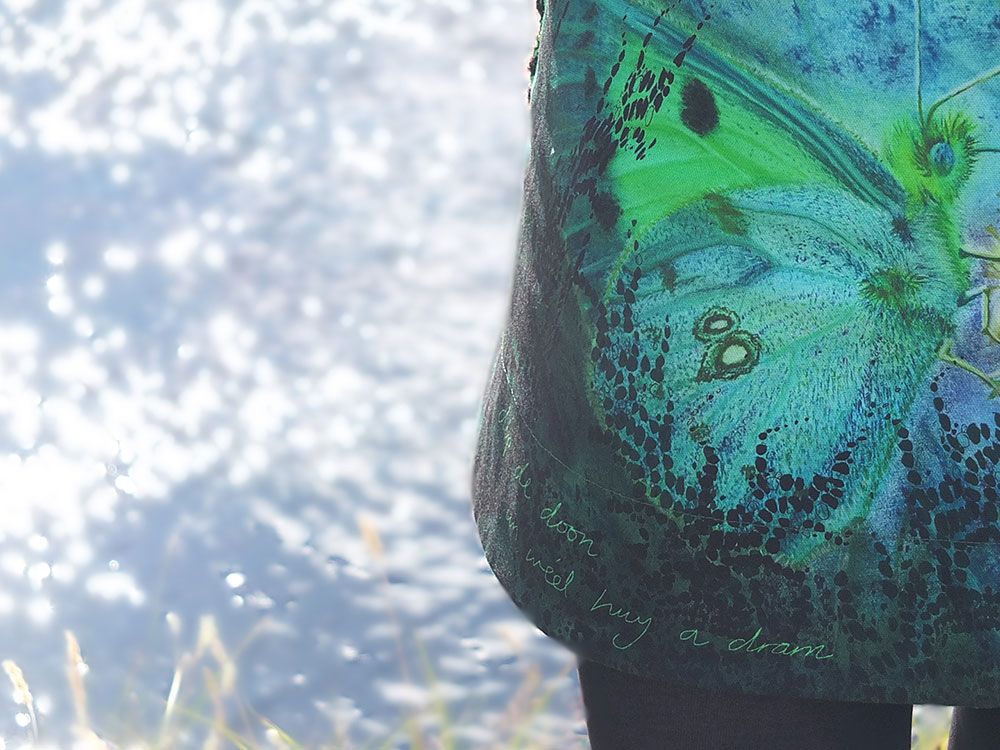 Inspired by Shetland's nature, this 'Migration' inspired quirky, limited edition mini skirt is a beautiful work of art. The pattern is a hand-drawn engineered butterfly print and traditional hand-knit Shetland fine lace patterns in undyed Shetland wool feature on the two pockets. A local dialect phrase translating as 'sit down and we will have a drink' is hand-painted onto both the front and back panels of the skirt. It's absolutely stunning.
It turns out my skirt was her first sale on the launch day, which is a little bit exciting. I liked contributing to another individual's potential feeling of success, and not spending my money on mass-produced factory-made garments. Win-win. A thoroughly enjoyable shopping experience.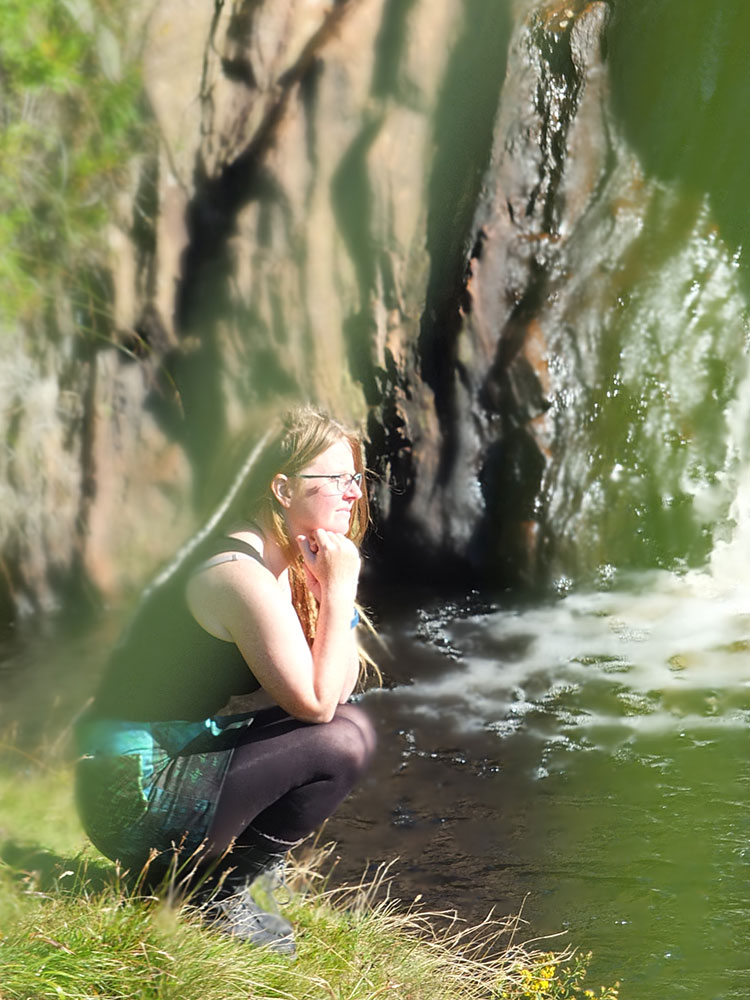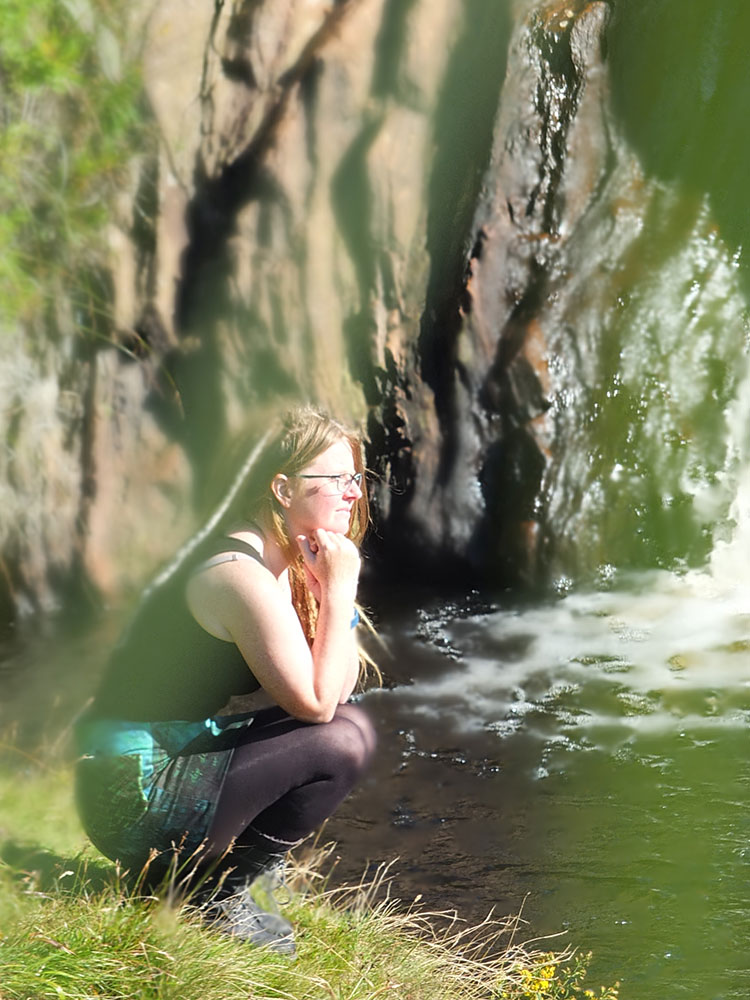 It was a beautiful, warm, sunny summer's day that day and I wanted to take a photo of my new skirt to share on Instagram for three reasons: to celebrate my good news, to celebrate Angela's launch day and to begin the process of overcoming my aversion to being photographed. My husband and I went to a local scenic spot and had a lot of fun with this photo shoot.
The buccal branch of my facial nerve was a casualty of my surgical experience. It was taken out along with the tumor, but it's a small price to pay. It means that I don't have the function of my top left upper lip, but it's hardly noticeable unless you really look. I can't whistle like I used to, I've had to adjust my drinking style from a sports bottle when out on my bike rides (that was a messy lesson the first time I discovered I couldn't drink properly!), chewing is still hard work (but I think it might get easier with time as my facial muscles repair) and I can't say the f-word with any degree of conviction without sounding like a snorting horse. Guess that means I should stop saying it?
My smile is a little bit squint too, but at least I'm still smiling. There's also some lingering paraesthesia, likely due to sensory nerve trauma. It's a constant reminder for me though. My perspective on life has very much changed over the last ten months. I am, more than ever, focussing on living in the now. Life has slowed down, and the things that I used to stress about don't seem as important any more.
I'll be getting quarterly check-ups for the next few years, as well as yearly MRIs, so I feel very reassured that if/when it does come back I'll be well taken care of. I'll be ok. Everything will be ok. Today is the first day of the rest of my life.
Shop the look
Migration Skirt by Angela Irvine £125 (size 10-12)
Vero Moda Vmmaxi My Soft Long Tank Top Noos £9 (size XS)
Marco Tozzi Boots (from a few seasons ago, bought at Cee & Jay's) £80 (size 5)
Uradale Farm Organic Shetland Wool (hair wrap)
Charnos opaque matt 60 tights, black (medium) £5.99