This low carb, high protein, gluten-free cauliflower pizza crust tastes fantastic, and it comes in at just 220 calories for an entire pizza for one! No microwave needed!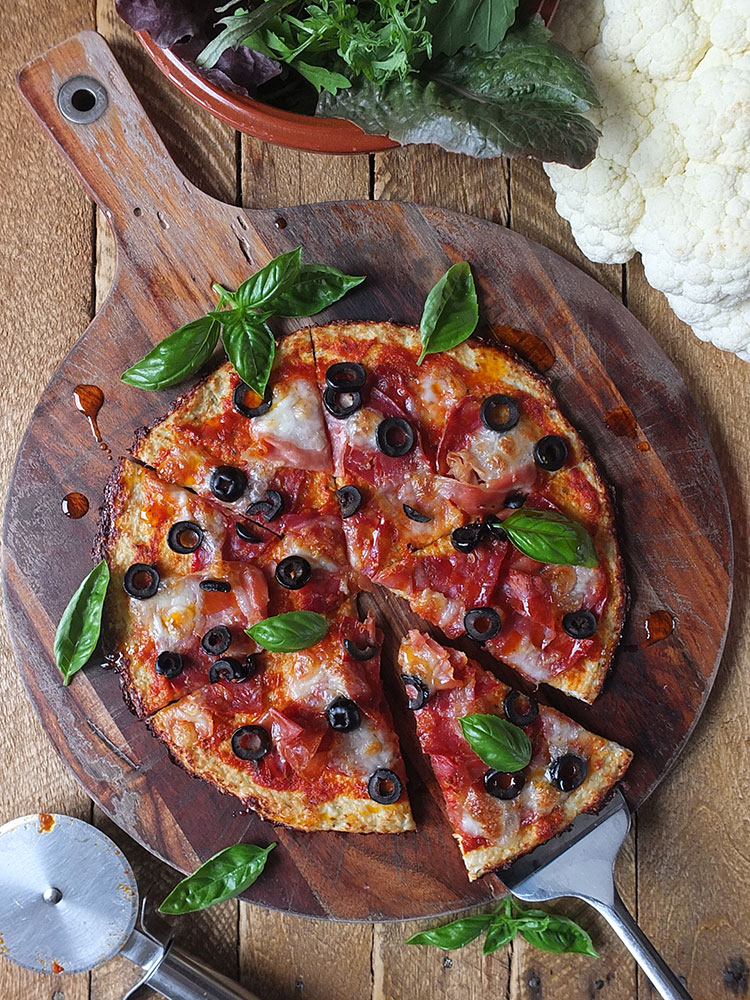 I'd always been put off the notion of making a cauliflower pizza crust, up until recently. Truth be told, cauliflower was not one of my most favourite veg box vegetables, but when it comes to trying to shed a few extra pounds, it's my best friend.
You can eat a whole shed load of cauliflower which fills up the belly like rice or pasta does but without all those extra calories from carbohydrates. There are only 25 calories in 100 grams of cauliflower and only 5 grams of carbohydrates. Compare that to around 350 calories in 100 grams of cooked pasta, and a whopping 71 grams of carbs.
When I'm slimming I'll eat cauliflower rice instead of regular rice, I'll eat whipped cauliflower with some lighter-than-light cream cheese instead of mashed potatoes, and now, I've taken to making cauliflower pizza crusts.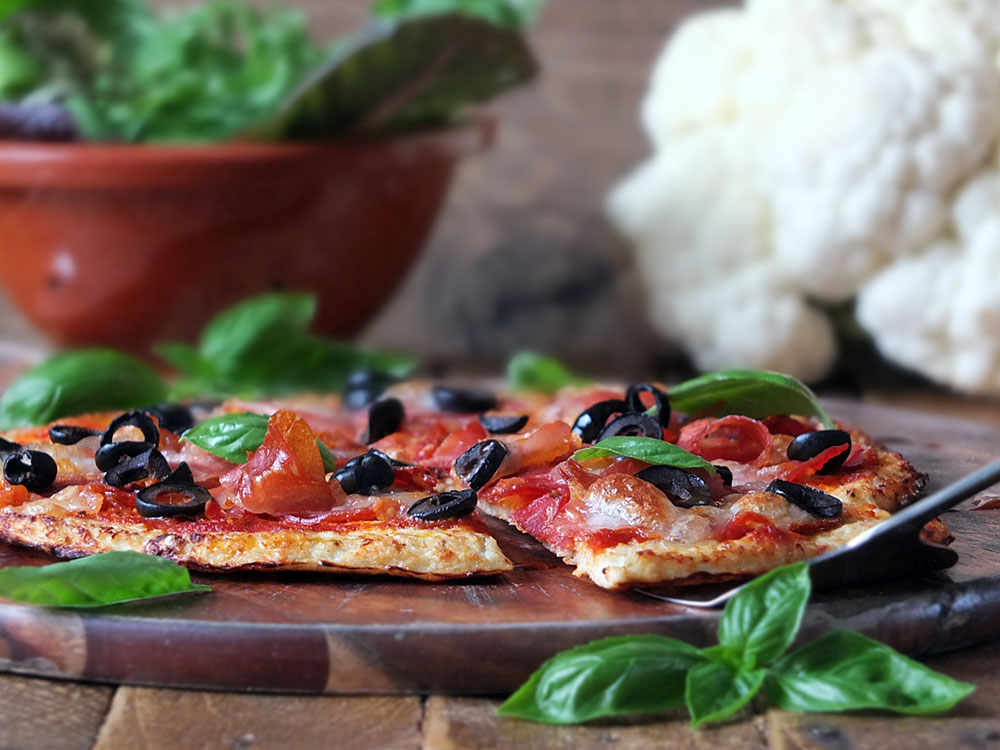 Saturday nights are pizza night in our house, and while I've been trying to shed a few extra pounds I've been missing enjoying pizza with my family. I thought I'd give this whole cauliflower pizza crust a go, and I confess, I am entirely converted!
Many of the recipes I've found online follow the same recipe: cauliflower florets whizzed up into rice and then zapped in the microwave. The excess moisture is removed by wringing the cauliflower wrapped up in a tea towel. Cheese, egg and seasonings of various quantities are then added and the whole mixture is pressed out into a pizza base shape and baked.
I don't own a microwave, and all of the recipes I've found online would feed an entire family, so I tweaked my recipe to serve just one. Me. (or you, if you fancy making it too). I've also kept the calorie count lower by using just the egg white instead of a whole egg. You just need something to bind it all together. I'm a calorie counter when I'm slimming (it's the only thing that keeps me in check) and every calorie is sacred.
Also, all of the recipes I've found online for cauliflower pizza crusts use 1 head of cauliflower as a genuine unit of measurement. I've got three veg box cauliflowers in my fridge, and each one is a different size, which one is the right size? I've included gram measurements in my recipe, to save any confusion.
As a pizza base this really does work; simply top with all your favourite toppings and never miss out on another pizza night again.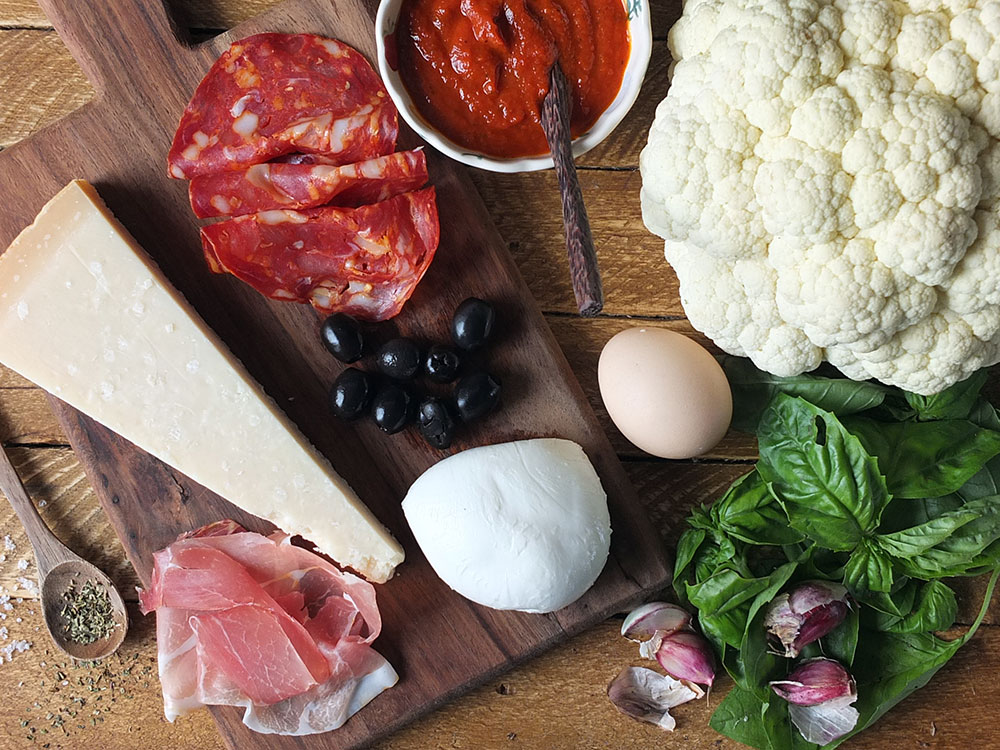 INGREDIENTS NEEDED FOR A LOW-CARB, GLUTEN-FREE CAULIFLOWER PIZZA
cauliflower – ours comes in our organic veg box from Turriefield, on the west side of Shetland
lighter mozzarella cheese – I use the Co-op brand
Parmesan cheese (or Grana Padano, if you prefer)
dried oregano
sea salt
garlic – again, veg box produce
egg white (also from our veg box)
assorted toppings – I've used homemade batch-cooked pizza sauce, salami, prosciutto and olives on mine with a drizzle of chilli oil and fresh basil to serve
Products from Amazon.co.uk
‹
›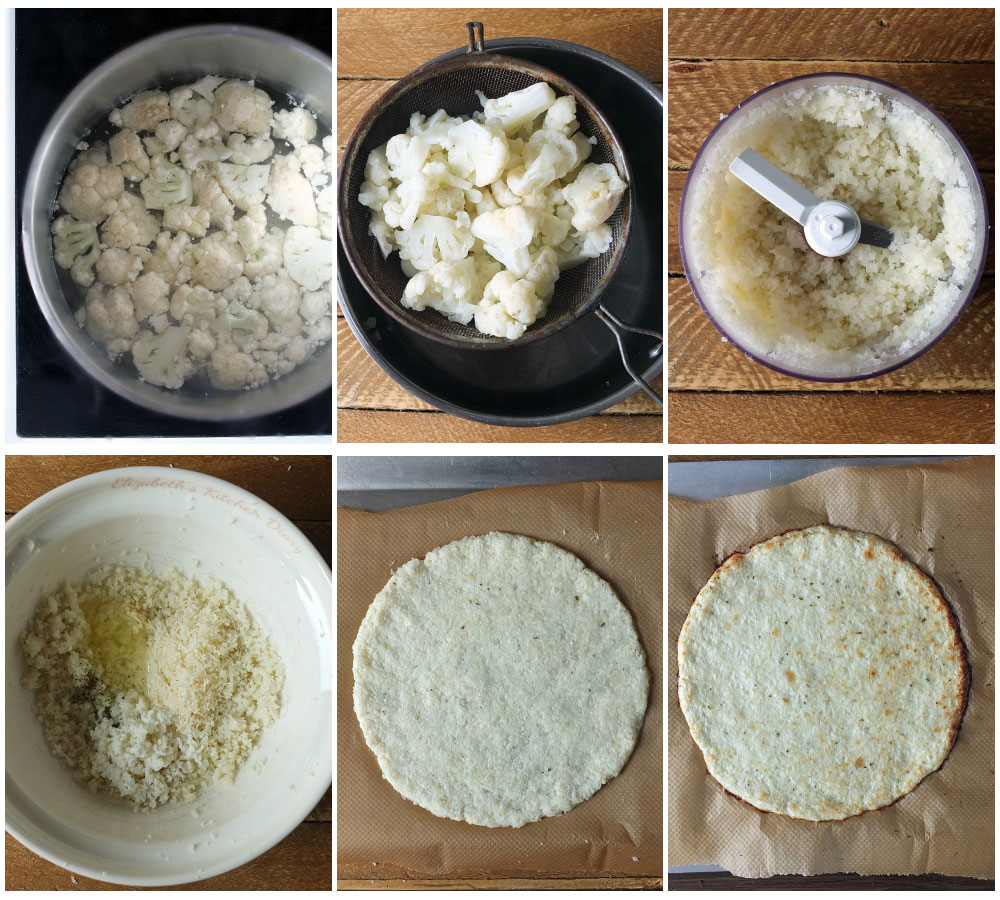 HOW TO MAKE A CAULIFLOWER PIZZA CRUST FOR ONE, WITH NO MICROWAVE
Step 1: cut your cauliflower into small florets and steam, or simmer, for 10 minutes, until softened.
Step 2: drain well and leave until cool enough to handle.
Step 3: process the cooked cauliflower in a mini food processor until fine. Place the cauliflower in a clean tea towel and squeeze out all the excess moisture (this is important!)
Step 4: add to a bowl along with the remaining ingredients and combine well.
Step 5: press out into an 8.5-inch diameter circle on a sheet of non-stick baking paper. It'll be a thin base.
Step 6: bake your cauliflower pizza crust on a pre-heated pizza steel or pizza stone until it begins to turn golden. Add your toppings and return to the oven until your cheese has melted. Serve!
Products from Amazon.co.uk
‹
›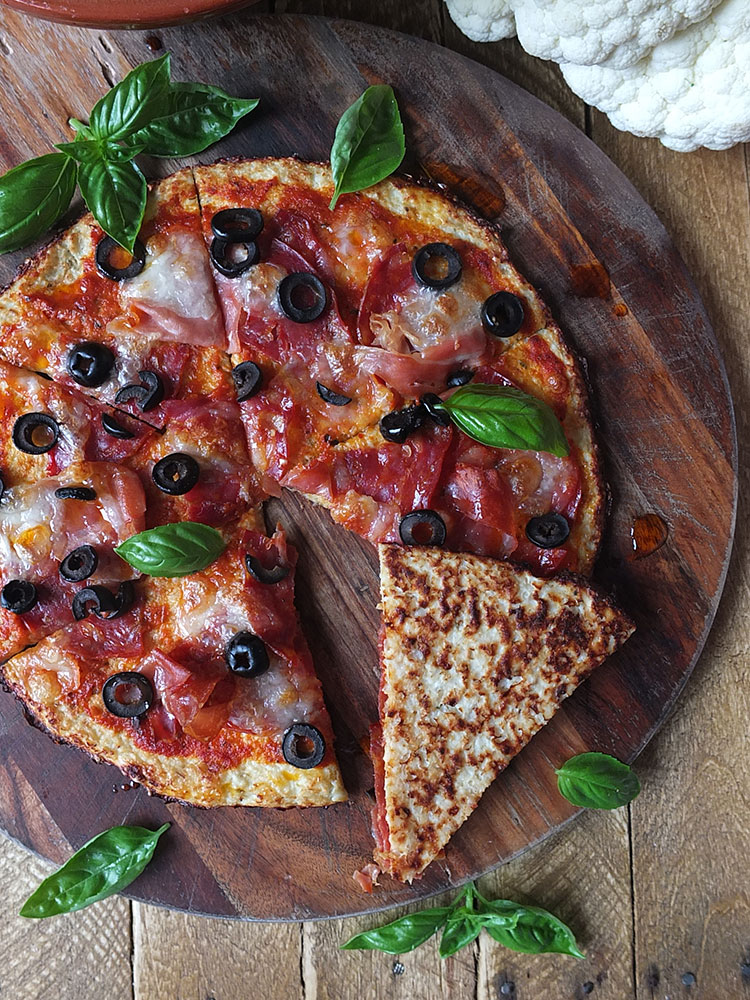 Now I realise this is a photograph of an upside-down slice of pizza (don't worry, the toppings didn't come off!), but I wanted to show you how gorgeously crisp and browned the bottom got. This pizza crust definitely holds up to being topped with all your favourite pizza toppings, and the crusty edges are absolutely the best bit. So delicious! Trust me on this one!
The trick to getting that nice crispy base it to make sure you cook your pizza base on a preheated tray. I use a Pizza Steel, but a pizza stone would work too, or, failing that, a preheated baking tray.
I'm going to try freezing bags of cauliflower rice in 300-gram portions to see if this recipe will work with defrosted cauliflower to save cooking it. Watch this space!
What's your favourite way to cook with cauliflower? Have you any slimming recipes to share with me? I'm down 10.4 lbs over these last seven weeks, just five more to go!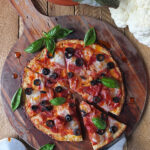 Print Recipe
Low-Carb Gluten-Free Cauliflower Pizza Crust for One
This low carb, high protein, gluten-free pizza crust tastes fantastic, and it comes in at just 220 calories for an entire pizza for one! No microwave needed!
Ingredients
300

grams

cauliflower florets

raw, uncooked weight

30

grams

lighter mozzarella

(I used the Co-op brand)

15

grams

Parmesan cheese

0.5

tsp

dried oregano

1

pinch

sea salt

1

garlic clove

minced

1

egg white

(around 35 grams)
Instructions
Cut your cauliflower into small florets and simmer for 10 minutes or so, until softened. Drain and leave until cool enough to handle.

Cut the cauliflower into tiny pieces using a mini food processor. Place the cauliflower into a clean dishtowel and squeeze out as much moisture as you can.

Transfer to a bowl and add the remaining ingredients (you might need to squeeze out any excess moisture in the mozzarella too, depending on the type you are using).

Preheat a pizza steel or pizza stone in a 220 C/ 200 C fan/ 425 F oven.

Spread out the cauliflower mixture on a piece of non-stick baking paper to a diameter of 8 1/2 inches.

Bake in the centre of the pre-heated oven for 15 minutes, until it starts to turn golden.

Remove from the oven, add your toppings, and return to the oven for a further 10 minutes.

Serve immediately.
Click here to view the nutritional information for this recipe.
Products from Amazon.co.uk
‹
›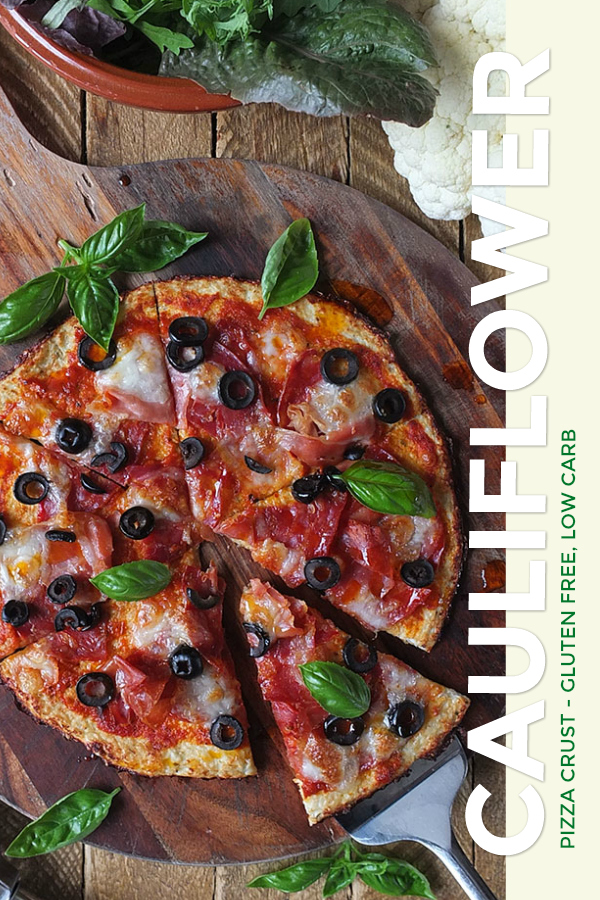 YOU MIGHT ALSO LIKE:
[color-box]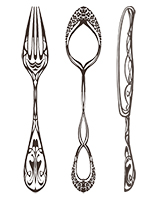 Have you made this recipe?
Take a photo and tag @tangoraindrop or use the hashtag #elizabethskitchendiary and share on Instagram and Twitter. It would make my day to see your creations!
[/color-box]