These crispy on the outside, soft and chewy on the inside oatmeal raisin cookies are reminiscent of childhood. Delicately spiced with cinnamon, they get even better the next day.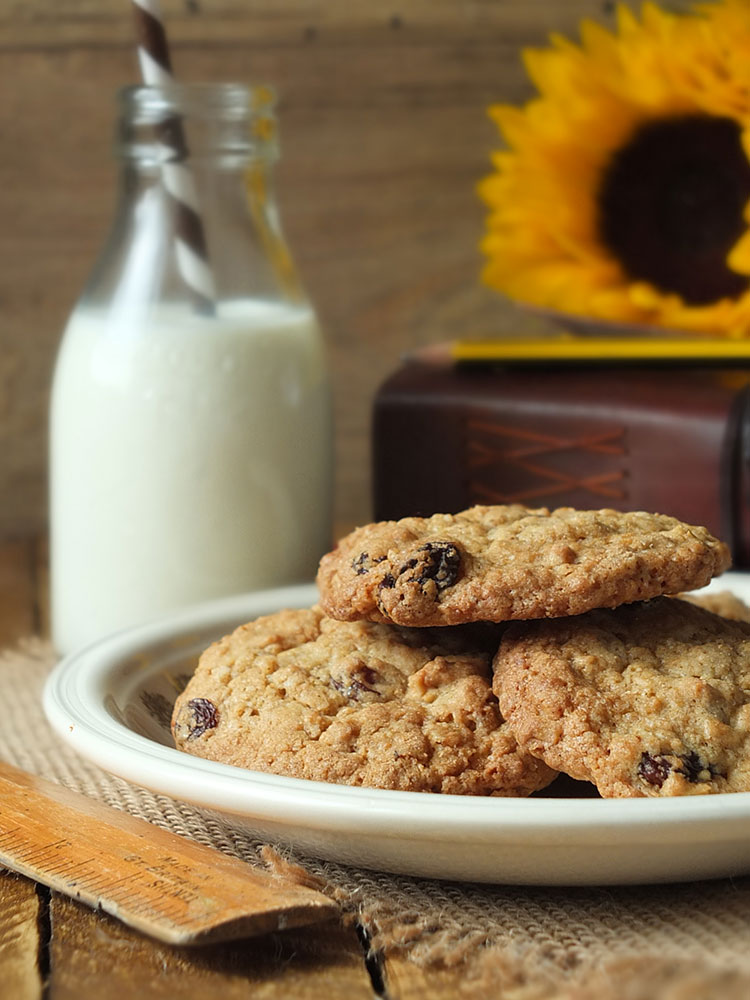 These cookies are one of my absolute favourite cookie recipes. The recipe is slightly adapted (and UK-ified) from one that I used to make in my teens when I worked as an assistant chef at a children's summer camp back in Canada. I used to make huge batches, scooping the batter onto giant baking trays with an ice cream scoop.
They were the best afternoon snack with a glass of milk for hungry kids who had been playing outdoors all day. They make an awesome after-school snack, or portable fuel for hillwalking and picnics too.
This week, they're going to be fuelling teams of fencers (the pointy sword kind, not fence makers) during a fencing camp Shetland is hosting this summer.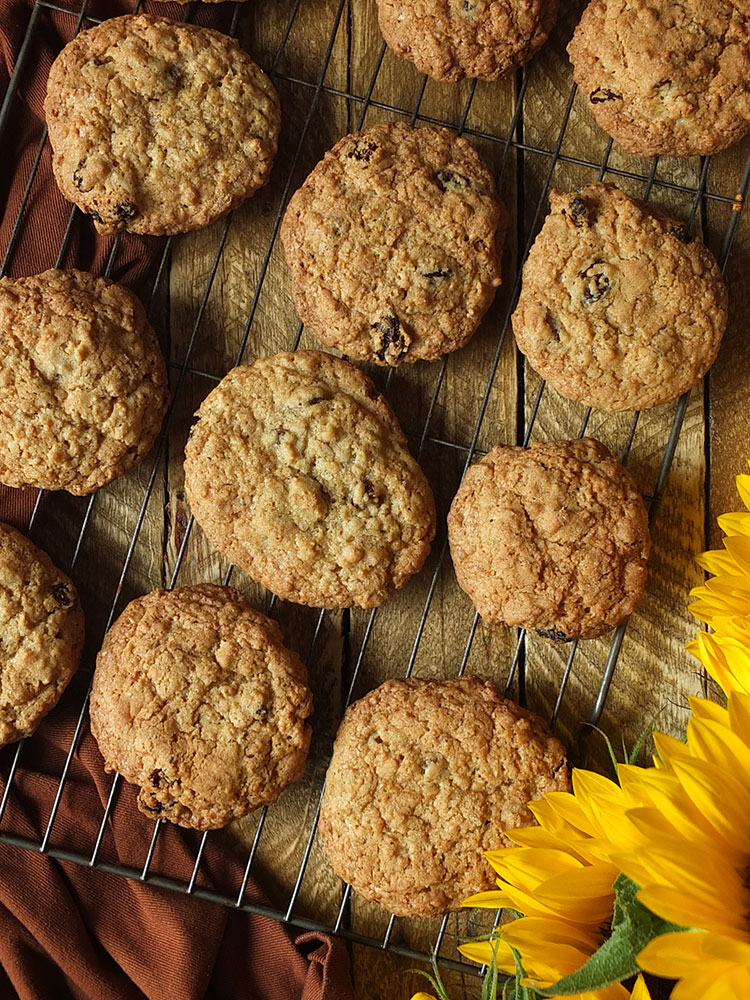 I also baked an extra batch of these oatmeal raisin cookies for my husband. He loves these cookies too, and it's not fair to make several dozen to give away, is it?
These cookies keep really well. I think they get better the next day, and even the 2nd and 3rd days, if they last that long. You can also freeze them and defrost a few at a time, as needed.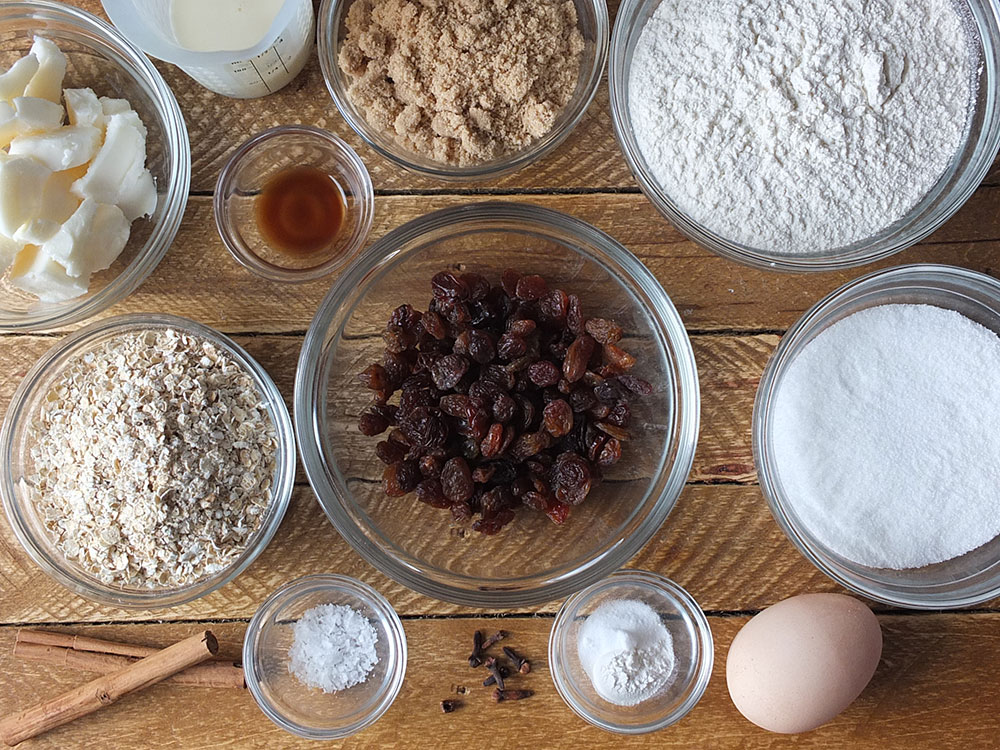 INGREDIENTS YOU NEED FOR THESE OATMEAL RAISIN COOKIES
porridge oats – the quick cook variety (Scott's porridge oats are perfect)
raisins or sultanas
plain flour
granulated sugar (but caster sugar works fine too)
soft brown muscovado sugar
baking powder
bicarbonate of soda
sea salt
ground cinnamon
ground cloves (I freshly grind my own for the best flavour)
white vegetable fat – Crisco if you're in Canada/USA or Cookeen in the UK (Trex works, but it's a bit too fluffy).
a free range egg
a little bit of milk (this can be non-dairy)
vanilla extract
Products from Amazon.co.uk
‹
›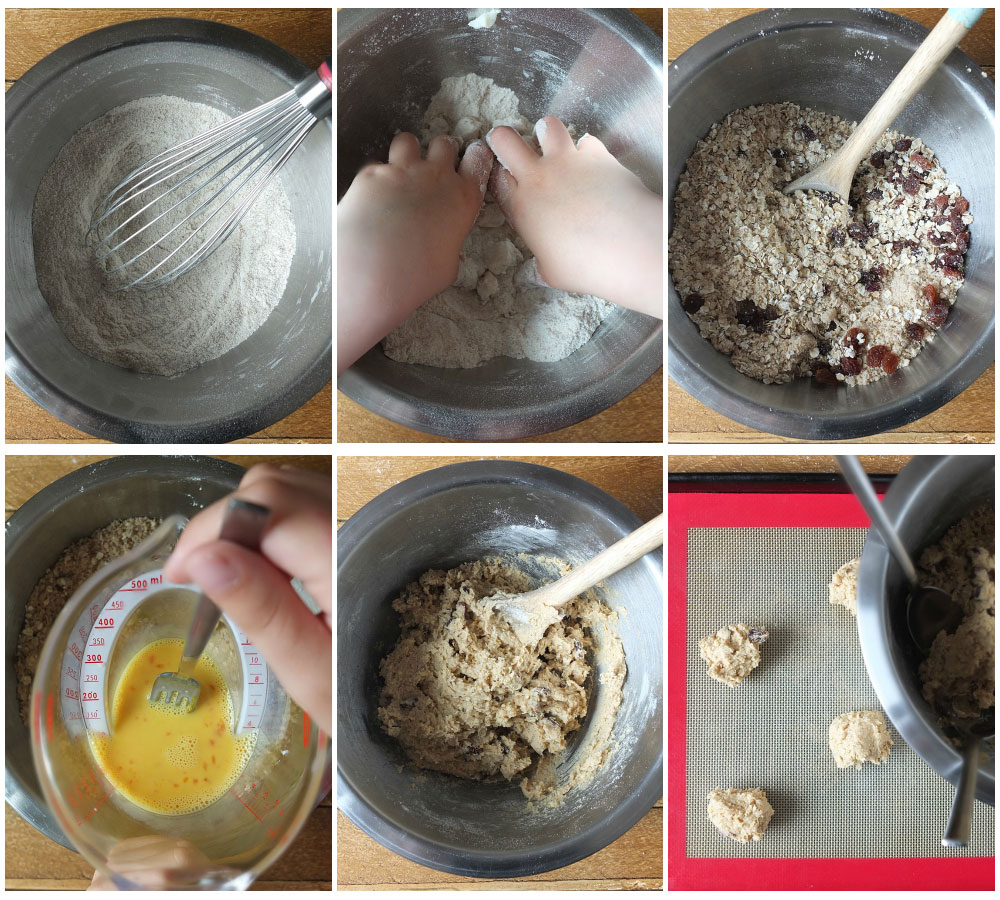 HOW TO MAKE THESE OATMEAL RAISIN COOKIES
Step 1: Whisk together the flour, sugars, spices, salt and rising agents in a bowl.
Step 2: Rub in the white vegetable fat with your fingertips until it resembles coarse breadcrumbs.
Step 3: Stir in the porridge oats and raisins.
Step 4: Beat the egg with the milk and vanilla.
Step 5: Add the egg mixture to the dry ingredients and stir well to combine.
Step 6: Drop by the spoonful onto a baking sheet and bake in a pre-heated oven for 12-14 minutes.
Products from Amazon.co.uk
‹
›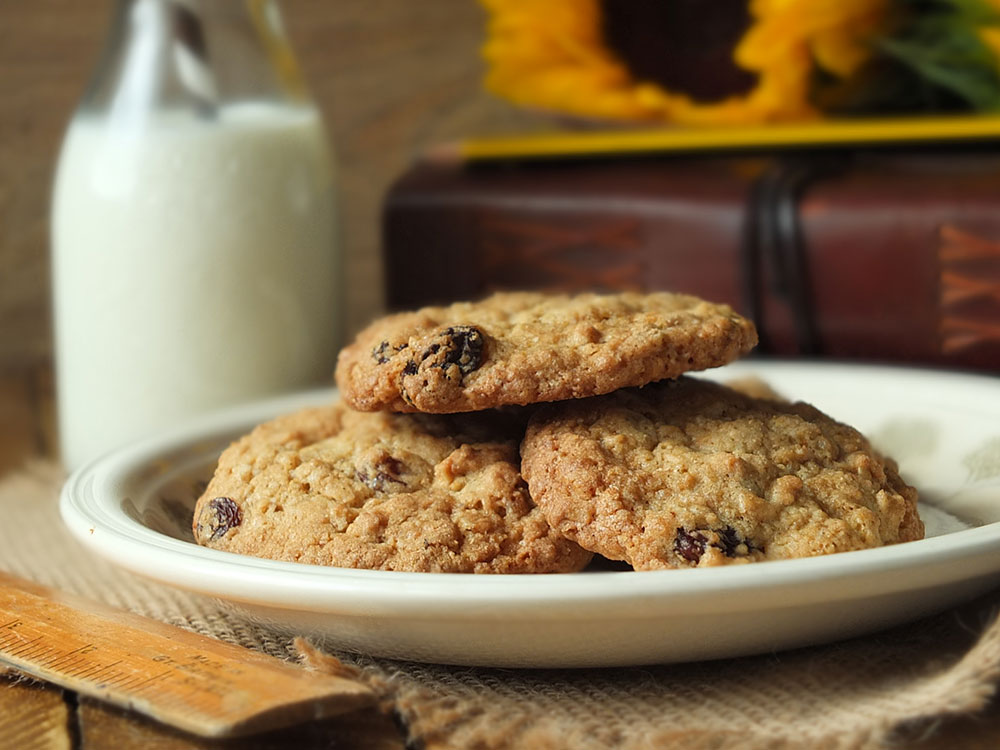 These cookies really do bring back memories of childhood for me, especially the summer.
You may notice that the recipe calls for white vegetable fat and not butter. Now, I do love cooking with butter, but with this recipe, it's just not the same if you use butter. It's the wrong texture. If you're in North America Crisco works really well, and if you're in the UK Cookeen is my preferred brand. Trex does work ok, but it's a bit too soft and fluffy and the resulting bake isn't quite what I like.
What's your favourite cookie from your childhood? Let me know in the comments!
Servings

Prep Time

Cook Time

2

dozen

10

minutes

12

minutes
Servings

Prep Time

2

dozen

10

minutes
Preheat oven to 180 C/ 350 F.

Whisk the flour, sugars, spices, salt, baking powder and bicarbonate of soda together in a large mixing bowl.

Rub the white vegetable fat in with your fingers tips until it resembles coarse bread crumbs.

Stir in the porridge oats and raisins.

Beat the egg, milk and vanilla together and add to the dry ingredients. Combine well with a wooden spoon.

Drop by the spoonful (about the size of a walnut) onto a greased baking tray or a silicone baking mat.

Bake in the centre of the oven for 12-14 minutes, until golden.

Leave to cool on the baking tray for a few minutes before transferring to a wire rack to cool completely.

Store in an airtight container.
Products from Amazon.co.uk
‹
›