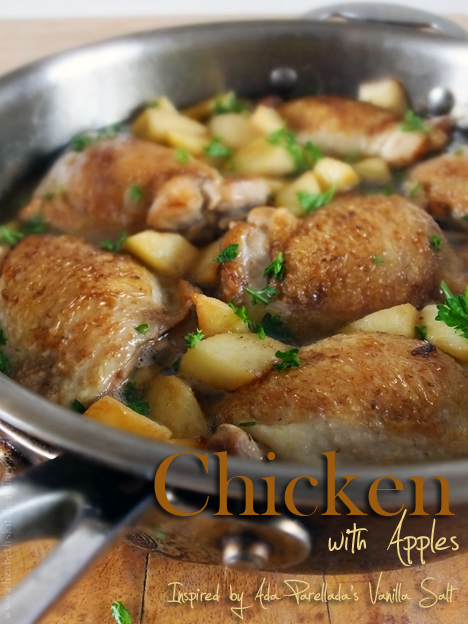 I've recently read the fantastic début novel Vanilla Salt by top Catalan chef Ada Parellada. You can read my review of the novel (and a giveaway if you fancy winning a copy for yourself!) by > clicking here <. Briefly, the book is about a disgruntled Catalan chef whose world is turned upside down with the sudden appearance of a red-headed Canadian foodie. I thoroughly enjoyed the cooking scenes and the first one, on pages 4-5 of the book, transported me straight to a Catalan kitchen. I was inspired to try the recipe described in the text myself, to see if I could turn Parellada's vivid mouthwatering description into something I could consume and enjoy in my own kitchen.
The apples are ready. He sautés them in a little butter with a sprinkling of sugar until they glow with the golden tones of the setting sun. He then puts them aside in a bowl and, as usual when he makes this dish, can't resist having a taste. They're divine, and their intense fragrance pervades the kitchen. The feeling is difficult to describe, but it takes him back to the family kitchen, when he was a little kid and the house rang with laughter.

In a medium-sized casserole he browns the chicken thighs in olive oil and then adds the chopped onion and a clove of garlic. He turns the heat down and lets it all cook slowly. Now it's time to add a generous dash of brandy, and, as part of the recipe, have a tipple himself, because his communion with the chicken must be complete, body and soul. Perked up by the brandy, the chicken starts singing, at first with great gusto, then finishing with the sweet murmur of a little hymn to spring. After tipping in the brandy and draining his own glass Alex sings too, his renditoin of Lluis Llach: "Pull, pull together and we'll all be free…"

This is a strange ritual he often indulges in. Each dish has its own song and Lluis Llach is great for chicken with apples. Now he covers the chicken thighs with broth and keeps them simmering. "If we pull together, the tyrant will fall, and bad times will end in no time at all."
– Vanilla Salt, Ada Parellada (2014)
I confess that although I was very tempted by the description I was sceptical that it would not live up to my expectations. There's no mention of seasoning, no herbs, no salt and pepper, just apples, butter, sugar, chicken, onions, garlic, brandy and stock. Could this taste as good as the description with such simple ingredients? I've never been to Catalonia, I know very little of the area and its cuisine, but I understand, from this book, that simple uncomplicated flavours using fresh produce and good quality ingredients are a must.
I prepared the dish with the novel open beside the cooker. The apples were just finishing when my youngest son, who had been playing outside in the glorious sunshine, came in and remarked, "Mam, that smells really nice! Your chicken and apples smells nice!" So far so good!
The proof was in the eating though, and I served the chicken with apples simply with some freshly harvested steamed Shetland kale. It was superb! Very inexpensive, easy to make and the flavours…. oh goodness, they were a perfect medley of buttery sweet apples and succulent chicken. This delicious dish will be a regular in our household from now on.
Linking up with Read, Cook, eat a literary food challenge by Galina over at Chez Maximka and Chris at Cooking Around the World.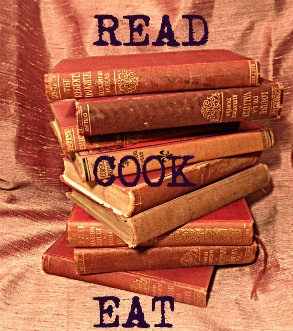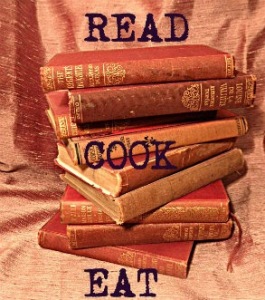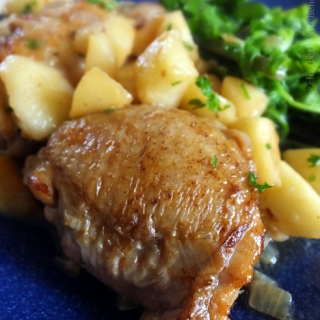 Chicken with Apples
A simple chicken and apples dish inspired by Catalan chef Ada Parellada's debut novel Vanilla Salt.
Print
Rate
Affiliate Links
This recipe card may contain affiliate ingredient and equipment links. As an Amazon Associate I earn from qualifying purchases.
Instructions
Melt butter in a large pan over a medium high heat and gently sauté the apples with a sprinkling of sugar until they begin to colour, about 5-7 minutes. Set aside in a bowl.

In the same pan, heat the olive oil. Brown the chicken fillets on both sides until golden.

Add the onion and garlic and cook for a further five minutes.

Pour in the brandy and cook for a few minutes before adding the chicken stock.

Turn the heat down to medium low, loosely cover the pan with a lid and simmer gently for 25-30 minutes.
Environmental Information
SOME OTHER CHICKEN RECIPES YOU MIGHT ENJOY:
Slow cooked chicken Italian by Fab Food 4 All
Chicken, Bacon, Mushroom & Crème Fraiche Pasta by Kavey Eats
Barbecued Chicken Drumsticks and Why You Shouldn't Wash Raw Chicken by My Golden Pear
Chicken Thigh, Sausage and Wild Garlic Stew by Belleau Kitchen
If you want to be kept up to date on my recipes, occasional craft tutorials, adventure stories and giveaways then please subscribe to my weekly newsletter; it gets sent out every Monday morning if there is new content. Your email address won't be passed on to anyone, you will never be spammed and you are free to unsubscribe at any time, no questions asked.
[wysija_form id="1″]