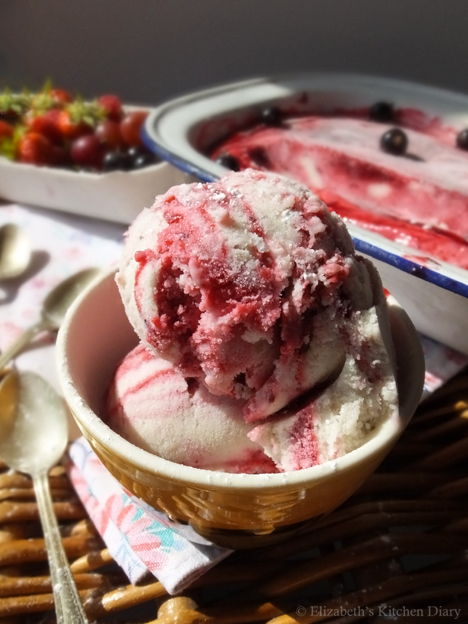 My electric ice cream machine died last year. It was a gruesome death, with it's bright blue coolant slowly leaking out all over the contents of my deep freeze. This was the second time this ice cream maker death occurred in my freezer. The first time it happened the company replaced the bowl free of charge, but the same thing happened again. I've lost faith in electric ice cream makers and haven't yet replaced it with another brand.
My experience so far with no churn ice creams has been fairly limited. Whipping cream/condensed milk ice cream is very delicious and easy to make (like my mint chocolate chip cookie dough ice cream), but it's heavy on the calories which, for some reason, have a great fondness for sticking to my bottom and refusing to move. So I've been avoiding that method.
Then there's the quick banana ice cream: blitz frozen banana chunks up in the food processor until thick and creamy for a quick, no junk treat. It's very banana-y which is fine if you love bananas (like me) but not if you don't (the husband). I sometimes drizzle some double cream into the food processor while the bananas are pulsing and then stir in chunks of dark chocolate and walnuts; a sort of healthy chunky monkey (I really ought to blog that recipe!)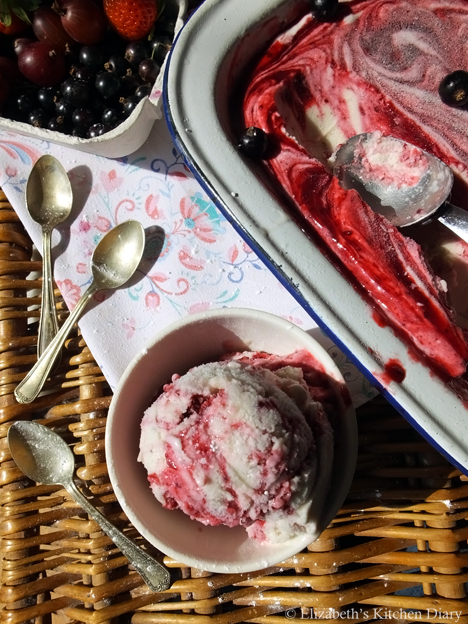 Then, the lovely Aimee over at Wallflowergirl introduced me to the fantastic world of coconut milk ice creams. After my first taste of her Mayan Chocolate recipe, I was hooked, and I throw several tins of coconut milk into my shopping trolley now when I do a supermarket shop. Coconut milk imparts a lovely creamy texture to the vegan ice creams, and it's a fairly neutral flavour so it can be easily tailored to your liking.
Shetland was recently hit by a hit wave. For a whole week, we had glorious sunshine and temperatures exceeding 20 degrees Celsius (that's a heatwave by Shetland standards!). Ice cream was required.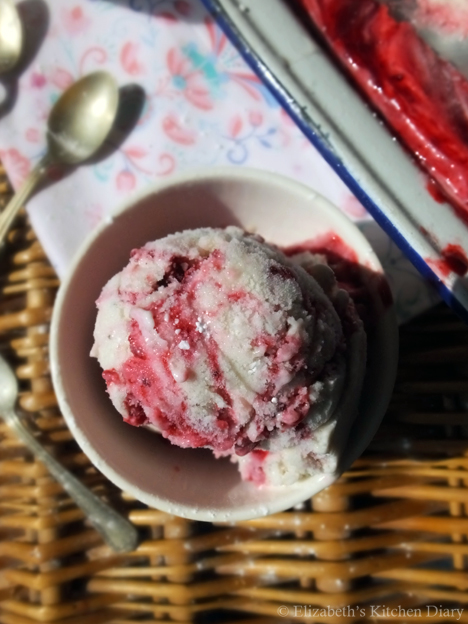 A quick look in the fridge revealed two punnets of gorgeous Shetland blackcurrants grown by my veg box supplier on the west side of Shetland. I knew there were three bananas broken into one-inch segments in the deep freeze and a cupboard containing several tins of coconut milk.
An idea was born!
I'm rather pleased how well this ice cream turned out. I deliberately kept the sugar quantity low as I didn't want to mask the tartness of the fresh berries. Crème de cassis was added to stop the blackcurrant ripples from freezing into ice crystals, as often happens when fruit purées are stirred into an ice cream base. You can taste the banana, slightly, but the predominant flavour is blackcurrant. The children kept coming back asking for their bowls to be refilled and as children are honest critics I knew I was on to a winner.
You might also be interested in my other ice cream recipes. You might also like, if you have a glut of blackcurrants, my friend Jane's blackcurrant cordial recipe. Homemade Ribena, yes please!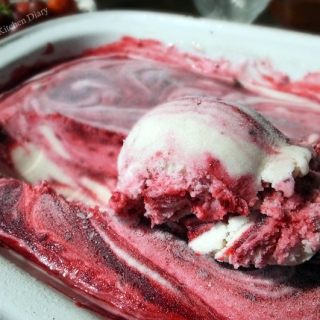 Vegan Blackcurrant Ripple Ice Cream
Ribbons of delicious blackcurrant purée in a banana and coconut milk base.
Print
Rate
Affiliate Links
This recipe card may contain affiliate ingredient and equipment links. As an Amazon Associate I earn from qualifying purchases.
Instructions
Combine blackcurrants and granulated sugar in a small saucepan. There is no need to add any water as the berries should be juicy enough.

Bring to a boil, reduce the heat and simmer until reduced, about 5 minutes. Remove from heat and allow to cool slightly.

When cooled, purée the mixture and stir in the crème de cassis. Cover and chill in the fridge until needed.

Dissolve the arrowroot powder in 80 ml coconut milk and set aside for 15 minutes to thicken.

Stir the remaining coconut milk and caster sugar together in a saucepan over medium heat until the sugar dissolves.

Add the arrowroot mixture and, stirring continuously, bring the coconut milk to a boil. It will quickly thicken.

Remove from heat and stir in the vanilla extract. Chill in the fridge for a few hours.

Place bananas into a food processor and pulse until it is thick and creamy. This will take a few moments and it will go through several stages (big chunks, little chunks, etc.) before it gets there. Persevere.

When bananas are creamy, add the chilled coconut milk mixture and pulse until thoroughly combined. Check the bottom of the bowl to make sure no bananas are stuck to the bottom.

Transfer mixture to a freezer-proof container or, if your food processor base is plastic like mine, pop the whole thing into the freezer, covered with a tea towel.

Freeze for one hour and then pop the bowl back onto the processor base and process again. Repeat every hour for three or four hours until the mixture is thick, creamy and resembles a soft scoop ice cream.

Transfer half the ice cream mixture into a freezer-proof container, smoothing over the top. Pour over half the blackcurrant purée, top with the remaining coconut milk base and finish with a layer of the remaining blackcurrant purée.

Using a palette knife weave figure of eight lines through all four layers of the mixture, taking care not to over blend. You will end up with lovely blackcurrant ripples through the coconut milk base.

Freeze overnight. Allow to soften for ten minutes before serving dusted with icing sugar.
Environmental Information
OTHER VEGAN ICE CREAM RECIPES YOU MIGHT LIKE:
Cauliflower and Chocolate Ice Lollies with Pistachio Dust by Veggie Desserts
Food Processor Banana Ice Cream by Fuss Free Flavours
Jungle Juice Sorbet by Kavey Eats
Salted Caramel Ice Cream by Wallflower Girl
2 Minute Healthy Chocolate Ice Cream by Hungry, Healthy, Happy
3 Minute Raspberry Ice Cream by Maison Cupcake
If you want to be kept up to date on my recipes, occasional craft tutorials, adventure stories and giveaways then please subscribe to my weekly newsletter; it gets sent out every Monday morning if there is new content. Your email address won't be passed on to anyone, you will never be spammed and you are free to unsubscribe at any time, no questions asked.