This simple recipe for tomato and basil pasta sauce uses storecupboard ingredients, including basil-infused Italian olive oil, and is ready in under 10 minutes! Serve with your favourite pasta and toppings.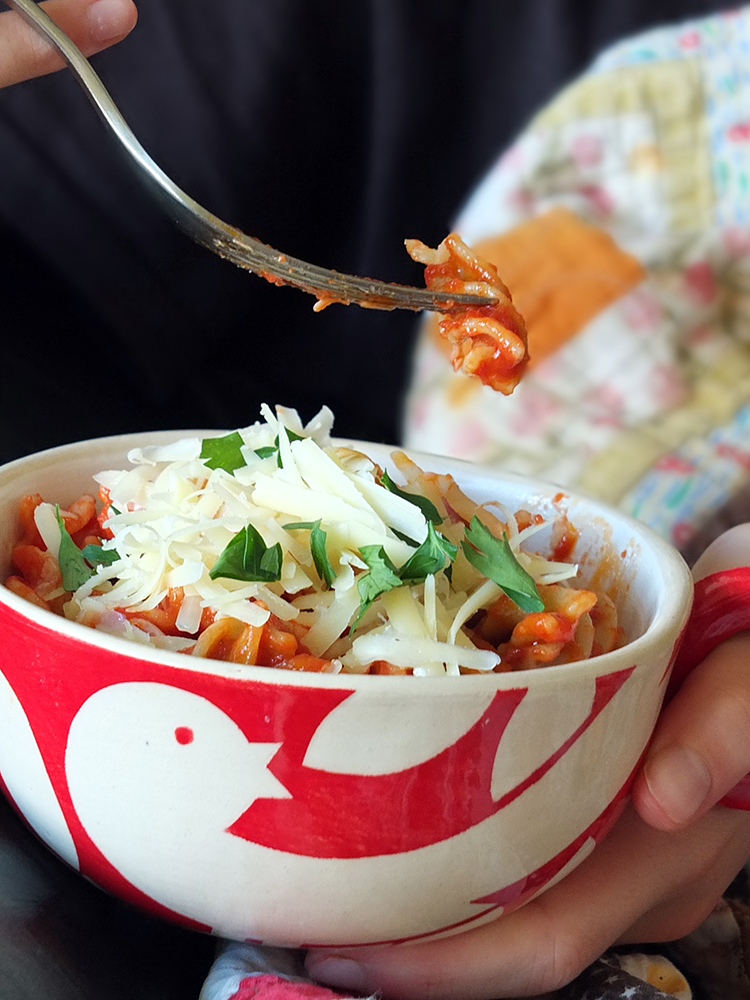 Is pasta the ultimate comfort food?
A bowl of hot pasta in tomato sauce is one of those perfect, nostalgic comfort foods, to me. I grew up living off spaghetti with Ragu sauce, sprinkled liberally in that fake Parmesan cheese (remember that stuff, it was kept in the cupboard?!).
Best dinner, ever.
Now, I find it's cheaper (and tastier) to make my own sauce. I stock up on jars of passata rustica at the supermarket when I find them on offer and it takes just a matter of minutes to transform them into a delicious pasta sauce.
Perfect for those busy midweek meals when I can't be bothered to cook.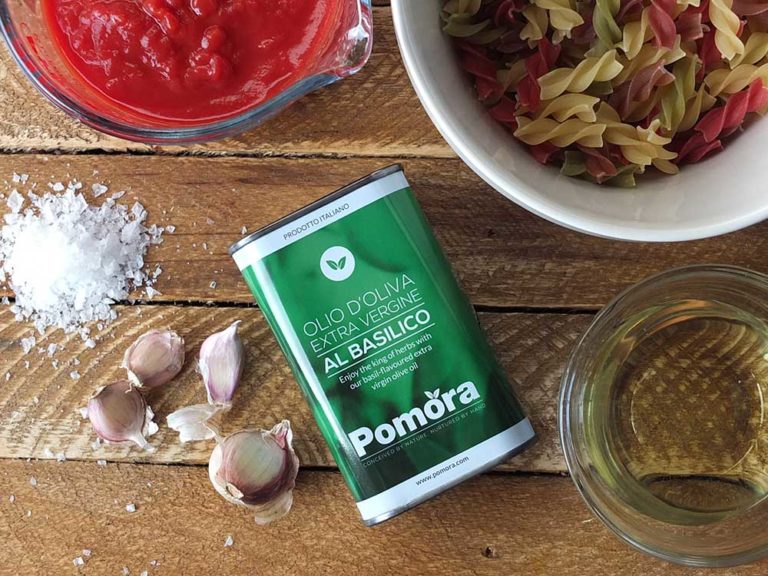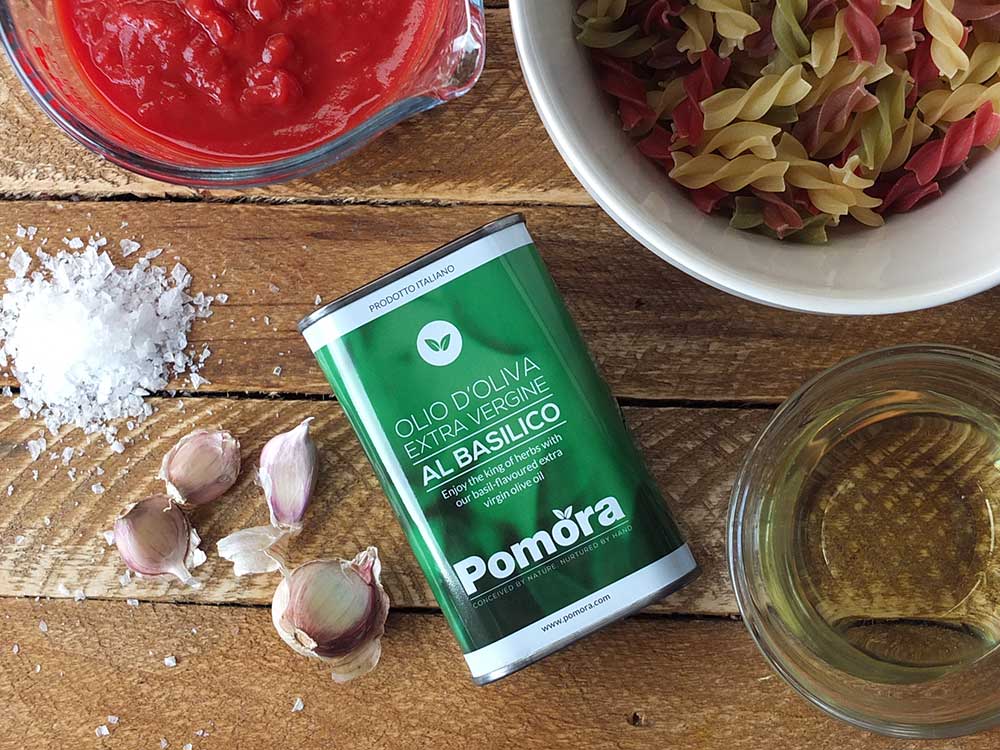 Ingredients for tomato and basil pasta sauce
passata rustica (sieved tomatoes)
garlic – lots of fresh garlic, but you can use lazy garlic too if that's all you have
olive oil (to cook)
basil-infused olive oil (to add at the end) – or add a big handful of fresh basil leaves along with a glug of extra virgin olive oil
fusilli pasta, to serve (my kids call this 'normal pasta')
sea salt, to add to the pasta water for cooking
How to make tomato and basil sauce
Heat olive oil in a small saucepan
Add the chopped or crushed garlic. Cook for one minute until fragrant.
Add passata rustica (sieved tomatoes).
Bring to a simmer.
Remove from the heat and stir in a few spoonfuls of basil-infused olive oil or some extra virgin olive oil and a handful of torn, fresh basil leaves.
Pour over cooked pasta, top as desired and enjoy!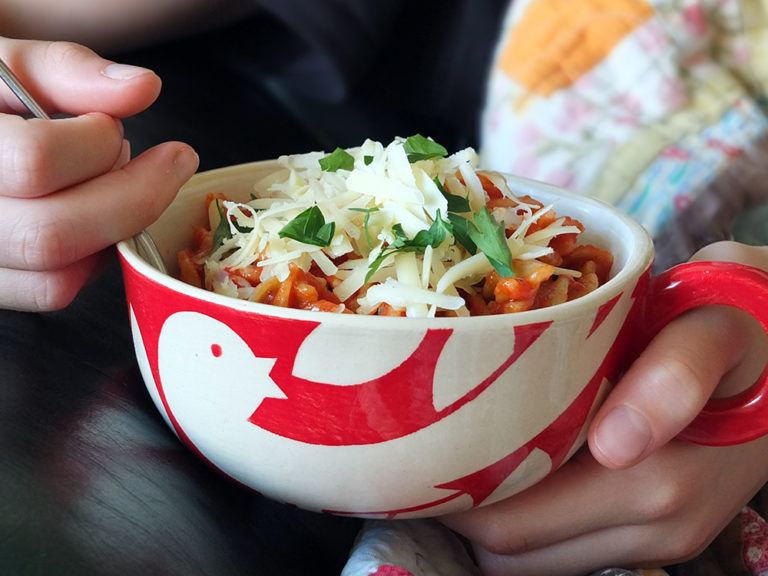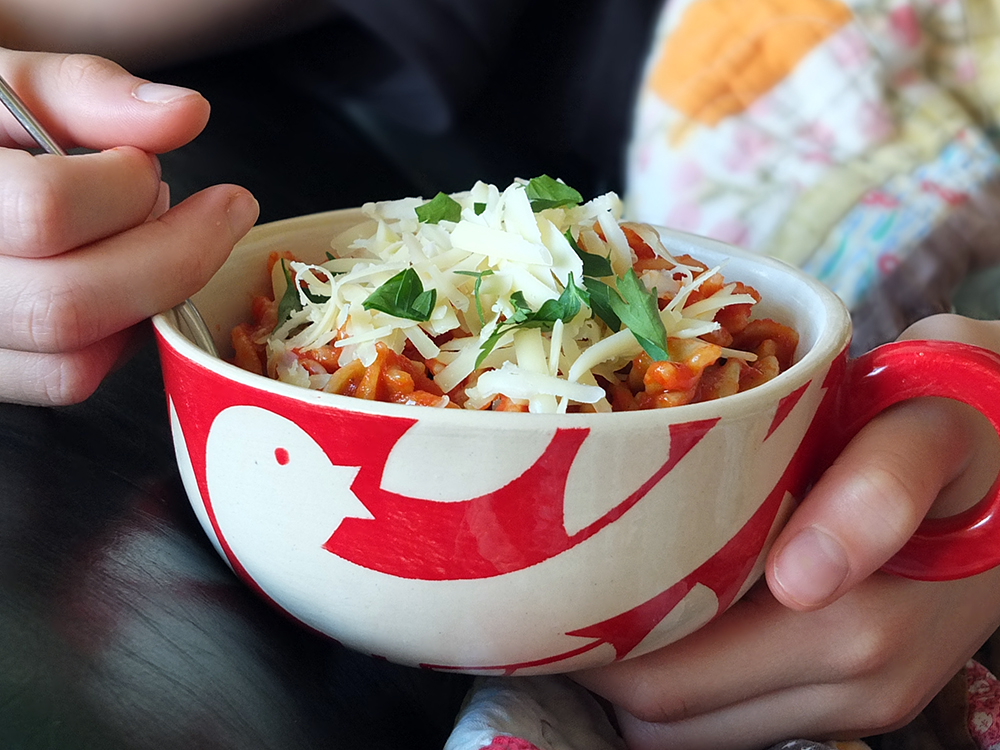 This basic tomato sauce in a bowl of fusilli (aka "normal pasta") is my children's favourite go-to comfort food. Sometimes I jazz it up with a sprinkling of dried oregano added along with the garlic, or I use regular olive oil at the end and add a generous handful or two of torn basil leaves. Sometimes I add capers, anchovies and kalamata olives to make spaghetti puttanesca.
It's an incredibly versatile base, too. You could leave it to simmer and thicken for an hour or so to make pizza sauce, or throw in some overripe tomatoes and freeze the sauce for use at a later date.
How do you like your tomato sauce? Let me know in the comments!
Recipe Difficulty Levels
Easy

Requires basic cooking skills and ingredients you most likely already have in your kitchen.
Moderate

Requires more experience, preparation and/or cooking time. You may have to source special ingredients.
Challenging

Recipes requiring more advanced skills and experience and maybe some special equipment.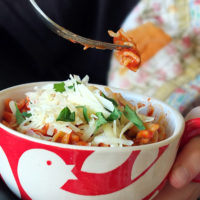 Comfort Food Pasta Bowl with Tomato and Basil Pasta Sauce
This simple recipe uses storecupboard ingredients and is ready in under 10 minutes! Serve with your favourite pasta and toppings.
Print
Rate
Ingredients
for the tomato and basil pasta sauce
Affiliate Links
This recipe card may contain affiliate ingredient and equipment links. As an Amazon Associate I earn from qualifying purchases.
Instructions
Bring a pan of water to the boil. Add salt and pasta. Stir, and set timer according to packet instructions – between 8-11 minutes, usually, depending on the type of pasta.

Heat olive oil in small saucepan. Add the garlic and saute until fragrant, about one minute.

Stir in the passata rustica and bring to a simmer. Cook for a few minutes.

Remove from the heat, stir in the basil-infused olive oil.

Serve with your favourite pasta and toppings.
Notes
You don't need to add salt or pepper to this sauce, as you add salt when cooking the pasta (the way the Italians do!), and you add freshly ground black pepper to your individual serving along with your other toppings.
Top with grated Parmesan, Grana Padano or Cheddar cheese (this is the way my daughter likes it!). I like mine with a good drizzle of Pomora chilli-infused olive oil and plenty of freshly ground black pepper.
Other pasta recipes you might like