Leftover Halloween pumpkin? Use up the whole pumpkin – guts, seeds and flesh – in this super easy creamy roasted pumpkin pasta recipe with crispy fried sage and roasted chilli pumpkin seeds. Leftovers reheat really well too!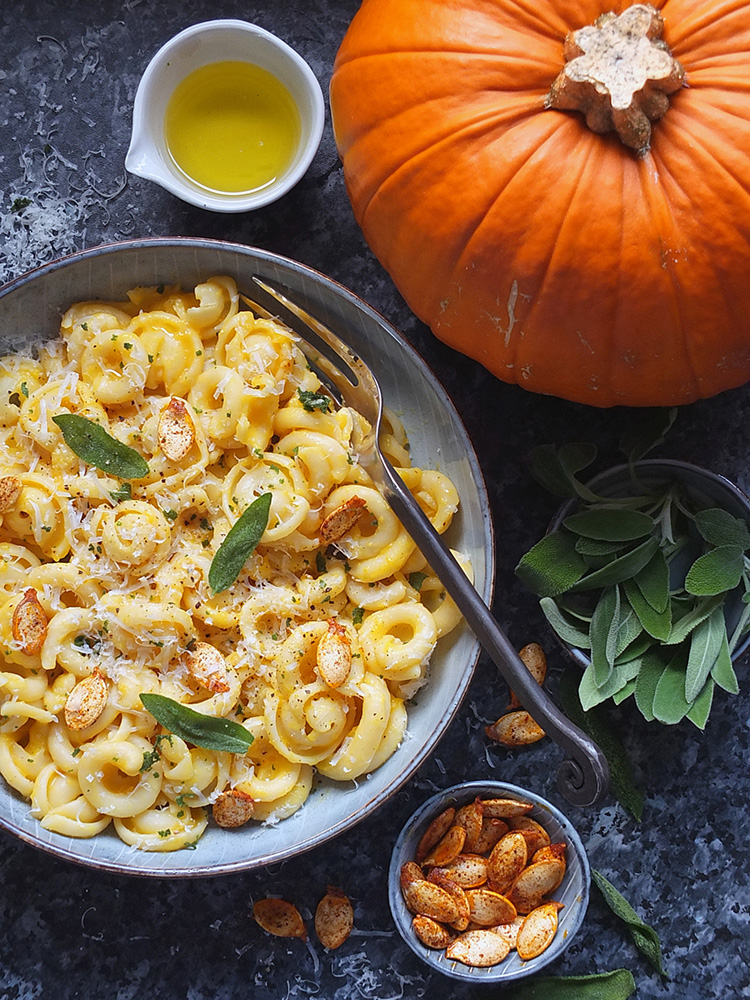 Halloween pumpkin waste – the shocking UK statistics
Did you know that over 8 million pumpkins are binned in the UK every Halloween? That's equivalent to 18,000 tonnes of perfectly edible food, which could be made into 360 million portions of delicious pumpkin pie, or numerous other recipes!
There's a common misconception that carving pumpkins are inedible, and while they're not as flavoursome as other pumpkins and squash, they are very much edible and can be used in a multitude of ways after they've been carved.
Don't forget to save the seeds and guts when carving your Jack-o-Lantern. The seeds are delicious roasted with whatever seasonings you like (I'm a chilli fan, me!), while the guts can be used in stocks, soups, stews or even pumpkin mulled wine!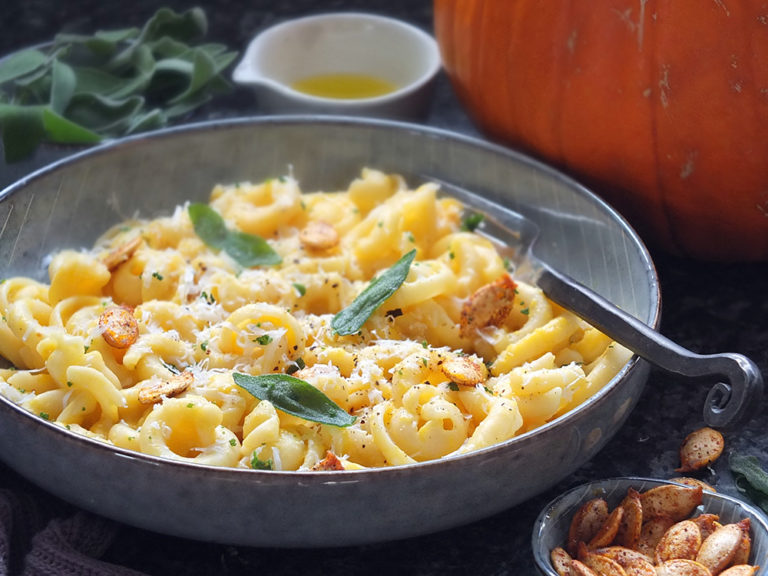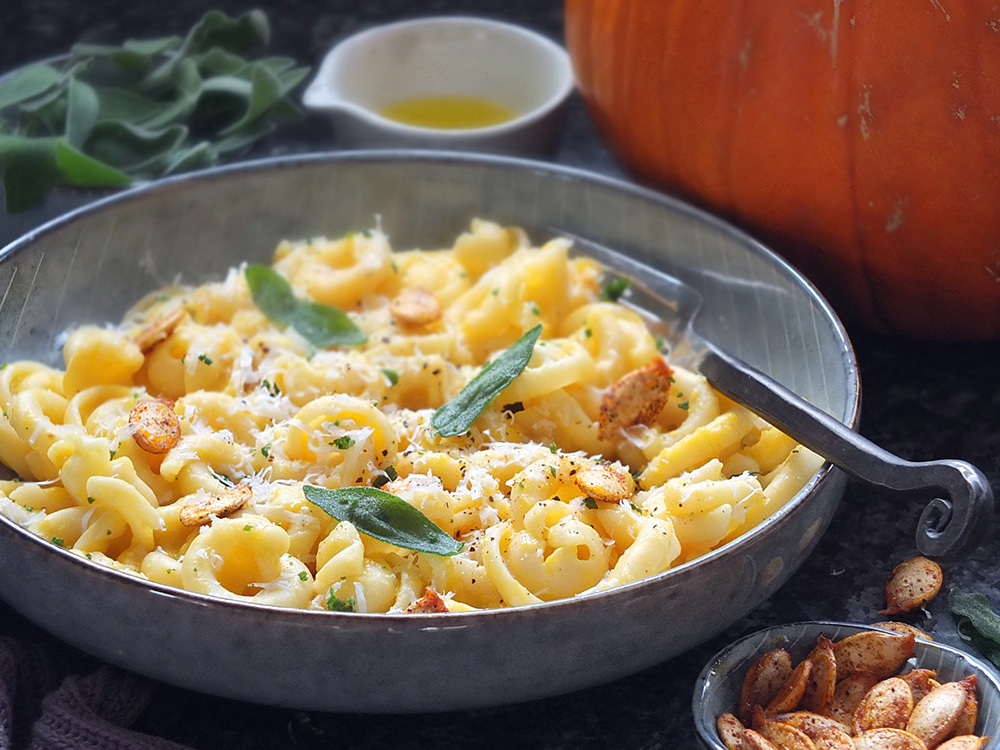 Roasted Pumpkin Pasta – trust me, it's fabulous!
This roasted pumpkin pasta recipe uses up the whole pumpkin, flesh, guts and seeds, and it's super easy to make too. Even my kids like it! Roasted pumpkin has a delicious, sweet caramel flavour and it cooks beautifully, pureeing really well into a creamy pasta sauce.
For this sauce, I roast the pumpkin before simmering it, along with the roasted guts, in chicken stock before adding grated Parmesan cheese and a little creme fraiche or double cream. I serve it topped with fried sage and roasted chilli pumpkin seeds.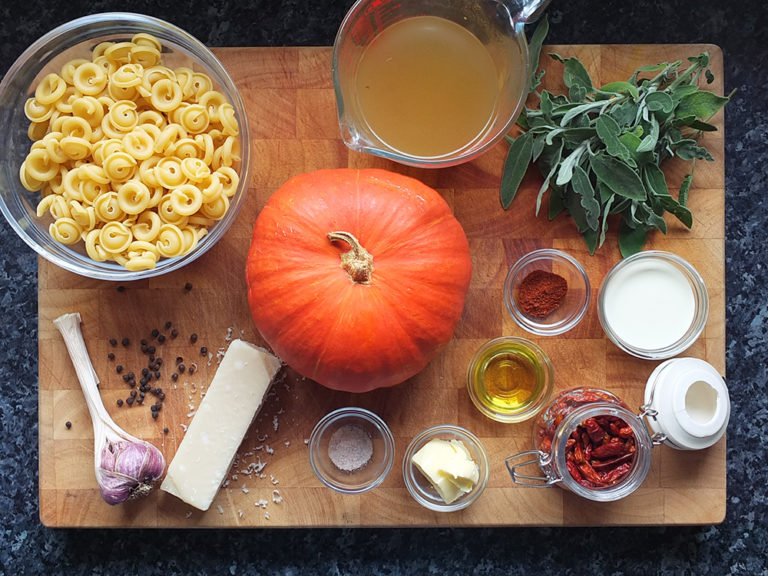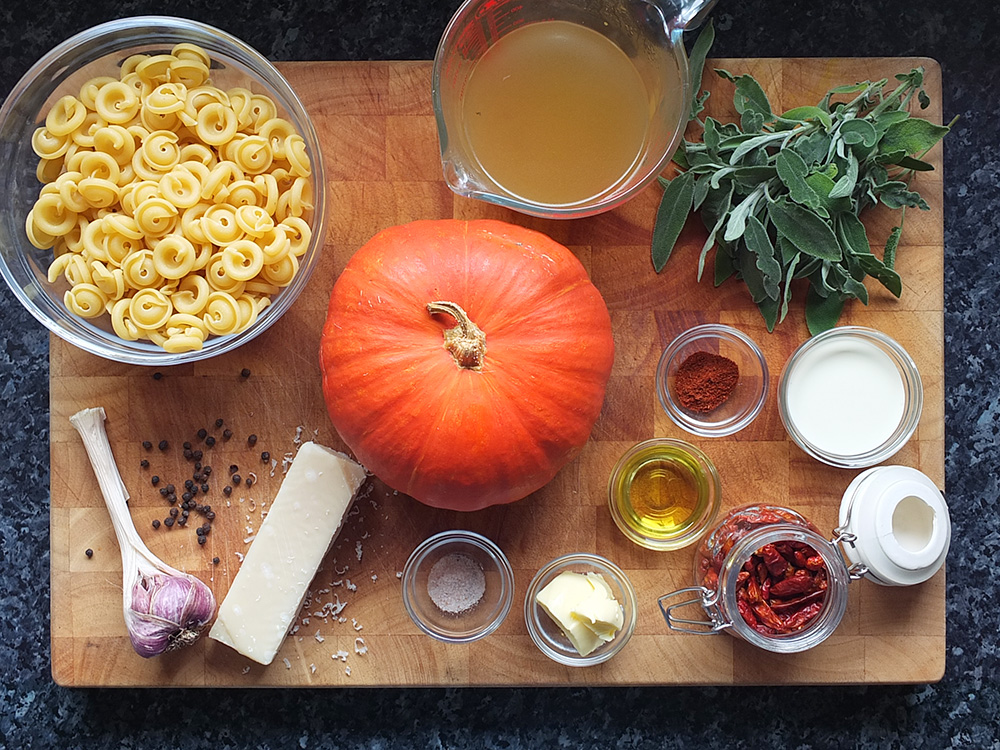 Ingredients
one whole 900-gram pumpkin – flesh, guts and seeds (or a 700-gram wedge of pumpkin with the seeds/guts still attached)
1 tbsp olive oil plus extra to fry the sage
1/2 tsp hot chilli powder
1 tbsp butter
1 large garlic clove (or more, if desired)
300 ml hot chicken stock
salt & pepper, to taste
2 tbsp creme fraiche (or double cream)
50 grams grated Parmesan cheese (or vegetarian equivalent)
fresh sage leaves
320 grams of dried pasta (I've used dischi volanti)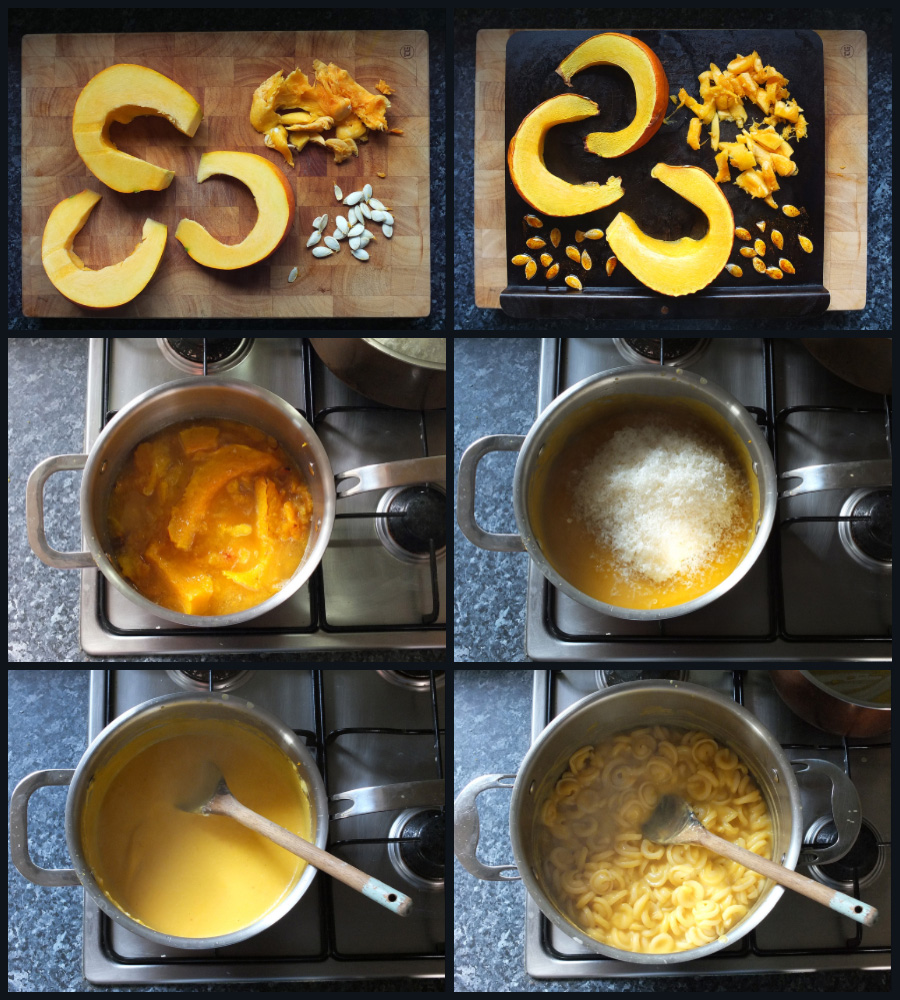 Instructions
Preheat oven to 180 C/ 350 F. Remove the guts and seeds from the pumpkin flesh, reserving both for later. Cut the pumpkin flesh into 2-3 inch thick slices.
Arrange the pumpkin slices on a baking tray and roast in the centre of the oven for 35 minutes. Add the guts, and the washed and dried pumpkin seeds which have been mixed with the olive oil and chilli powder. Roast for a further 10-15 minutes, until the seeds are toasted. Allow to cool completely.
Heat the butter in a small saucepan and saute the garlic until fragrant, about one minute. Add the cooled pumpkin flesh, pumpkin guts and chicken stock. Simmer for 10 minutes with the lid off.
Puree with a hand blender, add the Parmesan cheese and stir through until the cheese has melted.
Add the creme fraiche and season well to taste.
Stir through cooked pasta and serve with fried sage (see full recipe below) and the chilli pumpkin seeds.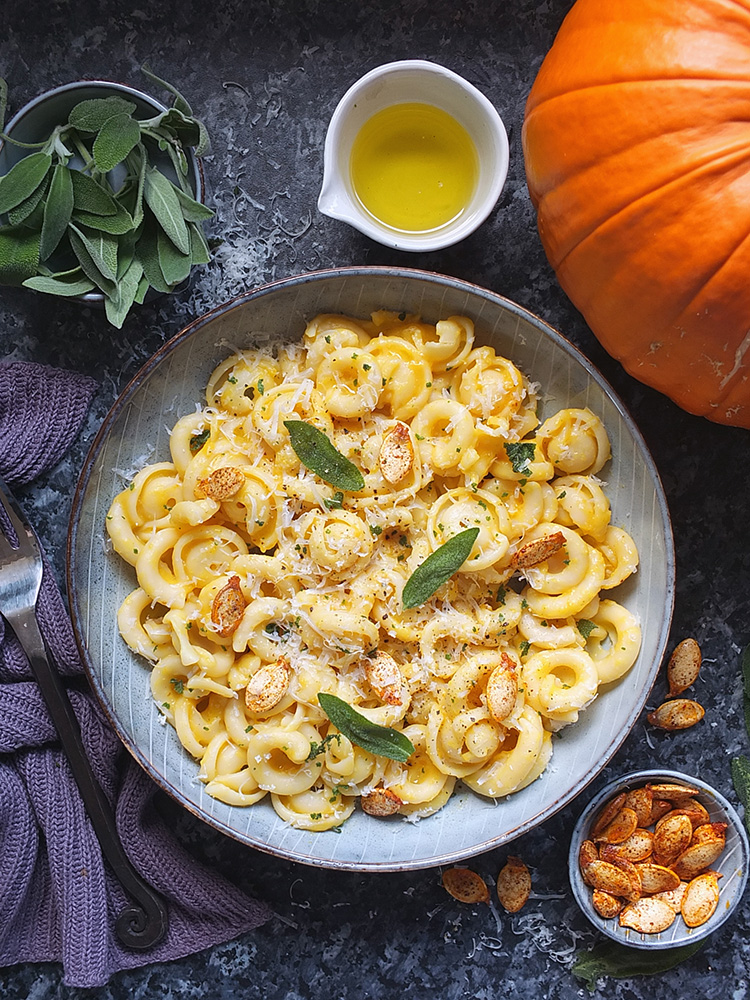 What is dischi volanti pasta?
Dischi volanti is a type of Italian pasta particularly suited to thick, chunky sauces. The words 'dischi volanti' literally translate to 'flying discs' and this is because of the pasta's characteristic flying saucer shape. It is thought that the pasta shape was created by Pastificio Fabbri after the alleged sighting of a UFO in Florence, Italy in October 1954.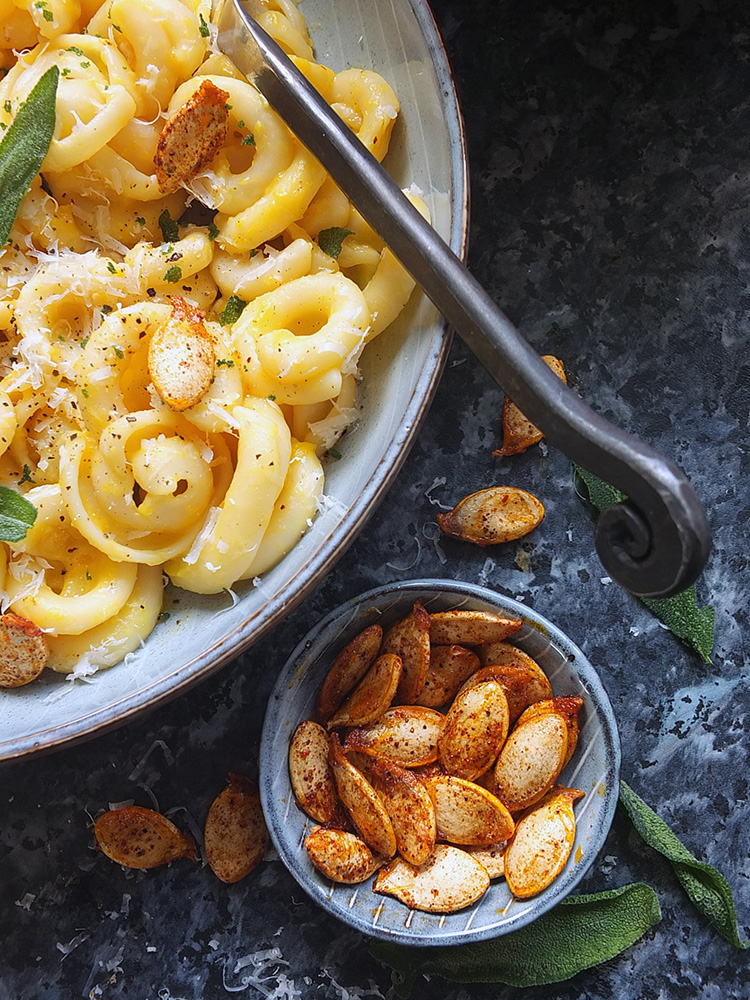 Roasted pumpkin seeds – why you need delicious little morsels in your life!
It is ridiculously easy to roast your own pumpkin seeds. Seriously.
Don't be tempted to open these flat, white seeds trying to find a green pumpkin seed inside though, those fat green seeds you see in the shops are from a different kind of pumpkin bred specifically to make plump green pumpkin seeds.
Wash your white-hulled carving pumpkin seeds, removing all the stringy bits, pat dry and mix them with a little oil and season to taste. Try roasting them with just a bit of salt, or chilli powder, or even Roast for 10-15 minutes until golden, and allow to cool before eating. They'll crisp up into the most delicious snack, and you'll wonder why you've thrown out these seeds for so long!
Alternatively, you could try the boil and roast method, which results in a crispier snack.
Pumpkin seeds are a good source of protein, healthy fats, vitamins and minerals. They're too nutritious to throw away!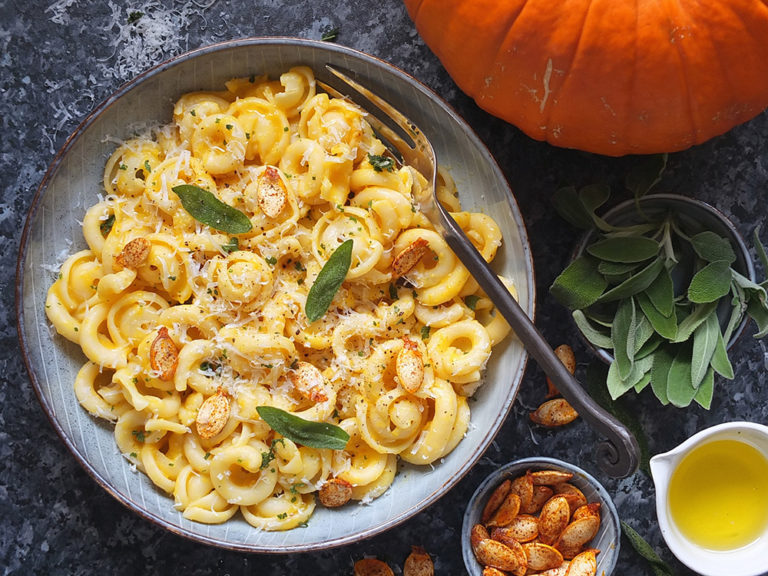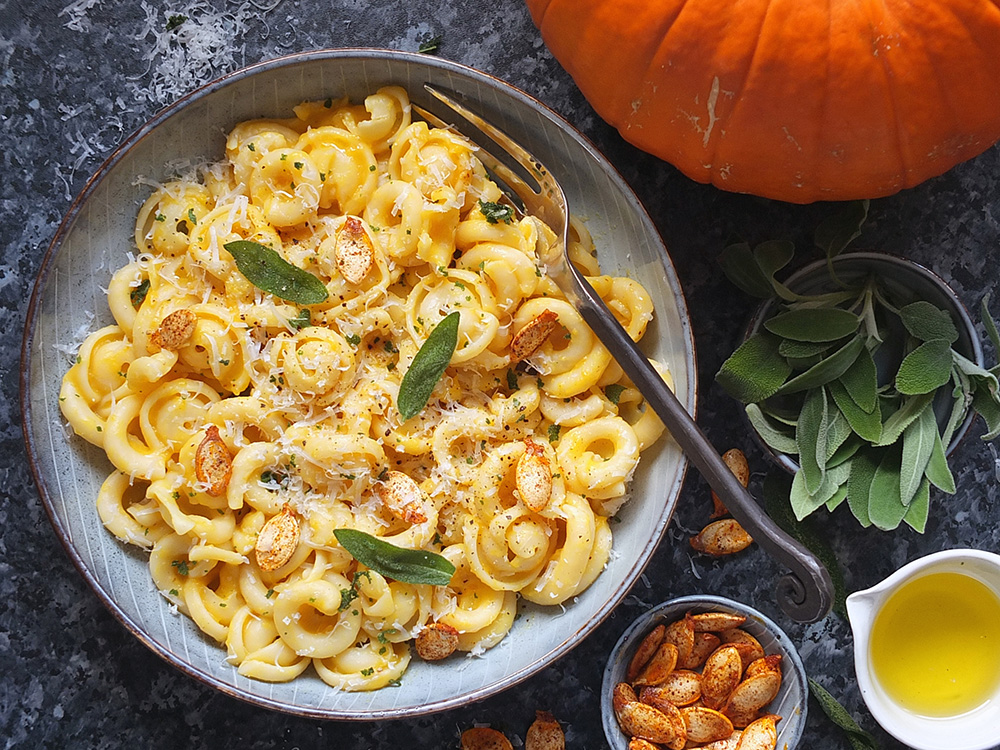 Fried sage – the garnish you didn't know you were missing
I'm not going to lie, dried sage is one of my least favourite herbs. There's just something about it, and I'm not alone with this sentiment. Elizabeth David, author of Summer Cooking (1955) wrote: "It deadens the food with its musty, dried blood scent." I am afraid I am inclined to agree.
Fresh sage, on the other hand, is one of my most favourite traditional British herbs. I love it when a handful arrives in my organic veg box.
Besides using fresh sage in stuffings (I've got a gorgeous apple & leek stuffing recipe to share with you soon!), or in my pan-seared pork medallions recipe, I like to fry the delicate little furry leaves in a little sunflower oil for a few seconds and leave them to drain on a piece of paper towel. After they've cooled, these fragile little leaves can be crumbled over a dish of pumpkin pasta, or even a hearty bowl of roasted pumpkin soup with white truffle oil.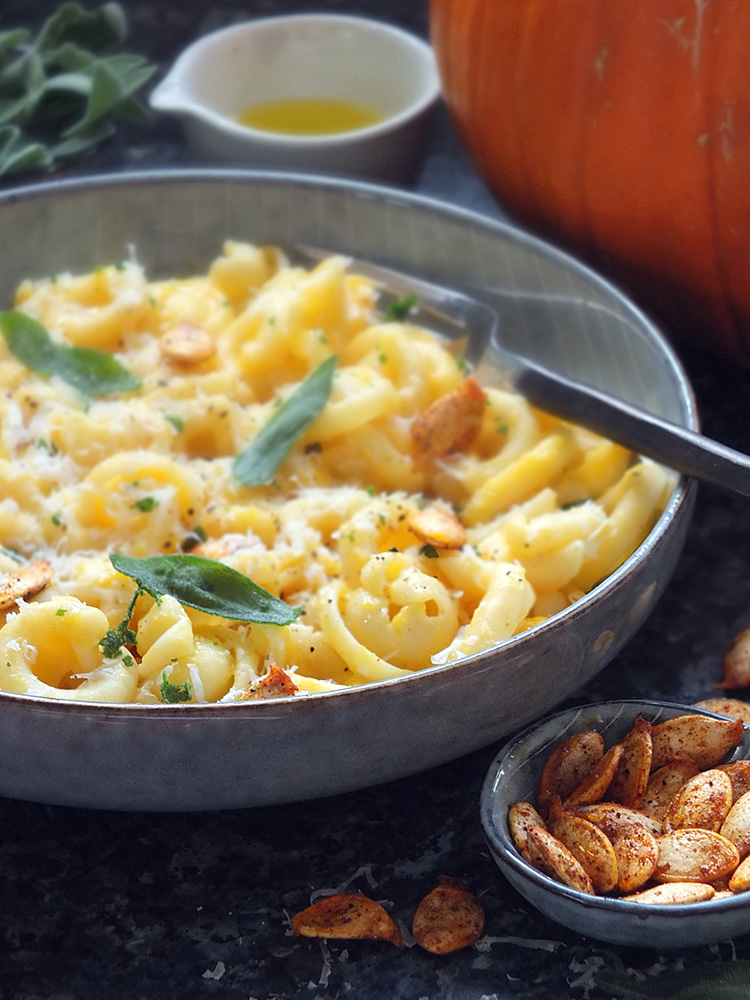 What else can I make with roasted pumpkin?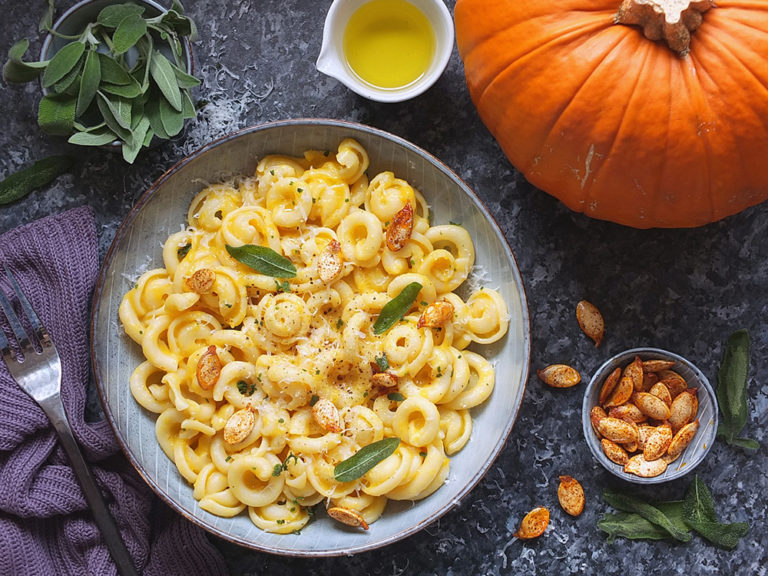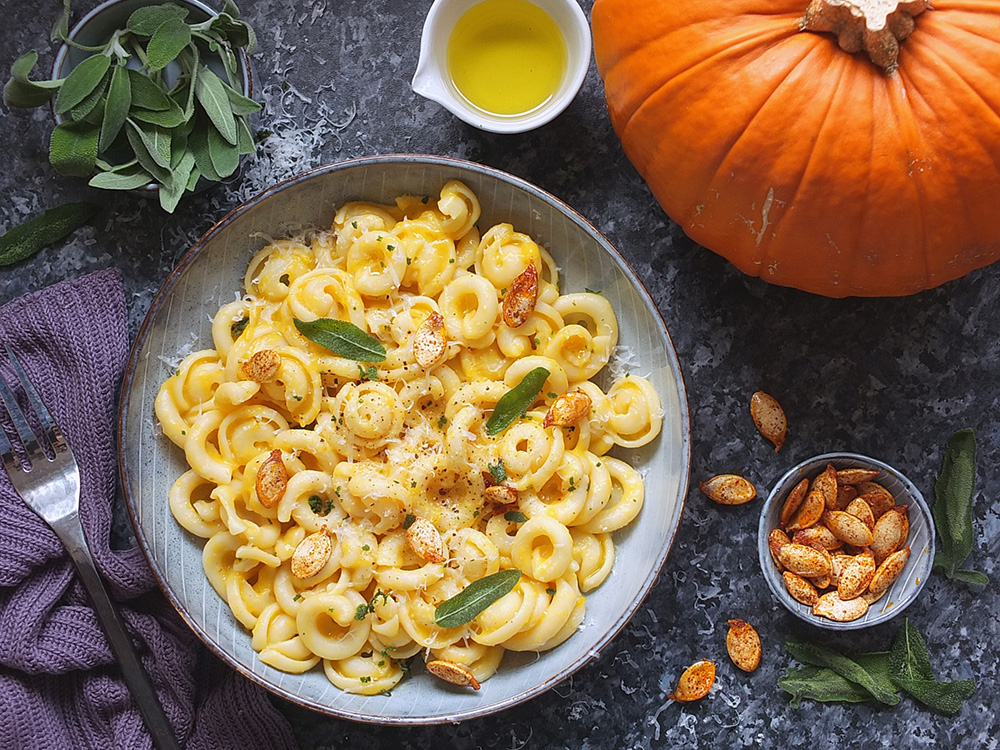 Tips for salvaging your leftover Halloween pumpkin
don't use a candle inside your Jack o'Lantern, as it will taint the flavour of the flesh. Instead, use a battery-operated tealight.
cook your pumpkin as soon as you can after carving it; ideally within a day or two.
if you're in a hurry, pop the pumpkin guts and seeds into the fridge for sorting out later. They'll keep a day or so.
Do you have any tips or recipes to add to this post? Let me know in the comments below! Happy Halloween!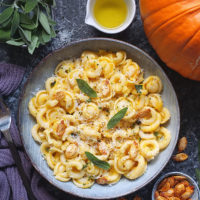 Creamy Roasted Pumpkin Pasta with Fried Sage & Roasted Chilli Pumpkin Seeds
Use up the whole pumpkin - guts, seeds and flesh - in this super easy creamy roasted pumpkin pasta recipe with crispy fried sage and roasted chilli pumpkin seeds.

Print
Pin
Rate
Ingredients
to roast the pumpkin and the seeds
for the pumpkin pasta sauce
Affiliate Links
This recipe card may contain affiliate ingredient and equipment links. As an Amazon Associate I earn from qualifying purchases.
Instructions
Preheat oven to 180 C/ 350 F.

Scoop out the pumpkin flesh and seeds, reserving them for later.

Slice pumpkin flesh into slices approximately 2 inches thick. Arrange on a baking tray and bake in the centre of the oven for 35 minutes.

Meanwhile, wash and dry the pumpkin seeds throughly and toss in the olive oil and hot chilli powder.

Fry your sage leaves by heating the olive oil over a medium-high flame. Drop the leaves in 6-8 at a time, and fry for few seconds so that they retain their vibrant green colour. Remove the leaves from the hot oil with a slotted spoon and drain on a piece of kitchen paper or clean towel.

Chop the remaining pumpkin guts into pieces, if needed, and add to the baking tray along with the chilli pumpkin seeds.

Roast for a further 10-15 minutes, until the pumpkin is softened and the seeds are golden. Allow to cool completely.

Heat the butter in a large saucepan, and saute the garlic for a minute.

Add the cooled, roasted pumpkin flesh (without the skin), the pumpkin guts and the chicken stock.

Simmer over a medium flame for 10 minutes, leaving the lid off.

Meanwhile, cook the pasta according to the packet instructions and drain.

Puree the pumpkin sauce until smooth and add the grated Parmesan and creme fraiche.

Season well to taste and stir through the hot, cooked pasta.

Serve with the fried sage, chilli pumpkin seeds and extra Parmesan cheese, if desired.
Notes
Food waste prevention tip #1: store your leftover Parmesan rinds in the freezer instead of throwing them away. You can add them to soups or sauces, like this one, during the cooking stage and they will melt into the recipe.  Food waste prevention tip #2: leftovers of this recipe reheat really well! Store, covered, in the fridge for 2-3 days. When you want to reheat it, add a splash of oil to a saute pan, add your leftover pasta and a few tablespoonfuls of milk. Stir until heated through and enjoy! Food waste prevention tip #3: make the sauce in advance, omitting the Parmesan and creme fraiche, and freeze for later. Defrost, add the cheese and creme fraiche and stir into cooked pasta.
Nutrition
Calories:
503
kcal
|
Carbohydrates:
75
g
|
Protein:
19
g
|
Fat:
15
g
|
Saturated Fat:
6
g
|
Cholesterol:
22
mg
|
Sodium:
350
mg
|
Potassium:
874
mg
|
Fiber:
4
g
|
Sugar:
8
g
|
Vitamin A:
15222
IU
|
Vitamin C:
16
mg
|
Calcium:
225
mg
|
Iron:
3
mg
Environmental Information
Pin this creamy pumpkin pasta recipe for later!