Fried sage and white truffle-infused olive oil transform this soup into something really special.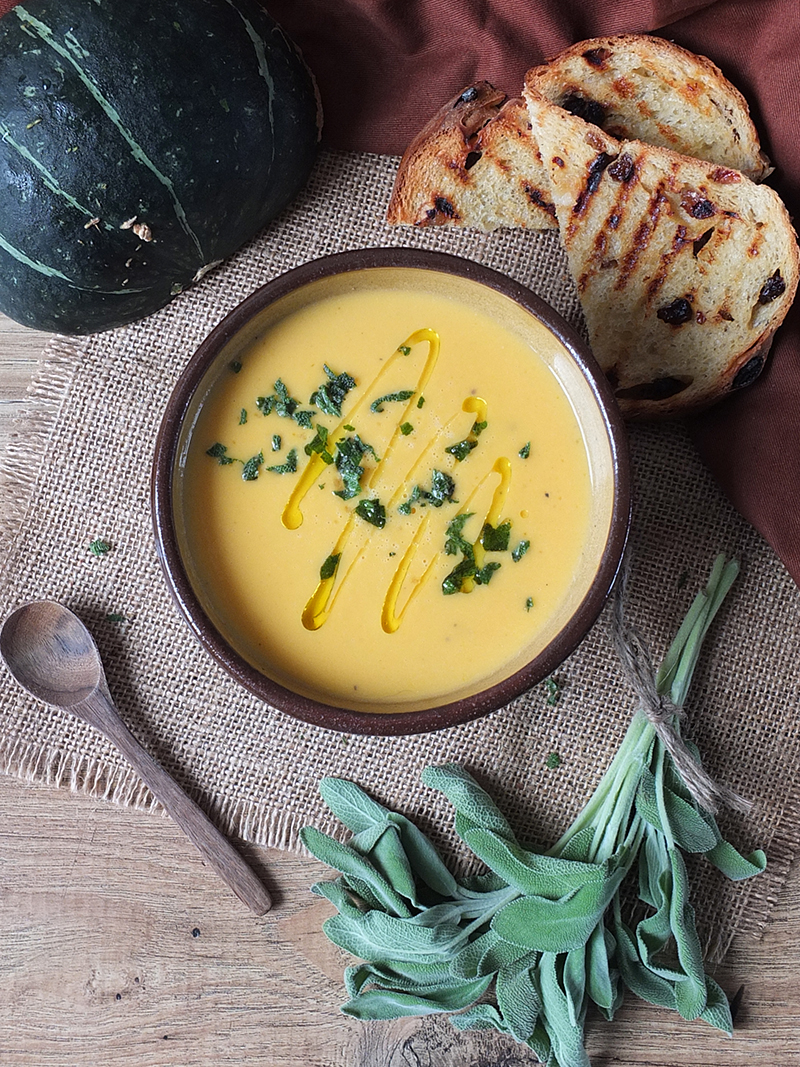 I'm not a big fan of dried sage. There's something stale and unpalatable about the herb, I feel, so I tend not to cook with it. That was until fresh sage leaves began appearing in my veg box and I discovered just how much I love the flavour of the fresh herb. It's a completely different taste.
This time of year pumpkins also make a regular appearance in my veg box. Proper, gorgeous eating pumpkins – not those tasteless stringy pumpkins in the supermarket destined only to be turned into jack o'lanterns that end up on the compost heap.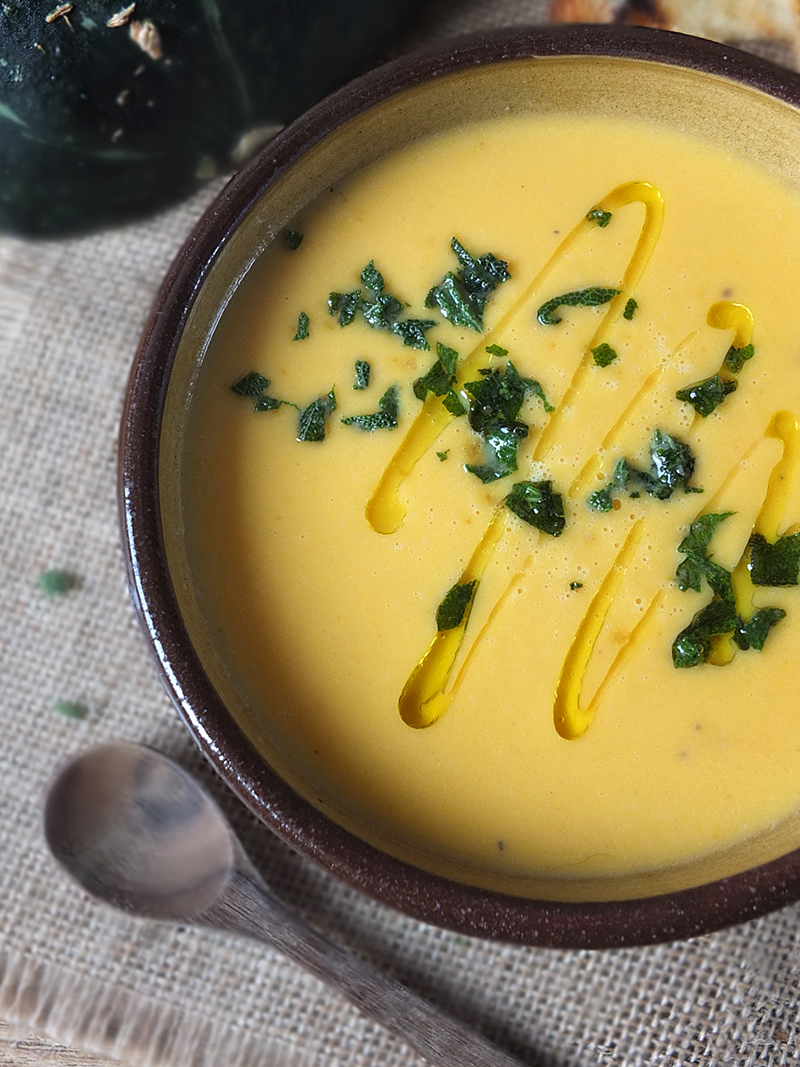 In this recipe I've combined the flavours of delicious slow roasted pumpkin with fried sage and I've added a drizzle of white truffle infused olive oil from Pomora. That, and the fact I used a really good quality soup stock from Essential Cuisine and oh my goodness gracious me there was a lot of mmm-ing and aaahh-ing as this soup was eaten, warm, with buttered and grilled fruity lunn loaf made by The Quernstone here in Shetland.
White truffles are one of the most expensive foods on earth, according to Pomora, so their white truffle infused olive oil is a decadent delight, to be used sparingly. Pure liquid luxury.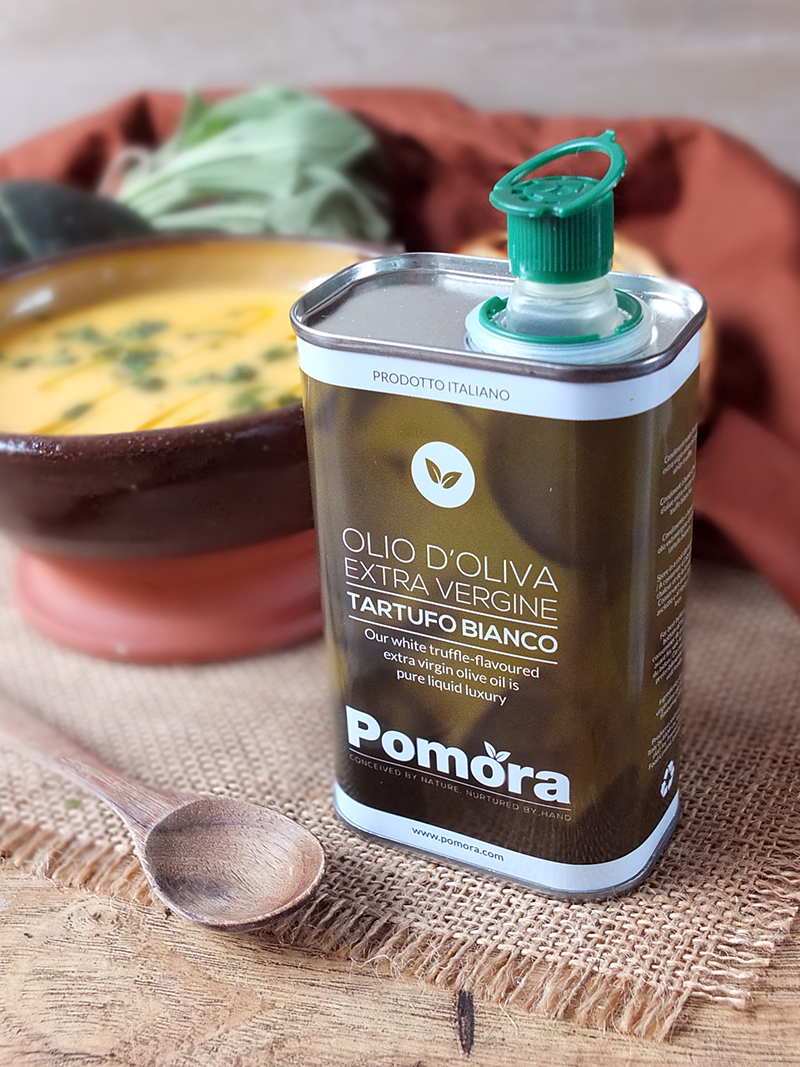 In the interests of disclosure, I ought to remind you that I am a Pomora ambassador. I am working closely with the company to develop recipes and promote their fantastic family-grown olive oil. Each quarter I get sent a shipment of their olive oil – their new oil in the winter, three flavoured oils in the spring, extra virgin olive oil in the summer and another three flavoured oils in the autumn. The Autumn shipment contained this gorgeous white truffle infused oil, and after having a potimarron soup flavoured with truffle oil in Paris recently, I just knew had to drizzle it over my soup.
It's an absolutely gorgeous oil and this soup and is one of the best soup recipes I have ever, ever made. If you are interested in finding more about Pomora visit their website via the link in my sidebar. If you subsequently make a purchase through that link I will get a small commission.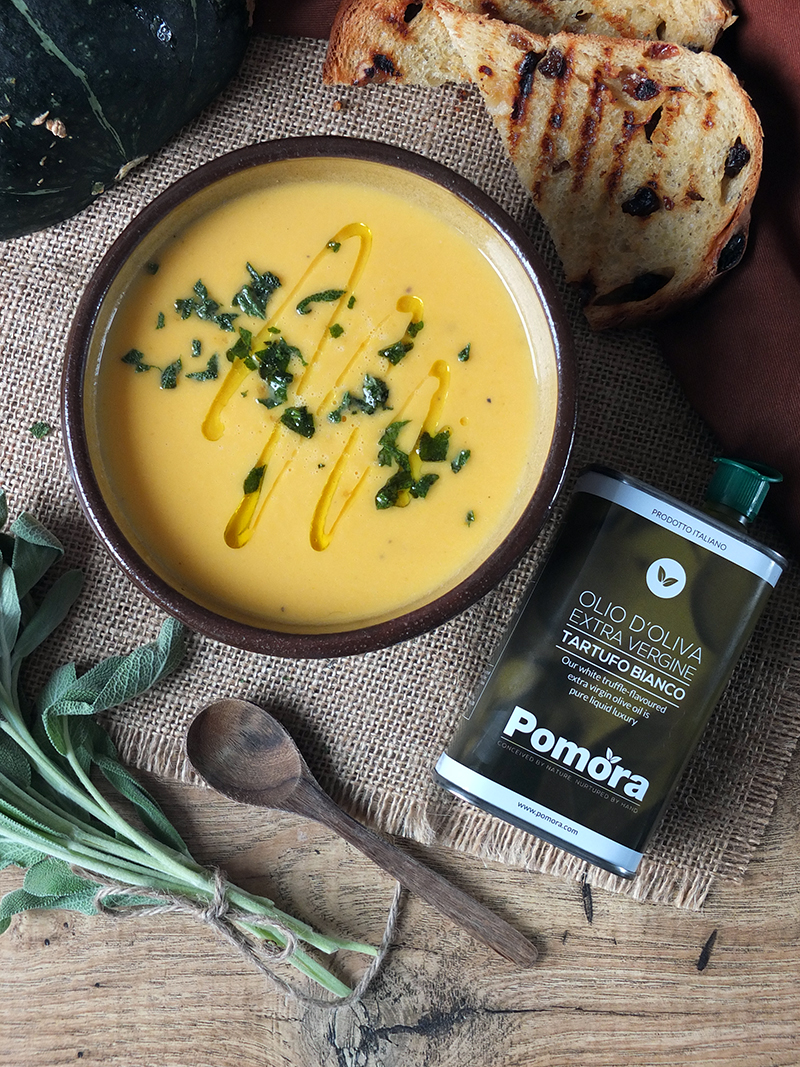 If you can't get pumpkin feel free to substitute it with butternut squash.
I'm also going to use this opportunity to talk about my new Linea non-stick cast aluminium grill pan from House of Fraser. This pan is as effective and pleasing to the eye as cast iron, but it's remarkably light so it's much easier to handle and store. I've used this pan for cooking burgers and they come out perfectly each time without having to add extra oil to the pan, so it's better for the waistline. It's also got a large surface area with even heat distribution, so there is plenty of room for cooking for a family of five. Being non-stick it's really, really easy to clean afterwards too.
These pans retail for £50 but they're on offer from House of Fraser (at the time of writing) for only £30.
So, back to the soup! The first time I made this soup I used an organic pumpkin from my veg box and I added a generous handful of Applewood smoked cheddar. It was a lovely, hearty, filling soup perfect for Autumn. I've also made this soup without the cheese, and it's just as lovely, so the cheese is completely optional. It depends on how filling you want to make the soup. Either way – yum!
Do you have a favouite savory pumpkin recipe or suggestions as to what else I could do with my white truffle infused olive oil? Let me know in the comments!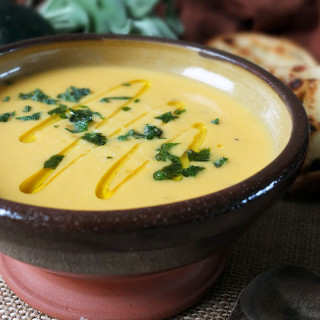 Roasted Pumpkin Soup with Fried Sage & White Truffle Oil
Fried sage and a drizzle of white truffle oil take this roasted pumpkin soup to a whole new level.
Print
Rate
Affiliate Links
This recipe card may contain affiliate ingredient and equipment links. As an Amazon Associate I earn from qualifying purchases.
Instructions
Preheat oven to 170 C/ 150 C (fan).

Peel and de-seed your pumpkin. Cut into 2 inch square pieces.

Place the pumpkin into a bowl and drizzle with the olive oil. Toss to coat well. Arrange in a single layer on a roasting tray and roast for 40 - 60 minutes, until tender.

Heat the butter in a medium sized pan over a medium-high heat. Add the onion and saute gently until translucent, about 5 minutes. Do not allow to brown.

Add the cubed pumpkin, the chicken stock and the sea salt. Simmer, gently, until the vegetables are tender - about 20 minutes.

If not adding the cheese, transfer the soup to a blender and blend until smooth. Add the double cream and season to taste with freshly ground black pepper and blend well. Leave the soup in the blender with the lid on while you fry the sage.

If adding the smoked cheese, return the soup to a clean pan and add the grated cheese before adding the double cream. Gently heat until the cheese has melted and then add the double cream. Set aside and keep warm.

To prepare the fried sage, cover the bottom of a small, non-stick frying pan with sunflower oil. Arrange a few pieces of kitchen towel and the smoked sea salt next to the cooker.

When the oil is very hot, fry the sage leaves for a few seconds on either side.

Using a slotted spoon, transfer the sage leaves from the hot oil to the kitchen towel to drain. Sprinkle liberally with crushed smoked sea salt.

Pour the soup into serving bowls, drizzle with the white truffle infused olive oil and sprinkle with crumbled fried sage. Serve immediately.
Notes
Replace the chicken stock with vegetable stock for a vegetarian soup.
Environmental Information
LINKING UP WITH A FEW FOOD BLOGGING CHALLENGES
Cooking with Herbs by
Lavender & Lovage
Recipe of the Week
by A Mummy Too
OTHER SAVORY PUMPKIN RECIPES YOU MIGHT LIKE
Curried Pumpkin Soup by Fab Food 4 All
Creamy Pumpkin Sauce by Recipes from a Pantry
Oven-baked Pumpkin & Leek Risotto by The Veg Space
Stuffed Pumpkin by Foodie Quine
Pumpkin Hummus by Little Sunny Kitchen
Chorizo, Pumpkin and Spinach Giant Couscous Salad by Kavey Eats
Squash, Chilli, Chard and Feta Pastys by Tin & Thyme
If you want to be kept up to date on my recipes, occasional craft tutorials, adventure stories and giveaways then please subscribe to my weekly newsletter; it gets sent out every Monday morning if there is new content. Your email address won't be passed on to anyone, you will never be spammed and you are free to unsubscribe at any time, no questions asked. Make sure you confirm your subscription or you won't receive the newsletter – if it hasn't arrived check your junk mail folder.
[wysija_form id="1″]
Elizabeth's Kitchen Diary uses the Froothie Optimum 9400 blender and the Froothie Optimum 600 slow juicer to make her juices, soups and smoothies. These are affiliate links, meaning if you buy a blender or juicer through them we will earn a small commission. This post also contains Pomora affiliate links. With thanks to House of Fraser for the review sample of the frying pan and Essential Cuisine for the fantastic stock powder. This is not a paid post and all thoughts and opinions are our own.