Old Norse: feitiland – fat land, rich pasture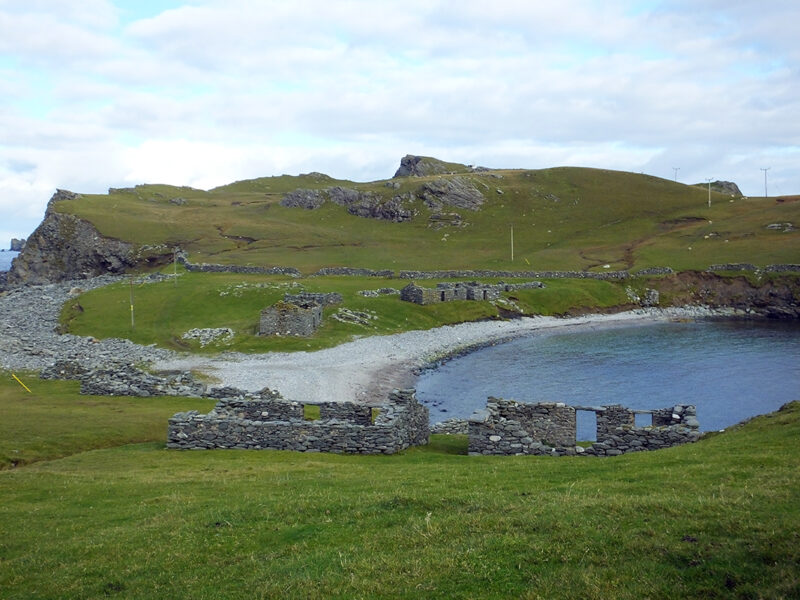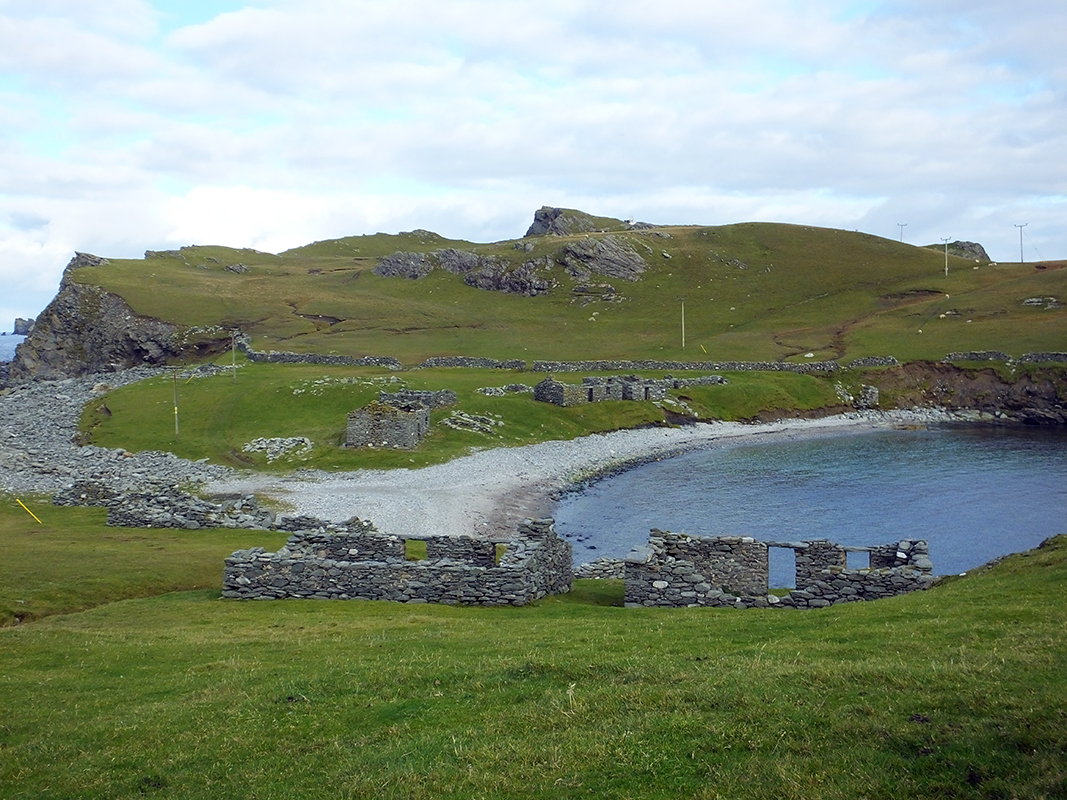 Situated at the most northern tip of the Shetland mainland, Fethaland's fertile soil has a long history of settlement. There is evidence of an Iron Age prehistoric round house or broch (there is some disagreement on this), the circular wall outlines of a Neolithic house and the ruins of what used to be Shetland's most active haaf (Shetlandic for deep sea) fishing station, established during the 15th and 16th centuries.
This was the location of our Sunday walk last weekend.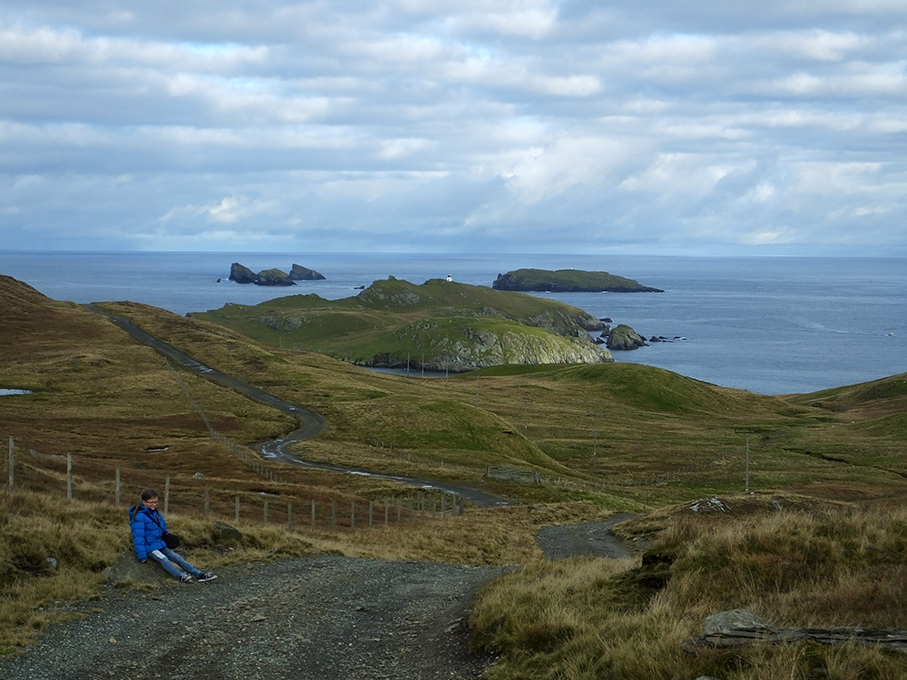 Sunday morning dawned bright and clear, and, despite the BBC weather app saying there was going to be dark, heavy cloud all day, the sun shone brightly. There was barely a hint of a breeze.
I'd spent the last two days laying on the couch with a most unpleasant tummy bug, and Sunday morning all was well! I was bouncing with the joys of good health and rearing to go and catch up on my Fitbit
step count.
Packing provisions, bundling up DD and collecting a friend en route, we went to explore Fethaland, a place I'd been recommended to visit on several occasions.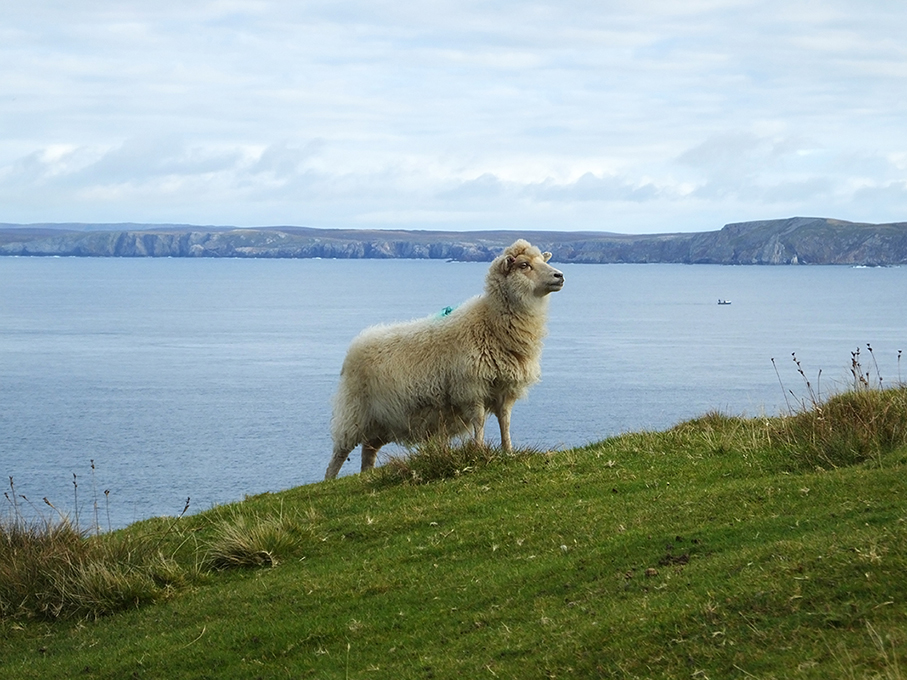 To get to this area you have to drive north past Brae and up past Collafirth and onwards to the end of the road at Isbister. Park your car out of the way of any farm vehicles and gates and head up the driveway towards the houses. The Access Shetland route recommends taking the long way around, heading east and following the coastline north and the farm access road (accessible if you head west around the house) on the way back, but we just took the road both ways as it was easier and we knew where it was going.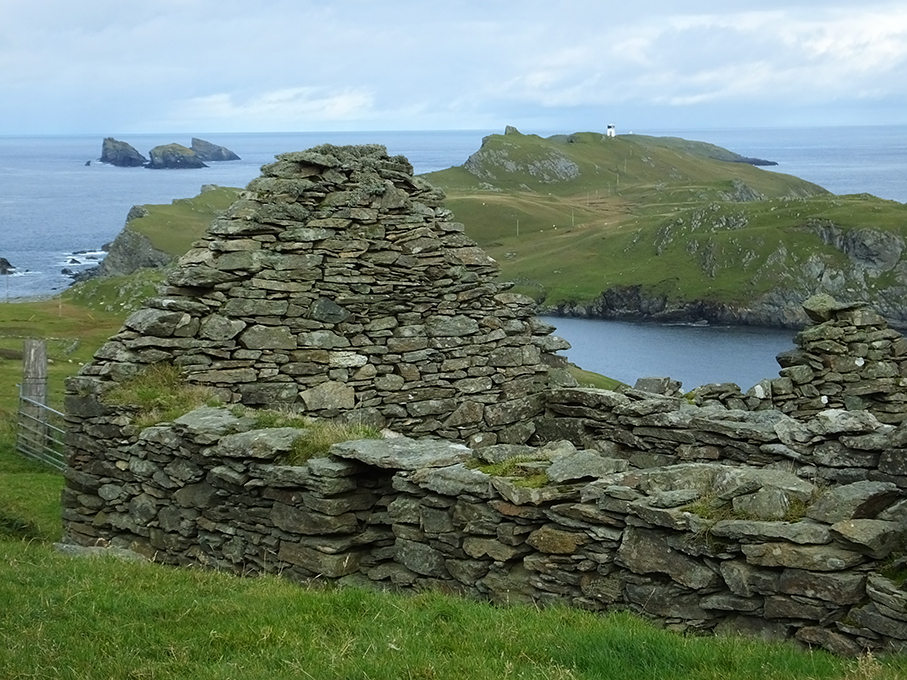 It's a long walk, even on the road, and incredibly hilly. There were quite a few stops to catch our breath. It was well worth it though to have an explore around the area.
One of the many things I love about Shetland are the many different places to explore, places steeped in history, and the fact that there are information boards in the most random of locations! This board covers a bit of the history, archaeology and geology of the area.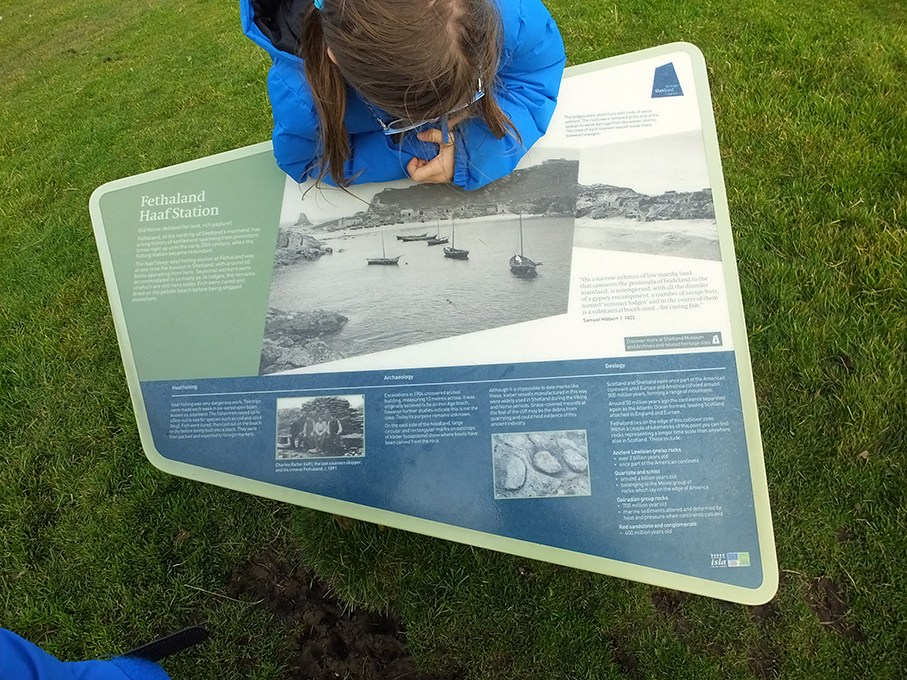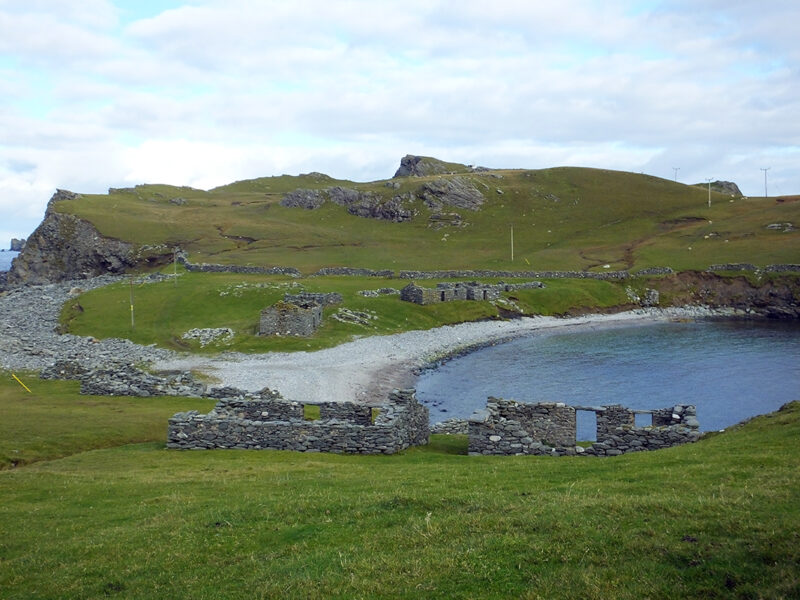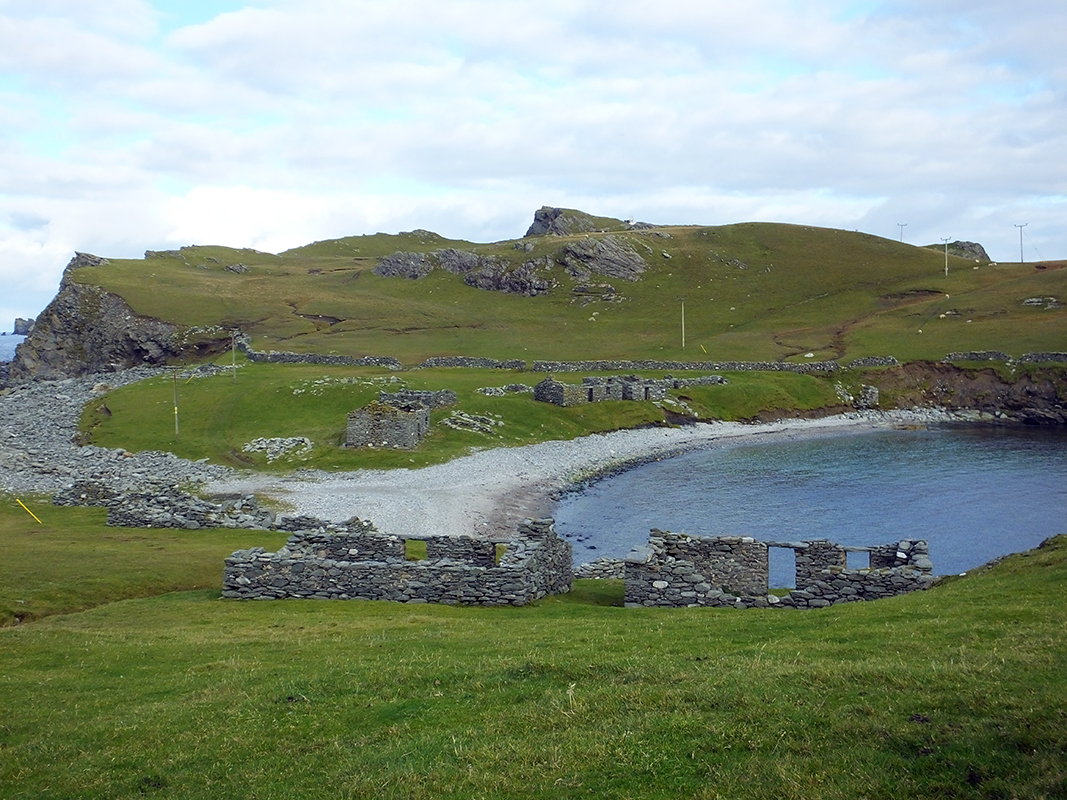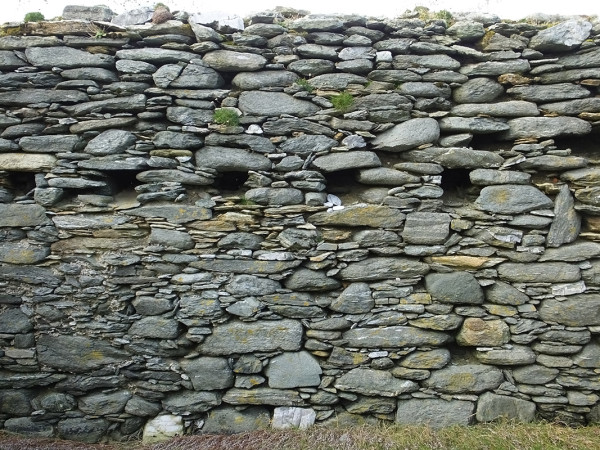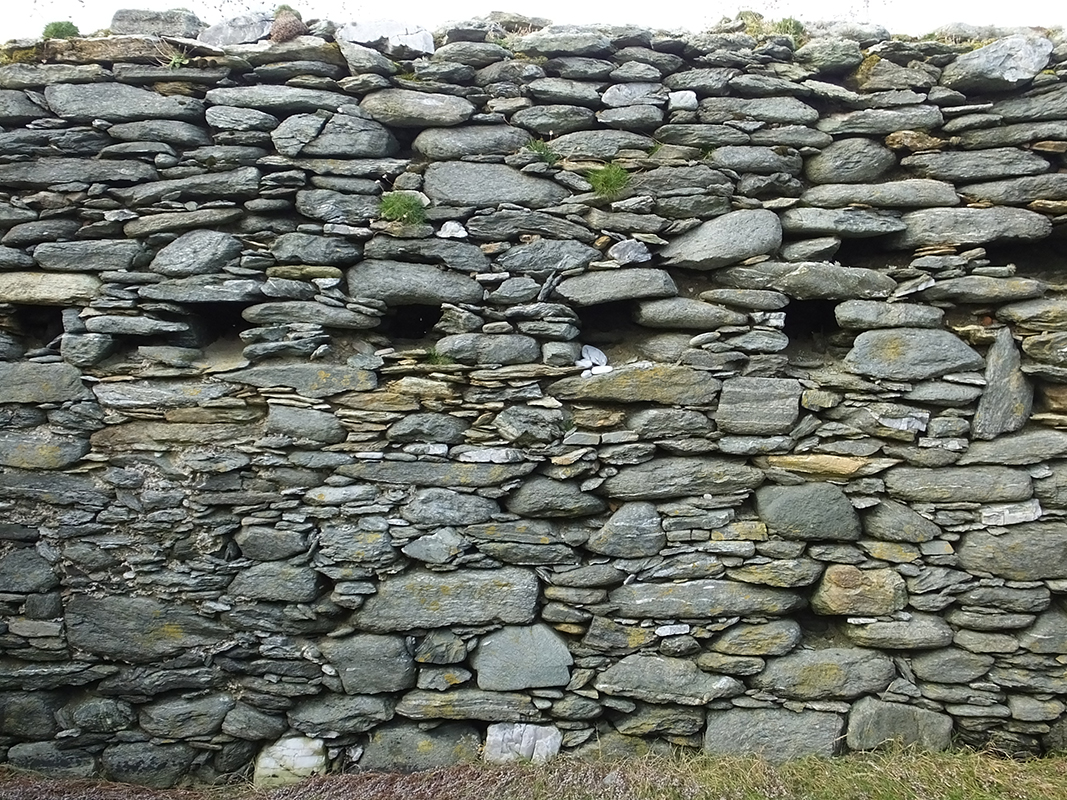 I can't even imagine the hard work that must have gone into making these buildings. Every single one of those stones was collected, transported and laid by hand to create a remarkably straight windproof shelter. I bet it was really cosy inside with the fire going, especially having been out at sea.
At the end of each fishing season the roofs of the lodges would be taken down so they wouldn't get damaged by the winter storms, and then they would be rebuilt again the following season.
Around 60 sixareen boats, traditional open six oared wooden boats, operated from this station, rowing 40-50 miles out to see to the far haaf to fish, and then returning with their catch which was air dried on the pebbles of the beach.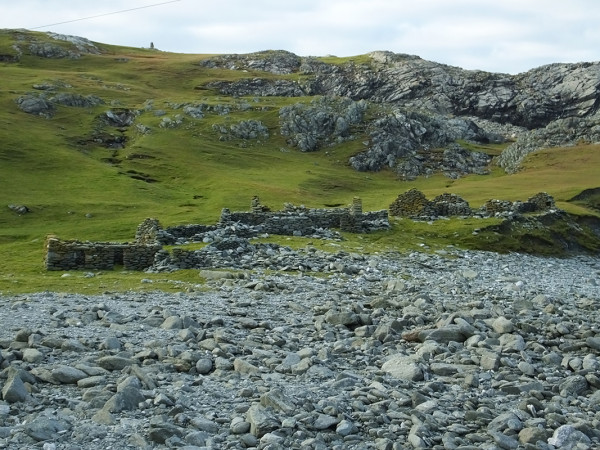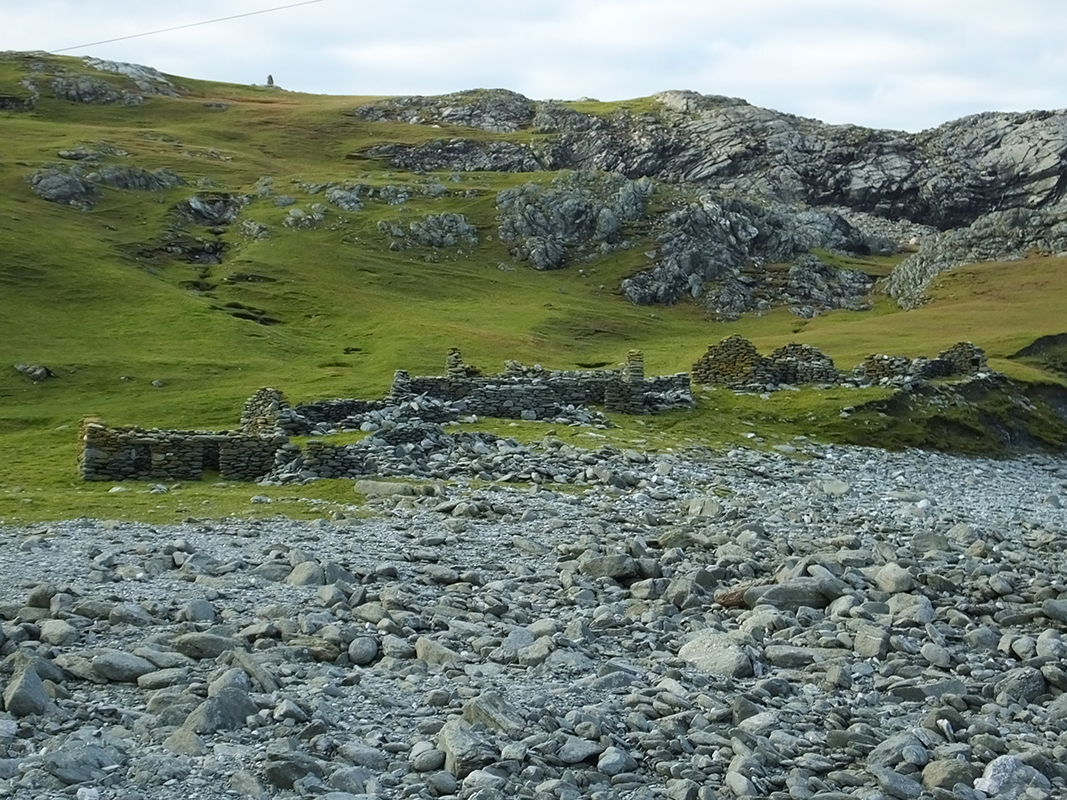 You can see the ruins of the Iron Age structure in foreground of the photograph above, left. DD spent some time banging rock against rock on the beach and the sound attracted quite a few curious seals who swam in for a look-see.
Below you can see the stone structures called noosts where the sixareen boats would have been stored while not in the water. This is where we ate our picnic lunch.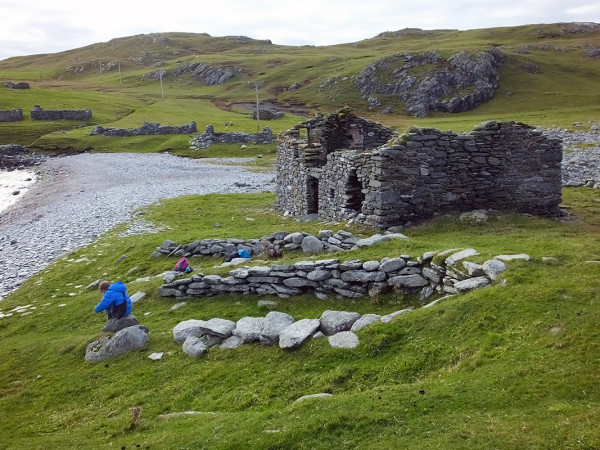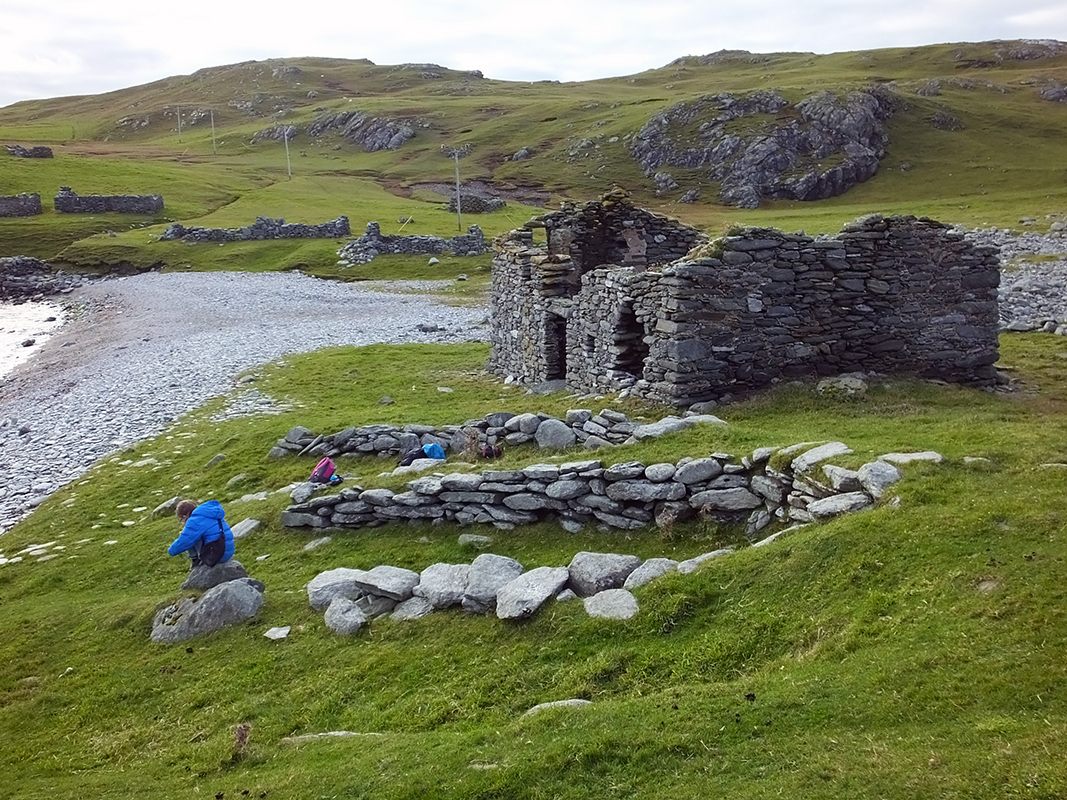 Afterwards we headed up the hill again to the headland and the lighthouse.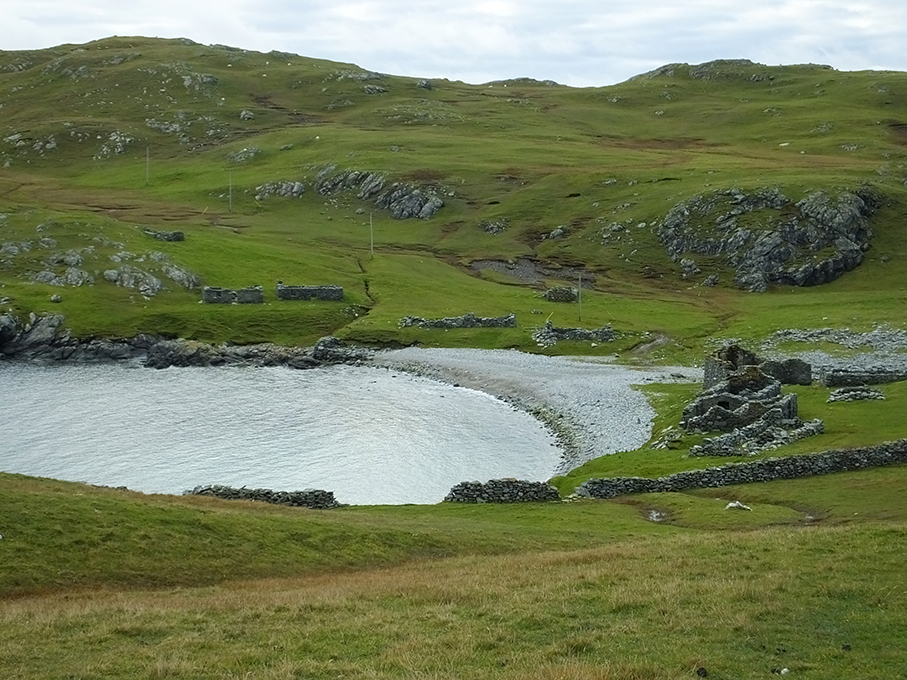 All in all it was a pretty fantastic Sunday walk. Looking over the clifftops by the lighthouse was nausea inducing (especially as the 8 year old wanted a peek too – cue wobbly knees and a death grip on her hand!), and the weather was absolutely perfect for walking. It was cloudy, yes, but it was lovely high cloud that the light bounced around in instead of low dark dreary heavy clouds. Sometimes the sun even came out.
Other highlights of that day included seeing a cattle egret! En route to Isbister we passed a few cars parked on the side of the road. With their binoculars poking out their open windows they were quite clearly twitchers, and my friend said an egret had been spotted in the area. We looked – and there it was! This, according to Nature in Shetland, is the second ever recording of this species on the islands. It's not the best photo but this was as far as my camera would zoom.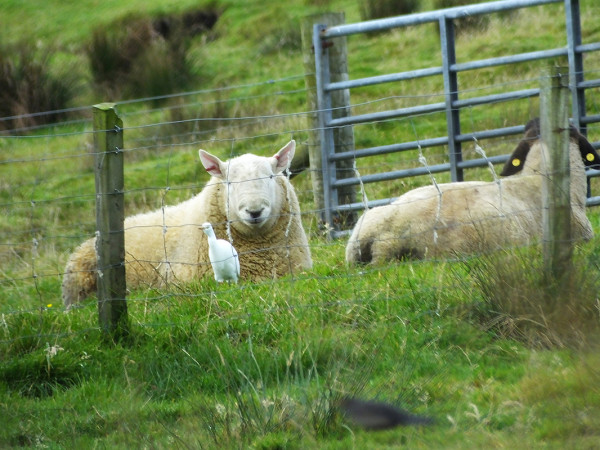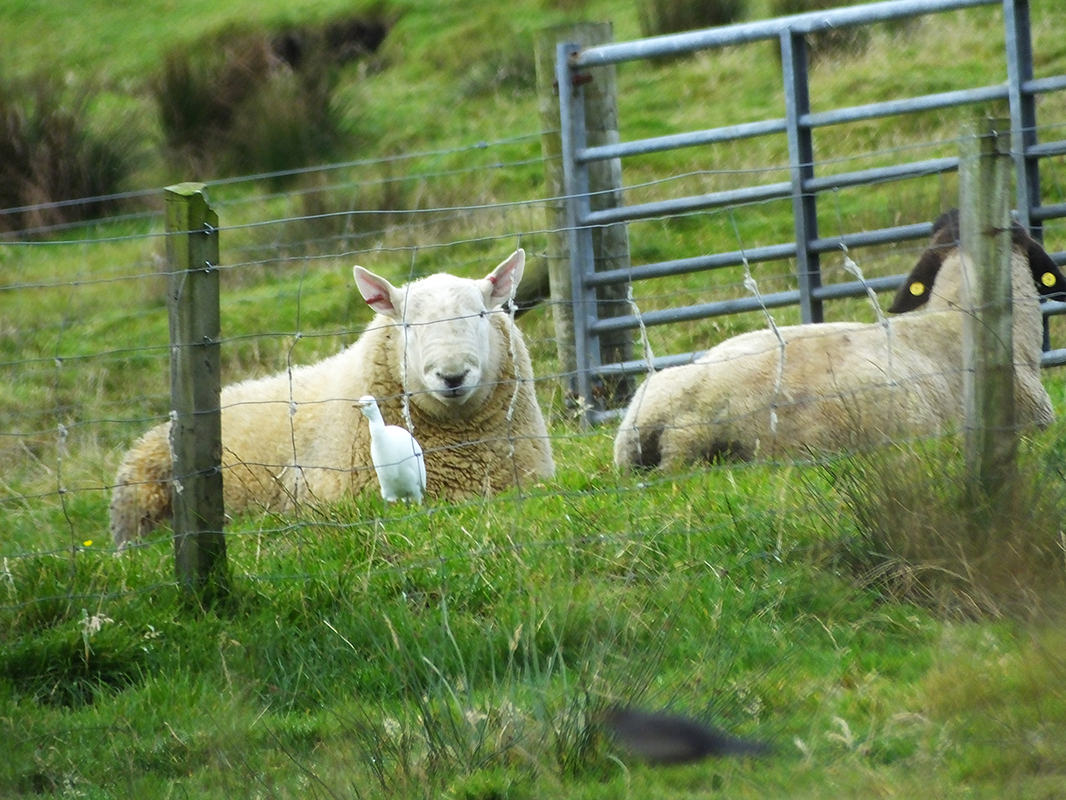 After dropping my friend off at her home DD and I finished the day with a fish supper at Britain's #1 Fish and Chip Shop – Frankie's in Brae. A perfect Sunday.
Fitbit
Step Count: 25,231   Floors climbed: 152 (I earned a new badge!)   Miles: 10.71
To find out more about Fethaland you can visit the Shetland Museum and Archives in Lerwick and take their virtual tour.
JOINING IN WITH A FEW BLOGGING LINKIES
Monday Escapes by My Travel Monkey and Packing My Suitcase
Country Kids from Coombe Mill
Let Kids be Kids 
Whatever the Weather Wednesday by Life Unexpected and Monkey and Mouse
If you want to be kept up to date on my recipes, occasional craft tutorials, adventure stories and giveaways then please subscribe to my weekly newsletter; it gets sent out every Monday morning if there is new content. Your email address won't be passed on to anyone, you will never be spammed and you are free to unsubscribe at any time, no questions asked. Make sure you confirm your subscription or you won't receive the newsletter – if it hasn't arrived check your junk mail folder.
[wysija_form id="1″]
Disclaimer: this post contains Amazon affiliate links. If you click on them and subsequently make any purchase whatsoever through Amazon we will get a small commission and you will be helping to support our family. Thank you x