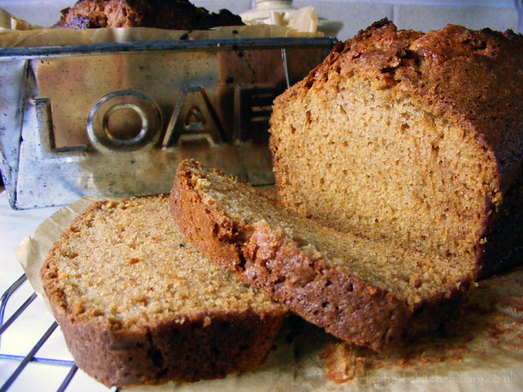 Nearly twenty years ago I sat at my grandmother's dining room table in rural Eastern Canada scoffing slabs of home made pumpkin bread thick with butter and chatting about this, that and the other thing, as granddaughters are wont to do with their grandmothers. I'd recently started compiling a ring-bound notebook of my favourite recipes as I'd just really started getting into cooking and baking. I asked my grandmother for the recipe she used to make this delicious, spiced pumpkin bread and she gladly obliged. You can see the recipe in the photo below. Transcribing these barely legible recipes from my battered old notebook is one of the reasons I started blogging; I wanted a more permanent place to store them before they were lost!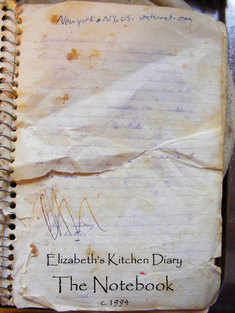 The pumpkins available in my local Shetland (my island home in the North Sea) supermarkets are, as far as I am aware, not the sugar pumpkin required to make a palatable pumpkin purée. They're inexpensive and meant for carving only, I think, although I have been told some local folk have used them successfully in soups. I tried roasting one once and it just wouldn't purée properly (it was stringy and awful) so I gave up.
However, my last vegetable box brought a surprise – 1/3 of a giant, gorgeous, vibrant organic sugar pumpkin grown in a poly-tunnel just a few miles down the road from my house! The colour of these beauties is nothing like the mass produced supermarket variety and right away I popped it into the oven to roast.
To roast your own pumpkin to make a purée simply place your pumpkin cut side up on a baking dish, brush with a little olive oil, cover with foil and roast for an hour or so at 180 C until softened. Cool and place in the refrigerator for a few hours or overnight to cool completely. The next day scoop out the chilled flesh and purée!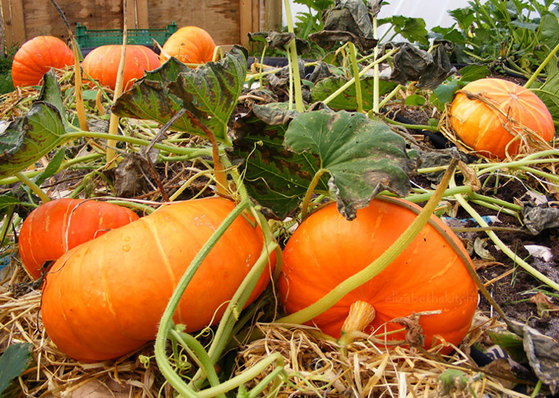 I can't believe I have waited twenty years to make my grandmother's pumpkin loaf! I also realised, slightly too late and with horror, that twenty years ago I forgot to write down the sugar in the recipe. I went ahead making the first batch of pumpkin loaf not even realising until my daughter tried a slice, warm, and screwed up her face in disgust. I did think the loaves looked rather odd and nothing like I remembered and then I realised I'd forgotten the sugar! A quick Internet search found this Downeast Maine Pumpkin Bread recipe which was remarkably similar to my grandmother's, so I used the sugar quantity called for in that recipe.
Fortunately I had enough pumpkin purée left to make a second batch which turned out perfectly, just as I remember it and everyone in the house loves it, children included. It's lovely and moist, wonderfully spiced with a lovely cake crumb and tastes fantastic with or without lashings of butter. Do try it, you'll love it, honest!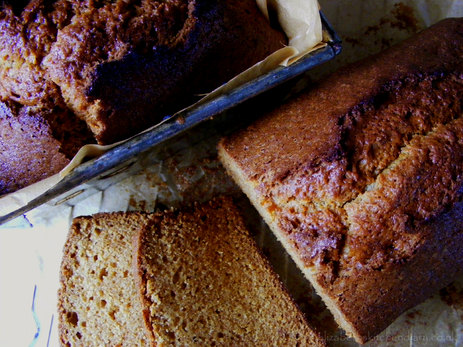 This month's Random Recipes by Dom over at Belleau Kitchen asks us to share our recipes that include a local ingredient. I made this recipe using locally grown pumpkin, a random ingredient from my Transition Turriefield veg box, so I think that qualifies.
I'm also sharing this recipe with Mark from Javelin Warrior and his fabulous Made with Love Mondays from-scratch recipe collection and to The Colour Me Photography Challenge Series by The Humpty Dumpty Kitchen.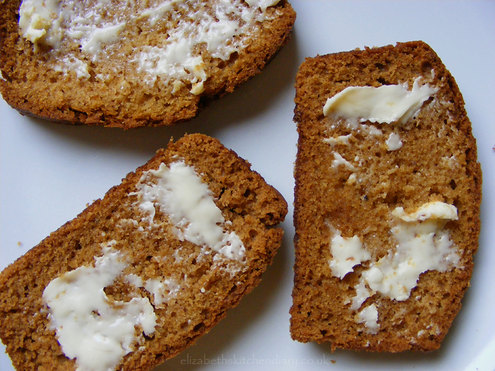 Pumpkin Loaf
A spiced pumpkin loaf ideal with an afternoon cup of tea with friends.
Ingredients
1 tsp nutmeg, ground
1 tsp cinnamon, ground
1/2 tsp cloves, ground
1/4 tsp ginger, ground
4 eggs
1 1/2 tsp salt
250 ml sunflower oil
620 grams caster sugar
300 grams pumpkin purée
180 ml water
525 grams plain flour
2 tsp bicarbonate of soda
Instructions
1. Preheat oven to 180 C and line 2 or 3 loaf tins (depending on size)
2. Mix together spices, eggs, salt, oil and sugar together in a large bowl.
3. Add pumpkin purée and water and combine thoroughly.
4. Sift together plain flour and bicarbonate of soda.
5. Add flour to the wet mixture and stir until combined.
6. Spoon into your prepared loaf tins and bake for 60-75 minutes, until a skewer inserted in the centre comes out clean and the top is lovely and golden.
7. Transfer to a wire rack to cool completely.
Details
Prep time: Cook time: Total time: Yield: 2-3 loaves