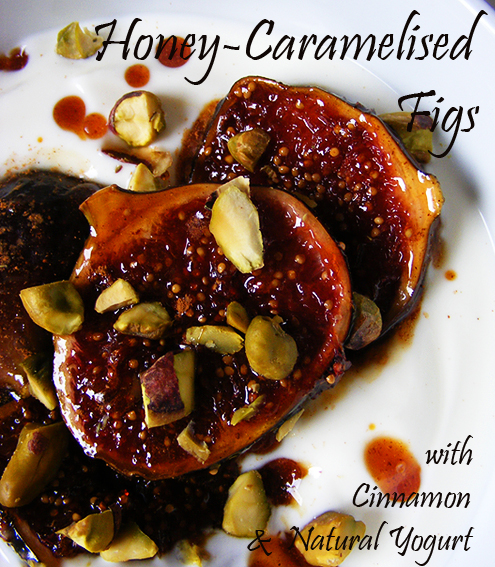 Here you have it: my new favourite breakfast. I'm fairly new to the whole eating-of-the-fresh-figs thing, being introduced to them only this year after I saw so many of my fellow food bloggers raving about them. I'm kicking myself for waiting so long to try these unattractive little fruits because, oh my, they are gorgeous! Ugly, but gorgeous!
I found this recipe while searching for simple and quick dishes to use figs in.  The first recipe involved quartering the figs nearly all the way through, opening them up like a flower blossom, dropping a little butter into the centre and grilling with plenty of brown sugar and honey before serving with a dollop of yogurt. That was quite nice but involved too much work, time and washing up.
This recipe is my own slight adaptation of one found here. I've scaled it down to serve one but I've kept the original quantity of honey because I've got a greedy sweet tooth like that.
This is my breakfast of choice just now. As such I am sharing it with Breakfast Club because breakfast should be more than tea and toast!
Breakfast Club is the brainchild of Helen from Fuss Free Flavours and this month it is hosted by Michelle from Utterly Scrummy Food for Families. The theme for this month is fruit. Breakfast Club is a blog hop so scroll down to see what other food bloggers have been eating for breakfast!
Honey-Caramelised Figs with Cinnamon & Natural Yogurt
A delicious, quick and nutritious breakfast.
Ingredients
2 fresh figs, washed, dried and cut in half
1 tbsp runny honey
generous pinch ground cinnamon
200 ml natural yogurt
1-2 tsp pistachio nuts, coarsely chopped
Instructions
1. Spoon honey into a small frying pan and heat over a medium-high heat.
2. Place figs cut side down on the honey and push around the pan occasionally until the honey starts to bubble and caramelize and the figs soften slightly.
3. Sprinkle with some cinnamon and spoon the whole figs over the natural yogurt, drizzling any remaining honey over the top.
4. Sprinkle with the chopped pistachio nuts and eat while the figs are still warm.
Details
Prep time: Cook time: Total time: Yield: Serves 1