Perfect with Shetland lamb chops or grilled sausages.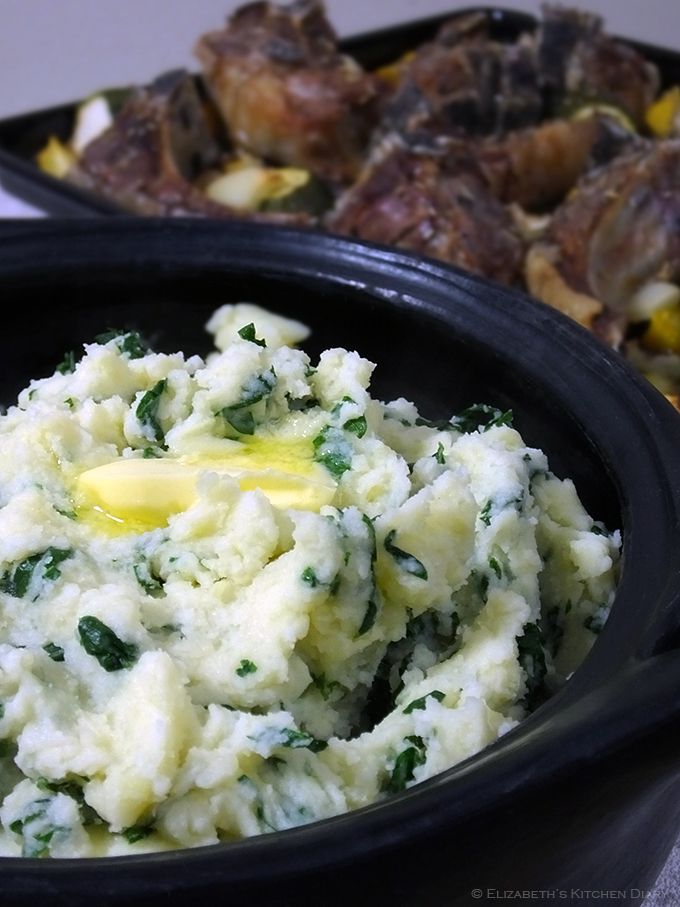 Did you know that next week (the 6th – 12th of October) is National Potato Week in the UK? A whole week dedicated to the awesomeness of the potato!
Potatoes, tatties, totties, taters, spuds… what do you call them?
We are very lucky to be one of around 25 households in Shetland to receive a weekly organic vegetable box from Transition Turriefield, a not for profit community interest company based on the far west side of our lovely islands. They've been growing their own produce (including potatoes!) and eating seasonally since 1999 and they would like others in Shetland to be able to do the same. They want people to be able to choose food that has spent as little time, and traveled as little distance as possible, between harvest and plate. Produce is harvested shortly before delivery meaning when I collect it from our top secret drop off point midway between their croft and my house everything is still bursting with life and vitality.
The garden peas get eaten straight away direct from the pod like little sweeties with their own in-built wrapper. Soft fruits get devoured by the children before they even have a chance to get to the fridge and the salad – oh my goodness, their mixed salad is the best salad I have ever eaten in my entire life. It's a blend of different salad leaves and fresh herbs, not requiring any sort of dressing as all the flavours and textures work wonderfully well together.
Every Autumn for last seven years or so I've purchased a local lamb for the winter freezer. Lamb grown on the hill just outside our house so I know it's been treated well, and slaughtered in a local abattoir meaning there are very few food miles involved (considering much lamb in the UK is shipped all the way over from New Zealand!). A few weeks ago we received delivery of our lamb, hand delivered to our house by the smiling crofter, just a few hours after the veg box had arrived.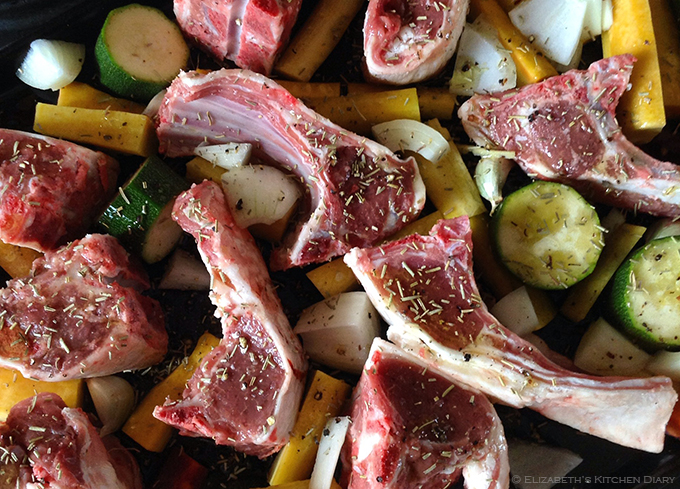 Recently I learned a little bit more about our local lamb – Shetland lamb is a unique breed to these islands and the meat is extraordinary. The lamb chops tend to be quite tiny but oh so succulent with an earthy, peaty flavour. Pure bred Shetland lamb is very expensive though, and well out of my budget. The lamb I bought, born and reared here in Shetland, is likely a first-cross, meaning one parent is a pure-bred Shetland breed. My whole local lamb set me back only £50, and with home delivery included – well worth every penny.
Within ten minutes of the lamb delivery the chops were on a baking tray with a selection of Turriefield vegetables – courgette, white and yellow carrots, onion and garlic, seasoned simply with sea salt, freshly ground black pepper and rosemary.
While the lamb was roasting away I got on with making the tatties. This mashed tatties and kale recipe has been developed over this growing season. Each weekly veg box tends to come with a selection of greens – assorted mixed kale, beet root leaves, rainbow chard or spinach. That's a whole lot of greens to get creative with each week, especially when my experience with greens is fairly limited. One day I decided to gently wilt a whole bag of greens and mix them into some cheesy mash. Sometimes I peel the potatoes, sometimes I don't. Not peeling them adds more nutrition and fibre to the dish. This was a resounding hit with the husband (not so much with the kids though!). We both prefer our mashed potatoes this way now and it's a great way to incorporate greens into your diet. For the purposes of a blog photograph I peeled the potatoes, but I really do think they're better left unpeeled.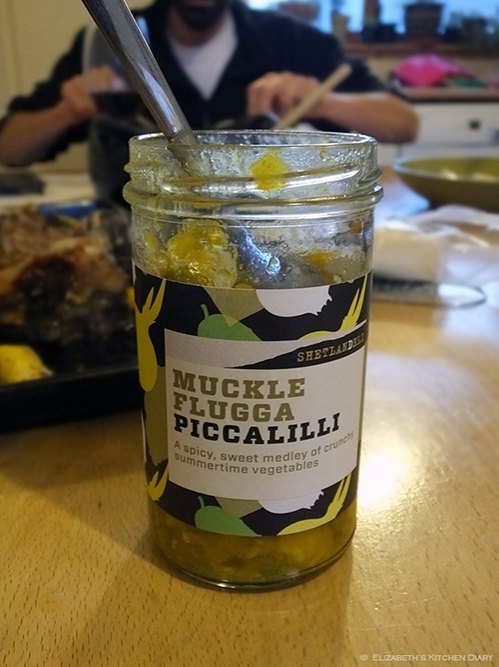 Let me introduce a new brand on the Shetland food scene – Shetlandeli! Also based here on the west side of Shetland they make a small range of preserves using local produce from various crofts including Transition Turriefield. They recently dropped off a selection of their products for me to try (I'm loving this hand-delivered stuff!) and I thought that our local lamb and veg meal would be a great time to try out their Piccallili. Oh it was gorgeous! I'm a big fan of piccalilli ever since my mother used to make a Cape Breton version when I was growing up. The sweet sharp chunky vegetables are a perfect accompaniment to my creamy cheesy tatties and kale and roasted Shetland lamb chops. The Shetlandeli website just went live this week and they do mail order too, so you could try out their gorgeous products yourself.
My only complaint? The jars aren't nearly big enough. The lovely jar of piccalilli pictured above lasted just two meals – this lamb dinner plus the leftovers the next day! The leftover lamb chops were chopped up finely and fried in a pan with butter along with the chopped roasted vegetables and the leftover tatties & kale. Total comfort food with minimum effort. Win!
How do you like your mashed potatoes? Do you have any tips I should try?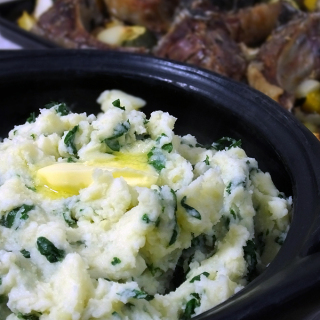 Cheesy Mashed Tatties & Kale
Creamy cheesy mashed potatoes with kale, ideal served alongside Shetland lamb chops or with grilled sausages.
Print
Rate
Affiliate Links
This recipe card may contain affiliate ingredient and equipment links. As an Amazon Associate I earn from qualifying purchases.
Instructions
Peel potatoes (if you fancy, sometimes I leave them unpeeled), chop into 1 inch segments, place in a large pan, cover in water and bring to the boil. Simmer until tender.

Meanwhile, thoroughly wash your kale, remove the tough stalks and chop finely. Heat a dry non-stick pan and gently wilt the kale until it has softened but still retains it's gorgeous green colour. Set aside (you might want to chop it up finer again after it is cooked).

When the potatoes are tender, drain and return to the hob for about 30 seconds to evaporate off the extra moisture. Mash with the butter, cheese and milk, adding more milk if you want a creamier consistency.

Stir in the cooked kale and season well to taste. Serve immediately.
Environmental Information
Linking up with a few blogging challenges – first, my own
Shop Local challenge
as everything for this meal was sourced within a 20 mile radius of my house. Second, Recipe of the Week over at A Mummy Too.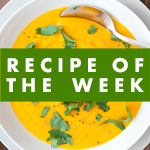 OTHER COMFORT FOOD MASHED POTATO RECIPES YOU MIGHT LIKE
Wild Garlic Mashed Potatoes by Kavey Eats
Cheese & Onion Mash by The Big Spud
10 Delicious Ways to Perk Up Mashed Potato by Sarah Trivunic
AND JUST BECAUSE IT SOUNDS AWESOME
Hickory Smoked, Slow Roasted Pulled Lamb with Creamy Grits by Franglais Kitchen
If you want to be kept up to date on my recipes, occasional craft tutorials, adventure stories and giveaways then please subscribe to my weekly newsletter; it gets sent out every Monday morning if there is new content. Your email address won't be passed on to anyone, you will never be spammed and you are free to unsubscribe at any time, no questions asked. Make sure you confirm your subscription or you won't receive the newsletter – if it hasn't arrived check your junk mail folder.
[wysija_form id="1″]
Elizabeth's Kitchen Diary was given a selection of Shetlandeli products to try out. All opinions expressed are our own and this is not a paid post. This post is an entry for #FluffyMarisPiper Linky Challenge sponsored by Potato Council. Learn more at bit.ly/18rWnaB