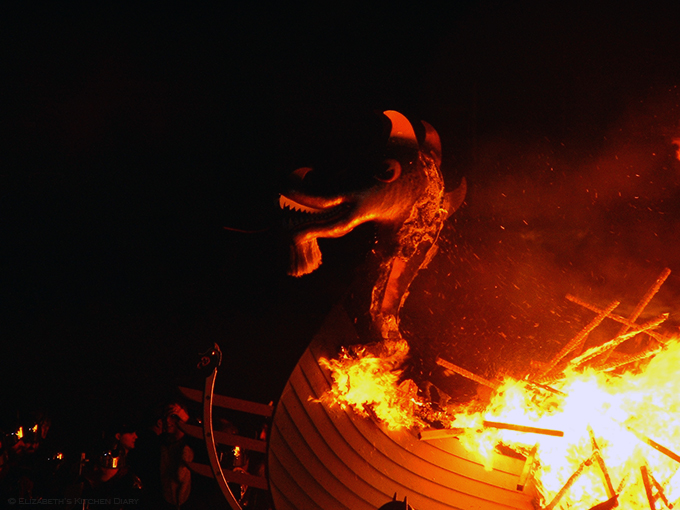 It took me awhile to come up with a photograph for this week's Alphabet Photography Project by Charly over at PodCast. This week the letter is U. My photo was nearly "unusual" a photograph I snapped on my iPhone the other day while leaving a taster session at Hay's Dock cafe restaurant for their special Shetland Wool Week menu. The unusual scene I found myself staring at was a collection of white textile jackets and bizarre hats arranged on display poles in a wooden boat in the foyer. You can see this photo on my Instagram feed.
I thought perhaps a photograph from one of our trips to Unst, the most northerly inhabited British Isle might do and I began editing one of Muckle Flugga with its lighthouse when I found the above photograph I'd taken in 2003 of the annual Up Helly Aa fire festival.
Up Helly Aa is Europe's largest fire festival, taking in place in Shetland's main town, Lerwick on the last Tuesday in January. Despite living here in Shetland for 15 years I've only been to the festival a handful of times. Let's just face it, the inclement weather which so often befalls us during the winter months, the crowds, the fact that if you don't get there early and grab a place next to the wall you'll end up watching the whole thing through someone else's digital camera or iPhone screen means I quite often sit at home and watch the event live streaming on 60 North TV – Promote Shetland's internet broadcasting initiative. Plus, my night time photography is rubbish!
Nonetheless, it is a fantastic event to watch and if you can make it up for it I would urge you to do so, at least once. Go for the whole haul too – dancing and partying well into the night in the local halls. Don't worry, the following Wednesday is a public holiday here in Shetland allowing everyone to rest.
So, for this week's Alphabet Photograph Project U is for Up Helly Aa.
A is for… Adventure
B is for… Brave
C is for… Coast
D is for… Derelict
E is for… Education
F is for… Fishing Industry
G is for… Green
H is for… Helicopter
I is for… Iron Age
J is for… Jelly Sweets
K is for… Kohlrabi
L is for… Lynn
M is for… Marmoset
N is for… Noise
O is for… Orangedale
P is for Puffin
Q is for Quarry
R is for… Ruins
S is for Sculpture
T is for… Time
If you want to be kept up to date on my recipes, occasional craft tutorials, adventure stories and giveaways then please subscribe to my weekly newsletter; it gets sent out every Monday morning if there is new content. Your email address won't be passed on to anyone, you will never be spammed and you are free to unsubscribe at any time, no questions asked. Make sure you confirm your subscription or you won't receive the newsletter – if it hasn't arrived check your junk mail folder.
[wysija_form id="1″]