100% plant power!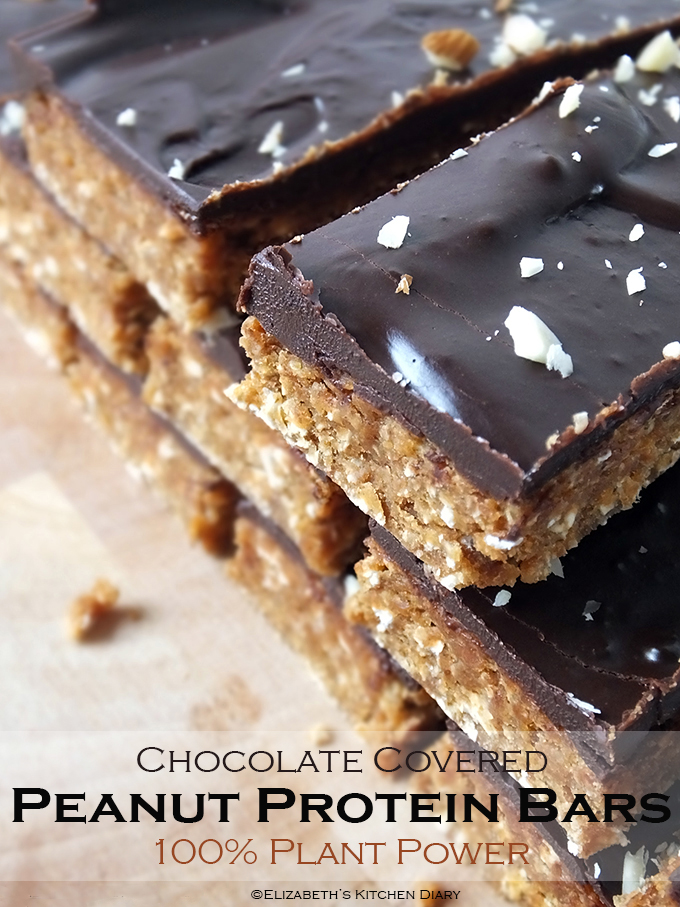 I absolutely love weight lifting.
Lifting heavy weights is not something I ever thought would interest me when I was younger, when my active trim self never had to pass a moment's thought about the food I put into my mouth. I stayed slim naturally.
Age, growing three babies, laziness and a few too many tubs of Ben & Jerry's and glasses of red wine have taken their toll and these days I have to work at maintaining a healthy body weight, and I have to work hard.
I took up weight lifting several years ago at our local leisure centre after a surprise shock when I stood on a set of scales for the first time in many years. I hadn't realised how much post baby weight I hadn't lost! I signed up for the gym induction course, learned how to use all the machines, and I absolutely loved every minute of it. I started lifting low and the sense of satisfaction as I moved that pin up to higher and higher weights was fantastic.
The endorphin high I got was addictive, and if I ever got a bit grumpy my husband would tentatively ask, "do you need to go to the gym?" Nothing sorted my foul moods out better than banging on the treadmill for a few miles and then lifting weights. It is impossible to remain grumpy during an endorphin high, I think!
Alas, two and a half years after I started at the gym I gave up my membership after a severe foot crush injury left me unable to run again, and I couldn't justify just lifting the weights without my favourite cardio to assist.
Eighteen months later two stone (30 pounds) somehow piled on.
It's taken plenty of trial and error, but I've finally found an exercise program involving both weights and cardio which is working for me; something I can do in my own home saving me hundreds of pounds in gym fees. There's no running involved.
I've shed 8 lbs in the first four weeks  of the P90X extreme home fitness program, lost three inches around my waist and small losses around my hips, bust, thighs and arms. I feel physically stronger than I have done in a very long time and I can see a difference in the fullness of my face. As I type my abs are still tender from yesterday's session in front of the television in my living room, but it's a good pain – it's the pain of hard work and achievement.
Week five started yesterday, and I am keeping a fitness diary to chart my progress. I might share it with you… if you want me to?
I absolutely hate this work out… but I love it at the same time and I keep going back for more. What's uncomfortable now will become comfortable later, I read recently. It's hard, but I'm sticking with it and I am noticing the difference.
Part of the program I am on includes the Fat Shredder nutrition plan, a high protein low carb diet with a little fruit plenty of vegetables. They recommend consuming their own brand recovery drink and protein bar after each work out session but I can't get these where I live (and probably wouldn't anyway since they are so expensive!) so I sought to create my own home made plant powered version.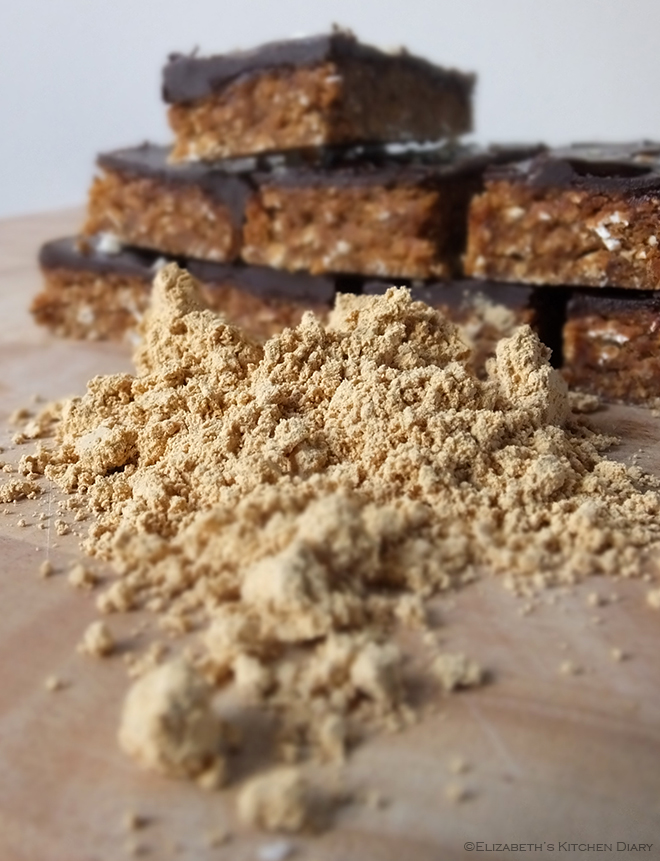 This is what I came up with, using the Sukrin peanut flour I'd been sent to play with some months ago, and inspired by this recipe.
Peanut flour is a new ingredient in my kitchen. Naturally gluten free it's high in protein and low in carbohydrates, making it an ideal component of a high protein low carb diet, or even those 5:2 diets which are all the rage just now. Containing 1/4 of the calories of regular flour it's a great gluten free alternative.
Sukrin do a whole range of gluten and sugar replacement products. The parcel I was sent for review contained two of their sugar alternatives – Sukrin Gold, a granulated brown sugar alternative, and Sukrin icing, a carb and calorie free alternative to icing sugar. It also contained sesame flour which I intend on getting creative with once the light returns after this long dark winter and I can take half decent photographs!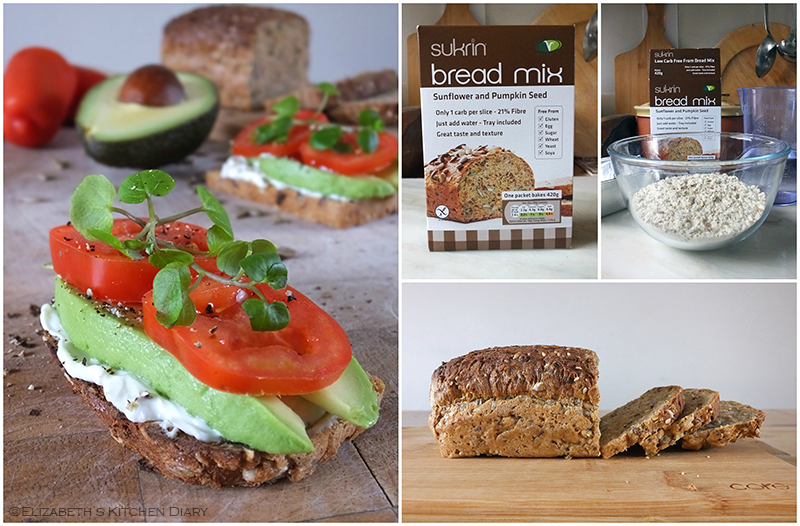 The parcel also contained a Sukrin Bread Mix. Now, I'm not usually keen on bread mixes, but this sunflower and pumpkin seed bread sounded intriguing with its 1 carb per slice claim. It's a just add water mix and the baking tray is included. The results: I was impressed! It doesn't have the texture of ordinary bread, but its dense, flavoursome crumb makes for excellent toasting. At one carb per slice (a reasonable sized slice too) it's well worth trying!
I wasn't keen on the carb free sugars, to be honest. They left a really unpleasant aftertaste and tasted very artificial despite being all natural.
The peanut flour, however, I love, and these chocolate covered peanut protein bars are absolutely delicious. Think reeses peanut butter cups with a healthy twist. Vegan, gluten free (providing you use gluten free oats – I do realise this is a grey area – feel free to sub with protein packed quinoa flakes) and refined sugar free these bars are incredibly filling and keep me going after my workouts until my next meal, and they satisfy that need for sweet chocolate.
I ground my almonds in my high powered Froothie Optimum 9400 blender (affiliate link). I did attempt to make the entire recipe in the blender, but it tripped the very handy overload switch so I had to move the ingredients to the food processor to finish.
Calories per bar: 266 (with topping) 195 (without) Protein per bar: 11 grams
Servings

Prep Time

Passive Time

12

bars

10

minutes

30

minutes
Servings

Prep Time

12

bars

10

minutes
Line an 8 x 8 inch square baking tray with grease proof paper, or use a silicone tray (I use silicone as it is non stick)

Place almonds and sea salt in a high powered blender and blend until they start to form almond butter. You might need to add a tablespoon or two of water to help this along, depending on how dry your nuts are.

Scrape the almond butter into a food processor and add the rolled oats, peanut flour, maple syrup and cinnamon and process until everything is well combined and sticks together in a ball.

Press into the base of your prepared baking tray and pop into the fridge while you prepare the topping.

To make the topping, melt the coconut oil and mix with the cocoa powder, maple syrup and vanilla.

Spread evenly over the peanut base, sprinkle with chopped almonds and pop the whole thing back in the fridge for a half an hour or so to chill.

Cut into 12 even sized bars and store in an airtight container in the fridge. These will keep for at least a week in the fridge.
You might also like the recipe for my Banana Nut Protein Smoothie!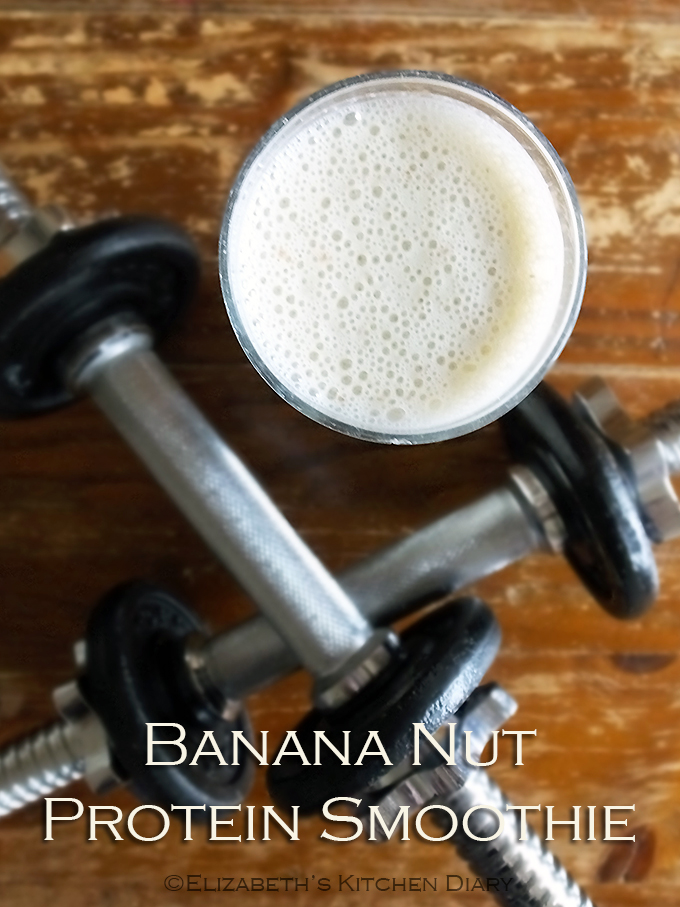 Linking up with Treat Petite co-hosted by Stuart over at Cakeyboi and Kat The Baking Explorer. This month the theme is all about healthy treats.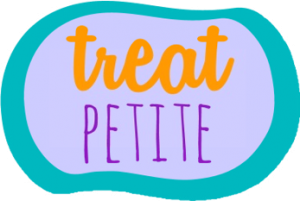 I'm also linking up with a new blogging linky: Weight Loss Wednesday by Beth at Musing Housewife and Sim at Sim's Life.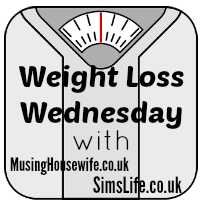 If you want to be kept up to date on my recipes, occasional craft tutorials, adventure stories and giveaways then please subscribe to my weekly newsletter; it gets sent out every Monday morning if there is new content. Your email address won't be passed on to anyone, you will never be spammed and you are free to unsubscribe at any time, no questions asked. Make sure you confirm your subscription or you won't receive the newsletter – if it hasn't arrived check your junk mail folder.
[wysija_form id="1″]
Elizabeth's Kitchen Diary was sent a selection of Sukrin products to review. This is not a paid post and all opinions expressed are our own. This post does, however, contain an affiliate link, meaning if you purchase a blender through it I will earn a small commission.