A Redmond Multicooker recipe – only 225 calories per serving!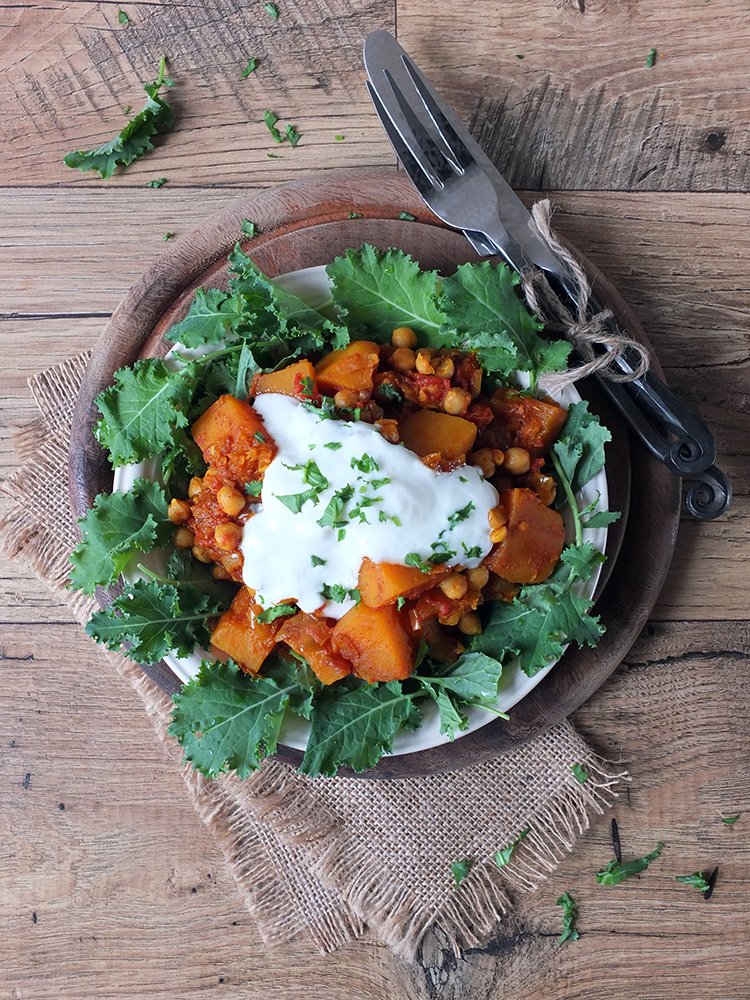 I love a good curry, me.
I've been making variations of this particular curry recipe for some time now – it began with using sweet potato and adding handfuls of kale or spinach at the end, but, like many people, I've been on a sensible eating plan since the New Year.
I'm not on a diet as I don't need to lose weight, but I'm strength training for a fitness challenge I have set myself to complete later on in the year. There will be more on this adventure later, but in the meantime, know that I am trying to nourish my body in the best way that I can with the ingredients I have available.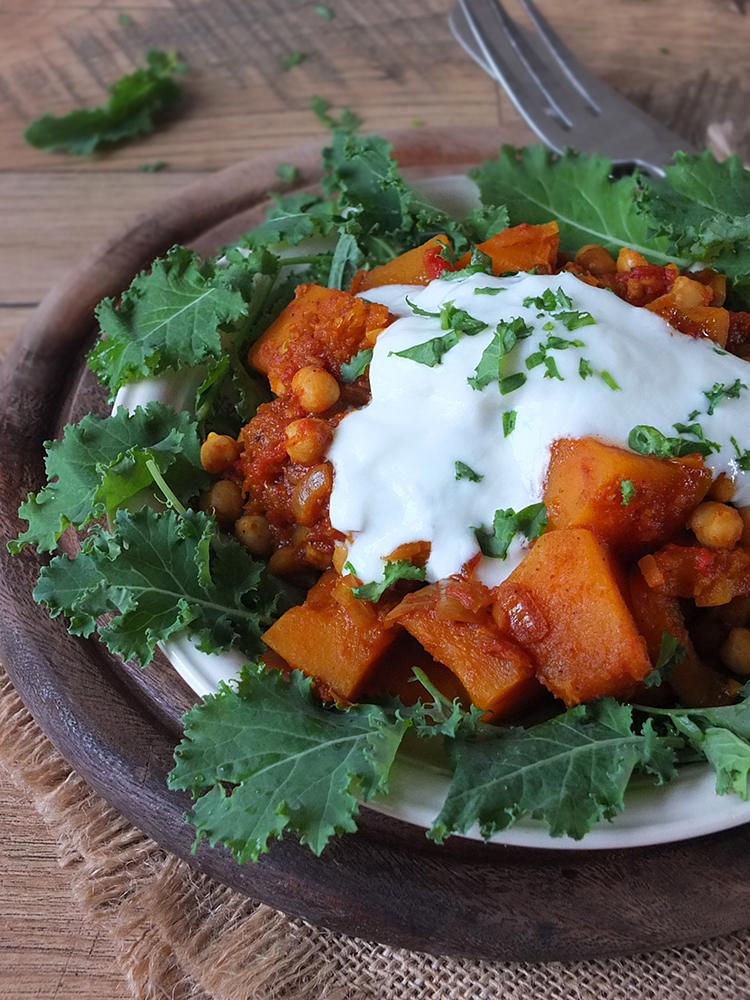 This time of year the transport links to my rural island home in Shetland are disrupted, a lot. Ferry cancellations due to storm force (gusting to hurricane!) means that there can often be be a scarcity of fresh fruits and vegetables in the village shops.
I can't even explain how delighted I was to have acquired a butternut squash recently; the only butternut squash on the shop shelves. This vitamin A loaded vegetable put a big smile on my face, and I made myself a curry.
A low calorie curry packed with flavour and nutrition.
To cook on the hob I need to use a bit more oil to stop the onion and spices from burning, but with my trusty Redmond Multicooker I was able to reduce the oil content (and therefore the calorie content) to the bare minimum. The non-stick bowl and slow cooker type properties of the multicooker makes cooking this curry a cinch.
You can serve your curry simply with some low fat natural yogurt and a generous sprinkling of hot chilli pepper, or add rice and/or na'an breads for something a bit more substantial.
For those who are calorie counting this recipe serves four, heartily, and it comes in at less than 225 calories per serving. You feel properly full afterwards too even without the addition of rice or na'an – bonus!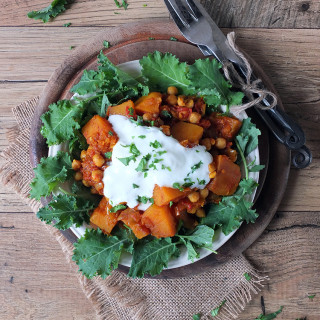 Butternut Squash and Chickpea Curry
Butternut squash and chickpeas seasoned with fresh garlic, ginger and warming spices. Only 225 calories per serving!
Print
Rate
Affiliate Links
This recipe card may contain affiliate ingredient and equipment links. As an Amazon Associate I earn from qualifying purchases.
Instructions
Add the oil to the bowl of the multicooker and select FRY. The timer is automatically set for 10 minutes.

Add the onions and fry for 3-4 minutes, stirring frequently.

Crush the whole cumin and coriander seeds in a small mortar and pestle and add to the cooked onion along with the garam masala, turmeric, ginger and garlic. Season to taste with salt and pepper. Fry for another minute or so.

Add the tinned tomatoes and tomato paste and bring to the boil, allowing the 10 minute FRY automatic setting to finish.

Add the cubed butternut squash and stir to coat well.

Select STEW and set the timer for 40 minutes. Close the lid.

After 40 minutes is up, add the tin of drained, rinsed chickpeas and check how tender the squash is. Select STEW and set the timer for 10-20 minutes depending on if your squash needs more or less time.

Serve with a spoonful of low fat yogurt and a sprinkling of chopped parsley or coriander leaves.
Environmental Information
Click here to view the nutritional information for this recipe.
MY OTHER REDMOND MULTICOOKER RECIPES
Braised Red Cabbage with Star Anise
Deep Dish Apple & Sultana Crumble
One Pot Lemon Pepper Chicken with Country Vegetable Rice
Chocolate Hazelnut Hot Fudge Pudding Cake
LINKING UP WITH A FEW FOOD BLOGGING CHALLENGES
Extra Veg by Helen at Fuss Free Flavours and Michelle at Utterly Scrummy
Meat Free Monday by Jacqueline over at Tinned Tomatoes
Recipe of the Week by A Mummy Too
If you want to be kept up to date on my recipes, occasional craft tutorials, adventure stories and giveaways then please subscribe to my weekly newsletter; it gets sent out every Monday morning if there is new content. Your email address won't be passed on to anyone, you will never be spammed and you are free to unsubscribe at any time, no questions asked. Make sure you confirm your subscription or you won't receive the newsletter – if it hasn't arrived check your junk mail folder.
[wysija_form id="1″]
Recipe commissioned by Redmond. This is a paid post.