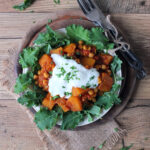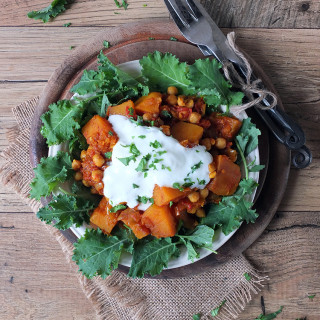 Print Recipe
Butternut Squash and Chickpea Curry
Butternut squash and chickpeas seasoned with fresh garlic, ginger and warming spices. Only 225 calories per serving!
Add the oil to the bowl of the multicooker and select FRY. The timer is automatically set for 10 minutes.

Add the onions and fry for 3-4 minutes, stirring frequently.

Crush the whole cumin and coriander seeds in a small mortar and pestle and add to the cooked onion along with the garam masala, turmeric, ginger and garlic. Season to taste with salt and pepper. Fry for another minute or so.

Add the tinned tomatoes and tomato paste and bring to the boil, allowing the 10 minute FRY automatic setting to finish.

Add the cubed butternut squash and stir to coat well.

Select STEW and set the timer for 40 minutes. Close the lid.

After 40 minutes is up, add the tin of drained, rinsed chickpeas and check how tender the squash is. Select STEW and set the timer for 10-20 minutes depending on if your squash needs more or less time.

Serve with a spoonful of low fat yogurt and a sprinkling of chopped parsley or coriander leaves.