For when you've got those chocolate cravings and don't want to break the healthy eating plan!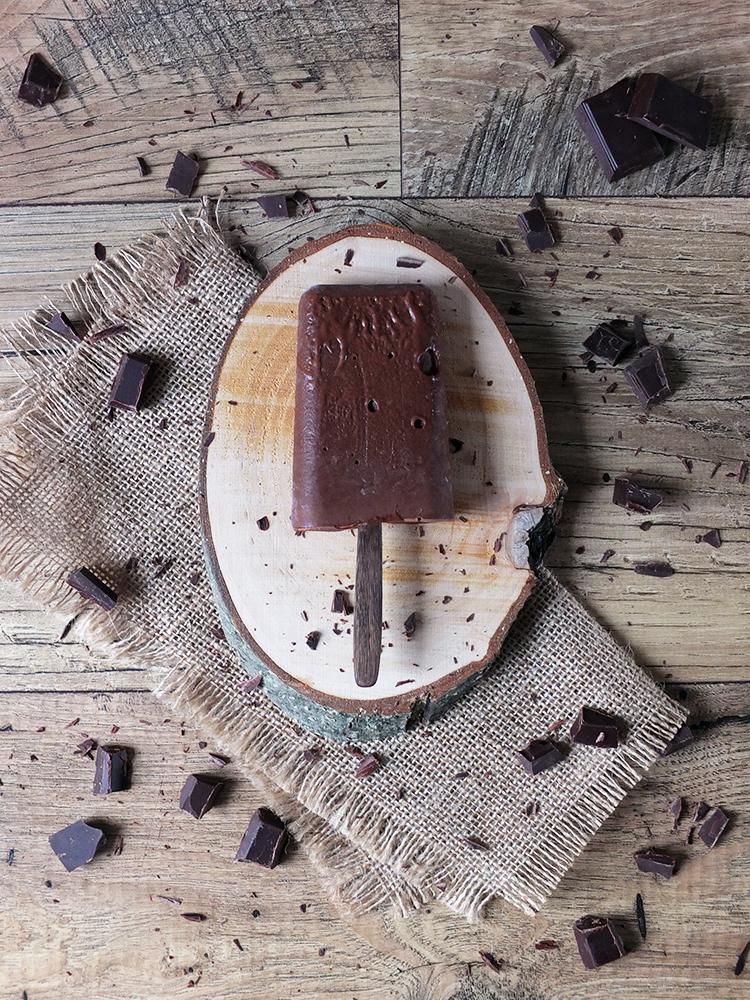 I'm not on a diet.
I don't even like the word diet. It implies that you are denying yourself something, a restriction of enjoyment, a temporary solution to a problem.
Fad diets aren't sustainable, and they're not a healthy way to live, in my humble untrained opinion.
I don't need to lose weight, but I am on a mission to eat better and nourish my body in the best way I can (this does, on occasion, involve a few glasses of wine…). I'll be 40 this year and I want to be in peak condition when I hit it.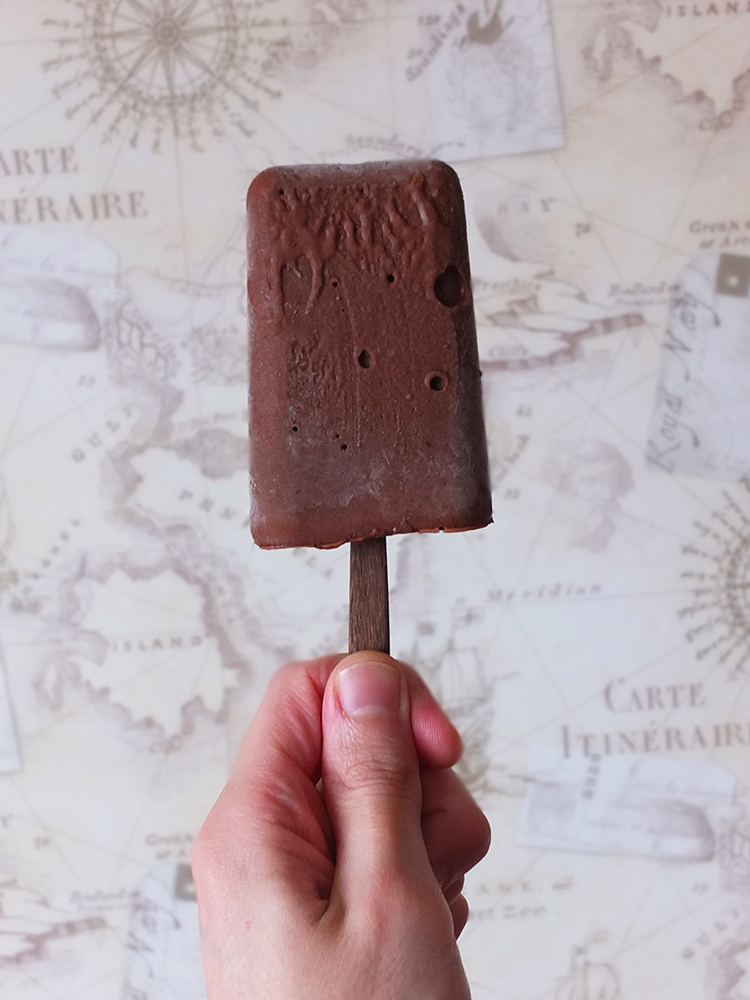 I'm also training for an event I am planning this summer (something I am yet to tell you all about – but watch this space – it's going to be epic!), so I'm trying to exercise and nourish my body to strengthen and tone. I'm trying to be conscious of what I am putting in my body.
Chocolate still features in this healthy eating plan.
Instead of reaching for a branded milk chocolate bar (which tend to have very little actual chocolate in it and I end up eating the whole entire thing to myself and end up not having those chocolate cravings satisfied**) I've been reaching for one of my home made chocolate fudgsicles.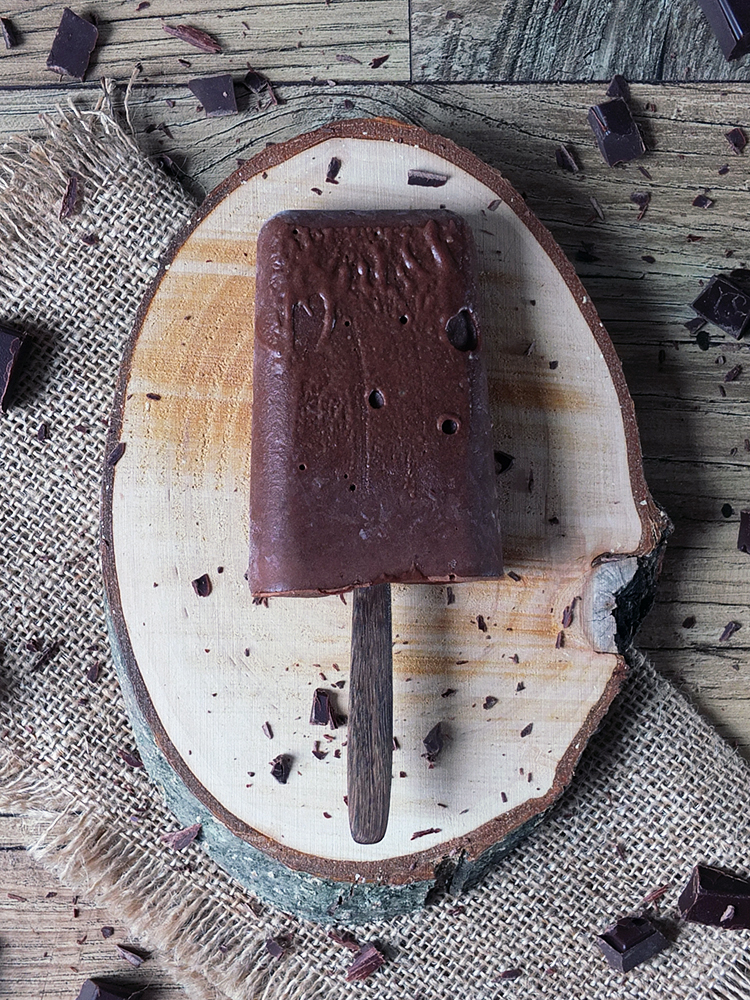 The key healthful ingredient in this recipe which doesn't break the healthy eating plan?
Bananas!
I keep a supply of sliced bananas in the freezer for whipping up into the a quick and easy chocolate banana ice cream in my Froothie Optimum ThermoCook. I don't have to wait for the bananas to soften when using this appliance as it has a super strong motor that makes short work of them, blending them into an intensely creamy instant ice cream.
The addition of cocoa powder and a touch of carb-free plant based sweetener takes it to a whole new level.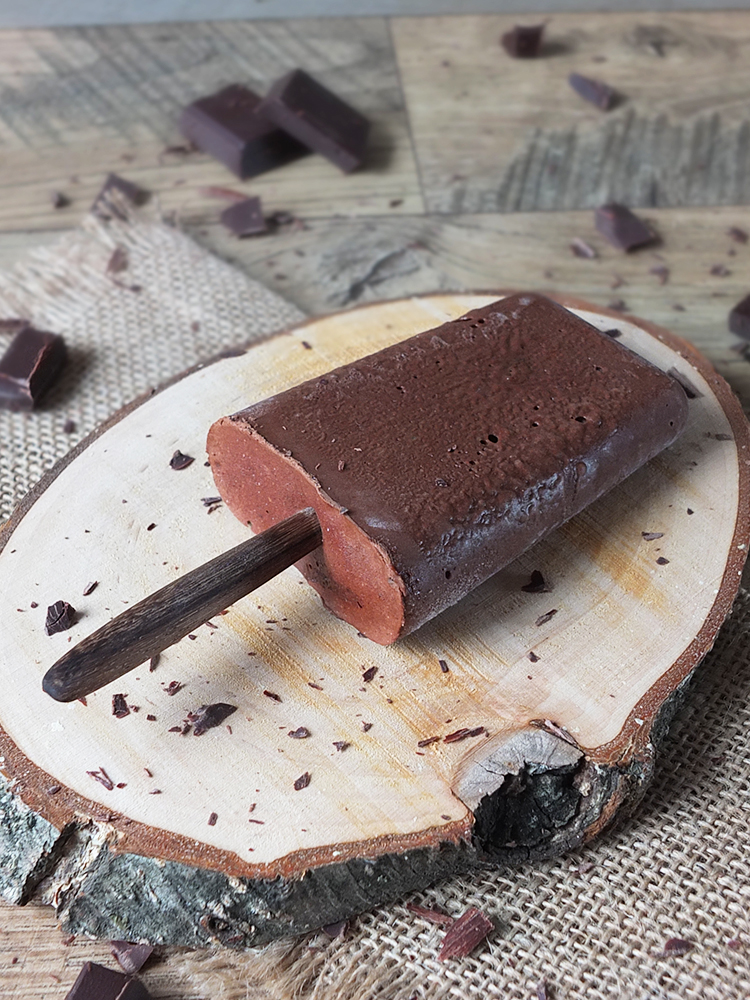 You can make this recipe without the sweetener, but I do find that cocoa powder needs a little bit of sweet to balance it out. I used some Sukrin Icing Sugar I'd been sent to review some time last year. I found the packet in the back of my cupboard recently, as, if I am to be honest, I'm not a stevia fan. I find the taste quite artificial and metallic, so I don't use it in my cooking.
A tiny pinch of it, when combined with the banana and cocoa powder in this recipe, totally works though. You can't taste the stevia and it gives the cocoa powder that sweet balance the banana can't do on its own.
As such, this recipe totally satisfies even the most intense chocolate cravings (ok, they do mine at least!) and depending on the type of cocoa powder you use, it comes in at less than 100 calories*. Win!
You can, if you want, eat the instant ice cream as soon as it's creamed, or you can wait a little longer, place it in an ice cream lolly mould and enjoy this fudgsicle treat a little later on.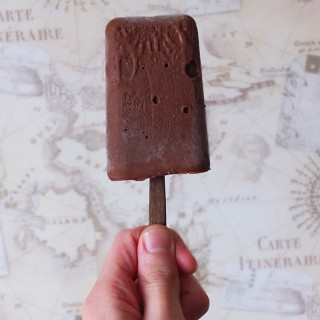 100 Calorie Chocolate Fudgsicle
Only three simple ingredients - a rich and decadent chocolate ice cream snack that won't break the healthy eating plan!
Print
Rate
Affiliate Links
This recipe card may contain affiliate ingredient and equipment links. As an Amazon Associate I earn from qualifying purchases.
Instructions
Optimum ThermoCook method - place all ingredients into the bowl and press the PULSE button for 6 seconds. Scrape down the sides and repeat PULSE for a further 6 seconds. This should be sufficient, but pulse and scrape again if needed.

High speed blender - place all ingredients and pulse for several seconds, scraping down the sides in between pulsing. It will take a minute or so to reach the right consistency.

Food processor method - place all the ingredients into your food processor and process on medium, stopping the machine frequently to scrape down the sides. It will take a few minutes but it will get there, just keep processing.

Either eat the instant ice cream as is, or spoon into an ice lolly mould. Tap the mould on the countertop a few times to remove any air bubbles and insert a wooden stick (I use my favourite wooden spoon).

Freeze for two hours and eat!
Environmental Information
Click here to view the nutritional information for this recipe.*
*Calorie content will vary depending on the brand of cocoa powder you use.
** I have been known to devour the entire 180 gram bar of Cadbury Marvellous Creations Popping Candy Chocolate in a matter of seconds.
OTHER HEALTHIER CHOCOLATE TREATS YOU MIGHT LIKE
Chocolate Chia Muffins by Celery & Cupcakes
Beetroot Chocolate Protein Balls by Veggie Desserts
No Bake 'Healthy' Nutella Bites by Family, Friends, Food
Raw Chocolate Puffs by Tin & Thyme
Avocado Chocolates by Elizabeth's Kitchen Diary
LINKING UP WITH A FEW BLOGGING CHALLENGES
Treat Petite by Cakeyboi & The Baking Explorer and guest hosted this month by United Cakedom
How to Sundays by Monkey and Mouse
If you want to be kept up to date on my recipes, occasional craft tutorials, adventure stories and giveaways then please subscribe to my weekly newsletter; it gets sent out every Monday morning if there is new content. Your email address won't be passed on to anyone, you will never be spammed and you are free to unsubscribe at any time, no questions asked. Make sure you confirm your subscription or you won't receive the newsletter – if it hasn't arrived check your junk mail folder.
[wysija_form id="1″]
Elizabeth's Kitchen Diary is a Froothie Ambassador and she uses the Froothie Optimum 9400 blender, the Froothie Optimum 600 slow juicer and the Optimum ThermoCook to make many of her recipes. These are affiliate links, meaning if you buy a blender or juicer through them we will earn a small commission. This is not a paid post and all thoughts and opinions are our own.