A high protein breakfast recipe ready in under 10 minutes.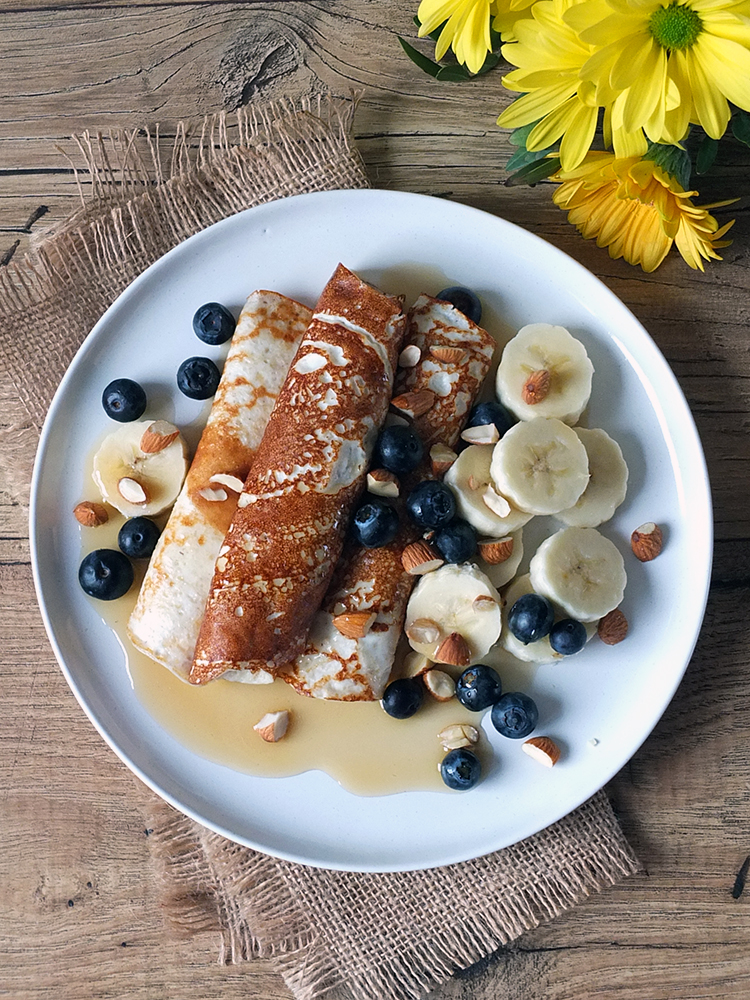 Yay for Spring!
With the clocks springing forward our longer days have returned, which means I can take more food photographs and share more recipes! I have a tendency to create and photograph recipes in real time, meaning that these beautiful low fat and high protein cottage cheese crepes were made and photographed at 7:40 this morning.
These crepes have become a staple component of my diet lately, being one of my go-to breakfasts with my fitness and strength training.
In case you haven't heard yet (I kinda harp on about it a bit, I know!) I'm planning an epic 250 mile mountain bike cycle from my remote North Sea island home south, via 2 ferries, through the Scottish highlands to Fort William this summer, where I'm going to climb Ben Nevis. I'm raising money for the RNLI with this challenge – please do consider sponsoring me! For those of you who prefer to do things in person, if you know where I work there's a paper sponsor form on the counter. 😉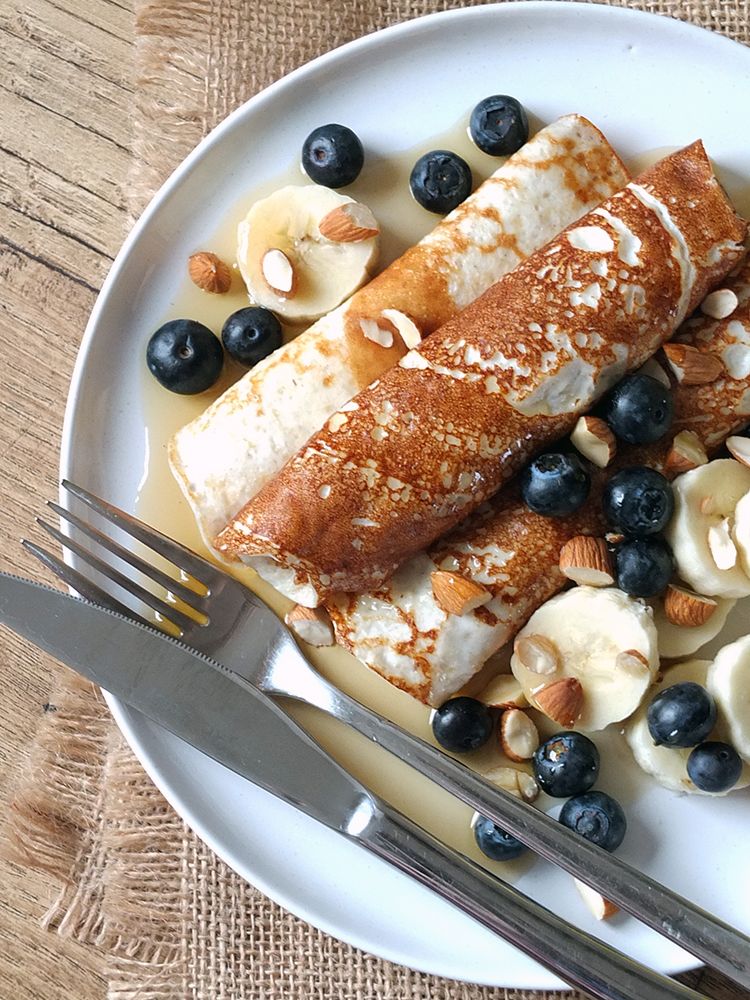 I want to complete this challenge and I want to enjoy doing it too, which means I'm exercising and cycling nearly every single day to build up strength. I'm eating a lot of protein.
This crepe recipe is made from three simple ingredients whizzed up in my high speed blender – low fat cottage cheese for protein (not everyone's cup of tea, I know – but these crepes don't even remotely taste like cottage cheese so it's ok!), porridge oats for carbs and fuel and egg whites for some more protein (and to bind it all together nice).
My two cats each get an egg yolk when I make these for breakfast, lucky things, eh!?
As for toppings – just top like you would a regular pancake. I quite often go for some simple sugar free jam like St. Dalfour, or top with fruit and maple syrup with a few chopped nuts for added nutrition.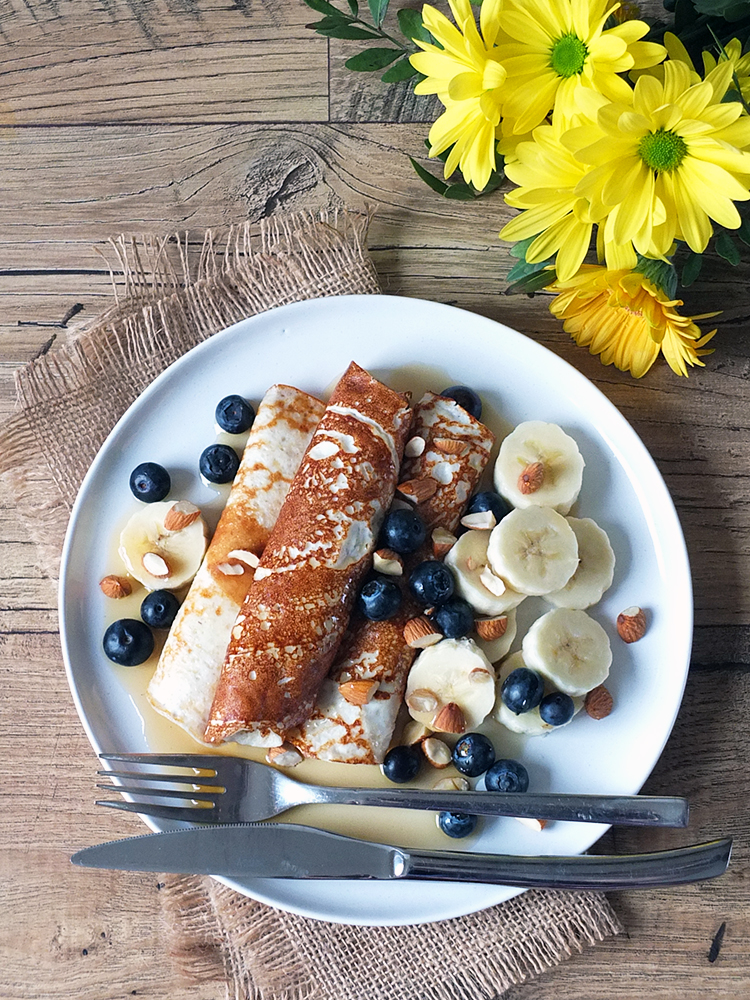 The more I train and cycle the bigger my ambitions become. I'm feeling, when I'm out on the open road, like one of those Actually, I Can! tv advert Liv Cycling women slogging it away. The thing is, no one has once told me I couldn't. It's only ever been myself holding myself back.
No more.
Actually, I really can.
My cycling friend recently told me about the North Sea Cycle route. It starts (or ends, depending on which direction you go) on my remote North Sea island. We're going to cover the Shetland section of the route before we head south in June where we'll be covering some of the Scottish route. I've got my flights booked for Bergen, Norway (where the cycle route ends) – I'm going to hire a bike and see how many miles I can cover on that end in the week I am there.
Life is feeling pretty fantastic right now (except for when I'm flying downhill on my bike, mouth open with the effort exerted, and I eat a fly. I've lost count of the number of flies I've eaten in the last few weeks.)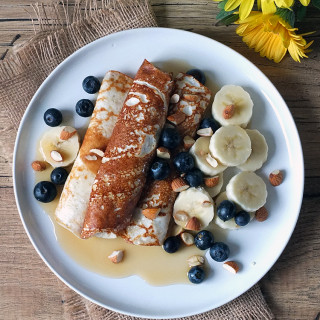 Cottage Cheese Crepes
A quick and easy high protein breakfast recipe. Top with your favourite things!
Print
Rate
Ingredients
for the cottage cheese crepes
Affiliate Links
This recipe card may contain affiliate ingredient and equipment links. As an Amazon Associate I earn from qualifying purchases.
Instructions
Place the cottage cheese, porridge oats and egg whites into the jug of a blender and blend until smooth.

Heat the coconut oil over a medium heat in a non-stick frying pan.

Pour the batter from the blender jug into the pan, swirling the pan to move the batter to form a medium sized pancake/crepe.

Cook for a minute or so until the edges start to brown and carefully turn over with a large spatula.

Cook on the other side for a minute or so and transfer to a plate.

Repeat with the remaining batter (there's enough for three crepes). Top with your favourite ingredients and eat immediately.
Environmental Information
Click here for the nutritional information for this recipe.
OTHER PROTEIN RECIPES YOU MIGHT LIKE
Jamie Oliver Protein Pancakes by Munchies & Munchkins
Creamy Vanilla Protein Cheesecake – Steampunk Style! by Elizabeth's Kitchen Diary
Sunshine Smoothie by Elizabeth's Kitchen Diary
LINKING UP WITH SOME BLOGGING CHALLENGES
Recipe of the Week by A Mummy Too
If you want to be kept up to date on my recipes, occasional craft tutorials, adventure stories and giveaways then please subscribe to my weekly newsletter; it gets sent out every Monday morning if there is new content. Your email address won't be passed on to anyone, you will never be spammed and you are free to unsubscribe at any time, no questions asked. Make sure you confirm your subscription or you won't receive the newsletter – if it hasn't arrived check your junk mail folder.
[wysija_form id="1″]
Elizabeth's Kitchen Diary is a Froothie Ambassador and she uses the Froothie Optimum 9400 blender, the Froothie Optimum 600 slow juicer and the Optimum ThermoCook to make many of her recipes. These are affiliate links, meaning if you buy a blender or juicer through them we will earn a small commission. This is not a paid post and all thoughts and opinions are our own.