An epic bikepacking adventure through Scotland to the summit of Ben Nevis: Part 3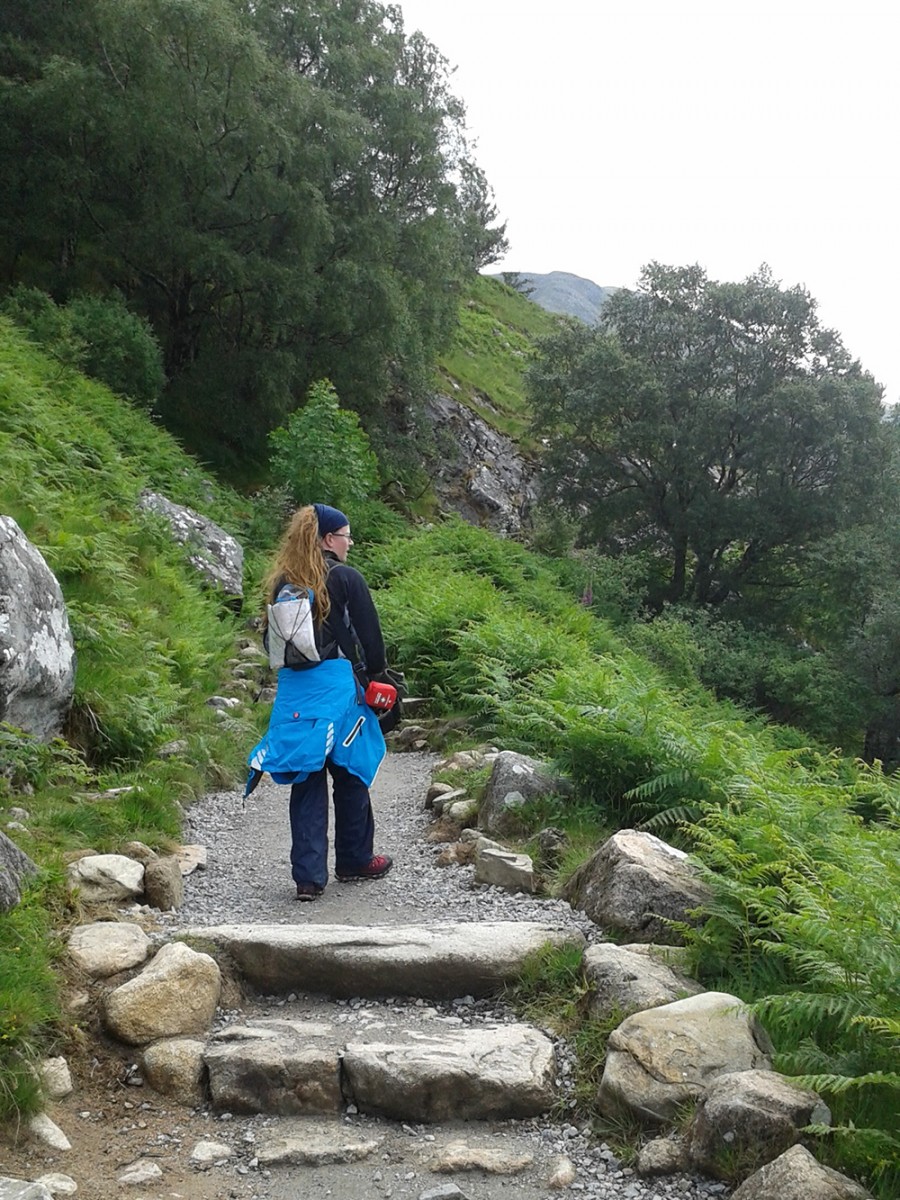 In the summer of 2016 my friend and I undertook a rather grand adventure. Regular readers will know all about it, but if you're new to my blog here's a quick recap: I turned 40 at the end of 2016, and to help ease this transition I created a list of 40 Things I'd Like to do Before I Turn 40. One of these things was to own a bike again, and another was to climb a mountain. I'd climbed up a mountain before, one of the Canadian Rockies, but giving that I took the gondola down I'd never actually climbed down a mountain. I should perhaps have updated my list to reflect that!
So, I had a notion to cycle my new mountain bike the 400 miles to to my nearest mountain, Ben Nevis, and climb it. Just because.
After 9 days of bikepacking through Scotland we arrived at our destination – the camp site at the base of Ben Nevis.
From our location at the camp site we could see a tiny row of climbers making their way up and down the gentle incline of the Mountain Path. This path is the old access route to the observatory at the summit of Ben Nevis and it was designed as a rough bridle path for ponies. It's now the most popular method of ascending to the mountain summit.
Our original plans were to climb up the North Face of the mountain along the Carn mor Dearg Arete, but the weather wasn't on our side. When we awoke we could see the top of the mountain was shrouded in thick cloud and we decided it might just be a better idea to climb the safer mountain path.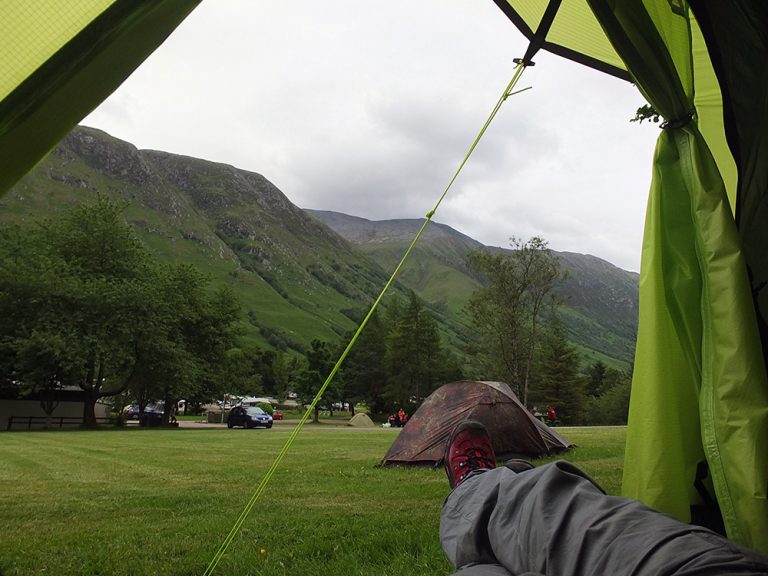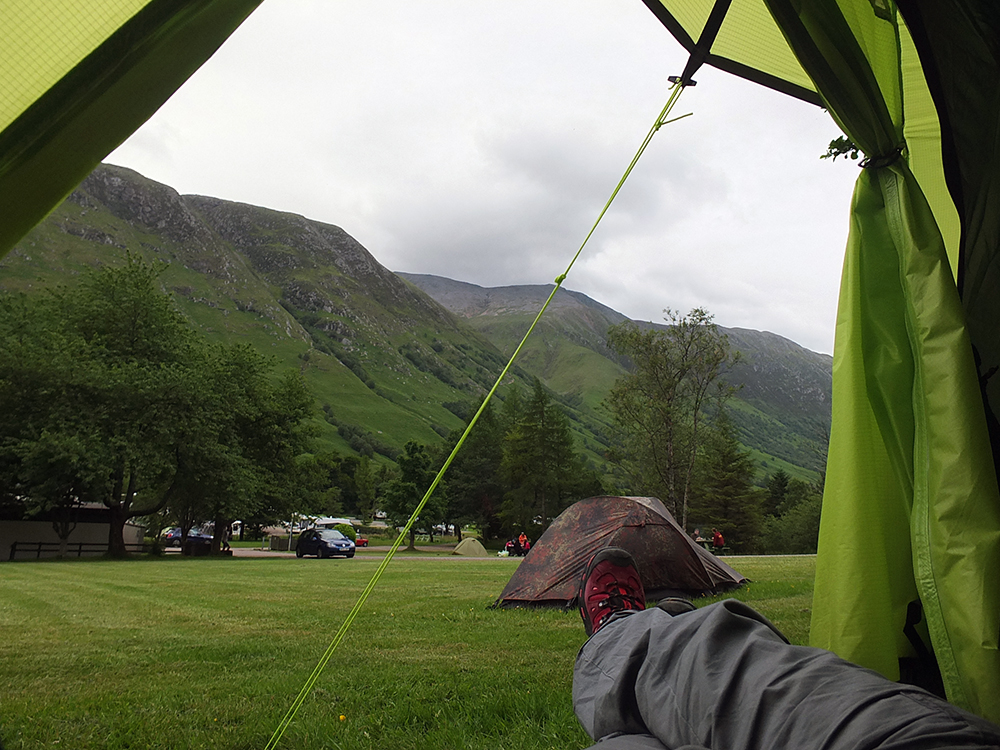 We set off just after twelve noon after a trip into the town centre for new hiking boots. Since we'd bikepacked from our remote North Sea island home in Shetland, through Orkney, along the north coast of Scotland from John o'Groats to Bettyhill, south through the middle of Scotland through to Lairg, Dingwall and Inverness, and then off road along the Great Glen Way, every gram of weight we were carrying in our panniers was sacred and we didn't want to take up space with our old hiking boots. I wasn't sure my knackered old ones would have been up for the job of climbing a mountain anyway, so I decided just to buy new ones in Fort William.
This wasn't one of the finest decisions I've ever made in my life, as I learned on the descent, but I now own the most comfortable pair of hiking shoes I have ever worn.
We made our way to the Glen Nevis Visitor Centre, just a few minutes' walk away from the campsite. We noted that we did indeed have all the equipment they suggest you carry with you up the mountain, and with hearts filled with adventure began our ascent in the light rain.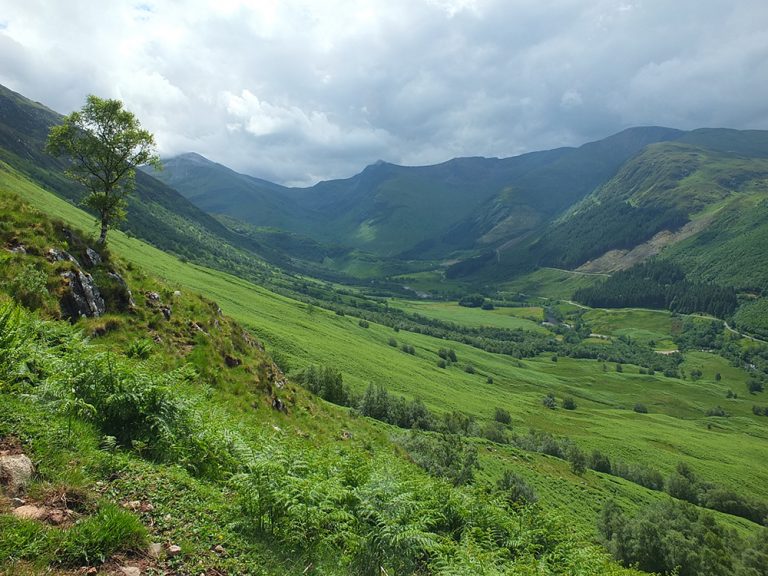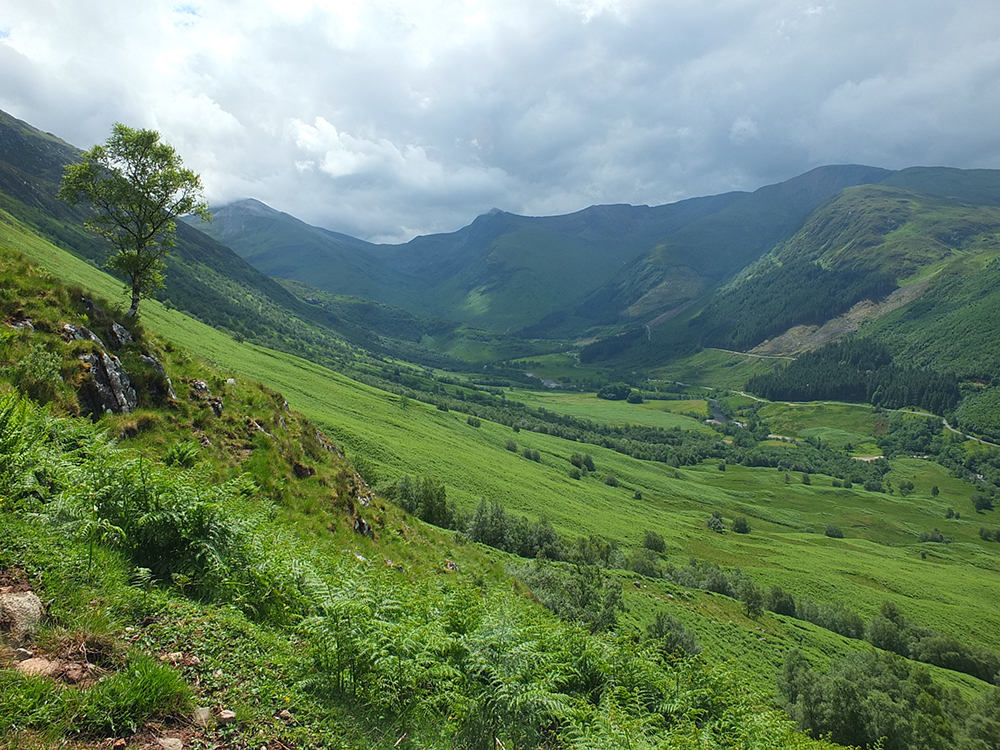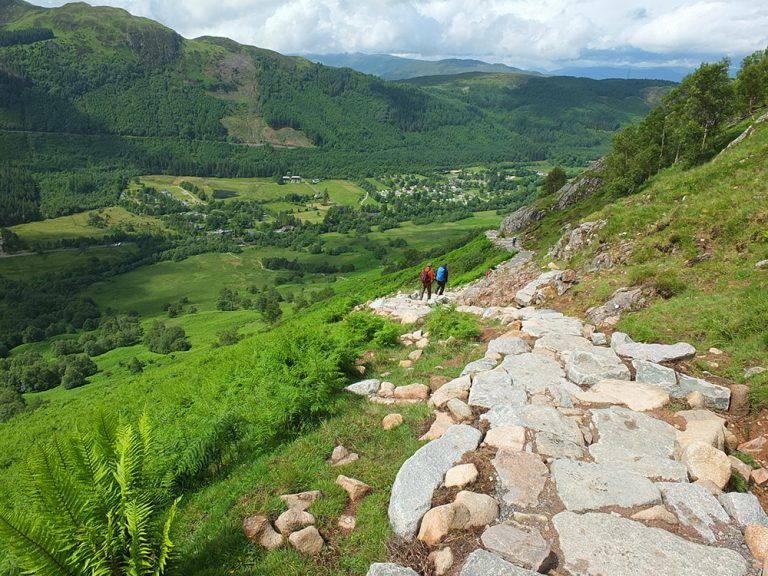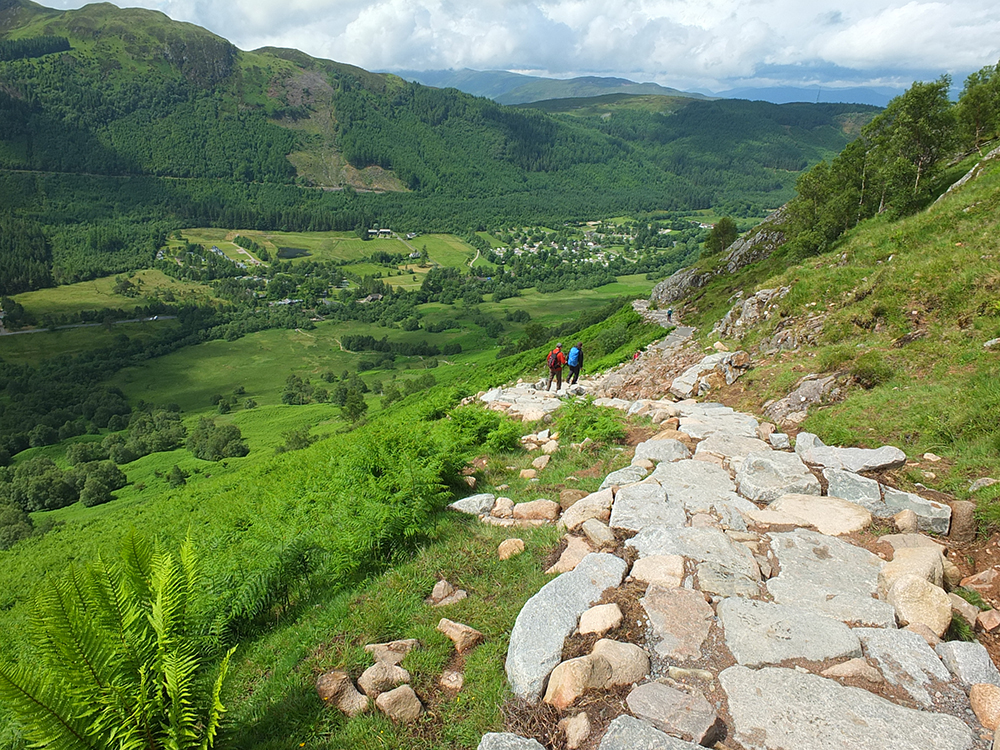 The views became quite spectacular very quickly with views up and down the Great Glen. Fortune favoured upon us and the sun began to shine. This meant we had to peel off some of the many, many layers of clothes we were wearing, but it made for a rather pleasant climb.
The path itself wasn't taxing, but it was very much like climbing a 1,345 metre irregular stone staircase. Some of the steps were quite high up from the previous one, but thankfully the 1000 miles of cycle training we'd done before our climb, and many months of fitness training (I'd completed the P90x3 and a local 12 week strength training & conditioning class) prepared us well.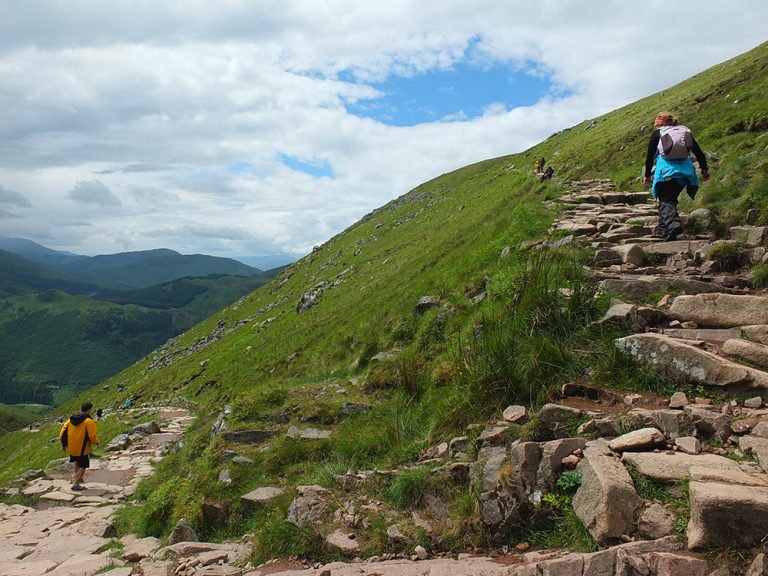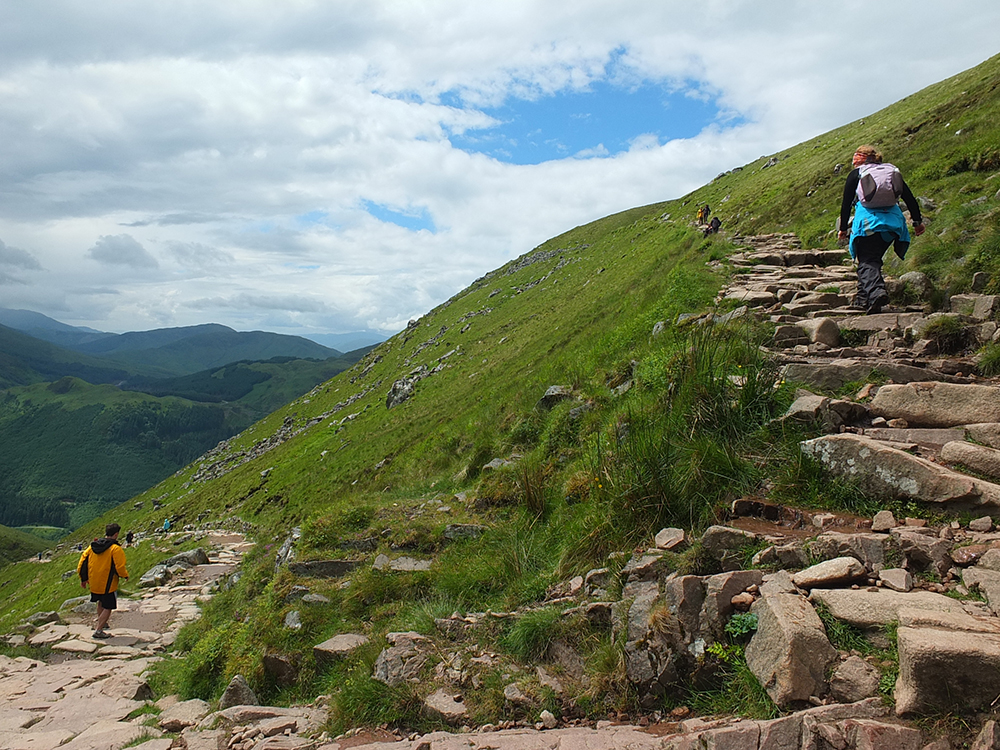 The path zig zags its way up the to the saddle by Lochan Meall an t-Suidhe (aka the halfway lochan) at 570m, then ascends the remaining 700 metres up the west side of Ben Nevis. Some of the first set of zig zags are fairly steep, but they are totally manageable if you have a fairly decent level of fitness (ie: a ten mile hill walk over rough heather doesn't phase you) and the zigzags up the western face of Ben Nevis are larger and less steep.
On the photo above, right, you can see how the terrain changes from the grassy slopes to a rocky alpine environment. At that transition point it got cold, and it got cold fast. Despite the body heat we were generating from the climb and the fact it was the middle of June I was really glad I'd worn several layers, a winter hat and gloves. I felt bad for the climbers we could see returning from the summit blue and miserable because they were wearing shorts. Shorts!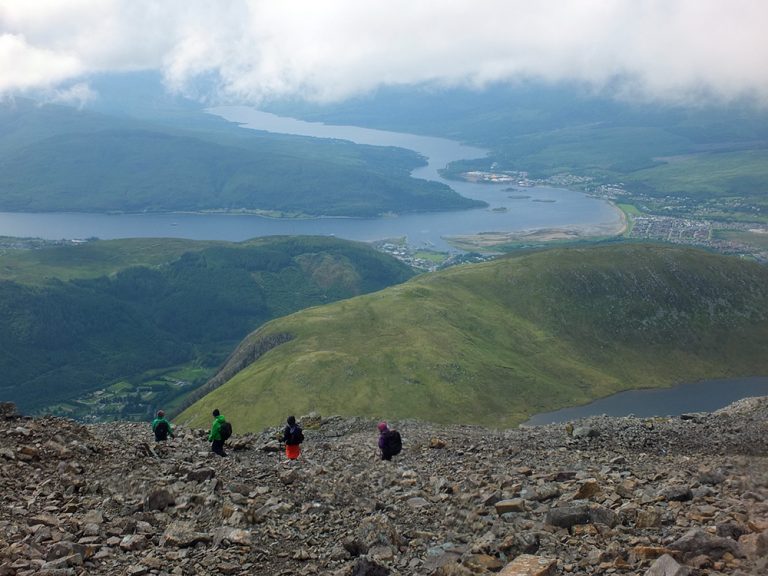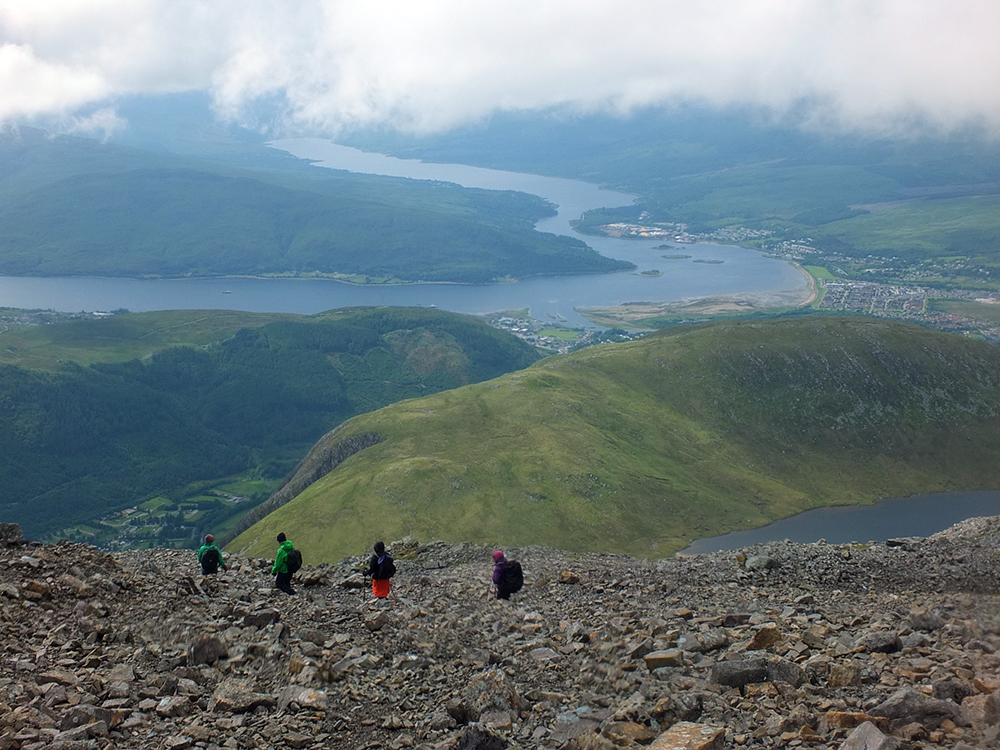 Once we reached the rocky terrain we climbed up into the cloud we'd spotted shrouding the mountain top from below. Visibility was incredibly poor, and at times we could barely see the next cairn marking the path. We were so very grateful for the cairns, stone marker piles, because without them we would not have known where to go. We can see just how easy it would be to get lost up there in inclement weather. If it weren't for these cairns we definitely would have had to have taken out our map and compass as there was very little to distinguish the path from the rocky surroundings.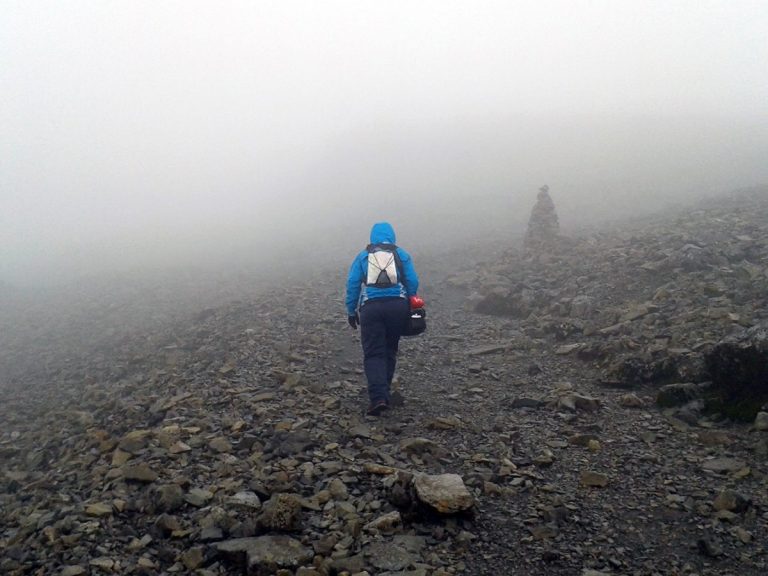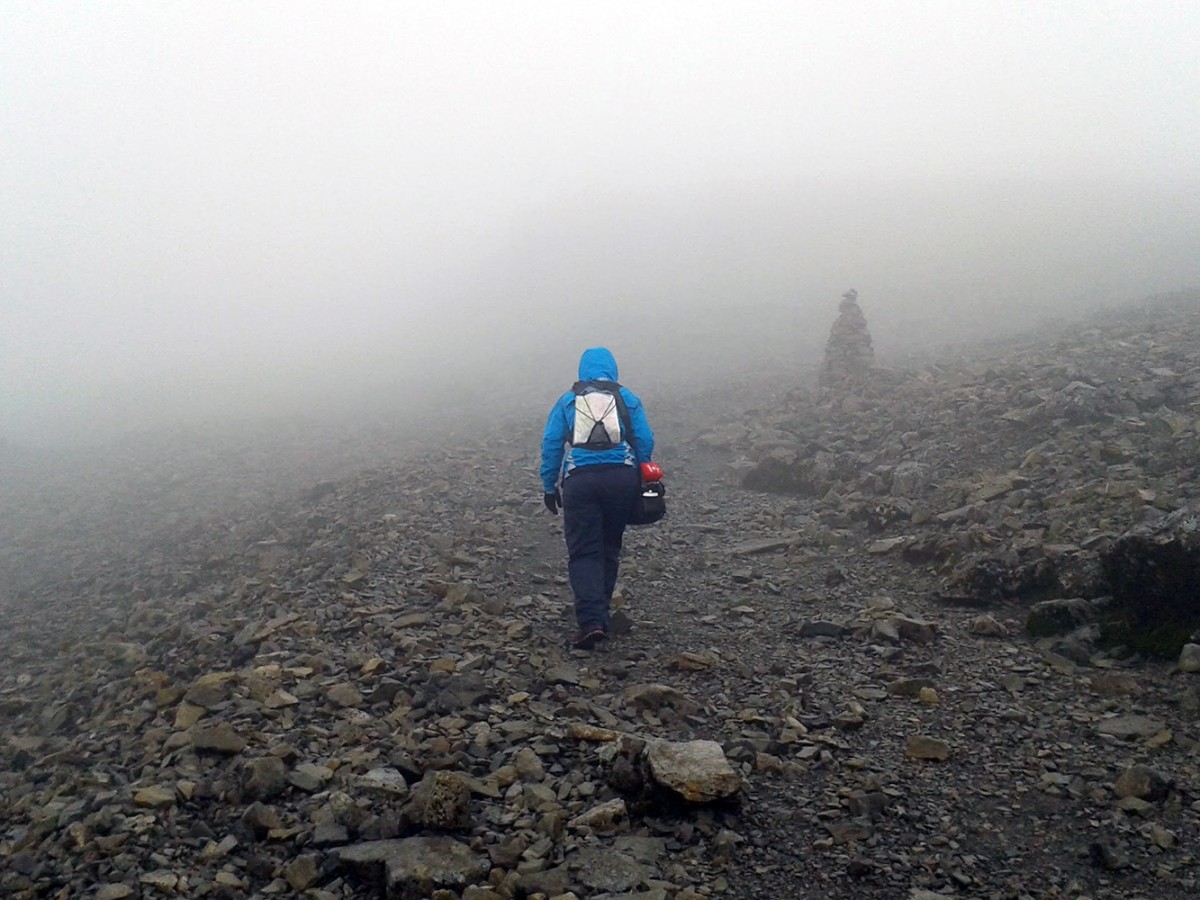 The closer we got to the summit the more often folk, on their way back down, would smile and say, "Not much further!". We'd spoken to quite a few people on the way up the mountain – a father and son in their later years who had climbed the mountain together several times already, an elderly gentleman (if I recall correctly he was in his late 70s?) who had suffered a heart attack a few years prior and was determined not to let that stop him from pursuing his fitness goals. Big respect.
Oh, I totally sat on my bottom and slid down that little patch of snow when we climbed back down the mountain. Just because I could.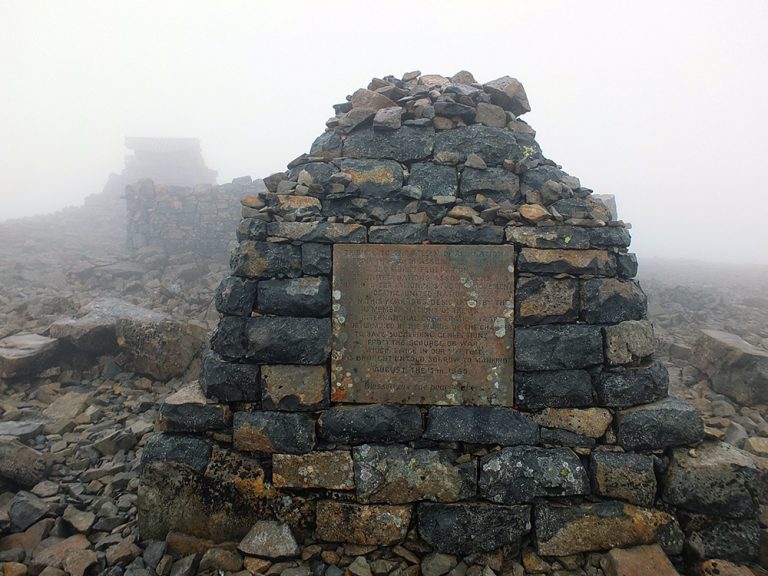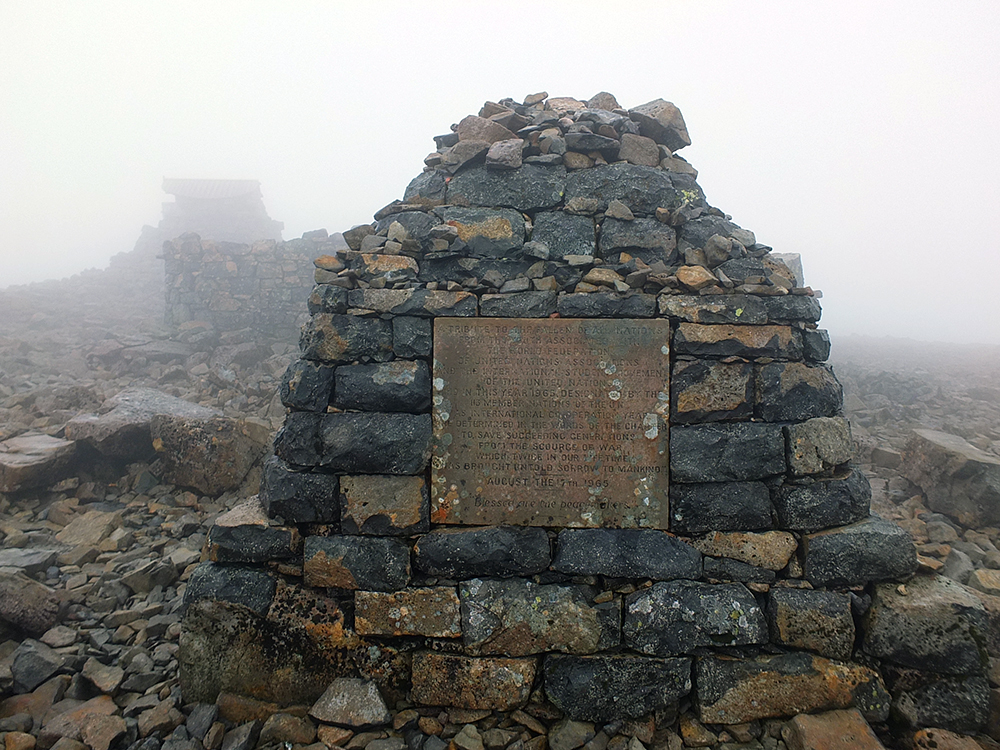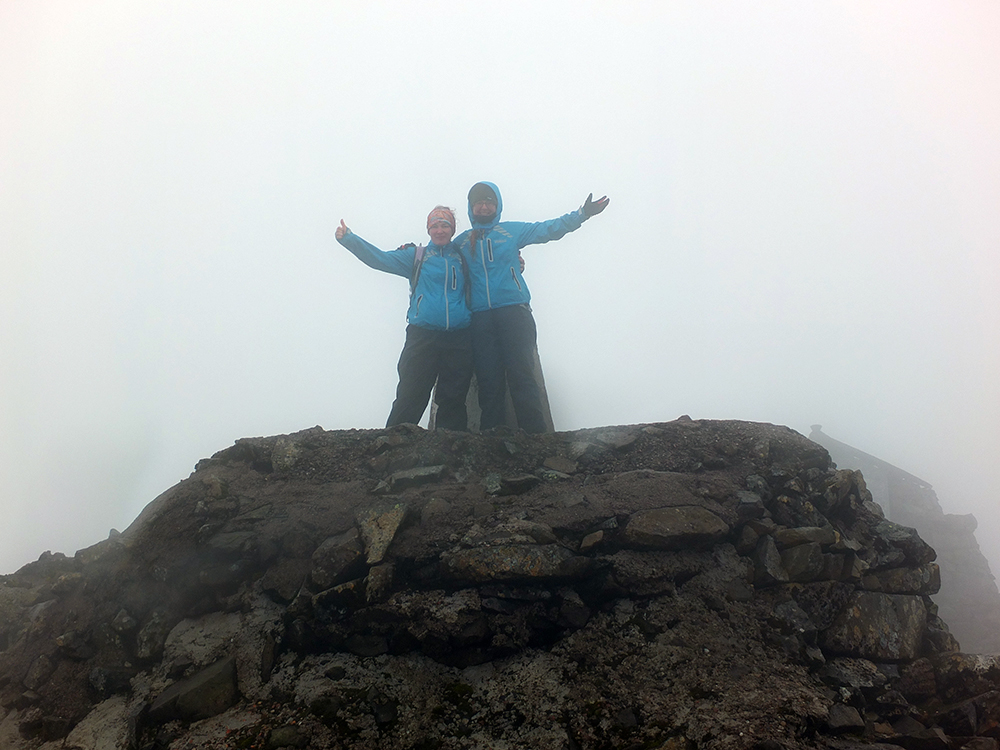 At the very top of the mountain we shared a celebratory dram of Shetland Reel whisky, first edition, from my hip flask. We'd made it. Nearly 400 miles on the bike followed by one rather epic mountain climb in just 10 days.
I was quite surprised to find, at the very top of the mountain, in such a freezing, inhospitable environment, a snow bunting flitting about feasting on the remains of someone's sandwich.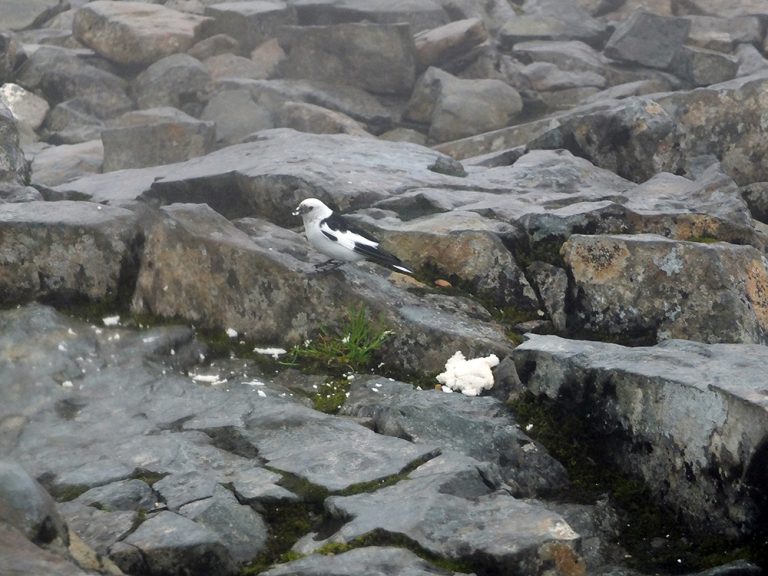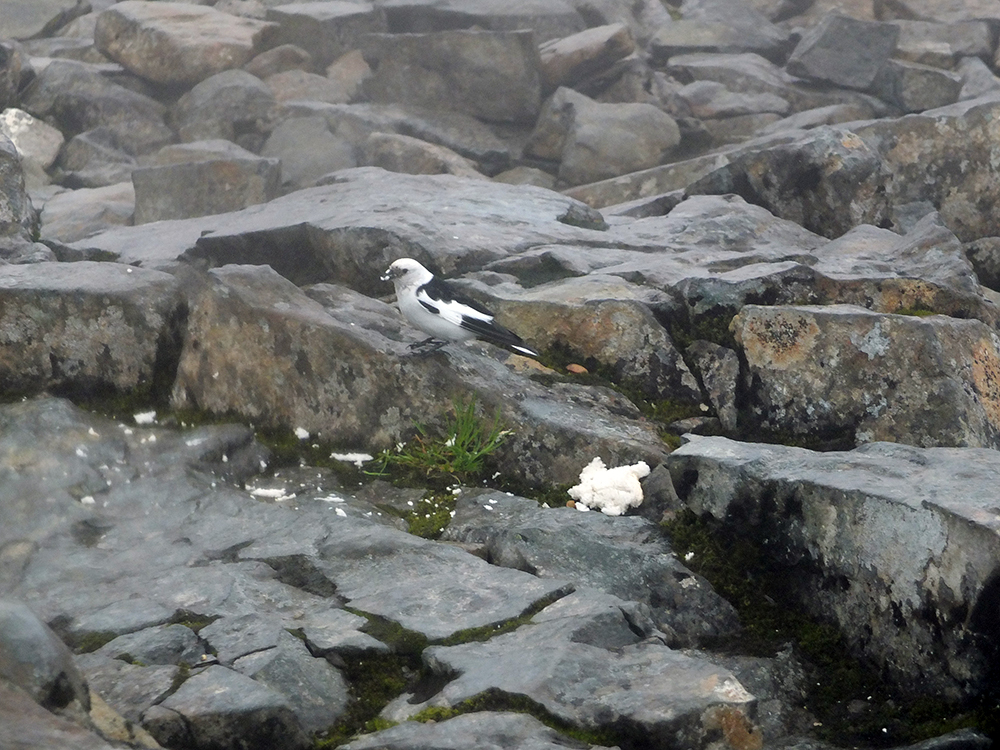 Quite often grand adventures like this are accompanied by a fundraising effort of some sort, and I chose to help support the RNLI with my cycle challenge and mountain climb. £586 was donated by my friends and blog readers, with a whopping £250 of that donated by our local village charity shop. Huge gratitude.
I wrote an article about my cycle training in Shetland which was published in the Autumn 2016 issue of our local tourism magazine 60 North. You can download the whole magazine for a small fee. There's also an article in that Autumn issue about my trip on The Swan, Shetland's restored herring drifter.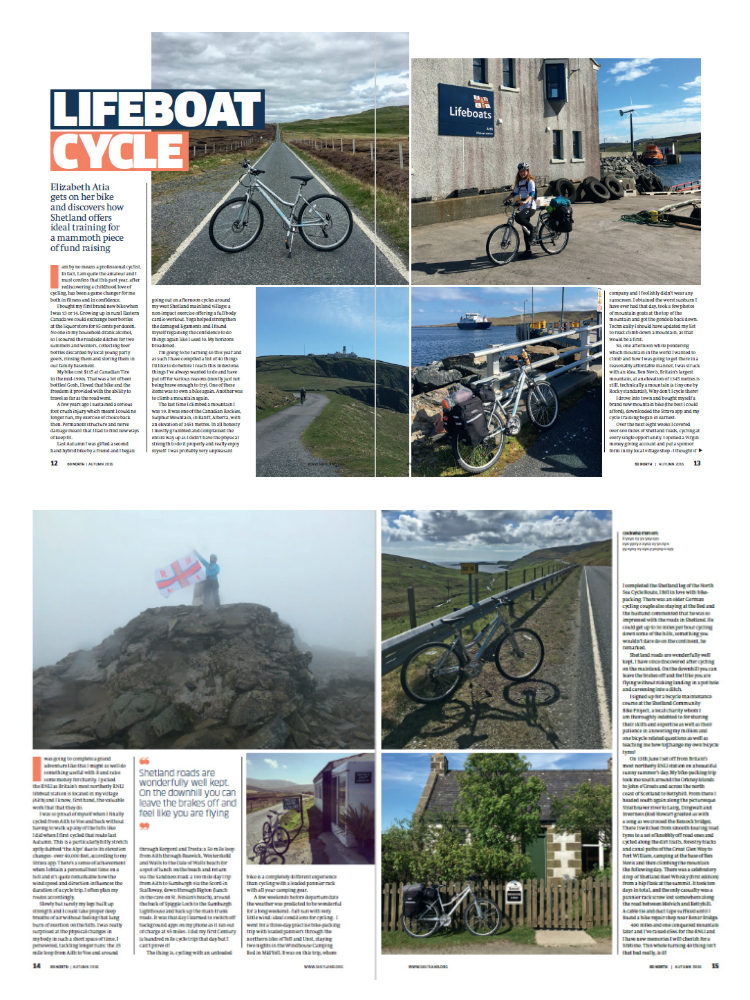 I found descending the mountain to be much more difficult than the climb up. I was using an entirely different muscle set than usual and I was really feeling it. That, coupled with the fact that my new high rise hiking boots were digging into the back of my calf meant most of the descent occurred in grimaced, stone-faced silence, as I didn't want to complain. Lesson learned! Still, six months later these boots are the best I've ever worn, and when they get too old I'll be replacing them with the same model, but perhaps not breaking them in by climbing Britain's highest mountain!
My friend logged our climb with her Garmin – it took us 5 hours and 9 minutes to climb up and down the mountain. Ok, admittedly, the battery died in her device about 10 minutes before we made it to the Ben Nevis Inn, where we'd planned to fill our bellies with a hot food and drink after the climb, but still, that's a pretty good time, I think.
Best burger ever, this was!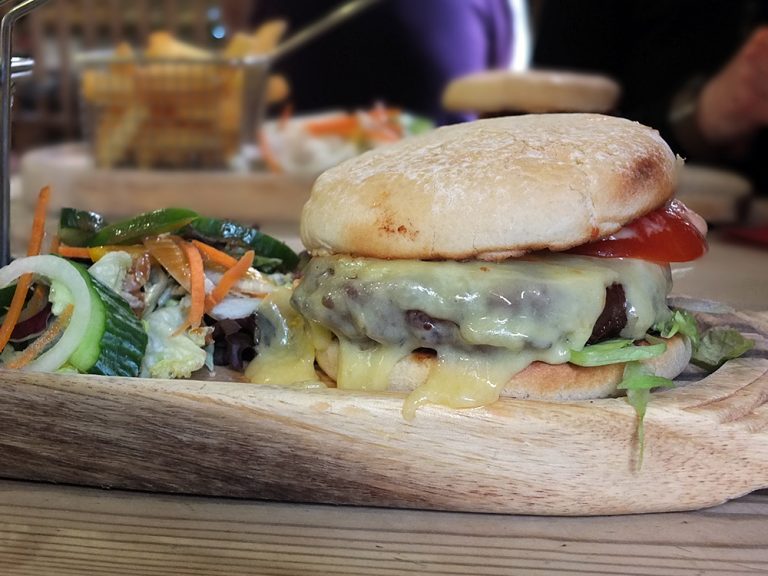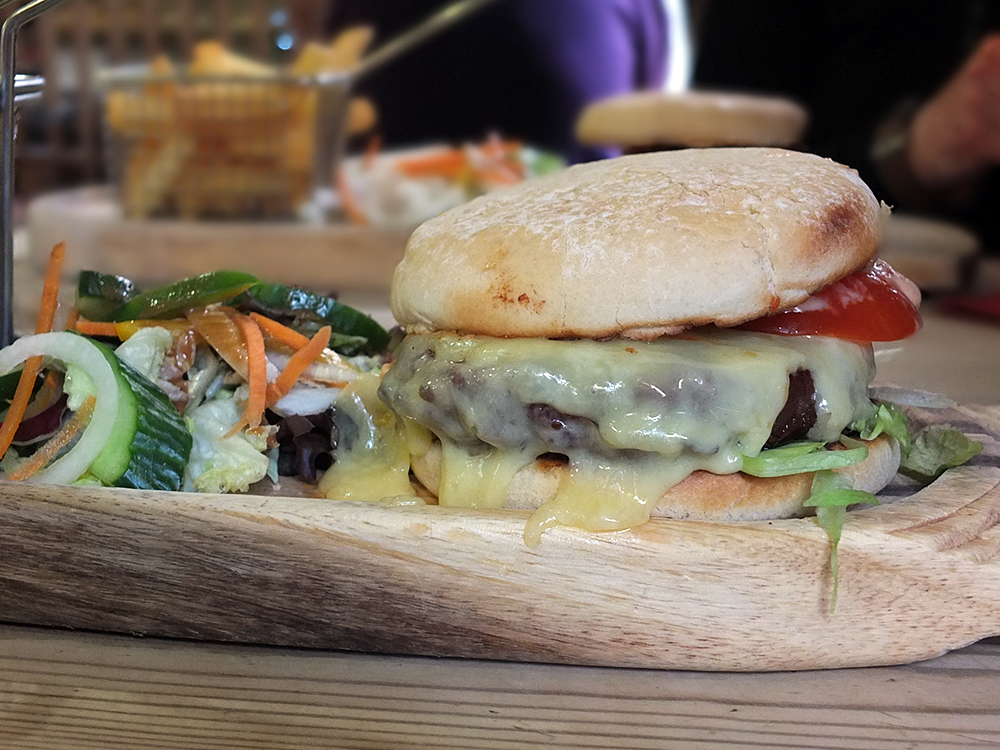 All in all this was one rather fantastic adventure. The whole thing – bikepacking from Shetland to Fort William through Orkney and off road down the Great Glen Way, finishing with a mountain climb. It's one of those things I'll look back on in my later years in life and go, yea, my 40th summer was pretty awesome indeed.
I'm hugely grateful to my friend (who wishes to remain nameless) who accompanied me on our adventure. She motivated me to push myself as far as I could with training, and helped lift my spirits when I needed it. Her infectious enthusiasm and kindness (and tendency to strike up conversation with the most random of strangers!) has inspired me and made me a better person just for knowing her. Again, huge gratitude.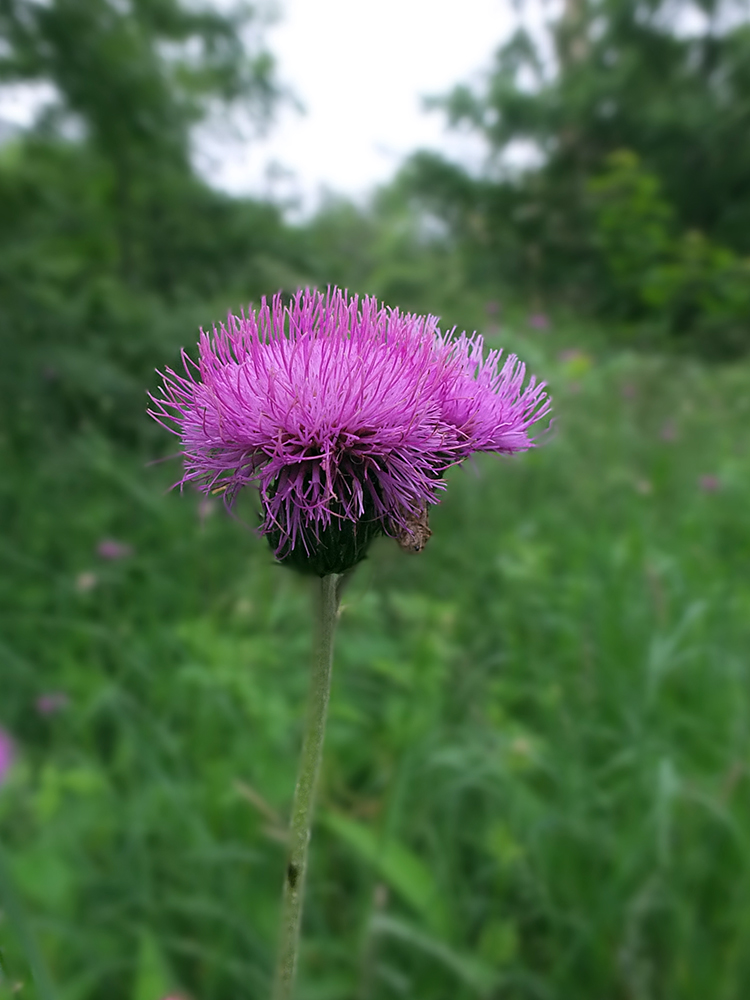 OTHER POSTS IN THIS ADVENTURE SERIES
An Epic Adventure to the Summit of Ben Nevis – The Plans
Five Things to See and Do in Orkney in a Day
Bikepacking Through the Highlands of Scotland
Mountain Biking [Most of] The Great Glen Way
OTHER BEN NEVIS CLIMBING STORIES FROM OUTDOOR BLOGGERS THAT YOU MIGHT LIKE
Ben Nevis by 1 Vision 2 Girls
Tower Ridge, Ben Nevis by Hill Explorer
A Beginner's Guide to Ben Nevis by The Helpful Hiker
West Highland Way and Ben Nevis by Angus and Vivian Adventures