A winter orca-chasing coastal walk and a warming bowl of soup.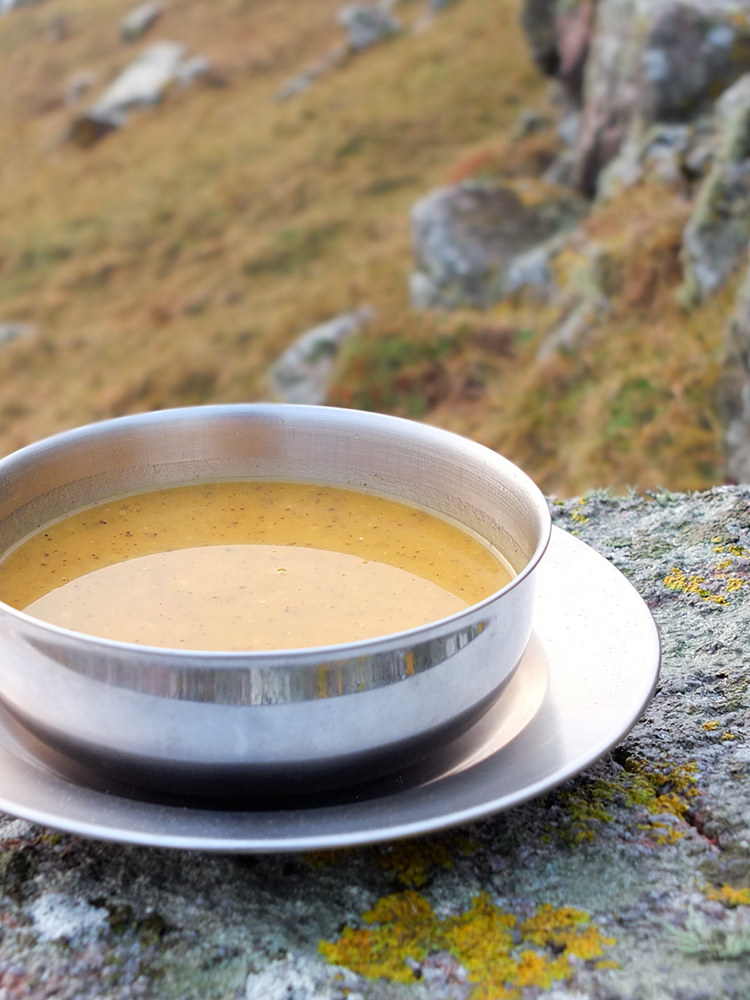 There seems to have been an increase in the number of orca sightings around our beautiful islands over the last year, for some reason. So much so that a Facebook group (Shetland Orca Sightings) has been set up by Shetland Wildlife specifically for people to share photographs and sighting location alerts.
On Saturday a pod of orcas was spotted along the coastline of one of my favourite cycle routes – the coastal road leading to Reawick. When I wake every morning I check the BBC weather app for the day's forecast. That will determine what I do that day (ie: indoor exercising, a bike ride or longer outdoor adventuring). Sunday morning's forecast predicted low wind and high cloud, with little peeks of sunshine for the afternoon as well as a rather balmy 7°C – a reasonably good day for a hill walk with the family after the Christmas and New Year laziness.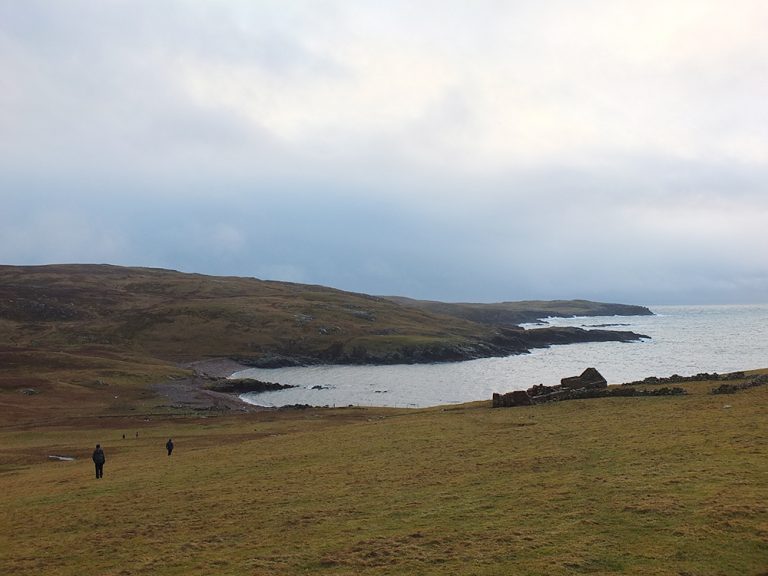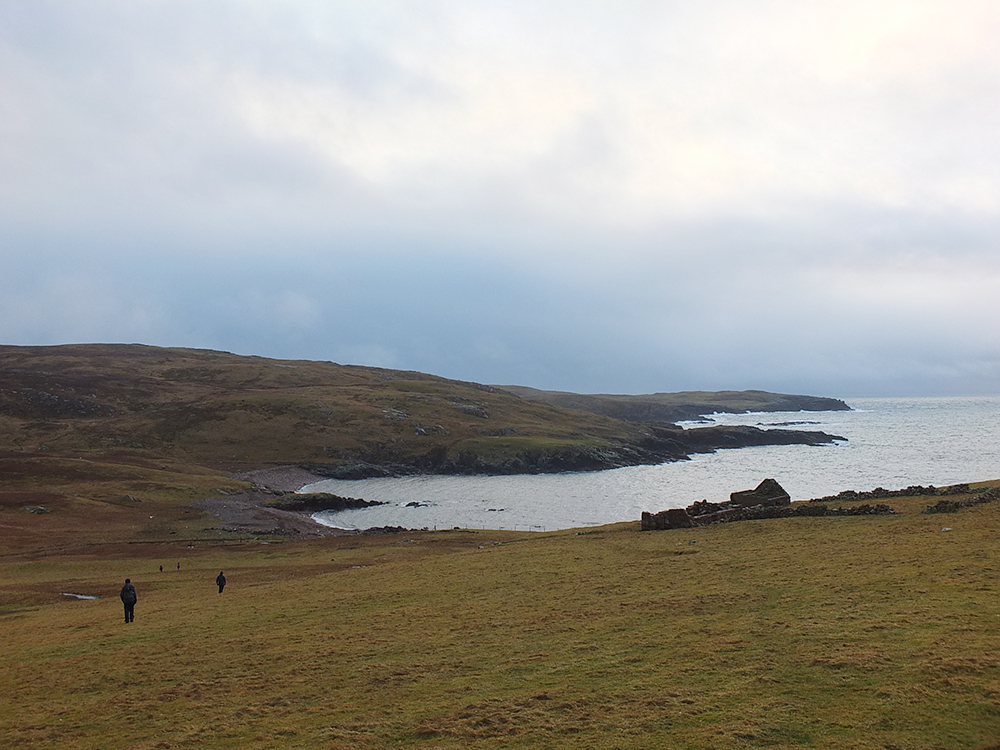 Long before daylight made an appearance I got a pot of my current favourite soup on to cook. I've made a few batches of this curried butternut squash soup lately and I have to say it really is rather fantastic. The recipe is based on a carrot soup with seven spices found in Paul Gayler's Great Homemade Soups: A Cook's Collection. I've adapted the original recipe slightly, both in ingredients and preparation, to suit my cooking style and ingredient availability.
Before anyone else was out of bed I had our OS map out and spread across the kitchen table while the soup cooked, looking for suitable locations for a coastal hill walk.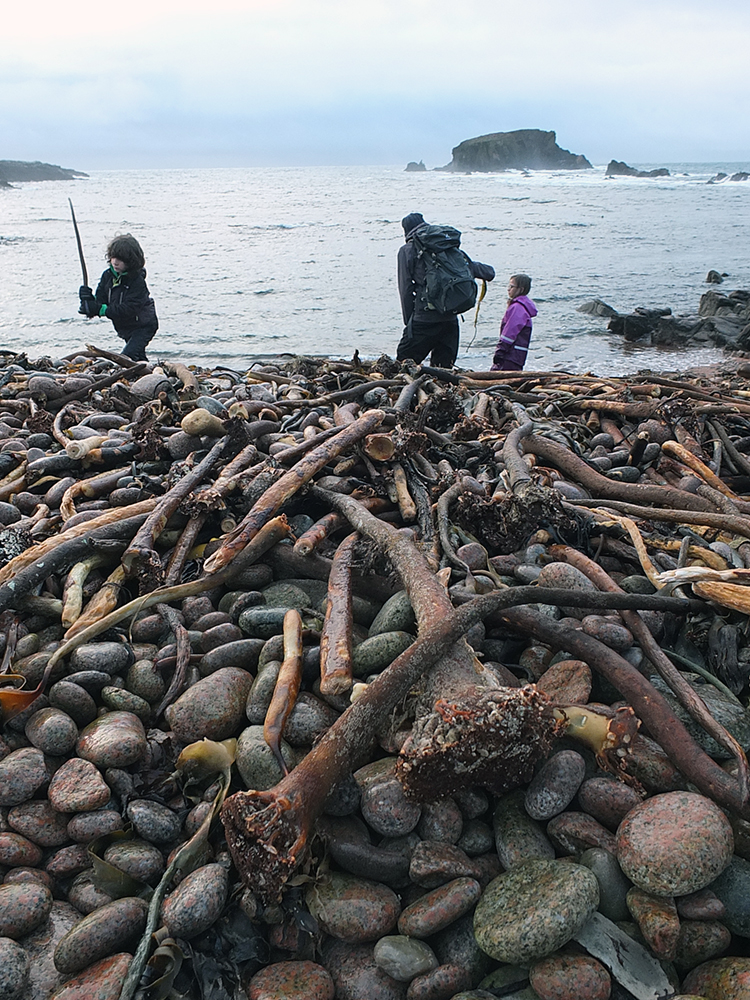 We chose the most southern tip of the west mainland of Shetland for our walk. Donning our wind and waterproof layers, our walk began at the Silwick beach, one of my new favourite haunts. The Christmas and New Year storms had tossed up loads of new treasures onto the beach – giant seaweed, rubber boots (but just left boots!) and a few old cork floats that I took home to add to my windowsill collection.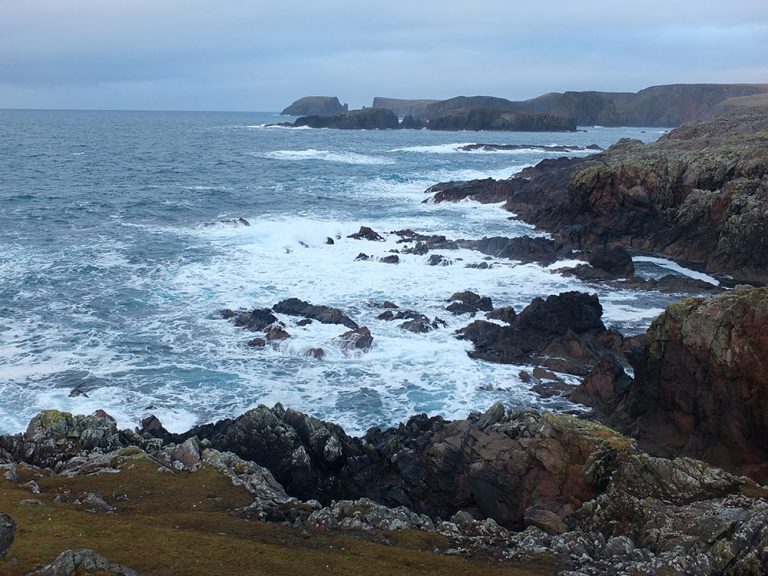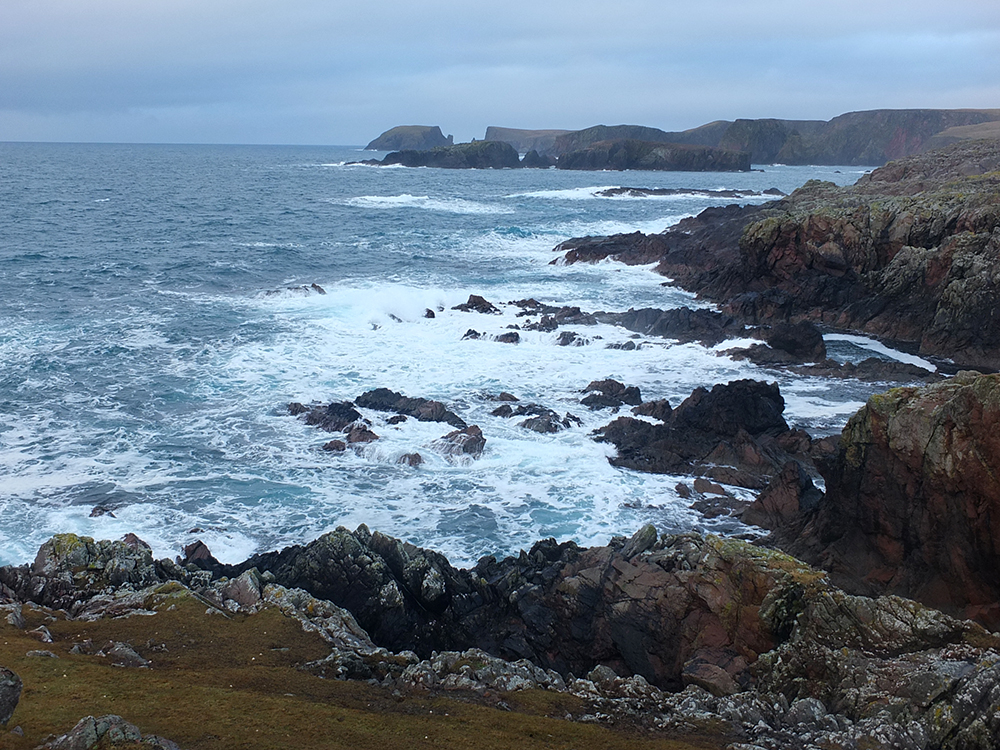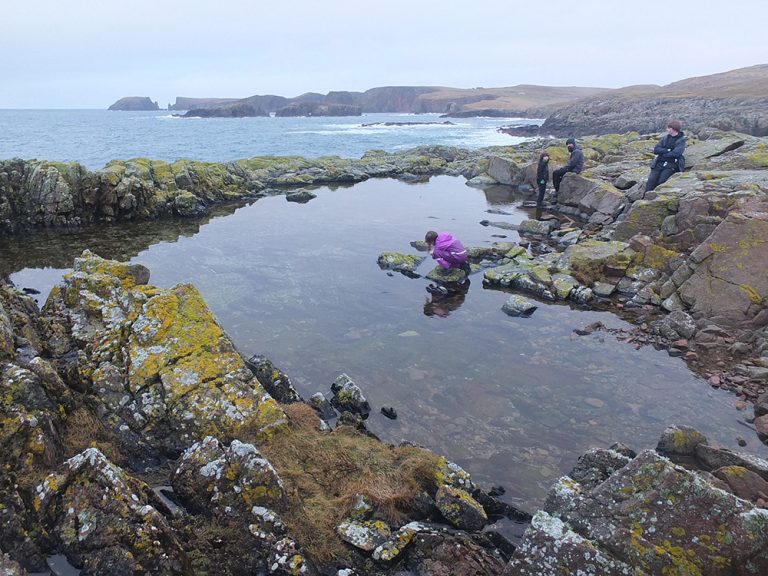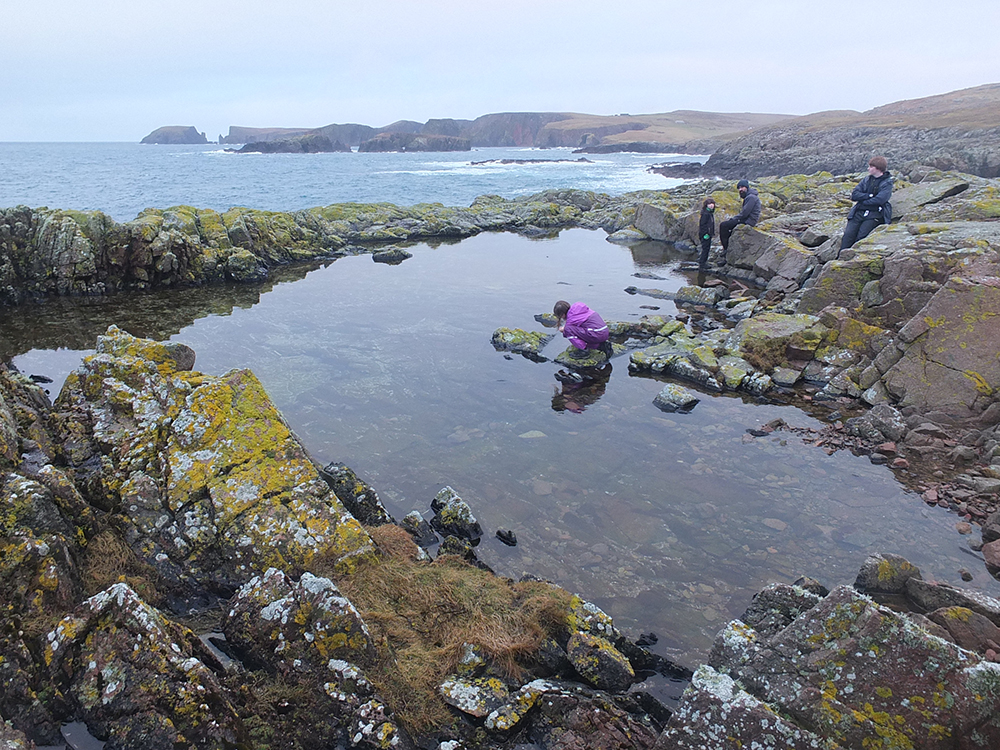 We followed the rather dramatic coastline for two miles exploring the geos, fairy pools and boulder strewn hill tops. I, like many people I should think, have resumed a fitness regime with this new year and I am really feeling it. Last Saturday I went back to the Tank Built Conditioning Class I did last year for 12 weeks (and loved), and oh my, the next day after that first session of the year – oh my glutes! My seven year old and I took turns pushing each other up the steeper hills as my muscles have become rather out of shape with disuse these last few winter months!
Our destination: a cairn on the top of a hill with the most spectacular sea views overlooking what our map had labelled 'The Deeps'.
There we sheltered on the lee side of a hill, found appropriate natural stone seating and ate our lunch of hot soup, ham and cheese sandwiches on home made wholemeal bread and warmed our fingers with tin mugs of hot chocolate and cappuccino while we scoured the sea for orcas. A perfect January picnic.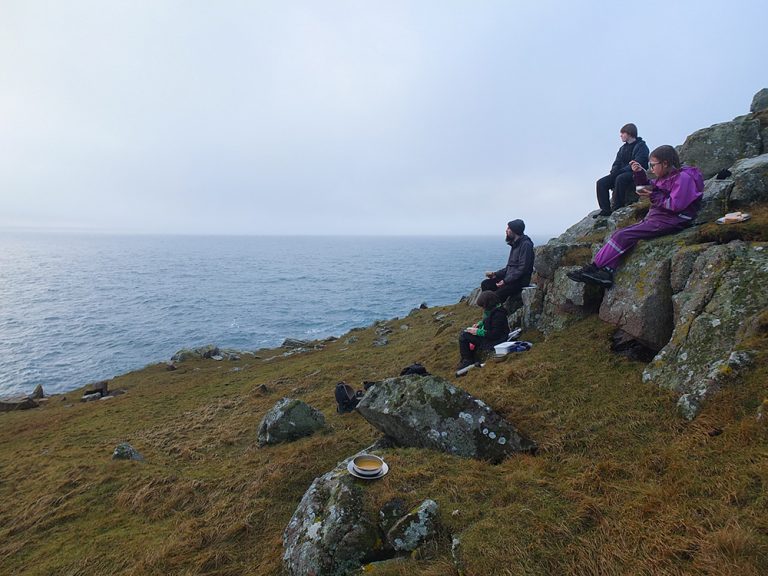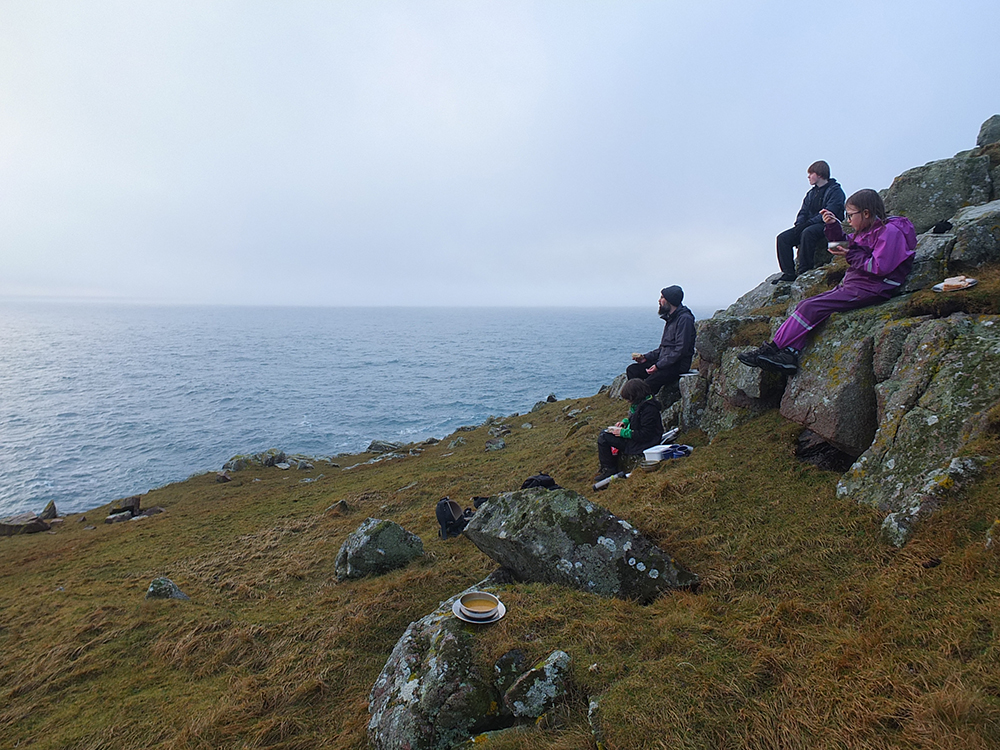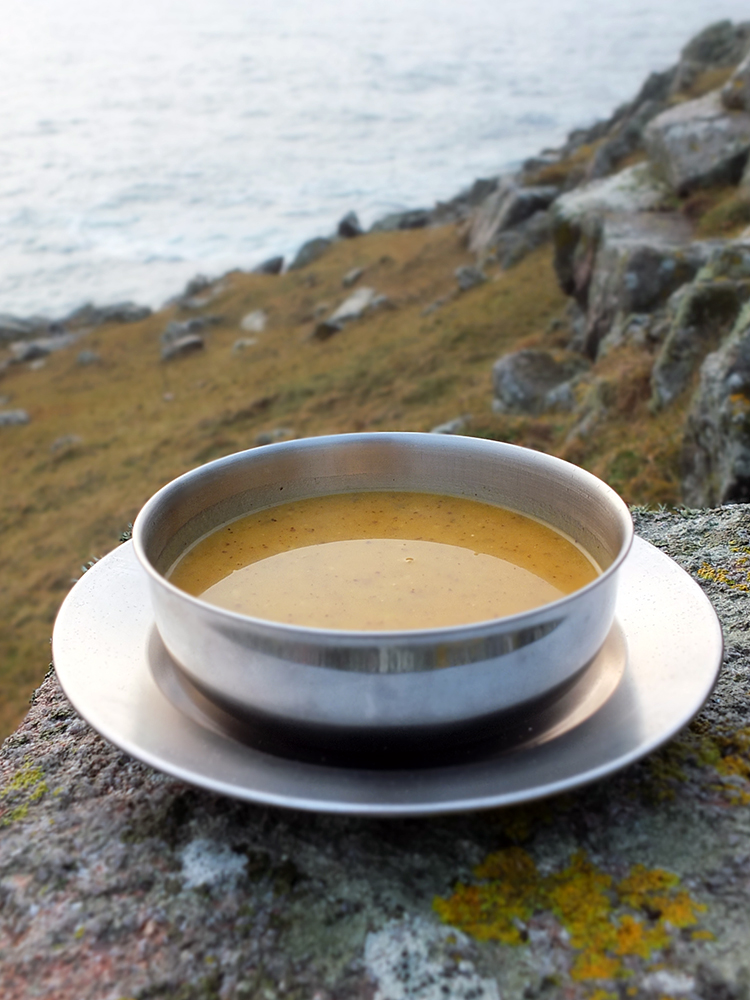 I really do love this soup recipe. If I'm making it for just grown-ups (for work lunches, etc.) I'll make it with a chopped fresh red chilli, seeds and all, and then cool it down to taste with a dollop of natural yogurt. If I'm making it for the kids to eat too (as in this case) I replaced the fresh chilli with a pinch of red chilli flakes. No yogurt is needed but it's still got that lovely warming, spicy flavour without being overpowering. Perfect for sipping on the hillside.
As we were hiking along the clifftops we could see the weather approaching. Great thick grey clouds of drizzle would envelope us for awhile before the skies would brighten again. The sun even peeped out once or twice.
On the way back though we found ourselves on the top of a hill next to a trig point in a very thick cloud, so much so that we couldn't see where we were going to get back to the car. The children learned a very important lesson about always bringing a map and compass on hikes; a crash course in orienteering.
Alas, we didn't spot any orcas on our hike, but we were treated to the sight (and sounds) of two chirping otters when we were safely back on the beach. They make such a bizarre sound – at first you think it's a bird, but then you realise the sound is mammalian in origin. It was a lovely treat to see these two otters playing in the rough surf.
All in all it was a pretty fantastic day. It was much needed to blow the cobwebs away after a lazy Christmas and New Year!
Do you have a favourite soup recipe that you take with you on hikes? Let me know in the comments!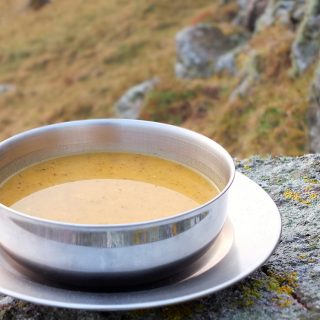 Curried Butternut Squash Soup
A delicious blend of warming spices and creamy butternut squash. A perfect soup to pour into a flask and take on a winter hill walk.
Print
Rate
Affiliate Links
This recipe card may contain affiliate ingredient and equipment links. As an Amazon Associate I earn from qualifying purchases.
Instructions
Heat the rapeseed oil in a large soup pan over a medium high heat. Add the black mustard seeds and curry leaves, and cook until the seeds begin to pop.

Add the onion, garlic, butternut squash, curry powder, chilli, cumin and cardamom. Reduce the heat and cook for about 10 minutes, stirring occasionally, until the vegetable begin to soften.

Add the stock and the turmeric and season to taste. Simmer for about 20 minutes until the vegetables are tender.

Using a hand-held or high-speed blender, blend until smooth.

Serve with a dollop of natural yogurt and a scattering of fresh coriander leaves (not pictured) if desired.
Notes
Use of red chilli: if you want a nice kick add the seeds and the chilli whole. I use a small chilli, about 1.5 inches long. If you want a more mild soup (or you're cooking for children), substitute the fresh chilli with a small pinch of chilli flakes.
Environmental Information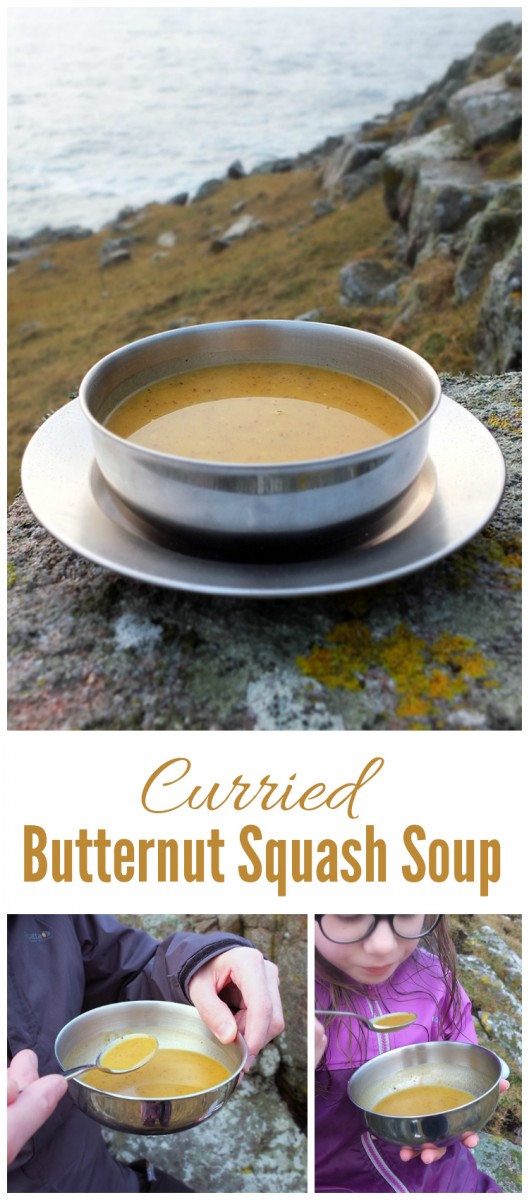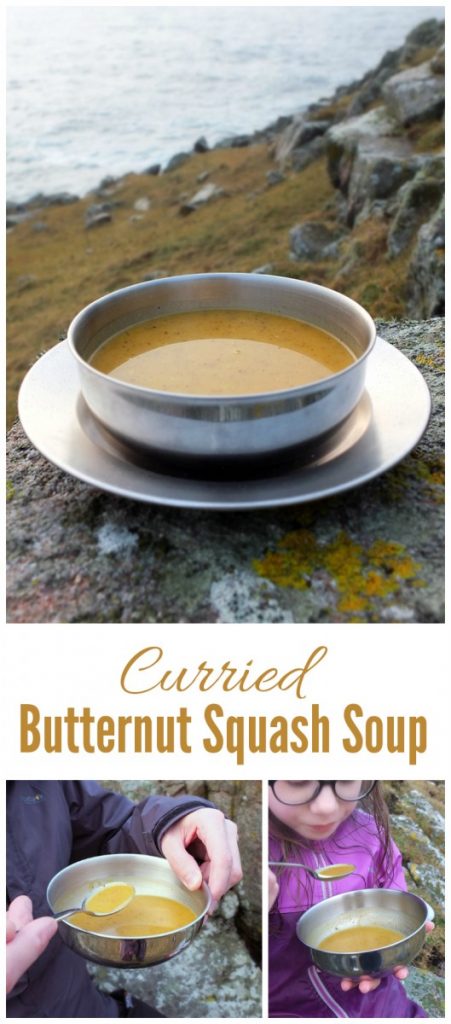 OTHER SOUP RECIPES YOU MIGHT LIKE
Carrot & Cumin Soup by Elizabeth's Kitchen Diary
Carrot Soup by Splodz Blogz
Vegan Cream of Mushroom Soup by Thinly Spread
Simple Butternut Squash Soup by Greedy Gourmet
Red Lentil Soup with Tomatoes, Herbs & Roasted Garlic by Coffee & Vanilla
Spicy Roast Sweet Potato & Carrot Soup by Utterly Scrummy
Spiced Parsnip & Spinach Soup with Apple & Turmeric by Tin & Thyme
Celeriac & Hazelnut Soup by The Veg Space
Butternut Squash & Kale Soup by Fab Food 4 All
Chicken, Leek & Barley Soup by Gingey Bites
SHARING WITH SOME BLOGGING LINKIES
Cook Once Eat Twice by Searching for Spice
Recipe of the Week by A Mummy Too
SHOP THIS POST
Essential Cuisine Chicken Stock
Sharwood's Mild Curry Powder
Steenburg's Organic Curry Leaves
Borderfield's Coldpressed Rapeseed Oil
Summit Stainless Steel Bowl & Plate Set
OS Explorer Map (467) Shetland – Mainland Central
Silva Ranger Compass
Great Homemade Soups: A Cook's Collection