Issue 16 of our weekly bite-sized review series.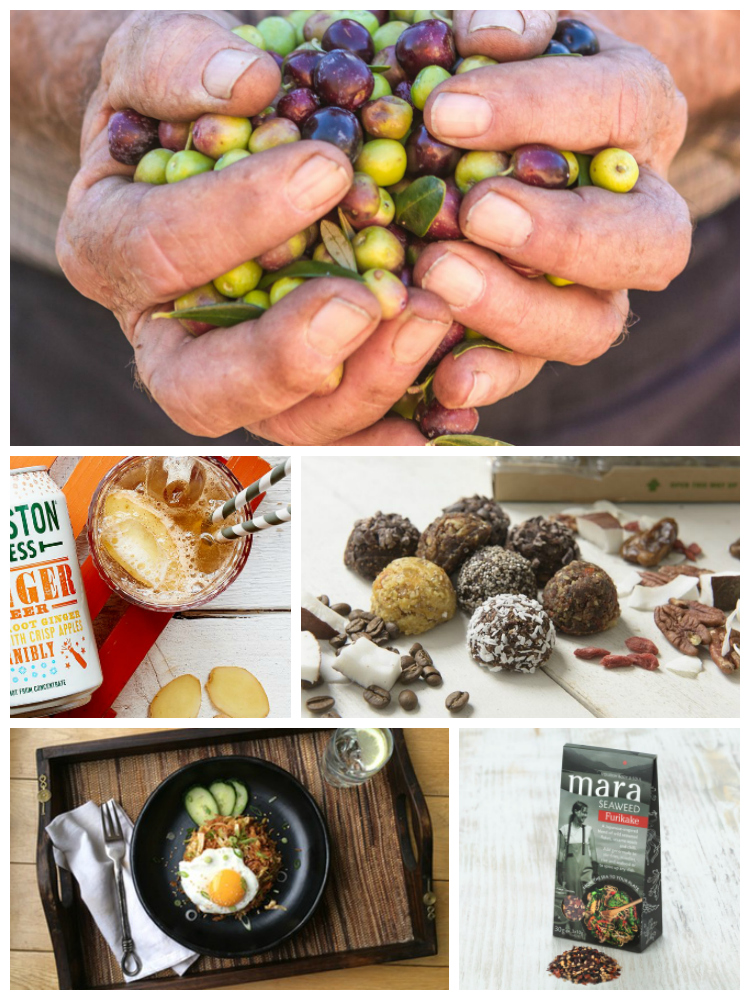 This week we've been taste testing all sorts of lovely new things: the highest quality olive oil straight from Italy, a Japanese seasoning made with Scottish seaweed, healthy protein snacks, Korean fried rice and some rather delicious sparkling ginger beer.
Mara Seaweed Furikake – this is my new favourite seasoning! Furikake (pronounced fuh-ri-ka-key) is a popular shake-on rice seasoning in Japan, but the dulse seaweed in Mara's version is hand-harvested in Scotland and Ireland. This blend also contains black and white sesame seeds and chilli flakes. Packed full of nutrients this seasoning will add gorgeous splash of flavour to any meal. It's also available in America! RRP £5.47 for 30 grams, available exclusively from Morrisons.
Nutri-Bombz© Snack Box – superfood snacks delivered straight to your door. These protein packed snacks are made with 100% natural ingredients with no added sugars, syrups or additives for guilt free snacking. The main ingredient in most of the flavours is dates, so keep in mind that they are still really sweet, but they're a great pick-me-up when extra energy is needed. I really liked the salted caramel protein boost (71 calories and 3.7 grams of protein each) and the coconut flapjack (85 calories) in my sample box. Choccy hazelnut and choccy orange were also included, but I found the date flavour overpowering. £4.99 for a box of 12.
Cawston Press Ginger Beer – are you doing Dry January too? Award-winning Cawston Press come to the rescue with a range of delicious sparkling drinks with no added rubbish. Their ginger beer combines fiery root ginger with crisp apple juice for a refreshing drink with a kick. They've even got a competition on for Dry January: Win a crates of sparkling Cawston Press every day for your workplace, and have it delivered straight to your door. Click here to enter the competition. Ends on the 20th of January 2017. RRP £11.88 for a case of 12 on Amazon, but 6 packs are available in many leading supermarkets.
Simply Cook – I know I mentioned this subscription box not too long ago, but we've just tried another box and I am so in love with the recipes! Each box contains all the spices you need to create a restaurant quality meal for two people in under 20 minutes. Each Simple Cook delivery features four different recipes from around the world; this week we tried the Bokkeumbap, a Korean fried rice recipe. You will be introduced to new flavours and recipes without having to fork out loads of money in buying jars of hard-to-find spices. All you need is a few fresh ingredients (I added leftover Christmas turkey to our Bokkeumbap!). I've just signed up with Simply Cook as an affiliate, and if you use the code TRIAL3 you can get your first box for only £3 and I will get a nice little commission too. Subsequent boxes only cost £8.99 (that's only £2.25 per meal). Choose from a Discovery Box, Light Box, Gluten Free Box or Vegetarian Box and get started!
Pomora Olive Oil – I have been using this oil for over a year, and I absolutely love it. Each quarter a shipment of 3 x 250 ml tins of the highest quality olive oil drops through my letterbox straight from the growers in Italy. A fellow named Antonio from Campania grows the olives my olive oil is harvested from. Pomora works a bit differently than a lot of olive oil producers in that you adopt an olive tree from the grove of your choice. Right away you receive an Adoption Pack and information about the tree your oil will come from.  Subscriptions start from £29 per quarter and you are free to cancel any time you want.
BRANDS! – would you like to be featured in this weekly bite sized review series? Contact me!
With thanks to all of the above brands for the review samples. This is not a paid post, although the Simply Cook and Pomora links are affiliate links and we will earn a small commission if you make a purchase. The link in orange is an Amazon affiliate link, and we will earn a small commission on any purchases made from Amazon in the next 24 hours if you enter their website via ours.