In collaboration with Nutri-Brex 5 Ways Gluten-Free Granola.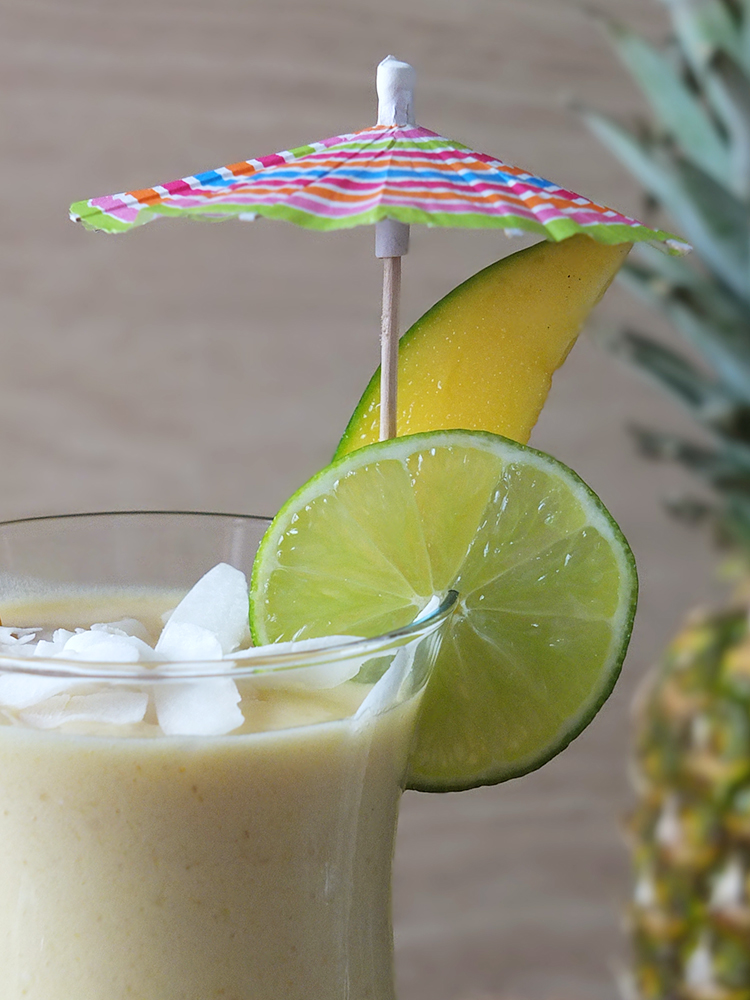 Here we are on day three of the Nutri-Brex five ways challenge! In case you missed it, on day one I shared a gorgeous recipe for a mango and coconut breakfast parfait (post overnight oats), while on day two I featured some high protein gluten free crepes with only three ingredients.
Today, I bring you the Caribbean Crush Post-Workout Protein Smoothie! You may be wondering at the tropical inspiration behind two out of three of these recipes. Well, my dear reader, it's because I'm off to Aruba next week!
I kid you not! I'm heading there on a press trip! Influencers from around Europe are all being flown to Amsterdam where we'll be boarding a ten-hour aeroplane to the Caribbean. I can not wait! I can just feel that warm sun on my skin now!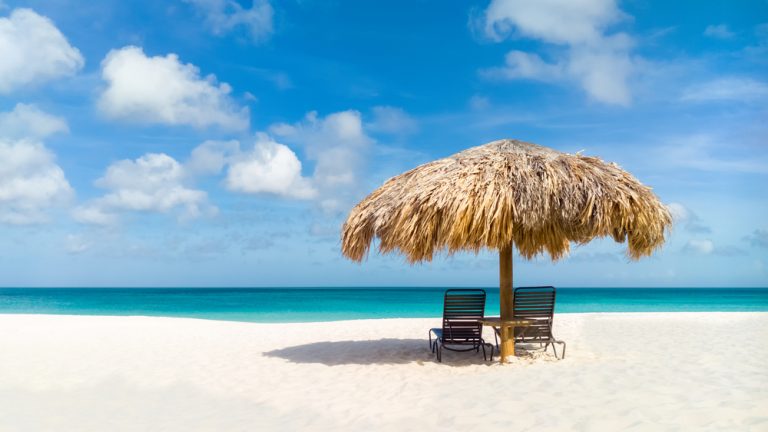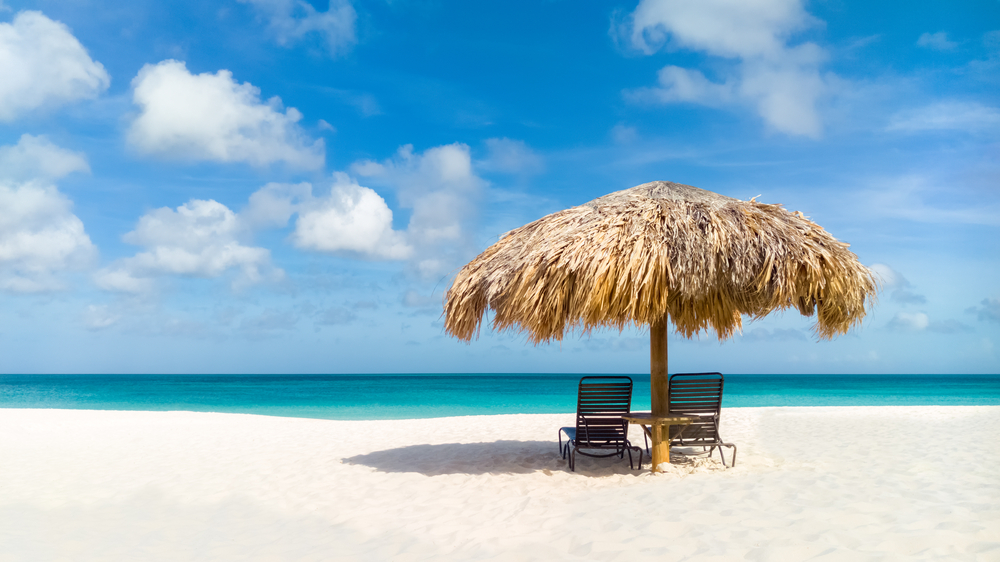 That means that bikini I bought earlier this summer needs to be dug out of storage and I need to shed those few Autumn pounds I put on since the summer holidays finished, what feels like an age ago!
My fitness routine has been upped and I'm very conscious of not losing muscle tone and strength while I try and shed these few pounds. I'm also conscious that fruit smoothies tend not to keep one feeling full for very long, so I created this protein-rich post-workout smoothie.
If I have one of these filling smoothies for breakfast after my workout, I won't need anything else until lunchtime.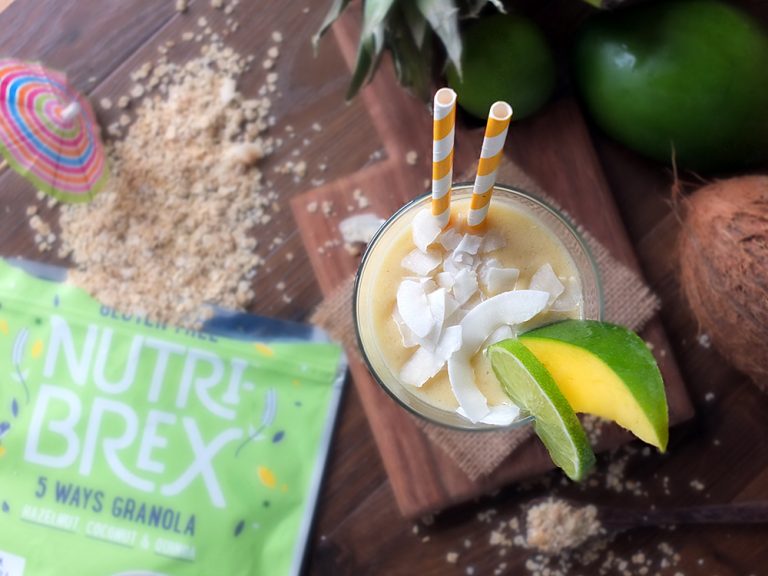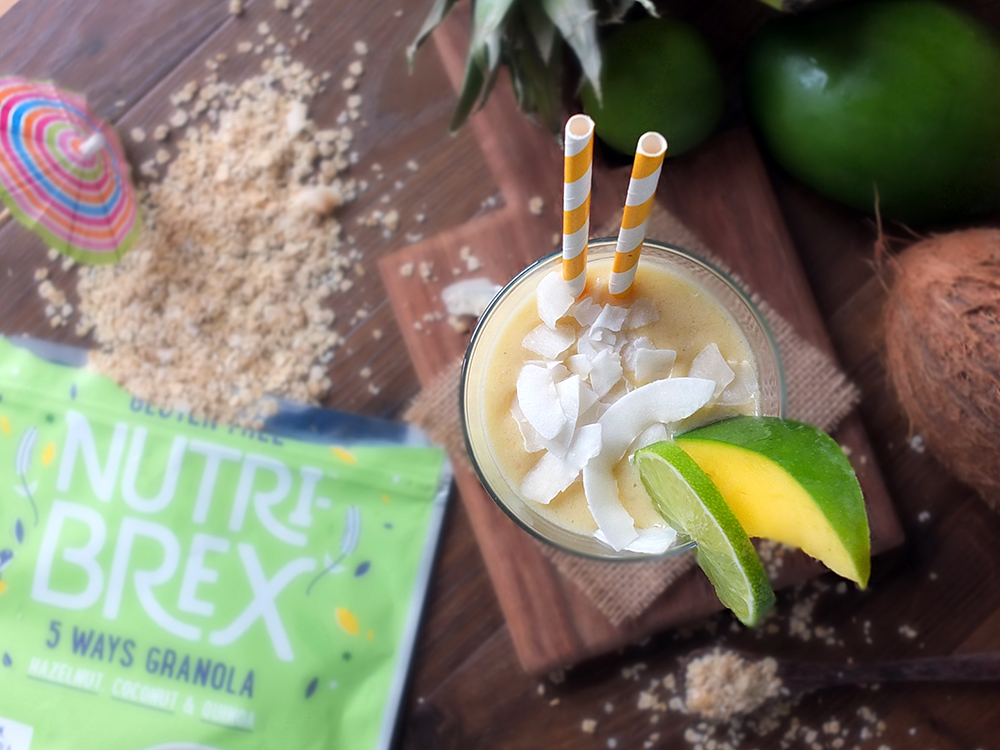 The secret? A spoonful of Nutri-Brex 5 Ways Hazelnut, Coconut & Quinoa gluten-free granola. Blended into the smoothie it keeps me feeling fuller for longer, as well as providing extra nutrition.
NUTRI-BREX GLUTEN-FREE GRANOLA
Nutri-Brex is an award-winning gluten-free brand who have recently expanded their range to include 5 Ways Granola. Their hazelnut, coconut and quinoa variety features hazelnut pieces, flaked quinoa and toasted coconut as well as fine-cut oats, which works really well in this Caribbean Crush Post-Workout Protein Smoothie recipe.
Nutri-Brex granola can be used in a minimum of five different ways:
GRANOLA: serve Nutri-Brex with milk or yoghurt for a traditional crunchy granola breakfast
PORRIDGE: simply add milk and microwave or cook on the hob for a delicious hot breakfast on these cold Autumn mornings
TOPPING: sprinkle over your favourite fruit, or even over some peanut butter and gluten-free toast
BIRCHER: mix with yoghurt, grated apple, a splash of apple juice and some milk and leave overnight for a delicious breakfast in the morning
SMOOTHIE: blend with your favourite fruit, ice and a dollop of natural yoghurt for a fast and filling start to the day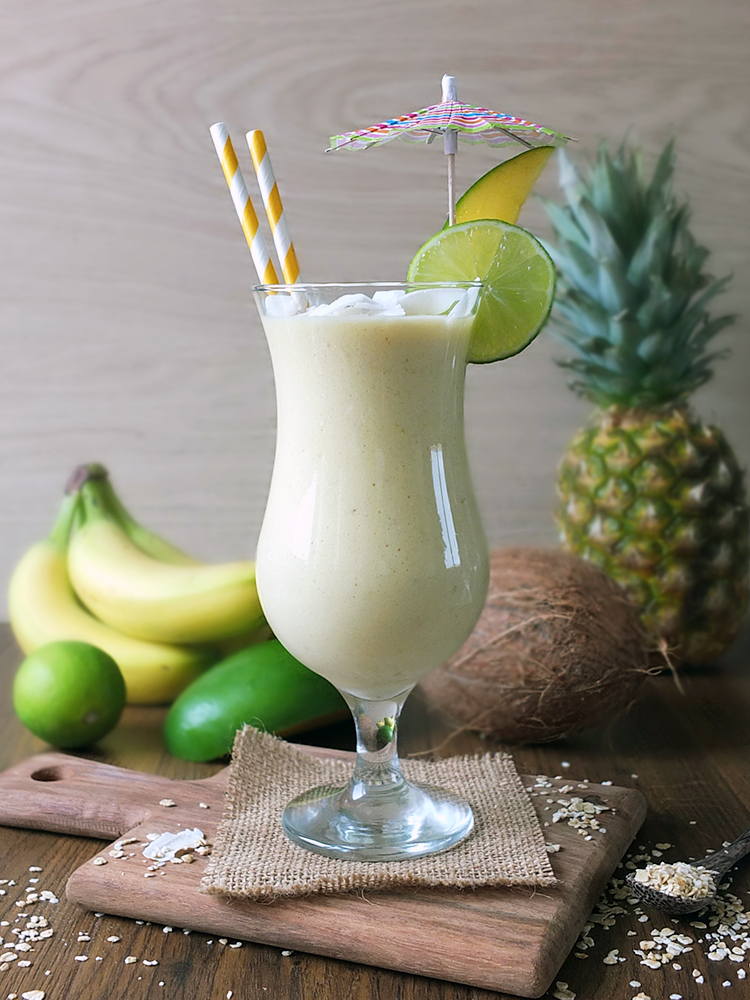 Nutri-Brex have launched a 5 Ways Challenge to see what sort of recipes folk can come up with using their gluten-free 5 Ways Granola products. So, I've come up with five different recipes I'll be sharing with you throughout this week. I hope you will be inspired! Yesterday's recipe was for a rather indulgent coconut and mango breakfast parfait!  This was followed by a quick and easy three ingredient gluten-free crepes recipe. Visit us again tomorrow to see what new recipe we've created!
You can find Nutri-Brex 5 Ways Granola on their online shop for only £3.49 for 400 grams. Follow them on Facebook, Twitter and Instagram for more recipe inspiration too – a better breakfast needn't be a dull breakfast! If you've made something with one of their products let them know! Tag @NutriBrex and use the hashtag #MyNutriBrex.
How do you jazz up your breakfast granola? Let me know in the comments!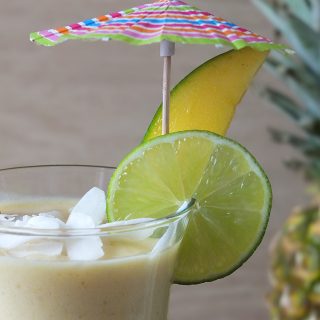 Caribbean Fruits Post-Workout Protein Smoothie
Caribbean-inspired tropical fruits are blended with protein powder and a spoonful of Nutri-Brex 5 Ways granola for a tasty, refreshing and filling post-workout smoothie.
Print
Rate
Affiliate Links
This recipe card may contain affiliate ingredient and equipment links. As an Amazon Associate I earn from qualifying purchases.
Instructions
Place the banana, mango, lime juice, coconut milk ice cubes, protein powder, Nutri-Brex and pineapple juice into a blender and blend until smooth, adding more juice to thin if desired.

Pour into a large glass, garnish with coconut shavings, lime and mango slices and drink immediately.
Notes
Freeze any leftover coconut milk used in cooking in ice cube trays. Pop a few cubes into tropical smoothies like this, or use in curries.
Environmental Information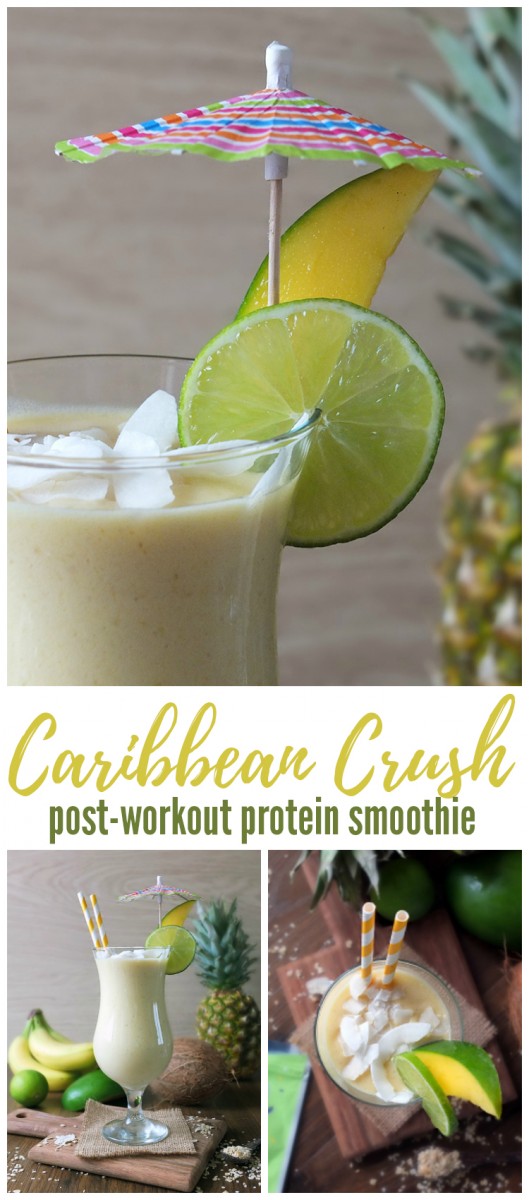 This is a commissioned recipe for Nutri-Brex. Thank you for supporting the brands who make it possible for me to do what I love: mess up my kitchen and share recipe stories.