Planning an adventure of a lifetime and fundraising for the RNLI.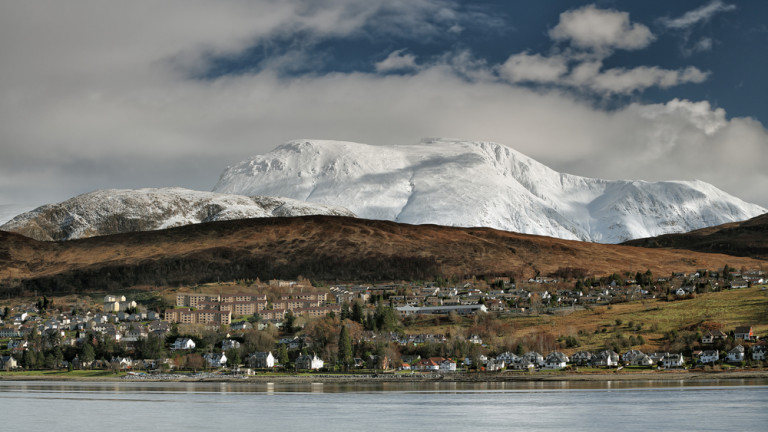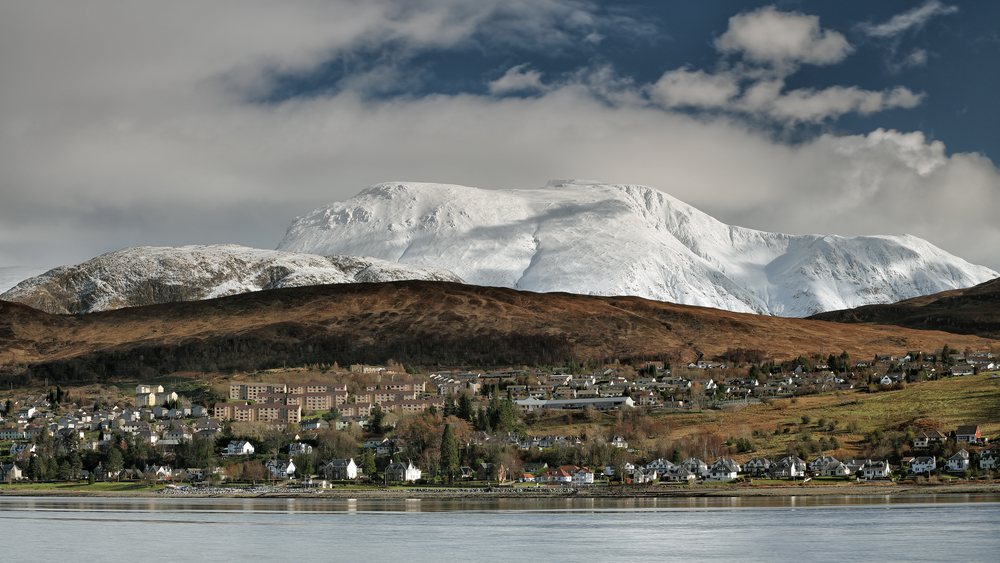 Ok, it's time for the big reveal!
For the last few months I've been hinting at something big in the pipeline. Something I've been training for, something that means I've been consuming an extraordinary amount of protein and subsequently I've been sharing fewer cake recipes on the blog!
I'll be turning 40 at the end of this year. I know 40 is just a number, and it doesn't really matter much in the grand scheme of things, but it's become a thing for me. As such, last April I wrote a list of 40 Things I'd Like to do Before I Turn 40. I am pleased to say that I am, one by one, crossing the items off my list.


Climbing a mountain again is on this list. It's been over 20 years since I last climbed a mountain.
Ben Nevis is the highest mountain in the British Isles, and it's the closest mountain to me. If you take the sea out of it, it's only 250 miles of land away from me, by bicycle.
Yes, by mountain bike.
I'm getting there on two wheels.
#32 on my list was to own a bike again as I hadn't owned one since I was a child. Mountain biking through the Cairngorms with my family a few summers ago (pictured below) reminded me of how much I loved bike riding, and as fortune should have it, I was given a second hand hybrid bicycle by a friend. A little TLC by the fantastic Shetland Community Bike Project and my second-hand bike was good as new.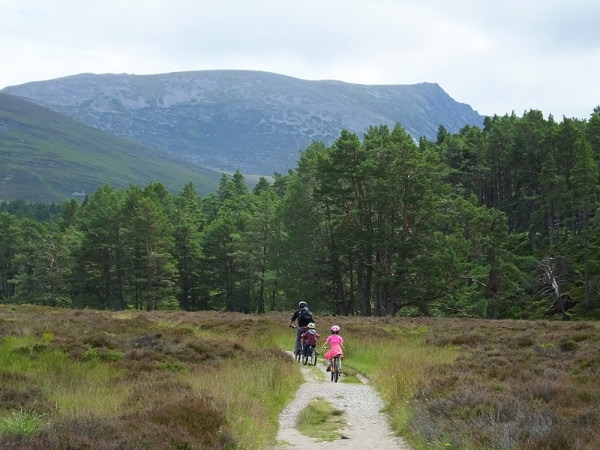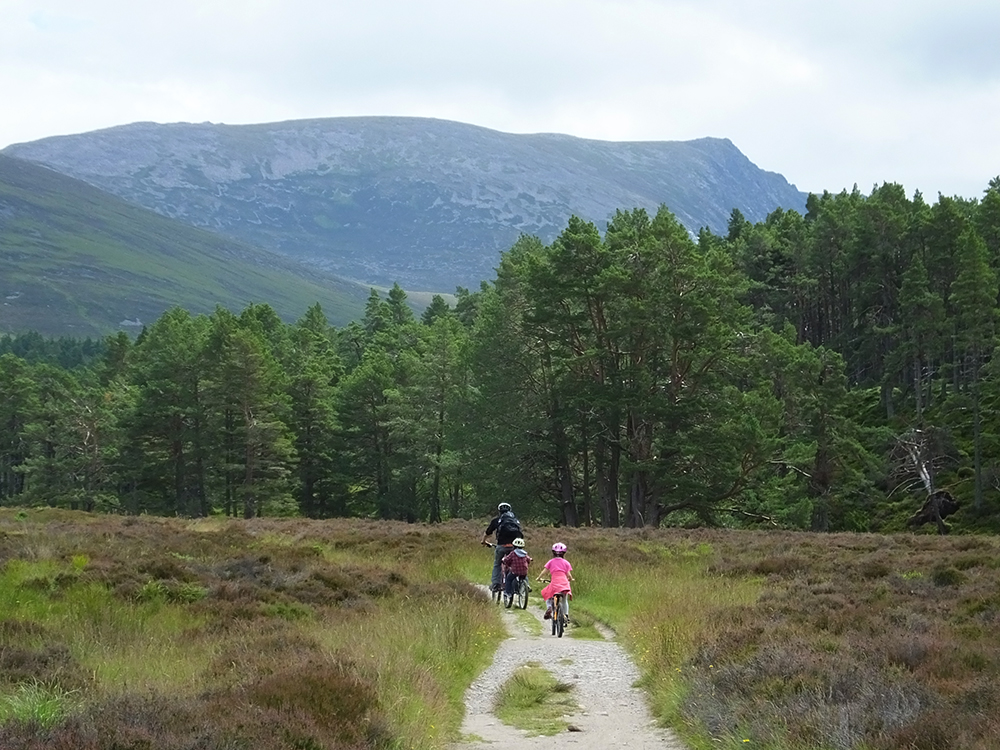 Inspired by the fantastic motivational speaker and blogger Monica Shaw over at Smarter Fitter and her solo adventures by bicycle through Spain and France last year, I had a notion to perhaps take a little bicycle trek of my very own.
I was thinking of maybe just cycling through Orkney, the next island south from mine before you hit the mainland of Scotland.
One thing led to another, and pondering where and how I was going to manage to climb a mountain this year I came to the realization that Ben Nevis is, in fact, a mountain, despite only standing at 1,344 metres (4,409 feet) (I'm Canadian – I've been rather spoiled by living in The Rockies – the last mountain I climbed was one of them!), and it's a perfectly serviceable mountain. It will do. I could just extend my Orkney cycle trip a little further to get there! Me, a one woman tent and the open road.
An epic adventure!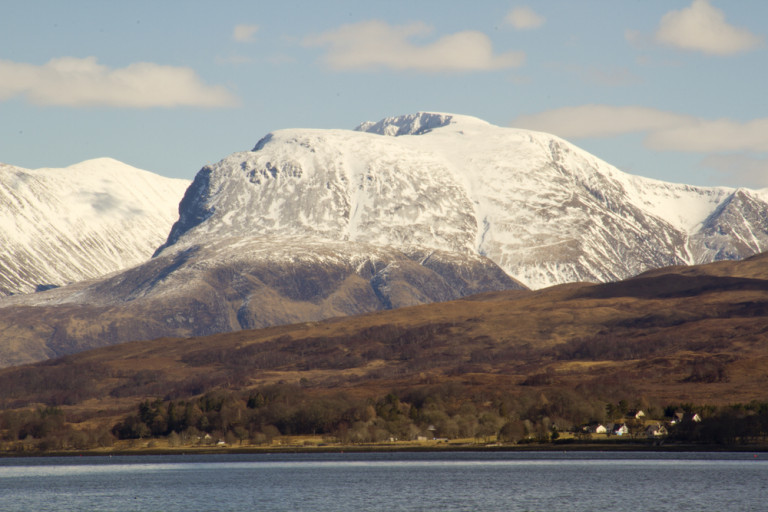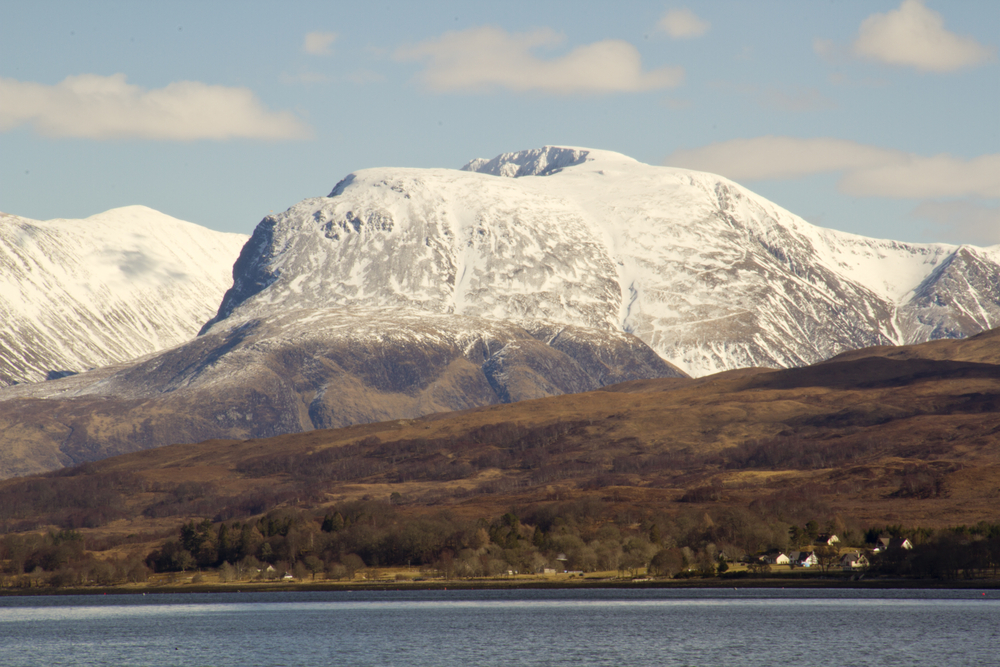 Relaying my plans with great enthusiasm to friends I acquired two travelling companions. Well, definitely one for sure – one friend is just as keen as I am with the whole fitness side of things, training and exercising regularly to build strength to be able to sustain such a long trek and climb. The other (Helen – I'm speaking to you! I want to see that FitBit count higher!) seems to be leaving things a little late in the day to get started, but there's plenty of time yet. Three months today, to be precise.
My original plans were just to walk up the hills and cycle down them, taking as long as I needed to get to Ben Nevis, but my fitness enthusiast friend said, "Um, no you're not." and then she convinced me to join a weekly spinning class at the local leisure centre and come along with her to a taster session at a Tank Built Conditioning Camp for Women. Now, I'm a fully fledged tankette, training each week under an incredibly inspiring body building coach – Kirsten – honestly, you have to follow her Facebook page! and next week I am going to try dead lifting for the first time ever under the guidance of another friend. I'm still slogging away with my daily P90X3 workouts (I just finished week one of my fourth round – doubles this time!). I will be strong enough to cycle this entire 250 mile journey, up hill and down, and to finish it off with a climb to the summit of a mountain. Yes I will. My body can do awesome things.
THE PLANS (SO FAR)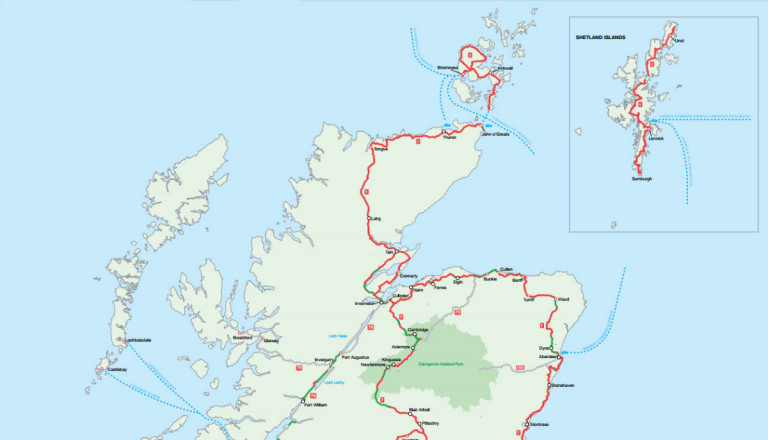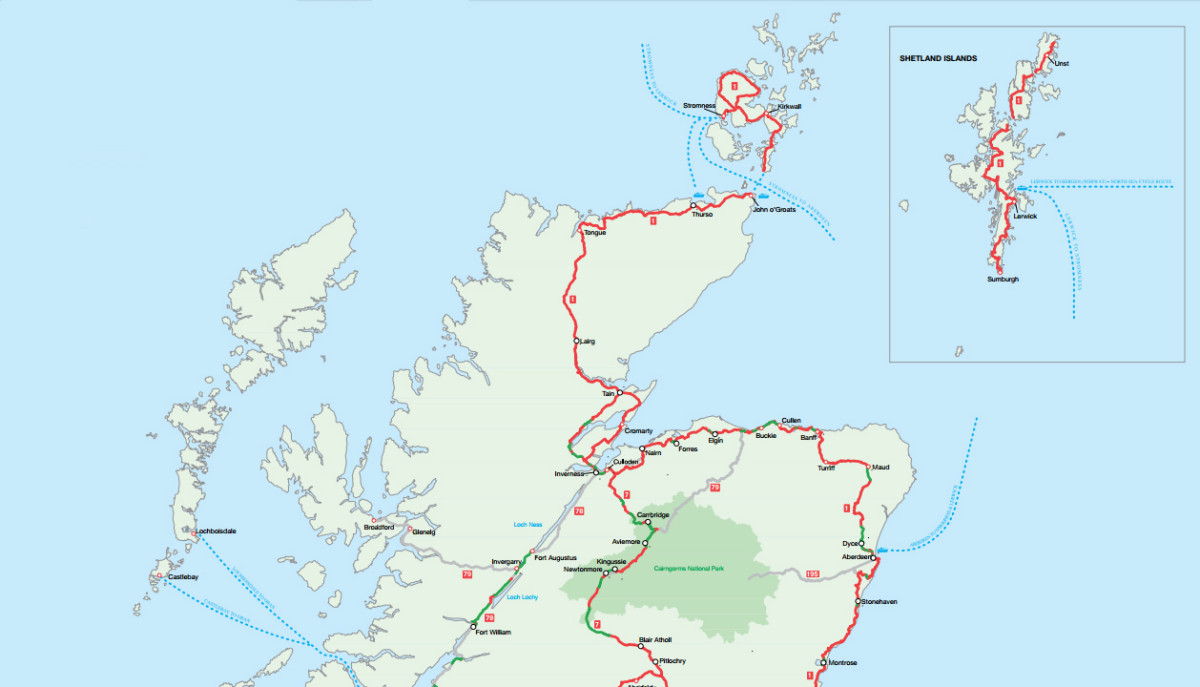 So, the plans are to cycle from my house to Britain's most northerly lifeboat station in Aith, Shetland (located in the middle of that little box on the map above), and then onwards to the ferry terminal in Lerwick, meeting up with my cycling companions en route.
From there we'll take the ferry south to Kirkwall on the island of Orkney (which arrives at 11 pm), cycle to Berwick at the south end of the island and camp out for the night (it doesn't get dark this far north this time of year, so there will still be plenty of light). The next morning we'll catch the John o'Groats ferry to the most northerly tip of the mainland of the UK.
Our route will take us through the scenic highlands of Scotland, following the National Cycle Network route Part 2 from Bettyhill to Toroble and then down to Inverness (perhaps taking in an off road cycle trail or two – , and perhaps a whisky distillery… or two… or three!) and along the River Ness via mainly off road cycle paths along The Great Glen Way from Fort Augustus, at the southern tip of Loch Ness, to Fort William (lower left hand side of the map, above).
From there we'll either camp or hire a B&B (depending on how knackered we are!) and wait for good weather to climb Ben Nevis.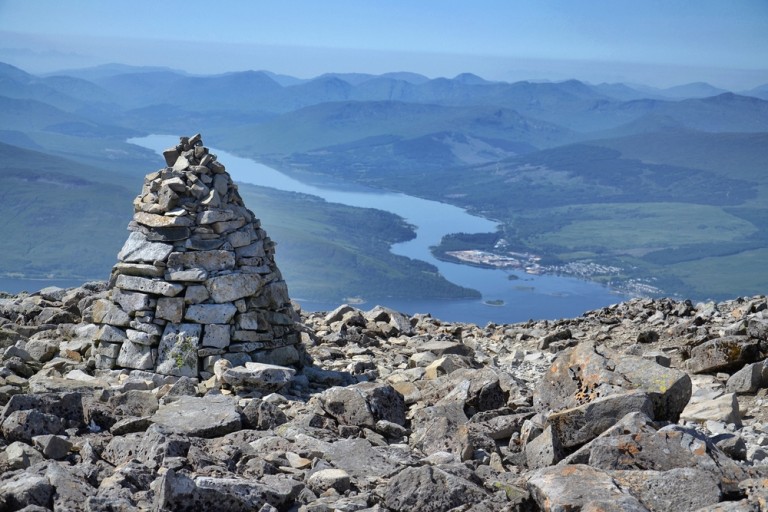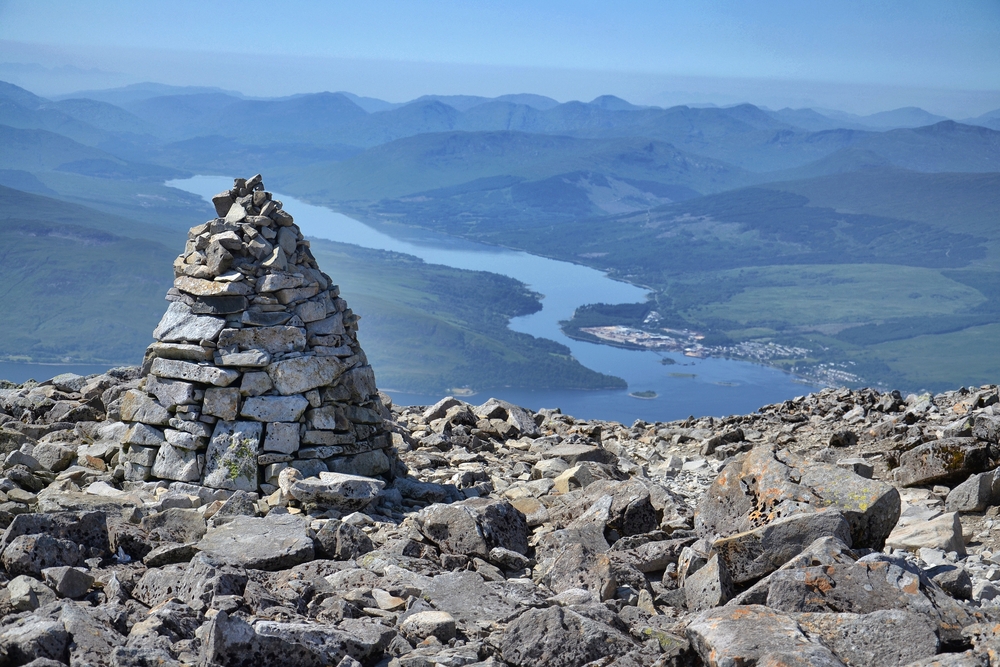 FUNDRAISING
I have been an RNLI volunteer since 2012 and I have set up a fundraising page with Virgin Money Giving in aid of the RNLI for this challenge.
The RNLI is the charity that saves lives at sea – the RNLI saves at least 21 people every day from UK waters. This charity is completely funded by donations; it receives no government support whatsoever, so these donations are vital for our men and women to continue to do what they do – saving lives.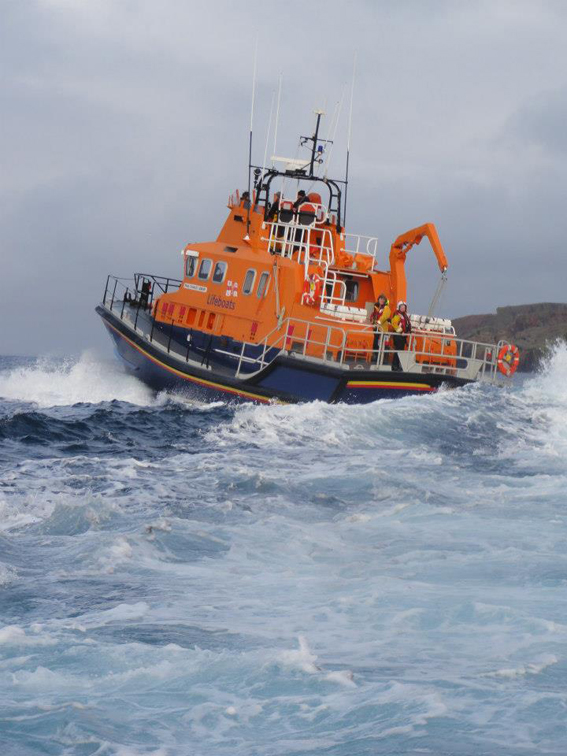 THE WISH LIST
An epic adventure like this requires planning and supplies. So far I've got my second hand hybrid mountain bike, a pannier rack, a GoPro Hero 4, a mini first aid kit with a tick remover tool, a bicycle tyre hole puncture kit, a map and a compass. Ideally I want to travel as light as possible, but here's a wishlist of things I need/want:
a very light one woman tent
pannier bags
a brand new high spec mountain bike (wishful thinking!) (14 April edit: I bought a new one, not high spec, but still rather nice!)
an iPhone 6s (or similar) for communication, navigation and photographs for social media & blogging so I don't have to take my big heavy camera ( 14 April edit: I bought one!)
a solar panel phone charger
appropriate clothing
Udderly Smooth chamois cream (this has come highly recommended by a cycling friend!)
lightweight cooking equipment
a bothy bag
a midge face/head protection net (it is Scotland, after all!)
duct tape, for emergency repairs
to be continued as I learn more about long distance cycling…
Please feel free to suggest anything I might be missing from this list. I'm new at this kind of adventuring and any advice would be greatly appreciated.
If any brands would like to get involved and help me out with my wishlist, please feel free to contact me and suggest how we might be able to work together on this epic adventure!
All in all it's going to be one heck of an adventure, don't you think? Certainly something to make my 40th year on planet Earth something a little bit more special, and it would be most fantastic if I could raise some money for the RNLI too. I have no set target, but every little penny helps.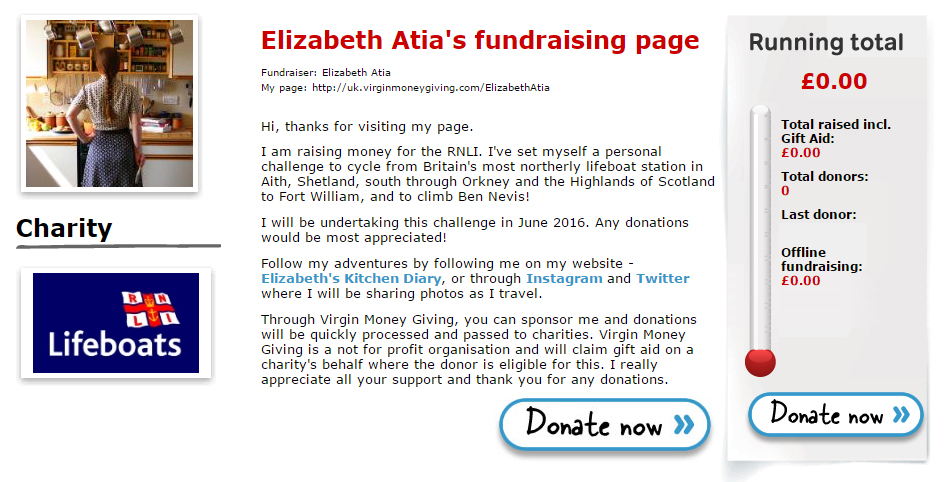 If you want to be kept up to date on my recipes, occasional craft tutorials, adventure stories and giveaways then please subscribe to my weekly newsletter; it gets sent out every Monday morning if there is new content. Your email address won't be passed on to anyone, you will never be spammed and you are free to unsubscribe at any time, no questions asked. Make sure you confirm your subscription or you won't receive the newsletter – if it hasn't arrived check your junk mail folder.
[wysija_form id="1″]
Images, unless otherwise captioned, courtesy of Shutterstock.