A recipe and competition in collaboration with Walkers Deli.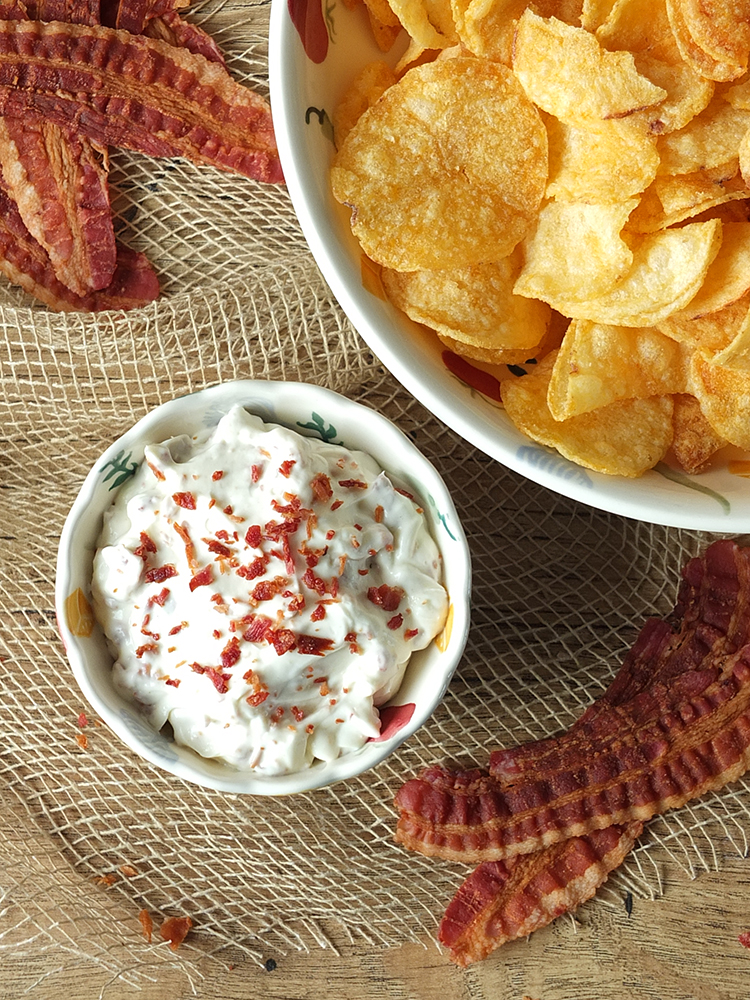 I am a bit rubbish at planning (most) things in advance. I'm more of a spontaneous sort of individual, taking advantage of  fine weather to go out adventuring, purchasing random airplane tickets after a glass – or two, or three – of wine (yes, I have an impulse bought eTicket to Norway in my email inbox!) or inviting a friend over for lunch the next day to plan an epic 250 mile mountain bike cycle through the highlands of Scotland, finishing at the summit of Ben Nevis (on foot!) this summer. Ok, some things, like this, do require a bit of planning in advance.
So yes, inviting my friend over late on Saturday evening for Sunday lunch the following day means that there's no shops open to buy supplies. Our spontaneous epic planning lunch was going to have to be made from whatever happened to be laying around the kitchen.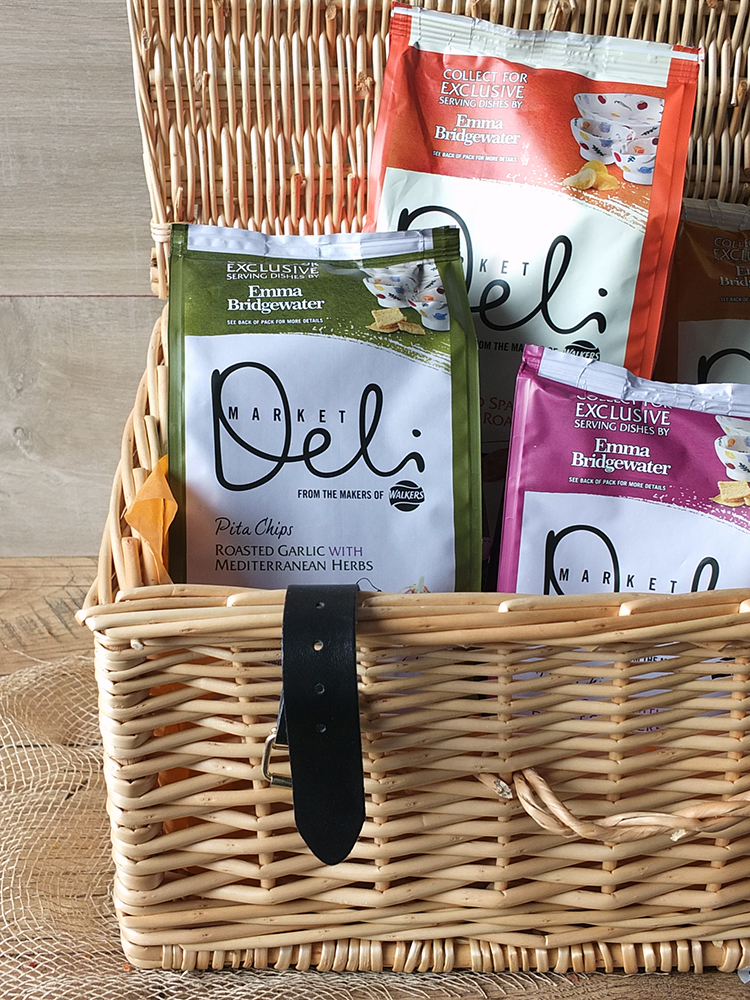 Fortunately, I happened to have a hamper full of the new Market Deli range of premium potato and pita chips from Walkers. These delicious, premium snacks are made and seasoned with the finest authentic ingredients and produce found in delicatessens across Europe and UK, and so I set to work creating a few dips to accompany.
First up, a simple three ingredient smoky bacon dip made with full fat Philadelphia cream cheese, some Hellman's mayonnaise with a touch of garlic and some crumbled smoked bacon strips. Nothing else is needed because… mmmm… bacon!
You could go through all the bother of cooking your own crispy bacon strips and using those, but I found some fantastic ready made ones in the deli meats aisle at my local supermarket during a previous shopping trip, and these worked a treat. The hint of garlic from the mayonnaise works really too, if you're a garlic fan like me.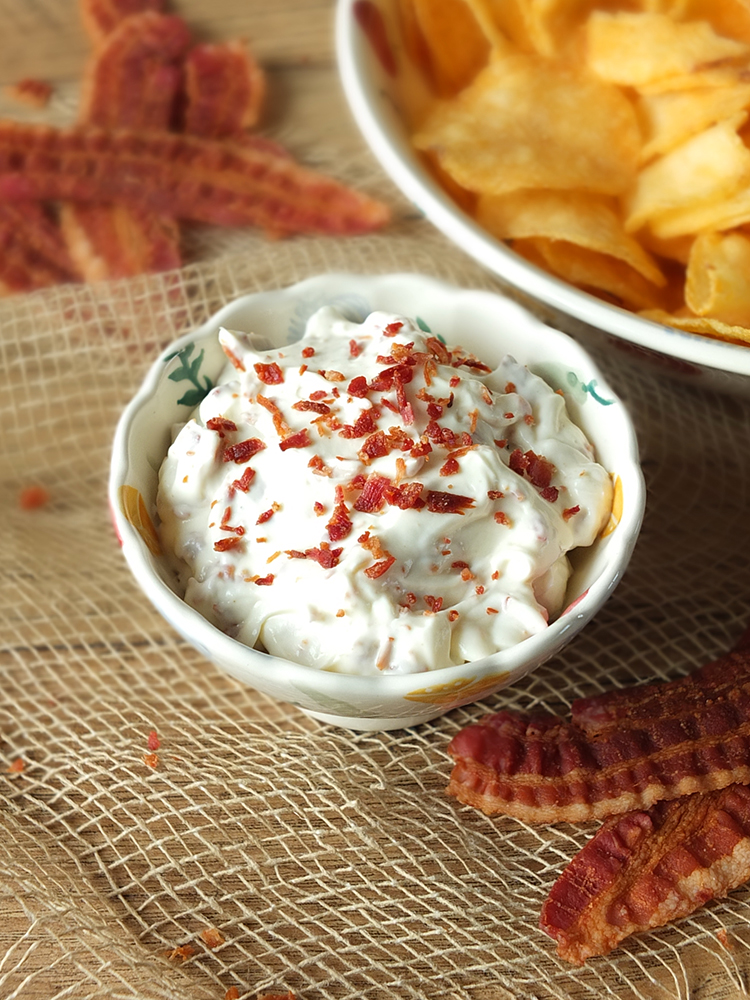 Next, I tweaked my standard low calorie baked potato topping by adding some fat free natural yogurt to turn it into a more dipping consistency. At 38 calories per serving this is ideal for those trying to watch their waistlines.
Market Deli has partnered with renowned British pottery maker Emma Bridgewater to create a beautiful range of collectible serving bowls; perfect for serving Market Deli's sharing bags and ideal for social occasions like when you're planning an epic 250 mile cycle with a friend.
Inspired by the same passion Market Deli has for authenticity, Emma Bridgewater has exclusively designed the serving dishes with a nod to the range's ingredients like garlic and pepper, in her iconic polka dot colour scheme.
To collect the limited edition Emma Bridgewater serving bowls and dipping dishes, shoppers can redeem tokens online from promotional sharing packs of Market Deli until the 31st May. Keep an eye for the packs with the Emma Bridgewater images on the top (see the Market Deli photo, above).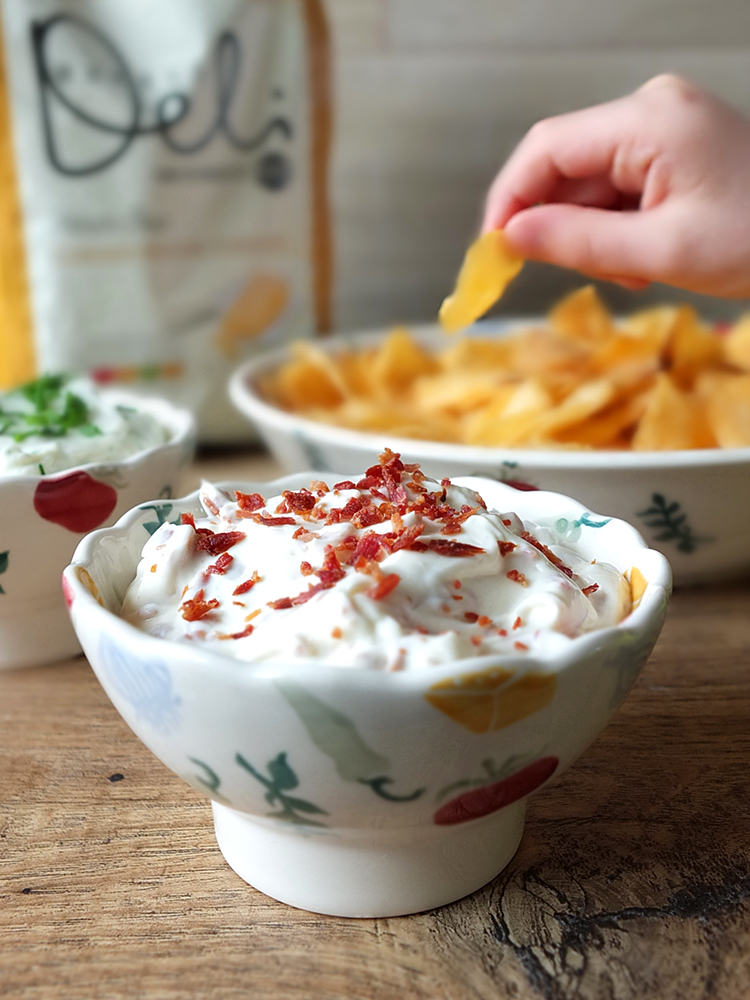 The Market Deli range includes seven flavours, including Roasted Garlic with Mediterranean Herb, Cornish Mature Cheddar, Flame Grilled Spanish Chorizo with Roasted Onions, Sweet Chilli with Dorset Sour Cream and Sweet Roasted Red Pepper with English Tomato.
Promotional packs are available in selected supermarkets such as Waitrose, Sainsbury's, Tesco and Co-op retailing for £2.19. (This offer is only available on sharing packs). Note – in Shetland you can currently only buy these crisps in the Co-op in Lerwick.
I served the Cornish Mature Cheddar flavour potato crisps with the smoky bacon dip and the creamy low calorie chive dip, as the intense cheese flavour really compliments the dips well. Bacon and cheese…… mmmm!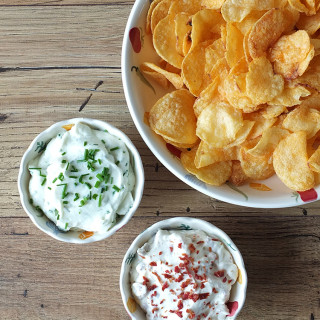 Walkers Deli Dip Recipes
Two recipes - a three ingredient smoky bacon dip packed full of flavour and a lighter than light creamy chive dip - perfect for dipping Cornish Mature Cheddar potato chips into.
Print
Rate
Ingredients
for the smoked bacon dip
80

grams

cream cheese

full fat

15

grams

cooked smoked bacon strips

crumbled
Affiliate Links
This recipe card may contain affiliate ingredient and equipment links. As an Amazon Associate I earn from qualifying purchases.
Instructions
To prepare the smokey bacon dip, whip together the cream cheese and mayonnaise together until it is light and creamy, and crumble in the bacon strips reserving some for the garnish. Serve immediately or refrigerate until needed.

To prepare the creamy chive dip cream together the cream cheese and mayonnaise until well combined. The texture of the lowest fat varieties is a bit different than the full fat so add a tablespoon of fat free natural yogurt or water to make it a more dipping consistency. Add the chives, reserving a few for the garnish. Serve immediately or store in the fridge until needed.
Environmental Information
Click here for the nutritional information for the three ingredient smoky bacon dip.
Click here for the nutritional information for the low calorie creamy chive dip.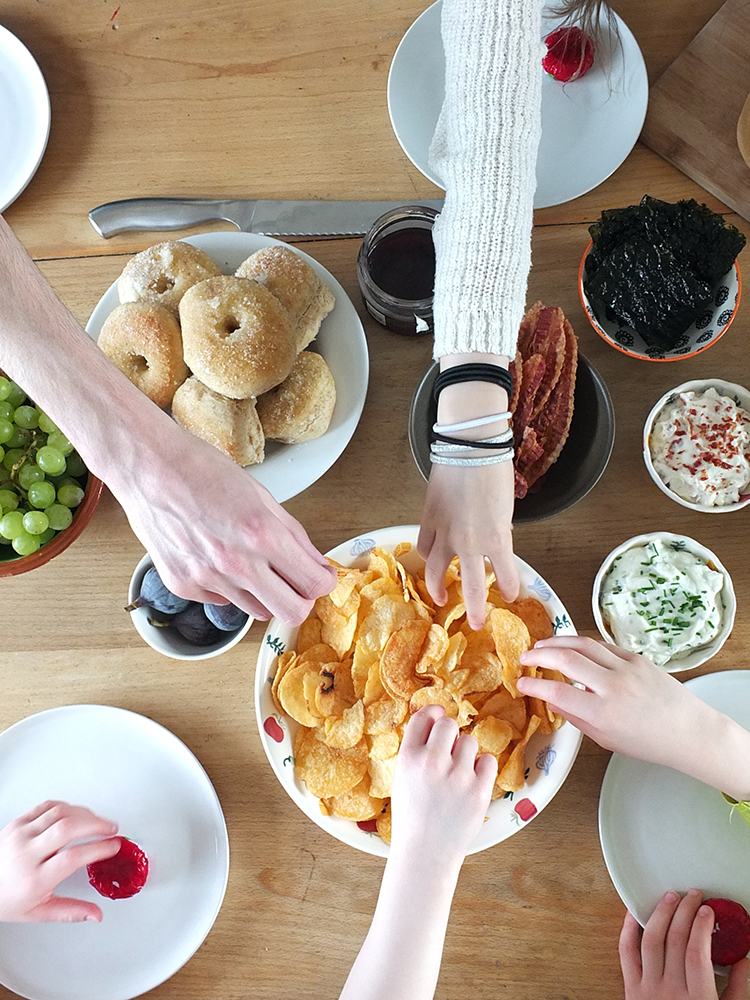 So the Sunday whatever-was-laying-around the kitchen lunch went really well. My friend brought still-warm homemade baked doughnuts (isn't she awesome!) and no one complained that I had actually served seaweed along with kalamata olives, fresh out of the bread machine bread, grapes, figs bacon, crisps, dip and mini Babybel cheese for the kids.
Not bad for zero planning, right?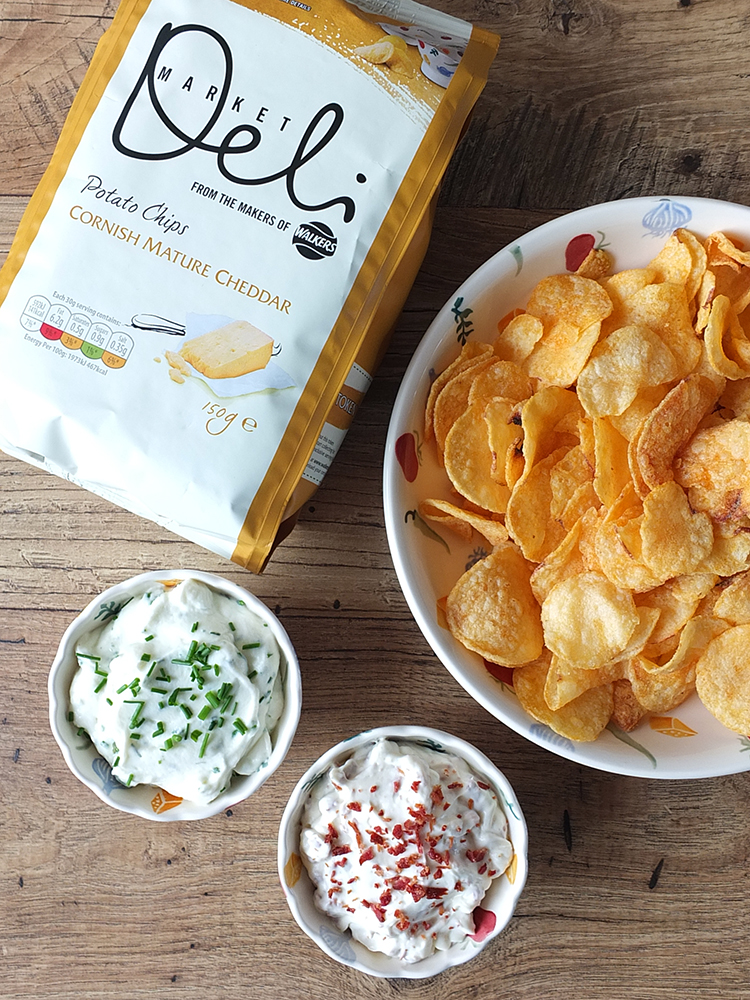 COMPETITION
Now you've seen my recipe suggestions I'd love to see yours! Do you have a favourite dip recipe? Let me know what it is in the comment box below and I will choose my favourite to win a hamper of Market Deli and Emma Bridgewater goodies, including the new Market #DeliDishes, and an Emma Bridgewater factory visit experience!
The Competition Prize is:
A hamper of goodies, including a selection of Market Deli sharing bags, the Market Deli and Emma Bridgewater range, Emma's latest book, Emma Bridgewater wine glasses and a bottle of sparkling wine.
Click here for the full terms and conditions for this competition. By commenting with your recipe suggestion you are agreeing that you have read these terms and conditions. There is only one entry per person and the deadline is midnight on the 15th of April 2016. UK entries only.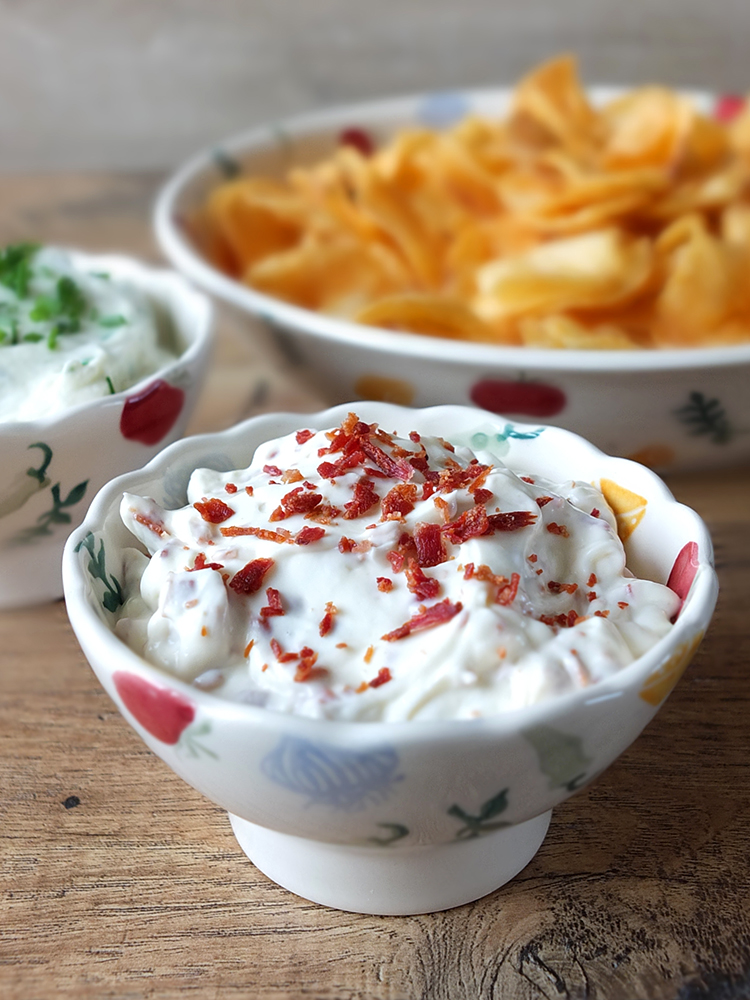 OTHER MARKET DELI DIP RECIPES
Sour Cream and Red Pesto Bean Dip by Fuss Free Flavours
Smoky Red Bean Pepper Dip & Chunky Chive Guacamole by Tin & Thyme
Roast Garlic & Red Pepper Dip & Zesty Guacamole by Thinly Spread
If you want to be kept up to date on my recipes, occasional craft tutorials, adventure stories and giveaways then please subscribe to my weekly newsletter; it gets sent out every Monday morning if there is new content. Your email address won't be passed on to anyone, you will never be spammed and you are free to unsubscribe at any time, no questions asked. Make sure you confirm your subscription or you won't receive the newsletter – if it hasn't arrived check your junk mail folder.
[wysija_form id="1″]
Sponsored: This post was completed as part of a paid campaign for Market Deli and Foodies100.