In collaboration with Simply Beef and Lamb.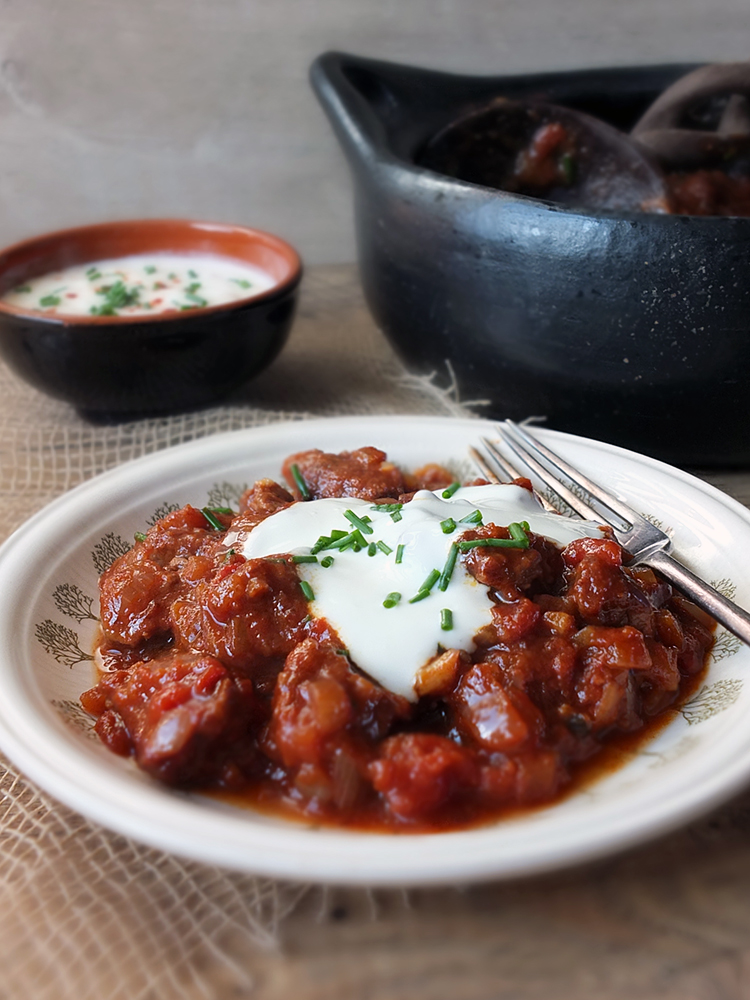 As much as I love food and cooking, I do like to balance the time I spend in the kitchen with plenty of time outdoors, enjoying the wonderful ocean playground opportunities my remote island home has to offer, and trying all sorts of new and interesting things. I really am just a child in a grown up body.
I've recently started attending a weekly tank built conditioning camp for women, an hour of hardcore exercise with some fantastic inspiring women. Unfortunately, this week's conditioning camp was cancelled because the venue was being used for a local village Up Helly Aa celebration. This meant I needed to find an alternative exercise which was going to make me go 'ow, why have I done this to my body?" the following day.
So I went to a friend's house for my very first ever squatting session with a weight bar in a rack. Proper hardcore bodybuilding stuff.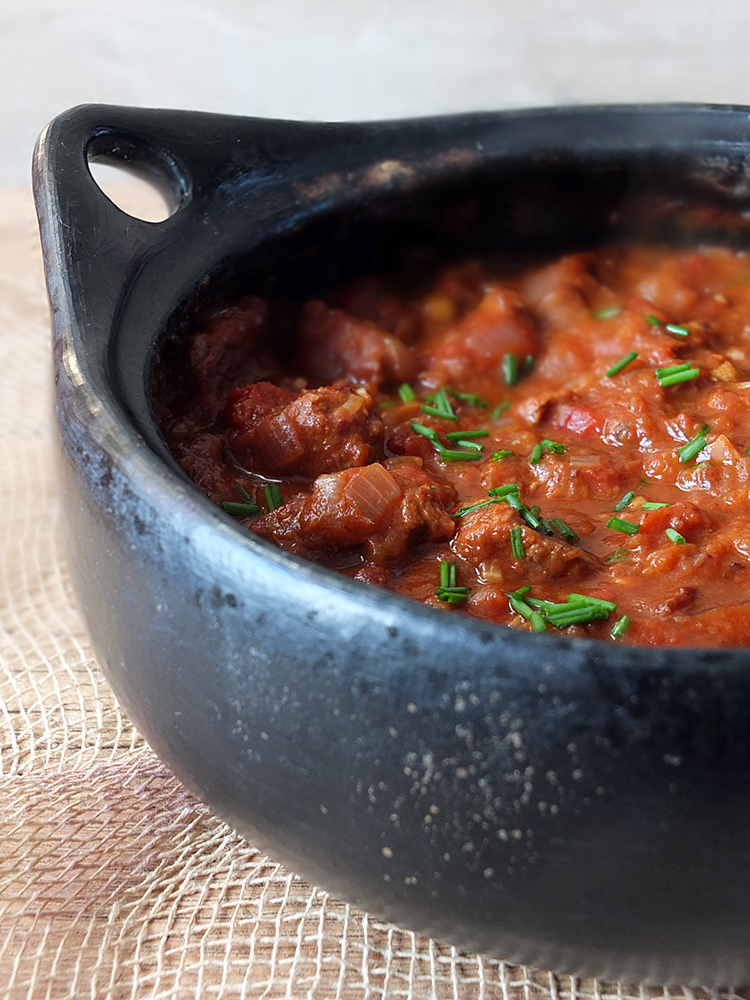 If you'd told me 20 years ago that in the future I'd be lifting weights and thoroughly enjoying every moment of it, I wouldn't have believed you. Who knew!
It's all part of my midlife crisis, I think. I'll be 40 at the end of this year and I want to be in peak condition when I hit it. I'm doing it for me. Because it feels good. Because I think I've become addicted to exercise endorphins. Because it's making my backside look fantastic, if I do say so myself. Because I'm going on an epic 250 mile mountain bike cycle from Shetland to Fort William this summer and I want to have the strength to do it and enjoy it instead of wanting to curl up on the side of the road and cry.
So yea, I am quite pleased with my first ever attempt at squatting with a weight bar. 30 kg/ 66 lbs was my manageable weight where I managed to do loads of reps with pretty good form, but I did even manage two reps with 50 kg/110 lbs. Go me! Not bad for a first try.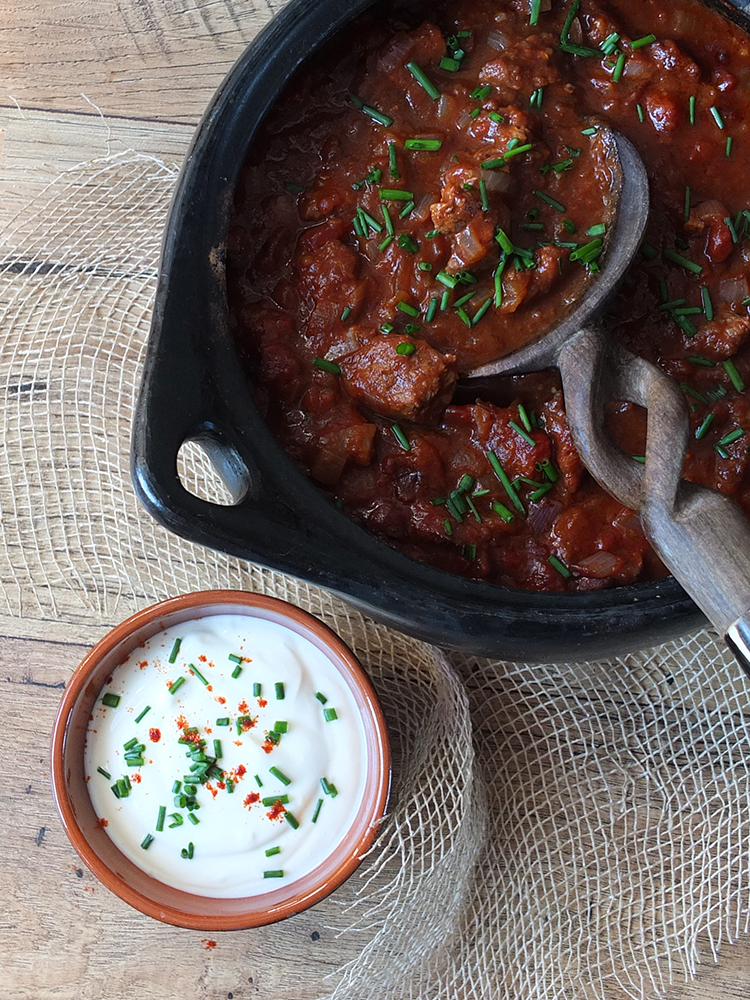 Before I left the house for my squat session I popped this slow cooked beef goulash recipe into the oven so it could slowly stew and simmer away at a low heat. I adapted the recipe for beef goulash found on the Simply Beef and Lamb website to slow cook while I was out, meaning lunch was ready when I returned home, ravenous and needing to get some protein into me for muscle repair.
Simply Beef and Lamb, supporters of the Red Tractor Mark and the Quality Standard Mark for beef and lamb have launched a #LivePeasant campaign designed to encourage every day, at home cooks to embrace a more simple, rustic approach to cooking – inspired by the current 'Peasant Food' trend.
Stews and casseroles are one of the simplest, most traditional forms of cooking; ideal for busy, active people. It also tenderizes even the cheapest cuts of beef and lamb, making it an affordable way to cook.
My husband and I shared this mouthwatering, flavoursome and protein packed dish for our lunch with lashings of soured cream, freezing the leftovers for another day when we're both too busy to cook.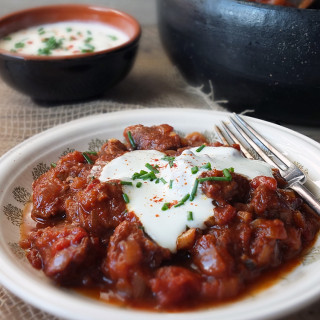 Slow Cooked Beef Goulash
Caraway and smoked paprika flavour this tender and mouthwatering slow cooked beef dish.
Print
Rate
Affiliate Links
This recipe card may contain affiliate ingredient and equipment links. As an Amazon Associate I earn from qualifying purchases.
Instructions
Preheat oven to 150 C (fan), 170 C.

Cut your beef into 2.5 cm/ 1 inch cubes and place into a bowl. Season the cornflour with the salt and pepper and dredge the beef pieces.

Heat half the oil in a saute pan and sear half the meat, until browned. Transfer into a casserole dish. Repeat with the remaining oil and meat.

In the same pan, fry the onion and garlic until it starts to soften. Add the smoked paprika, caraway seeds and tomato puree and cook for a further minute.

Add the tinned tomatoes and cook for another minute, scraping up the browned bits stuck to the bottom of the pan. Add the hot beef stock and bring to the boil. Simmer for a minute or two to thicken.

Pour the tomato sauce over the beef in the casserole dish, pop the lid on and slow cook for 2 to 2.5 hours in the middle of the oven.

Serve with snipped chives and plenty of soured cream.
Notes
Leftovers freeze well. Simply defrost, reheat and serve!
Environmental Information
Click here for the nutritional information for this recipe.
OTHER #LIVEPEASANT RECIPES YOU MIGHT LIKE
One Pot Minced Beef Hot Pot by Fab Food 4 All
Lamb & Bean One Pot Casserole by Fuss Free Flavours
Beef Goulash by Kavey Eats
Comforting Lamb & Pearl Barley Stew by Utterly Scrummy
Beef Goulash by Recipes from a Pantry
Laal Maas by Greedy Gourmet
Slow Cooker Pepperpot Stew by The Hedgecombers
Slow Cooked Beef with Gnocchi by Foodie Quine
Rustic One Pot Lamb Stew with Potatoes, Tomatoes, Anchovies and Olives by Supergolden Bakes
If you want to be kept up to date on my recipes, occasional craft tutorials, adventure stories and giveaways then please subscribe to my weekly newsletter; it gets sent out every Monday morning if there is new content. Your email address won't be passed on to anyone, you will never be spammed and you are free to unsubscribe at any time, no questions asked. Make sure you confirm your subscription or you won't receive the newsletter – if it hasn't arrived check your junk mail folder.
[wysija_form id="1″]
This is a commissioned recipe post for Simply Beef and Lamb. This is a paid post.