Teaming up with My Protein – Europe's #1 Sports Nutrition Brand Online!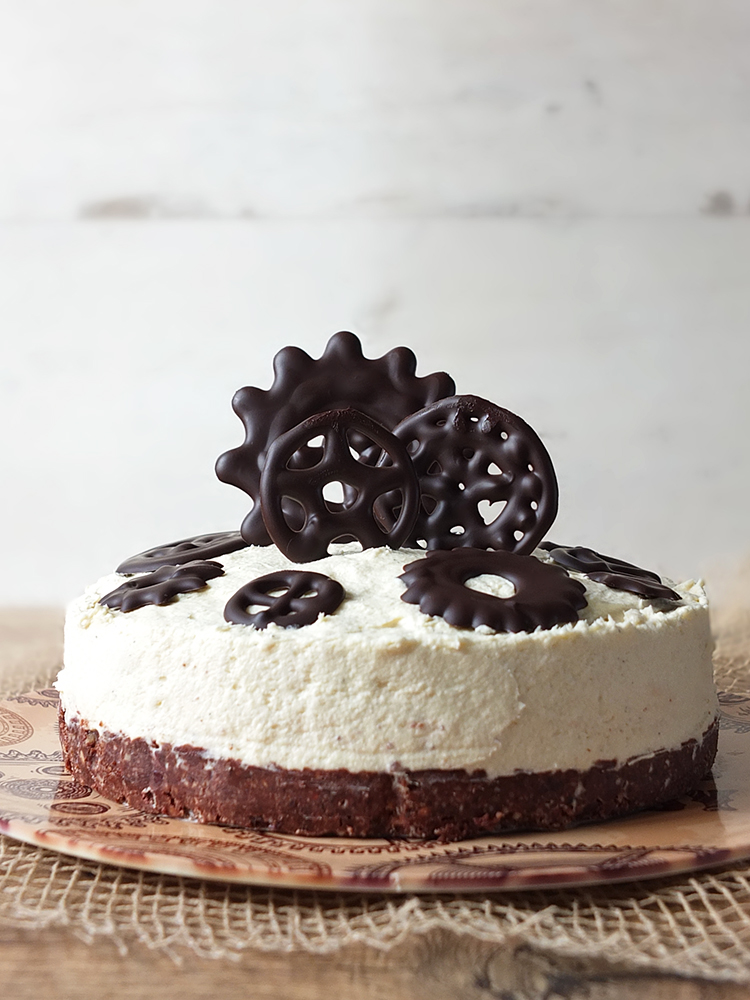 I do love playing with my food.
I have also upped my fitness and strength training efforts this year. I'm really rather pleased with my progress – I'm at a weight I am happy with and I have never felt stronger or more fit. Regular readers will be aware that I'm currently training for an epic 250 mile mountain bike cycle south from my north sea island home through the highlands of Scotland to Fort William to climb Ben Nevis. My cycling buddy and I were chatting, and there is a possibility that if we make good time getting to the mountain we might just carry on to Land's End at the other end of the country. Who knows, but I'm flexible and open for adventure! 🙂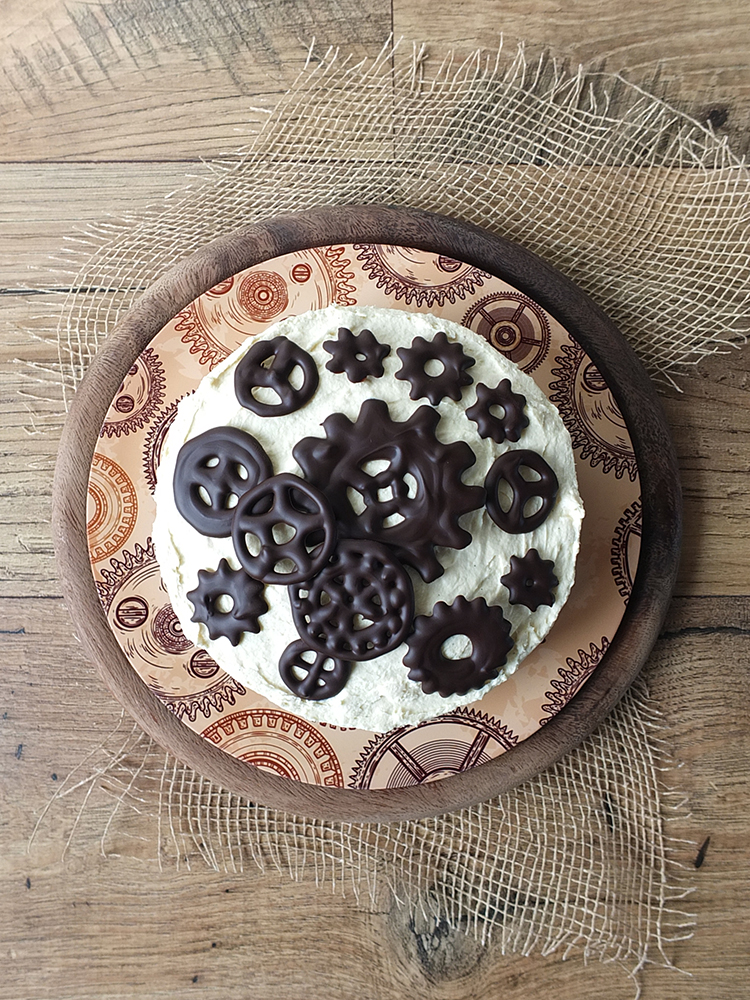 So yes, part of my strength training is eating a whopping amount of protein to help build and repair. Protein powders are a daily addition to my healthy and balanced diet (I'd like to think it's healthy and balanced anyway!). There are all sorts of protein powders out there, from the standard flavoured and unflavoured whey to all sorts of vegan ones – hemp, pea, sunflower, soy, etc.
Since I'm incorporating protein powder into my diet every day, I'm trying to get a bit creative with using them besides just mixing with water. I've tried Joe Wicks #Leanin15 protein pancakes (they were ok, but looked nothing like his photo!), I sometimes whiz it up in my Optimum 9400 high speed blender with a banana and a spoonful of BioGlan Supergreens Cacao Boost – all the goodness of 14 portions of fruit and vegetables in each serving – or if I'm feeling particularly indulgent and have a few extra calories to spare, I'll blitz some vanilla protein powder up with some full fat milk, a handful of red fruit and a scoop of vanilla ice cream. I've also made a really lovely home made high protein granola recipe – which I should, at some time, photograph and blog!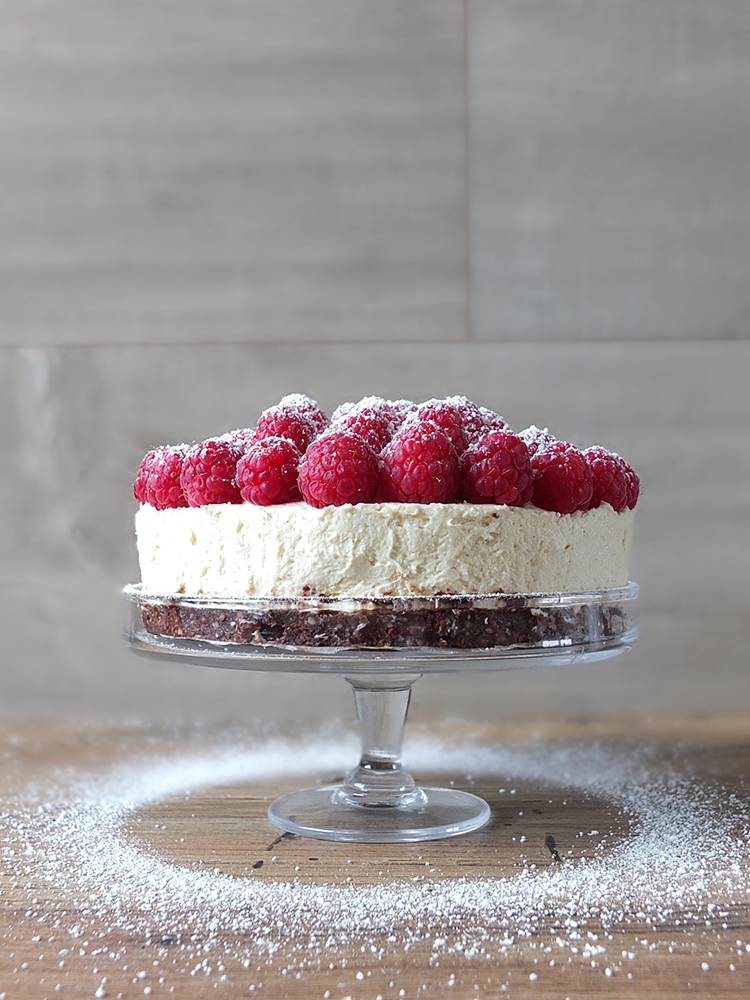 I've tried a few recipe fails as well – I read on a body building website about mixing chocolate whey protein with some peanut butter and low fat cottage cheese. High protein, yes, but it totally makes you byock – the Shetland word for retch, as in sickness. I wouldn't recommend that. I've also tried making a cottage cheese cheesecake with gelatin. Another recipe fail that ended up in the bin after one bite! Stirring it into yogurt isn't particularly nice either.
One of my wholly successful experiments, however, has been this creamy vanilla protein cheesecake recipe!
It began as a lower calorie version using Elmea double light cream, Philadelphia lightest cream cheese and some vanilla whey protein powder to make the filling. It still came in at a whopping 280 calories per slice, but it was super tasty.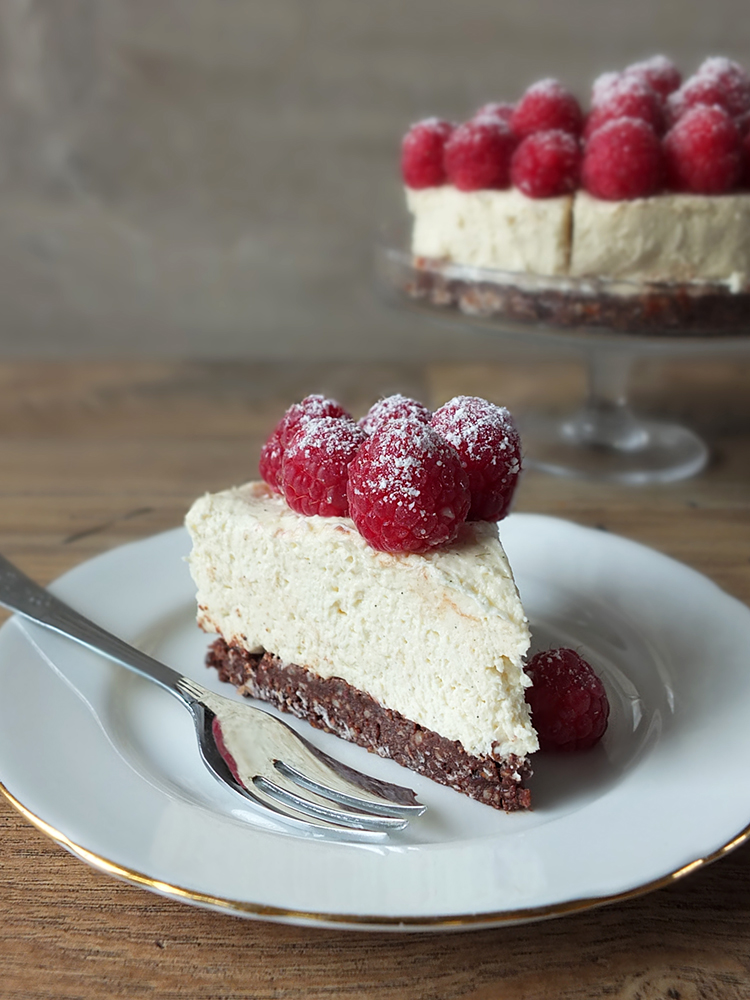 My second experiment was a full fat version for my husband who is trying to put on weight, so using full fat products each serving comes in at 343 calories and 12 grams of protein. Each serving is small, so it's no problem to double or triple it – or heck, if you've got the appetite, to eat half the entire cheesecake in one go, right Daniel? Daniel is my friend who has just started up as a personal training coach at Dan's Pain & Gains – you have to check him out on Facebook and Instagram. Very inspirational – and he makes me lift heavy things! He does distance coaching online too.
The first time I made this recipe I used honey in the base, which is made up of whizzed up nuts, cocoa and raw cacao nibs stuck together with some melted butter. The base came out rather fudgy chewy, which was rather nice, I thought, but I wanted something a bit more crumbly and crunchy like a regular cheesecake base, so I replaced the honey with dark muscovado sugar, the cocoa powder with raw cacao and the butter with coconut oil. Perfection!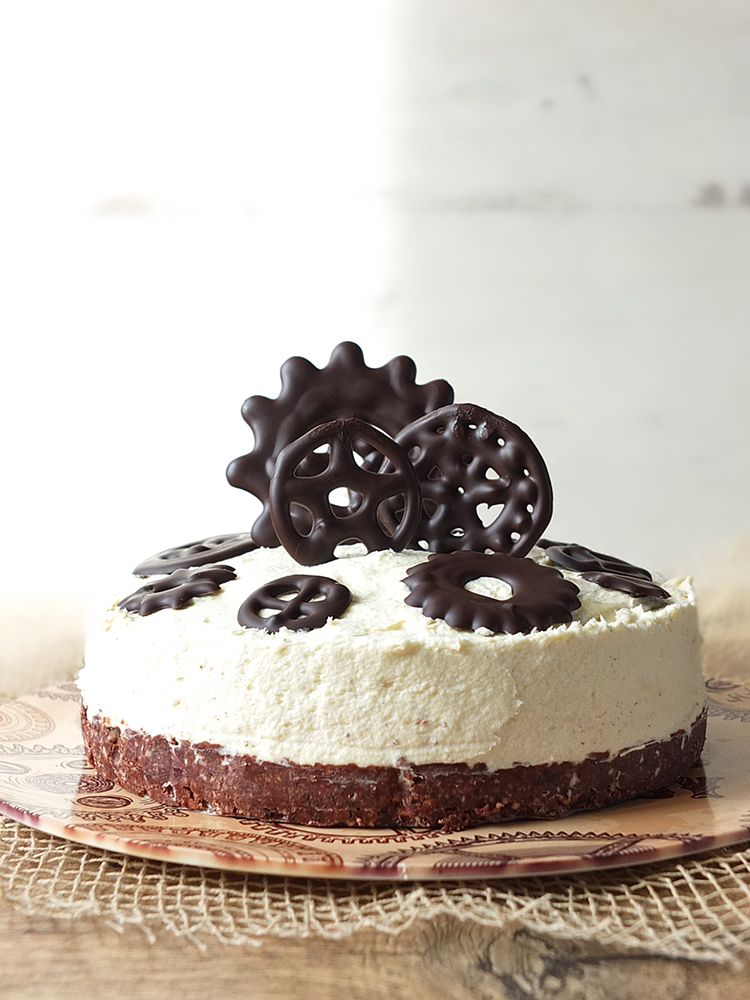 Because I like to play with my food (and I didn't have enough fresh raspberries to cover the top for the second cheesecake attempt), I melted some 85% dark chocolate and drew out some steampunk cogs with my Lékué Decopen a little silicone tub with a nozzle that makes drawing out chocolate designs a cinch.
A wholly effective decoration, I think, and dark chocolate is good for you, right, so it's all good?
I've also been known to make individual portions of this recipe for those days where I don't want to be faced with an entire cheesecake needing to be eaten in the fridge. I'm quite partial to eating and reading in the bath, pictured below. Simply quarter the recipe and fill two small ramekin dishes and leave to chill for a few hours.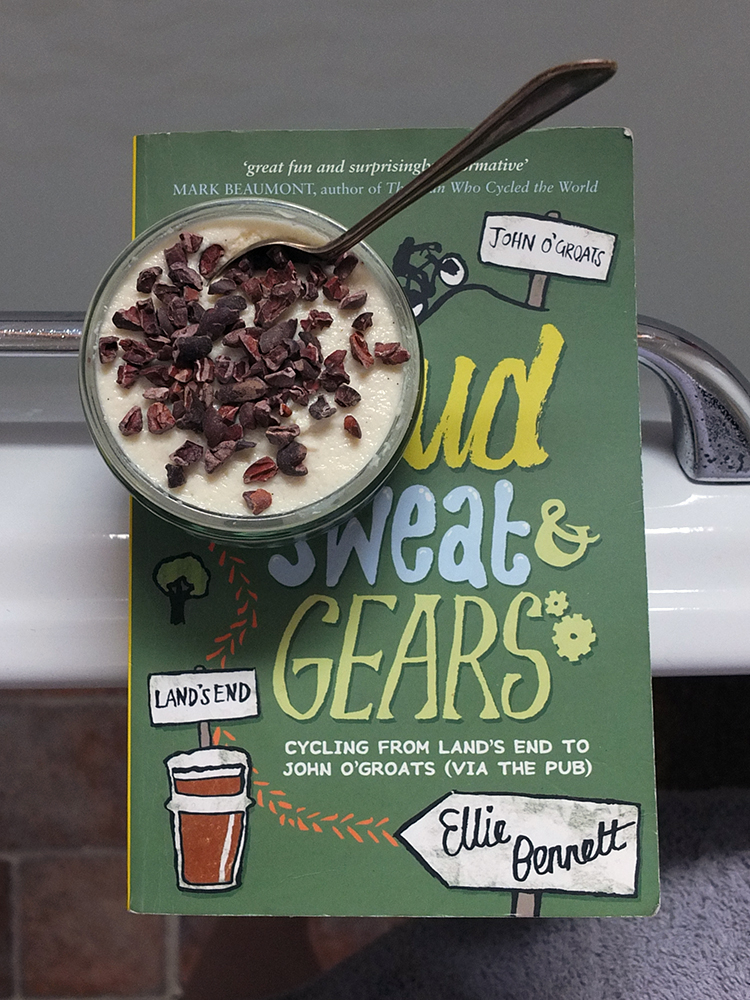 I'm delighted to announce that I have teamed up with Europe's #1 Sports Nutrition Brand online – My Protein to offer my readers a fantastic 10% discount on any orders made through my website. Simply use the code KITCHENDIARY10 upon checkout. You'll get the discount, and we'll get a commission on the sale and you'll be directly supporting my family and I'll be incredibly grateful, especially since our car is in the garage – again!
In the meantime, here's my rather fantastic creamy vanilla protein cheesecake recipe – Steampunk style! I find putting System of a Down – Toxicity on, while whipping the cream by hand, helps. 😉
How do you eat your protein powder? If you have any recipe suggestions for me to try, let me know in the comments!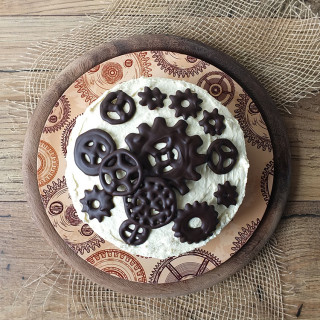 Creamy Vanilla Protein Cheesecake
A creamy vanilla cheesecake filling on a whole nut and raw cacao base topped with dark chocolate or fruit.
Print
Rate
Affiliate Links
This recipe card may contain affiliate ingredient and equipment links. As an Amazon Associate I earn from qualifying purchases.
Instructions
Grease and line the base of a 6 inch cake tin with a removable base with a round of grease proof paper. Alternatively, if you've got a small tin you don't mind cutting into, use that.

Place the nuts, raw cacao powder and dark muscovado sugar into a blender and process until fine.

Transfer to a bowl and stir in the raw cacao nibs and the melted coconut oil.

Press into the base of the tin and pop in the fridge for a few minutes.

Whip the double cream until it begins to form soft peaks. Soften the cream cheese by beating it until smooth.

Sprinkle over the protein powder and fold in the vanilla and softened cream cheese.

Spoon over the base, smoothing over the top. If you've got a cake tin with low sides it might be very full, just pile it into the centre.

Pop into the fridge to chill overnight, or for at least six hours.

Decorate as desired!
Environmental Information
Click here for the nutritional information for this recipe.
OTHER RECIPES USING PROTEIN POWDER
Cranberry Oat Cookies by Rough Measures
Beetroot Chocolate Protein Balls by Veggie Desserts


Don't forget to use the exclusive code KITCHENDIARY10 to get 10% off your purchase! Suitable for worldwide orders! 🙂
If you want to be kept up to date on my recipes, occasional craft tutorials, adventure stories and giveaways then please subscribe to my weekly newsletter; it gets sent out every Monday morning if there is new content. Your email address won't be passed on to anyone, you will never be spammed and you are free to unsubscribe at any time, no questions asked. Make sure you confirm your subscription or you won't receive the newsletter – if it hasn't arrived check your junk mail folder.
[wysija_form id="1″]
Elizabeth's Kitchen Diary is a Froothie Ambassador and she uses the Froothie Optimum 9400 blender, the Froothie Optimum 600 slow juicer and the Optimum ThermoCook to make many of her recipes. These, as well as the My Protein and Amazon (in orange) are affiliate links, meaning if you make a purchase through them we will earn a small commission. This is not a paid post and all thoughts and opinions are our own.