Lamb Jerky is an incredibly tasty and nutritious snack, and it's very easy to make at home! Shetland butcher Chris Wright shows us just how easy it is with his recipe. This post has been created in collaboration with Try Lamb.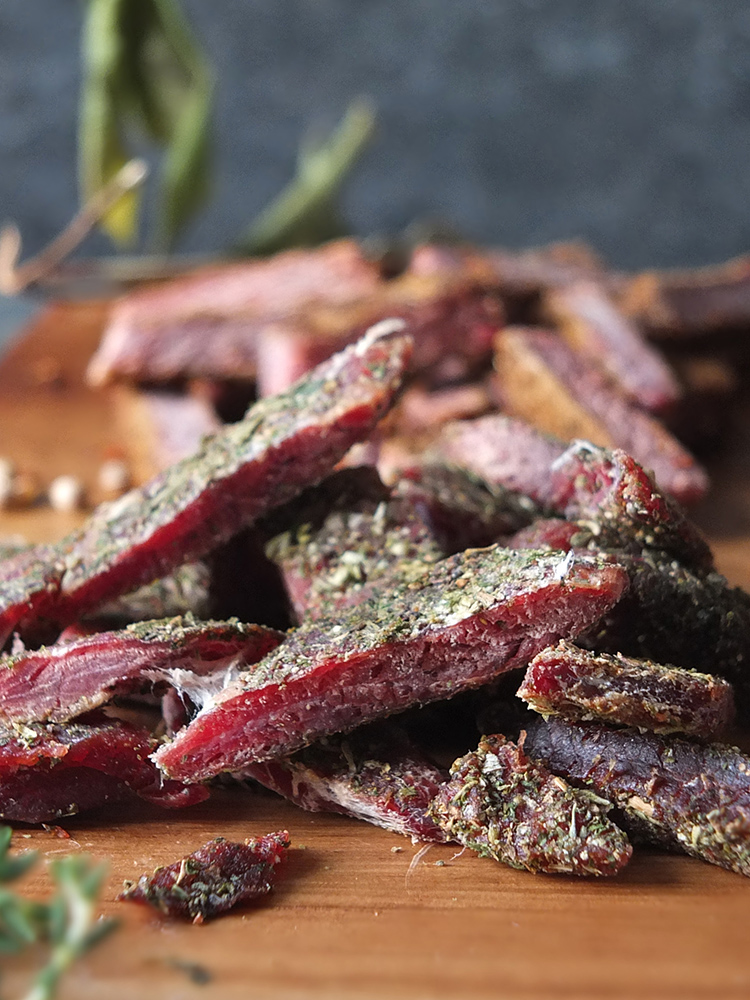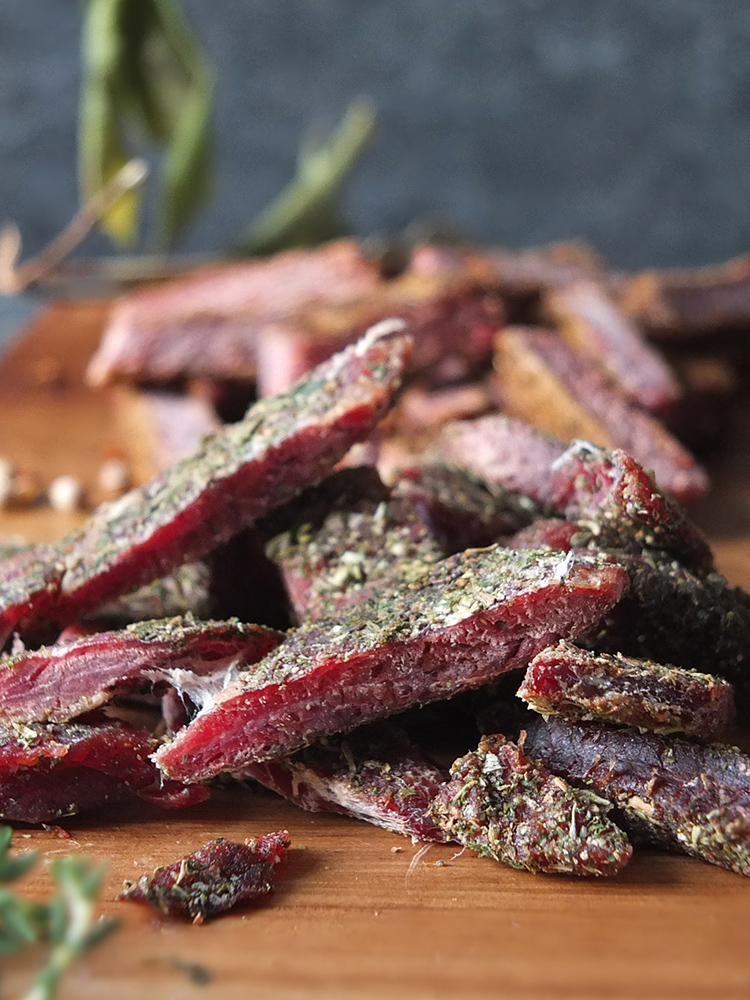 Lamb Jerky
I am a big fan of jerky. It's low calorie, high protein and portable, making it a perfect post-workout snack for the walk/drive home from the gym or strength-training class. It also quickly fills that hunger gap when needed.
Some months ago I spotted that a friend had shared an experiment he'd been trying on Instagram: how to make lamb jerky at home! I was one of the lucky taste testers and was really impressed with its flavour.
I'm delighted to have the opportunity to introduce you to Shetland butcher Chris Wright, and to share his super easy lamb jerky recipe with you. Do watch the video below too, if you want to see how he trims and cuts down the lamb in preparation for jerky making.
We also interview Chris, to find out more about lamb and his butchery work.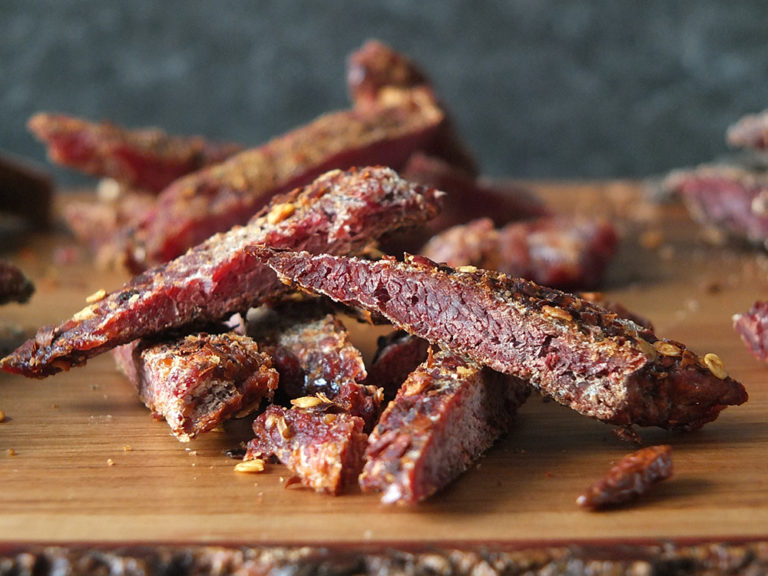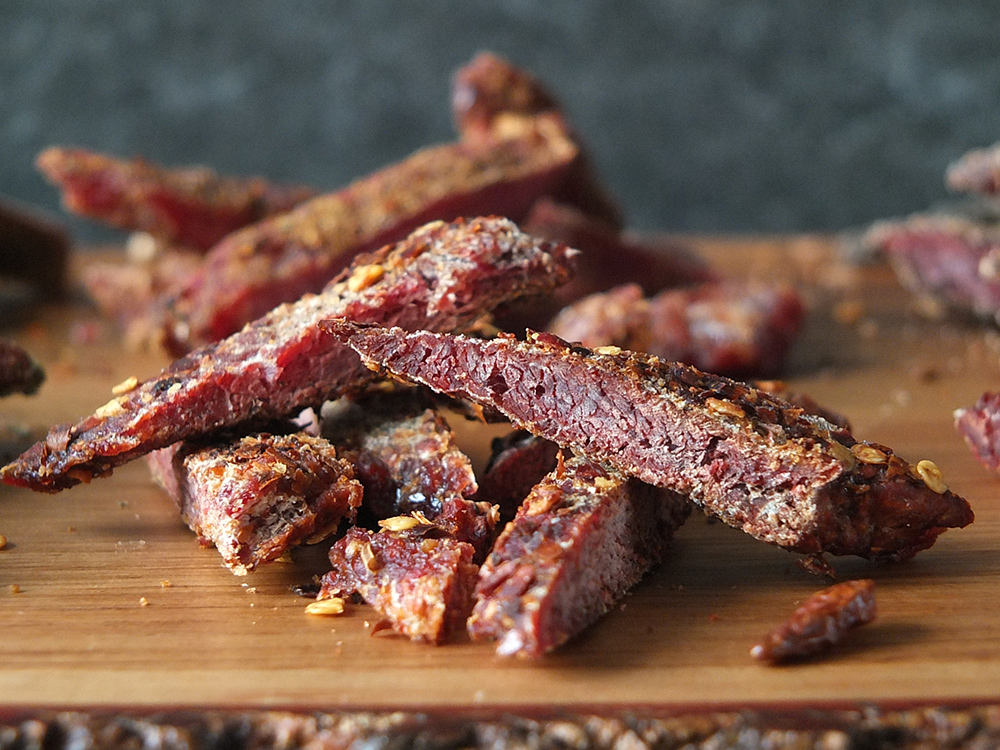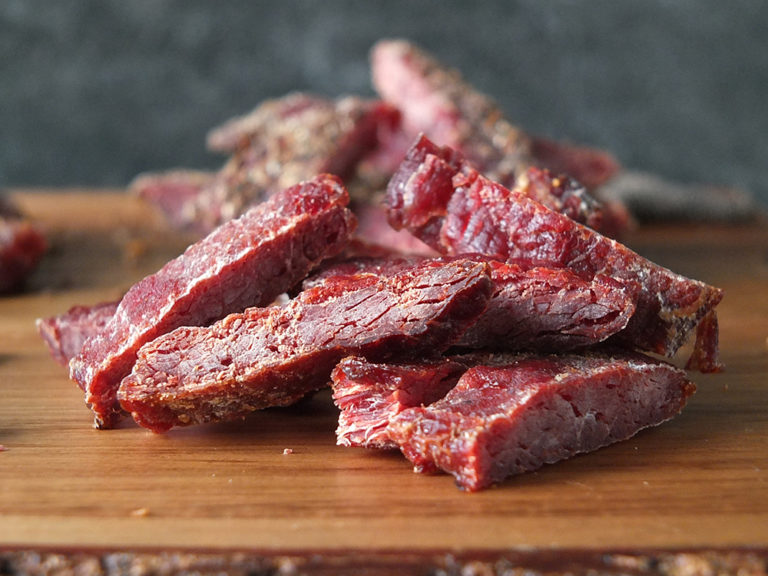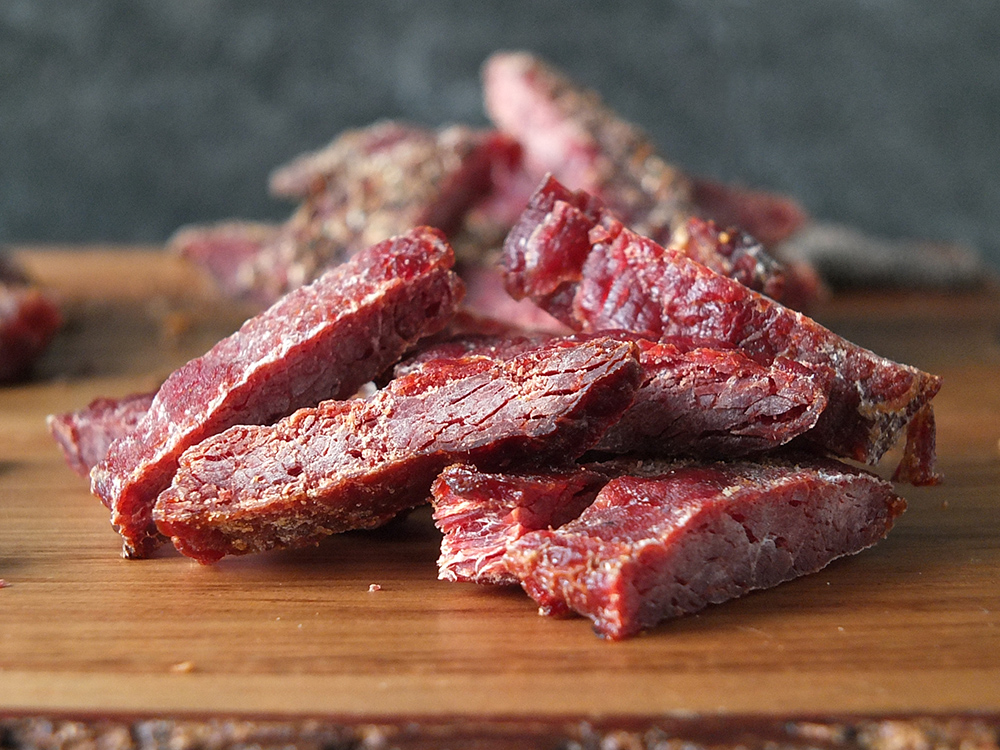 How to make lamb jerky at home
Ingredients needed to make homemade lamb jerky
lamb loin or lamb fillet
heather or wood chips, for smoking (optional)
herbs & spices for flavouring (optional)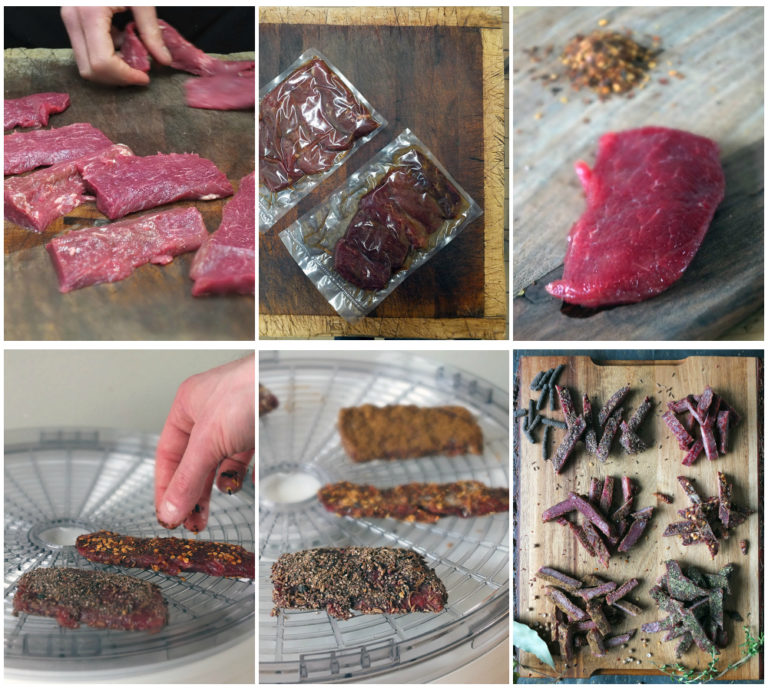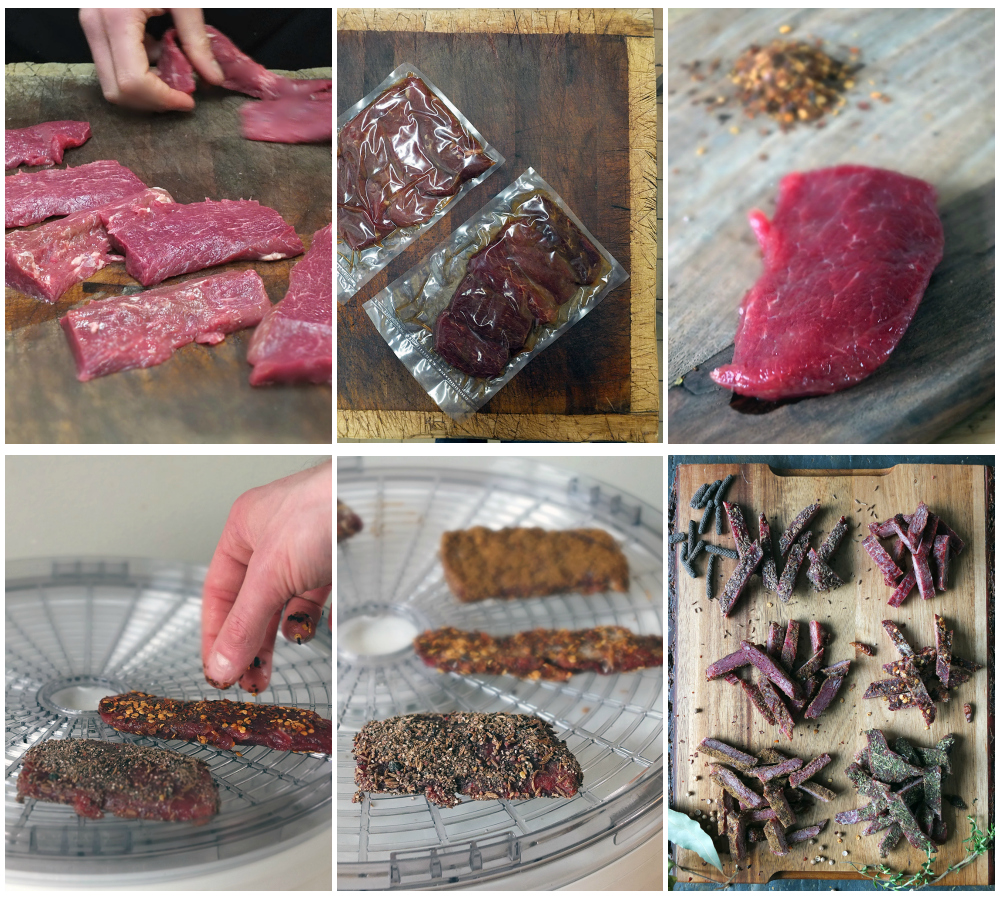 How to make homemade lamb jerky – step-by-step instructions
Trim lamb loin or fillet of all fat and sinew. Cut into 1/4 to 1/2 inch thick pieces.
Place the lamb in a bag and rub all over with the cure. VacPack or tie tightly. Cure in the fridge for 24 hours.
Smoke and/or season as desired by coating in your favourite flavours (optional).
Place in a single layer in a dehydrator and leave to dry for 12 hours.
Take one piece out of the dehydrator and see if it will snap on the grain of the meat. If it does it is ready. If it bends, leave it for another hour and check again.
Cool and cut into bite-sized slices. Store in an airtight container.
Video – How to trim the lamb & make lamb jerky at home
Shetland butcher Chris Wright shows us how to trim lamb loin, cure, smoke, season and dry your own lamb jerky at home.
Can I smoke lamb jerky for added flavour?
Yes! Create a makeshift home smoker with a large, deep roasting tin – something you don't mind getting scorched. Pop whatever you're wanting to smoke, from heather to wood chips, into one corner of the tin (placed on a heatproof surface – ideally outdoors!) and lay your cured meat (before dehydrating) flat next to it. Cover with good quality kitchen foil (poor quality might catch fire) and make two holes in the corners at opposite ends.
Light the heather (or chips) and loosely cover the hole nearest the flames with more foil. This will create a chimney effect and the smoke will travel over the meat and out the other hole.
Smoke the lamb for 15-60 minutes, depending on how strong you want the smoke flavour, and then dehydrate.
Can I make lamb jerky without a dehydrator?
Absolutely! You could:
Hang the cured, smoked, seasoned lamb pieces in the back of your fridge* for two weeks or so (like Chris did here).
Put the lamb on a wire cooling rack, in a dry room, with an office fan blowing onto the lamb for about 24hours. This could take longer depending on the humidity of the room.
Hang it with meat hooks in a warm airing cupboard. You could also use a dehumidifier in there too.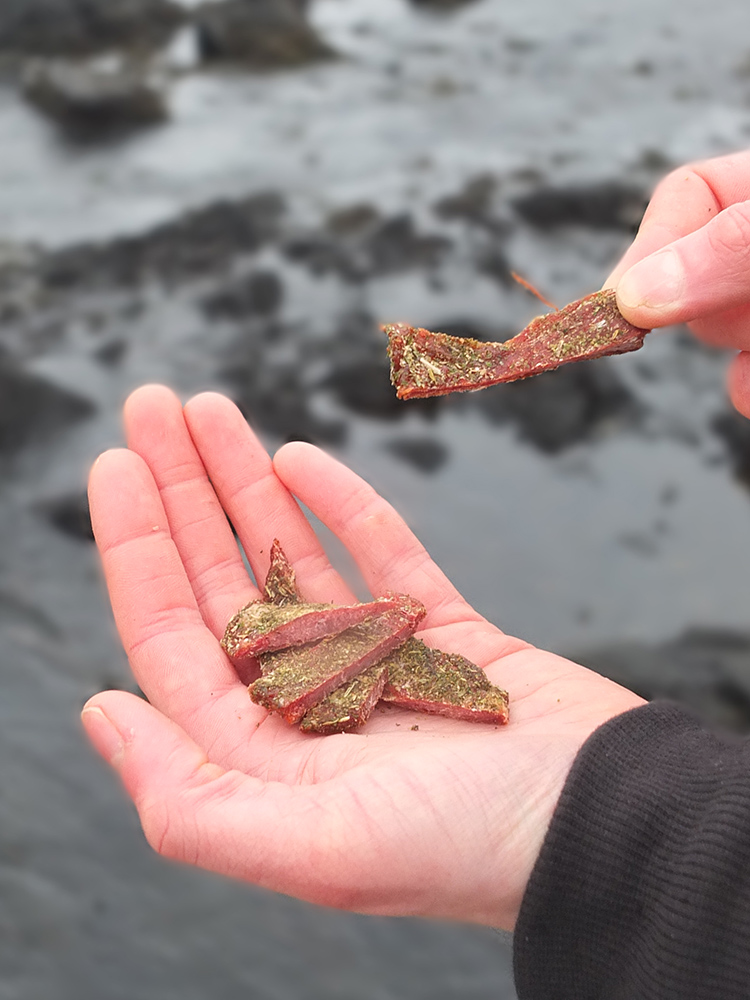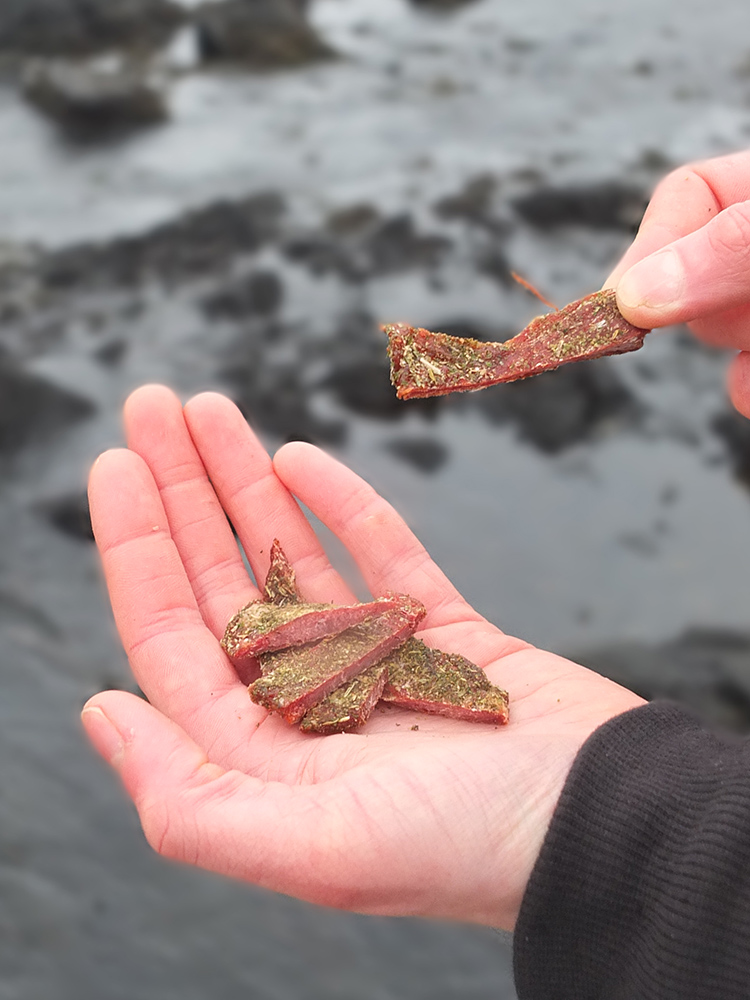 How long will homemade lamb jerky keep?
This recipe will keep in an airtight container at room temperature for around a month.
Tips for making homemade lamb jerky
Ensure your hands are clean at all times when working with the raw meat.
Test the meat after it's been curing for at least 24 hours. Cut into the thickest part and if it isn't all a vibrant pink colour then you should need to leave it to cure longer.
When making the chilli & lime jerky, drip the lime juice onto the loin before rolling it in the chilli flakes. Grate some of the lime zest onto it too for extra flavour.
Play around with your favourite flavours: lamb & mint pair well together, or even rich berry flavours like blueberry.
White spots have appeared on my lamb jerky, what is it?
This is the salt from the cure coming out of the meat and is perfectly harmless. If it smells fine, it's still edible.
Interview with Chris the Ethical Butcher

Introduction
Tell us a bit about yourself – how did you get into butchery?
I kind of fell into butchery after having a rough year of mental health. I applied as an Apprentice Butcher at one of the most well-known butchers in Shetland. Being in a new job, surrounded by passion and knowledge, really encouraged me. Having this focus helped me recover from my rough year and I've never looked back. I love the trade.
What's one thing that might surprise people to learn about your job as a butcher?
The enthusiasm that a lot of butchers have for the trade might surprise a lot of people. We tend to be mega friendly and we love to speak about what we do. We like to get to know our customers, and we often offer our knowledge personalised around their food preferences. Want to watch us do a technique? Ask, unless we are mega swamped we are usually happy to cater.
Let's talk lamb – off the top of your head, what's your favourite lamb dish?
I personally love a roasted lamb rack coated with mint. It's something simple but if the lamb has enough fat to crisp up it really becomes a taste explosion with lots of gorgeous textures.
Sustainability
How did you first become interested in sustainability when it comes to farming?
As part of becoming a butcher, I also wanted to know about all of the processes – from farm to fork. I learned early on about keeping the whole process as sustainable as possible and why it makes sense to do so.
What are the more sustainable meats out there?
Lamb is one of the more sustainable meats. They can survive on various types of terrain and graze on a wide variety of foliage with very low maintenance. This means we don't need to change peat lands to suit farming. Lamb will even munch on seaweed which will make their meat even tastier.
What advice would you have for people looking to find responsibly- and sustainably-produced meat?
Head to your local butchers for a start – they are your experts on all things meat after all. Ask where they get their meat from. You will be surprised at how many use local farms as much as possible.
Health
What drove you to be more interested in the health aspect of meat?
Well, in a past career I was a parkour coach so I have the knowledge of nutrition being a major part in fitness. I'm also currently a casual gym instructor. Making post-workout snacks that are high in protein is fun, but they must be mega tasty, like with my lamb jerky.
What are some of the healthier meat options out there?
If you are going for the leaner meats, anything off the leg of an animal or the loin will be your leaner option. Shoulders and flanks are always fattier (but also super tasty). Lamb is one of your best options for red meat.
Affordability
There is a misconception that lamb is expensive. What would your advice be to people wanting to buy and eat lamb while being money-savvy?
I would always advise if someone has the freezer space and the confidence to order a whole or half lamb. Most butchers will be happy to do this and it will cost much less than if you buy individual cuts. The shoulder, neck or flank cuts tend to be less expensive as well. With these, you can make some beautiful slow-cooked roasts, curries or stews.
Easiness
What lamb cuts are easy to cook with for people who might be super busy?
Personally, I would go with lamb leg steaks. Cook them on a hot griddle pan. It's really fast to prepare, super tasty and looks impressive on the plate too.
Another option if you are mega busy is to invest in a slow cooker. Have everything prepped the night before, and just before you head to work put the ingredients in the slow cooker. By the time you're home your dinner is ready!
What is your go-to lamb dish for a quick and easy mid-week meal?
One of my favourite options is to make some stuffing for a boneless lamb flank. Roll the stuffing inside the flank after adding seasoning to the inside – I like mint and rosemary and some heavy rock salt. Put in the oven for around an hour at 160 degrees. Great way to use a flank and you can be really creative with the stuffing.
Where can we find you on social media?
You can find me on Instagram at @reelmaetshetland where I share all sorts of things butchery-related!
The Lamb, Try It, Love It Campaign
Lamb, Try It, Love It are here to banish the bland and help make meals great again. They started this campaign to prove lamb is more than a roast dinner with mint sauce, bringing you easy recipes created by real people like myself who have a passion for cooking.
Lamb is an incredibly versatile ingredient, available in a wide variety of cuts which can be easily prepared into your favourite meals; any time of day.
Visit the Try Lamb website for some more recipe inspiration, and don't forget to follow them on Facebook and Instagram.
What is your favourite way to cook with lamb? Let me know in the comments!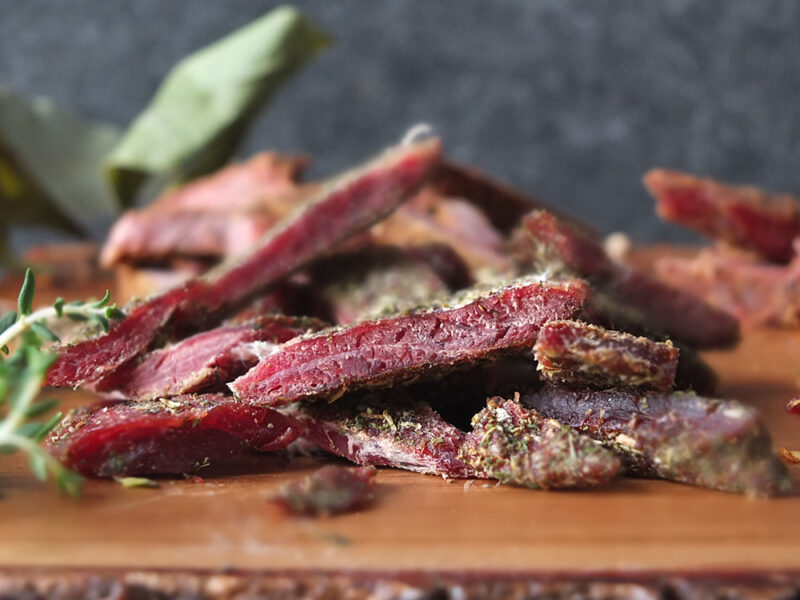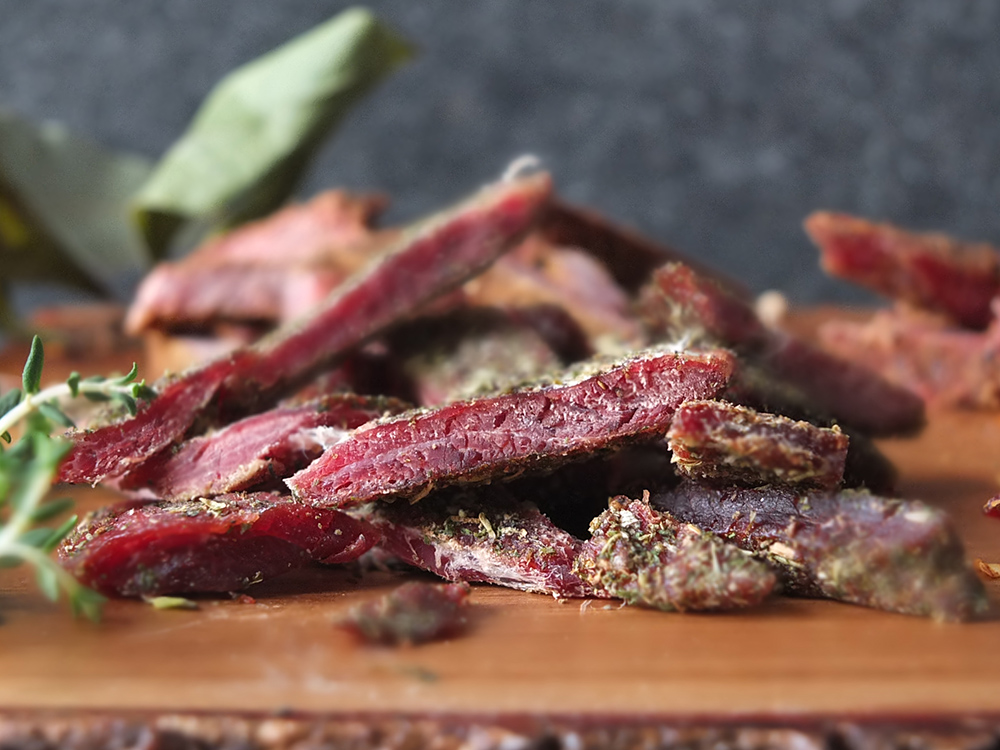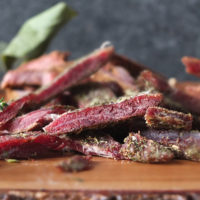 Homemade Lamb Jerky Recipe
With just a few simple ingredients you can make your own flavoursome lamb jerky at home. Perfect for a post-workout snack.
Print
Pin
Rate
Ingredients
200

grams

lamb loin

trimmed
Affiliate Links
This recipe card may contain affiliate ingredient and equipment links. As an Amazon Associate I earn from qualifying purchases.
Instructions
Pop the trimmed lamb in a bag with just enough cure to rub in all over the lamb.

If you have a vacuum packer then you can Vacpack them but if not, just tie the lamb up in the bag as tight as possible and leave it in the fridge for at least 24 hours.

Take out of the fridge and cut into the middle of the largest part of the lamb. If the meat isn't all a vibrant pink colour then you should need to leave it to cure longer.

This is where you need to choose a flavour from above most of them are easy though, just place your ingredients on a plate or a cutting board and then roll the lamb in it getting an even covering.

Place the cured, seasoned lamb in a single layer in the dehydrator and leave overnight to dry.


12 hours later: take one piece out and see if it will snap on the grain of the meat. If it does it is ready. If it bends, leave it for another hour and check again.

Remove the lamb jerky from the dehydrator and let cool for an hour. Cut into slices and enjoy!
Notes
How many Weight Watchers Points are there in lamb jerky?
There are 2 Smart Points per serving of this jerky recipe.
Nutrition
Calories:
75
kcal
|
Carbohydrates:
1
g
|
Protein:
10
g
|
Fat:
2
g
|
Saturated Fat:
1
g
|
Cholesterol:
33
mg
|
Sodium:
423
mg
|
Potassium:
138
mg
|
Sugar:
1
g
|
Calcium:
6
mg
|
Iron:
1
mg
Environmental Information
* if you are making jerky in the fridge, ensure your hands are very, very clean while preparing it and make sure that the meat itself is kept clean and does not touch anything else in the fridge while it is drying.
This is a sponsored post in collaboration with Try Lamb. All thoughts and opinions expressed are either ours or that of Chris Wright. Thank you for supporting the brands who make it possible for me to do what I love: mess up my kitchen and share recipe stories.