In collaboration with Tasty, Easy Lamb.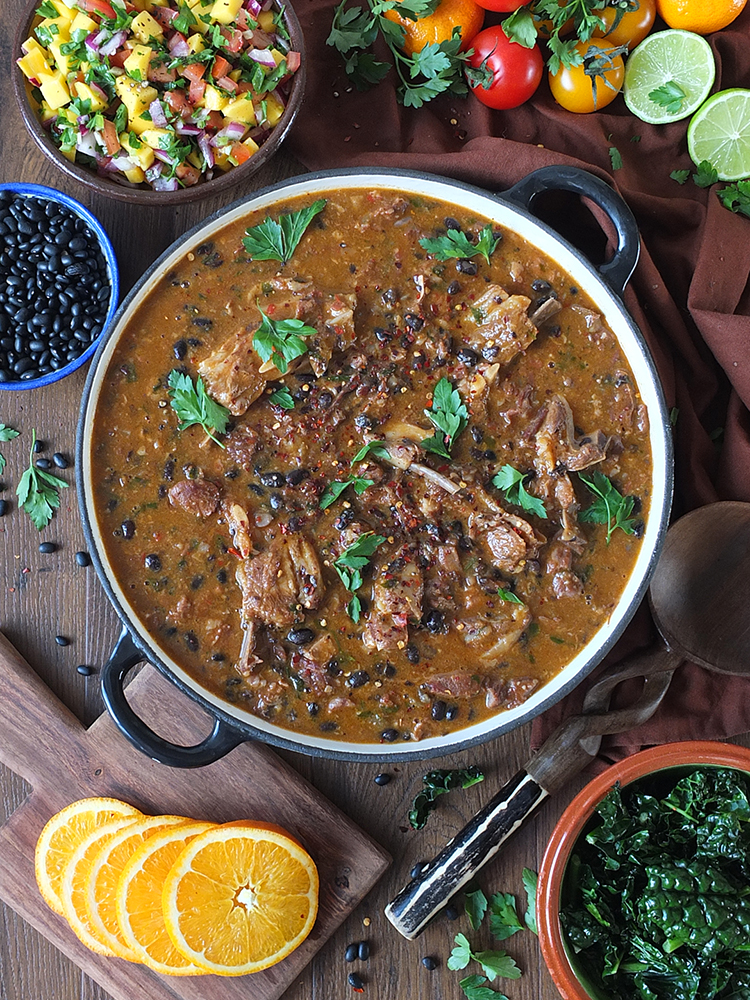 As a foodie, I spend a lot of time browsing recipes online looking for new dishes and flavour combinations to try out. Earlier on this month saw the annual Rio Carnival in Brazil, and so my Facebook timeline was filled with all sorts of fabulous Brazillian recipes and photos (wouldn't it be amazing to see that carnival in person one day?!).
Brazil's national dish is feijoada, a black bean meat stew. Like any national dish, there are as many recipe variations as there are families who make it. The one thing that all the recipes have in common, though, are black beans and at least three kinds of meat – fresh, dried and salted and smoked. These are usually fresh pork or beef, and a jerked beef called carne seca. This is not to be mistaken for beef jerky, which is an entirely different meat product, but this salted, cured and dried beef reminded me of our own, more local, reestit mutton.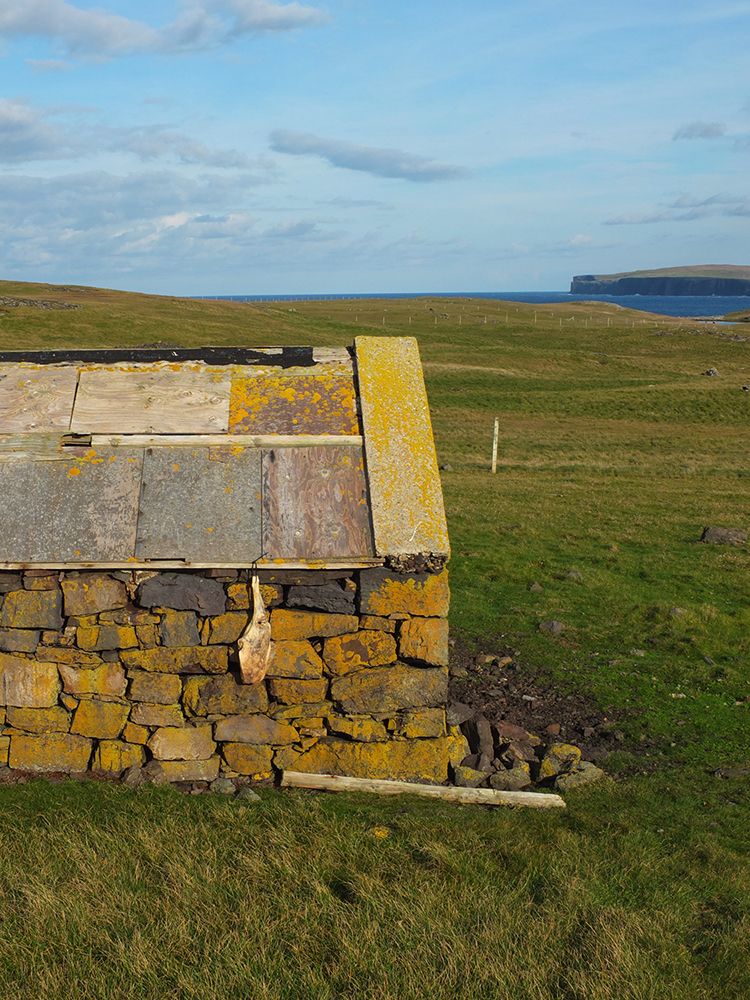 Reestit Mutton is a variation of the Scandinavian skerpikjøt, an air dried mutton, or vivda, Norse for 'leg meat'. It is a traditional Shetland way of preserving mutton with salt for consumption during the winter months. The mutton is first salted in brine and was then traditionally hung in the rafters (reest) of houses, where the peat smoke with add flavour and help preserve the meat. It could very likely be called Shetland's national dish, and this led me to think – could I recreate Brazil's national stew with some local lamb and reestit mutton? Well worth experimenting, no?
For my recipe, I've used fresh cubed lamb shoulder, lamb ribs that my local butcher kindly cut down to size, shredded reestit mutton and some smoked pancetta. To save time I've used tinned black beans, but if you want a more traditional looking stew use dried beans, soak them overnight and then cook them in the stew itself.
My local Shetland butchers, Anderson Butchers in Brugarth, Whiteness, do mail order – they'll ship reestit mutton to the mainland for you if you ring them and ask nicely. You could always substitute this dried, salted mutton with some dried pork or smoked sausages, depending on what you can find in your own local butchers. I've seen some recipes use chorizo, while others include pig's trotters, ears and feet. Like I said, there are many variations – I suppose there's no right or wrong way to do it – just throw in what you fancy!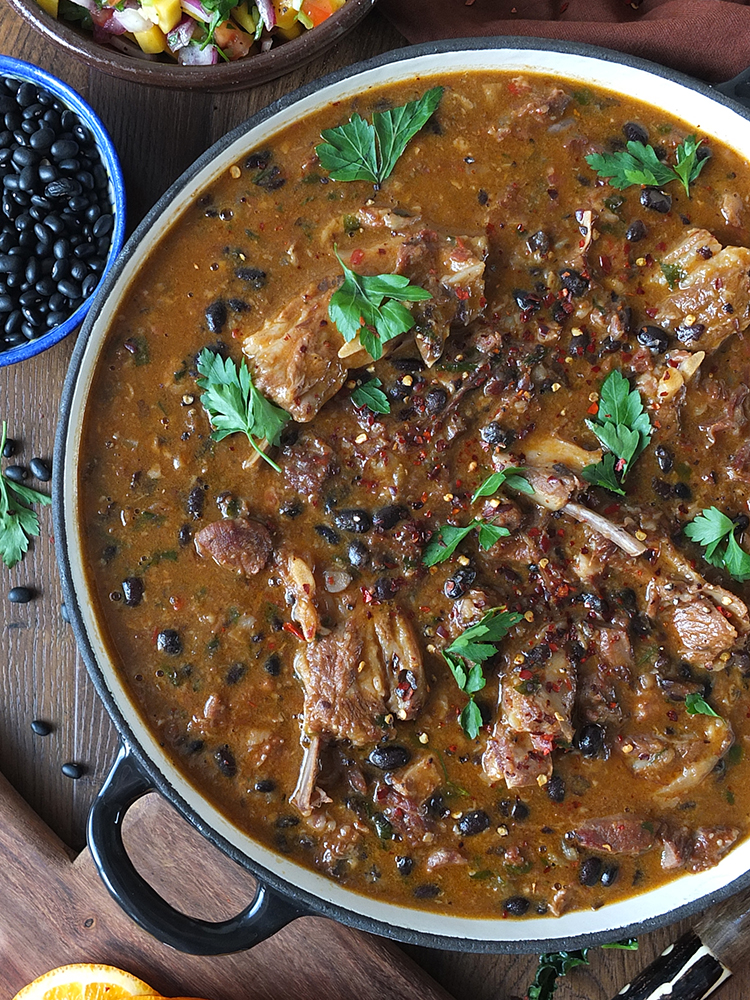 The resulting slow cooked stew is rich and hearty, and not too spicy either. Serve with a side of white rice, sauteed greens and orange slices for a traditional meal, or, like I've done, with a side of mango salsa and an extra dash of chilli flakes. Oh, and don't forget the Brazillian beer and the football match!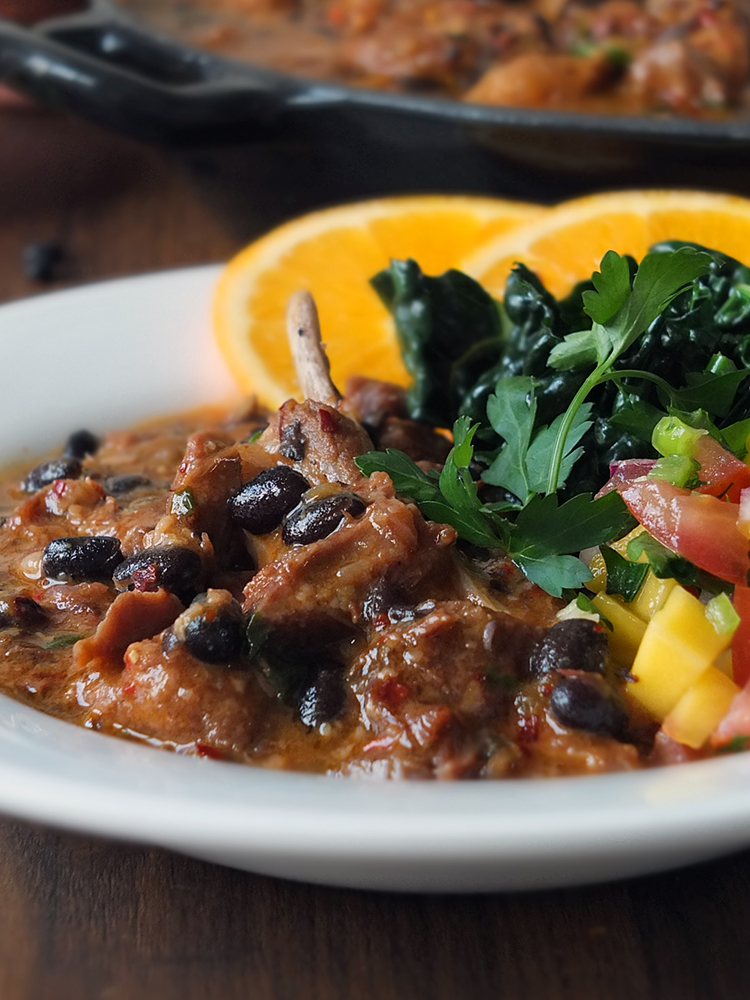 For more lamb recipe inspiration visit the Tasty Easy Lamb website, and follow them on Facebook, Twitter or Instagram.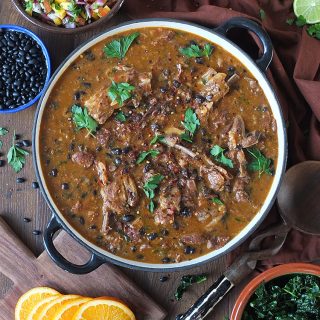 Brazilian-inspired Lamb Feijoada with Mango Salsa
A hearty and rich lamb variation of Brazil's national dish - feijoada. Serve with salsa, sauteed greens and orange slices.
Print
Rate
Ingredients
for the mango salsa
1

mango

finely chopped

140

grams

fresh ripe tomatoes

finely chopped

50

grams

red onion

finely chopped

1

green chilli

deseeded and finely chopped

1

handful

fresh parsley

finely chopped

1

large

garlic clove

finely chopped

1

lime

juice only

2

tbsp

olive oil
freshly ground black pepper

to taste
Affiliate Links
This recipe card may contain affiliate ingredient and equipment links. As an Amazon Associate I earn from qualifying purchases.
Instructions
for the lamb feijoada
Heat oil in a large, heavy-based pan over a medium-high heat. Saute the onions, garlic and chilli until they begin to soften but not colour - between 5-10 minutes.

Meanwhile, dredge the cubed lamb shoulder in seasoned flour. Add the remaining sunflower oil to a heavy based skillet and brown the dredged lamb on all sides, and then brown the lamb ribs and then the pancetta. If you're running short of time (or inclination) just add all the unbrowned meat to the onion mixture and skip the browning step.

Add the smoked paprika and tomato puree to the onion mixture and stir well.

Add the lamb shoulder, ribs, reestit mutton and pancetta to the onion mixture. Add the lamb stock and the bay leaves.

Reduce the heat and simmer, on medium-low with the lid on for 1.5 hours.

Remove the lid and simmer for another 30 minutes, until the liquid has reduced a bit.

Mash 1/4 of the black beans and stir through the stew to thicken it, and then add the remaining black beans. Cook for a further 15-30 minutes until thick and glossy.

Stir in the chopped coriander leaves and the lime juice. Serve with sauteed greens, mango salsa and orange slices.
for the mango salsa
Combine all the ingredients together in a bowl, stir well and keep in the fridge until needed.
Notes
Reestit Mutton is a variation of the Scandinavian skerpikjøt, an air dried mutton, or vivda, Norse for 'leg meat'. It's not widely available on the mainland, but you could either order it from Shetland, or omit this ingredient and season the stew with a little extra salt. If you are using reestit mutton, cover a 600 gram or larger piece in cold water, bring to the boil and simmer for two hours. Cool and pick off all the meat and add to the recipe.
If using dried black beans, soak 250 grams of beans in plenty of cold water overnight. Then, either boil them in fresh water for 30 minutes until cooked, or drain the soaking water and add directly to the stew to cook. Cooking them in the stew will result in a more traditional darker coloured dish.
OTHER LAMB RECIPES YOU MIGHT LIKE
Slow Cooker Lamb Chilli with Pasilla Peppers
Argentine-inspired Lamb Chops with Chimichurri
Lamb Casserole with Ale
Lamb Tagine with Pomegranate
Pistachio & Orange Crusted Mini Roast
Mediterranean-inspired BBQ Koftas, Couscous Salad & Baharat Yogurt Dip
Greek Lamb Shepherd's Pie with Feta Mash
Slow-cooked Shetland Lamb Casserole with Creamy Herbed Polenta
Pastitsio – Greek Macaroni Pie
Moroccan-inspired Slow-cooked Lamb
Yiouvetsi – One Pot Greek Lamb with Orzo
Lamb Keema 
SHOP THIS POST
Reestit Mutton
Black Cast Iron Shallow Casserole Dish
This is a sponsored recipe post in collaboration with Tasty, Easy Lamb. All thoughts and opinions expressed are our own. Thank you for supporting the brands who make it possible for me to do what I love: mess up my kitchen and share recipe stories.