The perfect muesli flapjack recipe to fuel your outdoor (or indoor!) adventures. It's not too sweet, not too buttery and holds together perfectly – just right! A recipe in collaboration with Love Food Hate Waste.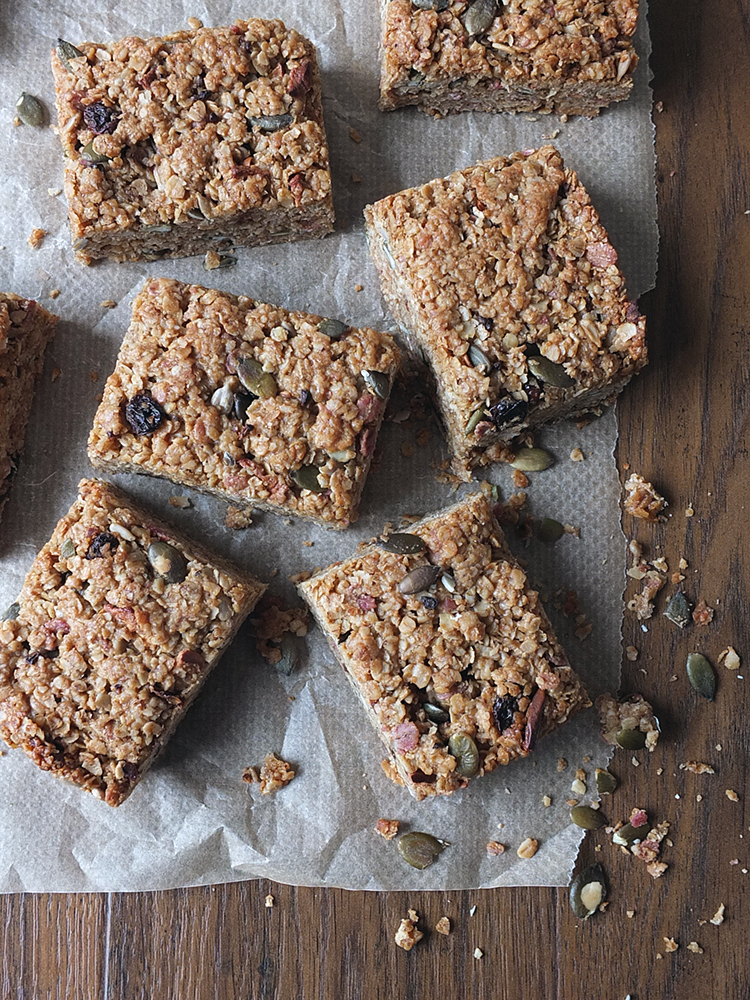 I wanted to like bircher muesli. I really did. I tried my best, but do you know what? No matter what way you dress it up bircher muesli is cold, uncooked porridge. Who wants to eat cold uncooked porridge for breakfast, especially over the winter? Cold porridge sweetened with apple juice that you have to have the advance foresight to remember to stick into the fridge a full 12 hours before you eat it. Why?!
Ok, bircher muesli tastes fine enough, and I did thoroughly enjoy the few bowls of it I did have when I took a notion of trying the stuff… eventually.
There have been two boxes of bircher muesli sitting in my pantry for at least six months.
As part of the Love Food Hate Waste #GiveUpBinningFood instead campaign I was checking the best before dates in a recent effort to meal plan and use up the food I've already got in my house before buying new food. I discovered that one box of bircher muesli was just out of date and the other was soon to follow.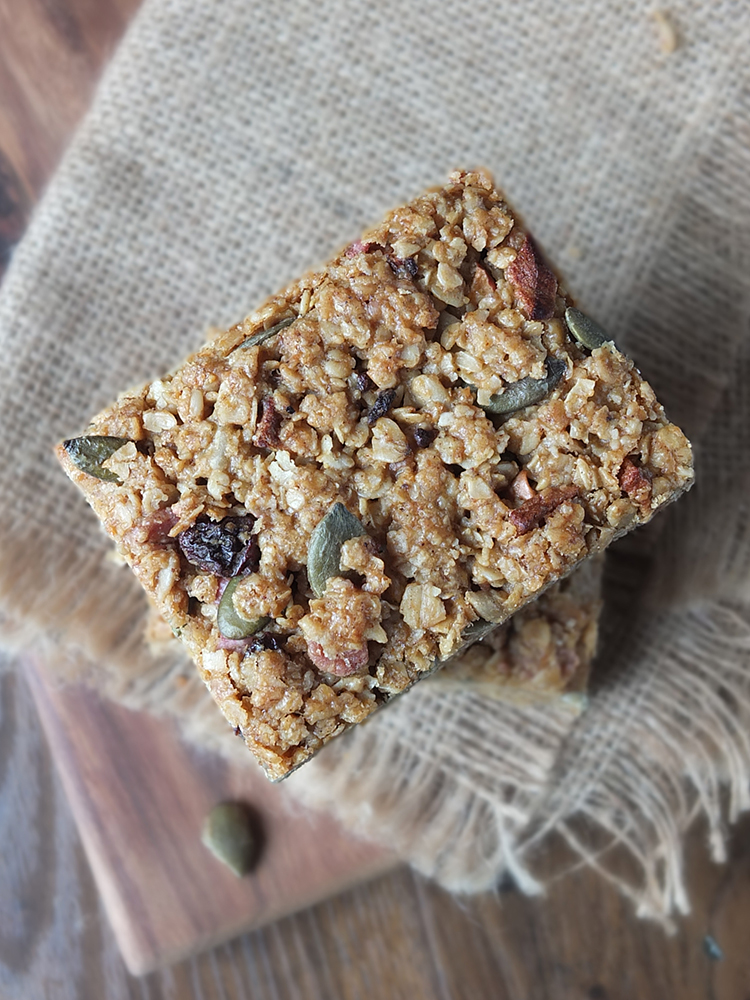 I've also been on the hunt for a decent flapjack recipe for ages. I discovered, while bike packing through the highlands of Scotland last summer that oats in bar form like this provide a wonderfully fantastic source of fuel. They're portable, quick to eat, easy to digest and, most importantly, fill that hunger gap and fast.
Shop bought flapjacks are silly expensive too. So, I suppose, is making them from shop-bought muesli, but I reckon that these bars could be made rather inexpensively by using budget supermarket brand porridge oats and throwing in a handful of nuts and seeds.
I'll be experimenting with that next since I've now used up all my bircher muesli making several batches of these flapjacks.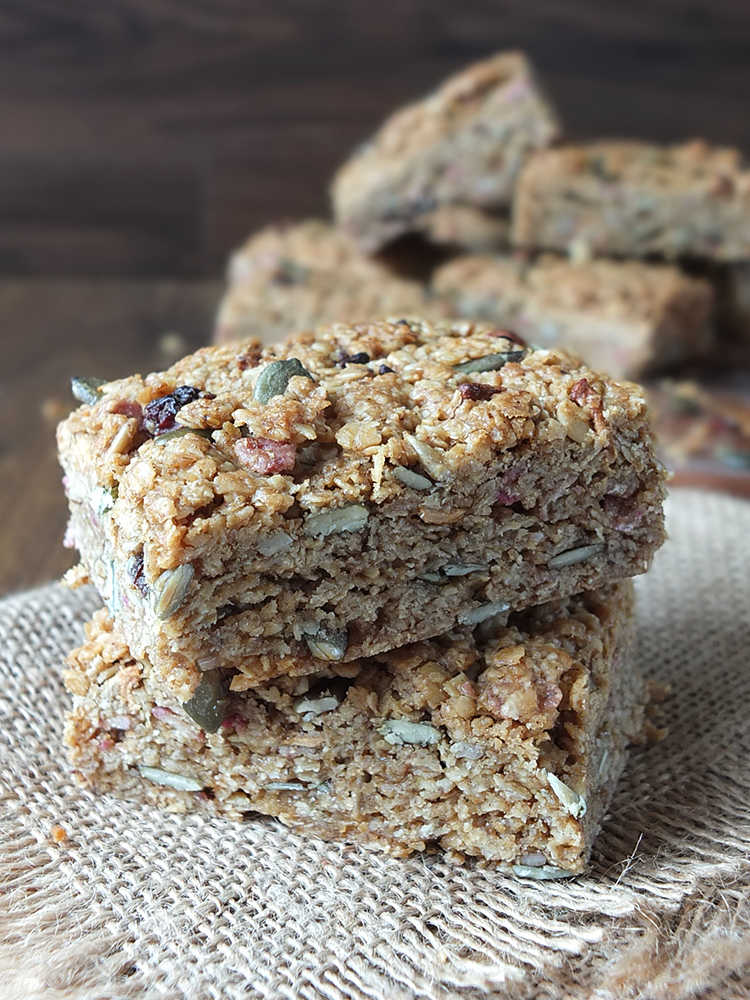 The bircher muesli I used in my flapjacks had dried fruit in it – namely, apple and black currant, which paired very well with a sprinkling of cinnamon. There were also loads of raisins in the muesli, which I don't terribly care for in a flapjack so I picked most of them out.
Now, what do I do with 200 grams of oat dust-coated raisins? Cookies, I should think!
I have also discovered that all muesli (mueslis?) are not equal when it comes to making muesli flapjacks. You're looking to use something untoasted and unsweetened, something like Alpen.
If you use toasted muesli the butter mixture doesn't soak into the oats very well and you end up with a tray of bubbling and slightly caramelised oat clusters that fall apart, and not a dry, dense, portable snack bar.
Lessons learned the hard way, my friend.
I made another batch of these bars for my children last Sunday morning, while blissfully marking out geocache locations along Hadrian's Wall on a little Cicerone walking map.
I had one of these maps while bike-packing down the Great Glen Way last year, and it proved incredibly useful, so I've picked up one for Hadrian's Wall too.
Why?
Well, because my best friend and I are taking a little bit of time off soon to walk Hadrian's Wall. Another grand adventure I am very much looking forward to.
These bars are far too heavy to bring along with us as we're backpacking, and when you are carrying your home on your back like a snail (we're planning on camping), every gram is sacred. Still, my family love them.
My kids have become quite keen on taking a bar to school for their snack and I think this recipe is fantastic for wrapping in cling film and taking along while out on long cycles or hill walks.
You never know, when cycling or trekking, when the hunger is going to strike, so it's always good to have something like this on hand, I think.
That's my experience anyway. 🙂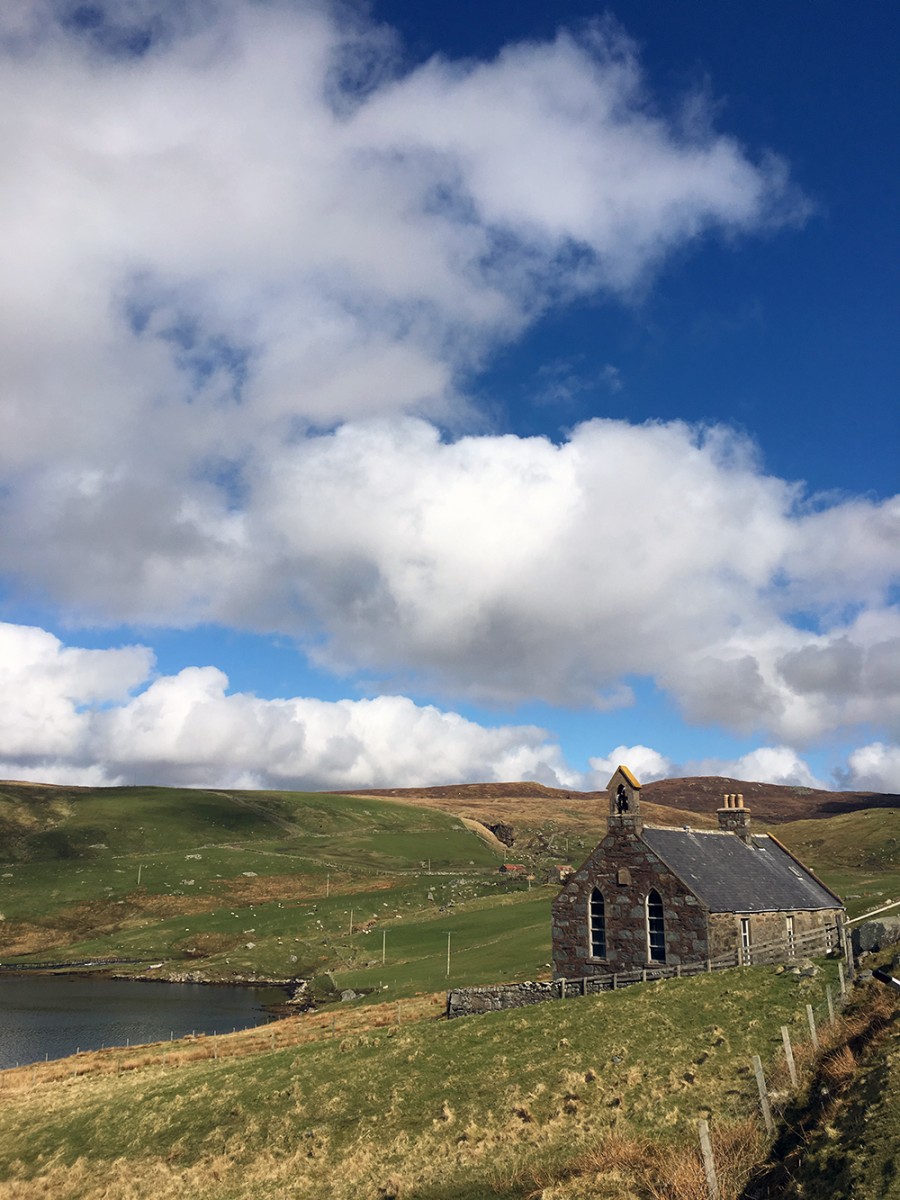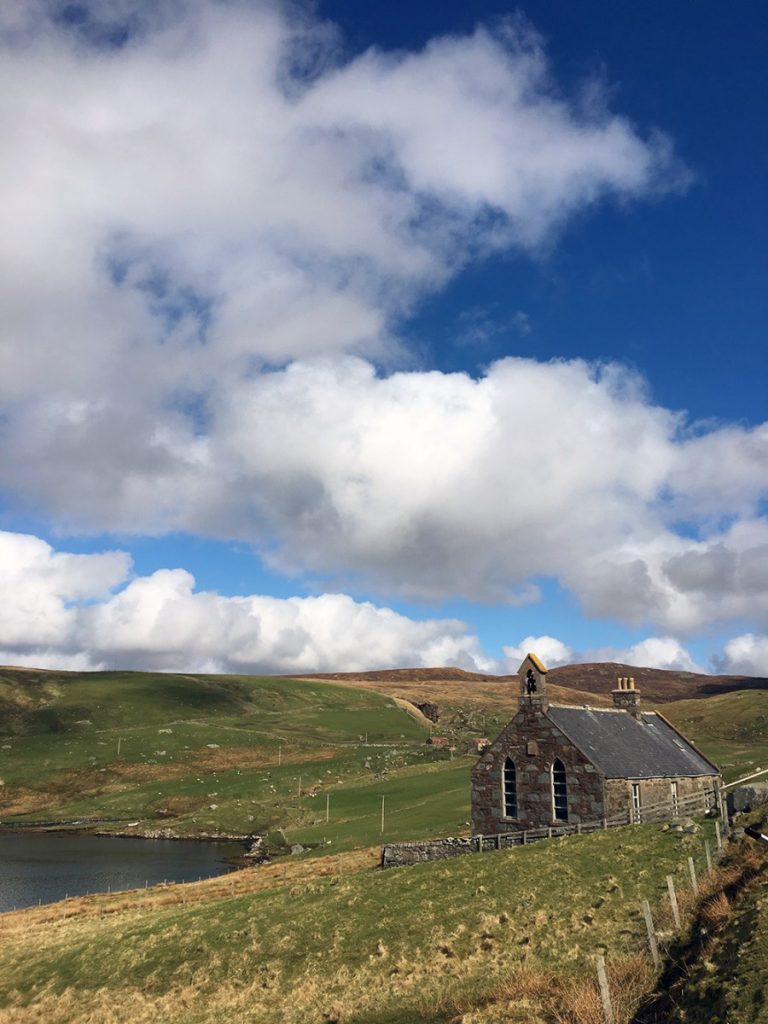 Locals call the stretch of road running by the kirk above 'the Alps' due to the elevation changes and rocky terrain. It makes for some pretty fab HIIT on the bike, if that's your thing.
I road-tested my flapjack recipe with a 25-mile loop including this stretch of road with the sun shining, the larks ascending and the coltsfoot flowering.
It turns out the hunger didn't strike until I returned home after my ride, so I didn't take an outdoor photo of the flapjack, but I can attest that it held together perfectly and it definitely filled that hunger gap when I got home.
Do you have any clever recipes that you use to help prevent food waste? Regular readers will already know that for Lent this year I've teamed up with Love Food Hate Waste to help promote their #GiveUpBinningFood campaign.
This comes to an end soon, but the last few days are all about using up leftovers and food which might otherwise have ended up in the bin, like my slightly stale and neglected bircher muesli.
1st March (week 1) Meal planning: Tip for Weekly Meal Planning
8th March (week 2) Storage: Food Storage Tips
15th March (week 3) Fridge focus: How to Make the Most Out of My Fridge
22nd March (week 4) Portioning – 6 Tips for Perfect Portioning
29th March (week 5) Food labels – Understanding Food Labels
5th – 13th April (week 6) Leftovers – what can I do with my ingredients?
The Love Food Hate Waste six-week-long food waste prevention campaign running is broken down into weekly themes to help make reducing food waste at home a more attainable goal.
Check out my blog posts above for tips and tricks for each of these themes, and do comment and let me know your thoughts! 🙂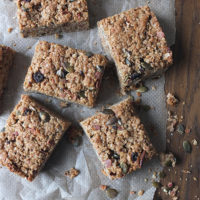 Homemade Muesli Flapjacks
The perfect oat-based bar to fuel your outdoor adventures. Not too sweet, not too buttery, holds together perfectly - just right!
Print
Rate
Affiliate Links
This recipe card may contain affiliate ingredient and equipment links. As an Amazon Associate I earn from qualifying purchases.
Instructions
Preheat oven to 160 C fan/ 180 C and lightly grease an 8-inch square baking tin. I use silicone, but line your tin with baking paper if it has a tendency to stick.

Combine butter, sugar and golden syrup in a saucepan and heat, gently, over a medium heat, stirring occasionally. Allow to simmer for two minutes and remove from the heat.

Stir in the muesli, pumpkin seeds and ground cinnamon, if using.

Spoon into the prepared tin and press down until the top is smooth. I find the empty butter wrapper or a piece of buttered greaseproof paper helps.

Bake for 15-20 minutes, until lightly golden and set.

Leave to cool for ten minutes before lightly scoring the bars about 1/2 inch deep into 12 flapjacks. This will make it easier to cut once they're completely cool.

When the flapjacks are completely cool, remove them from the pan and cut into 12 bars. Stores well in an airtight container or ziplock bag for up to 10 days, if they last that long!
Environmental Information
OTHER FLAPJACK RECIPES YOU MIGHT LIKE
Cherry, Fig & Peanut Butter Flapjacks
Blackcurrant Oaty Flapjacks
Carrot Cake Flapjacks
Marmalade Flapjacks
The Best Flapjack in the Whole Wide World – Ever!
Chocolate Cherry Flapjacks
Copycat Rakusen's Fruit Flapjacks
Quick & Easy Vegan Flapjacks
Carrot Cake Flapjacks
Raspberry & White Chocolate Flapjacks
If you've got a glut of blackcurrants you could also try these blackcurrant flapjacks from Foodie Quine.
SHARING WITH SOME BLOG LINKIES
This is a sponsored recipe post in collaboration with Love Food Hate Waste. All thoughts and opinions expressed are our own. Thank you for supporting the brands who make it possible for me to do what I love: mess up my kitchen and share recipe stories.