An epic bikepacking adventure through Scotland to the summit of Ben Nevis: Part 2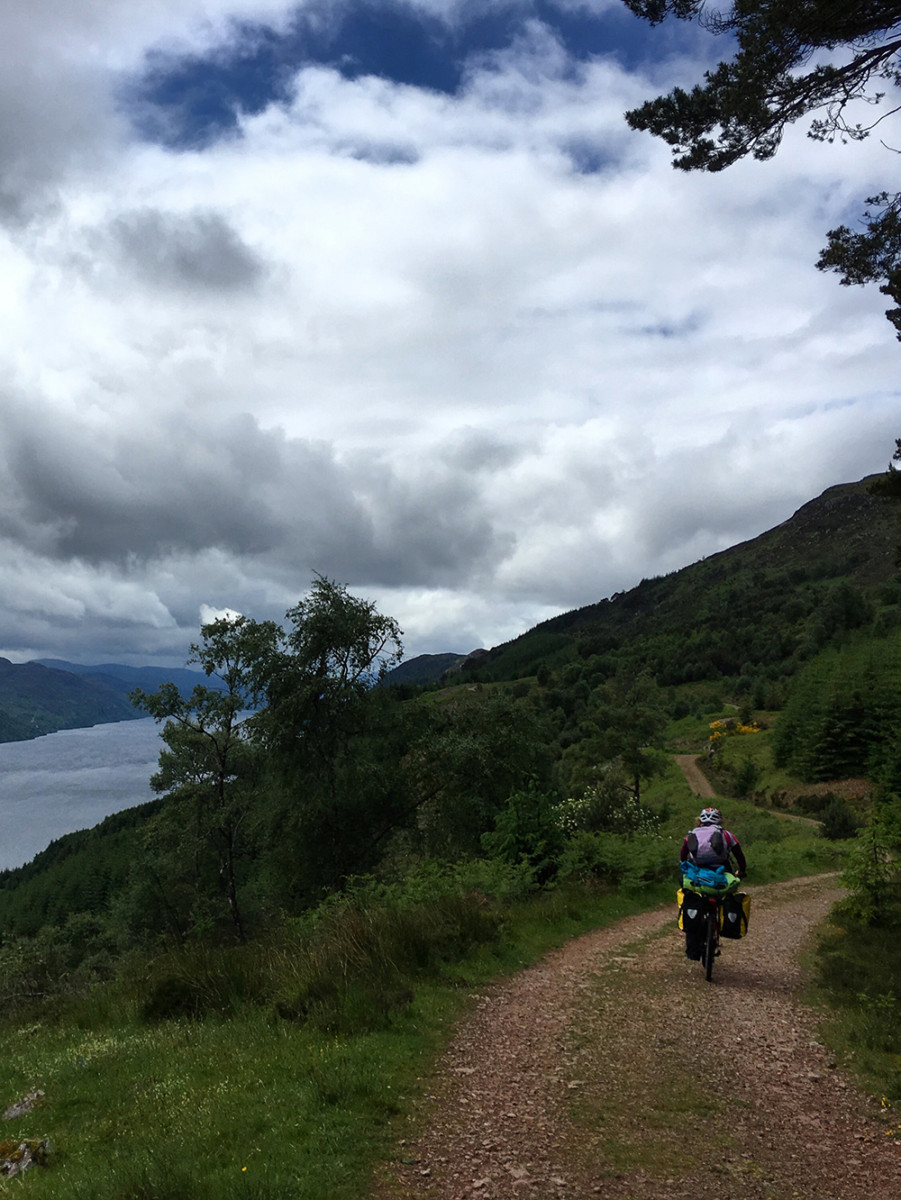 In June of 2016 I set off, with a friend, on an epic bikepacking fundraising cycle from Britain's most northerly RNLI lifeboat station in Aith, on the west side of Shetland. Our destination: the summit of Ben Nevis.
You can read about Part 1 of our adventure here: Bikepacking Through the Highlands of Scotland.
It took us six days to get from Shetland to Inverness on the B roads (and a four mile stint on an A road, oops!), and from here our adventure was to take us coast to coast, off road down The Great Glen Way.
The Great Glen Way, or Slighe a' Ghlinne Mhòir in Gaelic, is one of Scotland's Great Trails. It follows the Caledonian Canal and a natural geological fault line through the Highlands of Scotland from Inverness to Fort William, covering up to 79 miles (124 km). It's well signposted the entire way, with blue painted fence posts topped with a black Scottish thistle. Many people walk the trail from Fort William to Inverness, but we cycled it in the opposite direction, and I'm glad we did, as you will soon find out.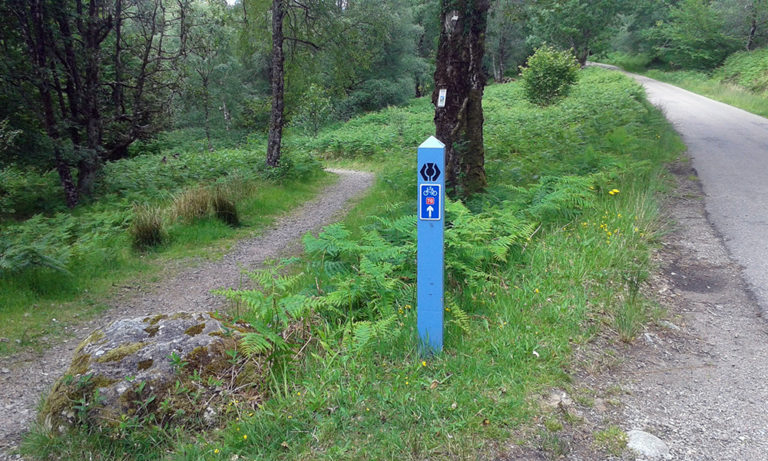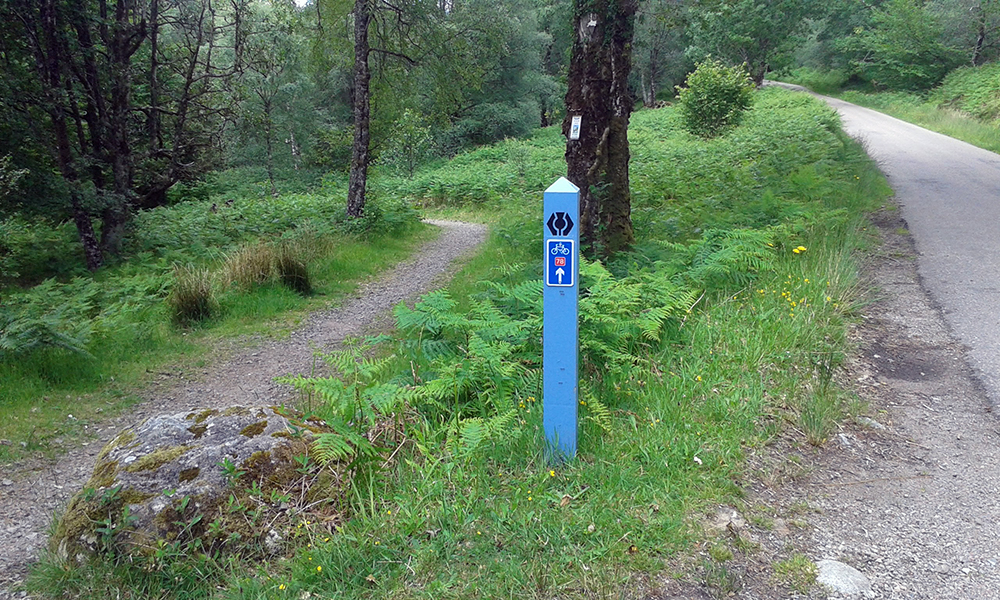 BEN NEVIS TRIP DAY 7
After enjoying the very kind hospitality of Inverness food blogger Susan of Mess in the Ness, a much needed hot shower, a night in the cosiest bed ever and a wonderful night's sleep I woke refreshed and ready to start section 2 of our epic cycle.  After a hearty Scottish breakfast my cycling companion and I said our goodbyes as Susan and her husband headed off to church on the Sunday morning, and I plonked myself down in their driveway to change my bicycle tyres.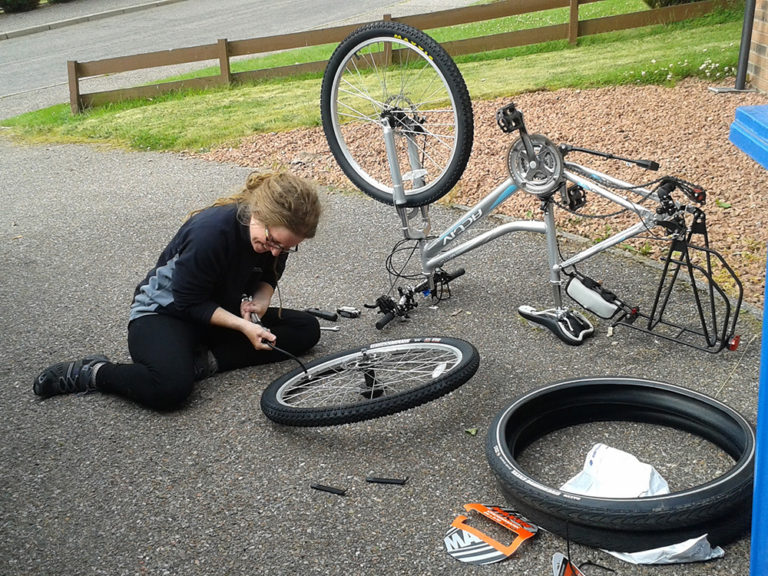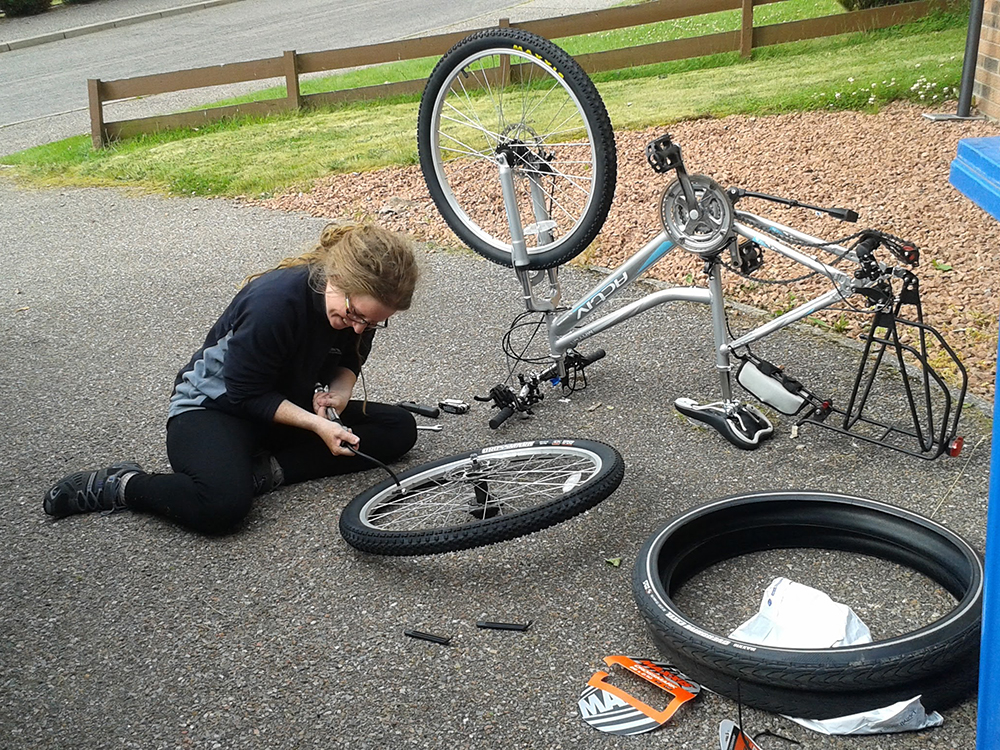 The kind folk at Maxxis Tyres UK had supplied me two sets of tyres for our adventure – their Overdrive Excel, a smooth road trekking tyre set and their Crossmark M309RU a knobbly wider tyre for off road use; perfect for this next leg of our journey. Leading up to our adventures I'd read about cycling horror stories of tyre punctures, but the trekking tyres, with their Silkshield for puncture protection, meant so far so good on our trip. The only thing to go wrong (so far) was a pannier rack screw that wiggled loose and disappeared somewhere between Melvich and Bettyhill on the north coast of Scotland. Plus, cycling with these tyres on the tarmac, compared to the original tyres that came with my bike, was as smooth as a hot knife cutting through butter. I felt like I was flying!
A huge thank you to the Shetland Community Bike Project for taking the time to teach me how to change my own bicycle tyres. As a novice cyclist this was never something I'd done before, so I am hugely grateful to them for their skill and expertise.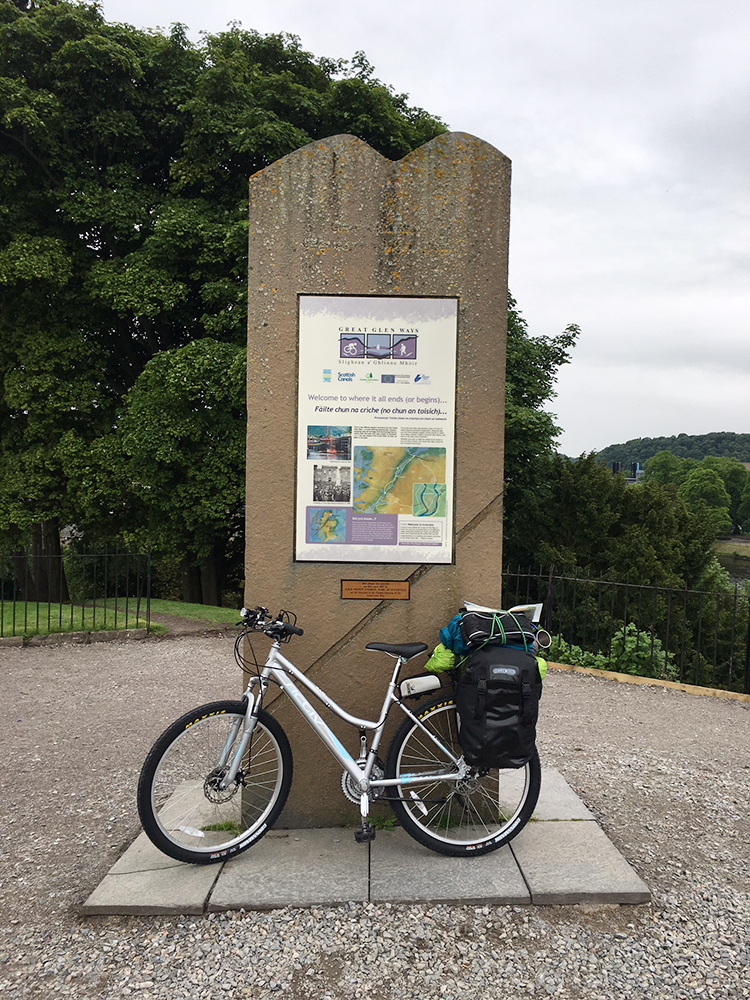 Slighe a' Ghlinne Mhòir (The Great Glen Way)
The Great Glen Way officially begins (or ends, depending on where you started!) at the marker at Inverness Castle. Following the signposts we cycled along the picturesque River Ness, up along the Caledonian Canal and across to Dunain Hill where we got off our bikes and pushed them, with panniers loaded with camping gear up, up, UP!
The Craig Leach Forest Pathway is a beautiful stretch of forest, and for us coming down from treeless Shetland this was something special. Once at the top of the hill the trail is fairly level through forestry tracks, rocky lumber roads and some clay/sand/muddy areas (I was glad for my knobbly tyres!). We felt like we were the only people in the whole world, up high in the middle of the woods on these trails. Occasionally we'd meet a group of walkers, and a few cyclists, all coming from the other direction, but for the most part, we almost 40-something's felt like children again.
Abriachan
And, then, randomly, as we cycled along – a hand painted sign appeared nailed to the trees!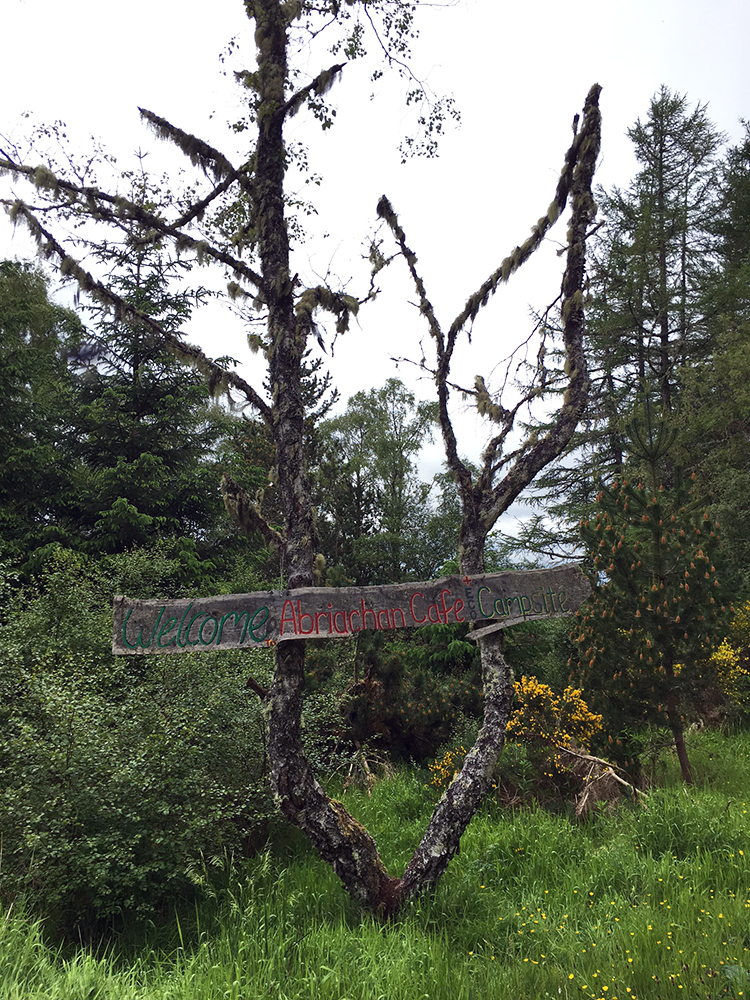 I'm not going to lie, it had a 'The Hills Have Eyes' sort of vibe, but we were most definitely intrigued. Another sign said 'Coffee!' and then a few metres down the road, 'Real Filter Coffee!'. That was it, we were tempted in and stopped for a look see.
Best. Cafe. EVER!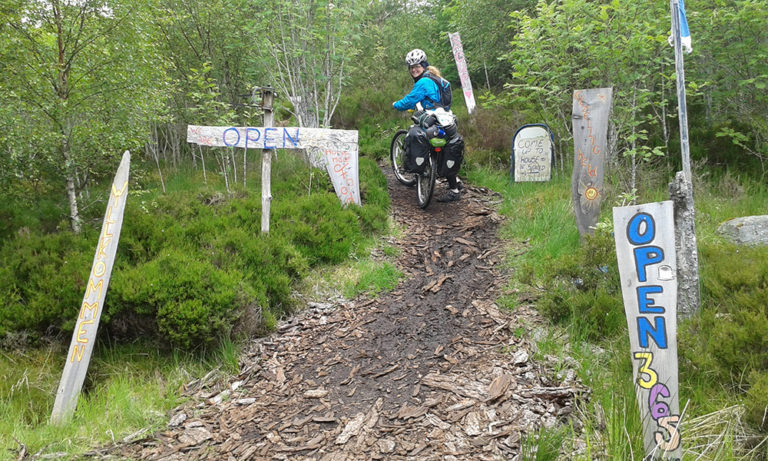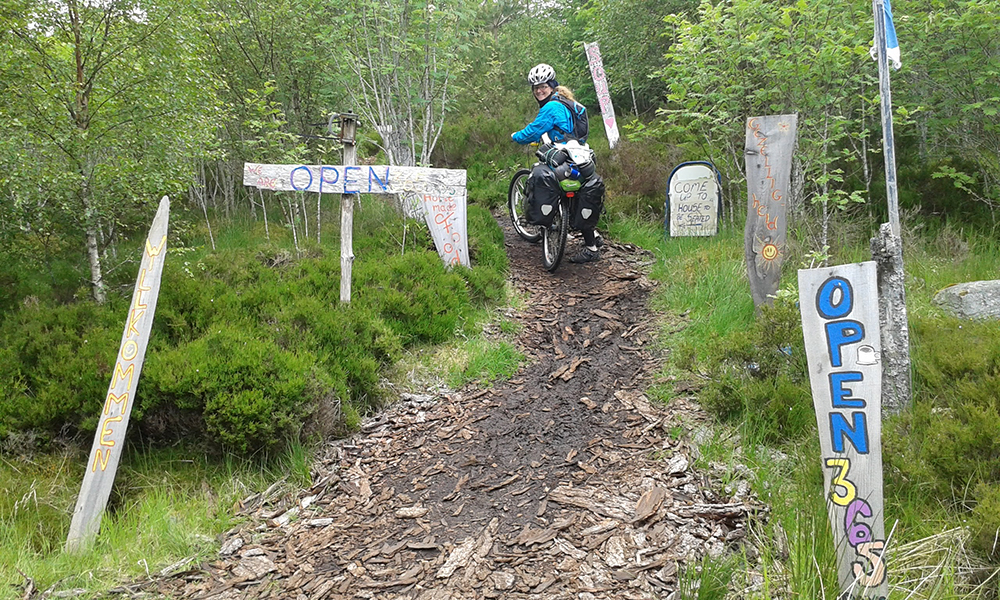 Situated in the middle of the woods on The Great Glen Way, the Abriachan Eco Cafe & Campsite is completely off the grid. It is run by a husband and wife team who volunteer for their local Loch Ness RNLI. For only £2.75 per person we were given a cafetiere of Colombian filter coffee and a plate of biscuits, ginger cake and a few squares of organic white chocolate.
The perfect refreshment after all those hilly miles we'd just covered.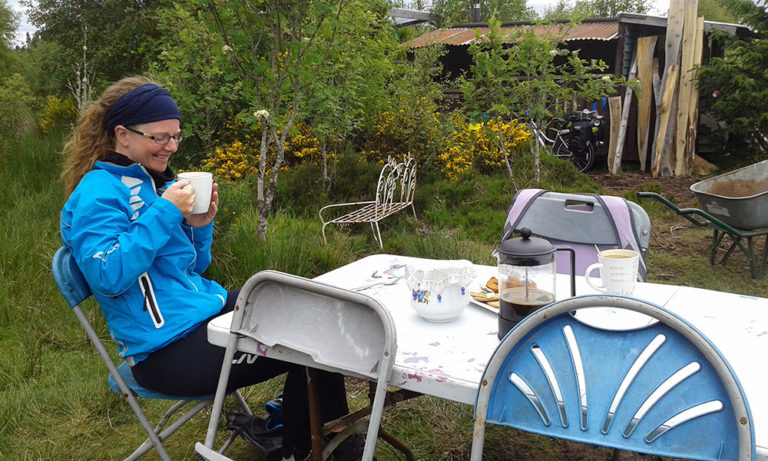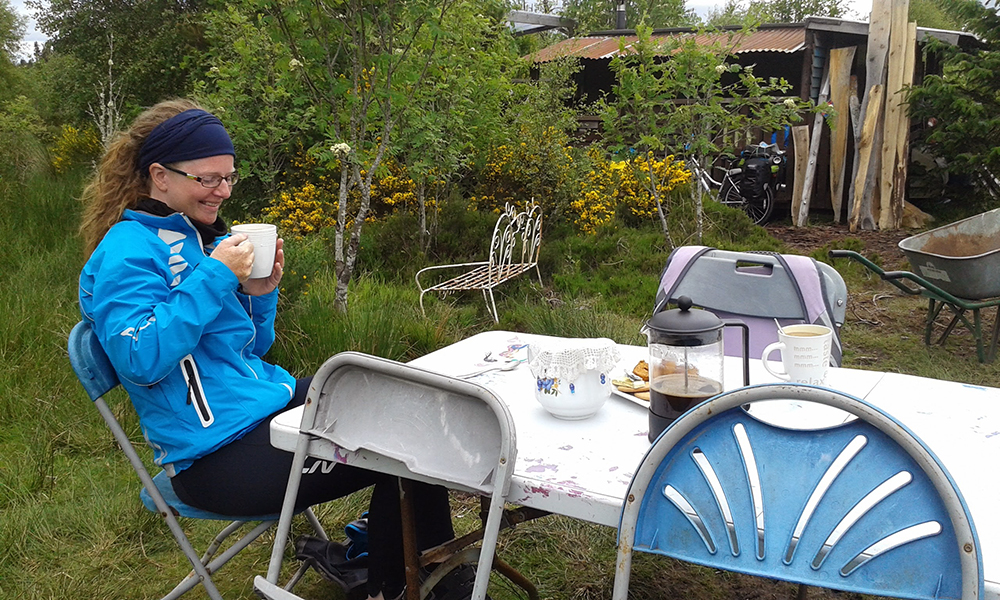 There are free roaming hens and roosters about begging to be fed crumbs (Sandra, their owner, requests at the outset you don't), and there's also a pig. There used to be two – Bubble and Squeak, but one of them went 'missing', presumed eaten by one of the neighbours who didn't much like them roaming free. They (Sandra, not the pigs) also take your photo and add it to their Facebook album of visitors. Here's ours!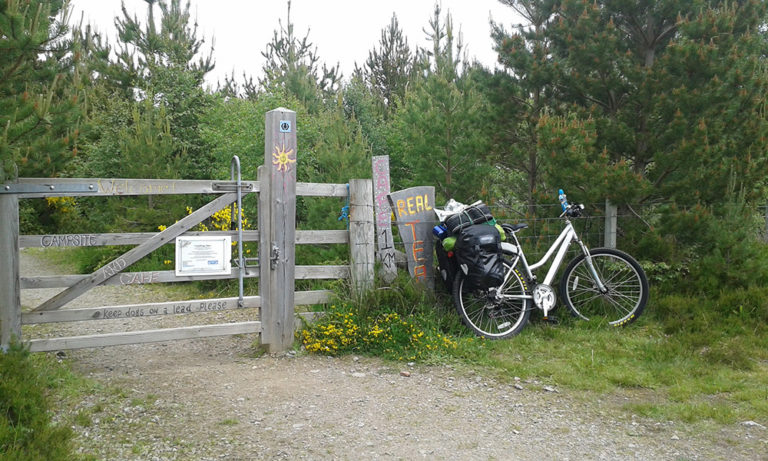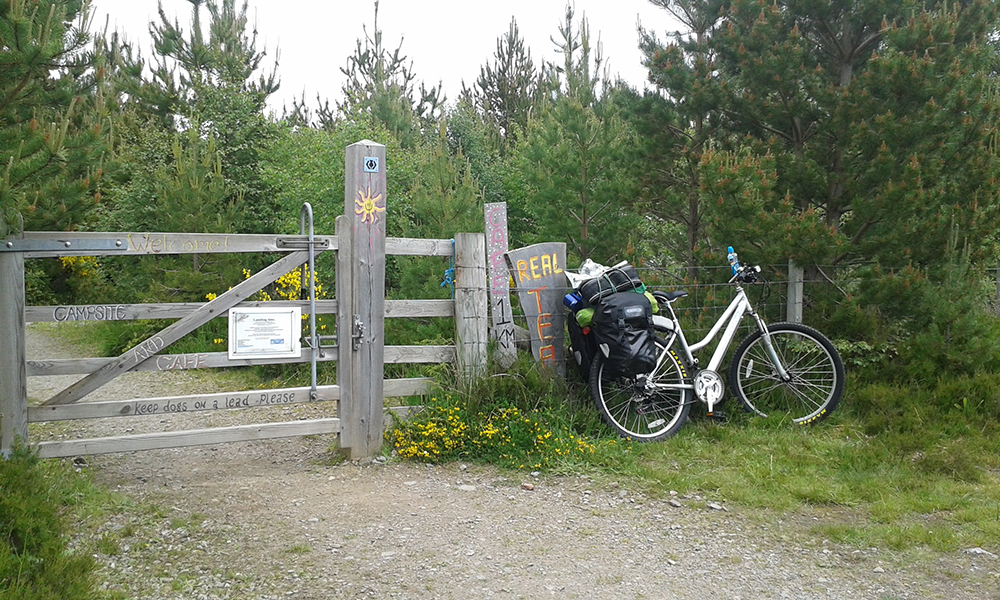 As we'd left Inverness early on a Sunday morning we had very little with us in the way of water and energy drinks as we'd not thought to stock up the day before. We were nearly out of water by the time we got to the eco cafe, but Sandra told us that there was a water fountain just after the gate pictured above, which we were very grateful for! For those of you reading this who are planning on walking the route, it's good to know that this water source is there – it's protected beneath a green plastic lid just on the other side of this gate.
After refilling we were back on the trail – this time the Abriachan Forestry Paths en route to Drumnadroicht.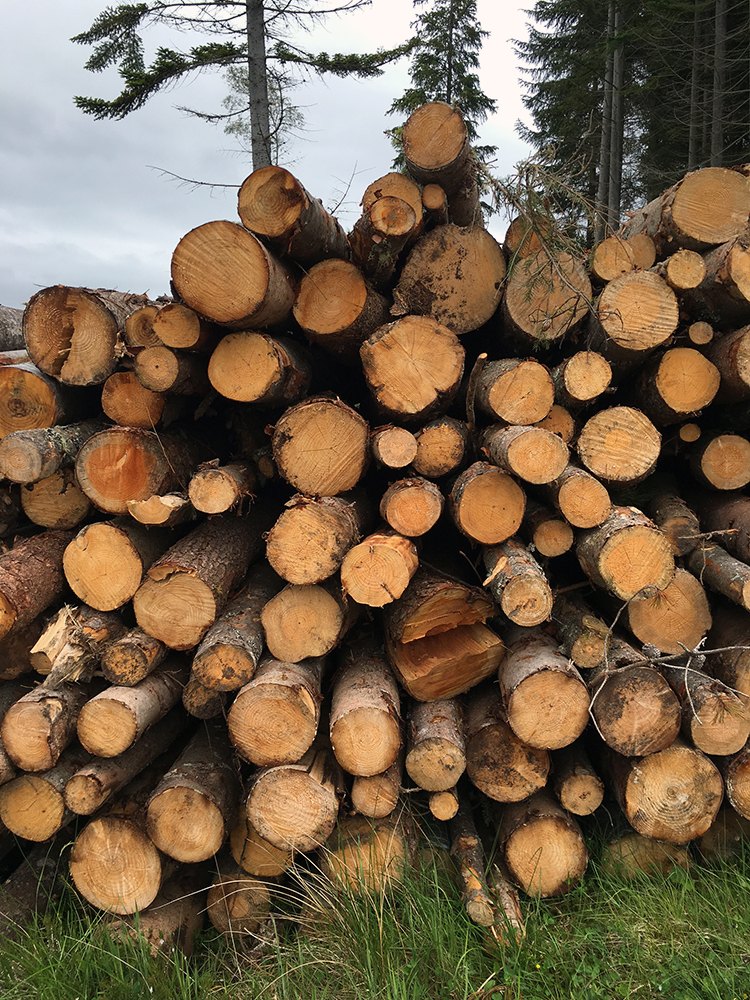 CAMPA FIODHA CAINEIDIANACH (CANADIAN LUMBER CAMP)
In among the trees in this area you can find the remains of a Canadian lumber camp as well as lengths of heavy cable and rail which might have been part of a narrow gauge railway. Many of these Canadians were from Newfoundland, brought over during the Second World War to help supply timber for the war effort.
Trees in this area were used for mine props, obstruction poles to prevent enemy craft landing on beaches and fields, telegraph poles, for making crates and building soldiers' living quarters, mess rooms and training equipment.
Many of the Canadians married local Loch Ness lasses and became part of the local community.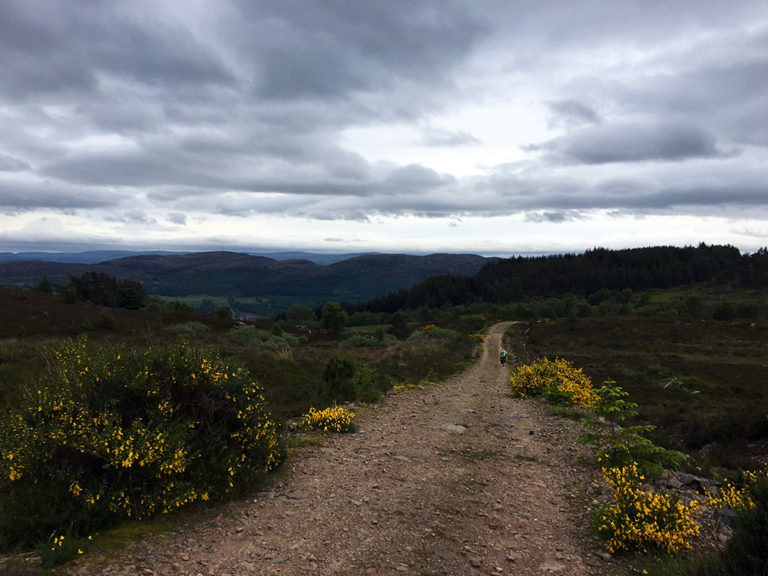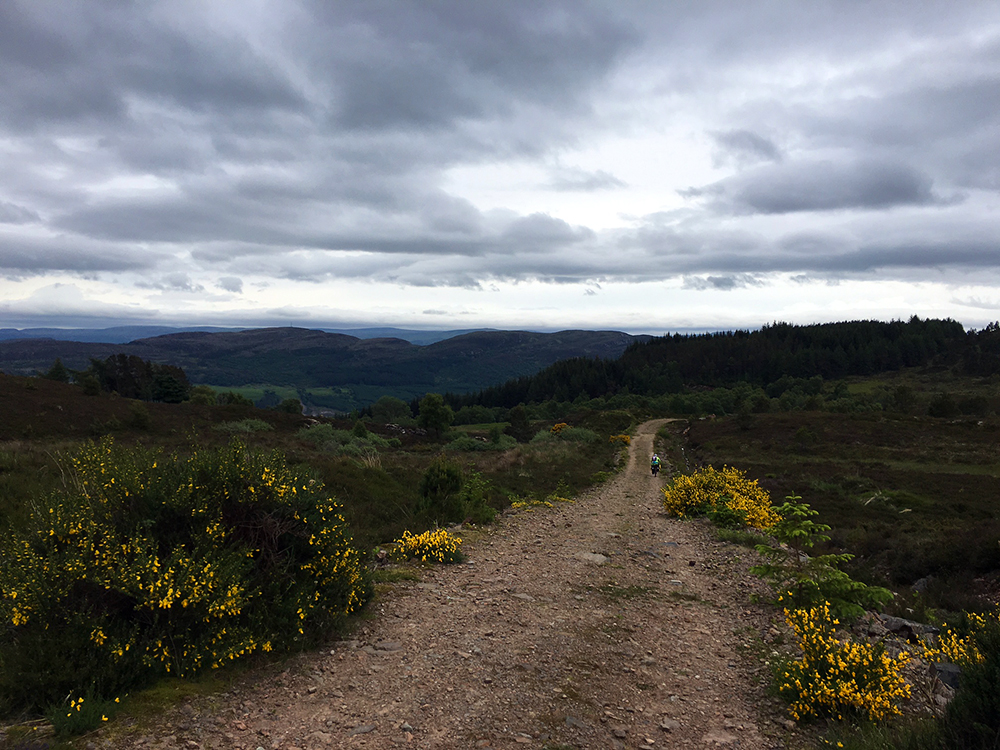 The best bit, for me, was the narrow descending forested track approaching Drumnadrochit. Epic. Just epic. I felt like I was 10 years old again taking that twisting turning path on my bike. In reality I probably just looked like an overly cautious nearly 40 year old trying to not let go of her youth, white knuckled gripping the brakes of life.
The views overlooking Loch Ness and Urquhart Castle were stunning (pictured below) even though it was grey and overcast, with the occasional rain shower.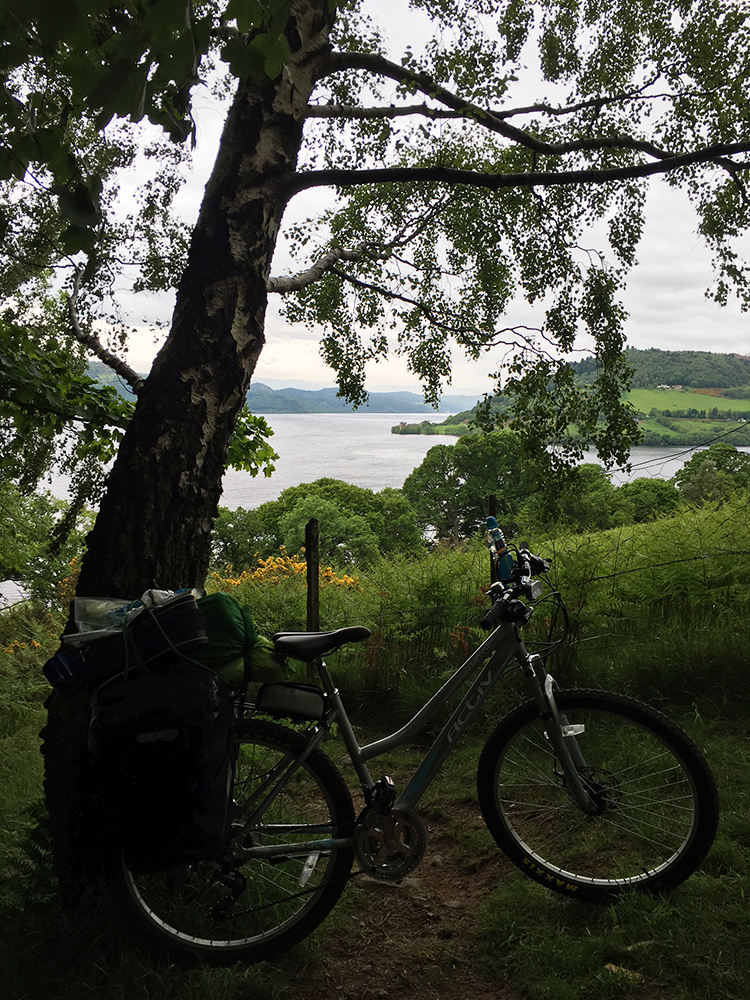 In Drumnadrochit we found accommodation at the Loch Ness Backpackers Hostel, providing comfortable, affordable bunk beds with decent wifi.
Miles cycled: 26.7 (305.2 in total)
Awesome cafes found in the middle of the forest: 1
BEN NEVIS TRIP DAY 8
Drumnadrochit to Grotaig
The following morning we set off early and covered a rather fantastic four miles of forestry track. Well, the downhill bits were awesome – there was a whole lot of pushing uphill through Clunebeg Wood for the first few miles. In my old age I much prefer the downhill stretches.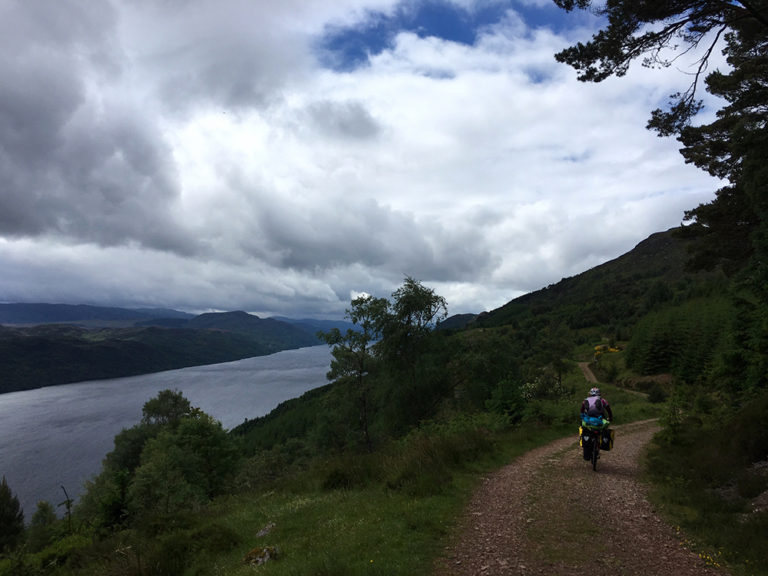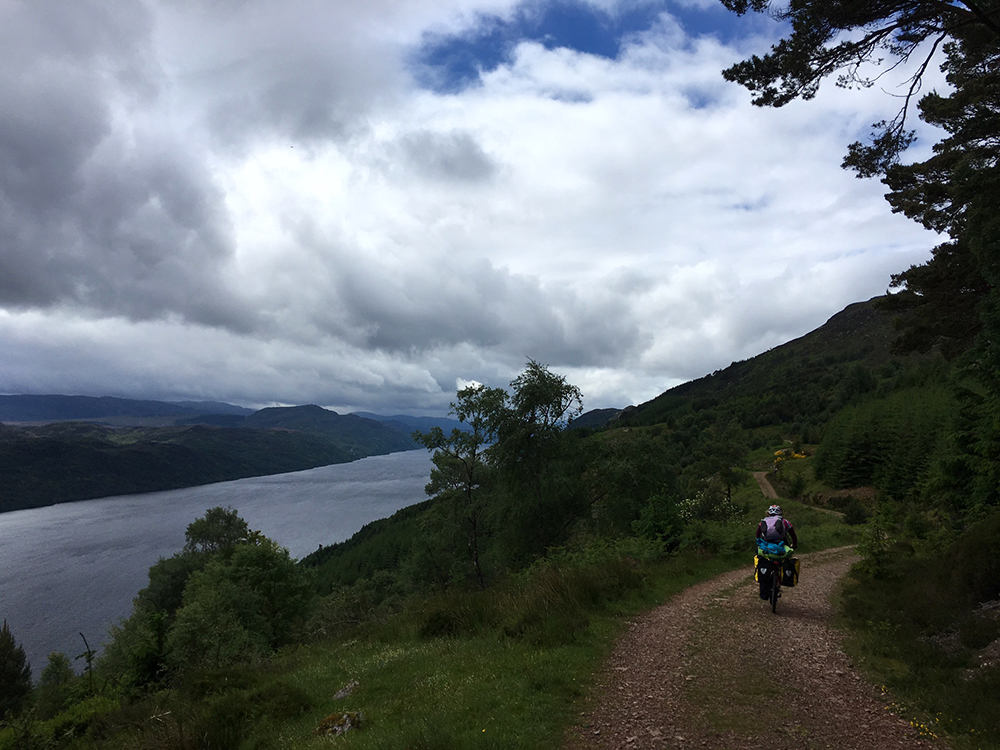 There was a rather epic downhill stretch leading into Grotaig where, by now, we'd grown a little bit more confident in our cycling abilities so we were more relaxed with the brakes.
There was a whole lot of silly grinning on both of our faces as we stopped at the end of the forestry trail at Grotaig. The Great Glen Way trail was to take a sharp left down into the deep dark wood again and we paused for a short break, laughing and grinning like silly school girls.
Spirits were high, and the weather was beginning to clear after a slightly drizzly start. Bonus!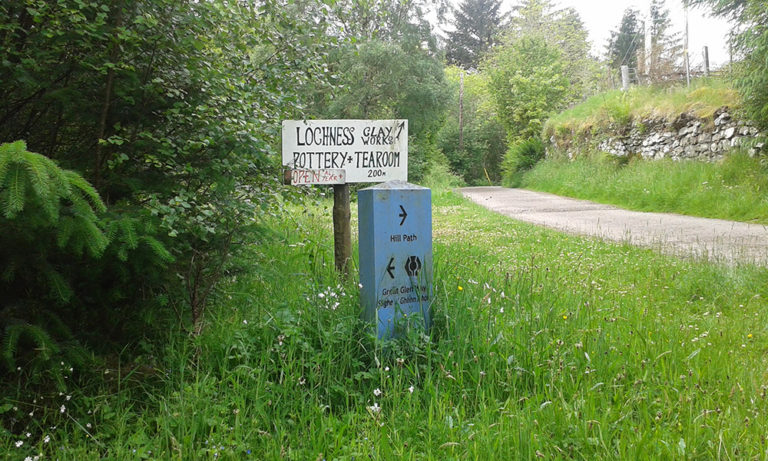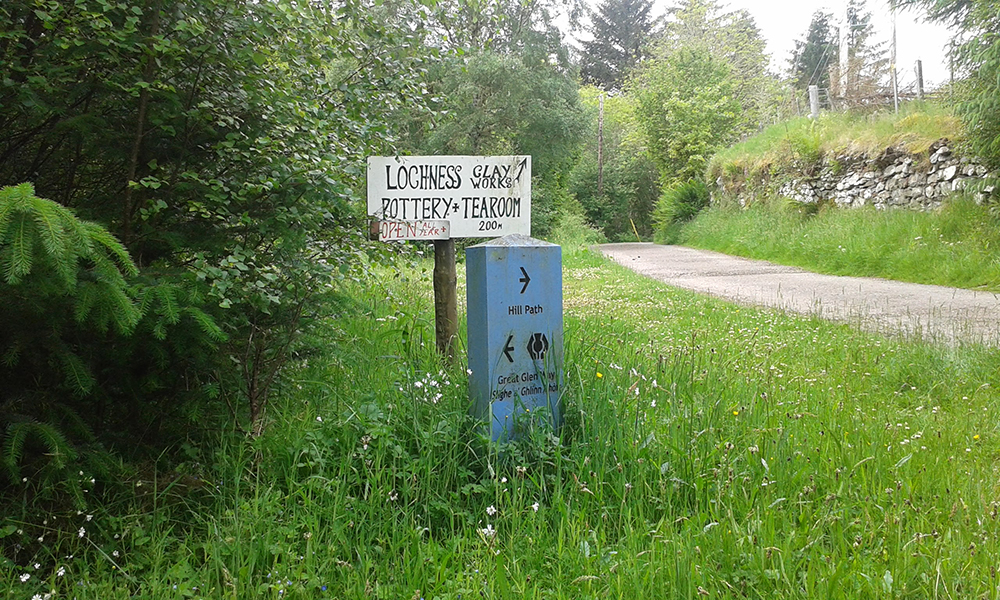 We were just about to set off into the dark forest when my cycling companion called out: "Wait! My wheels won't turn!".
True enough, for some completely unfathomable reason, the rear wheel on my friend's bike would not budge an inch. We poked and prodded at the wheel, scratching our heads as the midges appeared, the first time since Lairg.
And then the fighter jets flew over us.
We involuntarily ducked. They sounded like they were a matter of inches above us – one, then two, invisible but very loud. Neither of us had checked the news during the previous week's intermittent wifi access – were we at war? We had no idea!
It turns out that the RAF regularly go on exercise in the airspace over the loch.
A knight in disguise
I suggested that we carry the bike up to the nearby Loch Ness Clay Works Pottery & Cafe to see if, on the off chance, they happened to have a handy man who might know how to fix a bike.
As luck should have it, they did – a quiet and shy Slovakian fellow who has called Scotland home for the last decade or so. Our knight in disguise spent a good amount of time taking the wheel apart – it turns out the ball bearings had jammed which is why it wouldn't turn. He worked his magic and attempted to show us how to fix it ourselves if it happened again as he wasn't sure his repair job would last long enough to get to the nearest bike repair shop in Fort Augustus.
After thanking the gentleman profusely (he refused payment – we need to pay this act of kindness forward!) we continued on our way.
Grotaig to Invermoriston
The next leg of The Great Glen Way, from Grotaig to Invermoriston, was an incredibly pleasant downhill journey. We met many walkers on their way up these steep slopes and it was here we were very grateful that our journey was north to south, and not the other way.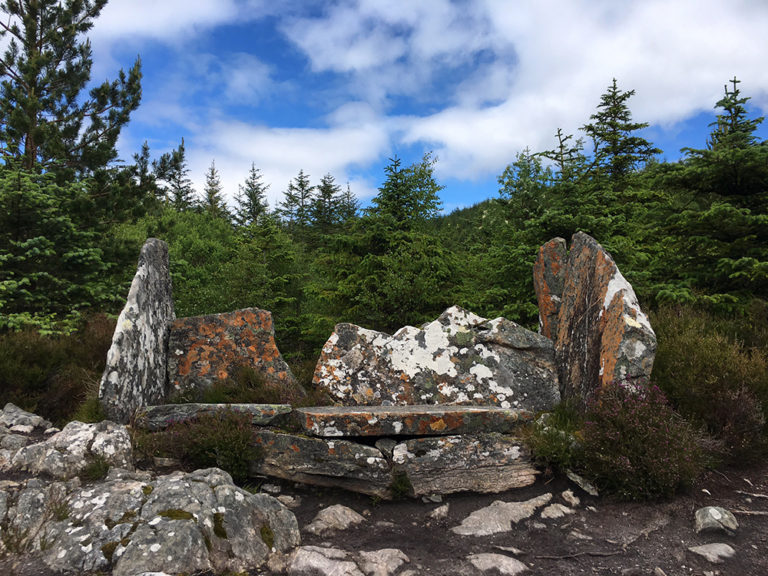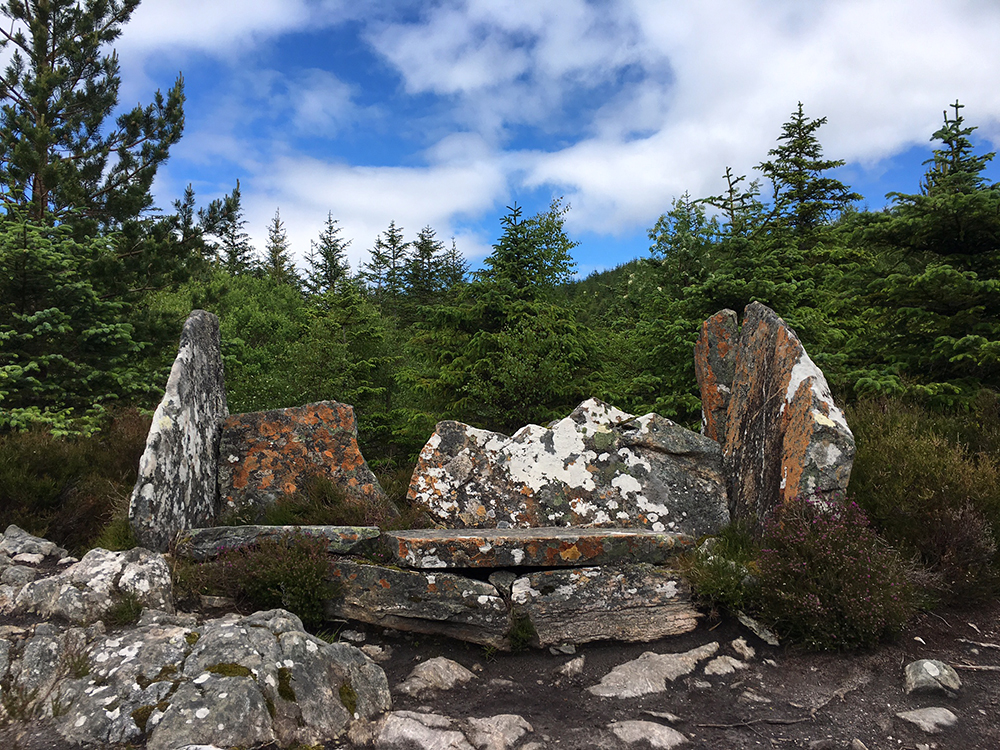 We passed the Stone Seat – a resting place built in Victorian times for 'ladies of the day' to sit and enjoy afternoon tea and scones while looking over the picturesque views of Loch Ness below, and the Rock Cave Shelter, pictured above.
We cycled down the steep path leading into the village of Invermoriston and just like before, as soon as we were on flat ground again my friend's wheel ball bearings seized up again.
Looking for a spanner, please!
We carried her bike to the nearby car park at the Glenmoriston Arms Hotel, where a lone gentleman was sitting in the garden drinking coffee and reading a paper. He glanced over at us as we unloaded my friend's bike and began the process of trying to fix the ball bearings again ourselves.
It turned out that we didn't have the right size spanner for this job, so my first stop was the village shop where I encountered a rather rude and disinterested teenage staff member who could not help. I then went to the nearby rather fantastic Clog & Craft Shop to see if they could help. They lent me a few different sized spanners to try out, but unfortunately they didn't fit.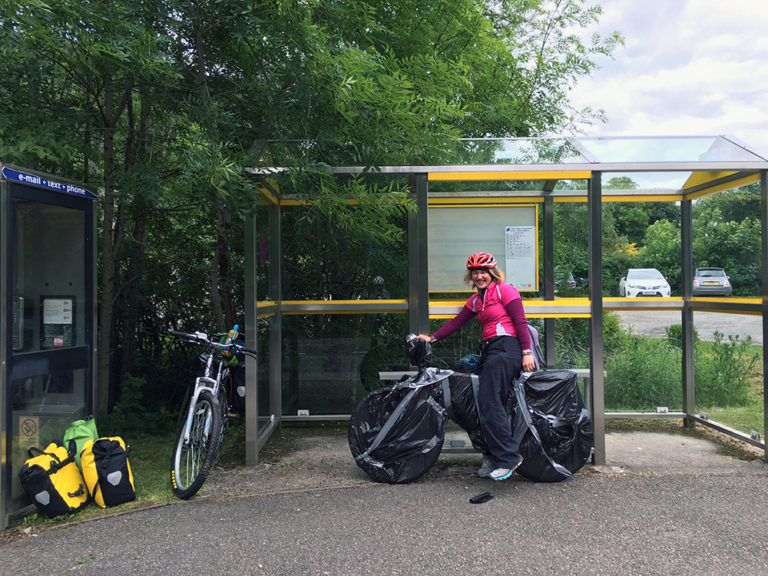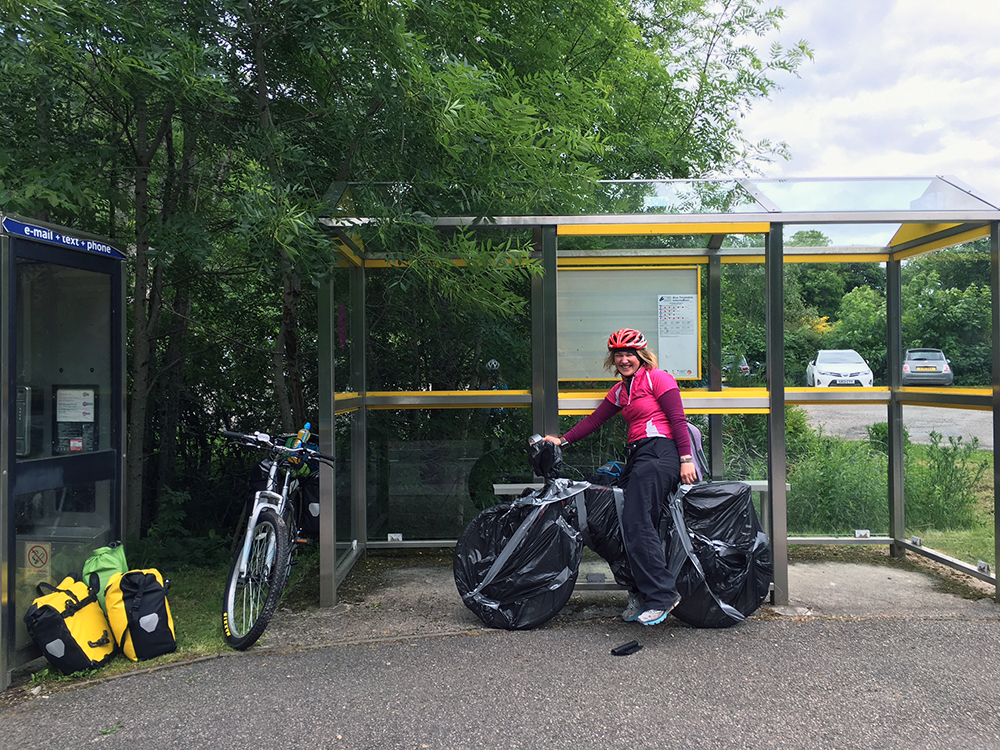 A rather unkind bus driver
By the time I got back to my friend, the gentleman who had been reading the paper had come to offer his assistance. Raymond, his name was, on holiday from Switzerland, was to keep us entertained for the next two and a half hours. The hotel didn't have the right sized spanner either, so our options were to a) carry my friend's bike the 7 miles of busy road with no verges to Fort Augustus where the nearest bike repair shop was, or b) see if we could catch the next bus. Surely they would hear our plight and help us?
We waited half an hour for the next bus, only to be told by the jobsworth Citylink employee that they had a strict no bikes policy unless the bike was wrapped up. Note that the bus was nearly empty, we were only going 7 miles and there was plenty of room underneath in the bus storage space.
My friend asked when the next bus would be. The bus driver silently handed her a paper bus schedule. "Two hours," I told her (I'd checked the schedule in the bus shelter earlier).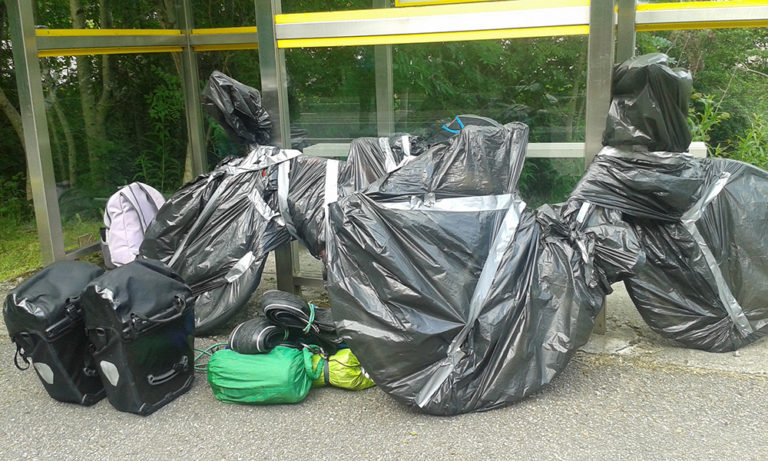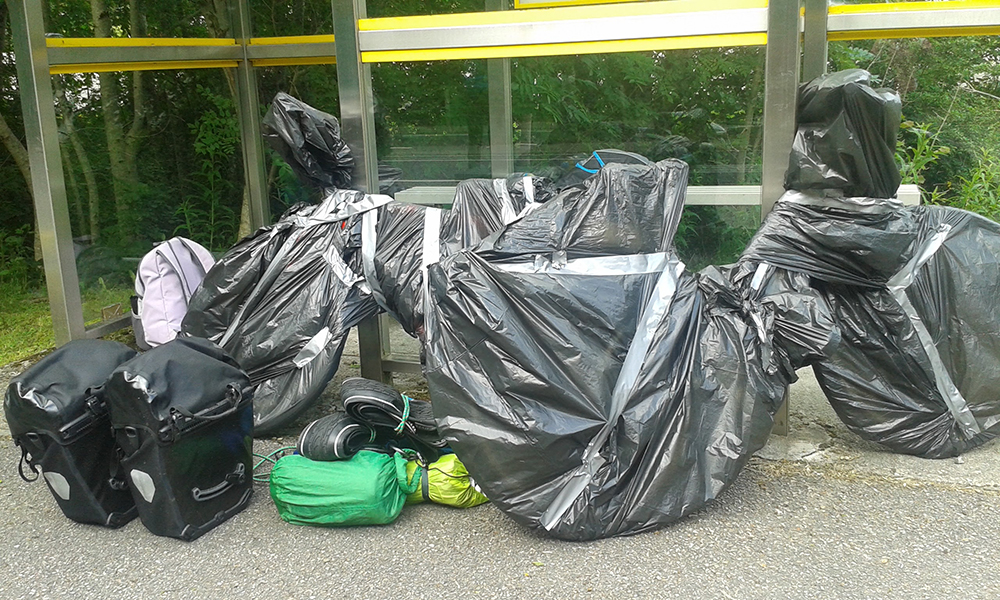 "Could we wrap the bike in bin bags and duct tape?" my friend asked.
"Yes." the driver replied, visibly eager to be off on his route.
"When's the next bus again?" my friend asked, feeling rather flustered at the whole situation.
He passed her another paper bus schedule and drove off. True story. The bus driver left us there, stranded. We popped back to Unhelpful Teenage Staff Member village shop for some bin bags, wrapped our bikes up and waited another two hours for the next bus, as there was nothing else we could do but laugh at the ridiculousness of the entire situation.
Invermoriston to Fort Augustus
The next driver was a lovely young lad and was so accommodating that he even stopped the bus in a non bus stop location just outside the bike repair shop in Fort Augustus. We unceremoniously dumped all our kit onto someone's garden while a lad in a beat up car smoked a cigarette and watched us with idle curiosity. The second bus driver said that he'd have let us on the bus earlier if he'd been driving, but that first bus driver was known to be… difficult.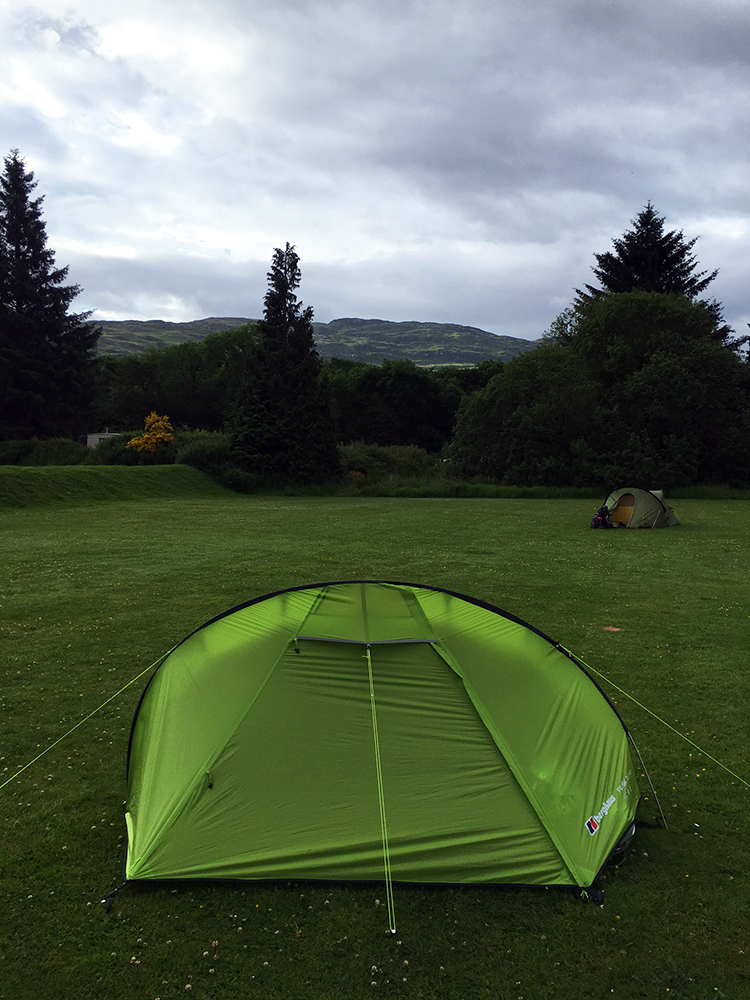 Unfortunately, the bike repair shop had closed 15 minutes earlier, so there we were stuck with loaded panniers and only one working bike.
My friend, being the friendly person that she is, approached cigarette smoking man and asked him where the nearest campsite was.
He was a lovely young man and, as a mountain biker himself, offered to try and help fix her bike. Steve met up with us at Cumberland's Campsite and spent nearly two hours trying to fix her bike. He did a pretty good job considering the bad shape it was in, and we were able to at least cycle it to the bike repair shop first thing the next morning.
Miles cycled: 15.4 (320.6 in total)
Miles by bus: 7
Lovely and kind-hearted helpful people met: 6
BEN NEVIS TRIP DAY 9
Bicycle Repairs
Now I have to say here that Ross at Girvan's Hardware in Fort Augustus has to be the happiest man I have ever, ever met in my life. He smiles, and he listens to you and responds as if what you've just said is the most exciting thing in the entire world. You can't help but grin widely yourself while he speaks. Keep on being awesome, Ross! He also knows a thing or two about bikes, and he had my friend's bike fixed and back on the road in no time. It was likely the ball bearings, he said, but the whole wheel was warped after our trip down those rocky forest paths so he replaced it.
Ross even had a quick look at my own bike. To cut a long story short, I'd been sold a defective bike with a factory fault when I first started training for this epic cycle. It took two tries, and me taking my bike to another bike shop for a proper diagnosis, to get something done about it back at the shop I bought it from. The bike brand ended up replacing the defective bike free of charge, but the seller hadn't set the replacement up properly before giving it to me. I'd done my entire bikepacking trek so far unable to shift into first gear unless I was on a downward slope. Ross sorted that out for me. Yay!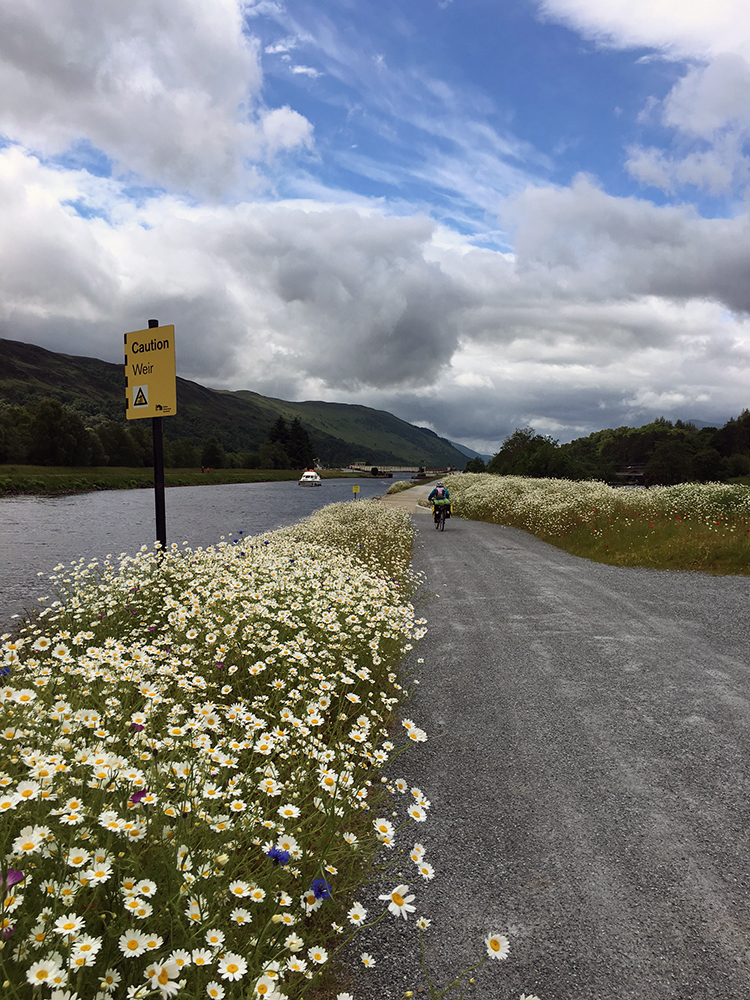 Fort Augustus to the Bridge of Oich
We were soon on our way down the canal path out of Fort Augustus into a brisk wind. The trail from here on to Fort William was relatively flat and easy to cycle. There were a few more forestry trails which were a pleasure to cycle, even uphill.
By now we were feeling rather strong, and we were quite proud of ourselves for making it up some of the steeper climbs. There was one young man who clapped for us in encouragement after we succeeded in cycling up a steep bit without having to get off and push (like some people we passed!).
It's the little things, isn't it.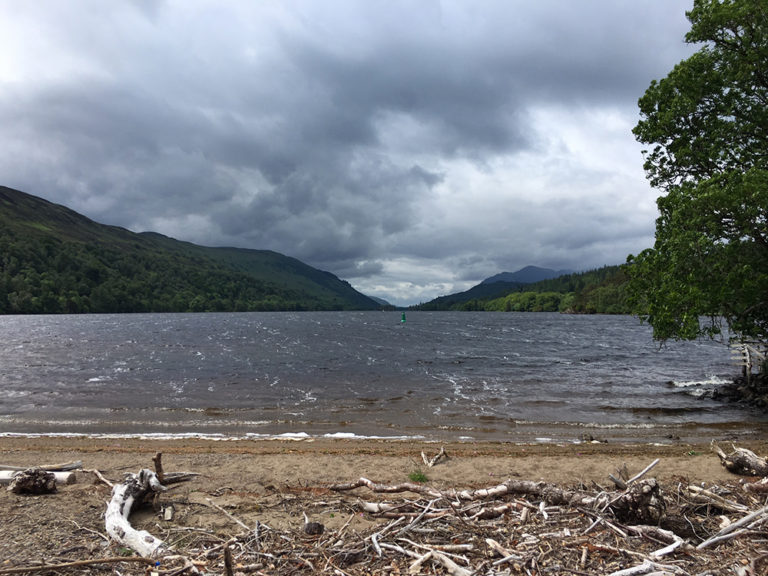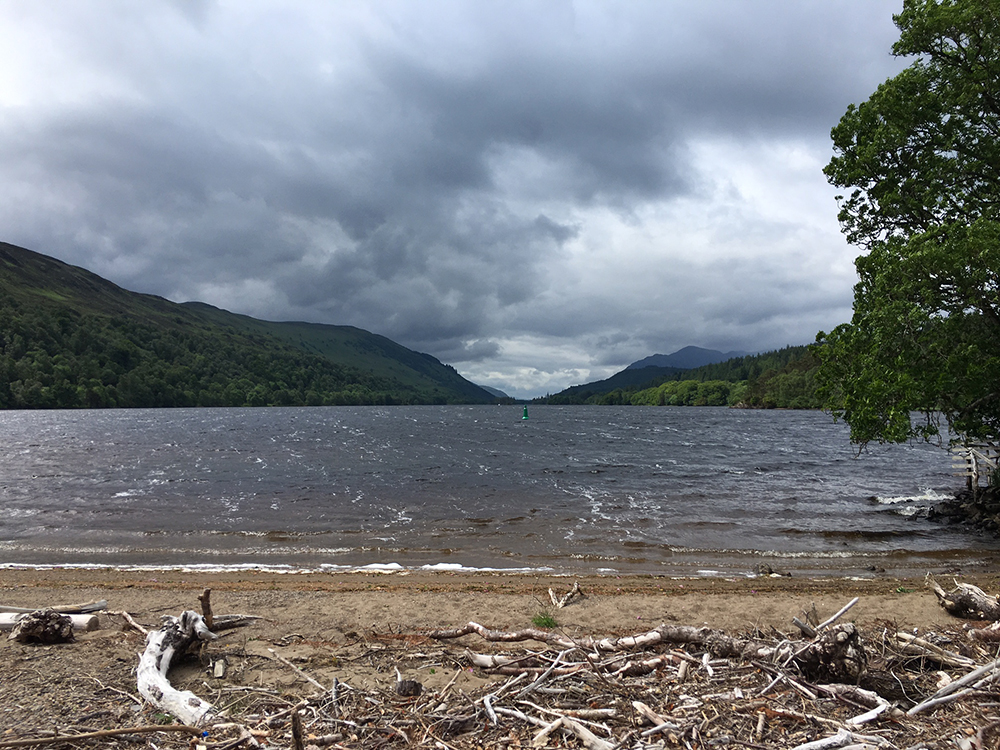 Pictured above is Loch Oich, the Bridge of Oich and a disused railroad tunnel from the Invergarry to Fort Augustus Railway which closed completely in 1946. The Great Glen Way follows along this disused line and there is evidence of railway structures at a few locations along it.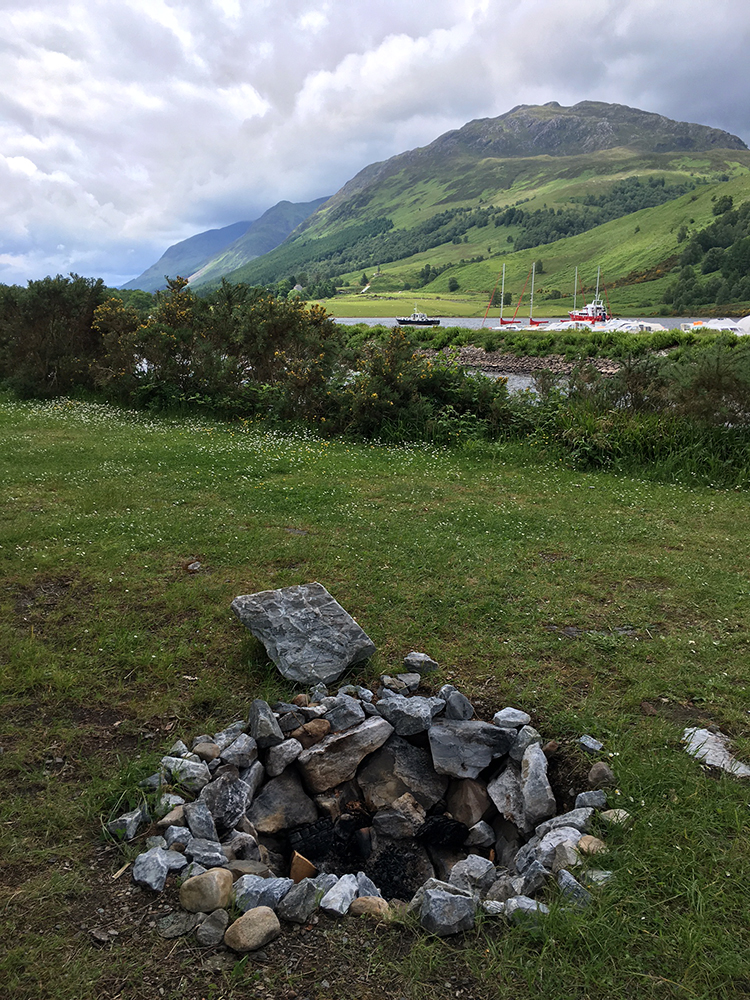 An explosion at Laggan Locks
We stopped at a newly opened grab and go cafe for lunch in Laggan Locks. This cafe had only been open for two weeks, and they make some mighty fine coffee. Although there's no indoor seating at the cafe, there's picnic tables overlooking the picturesque Loch Lochy you can rest at. They have bothies for rent too, with access to the fire pit pictured above.
It was here, as we sipped our coffee and ate our haggis crisps (when in Scotland, eh?!) we heard the explosion. A construction worker had been injured across the lock and we saw him being escorted away, blood pouring out of his ears. I hope he was ok! He was walking at least, but I do believe the explosion ruptured his ear drums.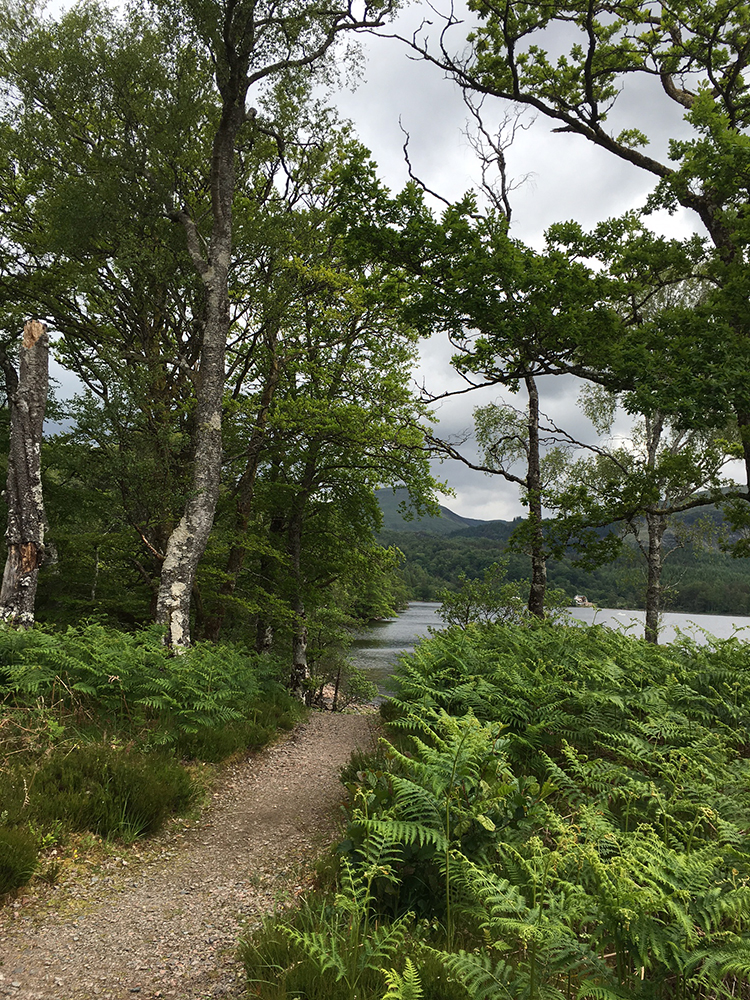 Laggan Locks to Fort William
The rest of the journey was rather uneventful. It was pretty easy going, considering how hilly the first leg of the Great Glen Way was. In fact, from Gairlochy to Fort William the trail ran along the canal path, and with the high trees on either side there were no views whatsoever.  I felt sorry for the walkers we encountered, solo, in couples and in groups, on the way. None of them were smiling – several miles of flat canal path at the start of their trip must be so disheartening. The only thing that broke up the monotony of cycling that flat canal path was waving to the groups of school children out on summer canoe trips. They were good fun.
The Great Glen Trail ends at Fort William, taking you through council estates in disrepair and dilapidated industrial areas. The only time we felt unsafe throughout the whole trip was in the wooded area down by the waterfront in Fort William where a group of clearly inebriated young men leered and called out asking us to stop. We just kept cycling; our destination the final Great Glen Way marker at the old Fort in the city centre.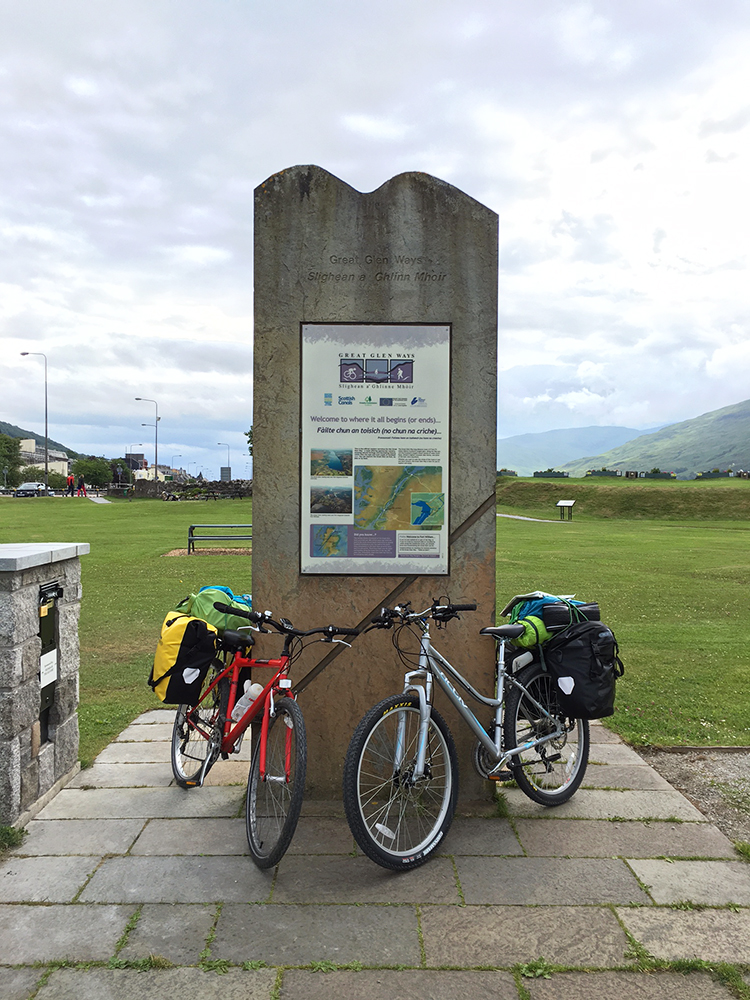 So that was that – we'd made it safe and sound – cycling 360 miles from our remote North Sea island home through Orkney and the highlands of Scotland, and down (most of) the Great Glen Way. After the obligatory photos at the marker we made our way to the Glen Nevis Campsite at the base of Ben Nevis for a good night's rest for tomorrow, we climb that mountain!
Miles cycled: 38.9 (359.5 in total)
Epic adventures had: 1
WITH THANKS TO
Millets for the lightweight Berghaus Peak 3.1 Pro one woman tent, the Vango Aero 3 cm compact sleeping mat, and for sending me a Vango Latitude 300 sleeping bag for my adventures.
Lake Leisure Bikes for the wonderfully spacious and waterproof Ortlieb Panniers
Maxxis Tyres UK for the bicycle tyres
Vango for the Venom 400 sleeping bag – this lightweight feather down and packs away quickly. Perfect for bikepacking.
Udderly Smooth for the chamois cream. I ended up not needing it after all, but thank you anyway, it's better to be prepared!
In the Nood for the energy ball mixes! Not so good for portable cycling fuel, but tasty nonetheless!
Real Handful for the fruit and nut snacks that helped keep us going!
YOU MIGHT ALSO LIKE
Bikepacking Through the Highlands of Scotland
Five Things to See & Do in Orkney in a Day
An Epic Adventure to the Summit of Ben Nevis – The Plans
With thanks to all the brands who sent me equipment for this adventure. This is not a paid post and all thoughts and opinions expressed are our own.