In collaboration with The White Company.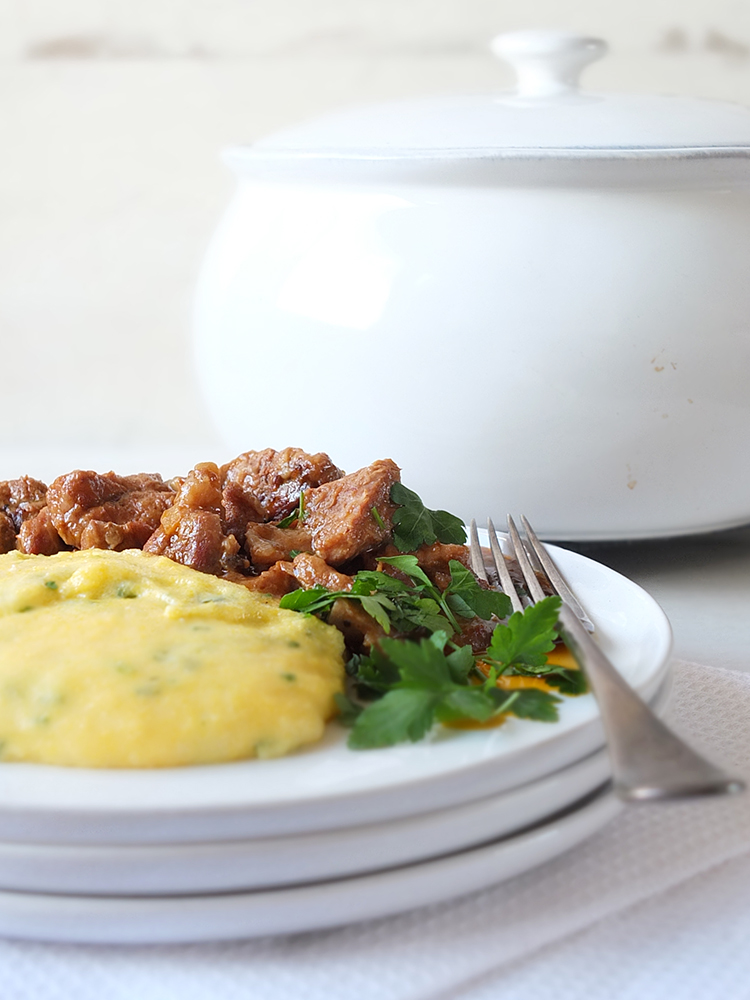 It's this time of year when I start clearing out the contents of my freezer. The worst of the gales is over (although there will be a few more to come!) and so the worst of the winter ferry transport disruptions to my remote North Sea island home are over. Mostly.
Every Autumn I buy a locally grown hill lamb from a local crofter for the freezer. It costs me between £28-40 depending on the size of the lamb, and there's enough meat to last us the winter. I remember the first lamb I ever bought all those years ago – it arrived on my kitchen table in a black bin bag in parts. It was like a murder scene!
Nonetheless, the taste of a locally grown, locally slaughtered Shetland lamb is second to none. Our smaller, hardy lambs may not be as big as those New Zealand lambs imported to our supermarket shelves from the other side of the world, but I feel very fortunate to have such high quality food available, quite literally, on my doorstep.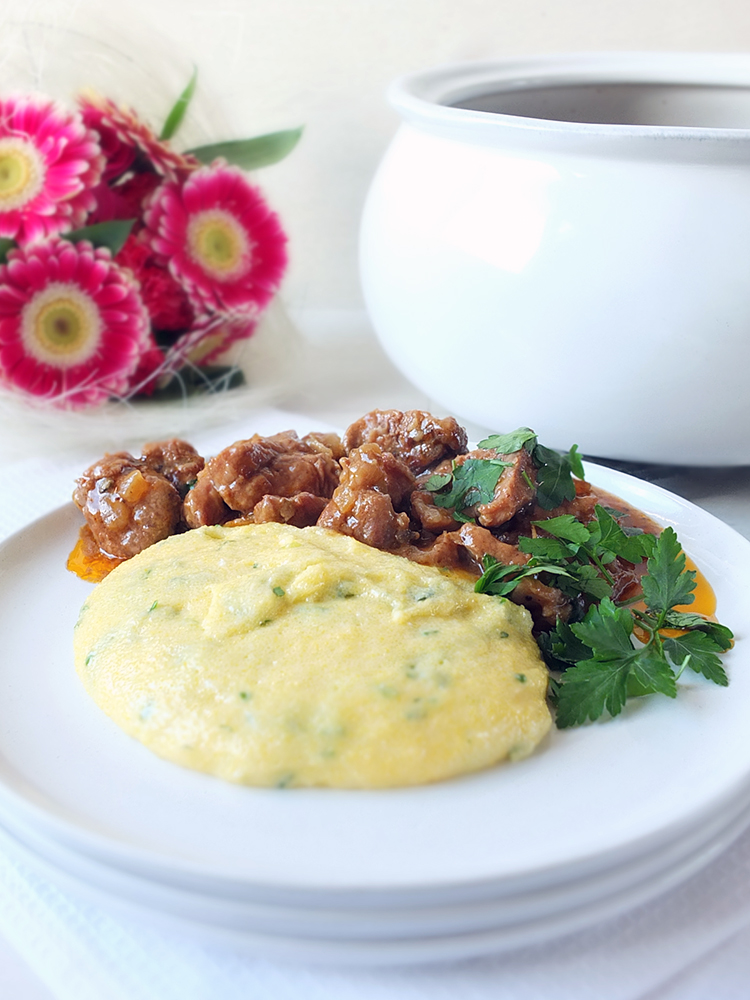 It's around this time of year (next week, actually!) our weekly veg box starts up again after the winter. In the height of summer when our veg boxes are bursting with organic produce grown less than ten miles from my house (as the crow flies) we eat a predominantly vegetarian diet. In fact, this August I have plans to go vegan for the entire month, just to see what it's like (going vegan is on my list of 40 things I'd like to do before I turn 40).
So yes, Spring is the time of year when I do my freezer spring cleaning. When we get our lamb our favourite bits are used up first. The chops don't make it to the freezer – they're fried or baked on the day and their 1 inch square tiny morsel of yum consumed with great glee. The shoulders and legs are eaten next.
Purchasing a whole lamb from a crofter means you'll get some cuts you'd never see in the supermarket. You can ask your butcher for them (they might look at you funny but they have them, and they cost less than a leg or shoulder does), but we in Shetland have been known to call them 'the flappy bits'.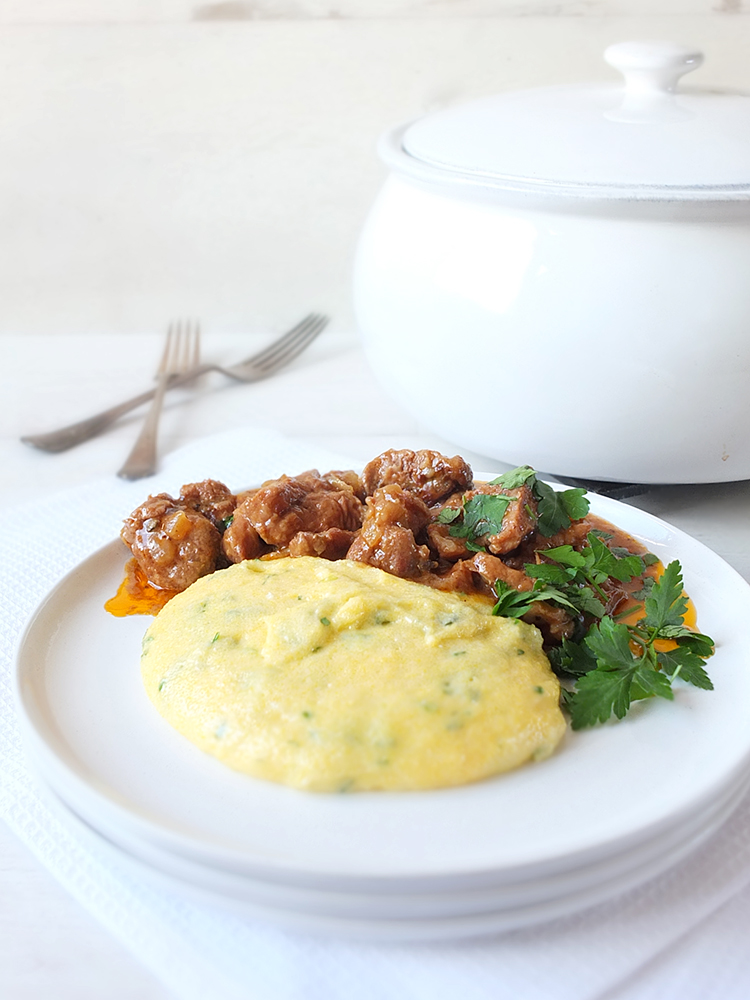 I don't know what the correct name for these flappy bits are, and if I am to be honest I'm not sure whereabouts on the lamb they come from, but I do know that they lend themselves incredibly well to being slow cooked.
We like Middle Eastern flavours in our house, and I often slow cook lamb Moroccan style, or simply slow roast it like Nigel Slater does. Leftover roast lamb gets jazzed up with Middle Eastern spices too – like my recipe for Middle Eastern Spiced Roast Lamb with Freekeh and Baharat Spiced Yogurt.
Inspired by my love of spice, and also by the recipe for Armenian Lamb found in Marian Armitage's delightful recipe book Shetland Food and Cooking, I prepared this delicious slow cooked Shetland lamb dish the other day, and I served it on a bed of creamy herbed polenta packed full of delicious spring herbs.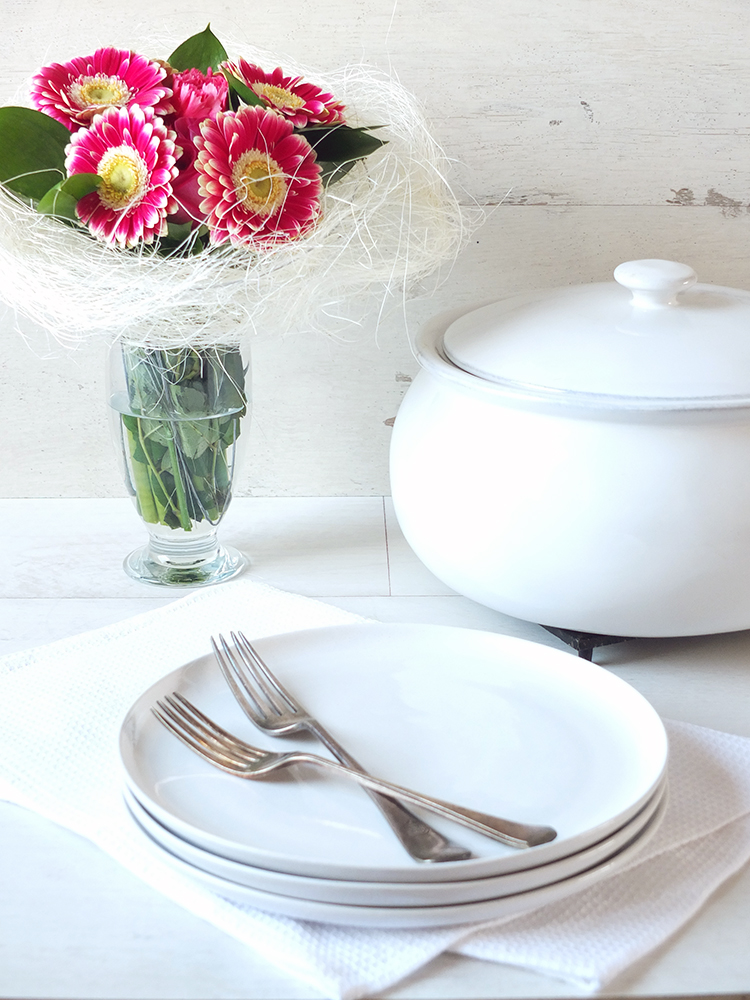 A slow cooked casserole, especially something that's going to be in the oven for many hours, needs a good quality casserole dish with a well fitting lid. Something like this stunning Porto Stoneware Casserole Pot from The White Company. This rustic feeling casserole dish is handmade in Portugal from special, robust clay with a hand-painted pale grey trim. It is oven, dishwasher and microwave safe, and it is incredibly spacious. I could easily have doubled this recipe to fill the pot, and frozen the leftovers.
The White Company have a wide range of gorgeous home accessories – I could quite easily furnish my entire house with the beautiful things that they have available!
So this dish is made from the leftover bits of lamb in my freezer. I cut as much of the meat off the bones as I could, and trimmed as much fat as I could too (lamb can be quite fatty) and made this gorgeous, mouthwatering succulent abd tender lamb casserole with it. Instead of lamb stock I used some leftover lamb gravy from our Christmas dinner when I cooked the shoulder of this particular lamb. I just topped it up with a bit of hot water to make the right quantity. Don't forget to save the lamb bones to make your own lamb stock!
If I was making this in the winter I'd probably serve it with some cheesy mashed tatties and Shetland kale, but as it's springtime and the weather gods have been blessing us with some sunshine of late, I thought I'd serve it with some creamy herbed polenta (something I fell in love with while visiting Paris last year) – a combination that works really, really well. Trust me. 🙂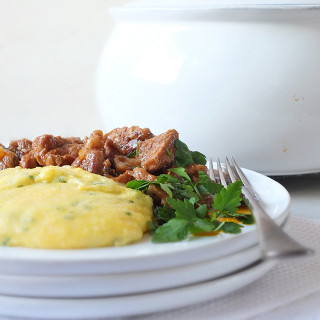 Slow Cooked Shetland Lamb Casserole with Creamy Herbed Polenta
A succulent mouthwatering, cumin-spiked Shetland lamb casserole served on a bed of creamy herbed polenta. Perfect for Spring.
Print
Rate
Ingredients
for the slow cooked Shetland lamb casserole
for the creamy herbed polenta
Affiliate Links
This recipe card may contain affiliate ingredient and equipment links. As an Amazon Associate I earn from qualifying purchases.
Instructions
for the Shetland lamb casserole
To prepare the casserole first allow the lamb to reach room temperature. Preheat your oven to 150 C.

In a dry saute pan, heat the cumin seeds until they begin to brown and pop. Transfer to a mortar and pestle and grind into a coarse powder. Set aside.

Add the sunflower oil to the hot saute pan and gently cook the onion for a few minutes, until it begins to soften.

Add the garlic, ground cumin and tomato puree and cook for a further minute or so.

Season the flour with smoked sea salt and freshly ground black pepper and toss in the lamb pieces until coated.

Add to the onions and brown for five minutes or so.

Add the lamb stock, bring to the boil and then transfer to a casserole dish.

Slow cook in the centre of the oven for 2.5 - 3 hours.
for the creamy herbed polenta
Melt the butter over a medium-high heat in a saucepan until it begins to bubble.

Add the spring onion and cook for two minutes, stirring occasionally.

Add the cream and bring to a simmer, but don't allow it to boil.

Add the herbs and set aside.

Meanwhile, bring the water and salt to a boil.

Gently add the polenta to the boiling salted water in a stream, stirring constantly. It will thicken fairly quickly.

Continue to stir, cooking for two minutes or so until it resembles thick porridge.

Remove from the heat, add the herbed cream mixture and the Parmesan cheese and stir well.

Serve immediately with the slow cooked Shetland lamb casserole on the side.
Notes
Any leftover polenta can be transferred to a dish to set. It will take the shape of whatever dish you put it in when it has cooled, and you can slice and fry it to reheat it. This will go well with any leftover casserole!
Environmental Information
Click here for the nutritional information for the lamb casserole.
Click here for the creamy polenta nutritional information.
LINKING UP WITH SOME FOOD BLOGGING CHALLENGES
Cooking with Herbs by Lavender & Lovage
Simple and in Season by Feeding Boys
No Waste Food Challenge by Elizabeth's Kitchen Diary
Recipe of the Week by A Mummy Too
If you want to be kept up to date on my recipes, occasional craft tutorials, adventure stories and giveaways then please subscribe to my weekly newsletter; it gets sent out every Monday morning if there is new content. Your email address won't be passed on to anyone, you will never be spammed and you are free to unsubscribe at any time, no questions asked. Make sure you confirm your subscription or you won't receive the newsletter – if it hasn't arrived check your junk mail folder.
[wysija_form id="1″]
This is a commissioned recipe for The White Company. This is a paid post, although all thoughts and opinions expressed are our own.