Packed full of protein and delicious flavour, this quick and easy post-workout protein shake is made with Onken 0% Fat Strawberry yogurt. In collaboration with Onken.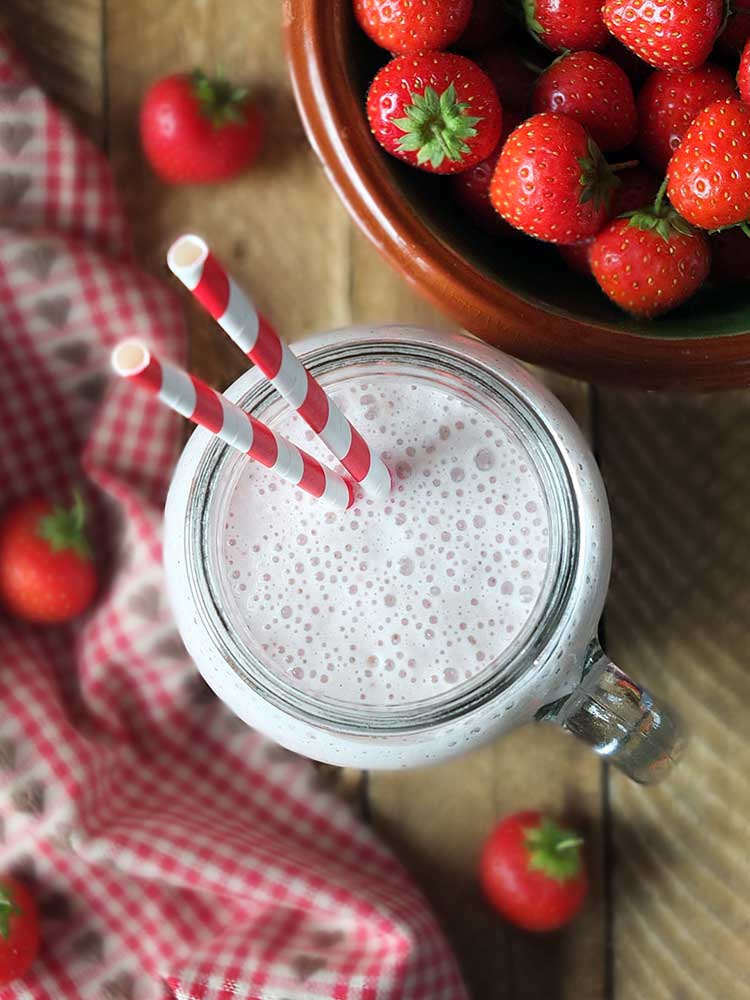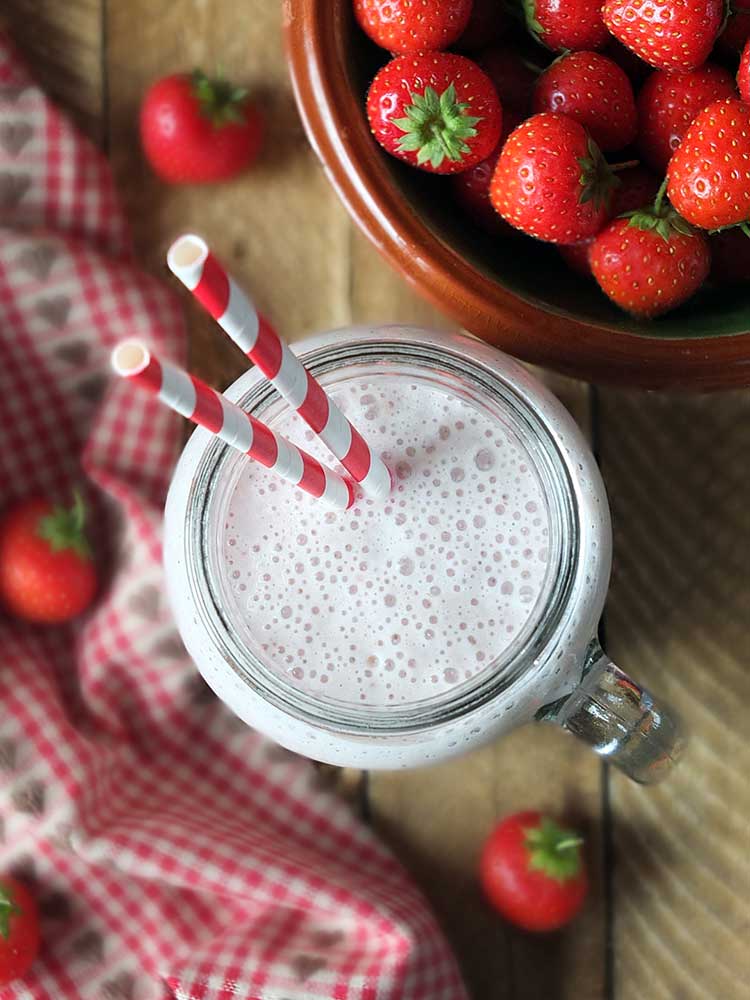 Protein shakes are a regular part of my diet. My morning routine consists of getting up (sometimes way too early!) and two cups of milky coffee while catching up on social media.
Then, I get the kids ready and off to school with their packed lunches and I do my morning workout – Tony Horton's P90X3. It's a workout program that really works well for me, keeping me feeling fit and strong as well as keeping the pounds from piling on from being a food blogger (so much good food combined with so much sitting and typing/editing/social media – the struggle is real!).
I always follow my morning workout with a protein shake. It helps maintain lean muscle mass, and it fills me up until lunch time.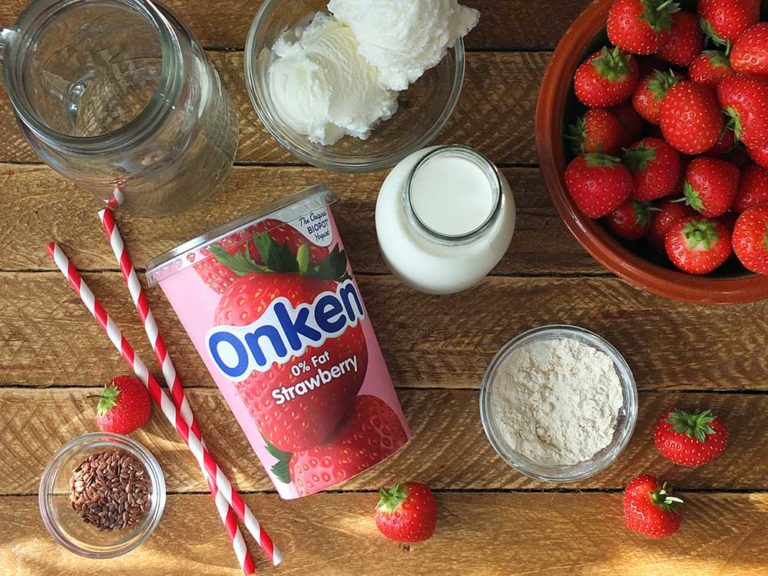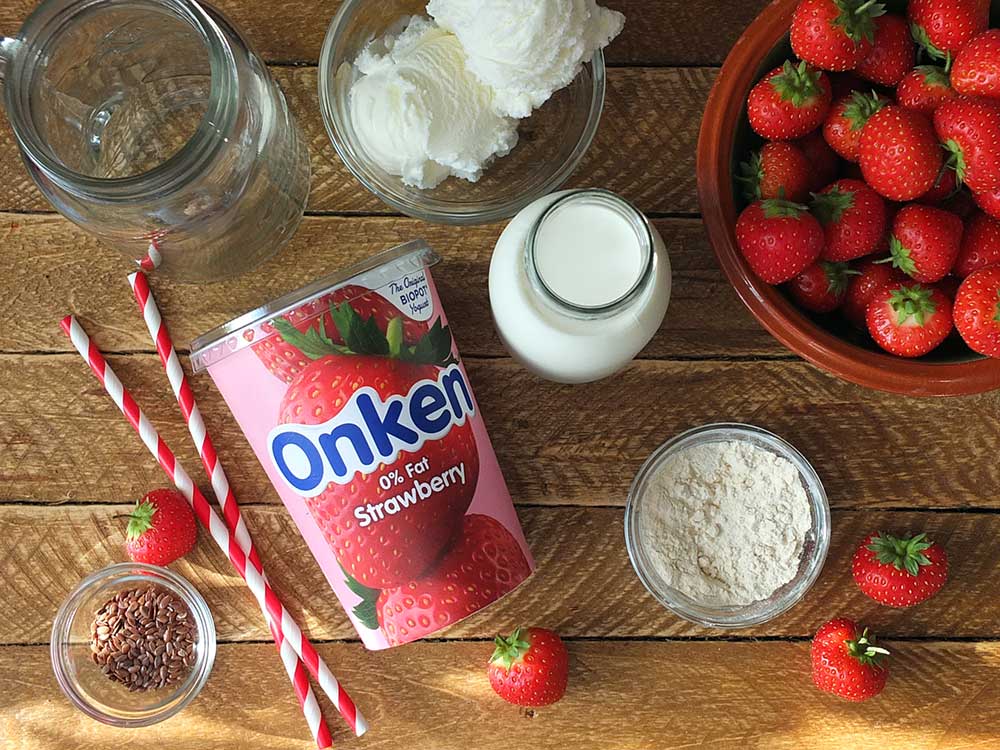 INGREDIENTS YOU'LL NEED FOR THIS STRAWBERRY POST-WORKOUT PROTEIN SHAKE
Milk – use full fat if you want the extra calories, or skimmed if you're wanting a lighter shake
Onken 0% Fat Strawberry yogurt (for probiotics, protein and flavour)
A scoop of vanilla ice cream (for extra calories) or a handful of ice cubes
Unflavoured protein powder (these days I'm using Pulsin soya protein)
Flax seeds – for extra fibre
Fresh strawberries – for vitamins (or half a banana)
[amazon_link asins='B003V1WWGU,B00U93SABY,B00A79AE4G' template='ProductCarousel' store='elizskitcdiar-21′ marketplace='UK' link_id='ddaa3d10-c3ad-11e8-832c-2170234dcd52′]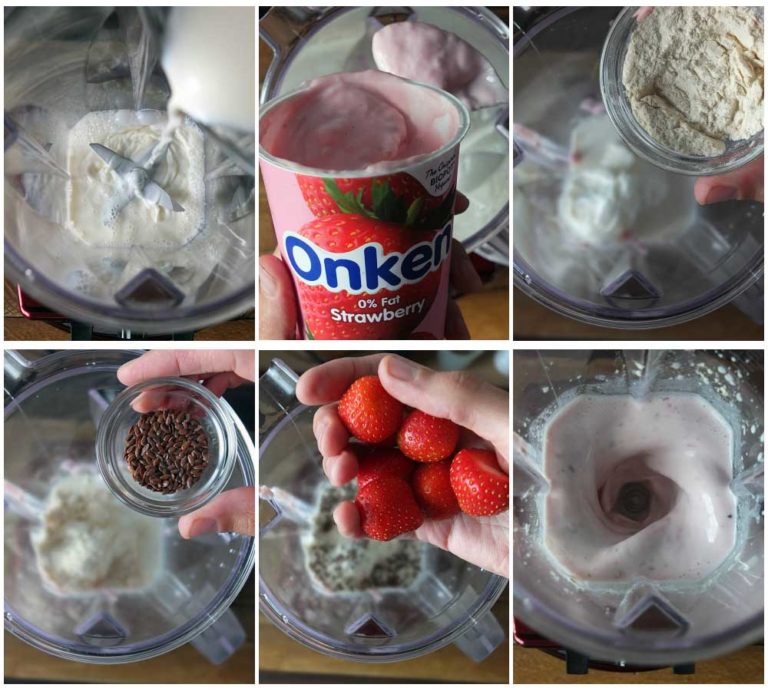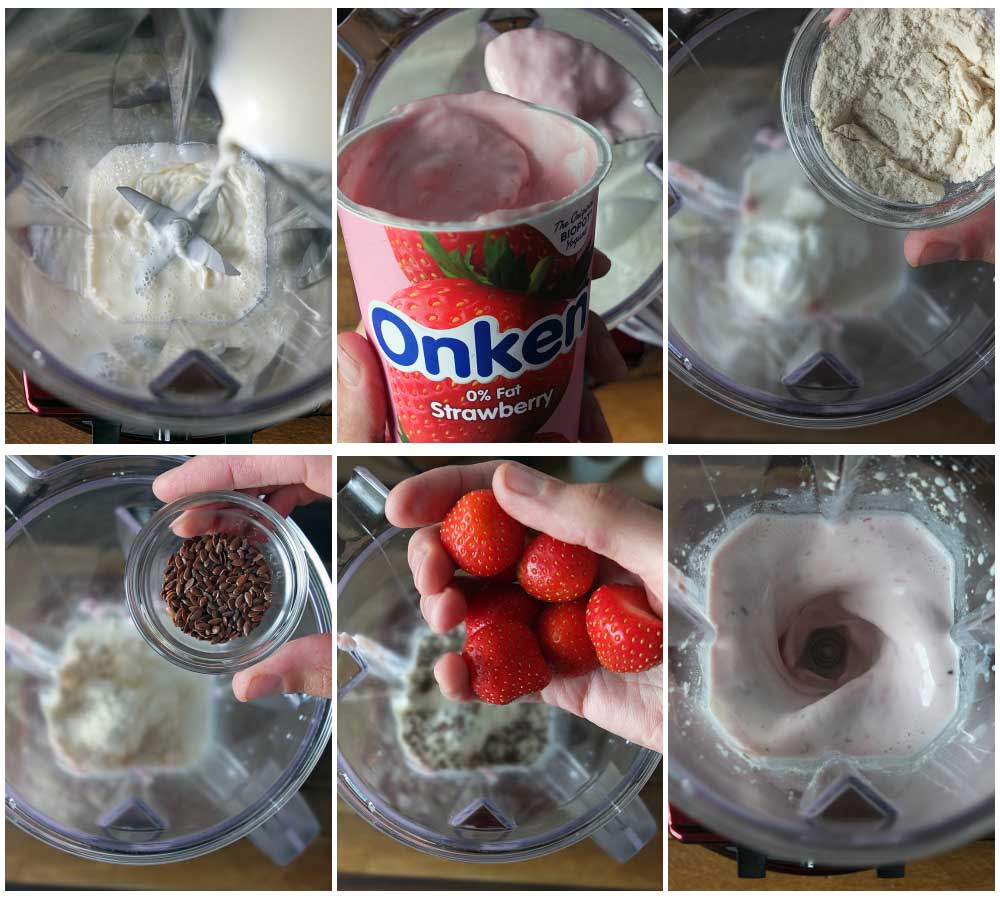 HOW TO MAKE A STRAWBERRY POST-WORKOUT PROTEIN SHAKE
Step 1: Pour your milk into a blender.
Step 2: Add a good spoonful of Onken 0% Fat Strawberry Yogurt.
Step 3: Add a scoop (or two) of ice cream (or ice cubes) and a serving of your favourite protein powder.
Step 4: Add flax seeds.
Step 5: Add fresh strawberries.
Step 6: Blend until smooth and serve immediately.

[amazon_link asins='B00JQ92UFE,B00YCATE9C' template='ProductCarousel' store='elizskitcdiar-21′ marketplace='UK' link_id='5d312e74-c3ae-11e8-8a16-c3542747306d']
My protein shakes are made with ice cubes instead of ice cream, and I usually add half a banana for extra creaminess and potassium. My husband's, on the other hand, involves a generous scoop, or two, of vanilla ice cream for the extra calories.
We're yogurt fans in our house; there's always a tub (or several) in the fridge. Plain yogurt gets used in all sorts of sweet and savoury dishes, while flavoured yogurts, like this 0% Fat Strawberry from Onken, make for a lovely addition to a breakfast smoothie or post-workout protein shake.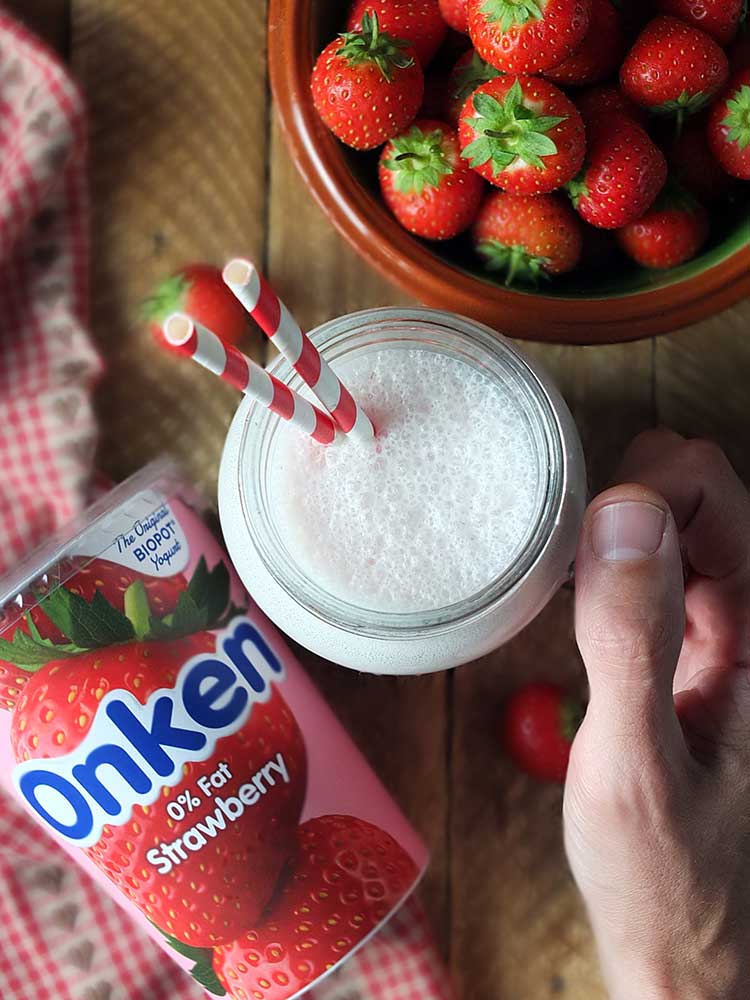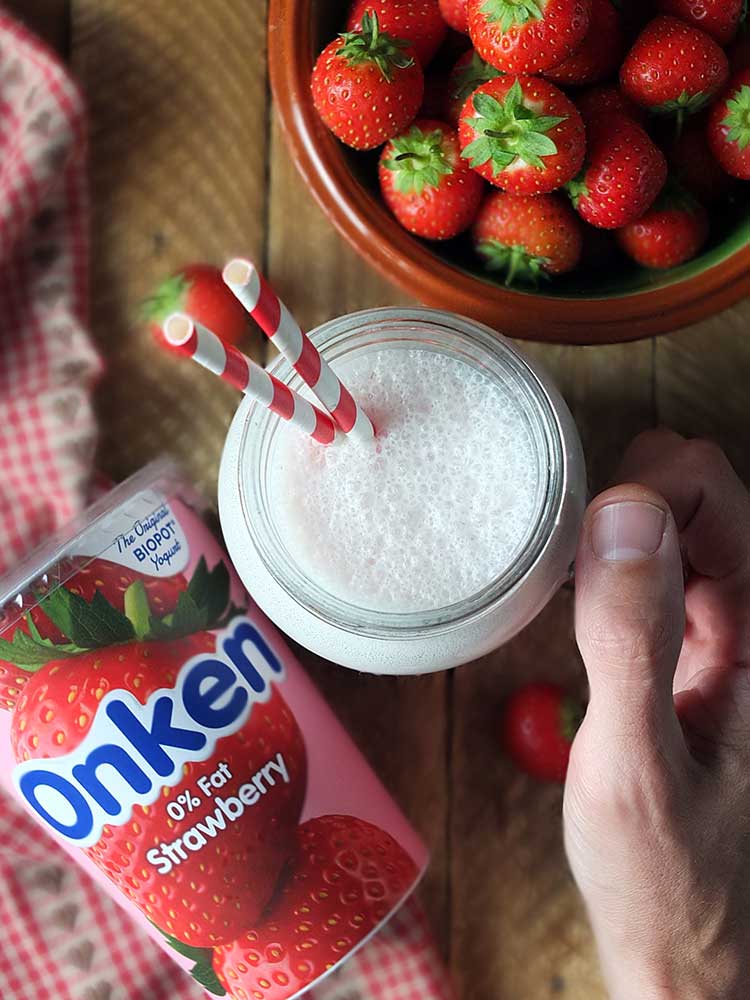 This recipe is made in collaboration with Onken yogurt. They challenged me to come up with three different recipes that could be made from a single pot fo their 0% Fat Strawberry yogurt.
In addition to this rather scrummy strawberry post-workout protein shake recipe, I've made a delicious French-style yogurt cake as well as some oatmeal pancakes with a strawberry yogurt drizzle. Visit the Onken website and check out their recipes section for these recipes and many more!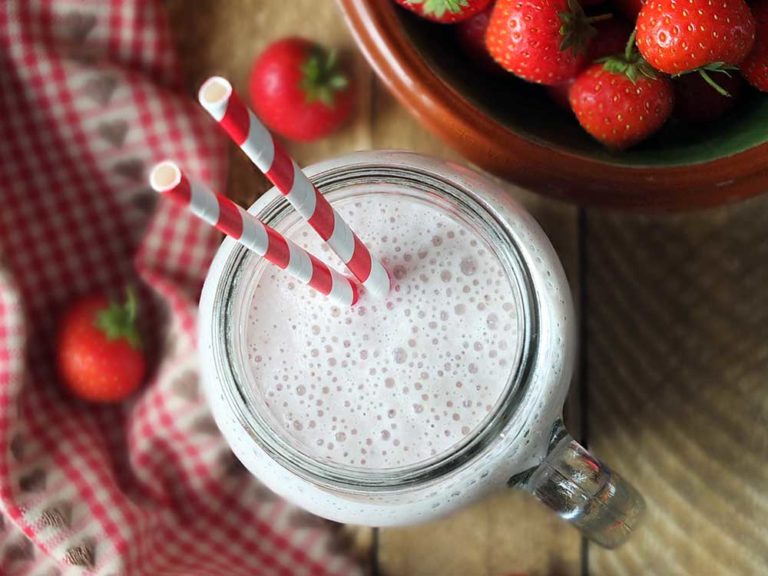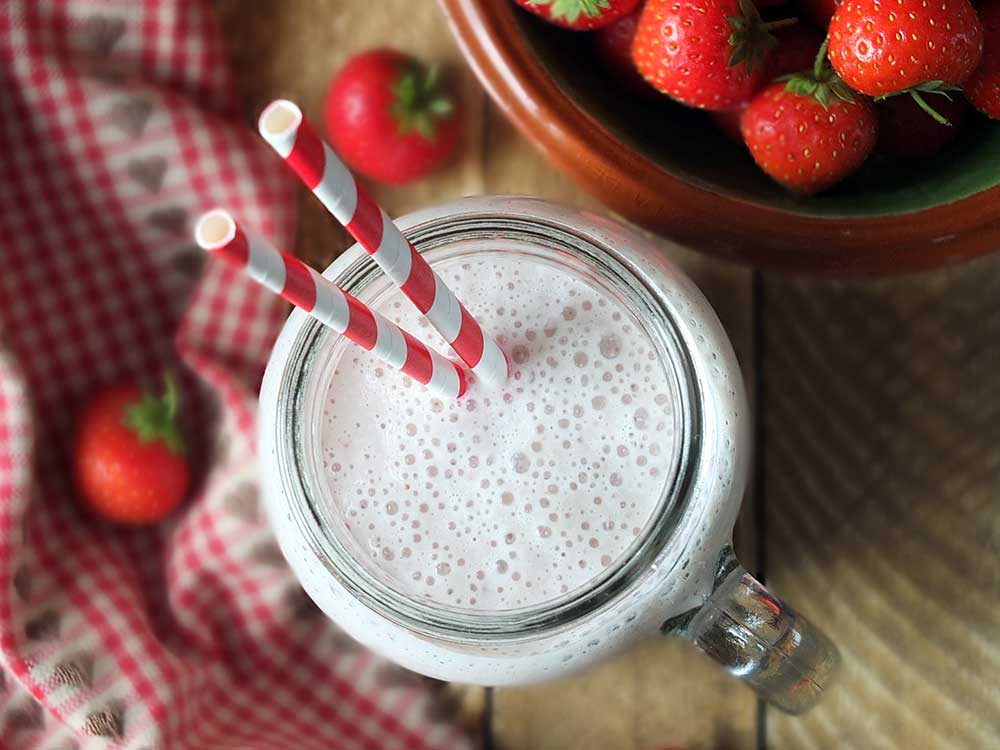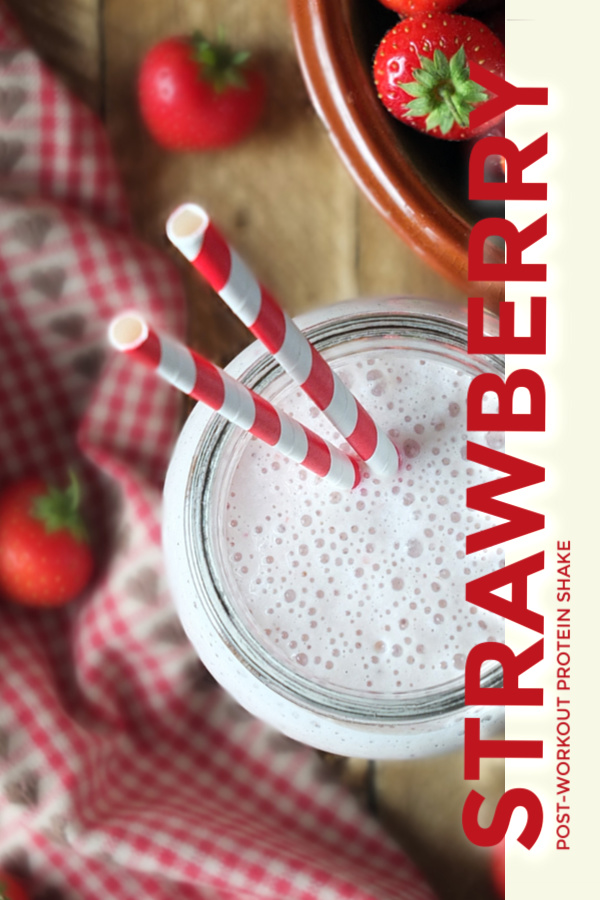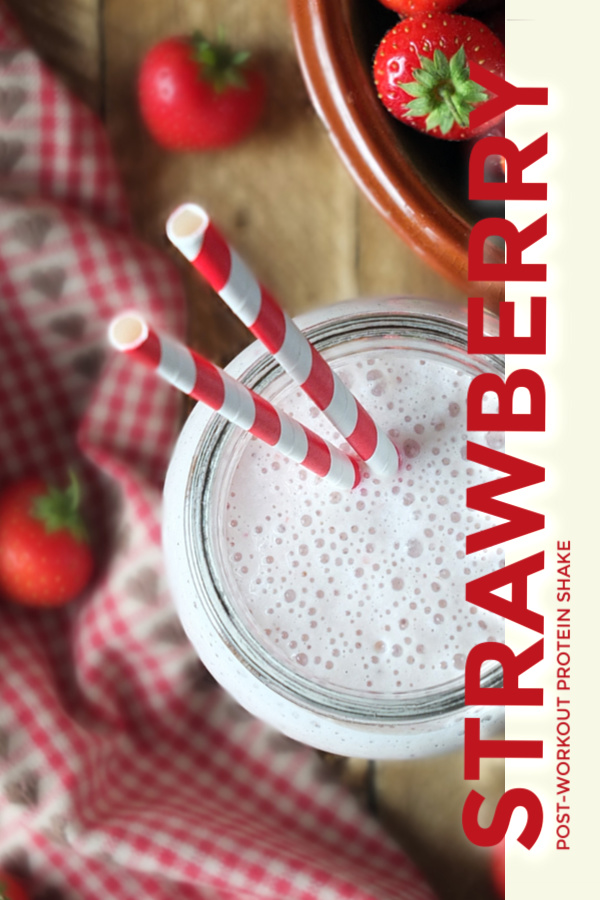 This is a sponsored recipe post for Onken. All thoughts and opinions expressed are our own. Thank you for supporting the brands who make it possible for me to do what I love: mess up my kitchen and share recipe stories!
[color-box]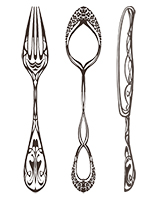 Have you made this recipe?
Take a photo and tag @tangoraindrop or use the hashtag #elizabethskitchendiary and share on Instagram and Twitter. It would make my day to see your creations!
[/color-box]