Move over cauliflower; there's a new low carb starchy alternative in town! This keto-friendly vegetable side dish features salsify, a delicately flavoured root vegetable popular in the Victorian times, served with sauteed cabbage, crispy bacon and lashings of double cream. In collaboration with Albert Bartlett.
Salsify… perfect for a low carb lifestyle
I don't know about you, but when I'm trying to shed a few pounds, I end up eating a ridiculous amount of cauliflower as a replacement for starchy carbs on my dinner plate.
It gets rather boring, rather quickly, to be eating so much cauliflower, so I'm really excited to share with you a new low carb vegetable alternative you can find in your supermarket: salsify!
What is salsify?
At first, it might just look like a pile of sticks, but this tasty, incredibly versatile vegetable used to be really popular in Victorian England, due, in part, to how easy it was to grow in UK soils. It's still well known in continental Europe and within high-end foodie circles in the UK, but you might only just be started to see it appear on your local supermarket shelves.
Salsify (pronounced salsify-ee) is a root vegetable with a subtle flavour – a little like a mild artichoke, perhaps with a trace of liquorice or, when cooked, some people claim to detect a hint of oysters. This has given rise to its alternative name of the oyster plant.
It can be prepared in various ways, including boiling and pureeing, as I've shown with my salsify with cabbage, bacon and cream recipe – two ways.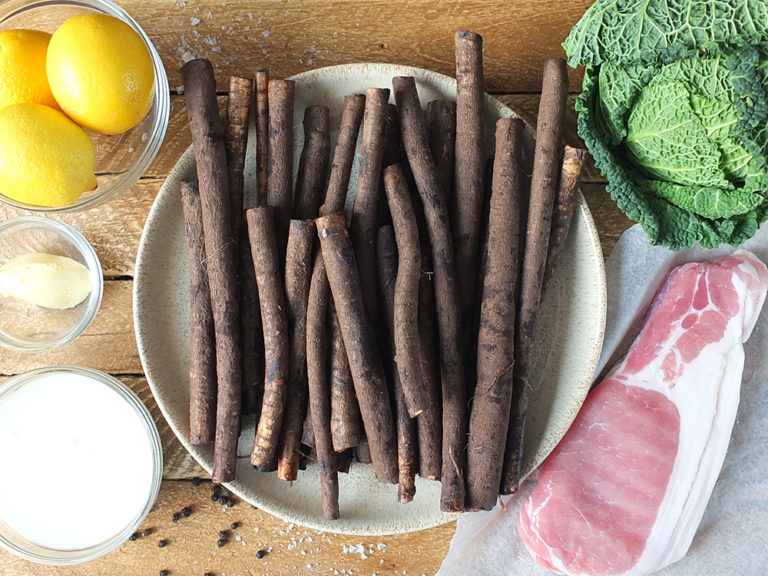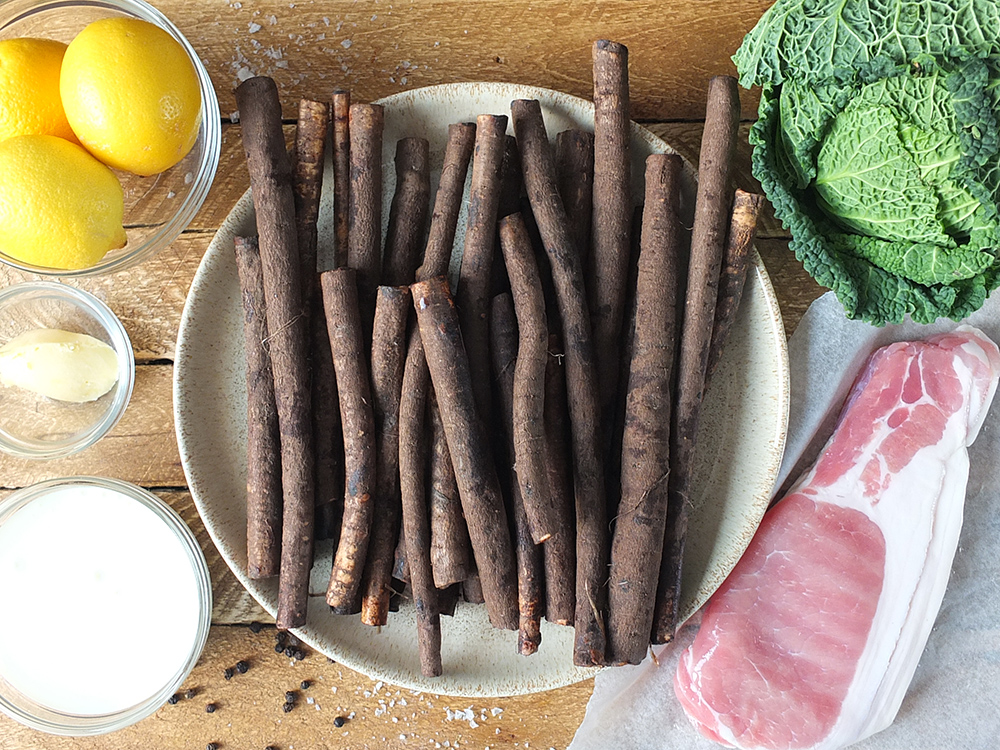 Ingredients needed for this low-carb side dish
Albert Bartlett salsify – find this low carb vegetable is selected Waitrose stores from November until March.
Fresh lemon juice – to keep the roots from browning while you're peeling them.
Green cabbage – I prefer the green cannonball cabbage, pictured above, but any cabbage will work.
Smoked bacon rashers – because bacon makes everything better.
Butter – to fry the bacon in and for extra flavour.
Double cream – this gives the finished dish a richer, smoother texture.
Salt and pepper – to taste.

How to make salsify with cabbage, bacon & cream
Fill a bowl with warm water and add a generous squeeze of fresh lemon juice. Wash your salsify thoroughly, peel and cut into 5 cm batons. Place the peeled salsify in the lemon water to prevent discolouration. You may notice while peeling and chopping, that a little sap appears. This is perfectly normal, but if you're prone to sensitive skin, you might want to wear gloves. I had no problems at all.
Chop your cabbage.
Finely chop your bacon.
Boil, or steam, your salsify batons until tender, but they still retain some texture.
Fry the bacon in a bit of butter until browned. Add the cabbage and saute until tender.
Drain the salsify and mix with the cabbage, bacon and double cream—season to taste. Alternatively, puree the cooked salsify with a hand blender and stir in a little of the cabbage mixture to make a low carb 'colcannon'. You can freeze the rest of the cabbage/bacon for another day if you wish.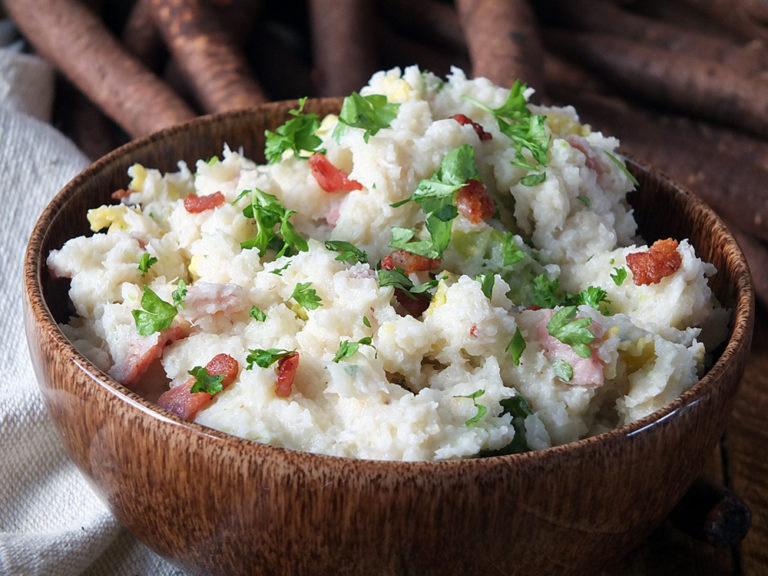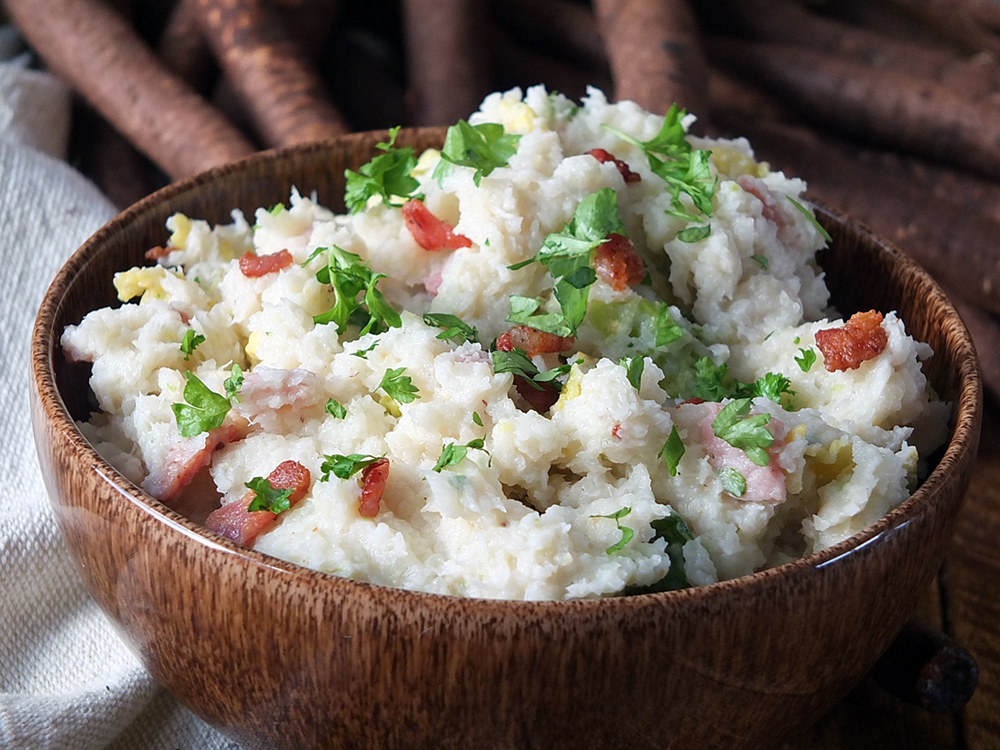 Salsify: a low-calorie & low-carb keto-friendly alternative to potatoes
Salsify contains fibre, Vitamin C, B6, folate, potassium, manganese, protein, calcium & iron. Nutritionally, it has been likened to kale, particularly in that it is low in calories and great for your digestive system.
It's also keto-friendly because it's such a low carb vegetable. It makes for a delicious alternative to mashed potatoes with only 8.3 grams of carbohydrates per 100 grams of raw vegetables. Compare this with cauliflower, with 5 grams of carbohydrates and potatoes, with 17 grams of carbohydrates per 100 grams.
Albert Bartlett homegrown salsify
Scottish potato grower Albert Bartlett supplies selected Waitrose stores with their homegrown salsify, harvested between November and December. They anticipate the season will run through to the spring, so keep an eye out for the Albert Bartlett branded packs in your nearest supermarket retailing for £2.99 for a 350-gram packet.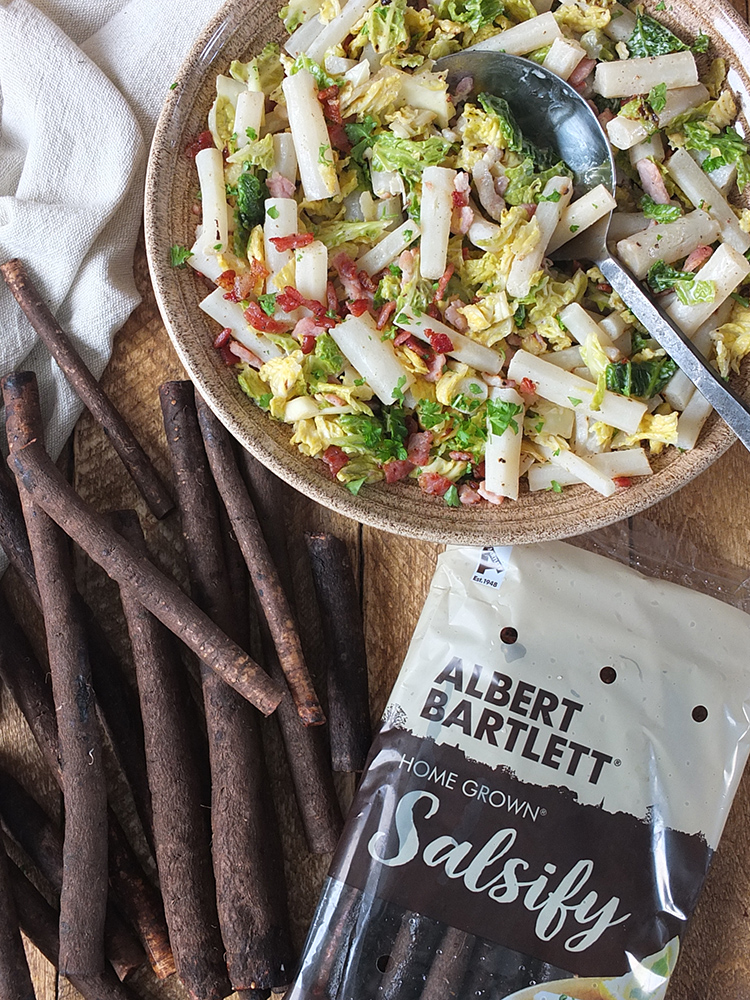 How to cook salsify
This root vegetable can be treated like most other starchy foods – you can boil it, steam it, sauté it, fry it, grate it and roast it. You can even eat it raw if it's been washed thoroughly and chopped fine. Chefs often use it to add texture to a dish, like I've done with my low carb salsify with cabbage, bacon and cream.
Try adding salsify to a stew, or cook it with potatoes to lower the carb and calorie content. It pairs very well with fish, due to its mild oyster flavour, but it also delicious with roast beef. You can even finely slice the long, thin roots to make salsify tagliatelle.
Salsify recipes
Check out this recipe for salsify tagliatelle with bacon and chilli.
You can find more salsify recipes on the Albert Bartlett website.
How to serve salsify
Albert Bartlett Brand Ambassador and Michelin starred chef Michel Roux Jr serves salsify in his London restaurant Le Gavroche. It appears seasonally on the menus of all of the Roux family restaurants.
Says his father Albert Roux, "Salsify is packed with flavour and goodness. A must on the dinner table." Michel Roux Jr explains,
"Salsify is one of the most versatile and tasty root vegetables – from raw in a coleslaw to roasted with spices. Truly delicious."
ALBERT BARTLETT SALSIFY Michel Roux Jr full version
Have you ever tried salsify, or even heard of it before? It's not mentioned very much in any of my cookery books. In fact, the only reference I could find was in Mrs Beeton's 1861 Book of Household Management where she suggests boiling them and serving with a good white sauce or coating the cooked salsify in a little mayonnaise to make a salad.
How would you cook with salsify? Let me know in the comments!
To find out more about salsify, visit the Albert Bartlett website.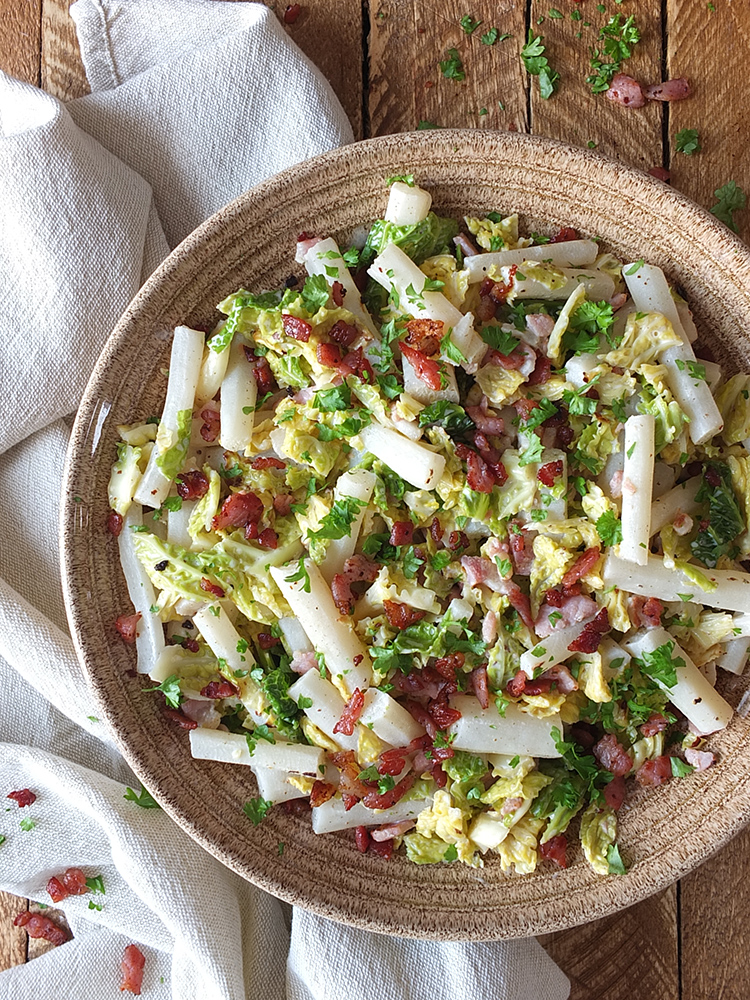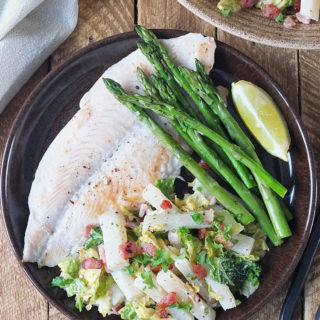 Salsify with Cabbage, Bacon and Cream
This keto-friendly vegetable side dish features salsify, a delicately flavoured root vegetable popular in the Victorian times. Here it is served with sauteed cabbage, crispy bacon and lashings of double cream.
Print
Pin
Rate
Affiliate Links
This recipe card may contain affiliate ingredient and equipment links. As an Amazon Associate I earn from qualifying purchases.
Instructions
Fill a bowl with warm water and add the lemon juice.

Peel the salsify, top and tail the ends and cut into 5 cm sticks. Place immediately in the bowl of lemon water to prevent discolouration while you peel and chop the rest of the salsify. Halve or quarter any larger roots, so the pieces are all around the same size.

Drain the salsify and place in a large pan of cold water. Bring to a simmer and cook for 10-15 minutes, until tender. Alternatively, steam the vegetable to retain more of the flavour.

Meanwhile, heat the butter in a saute pan, chop the bacon and fry for a few minutes, until it begins to brown.

Chop the cabbage into small pieces and add to the buttery bacon. Saute for five minutes or so, until it wilts. You might need to add a little splash of water to help it cook and to deglaze the pan.

Drain the cooked salsify and return to the heat for a few minutes to evaporate any extra moisture.

Add the bacon and cabbage mixture to the cooked salsify, and pour over the double cream. Stir to coat well. Season to taste.
Notes
Puree the salsify after cooking to make a low carb mashed potato alternative! Stir in some of the cooked cabbage, bacon and cream to make a low carb salsify 'colcannon'.
Nutrition
Calories:
142
kcal
|
Carbohydrates:
13
g
|
Protein:
5
g
|
Fat:
6
g
|
Saturated Fat:
3
g
|
Cholesterol:
24
mg
|
Sodium:
179
mg
|
Potassium:
604
mg
|
Fiber:
5
g
|
Sugar:
3
g
|
Vitamin A:
230
IU
|
Vitamin C:
35.6
mg
|
Calcium:
98
mg
|
Iron:
2.3
mg
Environmental Information
Pin this recipe for later
This is a sponsored recipe post in collaboration with Albert Bartlett, although all thoughts and opinions are our own. Thank you for supporting the brands who make it possible to do what I love: mess up my kitchen and share recipe stories.