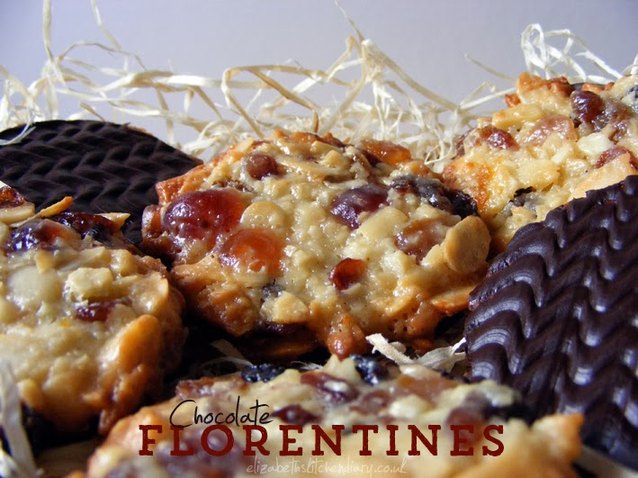 The first time I'd ever had a Florentine happened because of a chance encounter with a stranger in a Scottish bakery. I was standing in the queue waiting to order my lunch when the tall, charming gentleman with a posh English accent ahead of me turned to me and asked if I'd ever tried a Florentine. Caught off-guard I blushed and said that I hadn't, and so he asked the lady behind the counter for a Florentine and handed it to me with a smile and a "Good day!"
I grinned for the rest of the day. That has to rate pretty highly in the ways to impress a woman department, I think. Take notes, single men out there! The rest of that story shall remain untold (on the off chance my husband reads my blog!) but know that it all ended well and said gentleman and I are dear friends to this day.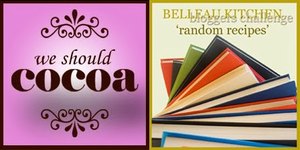 Fast forward a decade or so to the present day where the lovely Dom from
Belleau Kitchen
and Choclette over at
Chocolate Log Blog
have teamed up their respective Random Recipes and We Should Cocoa food blogging challenges for a
Valentine's themed chocolate extravaganza
!We were challenged to randomly select a recipe from one of our chocolate cookbooks, make and share it. My first attempt, using numbers randomly selected by our nearly five year old youngest child, resulted in a very stodgy, poorly risen banana, cherry and white chocolate muffins from the
Green & Black's Chocolate Recipes book – Unwrapped: From the Cacao Pod to Muffins, Mousses and Moles
(published in 2003).Around the same time said charming gentleman bought me that Florentine, I picked up a copy of this book and I'm surprised to admit I haven't tried most of the recipes in it. I was very disappointed with the flavour and texture of the muffins I'd made (and have marked my recipe book accordingly) and I couldn't in all honesty share them with you (although my children loved them). So, I had to find a new random recipe, and the following Florentine recipe was selected.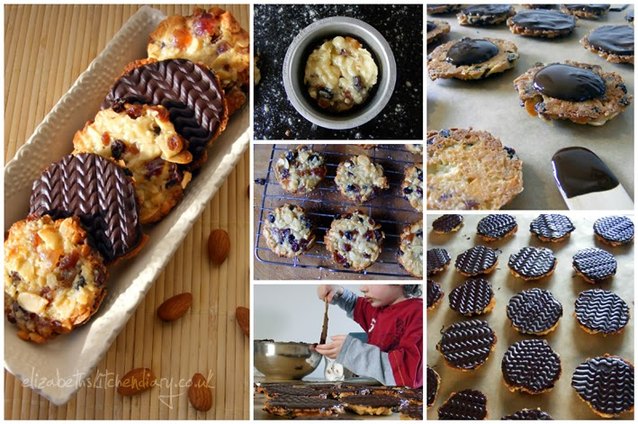 The recipe book says an entire batch of these biscuits should take less than an hour to make. That is in no way correct! I spent most of a day making these biscuits, and although the flavour is quite lovely the work involved in no way justifies the time spent making them. Saying that, I blanched my own raw almonds, which was time consuming, as was finely chopping them and all the other ingredients.
I replaced the candied orange peel with the same quantity of supermarket brand luxury dried mixed fruit left over from Christmas (which claimed on the packet that it was great for making chocolate Florentines) and I used flaked almonds instead of slivered, because that's all I had (and I wasn't running to the shop to buy anything!). I'm in a 'use up what's in the store cupboard' sort of phase just now, and the tail end of a tub of glacé cherries was used in my bake as was the remains of a carton of double cream which, in all honesty, I had no idea how long it had been open in the fridge (it smelled fine so I used it!). As such, I am sharing this recipe with the No Waste Food Challenge guest hosted by Fiona over at London Unattached this month.
Like I said, the biscuits were good, but I don't think they're worth the effort unless you haven't anything else planned for a day and just want to potter about the kitchen for ages. The original recipe instructions said to drop the batter by the teaspoonful onto the prepared baking sheet and claimed they spread to twice their size. So I followed the instructions, using a 5 ml teaspoon as a measure. My first batch of Florentines ended up being 'fun size', ideal for the children's Valentine's Day packed lunches (they loved them!). Through trial and error I discovered a scant one tablespoonful of batter makes a perfect size biscuit. They don't spread to twice their size, by the way.
To get the biscuits into perfect, uniform circles you remove them from the oven midway during baking and use a large circle cookie cutter to coax them back into a circular shape. This is easy, but time consuming, especially if you've got a tiny oven like me and can only cook six biscuits at a time. Then you need to finish baking them, wait for them to cool for a few minutes on the baking tray before transferring to a wire rack to cool completely.
You then spread melted dark chocolate on the flat sides, wait ages for the chocolate to partially set (I ended up opening both kitchen windows trying to speed up the process), and then you create wavy lines on the chocolate using a serrated bread knife. This looks pretty, yes, but results in quite a waste of chocolate as you end up scraping half of the half melted chocolate off the biscuit in the process. Our youngest son helped himself to the semi-solidified chocolate I'd scraped back into the bowl, so it didn't go to a complete waste!
All in all they were good, but I think the next time I want a Florentine I'll pick one up in the bakery.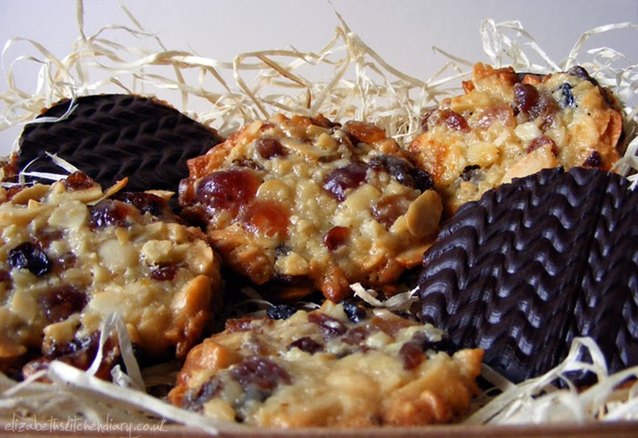 Florentines
A delicate caramelized, chocolate coated biscuit containing cherries, almonds and candied peel.
Ingredients
50 grams unsalted butter
125 ml double cream
125 grams caster sugar
40 grams glacé cherries, washed in hot water, dried and quartered
150 grams blanched almonds, finely chopped
50 grams slivered almonds
100 grams candied orange peel, finely chopped
50 grams plain flour, sifted
250 grams dark chocolate, min. 60% cocoa solids, coarsely broken
Instructions
1. Preheat oven to 180 C/ 350 F. Butter and lightly flour a large baking sheet.
2. Place butter, cream and sugar in a small saucepan over a low heat. Gently melt the butter and slowly bring to the boil.
3. Remove melted mixture from the heat and stir in the cherries, almonds, peel and sifted flour. Mix well.
4. Drop by a scant tablespoonful onto the prepared baking sheet, spacing well apart. Using a fork dipped in cold water flatten each biscuit into a very thin circular shape.
5. Bake for 5-6 minutes and remove from the oven. Using a 3 inch circular biscuit cutter coax the biscuits back into a circular shape.
6. Return to the oven and bake for a further 5-6 minutes, until the biscuits are lightly browned at the edges.
7. Remove from the oven and leave to cool for a few minutes on the baking tray before carefully transferring to a wire rack to cool completely.
8. Gently melt the chocolate in a heatproof bowl suspended over a pan of barely simmering water.
9. Turn the biscuits upside down (flat side facing up) on your work surface and gently spoon about 1 tbsp of melted chocolate onto each. Smooth with a palette knife.
10. When the chocolate has nearly set use a serrated bread knife to create wavy lines on the chocolate. Leave until chocolate sets completely.
11. Store biscuits in the fridge.
Details
Prep time: Cook time: Total time: Yield: Makes 24
I'm also sending this recipe over to Laura's Biscuit Barrel Challenge over at I'd Much Rather Bake Than… this month's theme is chocolate!