This half batch of deliciously spiced blueberry muffins is made with leftover Weetabix and other store-cupboard ingredients; perfect for a weekend brunch or after school snack.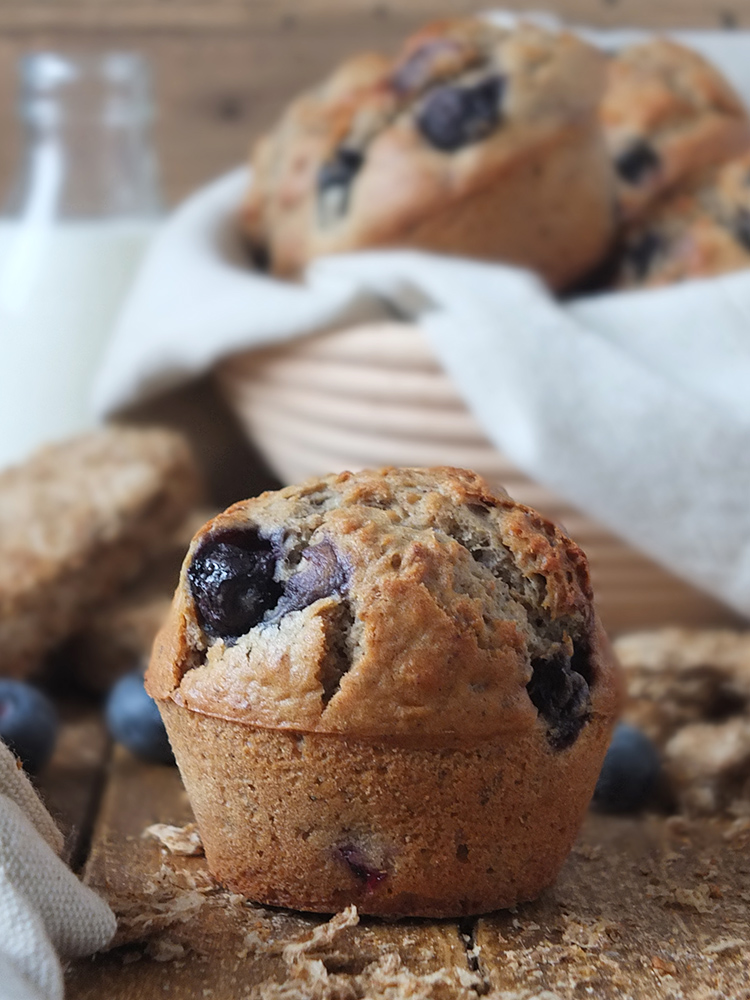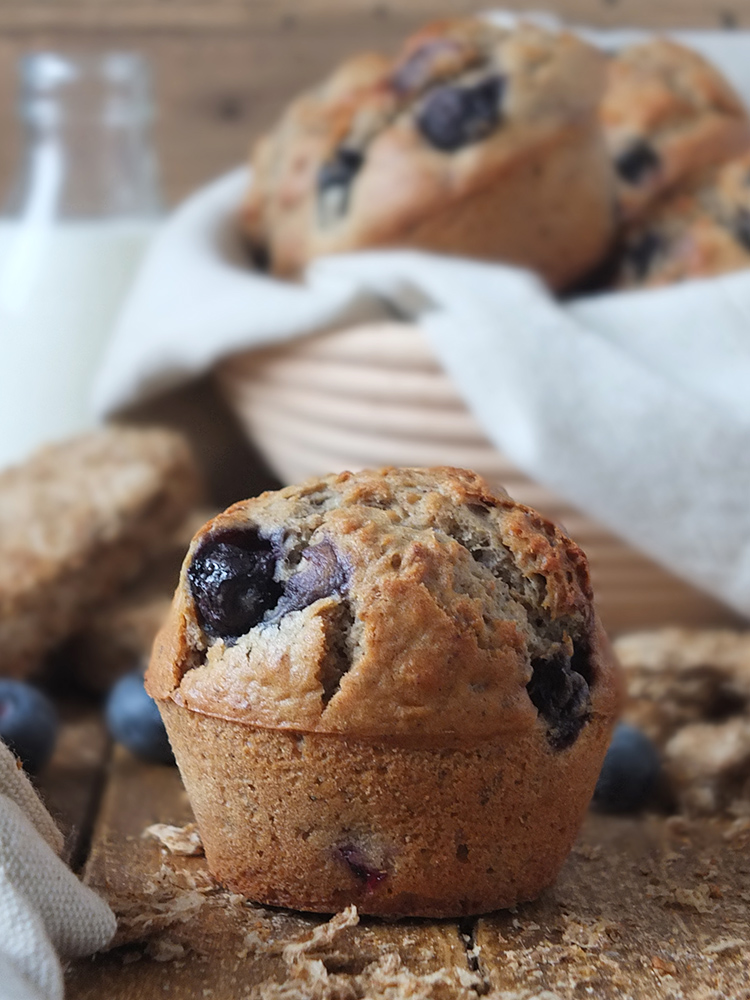 The pre-recipe blurb no one actually reads
I really don't like Weetabix*
I'm all for the low sugar, high fibre thing they're going for, but I can not abide soggy breakfast cereal. This aversion stems from a childhood of being forced to sit and eat every bite of breakfast after breakfast of shredded wheat with hot water, left to go soggy and cold and blergh. Same goes with Shreddies (and risotto and rice pudding). I just can't stomach mushy, texture-less food.
* Saying that I don't think I've even tried Weetabix because of that childhood created aversion!
My children, on the other hand, love Weetabix. My daughter can pack away a surprising number of them first thing in the morning with lashings of ice-cold milk. It's astonishing.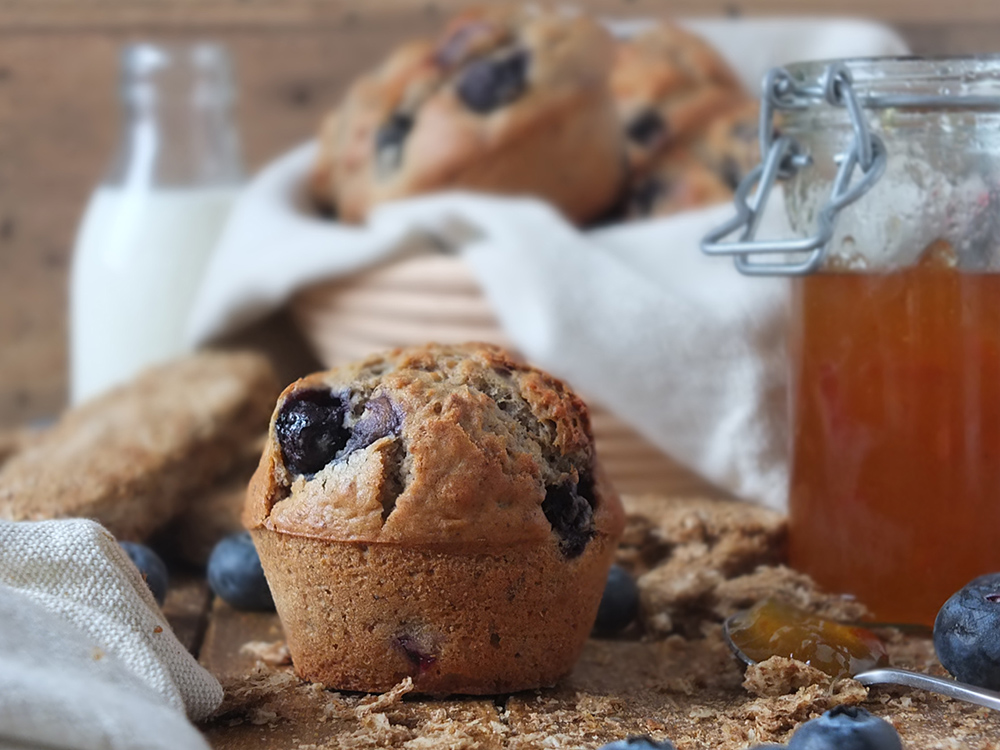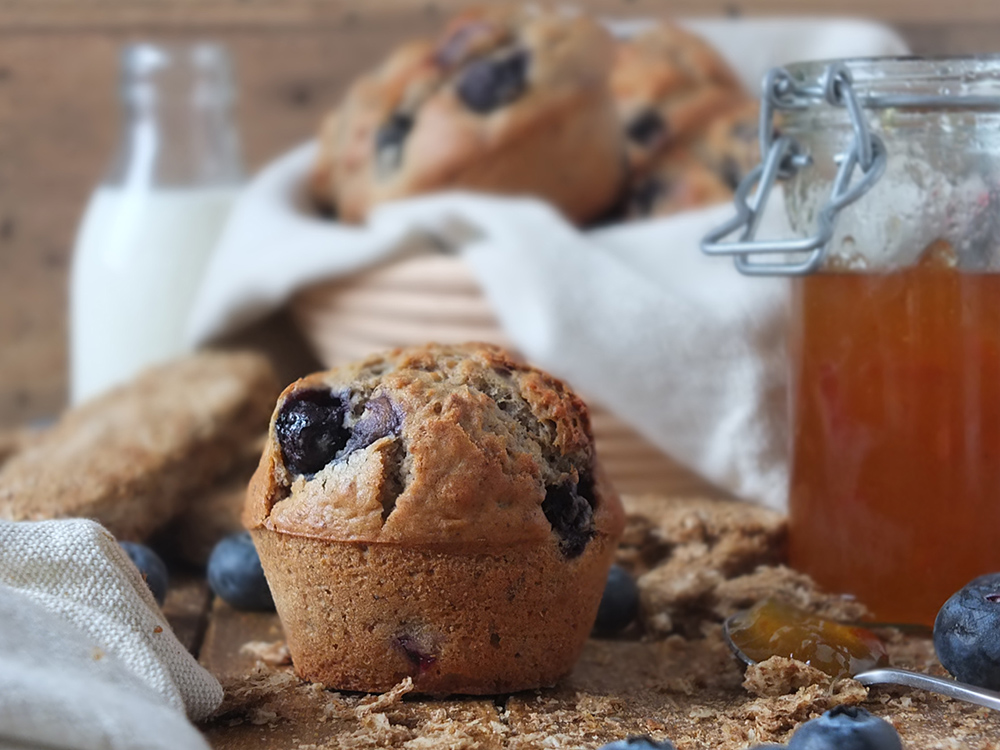 Late the other evening a mainland supermarket sponsored post showed up on my Facebook feed – Weetabix could be crumbled up and used in baking! I'd never thought of this before! So, the following morning I searched Google for recipe inspiration and came up with Fuss Free Flavour's Wheat Biscuit Blueberry Muffins. Unable to just leave a recipe alone (her's is vegan and I'm not keen on the texture of eggless bakes) I adapted it slightly, and the five-year-old and I made a batch of our own Banana Weetabix Blueberry Muffins.
He was so excited about trying out our new bake that he grabbed one off the cooling rack and blew on it to cool it down quickly so he could eat it. He then ate three!
Below, two of the original photographs taken in 2015. This post was updated with new photos in February 2019.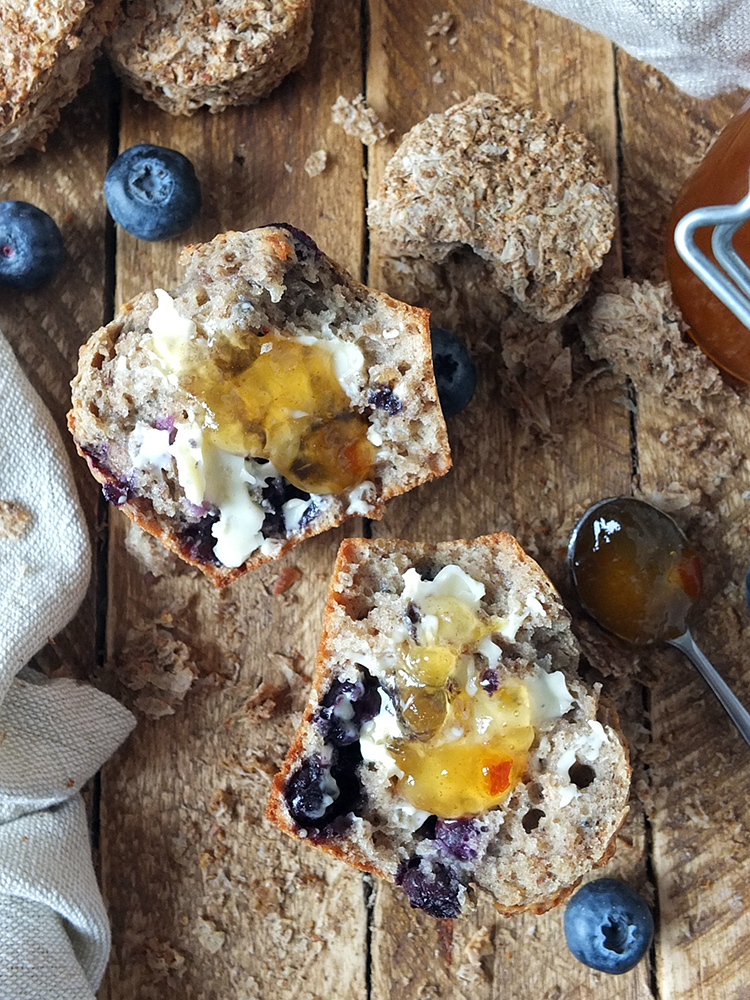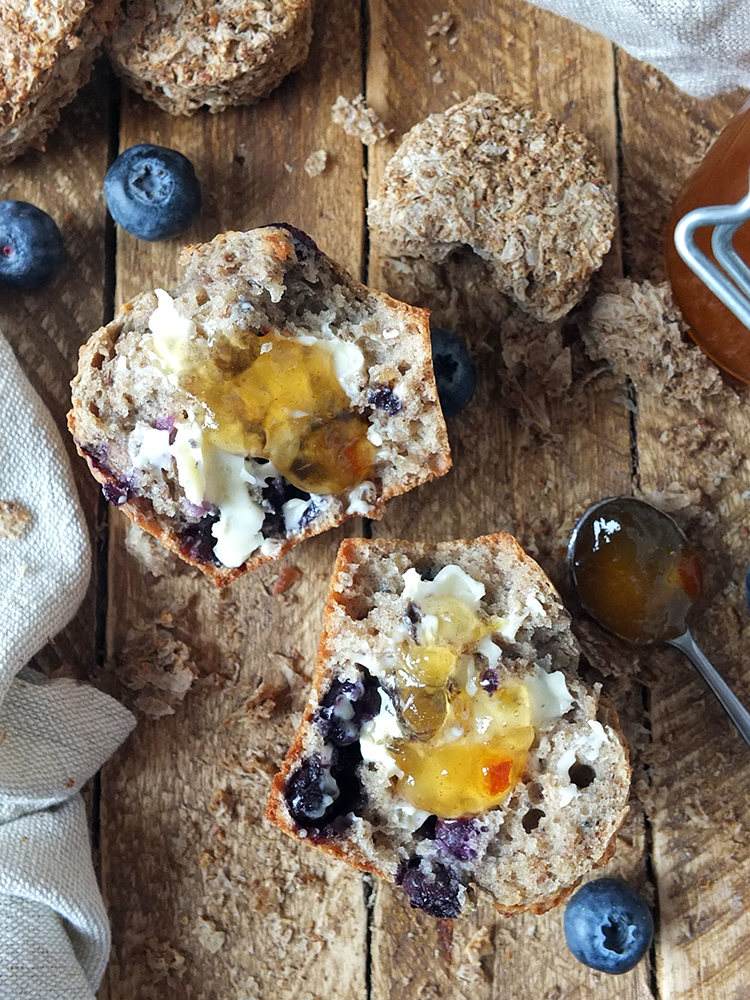 I have to say these are a rather lovely breakfast muffin indeed, and a great way to use up those stale Weetabix in the back of the cupboard (although how can you tell if they are stale or not?!). It only makes a half batch so you're not left with extra muffins laying around tempting you all day. Six muffins are just enough, and these didn't last long enough to even get cold.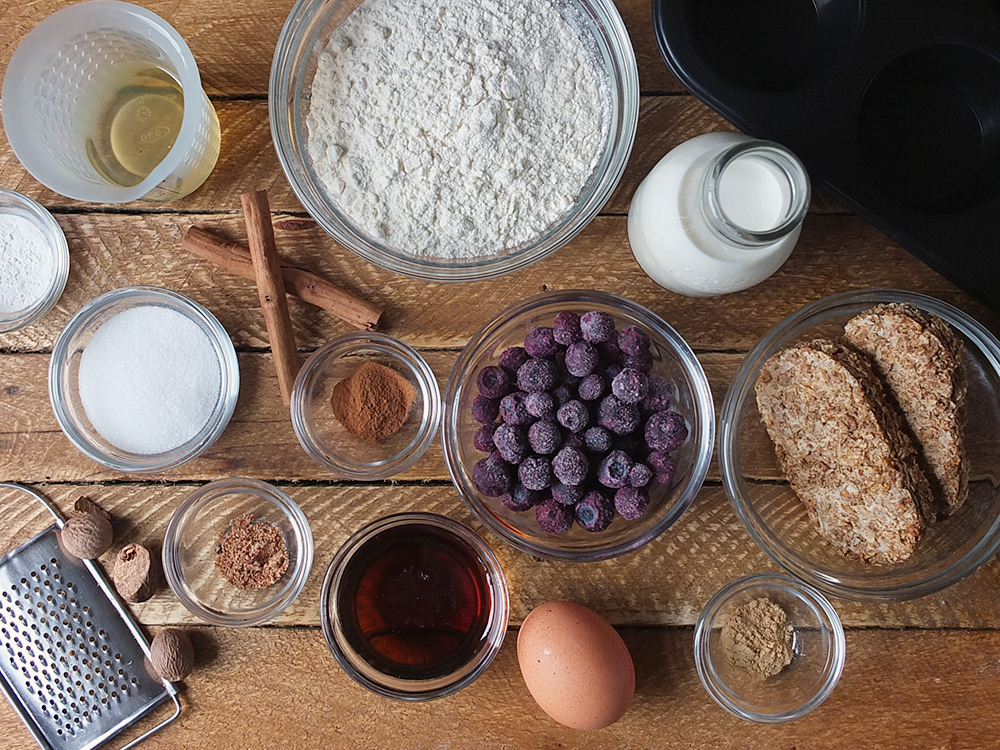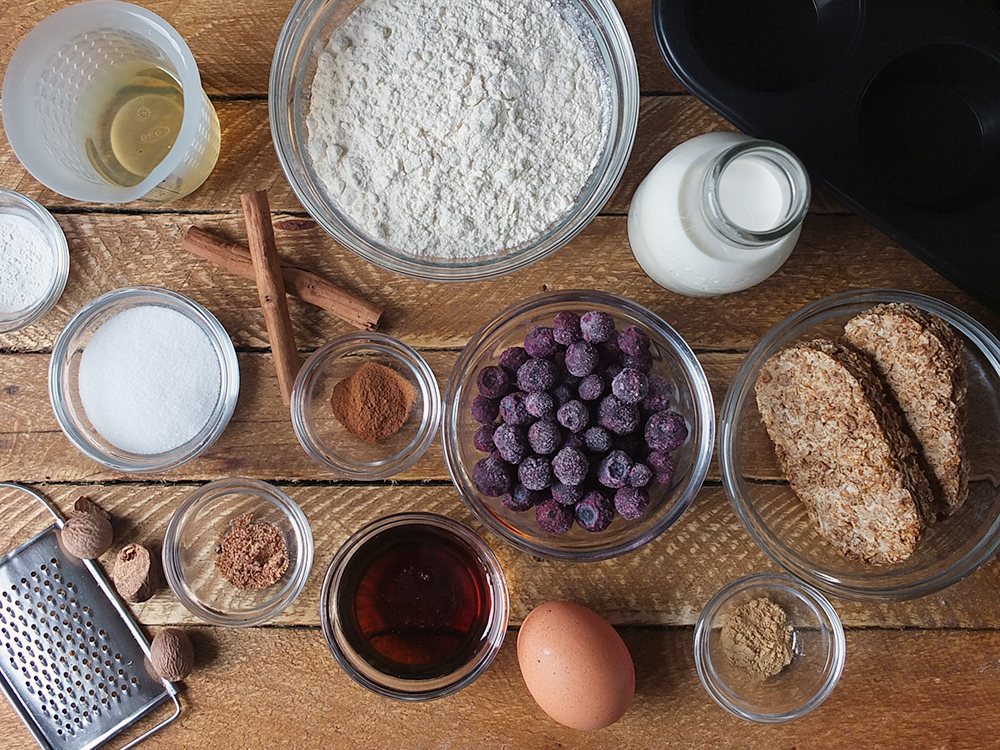 INGREDIENTS NEEDED FOR THESE BLUEBERRY WEETABIX MUFFINS
plain flour (or all-purpose flour)
caster sugar (or granulated for my overseas readers)
spices: cinnamon, ginger and nutmeg – I like to freshly grind my own nutmeg for better flavour
a small egg
full-fat milk
baking powder
Weetabix biscuits – any flavour
maple syrup – Canadian, of course!
sunflower oil
frozen blueberries
HOW TO MAKE BLUEBERRY WEETABIX MUFFINS
One: Place plain flour, sugar, baking powder and spices in a medium-sized bowl.
Two: Crumble in two Weetabix biscuits and stir.
Three: Crack a small egg into a measuring jug and add enough to milk to make 170ml. Mix with a fork and add the sunflower oil and maple syrup.
Four: Stir the wet ingredients into the dry.
Five: Fold in the frozen blueberries
Six: Spoon into a lightly greased muffin tin and bake in the centre of a preheated oven for 20 minutes.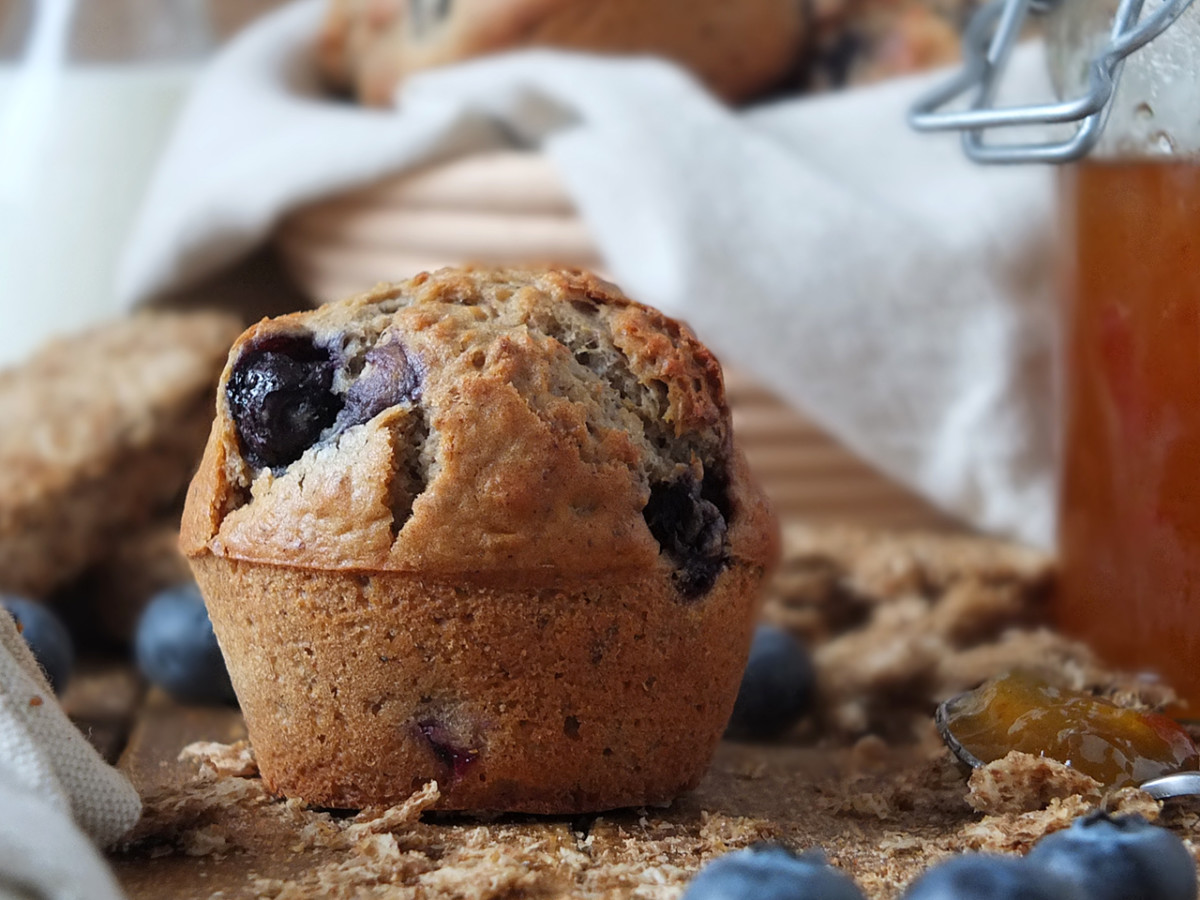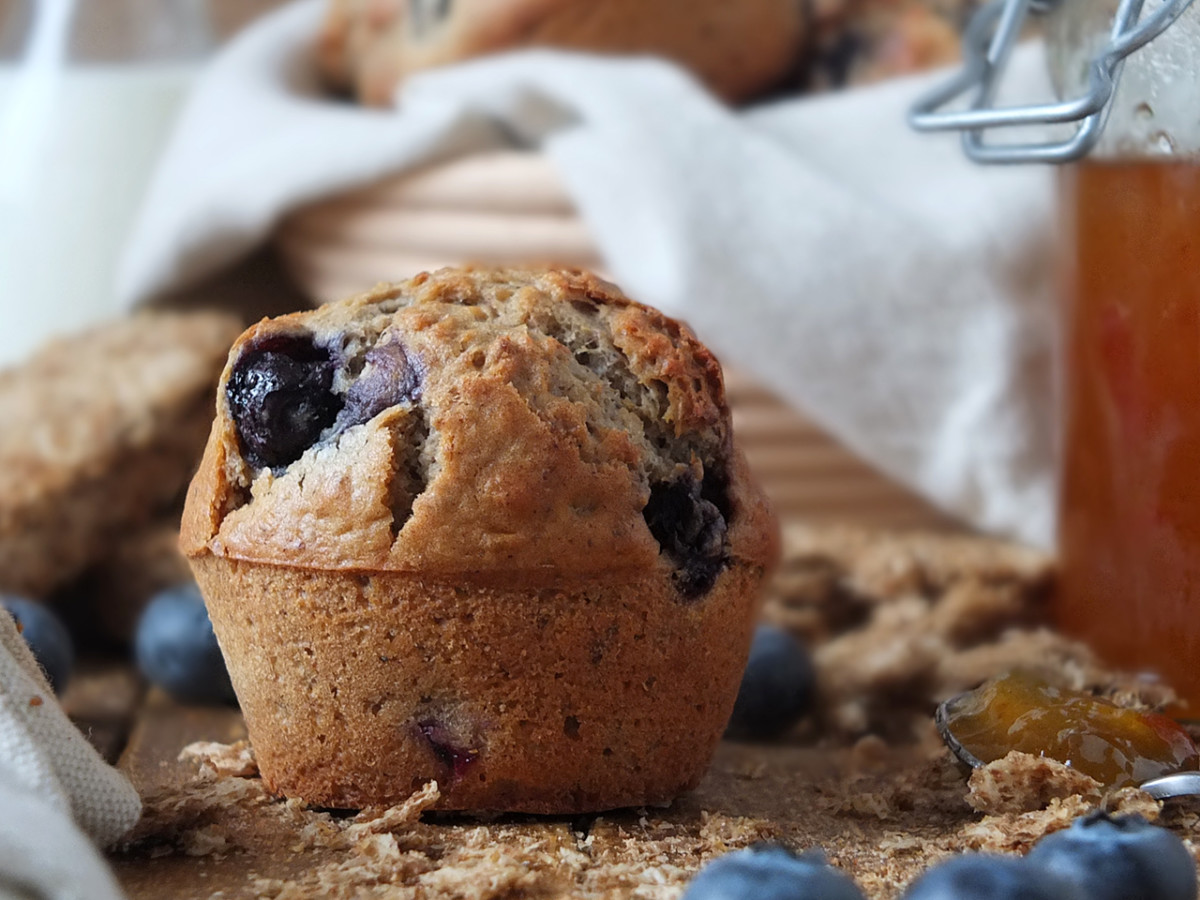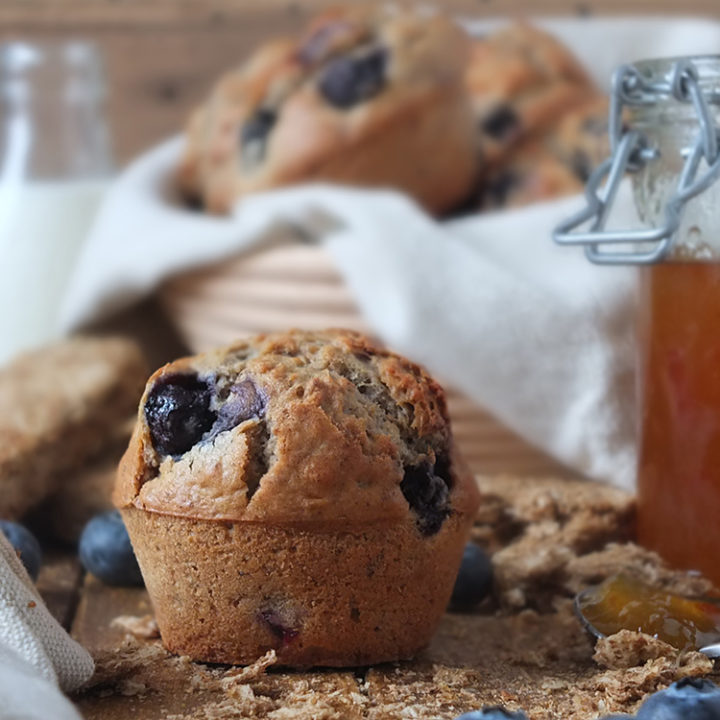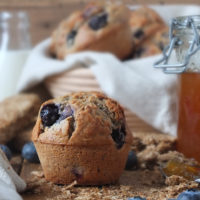 Easy Blueberry Weetabix Muffins
A half batch of deliciously spiced blueberry muffins made with leftover Weetabix and other store-cupboard ingredients. Perfect for a weekend brunch or after school snack.
Print
Pin
Rate
Affiliate Links
This recipe card may contain affiliate ingredient and equipment links. As an Amazon Associate I earn from qualifying purchases.
Instructions
Preheat oven to 190 C. Lightly grease a six hole muffin tin, or use paper liners.

Combine the flour, sugar, baking powder and spices in a medium sized bowl.

Crumble in the Weetabix and stir until combined.

Crack egg into a measuring jug and make up to 170 ml with enough full fat milk. Whisk in the maple syrup and oil.

Add the wet ingredients to the dry and fold with a wooden spoon until just combined.

Gently fold in the frozen blueberries. Do not over mix.

Spoon into the prepared muffin tin and bake for 20-25 minutes, until well risen and golden.

Serve warm with butter, honey or jam.
Nutrition
Calories:
286
kcal
|
Carbohydrates:
39
g
|
Protein:
5
g
|
Fat:
11
g
|
Saturated Fat:
1
g
|
Cholesterol:
28
mg
|
Sodium:
21
mg
|
Potassium:
169
mg
|
Fiber:
1
g
|
Sugar:
12
g
|
Vitamin A:
75
IU
|
Calcium:
79
mg
|
Iron:
1.5
mg
PIN THESE BLUEBERRY WEETABIX MUFFINS FOR LATER