These blueberry muesli muffins are super simple to make, and they're a great way to use up that box of old muesli hiding in the back of your cupboard. It's a perfect recipe for lazy Sunday morning baking.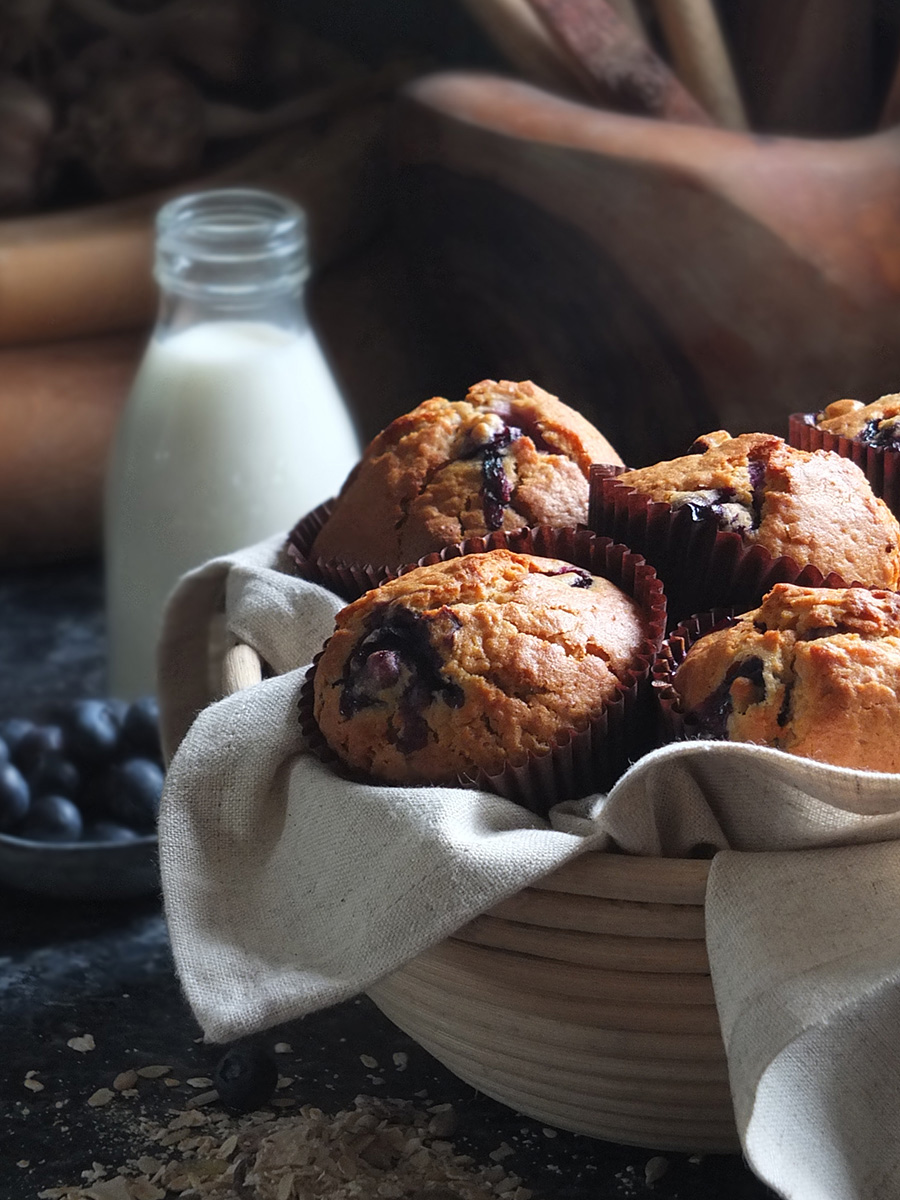 Imposter syndrome
There has been a discernible shift, of late, and I think now is as good a time as ever to tell you about it. Well, truth be told, I wrote the contents of this recipe post a month ago, before everything in the world suddenly changed, but still… it's relevant.
I battle with imposter syndrome. I have never truly felt I have been good enough in most aspects of my life. I've always tried to mould myself, my thoughts, my feelings and my actions into what the people around me wanted me to be; as if I was reacting to my environment and not actively participating in shaping it.
I've been criticized for being too quiet, too loud, too reserved, too much of a show-off, too fat, too thin, too young, too old, too ginger, not ginger enough. Not feminine enough. Not Enough. The list is endless.
As a result, I've always been overly hard on myself; constantly self-checking. How can I do a better job, how can I be a better person? How can I be more?
While being self-aware is a good thing, overly heightened self-awareness is exhausting, and frankly, anxiety-inducing. You can't be everything to everyone. I've realised recently that this applies to both personal relationships and in business.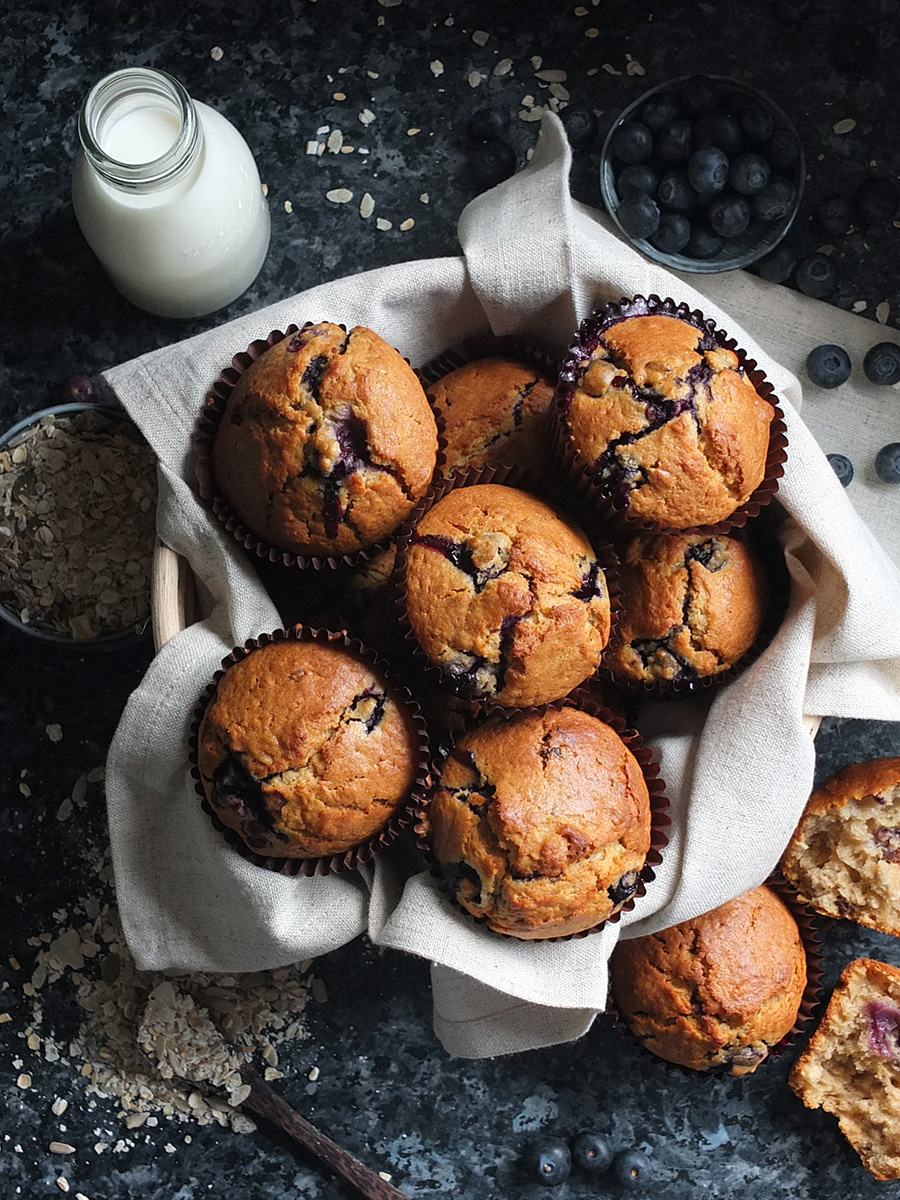 Business is Personal
I'm currently reading a book entitled Business is Personal by Penny Power OBE. It has been quite the eye-opener for me, and I highly recommend reading it or gifting it to any businesswoman in your life.
Like the author, I too am an accidental entrepreneur. This website came about purely as a hobby back in 2011 while I was procrastinating studying for my Open University degree and juggling the responsibilities of being a stay-at-home mother of three. At that time my children were 2, 4 and 11. My website, my confidence and my sense of self-worth have grown (fluctuated!) and developed along with them.
Regular readers will have seen my children grow up on these digital diary pages, but you've not seen what's been going on inside my mind, behind the scenes. The constant self-doubt, wondering if I should be doing something else with my life instead of pouring so much of my creative energy into this website.
In 2018 I won best food & drink blog in the UK in the Vuelio Awards. In 2019 I was one of four shortlisted for this award again. This was an incredible achievement, but even now a big part of me thinks that I didn't deserve it, that my content wasn't deserving enough.
Jenny's book has opened my eyes to the fact that imposter syndrome is a common challenge many people face; I am not alone.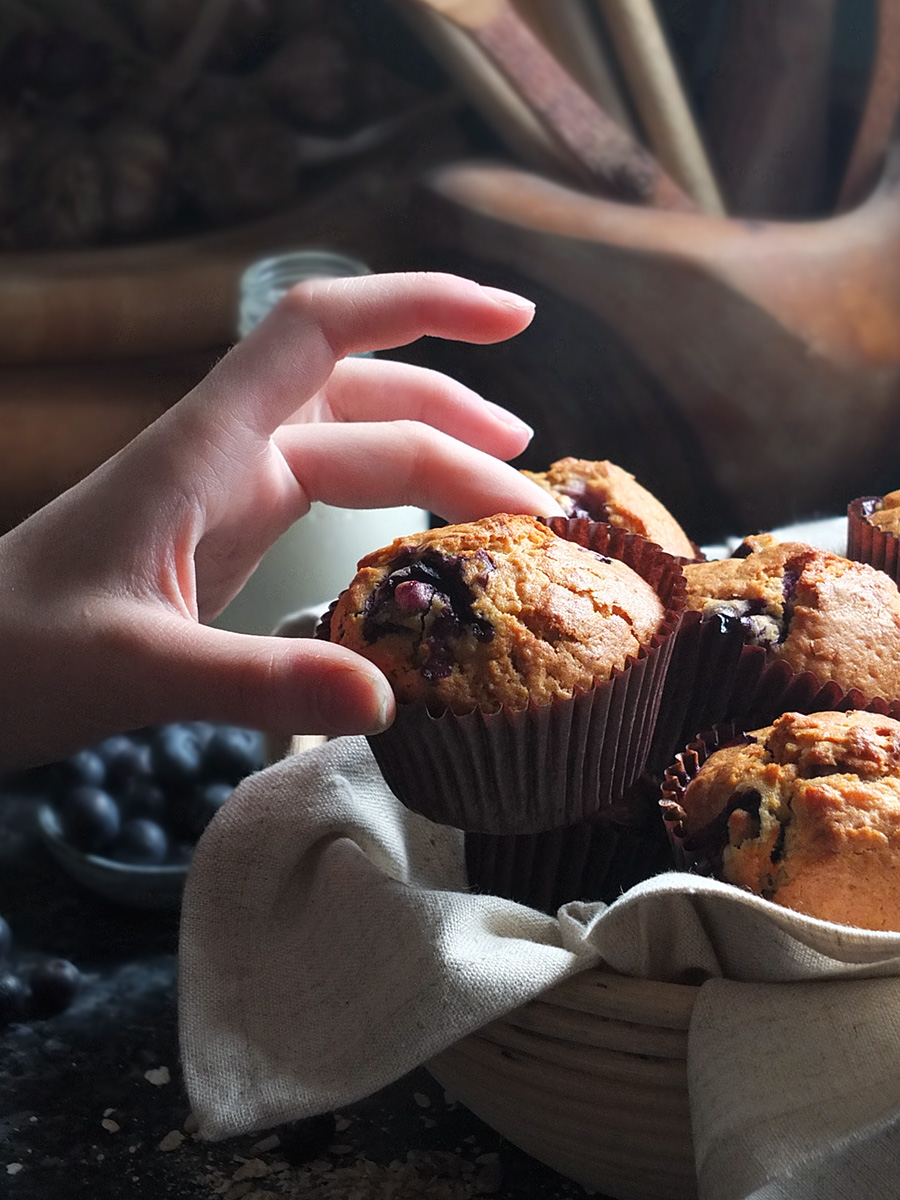 Embrace the shadows
My discernible shift, of late, is to be actively participating in shaping my own environment with awareness, mindfulness, tolerance and understanding. In business, this means that my own photography style has shifted in order to utilise the moody, darkness of my kitchen. There's also a lot happening behind the scenes.
It's time to embrace the dark, the shadows and to acknowledge that there's beauty to be found everywhere, even in broken things. I am reminded of that Japanese way of mending broken pottery with gold. The flaw is then seen as a unique part of the object's history, as a thing of beauty.
We're all just making it up as we go along, aren't we? I've come to the conclusion that no one really has anything sussed out. All we can do it try our best, keep showing up and try not to deliberately hurt anyone on the way.
If anyone has read this far (I'm sure state secrets could be hidden in this pre-recipe blog post blurb and no one would ever see them!) I want to say a huge thank you to those people who have been sounding boards and sources of strength and support in my life over these last few years as I've navigated through unexpected health issues, a crumbling marriage, financial hardship, an ongoing divorce and now a global pandemic. You know who you are, and I will be forever grateful.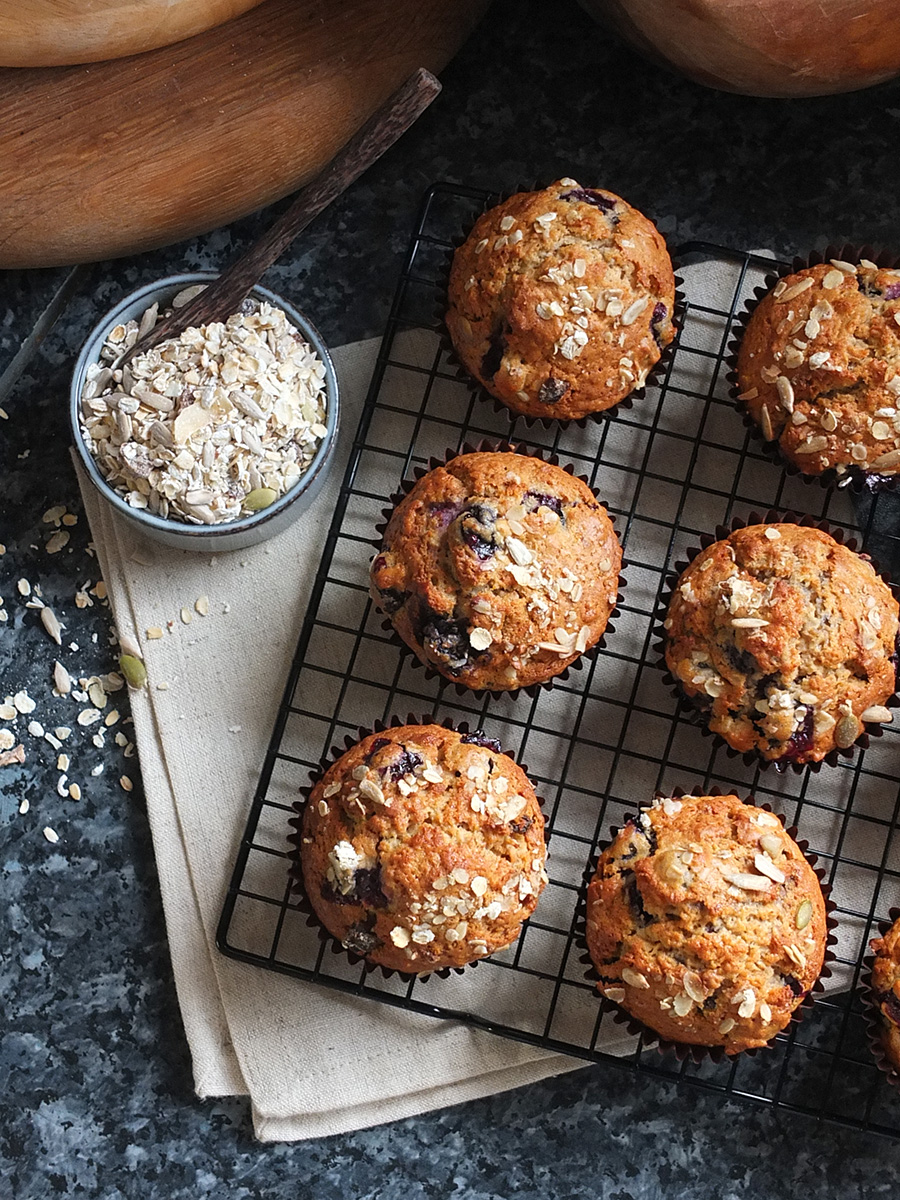 Blueberry muesli muffins… lazy Sunday morning baking
This brings us to some lazy Sunday morning baking!
Inspired by my popular Weetabix blueberry muffin recipe, I created these muffins to use up some out of date muesli lurking in the back of my cupboard. I have to say, I am 100% pleased with the result too!
These muffins are delicious, warm from the oven, with a smear of butter and strawberry jam. Depending on the style of muesli you use, they'll have a delicious crunch from nuts, seeds and the occasional sweet pop from a raisin.
You'll want to use dry oaty muesli for this recipe, not toasted muesli. I've used this brand for mine.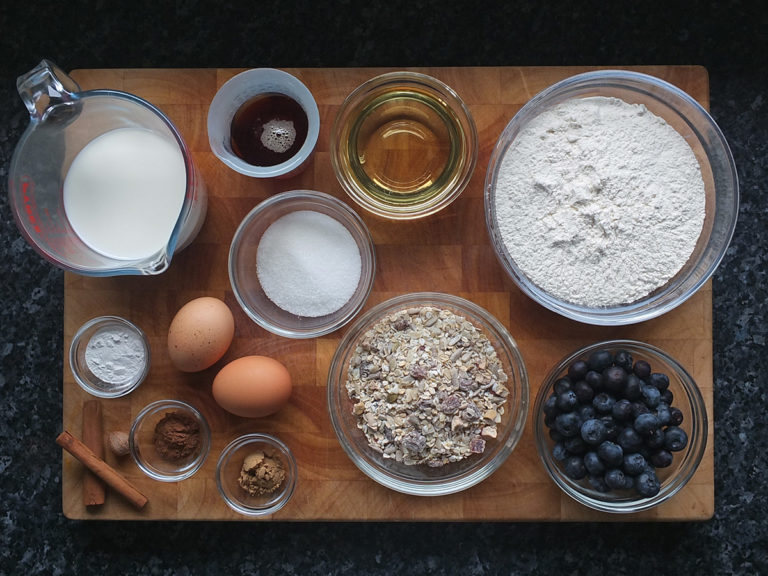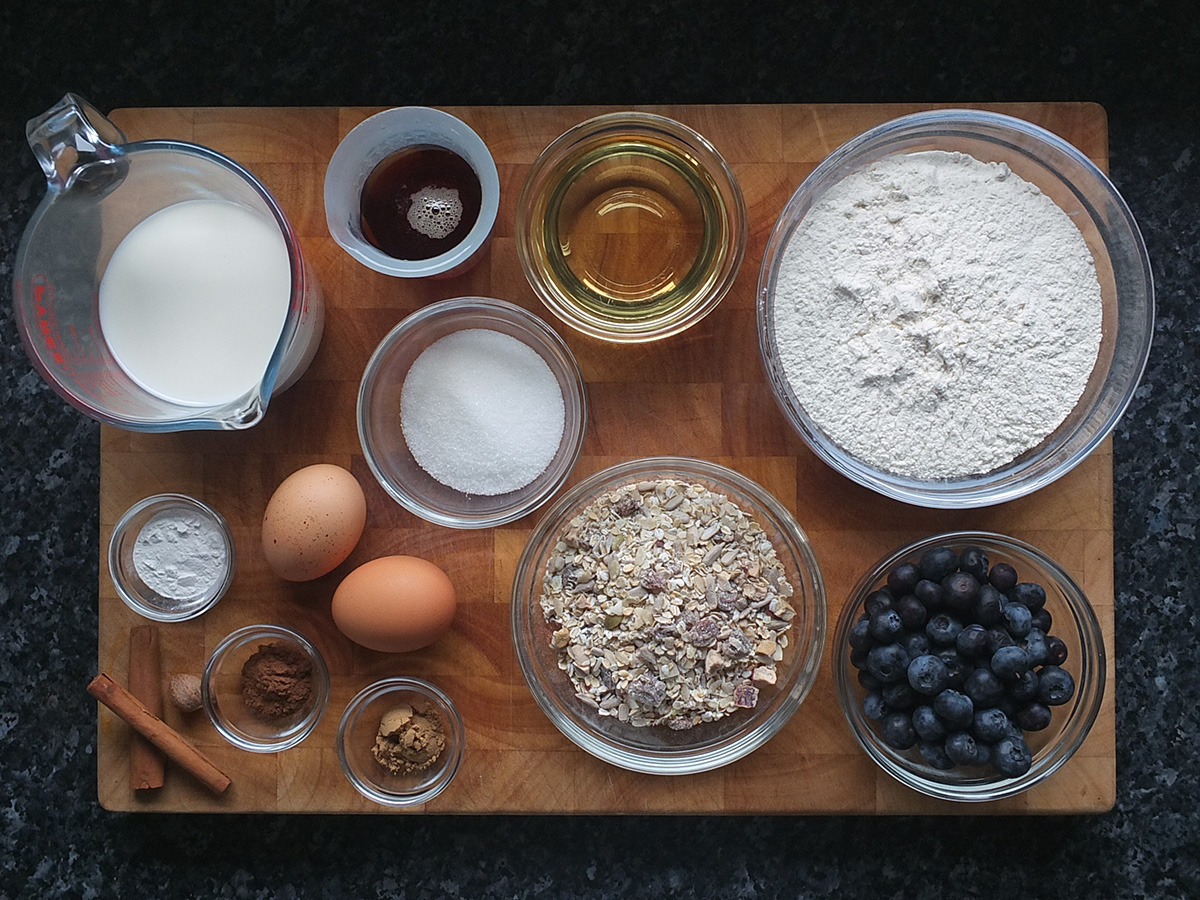 Ingredients you'll need for this blueberry muffin recipe
Equipment needed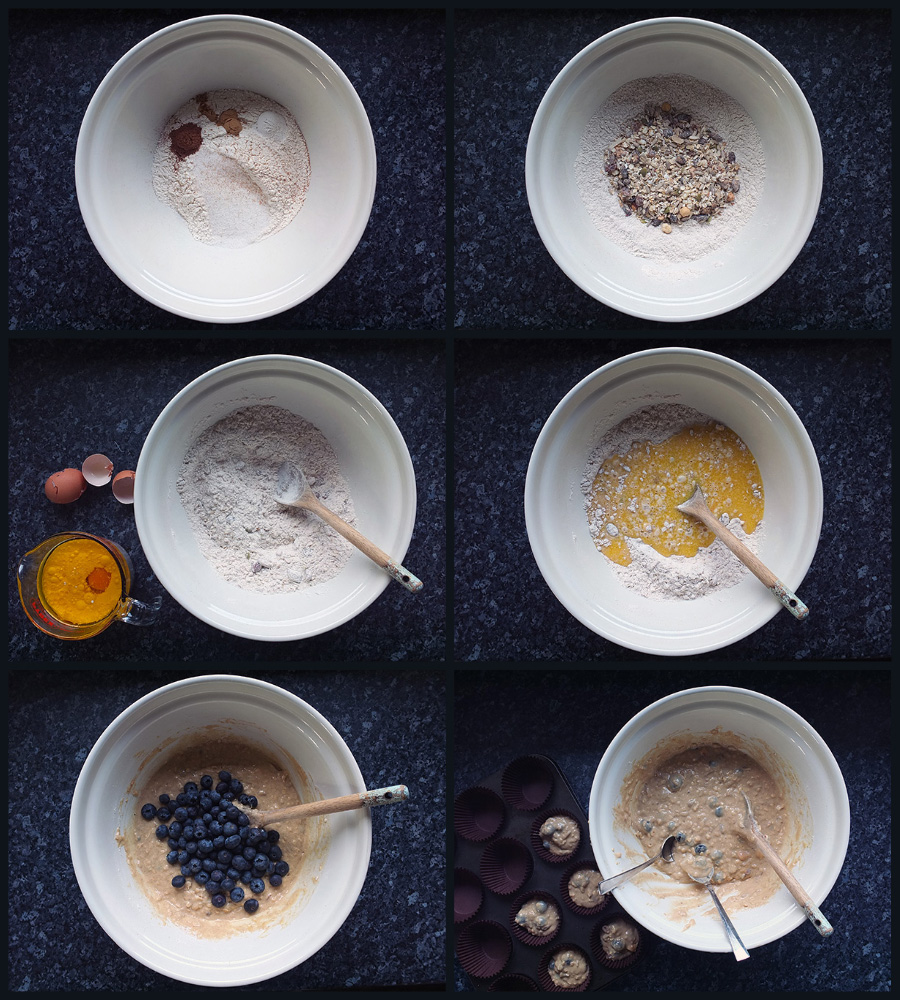 Step-by-step Instructions
Mix together the flour, sugar, spices and baking powder in a large mixing bowl.
Stir in the muesli.
Add the eggs to the milk and whisk lightly with a fork. Add the maple syrup and sunflower oil.
Add the wet ingredients to the dry and stir to combine.
Gently fold in the blueberries.
Spoon into 12 paper cases in a 12-hole muffin tin. Bake in a preheated 190 °C/170 °C fan/ 375 °F/ Gas Mark 5 oven for 25-30 minutes.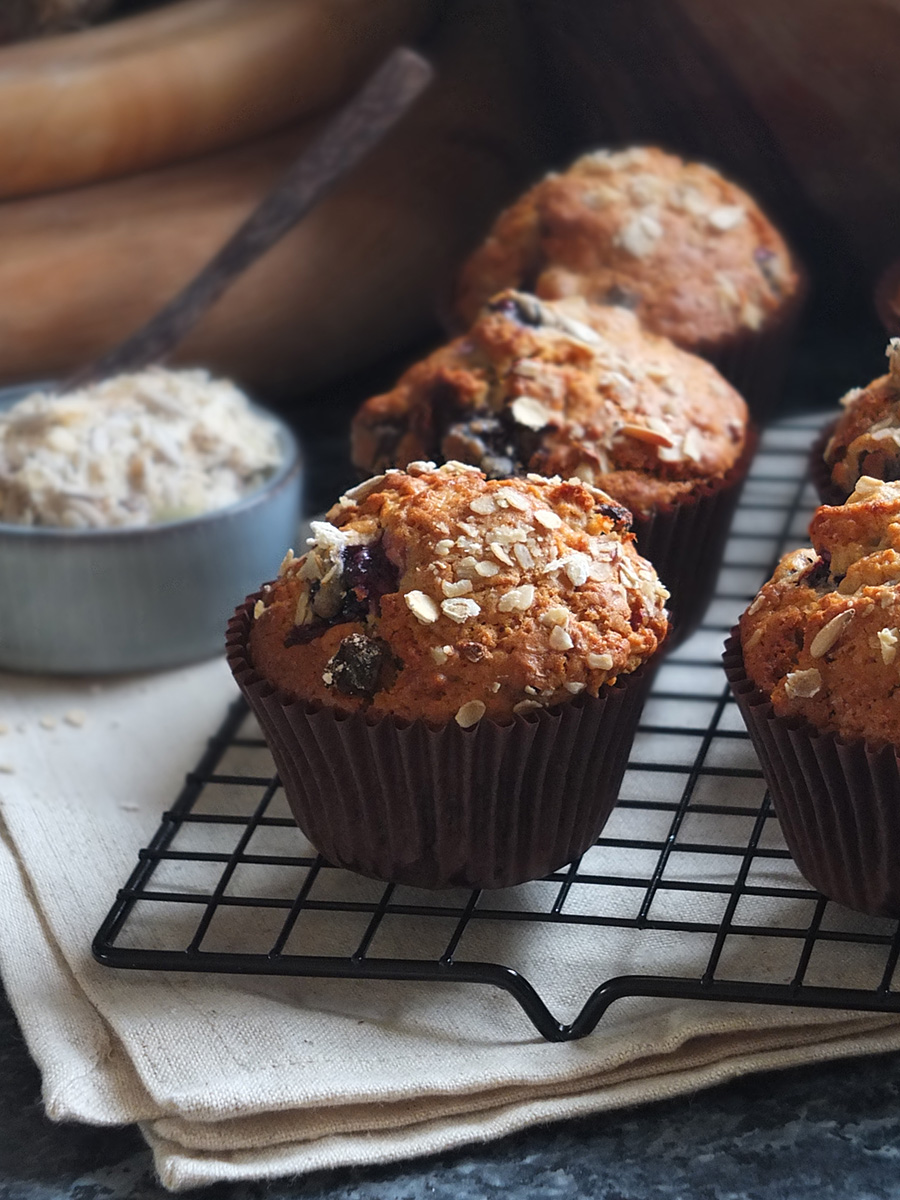 Presentation is everything
Appearances matter, especially when baking for children, I discovered with this recipe. I put this recipe through its testing phase, making three batches to get the recipe proportions just perfect.
One of the batches I sprinkled the tops of the muffins with some of the muesli before baking them (see photo above). I thought this made the muffins look rather wholesome and enticing, but do you know what? The kids won't touch them. The muffin recipe is exactly the same, but the only difference is that it looks healthier so the kids won't be having it.
There you go.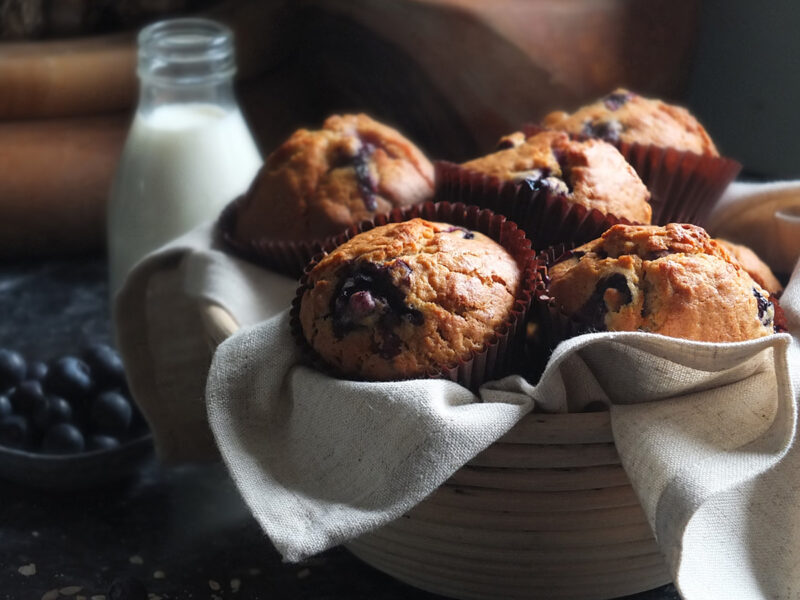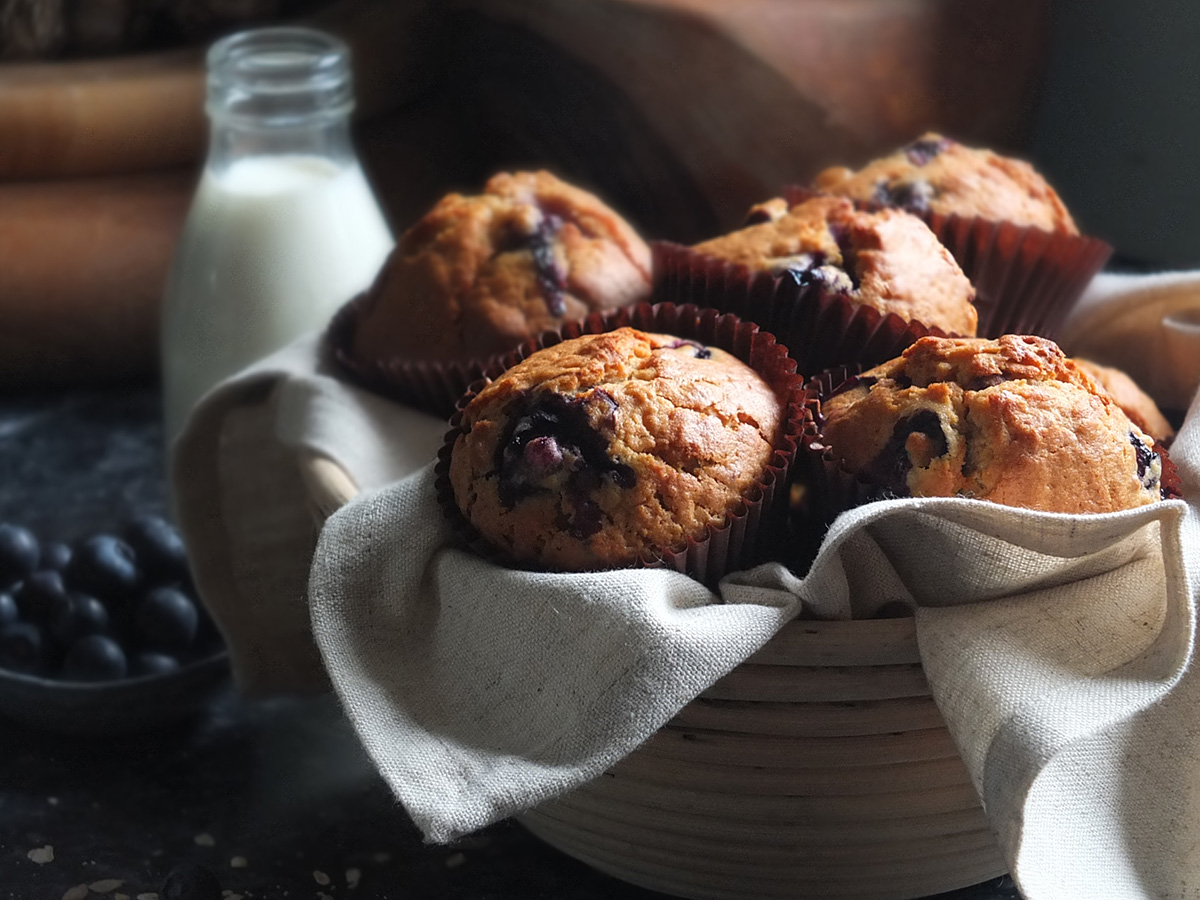 In conclusion, I maintain an unshakeable belief that everything is just going to work out fine. It might not always feel like that at the time but I hold on to this notion. I have to.
There is a lesson to be learned with every experience, even when baking blueberry muesli muffins.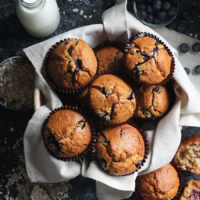 Blueberry Muesli Muffins
These blueberry muesli muffins are super simple to make, and they're a great way to use up that box of muesli laying in the back of your cupboard.
Print
Pin
Rate
Affiliate Links
This recipe card may contain affiliate ingredient and equipment links. As an Amazon Associate I earn from qualifying purchases.
Instructions
Preheat oven to 190 °C/170 °C fan/ 375 °F/ Gas Mark 5 and line a 12-hole muffin tin with paper muffin cases.

Mix together the flour, sugar, spices and baking powder in a large mixing bowl.

Stir in the muesli, breaking apart any clumps of dried fruit that might be in it.

Measure out the milk and crack in the two eggs, whisking lightly.

Add the sunflower oil and maple syrup to the milky egg mixture.

Add the wet ingredients to the dry, and mix to combine.

Spoon into the prepared muffin tin and bake in the centre of the oven for 25-30 minutes.

Once cooled, store in an airtight container.
Environmental Information
Other recipes to use up leftover muesli
Photo Credit: www.learningwithexperts.com
With just two extra ingredients and 25 minutes in the oven you can turn dry, boring muesli into a delicious crunchy breakfast (that even the kids will eat!).
Use up leftover muesli in these delicious flapjack snack bars; perfect for taking out on picnics or hikes.
Pin this blueberry muffin recipe for later