In collaboration with The Post Office Travel Money Card.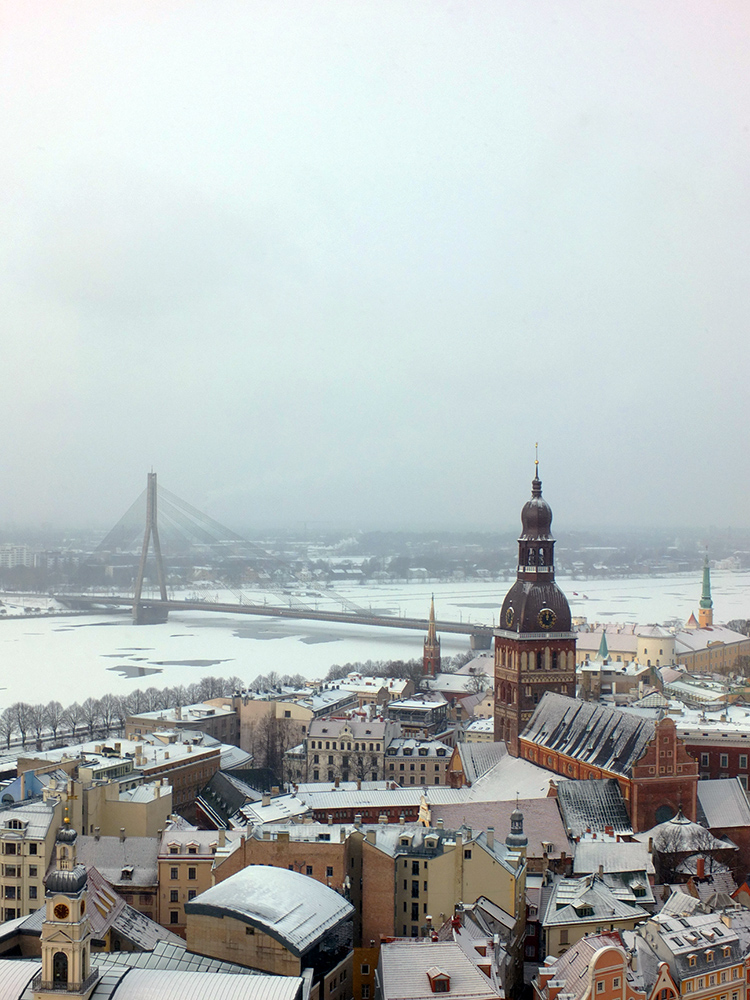 Vecrīga, Latvia for 'Old Riga', is the historical city centre of Riga, the capital city of Latvia. It was established in 1201 by Bishop Albert and was granted city status in 1225, and in February 2018 I paid a visit to it for the first time.
I knew nothing of the city, the country or its cuisine before I arrived there, and the purpose of my visit was to discover what I could. I believe that exploring a destination via its gastronomy is one of the most authentic cultural experiences you can have. Food tells a story, covering history, economics and culture. Food links us all together, no matter where we come from. We all eat.
Armed with a €250 pre-paid Post Office Travel Money Card, and a hefty appetite for adventure, I headed the furthest east I've ever been via an Air Baltic flight.
I flew to Riga from Aberdeen, in Scotland, via Amsterdam. A taxi from the airport to my hotel cost €23. There are cheaper options for the 15-20 minute journey from the airport into the city, but it was cold (so cold!) and I didn't want to wander about, poorly dressed, looking for the bus.
FAT CAT eklērnīca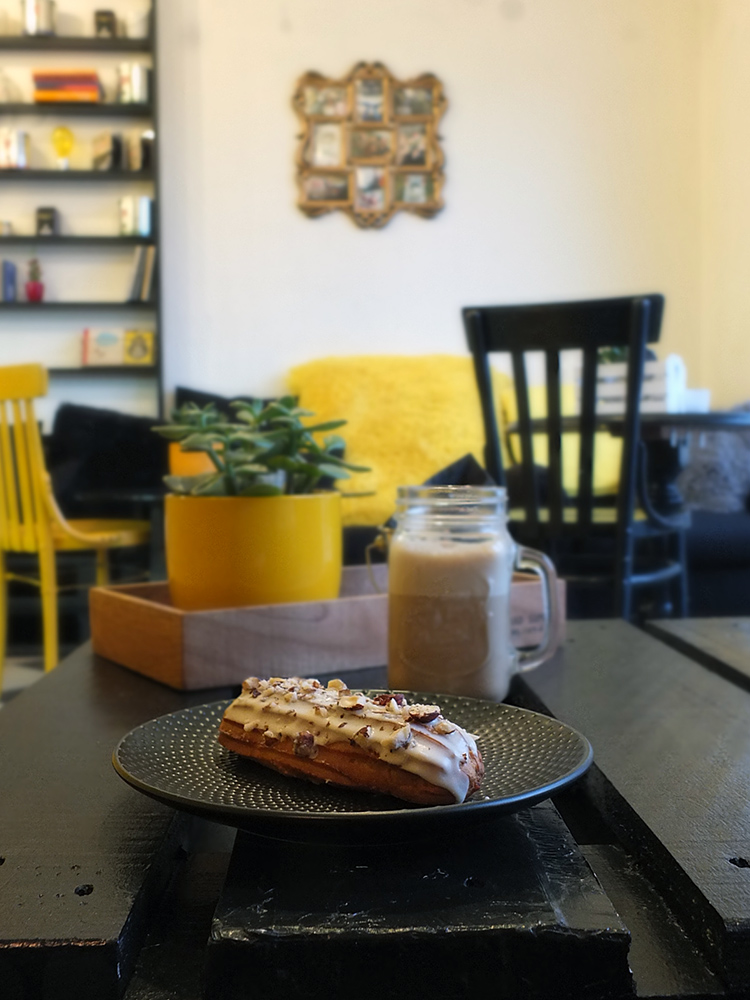 The first thing I noticed about Riga, besides the stunning architecture and haphazard layout of the street plan, was how cold it was! (Did I mention it was cold?!) We forget, in Shetland and Britain, that we're warmed nicely by the Gulf Stream. It was around -7°C while I was in Riga, and it's a dry cold that hits your lungs and exposed flesh like dry ice. Being outside meant I couldn't stop moving, despite wearing four layers of clothes (including thermal underwear!).
It was around 3 pm when I arrived at my hotel, which meant I had two hours to explore my nearby surroundings before it got dark. The first thing I did was head to the nearest geocache (as you do!), and have a wander around the neighbourhood. Come 4 pm I was getting rather chilled when I spotted a cosy little coffee shop, the FAT CAT eklērnīca, serving a wonderful assortment of homemade eclairs.
I opted for a hazelnut and maple syrup eclair with a latte to warm my fingers, nibbled (and sipped) cosy and warm on a couch with plenty of pillows, watching the people walk by and the fat snowflakes fall gently to the ground. It snowed the entire time I was in Riga, and I loved it.
Cost: €5.70 from the Euro Wallet in my Post Office Travel Money Card.
Riga Central Market – Europe's Largest Market & Bazaar
I did very little research on Riga before my trip; I wanted it to be a spontaneous adventure – what could I discover about the cuisine of the city? All I did was check Google maps for the location of my hotel and some major landmarks so I would know, in general, where I was. I also checked to see if there were any markets – and there was!
Riga Central Market is Europe's largest market and Bazaar and it was located just a few minutes' walk from my hotel. It is housed in five German zeppelin hangars that were abandoned after the First World War and refurbished specifically to become a market. The market was declared a UNESCO World Heritage Site, along with Riga Old Town, in 1998.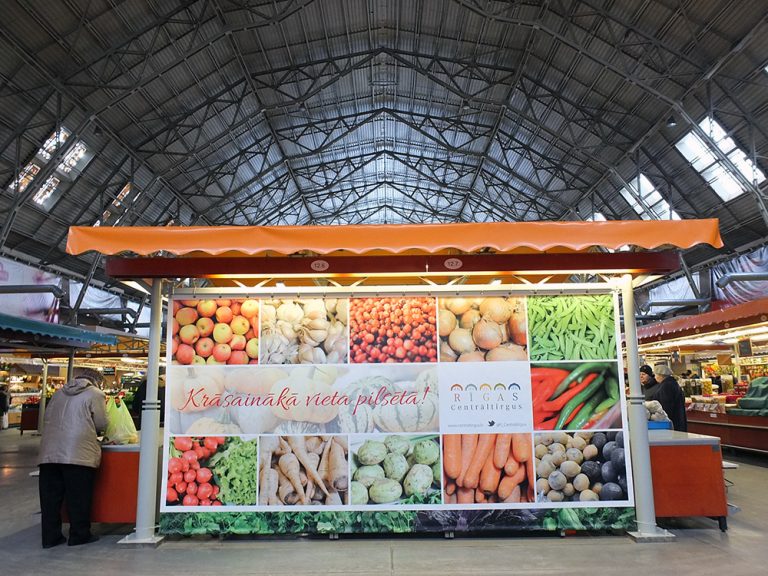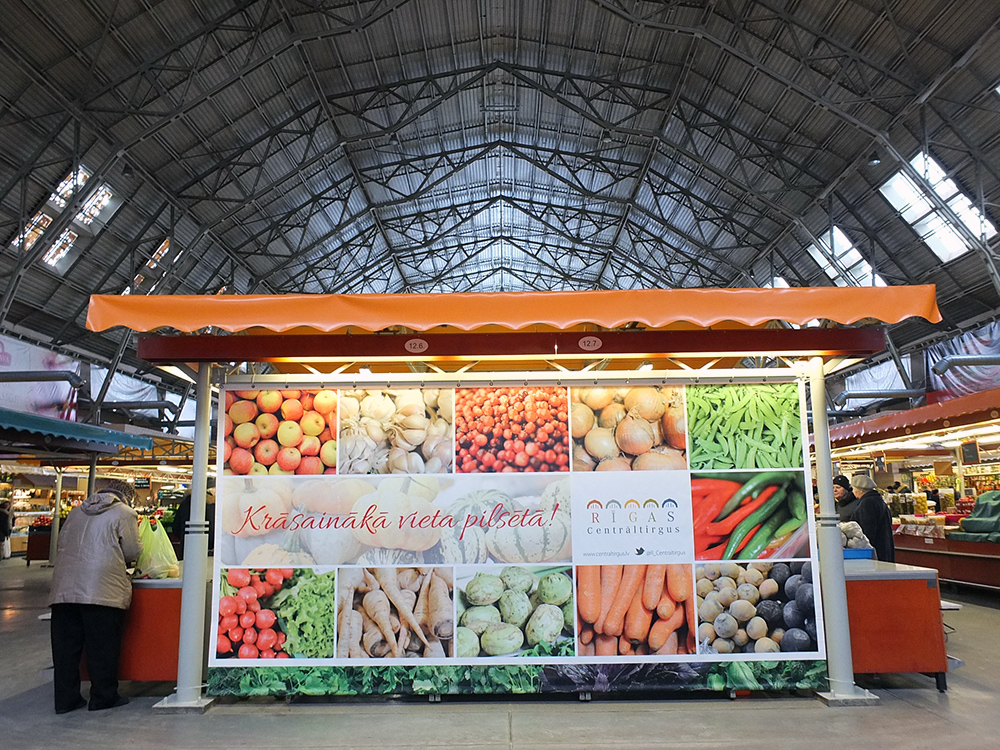 The market is immense! Covering 72,300 square metres (778,000 sq ft) with more than 3,000 trade stands, I spent a good hour and a half wandering, watching and photographing. I felt illiterate – I know only one word of Latvian (Sveiki! It means hello!) and very few of the people I met spoke any English.
Wandering through the market, which is seen as an affordable place for people to shop in Riga due to high supermarket prices, gave me an insight into what people ate – mainly fruit, vegetables, nuts, meat and fish so fresh that some of them were still flopping about on the ice. Many ingredients were smoked, dried, salted or pickled. So many pickles!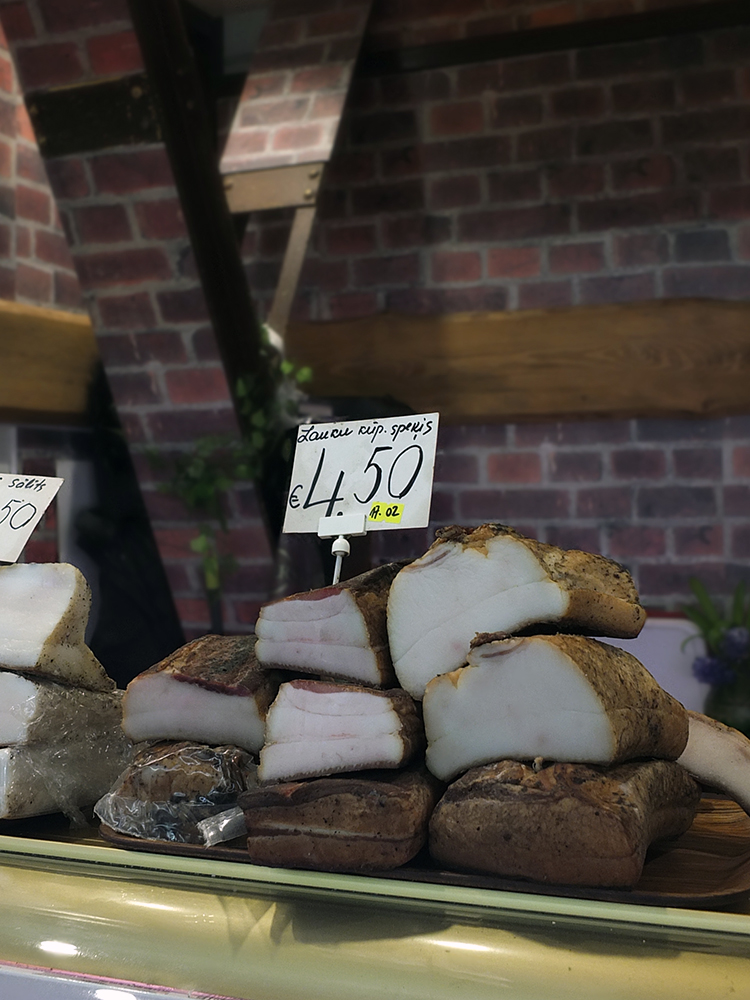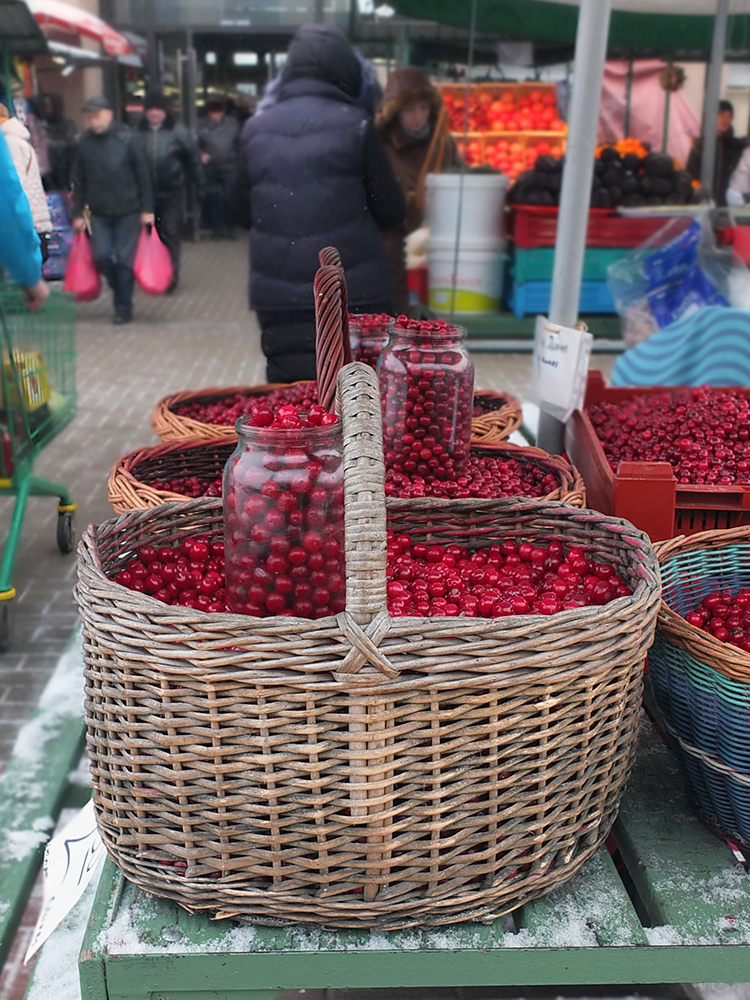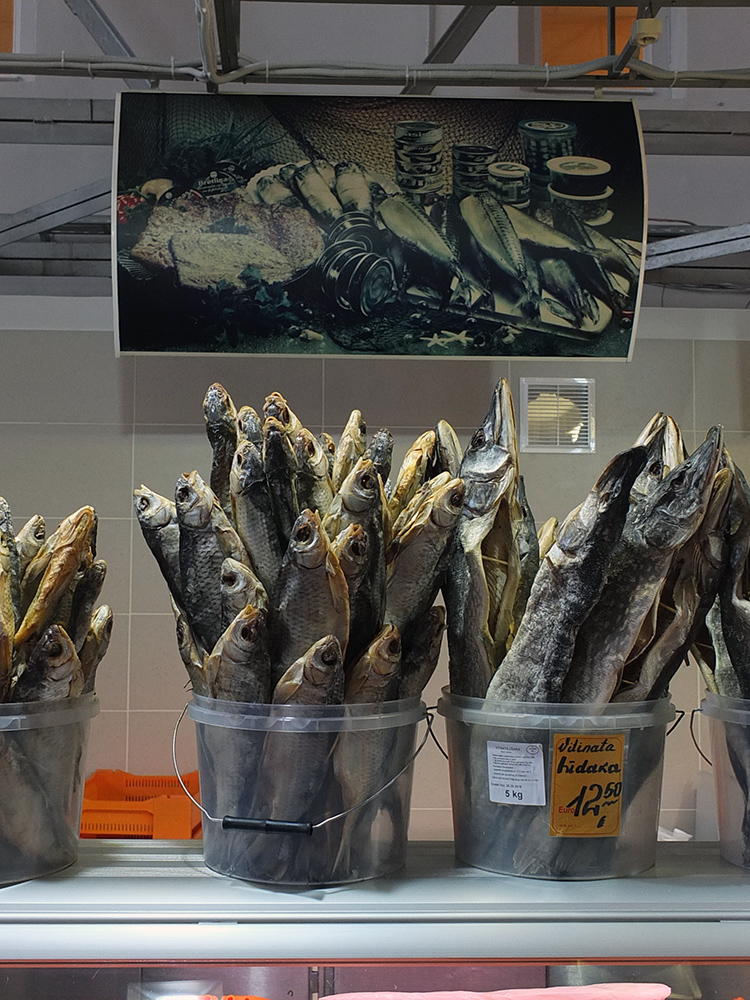 One of the most interesting characters I met was a fellow named Gatis who owns a spice shop, Austrumu Garša, in the market. His knowledge of spice blends is extraordinary – I watched him take orders from customers and skillfully prepare his spice blends for them in a matter of seconds.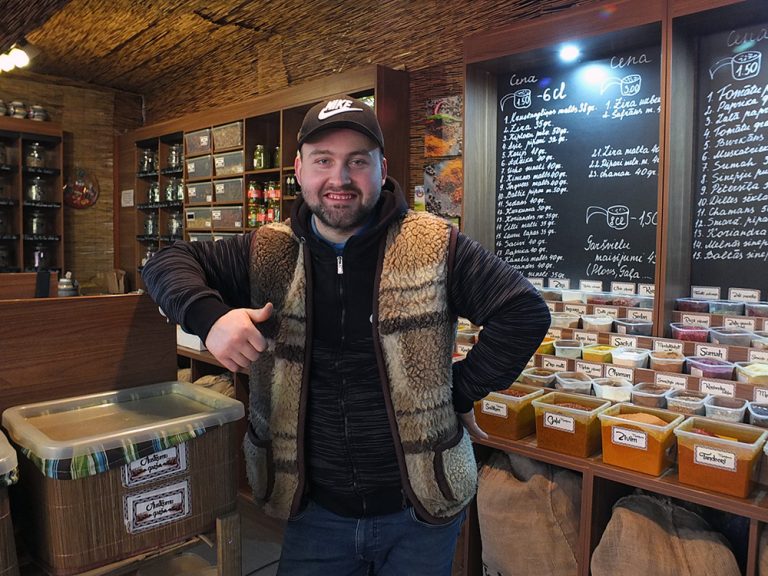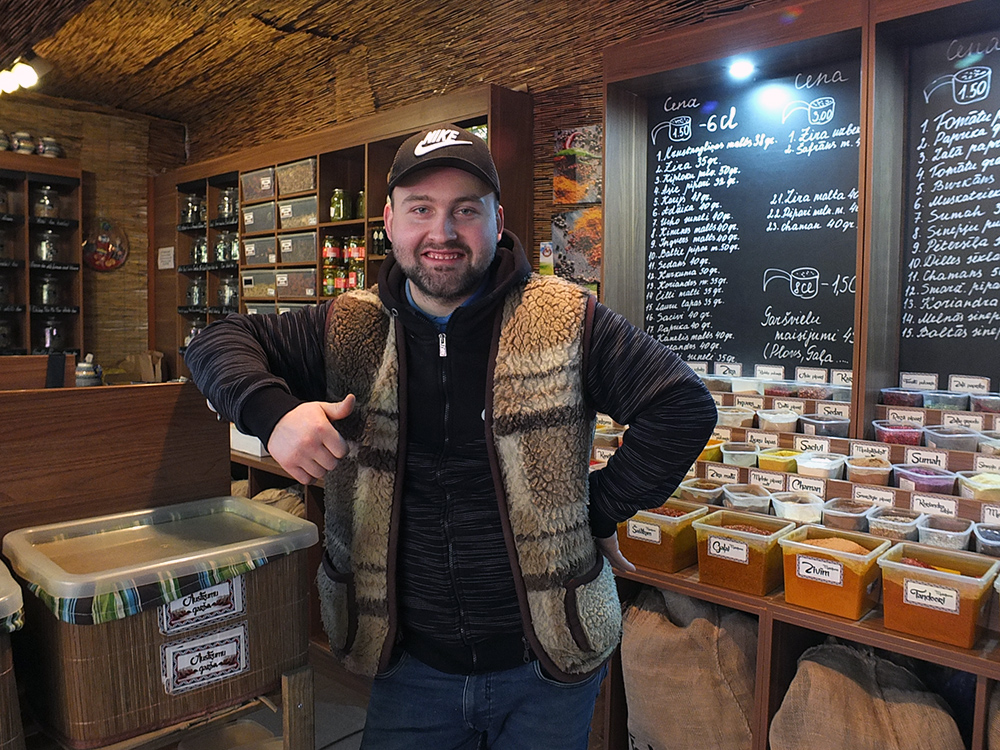 Gatis prepared me a lovely espresso with a pinch of his own special coffee spice mixture. It was deliciously warming, just what was needed on a cold Baltic day. I left his stall with a traditional Latvian blend of spices, as well as a Georgian one which I am looking forward to experimenting with.
Cost: €3 cash. I withdrew €20 from a nearby cash machine for this transaction.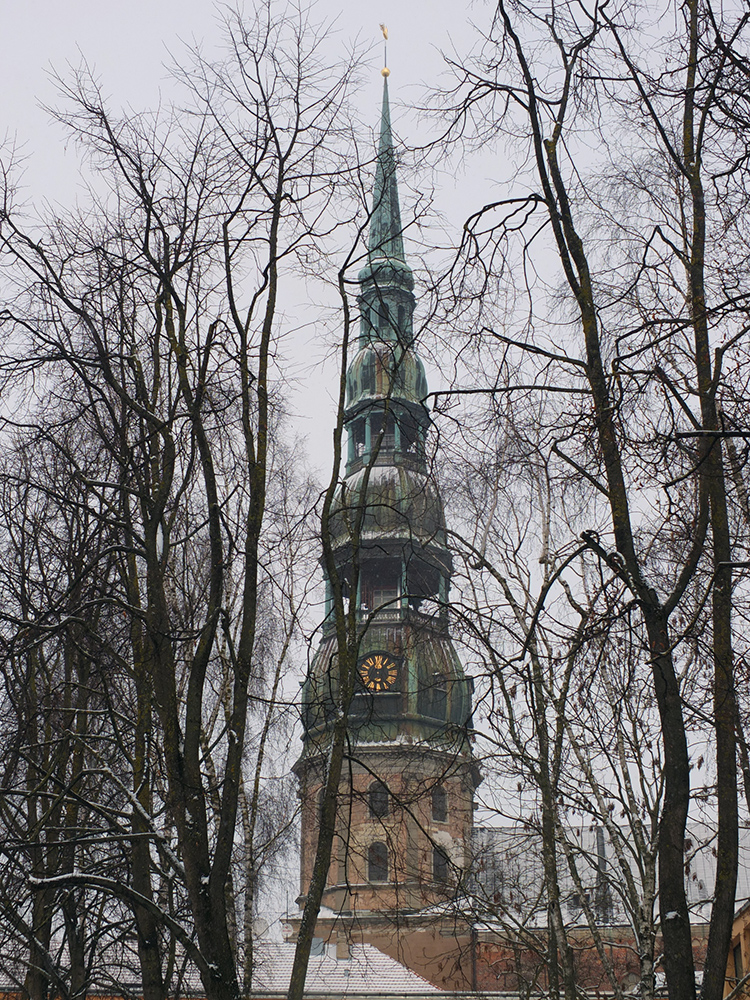 After spending the morning at the market I made my way to St. Peter's Church. I'd heard that you could climb to the top of the spire, and I was keen to see the view.
After paying for my ticket, climbing a few sets of stairs I climbed into a rather rickety lift to the second gallery, a height of 72 metres.
The views from up there are stunning!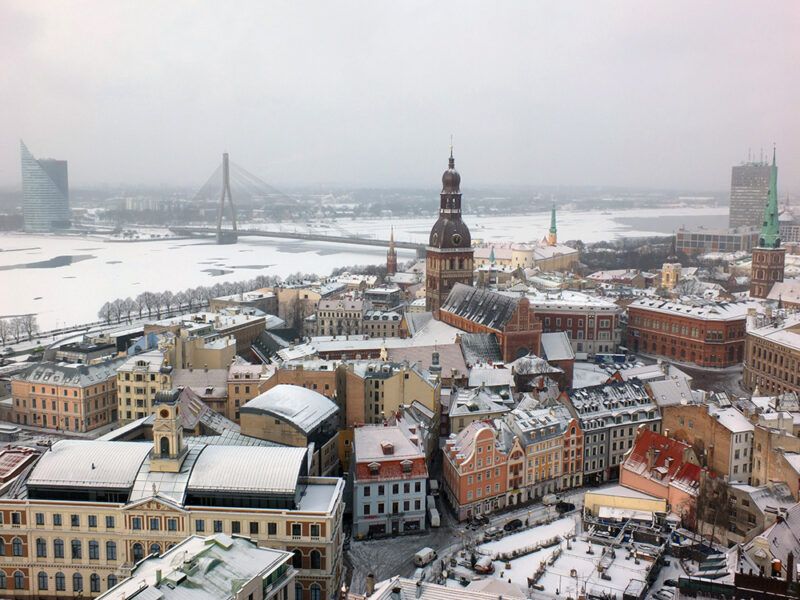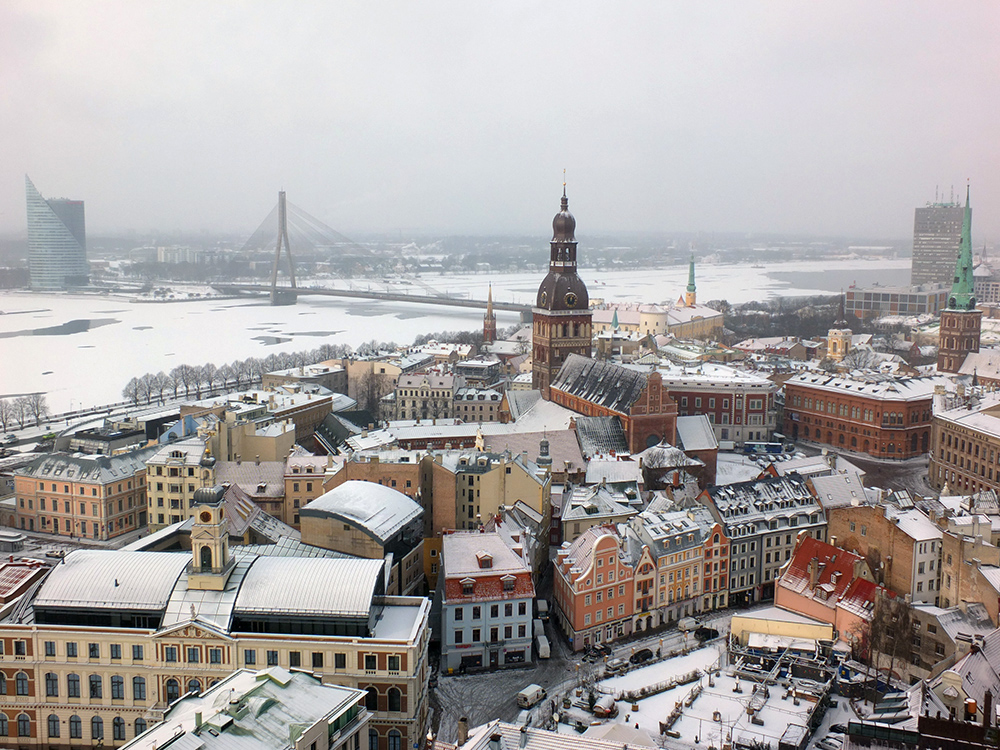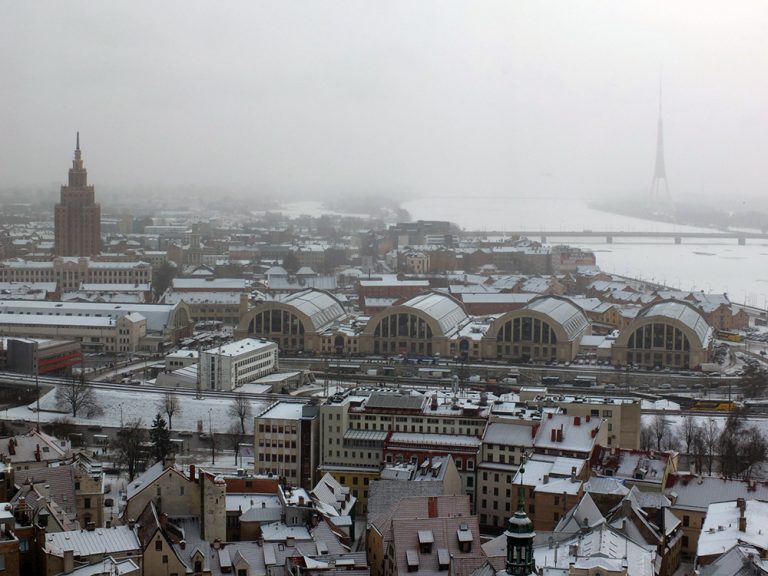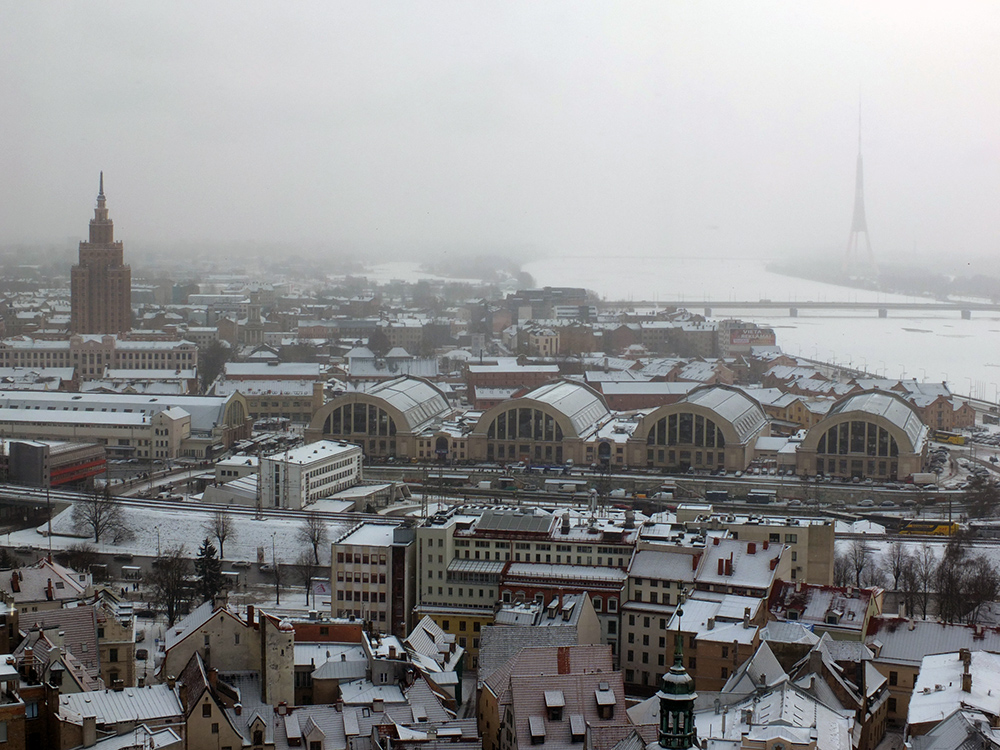 In the above photo, you can see the five zeppelin hangars that house the Riga Central Market.
The chimes in the clock tower play the Latvian folk song "Riga dimd" five times a day, and ring bells to mark the full hour. The clock itself only has one hand to show the hour, keeping with an old tradition.
Restorāns 3 – a Taste of Nature
Ranked the second best restaurant in Riga by The White Guide, Restorāns 3 was a spontaneous, accidental (delightful!) find for me. I'd just come through St. John's Courtyard after visiting St. Peter's Church and my belly was telling me it was about time to find some lunch. I was also rather cold after spending time at the top of the church spire. The words 'wild and organic food' written on a blackboard outside the restaurant, the fact that the restaurant wasn't crowded (I only spotted one other customer through the window) and the prospects of getting warm again were what enticed me in for a taste test, and I was not disappointed.
Restorāns 3 is situated in a historic stone building in Riga's Old Town, with remnants of the mediaeval city wall incorporated into the room decor. Diners can enjoy a view of the cobble-stoned Kaļķu Street, where the city gates used to be.
All of the ingredients used at Restorāns 3 are responsibly sourced from Latvia only. They strictly avoid the use of meat and produce coming from farms that use intensive agricultural methods and the chefs strive to use every part of the ingredients in their recipes.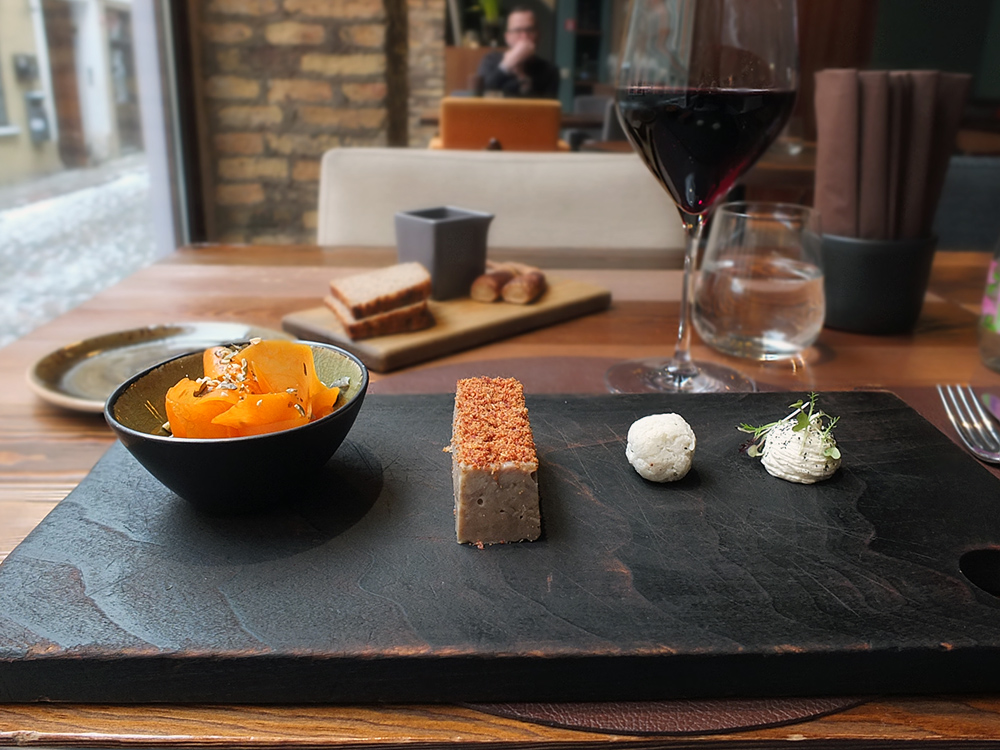 I ordered a three course set meal from their Forest Food lunch menu. The starter consisted of thin ribbons of pickled pumpkin sprinkled with pumpkin seeds and hazelnuts, wild forest duck rillette with a delicate crispy bacon crust, a ball of shredded white radish and an exquisite little swirl of horseradish and soured cream topped with a sprinkling of 'dust' and a few cress sprigs.
It was extraordinary!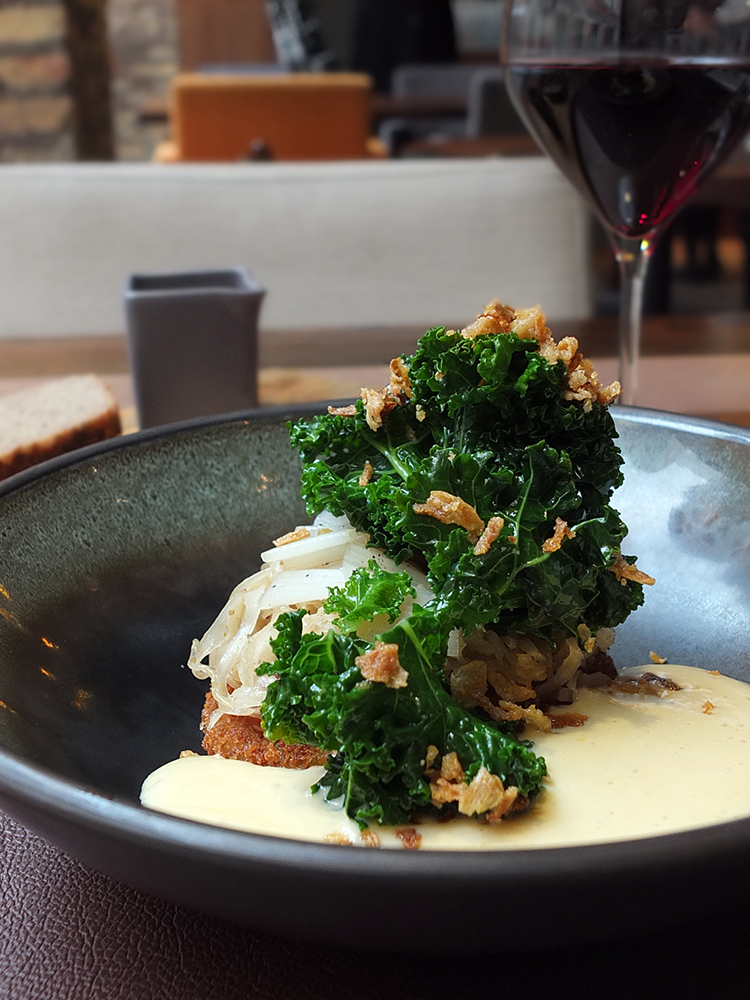 The main course was an exquisite pike croquette with caramelised onion puree, burned leek, pickled cabbage, steamed kale and crispy bacon.
There was an accompanying breadboard with wheat flour breadsticks with garlic and parmesan (pictured below, left) and a nutty seeded dense rye bread. A small clay pot of olive oil was served with the bread.
Dessert was a rather interesting (and incredibly delicious) concoction. The menu lists it as "cherry/bio fennel/ 'Laima' chocolate' (yay, my second Latvian word – Laima means chocolate as I subsequently discovered by stumbling upon a Laima Chocolate Shop.). However, the dessert was much more complex than this. There was a chocolate 'dirt', a gorgeously thick chocolate mousse topped with a sorbet (I think it might have been beetroot? The waiter did mention beetroot…), dried cherries and cherry puree. Utterly gorgeous, and just the right amount of sweet to finish off a perfectly filling meal.
To accompany my after-lunch coffee I was presented with two 'Oreshki' cookies; walnut shaped cookies with a Russian origin which is very popular in the Slavic countries. These crispy cookie shells are baked in a special walnut-shaped mould and are then filled with a dulce de leche filling. They are utterly scrumptious. There was a traditional brown coloured one and a black one, coloured with squid's ink.
The stylishly contemporary Restorāns 3 offers a daily à la carte menu in its ground-floor 'earth' dining room (pictured above). In the evenings, you can enjoy a multi-course gourmet dinner one floor up in the stunningly decorated 'sky' restaurant.
Cost: The price for a three-course lunch menu is only €14.90 while a seven-course gourmet evening experience will only set you back €55.90.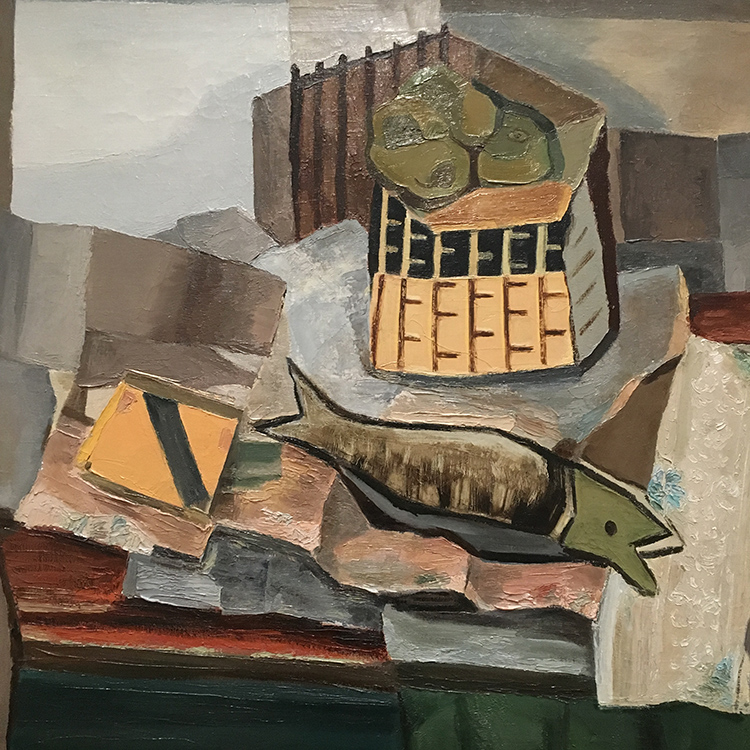 From here I paid a visit to the Latvian National Museum of Art. The entry fee was only €3, and there were four floors of exhibitions to browse. A great way to stay out of the cold for awhile, and explore Latvian art history. As with most cultures (I believe), food made a regular appearance in the artwork.
Restorāns 1221 – more than the numbers
For my evening meal that day I chose a restaurant directly across the road from my hotel: Restorāns 1221. It was recommended to me by a walking tour guide outside St. Peter's Church, and it sounded like an interesting place.
1221 was the year in which the street this restaurant is on appeared; the first street in the Old City. The building was built for the founder of the brotherhood of hunters for beavers, and the first thing I noticed about the menu was that beaver appears on it. I'd never been in a restaurant that served beaver before.
Despite the rather enticing main menu (I also spotted elk, venison, hare and a wide variety of other game dishes), I opted for a simple dish from their Latvian Cuisine section. I'd spied 'grey peas and bacon' on several different outdoor display menus throughout the city, and I was keen to try it – there must be a reason this was served everywhere.
Grey peas with bacon is a traditional Latvian dish often served at Christmas time. The peas themselves resemble large chickpeas with a brown outer and grey inner. They are a species native to Latvia and have recently acquired PDO (Protected Designation of Origin of the European Union) status.
They're delicious! The peas are cooked with plenty of bacon and onions and served with kefir, a fermented milk. This was the first time I'd ever tried kefir, and I confess, despite the first few reluctant sips, I am a convert now to the drink. Apparently, it's really good for you too.
Dessert was a rye-bread and cranberry parfait with vanilla sauce, and as I hadn't yet tried any Latvian beers I bought a glass of Lielvardes Dark – a traditionally brewed Latvian dark beer.
Cost: €24 for the main, dessert and beer from the Euro wallet in my Post Office Travel Money Card.
Neiburgs – the mindful hotel
I spent two nights in Riga and stayed in an incredible hotel my husband picked out for me: Neiburgs. Situated in the heart of Riga's Old Town, next to the Dom Cathedral, it's just a few minute's walk from Riga Central Market, St. Peter's Church and a wide variety of restaurants and eateries.
Neiburgs is a boutique apartment hotel in a listed family Art Nouveau era property. During the renovations of the property, they were careful to preserve the original details of the building: wood parquets, adornments of walls and ceiling, windows, bannisters and doors.
The place is absolutely stunning – an oasis of calm in the centre of the old city.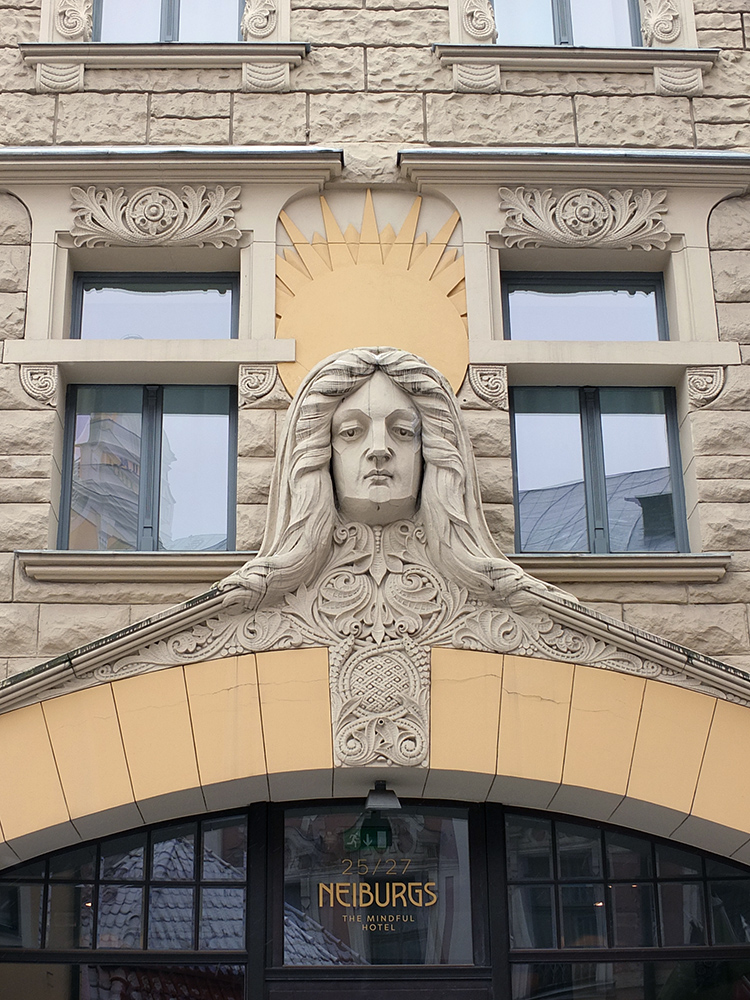 They ever so kindly upgraded my reservation (which was originally for a studio apartment double) to a Senior Suite, complete with my own balcony overlooking the street.
"You are where you stay. What you eat. What you see." they claim, and staff strive to make your stay as pleasant as possible. There's a Turkish Spa, which I'm vexed I never had a chance to try out, a library and a rather exquisite restaurant where I ate on my first night in the city.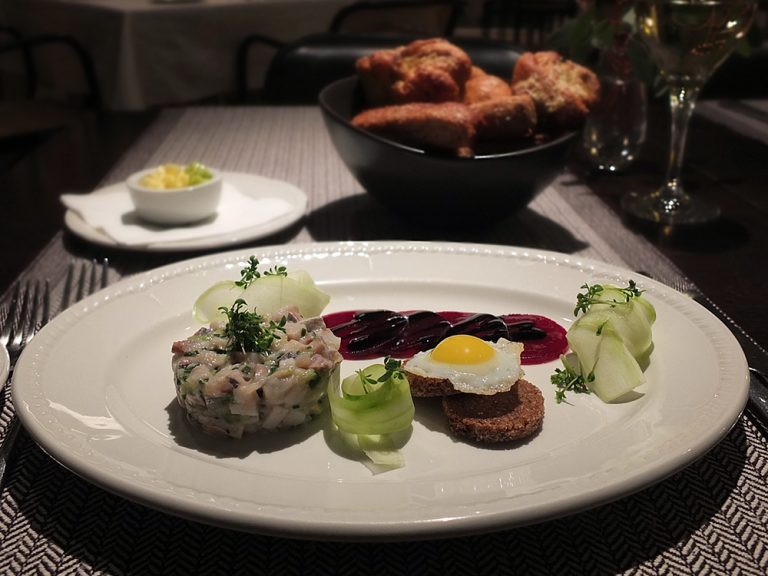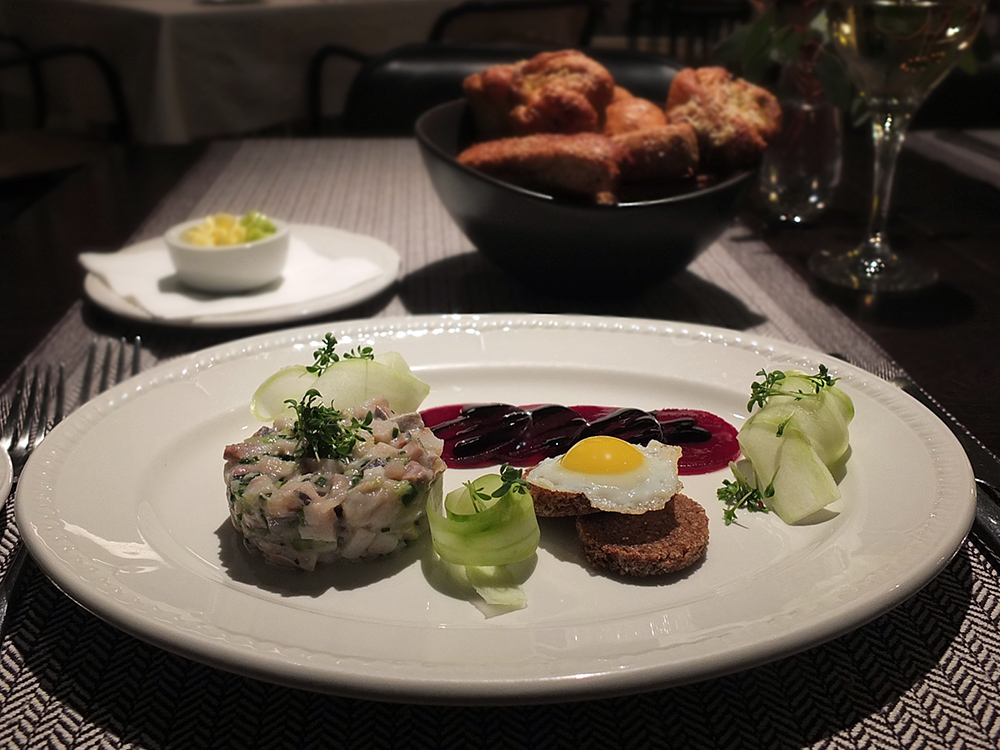 My starter was a beautifully plated Baltic herring tartare with raspberry vinegar-pickled red beetroot carpaccio and rye bread toast topped with a tiny fried quail's egg. Who knew herring could taste so good?
For my main, I continued with the local seafood theme: oven-baked Latvian sturgeon fillet with cep pearl barley and a beetroot and caraway seed puree. Trout caviar and a cep sauce finished the dish, which was incredibly tender and delicious.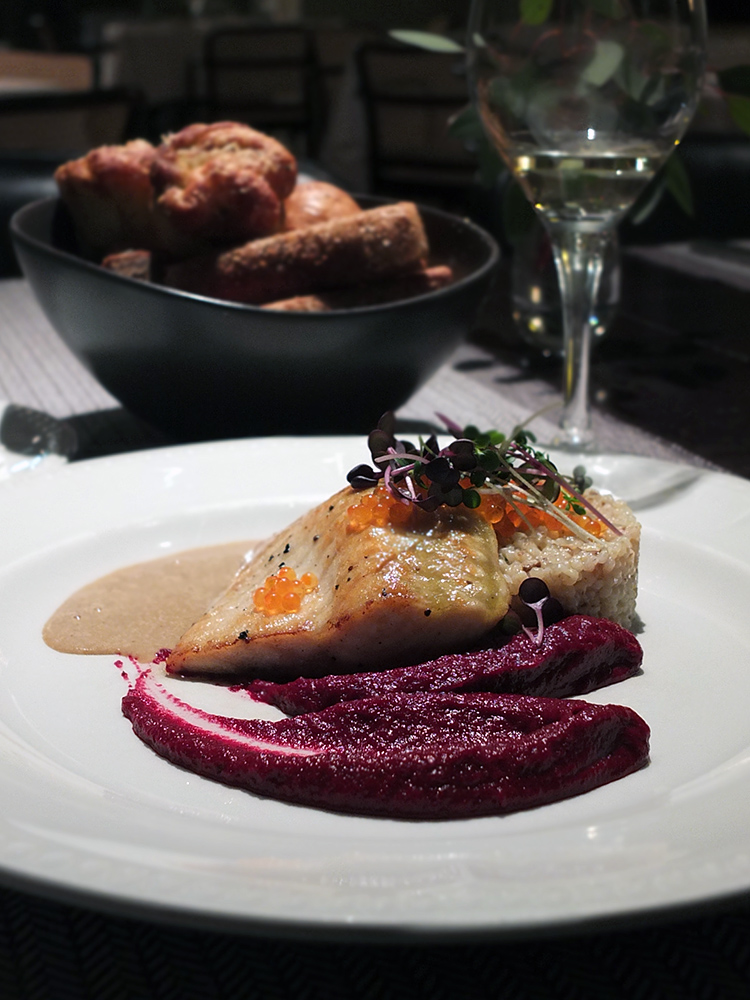 Dessert was a trio of sorbets served with fruit and mint sauce. A palette cleansing way to finish off the meal. Afterwards, the chef gifted me an aperitif of some local cherry wine, a delicious mouthful of cherry flavour from the Abavas winery. Established in 2010 this company quickly became the leading winery in Latvia. Yes, they grow their own grapes in Latvia!
Cost: €35 for the three-course evening meal and a glass of wine. €208 per night for the Senor Suite.
Neiburgs Hotel is located just a two-minute walk from the House of the Blackheads, one of the most popular landmarks in Old Riga.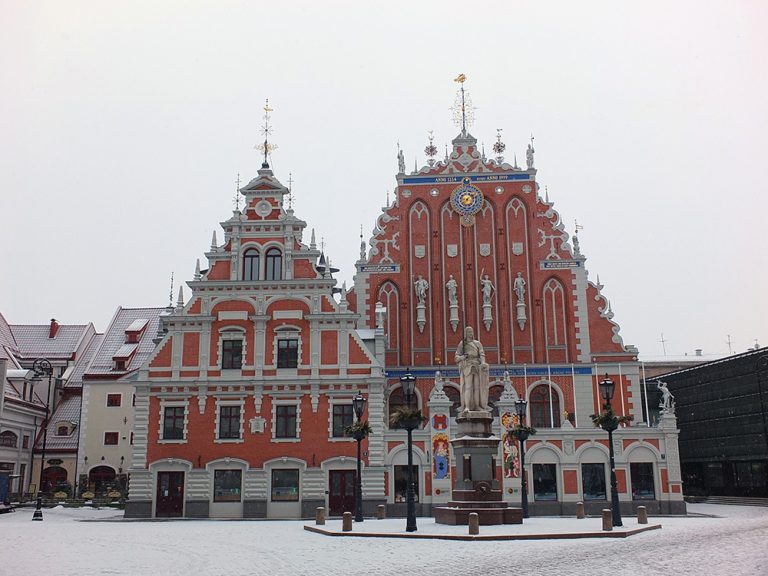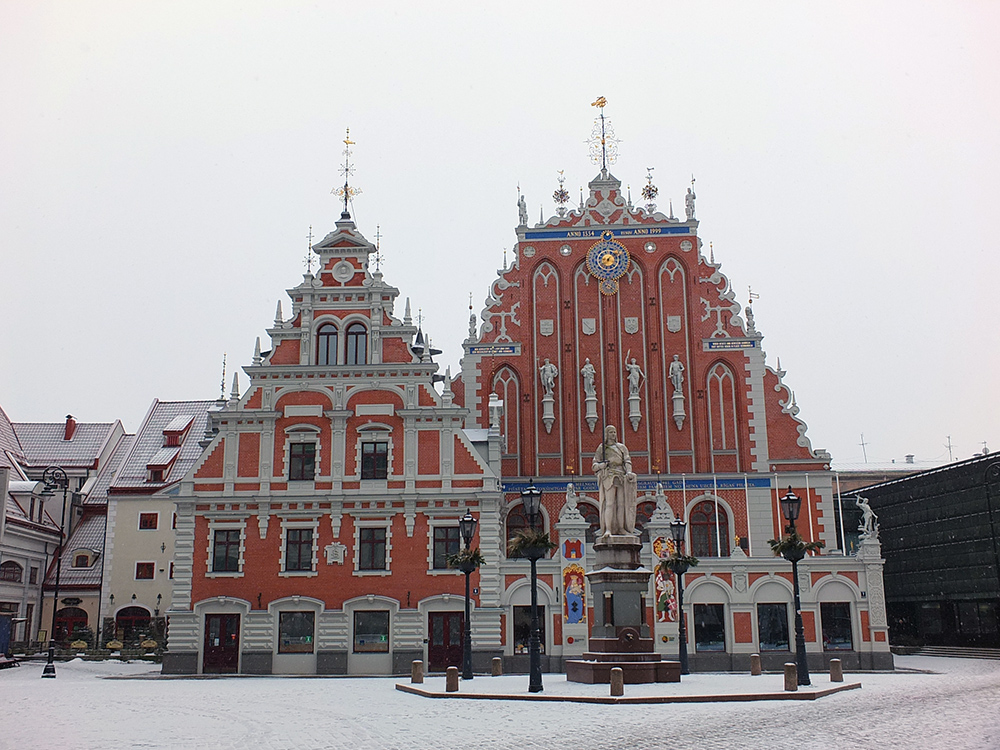 Last but not least, I had to taste test the Riga Black Balsam I'd seen in shop windows throughout the Old City. This famous bitter, a blend of 24 all-natural ingredients including extracts of local grasses, roots, berries and buds was crafted in 1752 by a pharmacist named Kunze. With its 45% alcohol content it tastes, frankly, medicinal, but Latvians like theirs mixed into a cocktail called a Hot Balsam.
This cocktail is prepared with hot blackcurrant juice, various citrus syrups and a generous measure of Riga Black Balsam. It's quite palatable!
Cost: €8 for the Hot Balsam cocktail in Neiburgs; €21 for a travel gift set of two clay bottles: original and black currant flavours at the airport to bring home.
RIGA RESTAURANTS
Latvia's capital city boasts a wealth of restaurants of every cuisine. My trip there was only a short two-night break and although I did try to visit as many places as I could, I would love to return as there is so much more to discover. I love the sound of this Gourmet Quest Tour of Riga, where for only €80 you visit, with a group, four different restaurants for tastings and then choose your favourite for an evening meal.
I also like the sound of the Latvian Food Tasting Tour at the Riga Central Market. For only €20 a local foodie will take you on a two-hour tour of the market, taste testing the local delicacies from hemp butter, smoked meats, Latvian bread and more.
All in all, it was an extraordinary visit to a city I knew virtually nothing of beforehand, and I am glad I have had the experience I did. Exploring the city with a pre-paid Post Office Travel Card meant I could shop in Euros, or, in the case of the Air Baltic and KLM flights to get there, in GPB. The Post Office Travel Card can hold up to 13 different currencies, and it's easily managed through a free app on your phone. It gives peace of mind – no more having to take credit cards, or buy cash or travellers' cheques for global travelling, risking theft, and there's no risk of overspending either. I'm sold on the idea and will be taking my card with me on all future trips. Click here to find out more about The Post Office Travel Money Card or read about what other bloggers got up to on their European City Breaks here: Take a European City Break without Breaking the Bank.
Have you ever been to Riga? What did you think of it? Where did you eat? Do you have any restaurants you'd recommend? Let me know in the comments!
This trip was sponsored by The Post Office, although all thoughts and opinions expressed are our own. Thank you for supporting the brands who make it possible for me to do what I love: mess up my kitchen and share food stories.