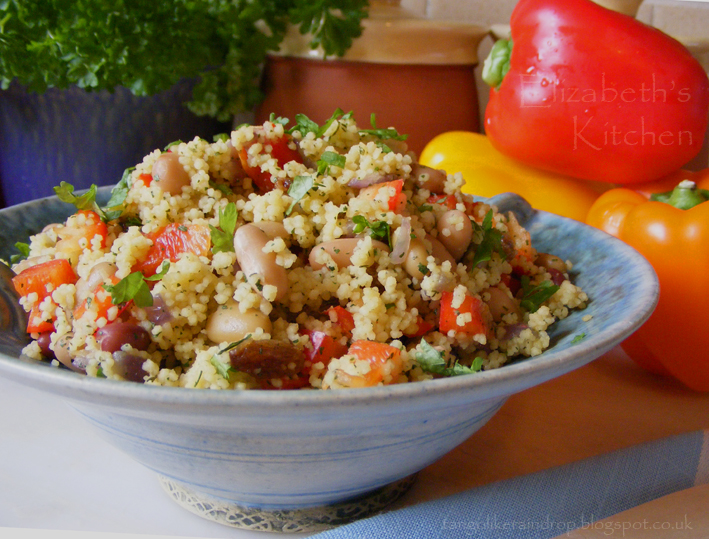 This recipe was given to me years ago by a dear friend and mother of 4 who is well experienced with feeding a large family on a budget. It makes a perfect side dish for a summer barbecue and is a handy dish to bring along to a gathering of friends when you know there are going to be vegetarians present.
I find a supermarket tin of three bean salad comes into its own with this dish. With a combination of cannellini, flageolet and adzuki beans mixed in with the sweet and savoury ingredients children and adults alike get a healthy dose of fibre and nutrients in a dish which only takes minutes to prepare. You could, if you were so inclined, go about the long process of soaking and boiling your own beans, but I find a tin much more convenient with my busy lifestyle.
Couscous is a remarkably easy grain to prepare too – as Bintu points out in her how-to post How to Cook Couscous. It should be a staple in every storecupboard, I believe!
Leftovers make an excellent packed lunch for work.
Three Bean Couscous Salad
A healthy, quick and easy to prepare side dish.
Ingredients
1 tbsp olive oil
1 small red onion, finely chopped
150 grams couscous
240 ml vegetable stock
1 red pepper, chopped into 1 cm squares
1 400 gram tin 3 bean salad in water
50 grams sultanas
fresh parsley, chopped
Instructions
1. Heat olive oil in a small frying pan.
2. Saute onion until softened, about 5 minutes. Remove from heat and allow to cool.
3. Stir hot vegetable stock into the couscous. Cover and leave to sit for five minutes.
4. Rinse and drain the tin of beans well.
5. Separate the grains of couscous with a fork and add the onion, pepper, beans, sultanas and parsley. Season well with salt and pepper, if desired.
6. Will keep for 2-3 days, covered, in the refrigerator.
Details
Prep time: Cook time: Total time: Yield: Serves 6