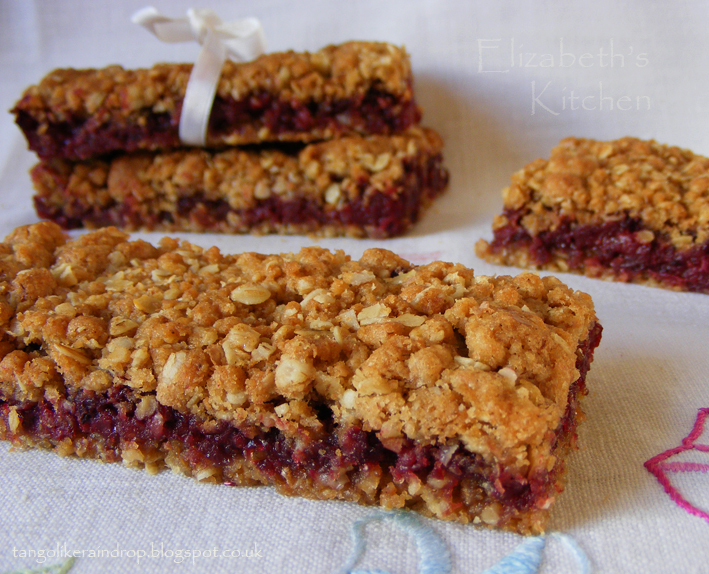 My eldest son attends a fantastic after school youth club one day per week. Since it's right after school and the members are a group of pre-teens/teenagers they are absolutely starving! So, each person brings in a small dish to share with the others. This week I made these homemade Nutri-grain bars, adapted from a recipe by The Meltaways, for my son to bring in and oh my what a response they got! The club members would very much like to be my Guinea pigs for any future recipe experiments, yes please! Containing no high-fructose corn syrup, artificial ingredients or additives these make a fabulous alternative to the highly processed commercial variety.
I used a bag of frozen mixed fruits which I picked up during my monthly supermarket shop in town for just over £1. I usually keep a bag or two of these in the deep freeze for times when fresh fruit is scarce, like when our lifeline ferry service has been disrupted due to rough seas. These inexpensive frozen fruits and berries make wicked real fruit roll-ups too, should you be inclined.
Homemade Nutri-Grain Bars
An additive free homemade snack bar.
Ingredients
225 grams unsalted butter
180 grams dark soft brown sugar
120 grams wholemeal self-raising flour
130 grams plain white flour
145 grams porridge oats
500 grams fresh or frozen mixed fruit & berries
Instructions
1. Preheat oven to 180 C. Grease and line a 9″x 13″ tin.
2. Mix together the brown sugar, flours and porridge oats in a large bowl.
3. Using your fingertips rub the butter in until it resembles coarse breadcrumbs.
4. Place prepared fruit in a saucepan over medium heat.
5. Bring to a simmer and leave to reduce for approximately ten minutes, stirring frequently and mashing the fruit with the back of a spoon to break the pieces up. Remove from heat and leave to cool slightly.
6. Press half of the crumble mixture into the base of the tin.
7. Spoon the fruit over the bottom layer so that it is evenly covered.
8. Sprinkle the remaining crumble over the top. Gently press it into the fruit layer.
9. Bake for 20-25 minutes.
10. Remove from the oven and leave to cool for 5 minutes.
11. Using a sharp knife gently score into bars while still warm. Leave to cool completely before removing from the tin and separating the bars.
Details
Prep time: Cook time: Total time: Yield: 12 bars
Since these bars are made entirely from scratch I've entered them into Javelin Warrior's Made with Love, Mondays food round-up.