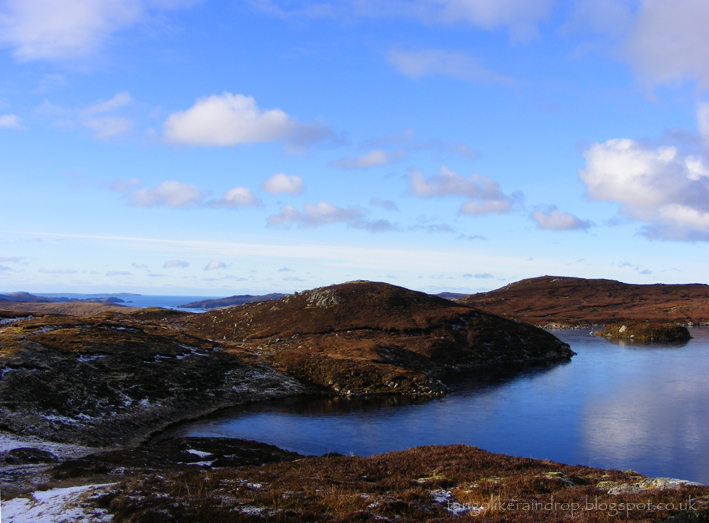 We woke this morning to sun, glorious, glorious sunlight. After a long dark winter the sun is very much welcomed! I found myself down two children (the older two are both away for the weekend) and home alone with the wee man this morning so we decided to go on an adventure and take full advantage of the sun. When the sun comes out in Shetland you have to go out and enjoy it then and there, because who knows how long it will be before you see it again!
We went to the Loch of Gonfirth, one of my favourite lochs in Shetland. Every time I drive by I imagine a gloved hand coming out of the water clutching Excalibur . I've stopped at this location in the past at night to watch the skies alight with the Northern Lights. There is no light pollution here and the sky is so big and massive the Northern Lights curve around you with their simmering green curtains and light shards. It's something spectacular to behold, I tell you!
I've been meaning to explore this area for awhile, and what better day than today?
So the wee man and I packed some provisions: binoculars (for dragon spotting, of course, or for the lucky chance we might spot some white mountain hares), hat, mitts, water and some freshly baked cranberry raising oatmeal cookies.
Sign of a dragon, perhaps?
Trekking over what normally would have been wet and boggy areas was made much easier by the fact the peat and small burns were all frozen over.
We had a little break for a snack (and photograph opportunity!)
A great portion of the loch was frozen over and the ice made fantastic patterns on the surface. Another family had the same idea as us to visit the loch today, but they stayed on the roadside and threw stones onto the ice. The sound of the stones cracking on the ice was very unusual and high pitched, like a metal panel being hit. The loud noise really pierced the quiet, windless day, echoing off the hills around us.
A-ha! Is this the silhouette of a stony sleeping dragon in the distance?
We discovered a small burbling stream which feeds a smaller loch further downhill.
The whole area is incredibly stony – is this glacier debris? This part is hidden from the road as it looks like just another peat hill from the other side (this view is the back of the centre hill in the first photograph above).  I have a great fondness for rocky terrain like this, for some reason. It's very 'Lord of the Rings' in my mind. There's a lovely fresh water stream cutting through the stones and I reckon it'll be a perfect picnic area when it warms up. We will have to return and explore this 'sleeping dragon' some more!