In collaboration with Yutaka.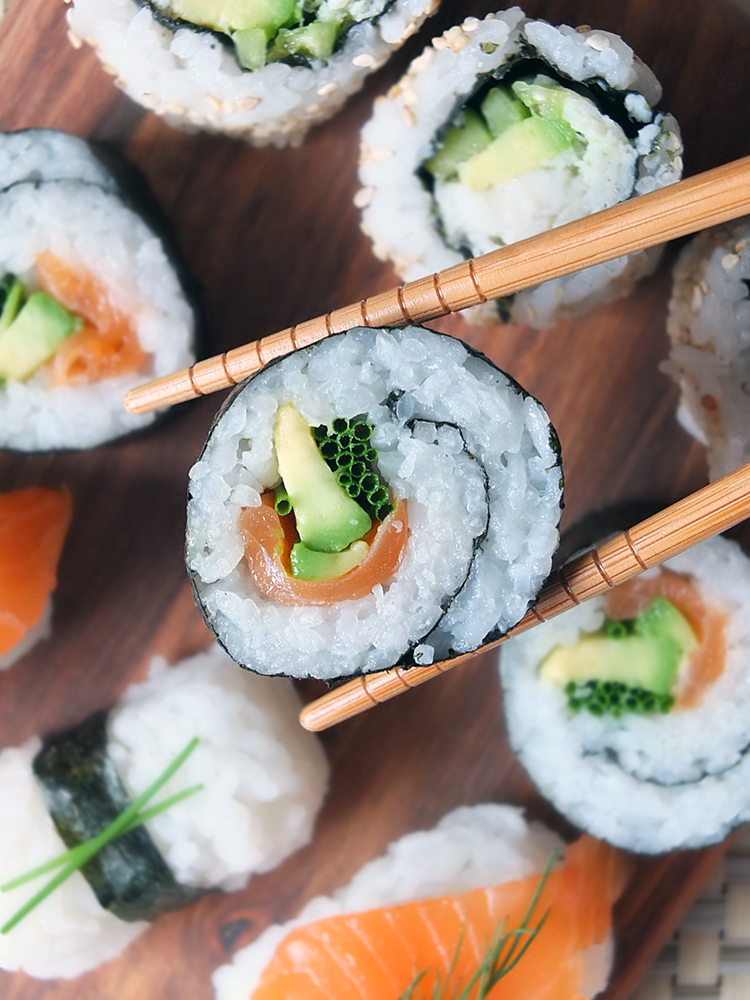 Have you ever made sushi before? I have a confession, until we set up the video camera to film this little fun video below, neither had we. This is new, uncharted territory for us, as a family, and I have to say I am rather excited about the whole thing!
Sushi isn't just raw fish, like we usually associate when we hear the word. It is sweet rice and can be paired with any protein, vegetable or even fruit and it can be a fun, simple way to get the kids involved in making and eating healthy nutritious food.
After doing a little research online I prepared the ingredients needed for a simple smoked salmon and avocado sushi, switched the video camera on and let my husband and children have at.
Didn't they do a great job! I was there, in the background, talking them through the process, but they did all the hard work of assembling and rolling themselves.
Leading UK-based Japanese food company Yutaka have all the ingredients, without all the additives, to make authentic and healthy sushi at home. Their Yutaka Sushi Sushi Kit for Two (RRP £7.98) provides everything to you need to create some amazing sushi rolls – boil in the bag sushi rice, sushi seasoning, nori sheets, a rolling mat, sushi ginger, soy sauce and wasabi paste. You just need to add a few fresh ingredients like smoked salmon, avocado or anything else you fancy. You can find these kits in most leading supermarkets. Alternatively, enter the giveaway below to win one!
Children (I know mine do!) love the fact they can get all messy whilst making sushi and the health benefits of the ingredients are incredible. A recent report found the Japanese diet seems to be one of the primary reasons they boast the longest lifespan in the world*.
Nori (seaweed, which is used to wrap the rolls) is abundant in health benefits and is considered an ancient superfood. As well as being really tasty, it provides loads of essential nutrients, is packed with dietary fibre, improves bone and dental health, is high in iron and rich in protein. And that's just for starters. Wasabi, ginger and soy sauce have all been found to have a variety of benefits too.
The beauty of Yutaka's ingredients is that they're all made in the traditional way, which means they feature a lot less additives than other brands on the market.
Visit their website for more sushi recipe inspiration, and follow them on Twitter and Facebook too, if you fancy!
Do you make your own sushi? What do you like to put in it? Let me know in the comments!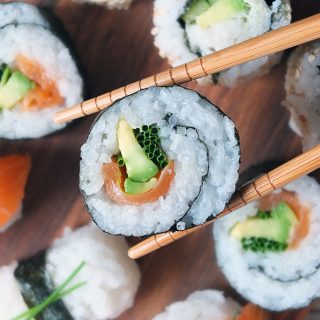 Smoked Salmon and Avocado Sushi
A quick and easy family-friendly introduction to sushi. So easy to make even the kids can do it!
Print
Rate
Ingredients
for the seasoned sushi rice
250

grams

Yutaka sushi rice

330

ml

cold water

3

tbsp

Yutaka rice vinegar

2

tbsp

caster sugar

1

tsp

sea salt
to assemble
3

sheets

Yutaka nori seaweed

100

grams

smoked salmon

1

handful

fresh chives

1

medium

avocado

thinly sliced
to serve
Yutaka soy sauce

wasabi paste

optional
Instructions
First, prepare your seasoned sushi rice. Put the rice into a large bowl with a little cold water and wash it thoroughly. Use your fingers to swirl the rice around in the water, adding a little more cold water as the water becomes cloudy with the rice starch. Carefully drain the water and repeat the process until the water becomes clear.

Add the rice to a small saucepan with 330 ml of cold water and pop the lid on. Bring to a boil over a high heat. As soon as the water starts boiling reduce the heat to the lowest setting you can get and simmer for ten minutes. KEEP THE LID ON.

While the rice is cooking, prepare your sushi vinegar. Combine the rice vinegar, caster sugar and salt in a small clean jam jar, pop the lid on and shake, shake, shake (get the kids to do this!). Leave the mixture to rest for 10-15 minutes.

Transfer the hot cooked rice to a bowl and carefully fold in the sushi vinegar. You don't want to break the grains of rice. Leave it to cool for 25-30 minutes.

To assemble the sushi, lay a sheet of nori seaweed shiny side down onto a Yutaka bamboo sushi rolling mat.

Spoon 1/3 of the rice mixture onto the nori seaweed and using fingers dampened with a bit of cold water, spread the rice in an even layer leaving a 1 cm gap at the top. Make sure your rice reaches the sides of the nori seaweed.

Take one piece of smoked salmon and arrange it in a line about 1/3 of the way up from the bottom of the nori. Top with a few chives and a few pieces of sliced avocado.

Using the Yutaka bamboo rolling mat to help you, fold over the bottom edge of the nori seaweed and roll into a thick cigar shape.

Using a finger dipped in cold water, moisten the edge of the nori seaweed to seal. At this point you could wrap the sushi roll in clingfilm and keep it in the fridge until it is needed.

When ready to eat, using a serrated knife, cut each roll into eight pieces.

Serve with soy sauce and wasabi, if desired, for dipping.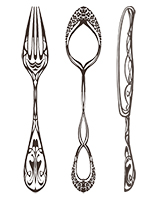 Have you made this recipe?
Take a photo and tag @tangoraindrop or use the hashtag #elizabethskitchendiary and share on Instagram and Twitter. It would make my day to see your creations!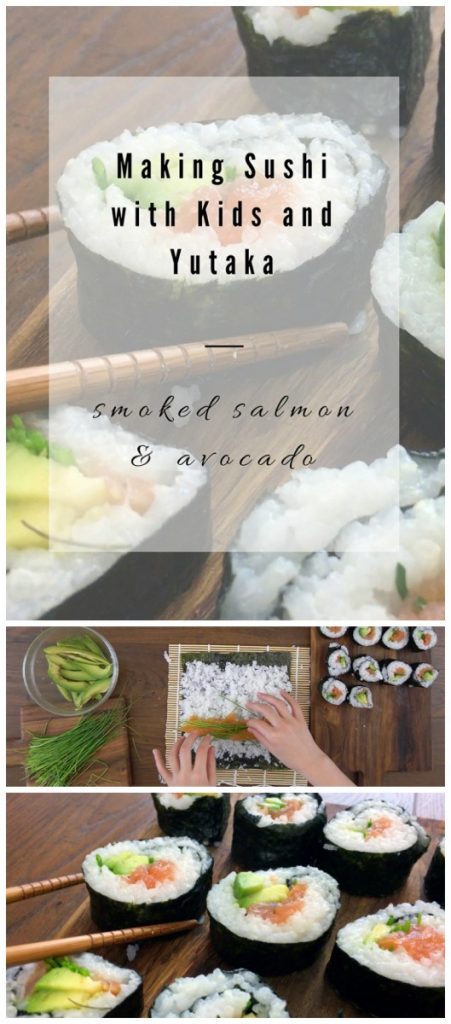 OTHER SUSHI RECIPES YOU MIGHT LIKE
Bento Sushi Rice Shapes from Elizabeth's Kitchen Diary
Smoked Salmon and King Prawn Sushi Rice Bowl by Foodie Quine
British Breakfast Maki Roll from Yutaka
Quinoa Sushi from Hungry, Healthy, Happy
Deep-fried Haggis Onigiri from Yutaka
Easy Rainbow Vegetable Sushi by Eats Amazing
Homemade Sesame Dressing with Soba Roll from Yutaka
Soba Sushi by Fuss Free Flavours
Mexican Style Temaki from Yutaka
Vegan Zucchini Quinoa Sushi Rolls by The Petite Cook
SHOP THIS POST
Yutaka Sushi Kit for Two
Yutaka Sushi Nori (5 pieces)
Yutaka Tamari Soy Sauce (150 ml)
Yutaka Sushi Rice (500 grams)
Yutaka Rice Vinegar (150 ml)
Yutaka Bamboo Sushi Rolling Mat
GIVEAWAY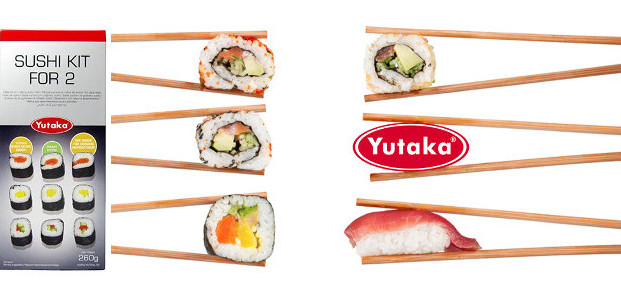 Yutaka have very kindly offered one of their Sushi Kits for Two for six of my lucky UK readers! To enter, simply fill in the Rafflecopter form below!
HOW TO ENTER
For your chance to win one of six Yutaka Sushi Kits for Two worth £7.98 enter using the Rafflecopter form below. Come back and tweet about the giveaway every day for more chances to win!
TERMS & CONDITIONS
This giveaway is open to UK entries only. Entrants must be age 18 or over. The winner will need to respond within 30 days of being contacted; failure to do this may result in another winner being selected.
The prize is offered and provided by Yutaka. The prize is to win one of six Yutaka Sushi Kits for Two. There is no cash alternative and the prize is not transferable.
There is no entry fee and no purchase is necessary to enter this giveaway.
The promoter (Elizabeth's Kitchen Diary) reserves the right to cancel or amend the giveaway and these terms and conditions without notice.
Entry into our giveaways will be deemed as acceptance of these terms and conditions.
If you need some help using Rafflecopter, here's a quick clip to show you how. Rafflecopter will pick the winner at random from all the entries received. I will be verifying entries. Any automated entries or those who have claimed they have made the mandatory blog post comment and really haven't will be disqualified. It's mandatory! Please make sure your comment is eight words or longer or Google views it as spam and this negatively affects my spam score. All entries with comments fewer than the mandatory 8 words will be disqualified and deleted.
Closing date is midnight (that's 00:00 hours, 12 am on Sunday night/Monday morning) on Monday 6 March 2017 (GMT). The winner will be announced shortly afterwards.
Elizabeth's Kitchen Diary was compensated for her time in creating this content. Thank you for supporting the brands who make it possible for me to do what I love: mess up my kitchen and share recipe stories.