In collaboration with Beko.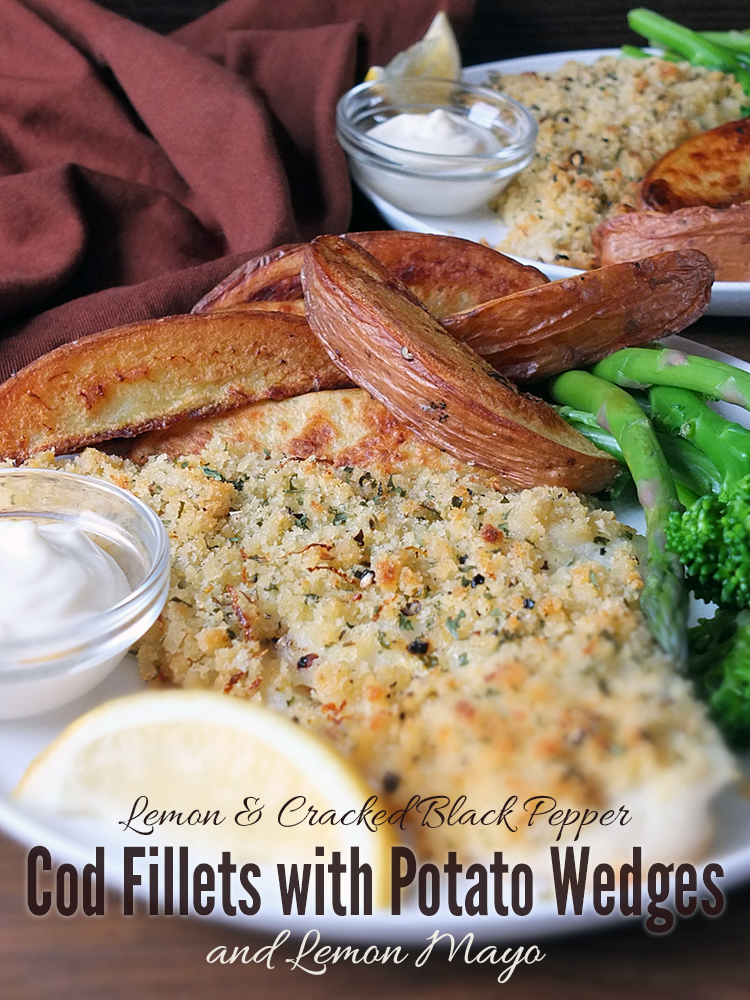 I do love a good fish supper, me. We are fortunate to live nearby to one of Britain's finest fish and chips shops, Frankie's Fish & Chips, which has won many an award since it first opened its doors in 2008.
The thing is, Frankie's is still an hour's round-trip drive away and by the time we got home with our dinner it'd be cold. Sometimes I just want fish and chips at home, and this lemon and cracked black pepper cod fillets recipe, served with potato wedges and lemon mayo, can be ready in under 45 minutes.
It's really, really simple to make. One pan. No fuss. Serves two (because it's a grown up fish supper recipe!).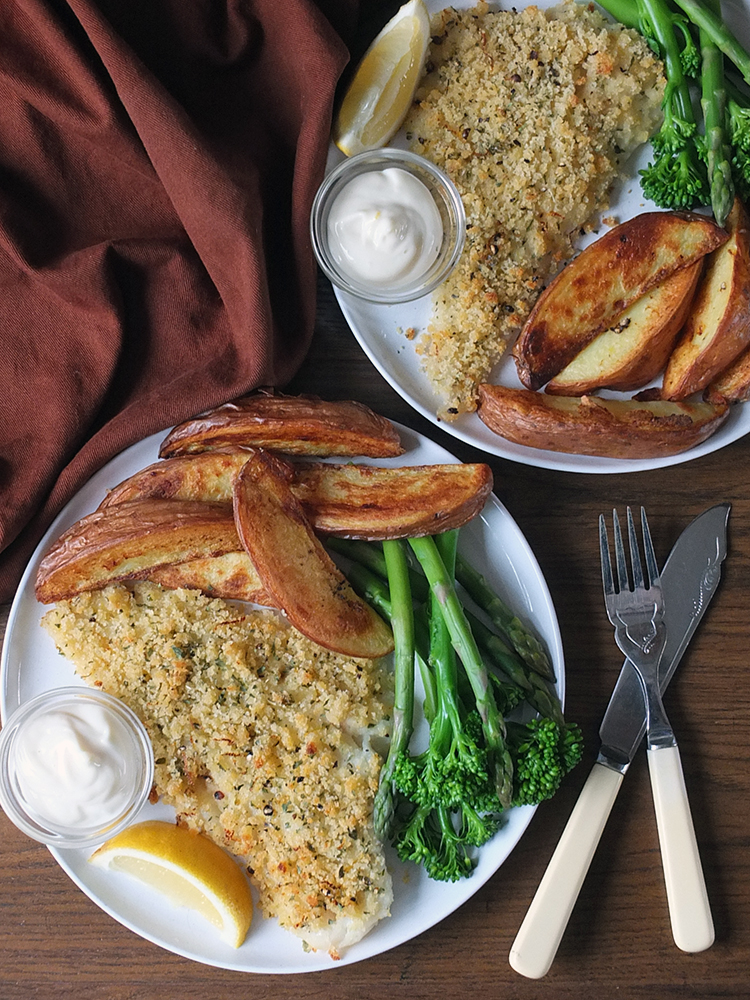 A standard Scottish pub grub fish supper can contain upwards of 900 calories per serving (according to My Fitness Pal, my guide for all things calorie). My one pan baked version contains fewer than 500 calories, if using lighter-than-light mayo for the dip and a 140 gram cod fillet.
My somewhat more healthy fish supper is my Alternative Pub Classic recipe, in collaboration with Beko, one of the UK's leading home appliance companies. They've sold over 25 million appliances in the UK, including a dishwasher, double fan oven, refrigerator and freezer to us. We bought these appliances from a local supplier two January's ago in the sales and so far so good! We've got a tall larder fridge and matching freezer that create a lovely side by side look in the fridge with plenty of space for a family of five. With an A+ electricity rating it helps keep the bills down too.
But enough about appliances, you're here for the fish supper!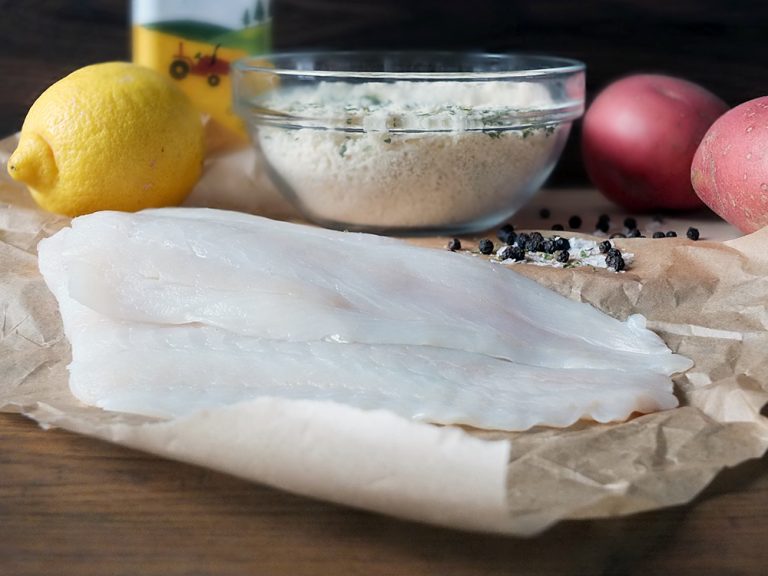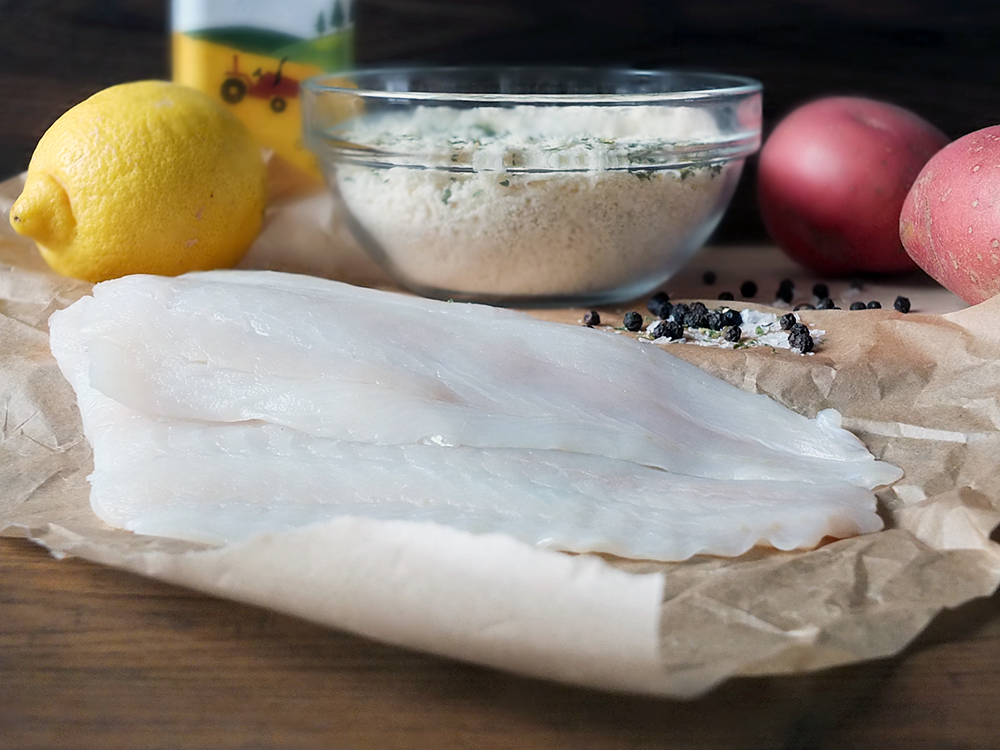 To start, visit your nearest fishmonger and pick up a couple of MSC certified sustainable cod or other firm white fish. You'll also need a slice of day old bread, a lemon, some rooster potatoes (I like Albert Bartlett), some Scottish rapeseed oil (or olive, if you prefer), sea salt, some whole black peppercorns, a knob of butter and some lighter than light mayo (or full fat if you're not concerned about the calories).
Remove the crusts and whizz up your bread in a mini food processor. Melt the butter and stir in with a squeeze of lemon juice, a bit of zest and some freshly ground black pepper to taste (I like lots!). Sprinkle in a little bit of dried parsley for colour.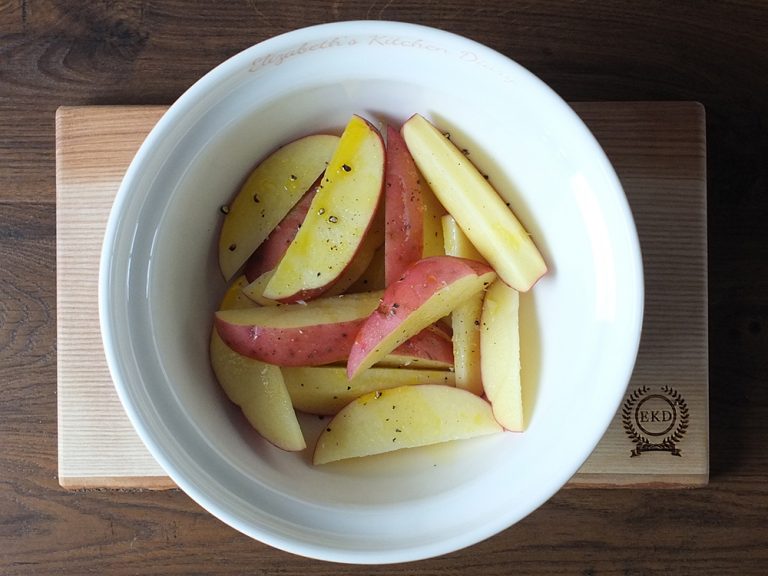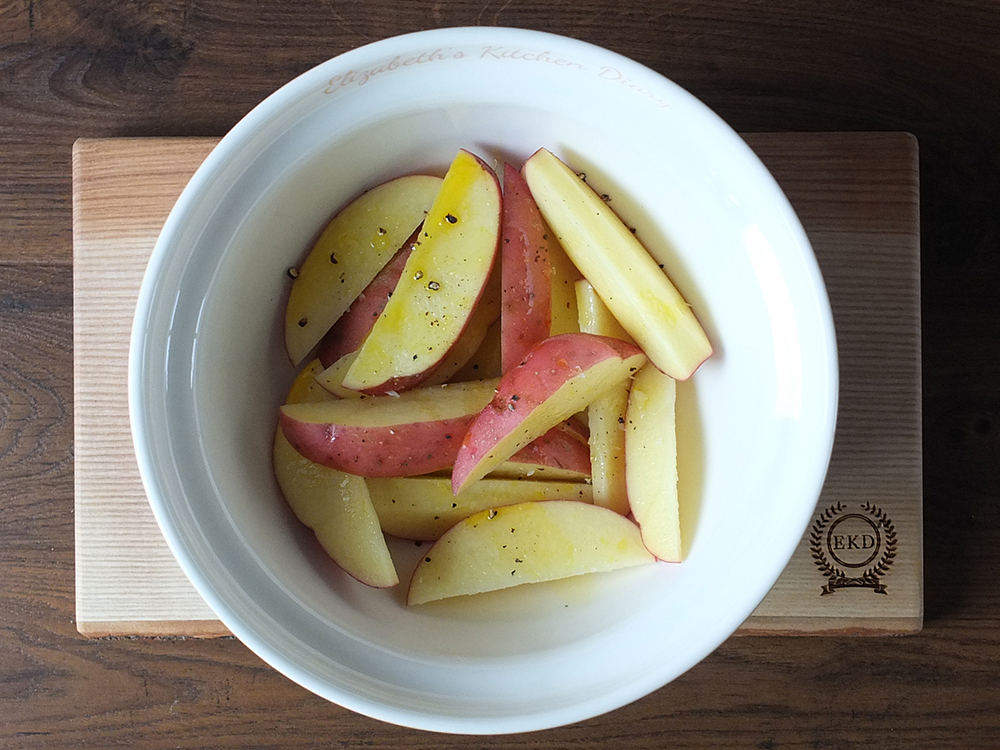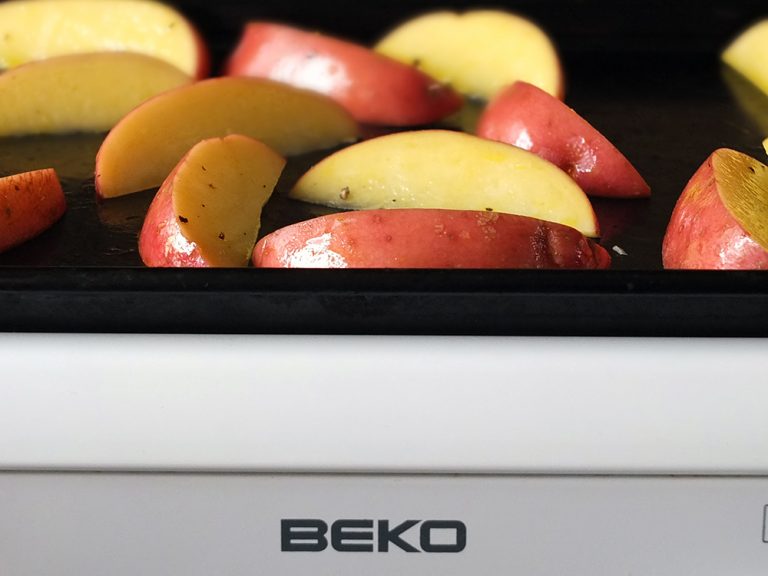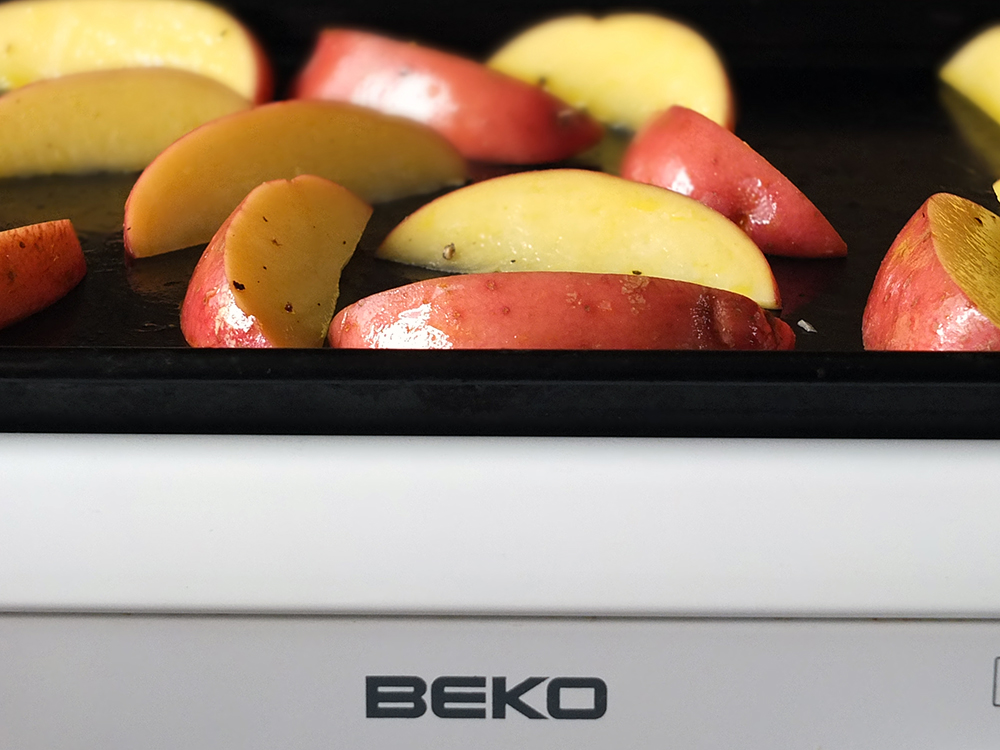 Preheat your oven and cut your rooster potato wedges into 8ths. Place into a bowl, drizzle with the rapeseed oil and season well with sea salt and freshly ground black pepper.
Arrange the potato wedges on a single layer on a baking tray and pop into the oven while you prepare the fish.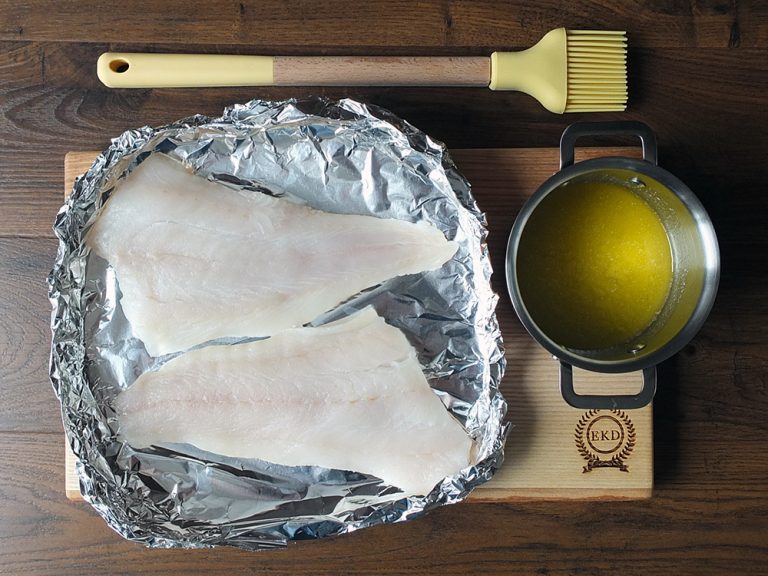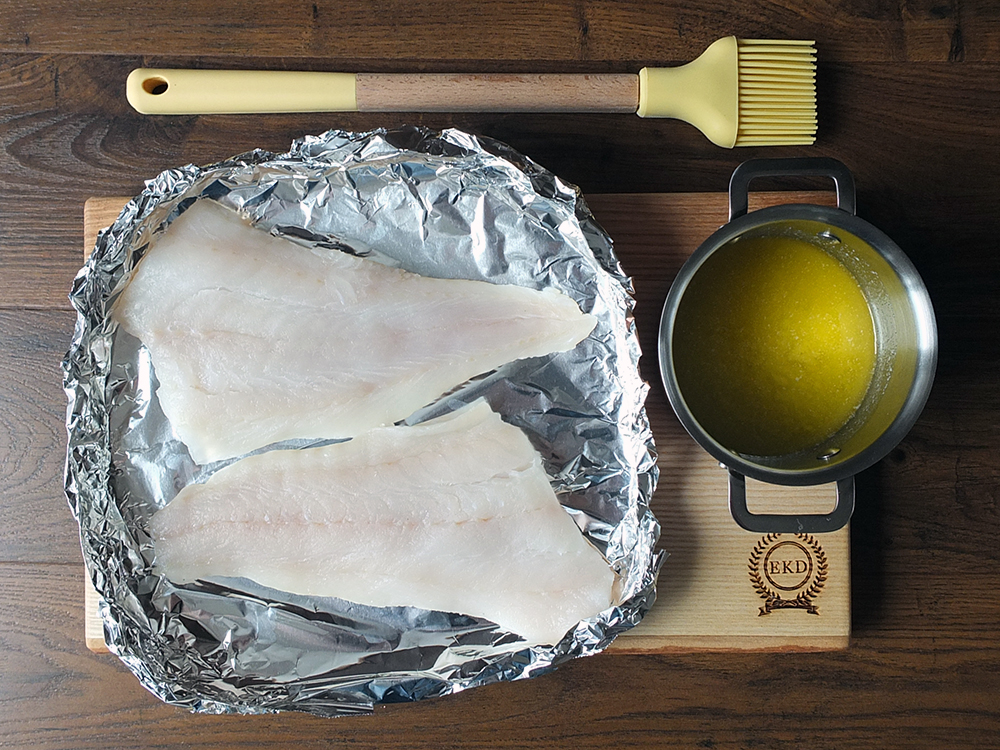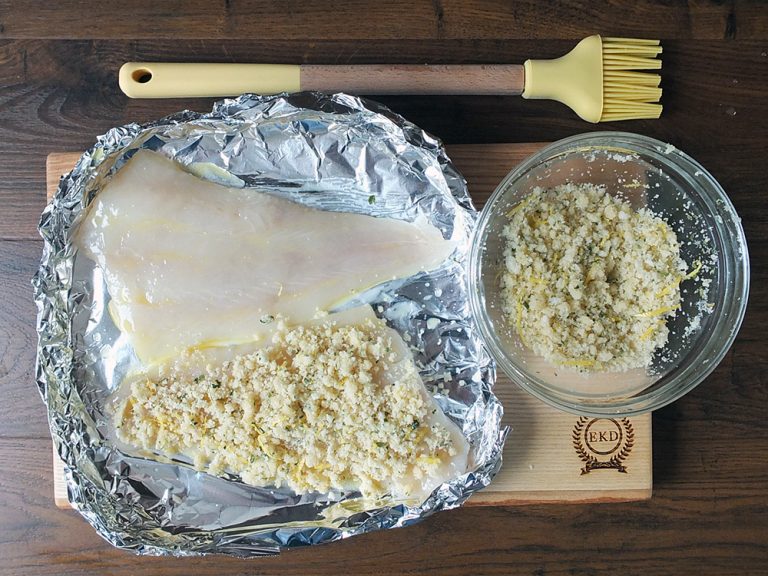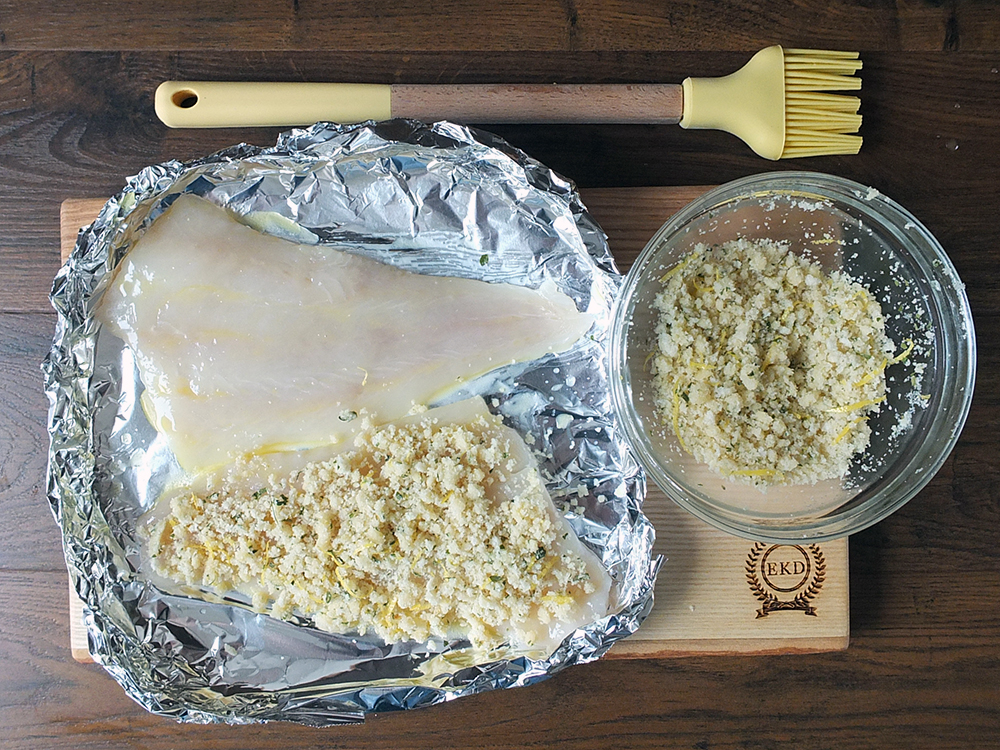 Make a little tray with a square of aluminium foil big enough for both your fish fillets. Brush each of the tops of the fillets with a little melted butter (the rest goes into the crumble topping).
Press half of the bread crumb topping onto the top of each of the cod fillets.
When it comes time to take the potato wedges out of the oven to flip over, carefully turn them and place them towards the outer edges of the pan. Place your cod parcel in the centre and bake until golden brown on top.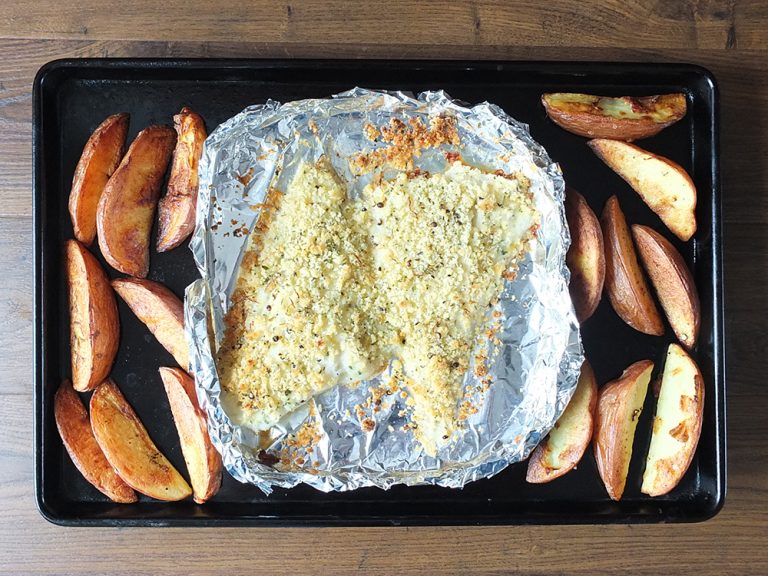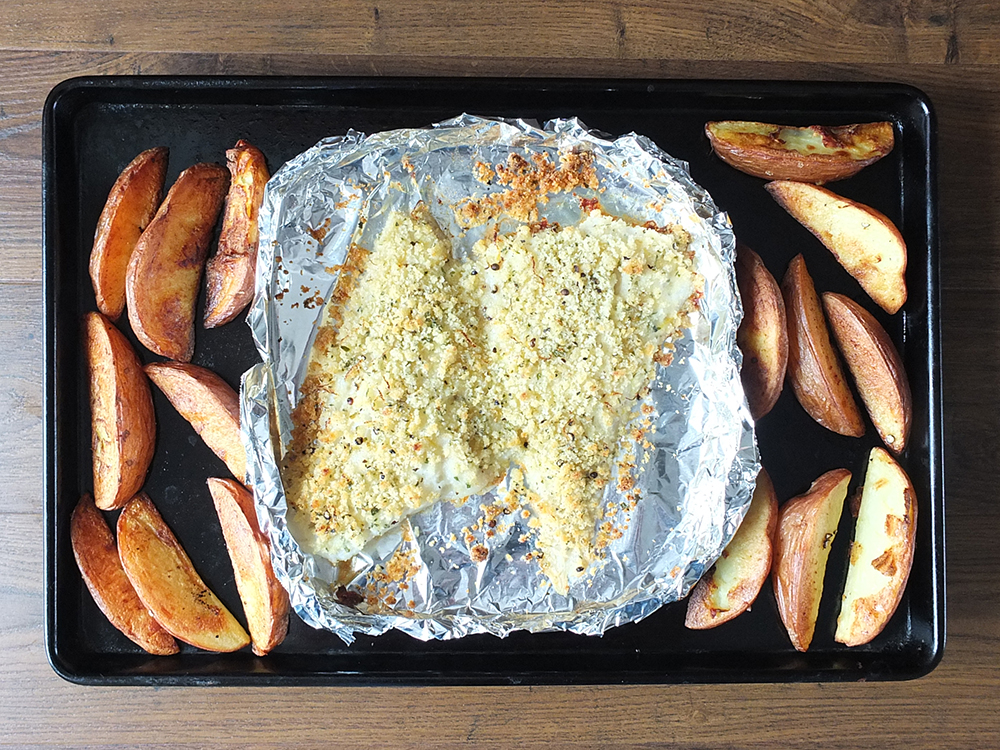 To make your lemon mayo simply spoon a bit of mayo into a bowl, squeeze in some lemon juice and sprinkle with a little of the zest.
Serve the mayo on the side with a helping of steamed green vegetables for a quick and easy healthier fish supper for two!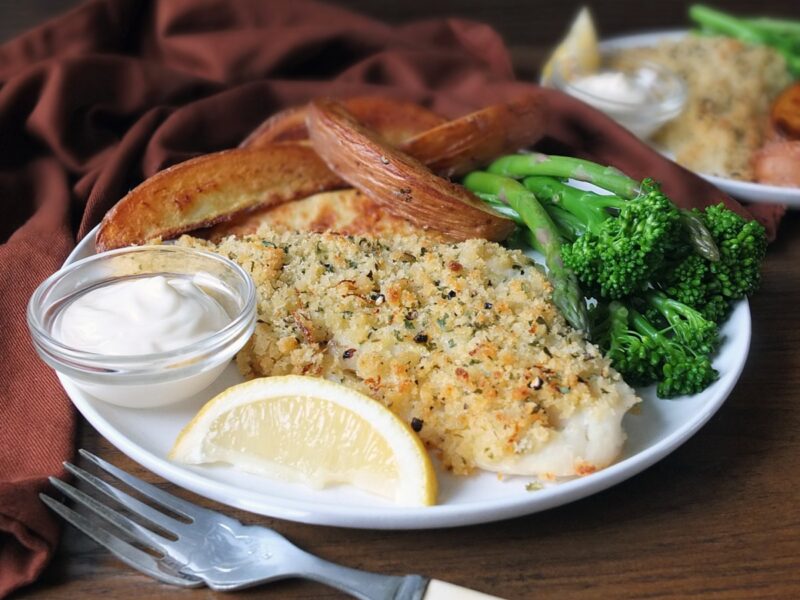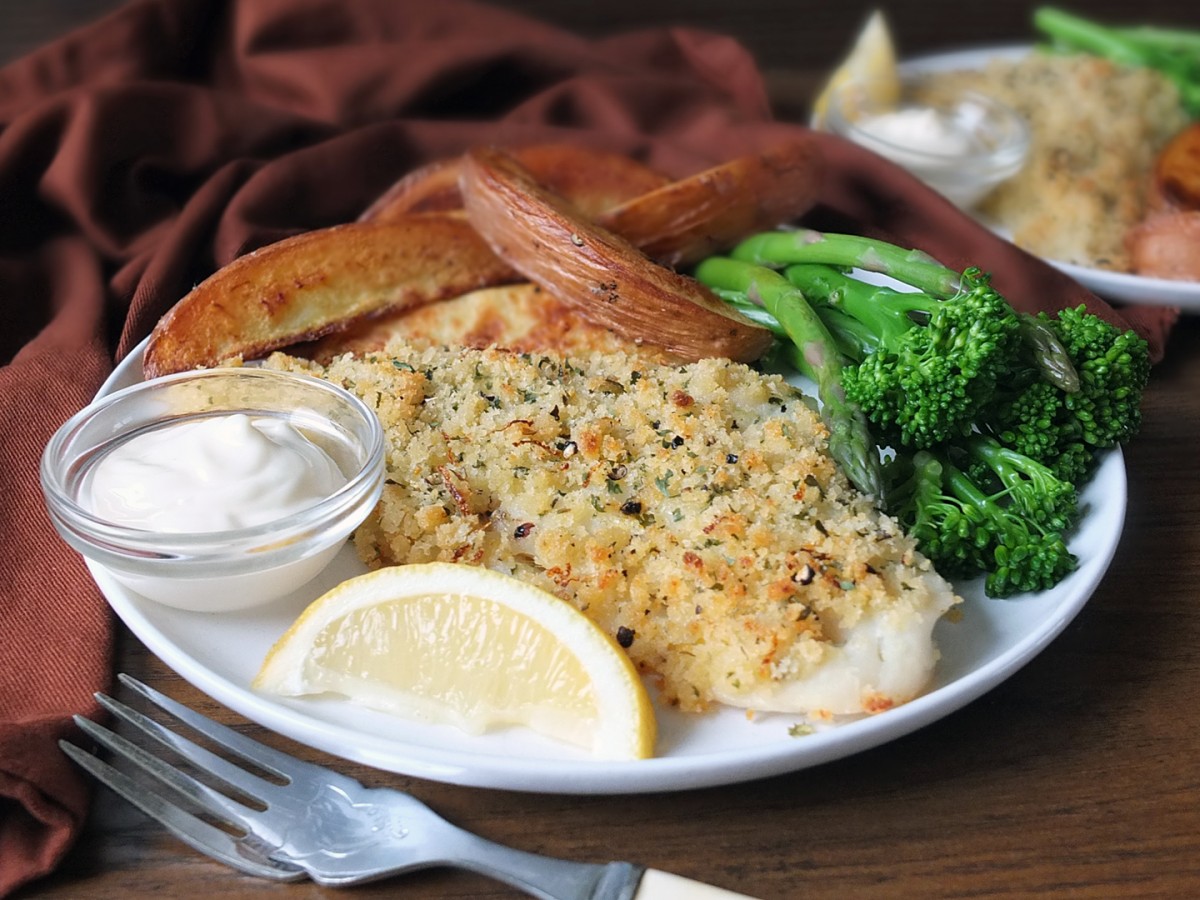 The full recipe can be found on the Beko website. How cool is that – I had no idea when I bought all those appliances that two years later I'd be creating recipes for their website! I love this blogging business! 🙂
OTHER ALTERNATIVE FISH SUPPER RECIPES YOU MIGHT LIKE
Homemade Fish Fingers, Potato Wedges & Tartare Sauce
Chopped & Fried Gefilte Balls by Family, Friends, Food
Baked Chorizo, Cod & Potatoes by Kavey Eats
Prawn, Tomato & Coconut Curry by Hungry, Healthy, Happy
Cod with a Lemon Dijon Mustard & Parsley Crust by Gingey Bites
Kids' Favourite Home-made White Fish & Rice Cakes by Coffee & Vanilla
Whole Baked Thai Sea Bass by Greedy Gourmet
Luxury Ocean Pie by Celery & Cupcakes
Baked Chilli & Ginger Sea Bass with Sesame Tenderstem by Emily's Recipes & Reviews
SHOP THIS POST
Personalised Mason Cash Mixing Bowl
Personalised Initial Monogram Chopping Board
Artisan Stoneware Dinner Plate
Hellman's Lighter than Light Mayo
Borderfields Rapeseed Oil
Elizabeth's Kitchen Diary received payment for creating a recipe for the Beko website. Thank you for supporting the brands who make it possible for me to do what I love: mess up my kitchen and share recipe stories.
[color-box]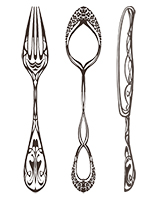 Have you made this recipe?
Take a photo and tag @tangoraindrop or use the hashtag #elizabethskitchendiary and share on Instagram and Twitter. It would make my day to see your creations!
[/color-box]