In collaboration with Emma mattress.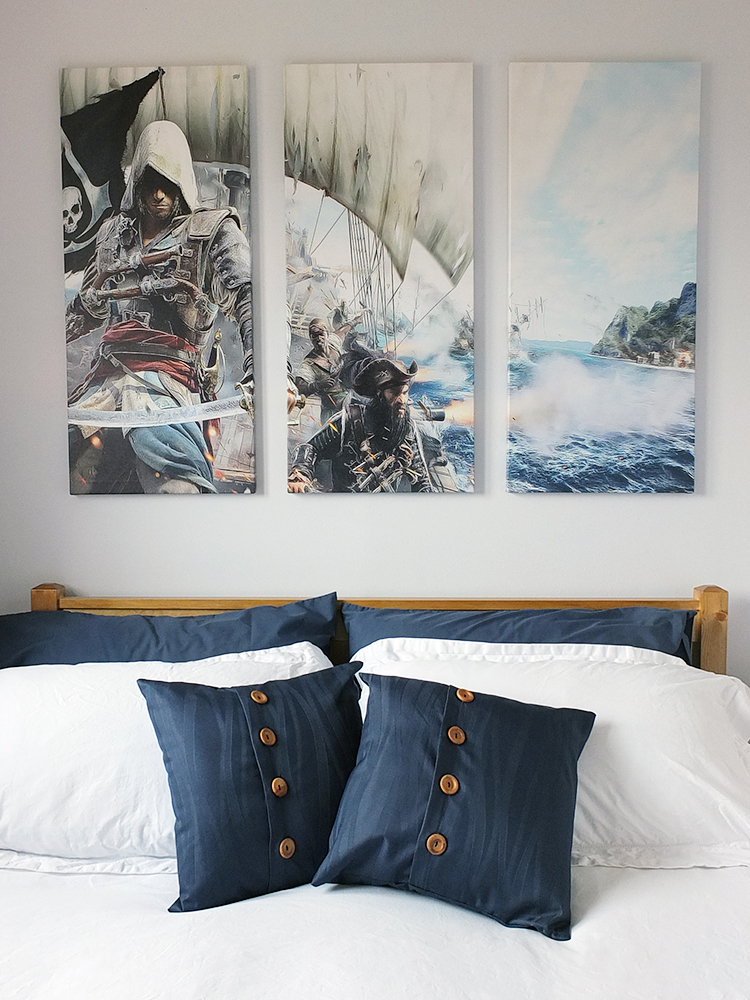 My eldest son is going to be 17 this Spring. Where has the time gone, and how am I old enough to have a 17 year old?! Surely not! I also realised recently, that I had not redecorated my son's bedroom since he was 8. Whatever possessed me, way back when, to paint his walls navy blue is beyond me. Do you know how many coats of light paint it takes to cover navy blue walls? Quite a few!
A bedroom makeover was required.
At the end of last year we were contacted by Emma Mattress, an online mattress-in-a-box company who have recently launched into the UK market. Would I like to receive one of their mattresses in exchange for a review? I thought of my son who has complaining about his creaky old high sleeper bed (which was totally useful and practical when he was eight but not so much now as he's a young man). My husband and I had only just a few months ago bought a new box spring set, so this was a perfect opportunity for a bedroom makeover for my son.
The Emma mattress arrived very swiftly via courier and the box it came in was surprisingly light and easy to move, not at all awkward and cumbersome like traditional mattresses can be. After thoroughly enjoying myself with shopping and assembling new bedroom furniture I'd picked up in the January sales in town, I was ready to unpack the mattress. Watch the video above to see how quick and easy it was!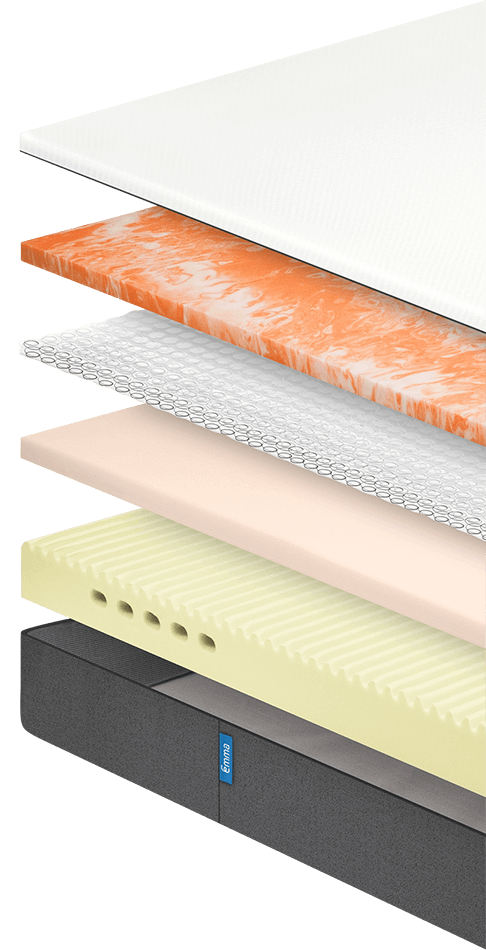 Bulky hard coiled spring mattresses are a thing of the past. There is a new generation of memory foam mattresses taking our quality of sleep, comfort and style to a new level. The Emma mattress is a unique design consisting of:
A top cover (white) that helps regulate humidity. It's so incredibly soft and plush that it just moulds around your body, as if the bed was specifically designed for your body shape.
A hypersoft foam (orange layer) allows one area of the mattress to compress without affecting the rest of the mattress. It's a highly breathable material that won't make you sweat.
Up to 2000 tiny individual pocket springs balance out pressure disparities and provides precise support to your body.
A visco-elastic memory foam layer (beige) rests within the intermediate layer and distributes pressure, adapting to your body's unique contours for the perfect night's sleep.
A cold foam layer (yellow) provides a firm supporting bottom layer whatever your sleeping position and it offers pressure relieving support for your lower back.
The long and the short of it is that Emma Mattress, is fantastic. It has given me the best comfort of sleep I have had in a very, very long time. I confess, while my son's been away I've tested the mattress out myself for a few days so I could write an educated review! It's like sleeping in a posh hotel bed within the comfort of your own home! Ok, the new duck down duvet and Egyptian cotton sheets help too, but you know what I mean.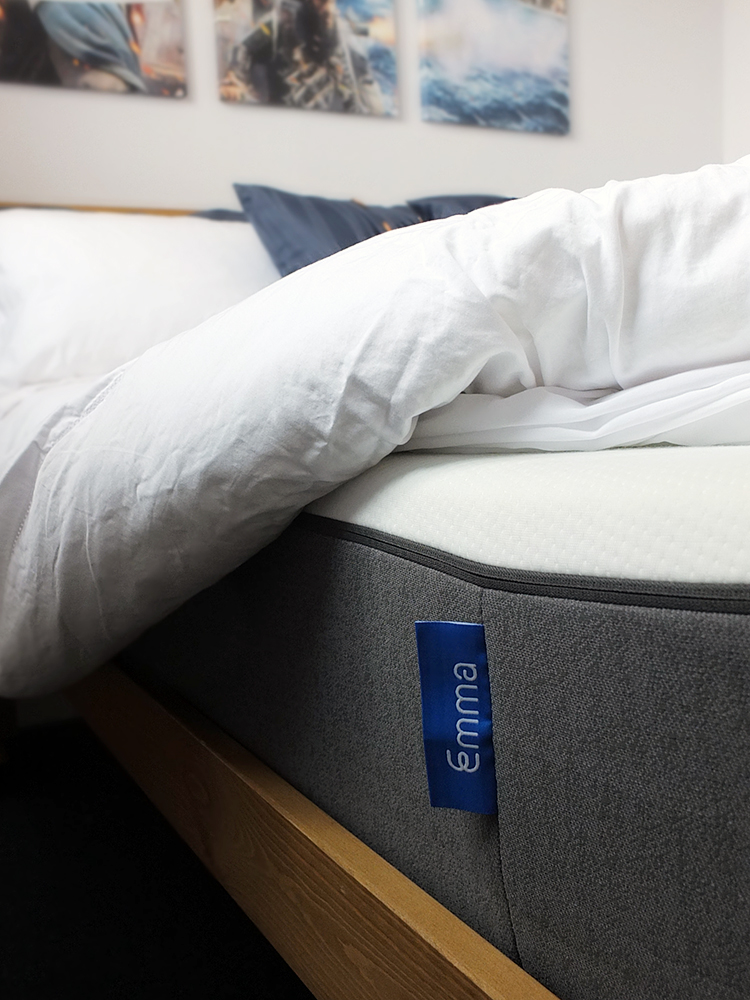 The Emma mattress is suitable for any bed frame, or even none at all – you can also lay it directly on the floor for a minimalist look. If you use a slat frame bed the slats can be no further than 3 centimetres apart. This meant I had to buy some more slats from my local hardware store, as the slat bed frame I bought only had enough slats to assemble them 4.5 inches apart. Not a problem and it only cost a few pounds for the extra wood.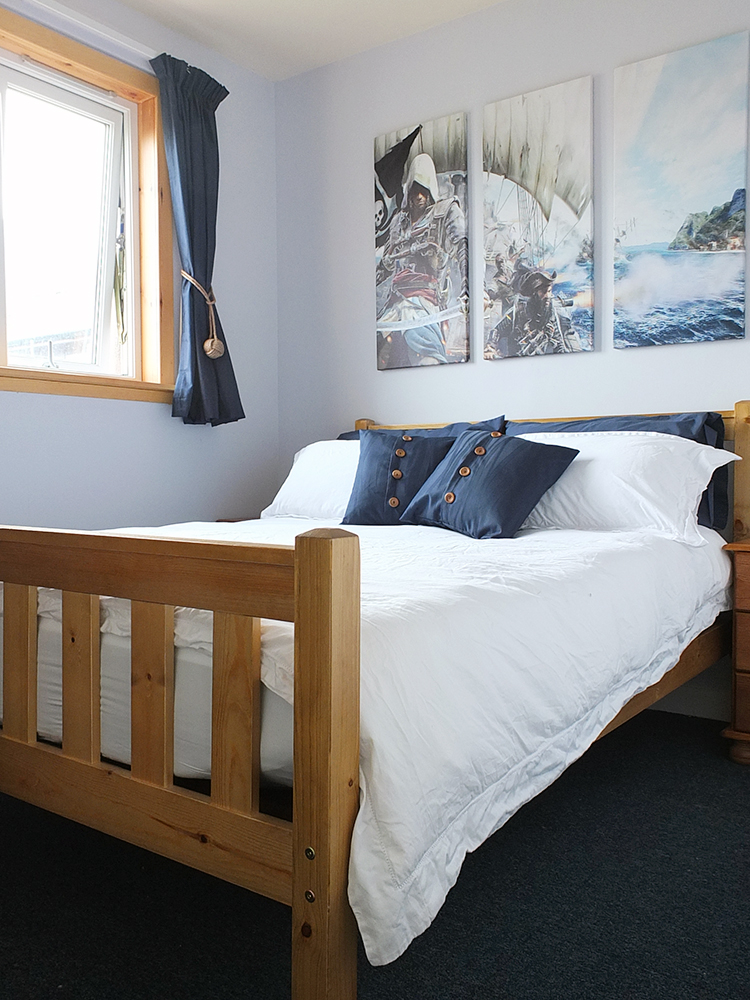 Excuse the unironed look of the duvet cover. I did iron it, well, I started to and then decided life was just too short for that nonsense and gave up (who irons duvet covers?!). It came out of the tumble drier all wrinkled like that, and no amount of ironing was going to sort it out.
My son is a big Assassin's Creed fan, so we decided that we'd go for a nautical, more grown up look for his bedroom, featuring one of his favourite Assassin's Creed video games: Pirates.
It doesn't get really get dark where we live during the summer months, so I invested in a pair of good quality black out thermal curtains. They were too long for the window, so I cut off the excess, hemmed the bottoms of the curtains and made coordinating throw pillows with the excess. A rather effective use of leftover fabric, don't you think?
My son thinks his bedroom looks all grown up now and he's really rather pleased with the results. Now, hopefully the good night's sleeps he'll be having will mean he's well rested to study for his prelims!
Prices for the Emma Mattress start from £349 with free delivery, and they have a 100 day trial. If you don't like it they'll collect it, free of charge. What have you got to lose? Seriously, this is the best mattress I have ever, ever slept on. If I hadn't already recently purchased a box spring for myself I'd be investing in one of these!
To find out more visit the Emma Mattress website.
SHOP THIS POST
Emma Mattress (pictured, double)
Assassin's Creed Pirate Art on Canvas Print 
Dulux Wild Water #6 (wall paint)
Nautical Jute Rope Curtain Tie Backs
M&Co Luxury Egyptian Cotton Sateen 300 Thread Count Duvet Set 
Navy Blue Blockout Thermal Curtains
One Inch Wooden Buttons
Friendship Mills High Foot Shaker Bed
Elizabeth's Kitchen Diary was sent an Emma mattress for review purposes. This is not a paid post and all thoughts and opinions expressed are our own. Thank you for supporting the brands who make it possible for me to do what I love: mess up my kitchen and share (mostly) recipe stories.