Perfect for a Halloween or a Harry Potter themed party, this black bread is easy to make and has a gorgeous rye and caraway flavour. Serve with a hearty stew (this makes a perfect bread bowl 'cauldron') or with a cheeseboard.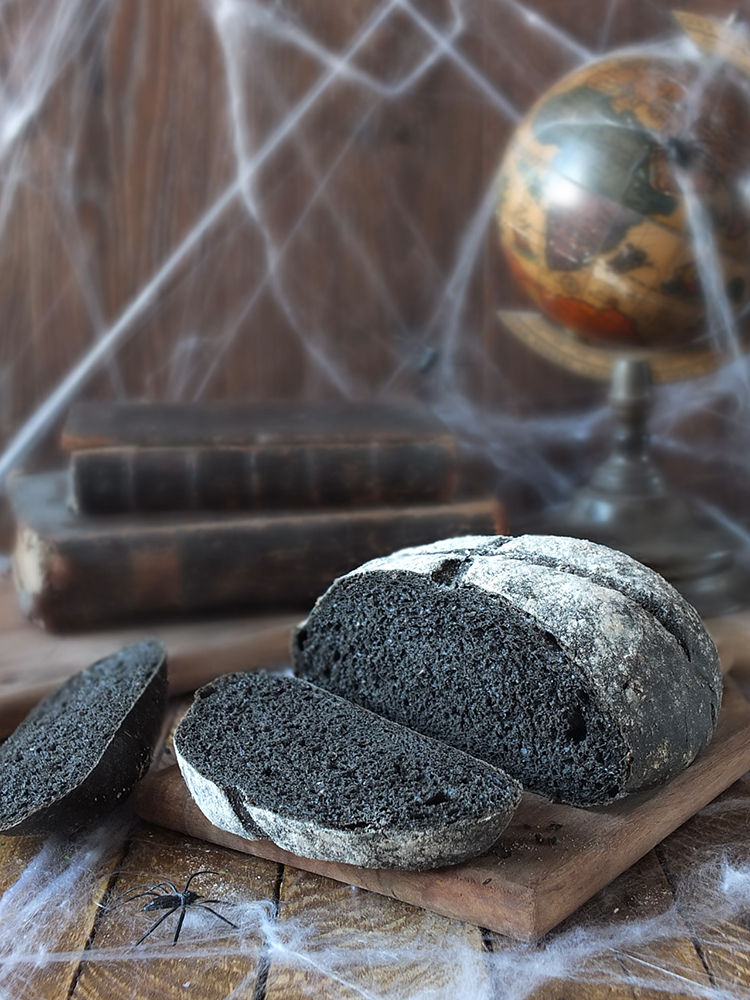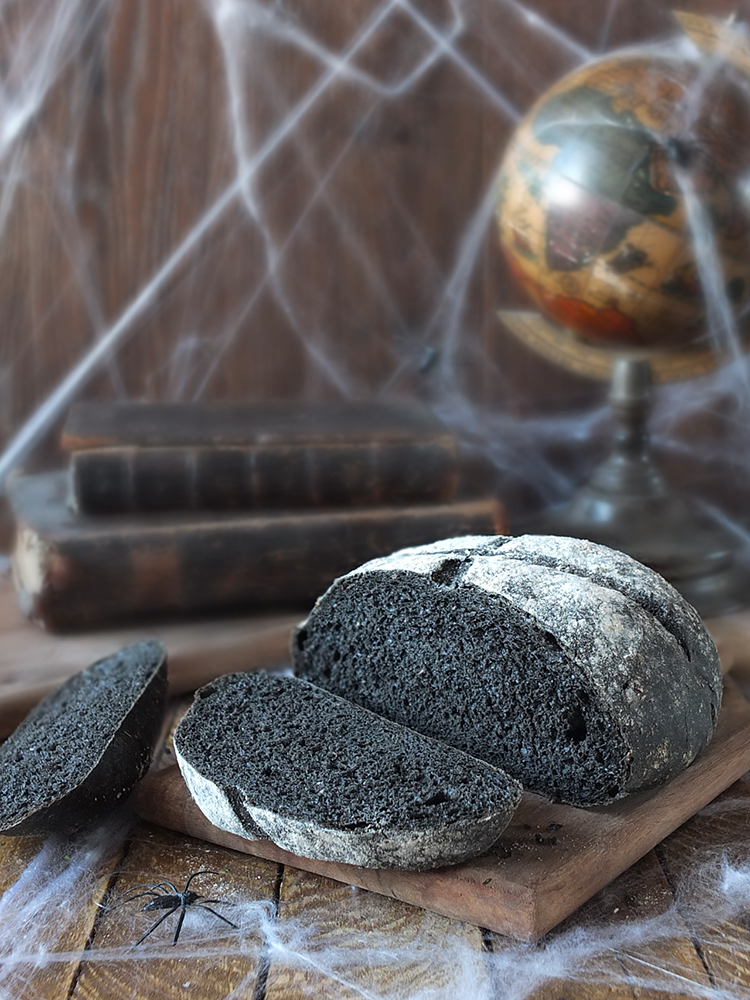 "Can you make the bread black?" a client asked me recently after I suggested a few different Halloween themed recipes.
"Why yes, yes I can! I accept your challenge!"
After dismissing the notion of using black food colouring (I don't like how artificial food colouring changes the texture of cakes, so I didn't think it would work well in a bread), and wondering if it was possible to source squid's ink or even activated charcoal here in Shetland, I paid a visit to our local wholefoods shop in town.
Much to my delight, they stocked cuttlefish ink. Perfect! The instructions on the side of the jar said to use in water for pasta, etc, so I figured why wouldn't it work in a bread recipe too? A huge thank you to Kirsten Williamson, winner of this year's Taste of Shetland Cooking Challenge, for being so helpful at the shop with my queries!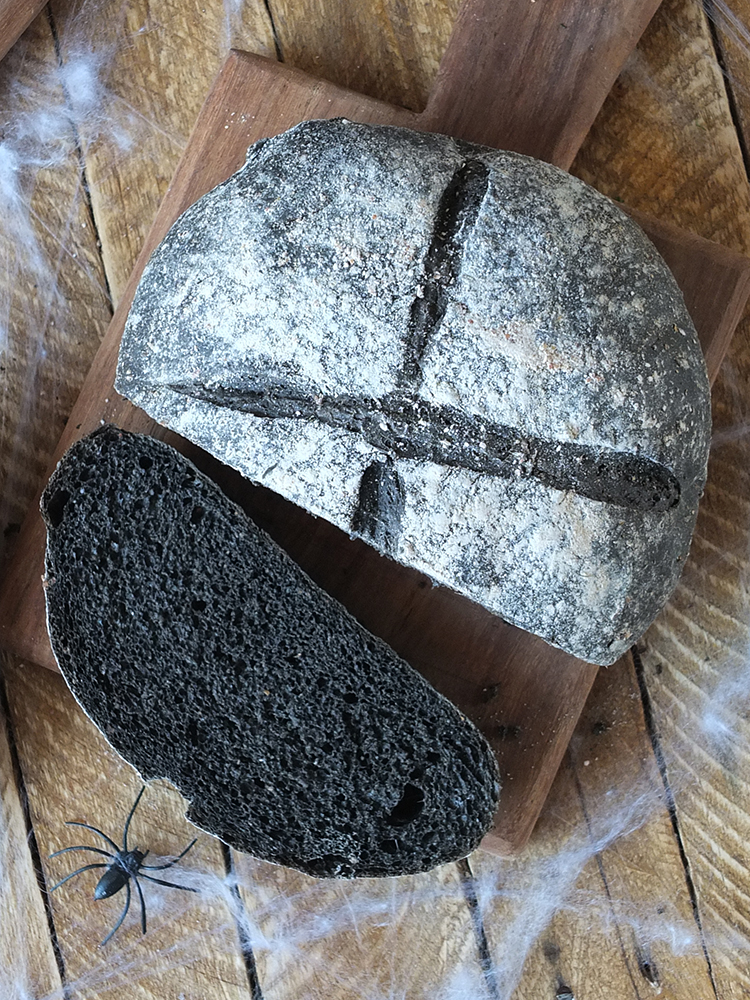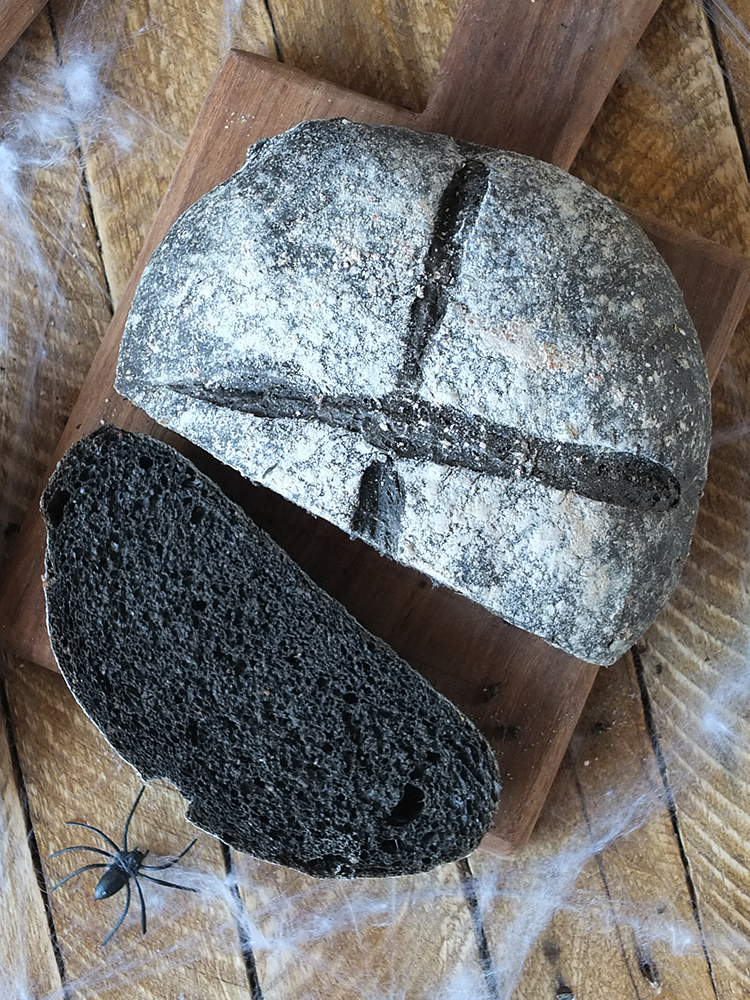 As the bread was to be used to serve with a lamb and ale stew, in a Leaky Cauldron-worthy bread bowl, I thought I'd flavour the bread with rye and caraway seeds. I also thought that this might possibly mask any potential cuttlefish flavour.
The resulting bread was deliciously light, fluffy and with a warming caraway aroma. It was also the most gorgeous rich black colour with no compromise in bread texture. A 100% successful experiment!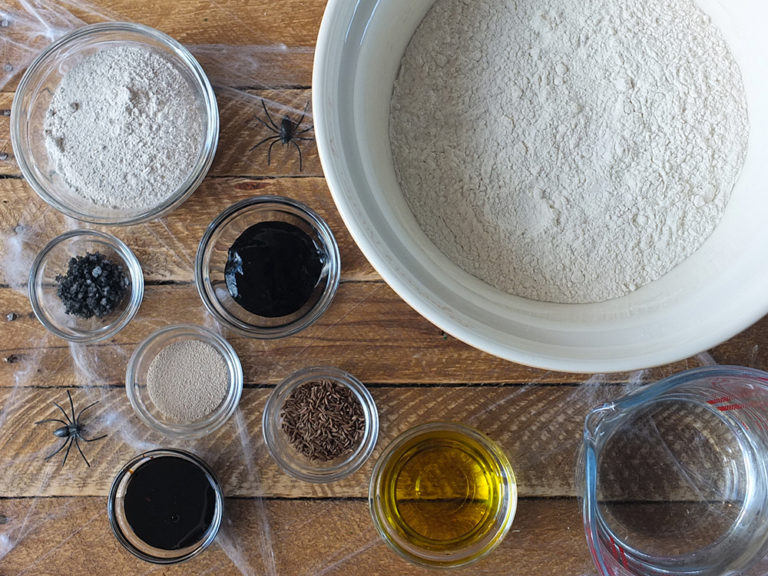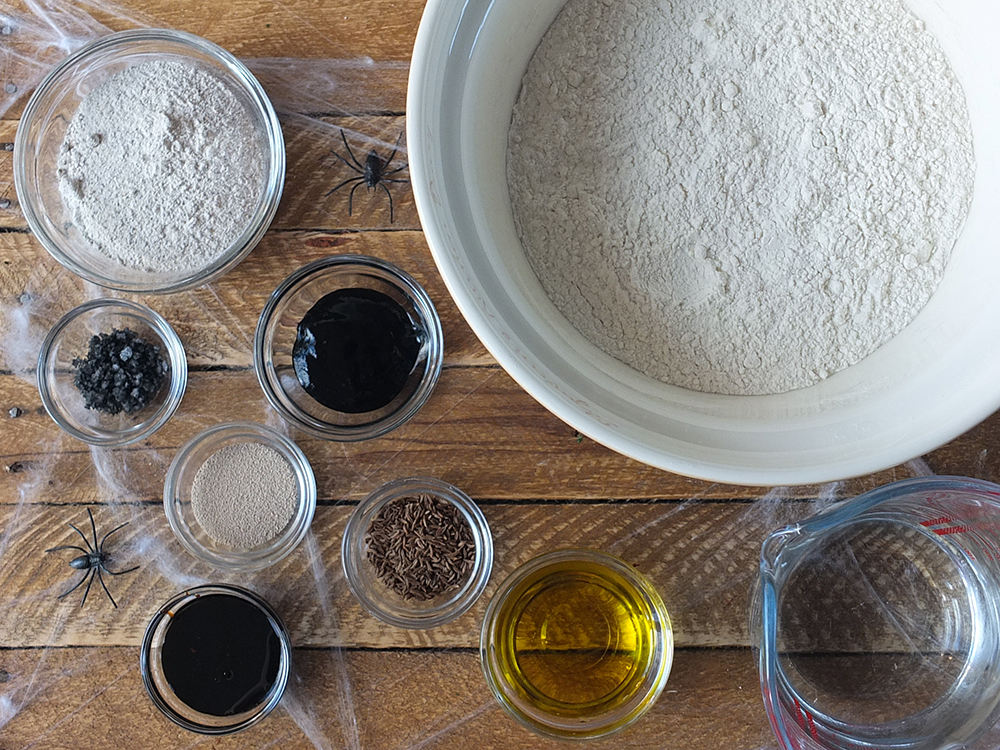 INGREDIENTS FOR THIS BLACK BREAD RECIPE
strong bread flour
rye flour
caraway seeds
instant dried yeast
cuttlefish ink
black treacle
lava salt
olive oil
water
[amazon_link asins='B00GC2EZ5Q,B017NZFWA2,B001BNQNUG,B00A4BYW4A,B00O07JE88,B00C636VSO,B016IPRU3K,B014R68SEW' template='ProductCarousel' store='elizskitcdiar-21′ marketplace='UK' link_id='dcb4e297-dcea-11e8-a5e4-1d99a98241ea']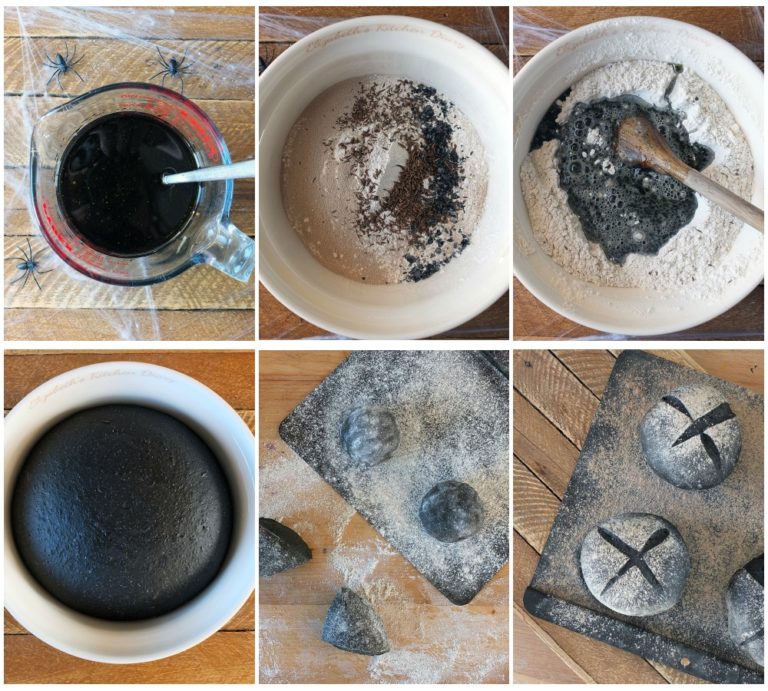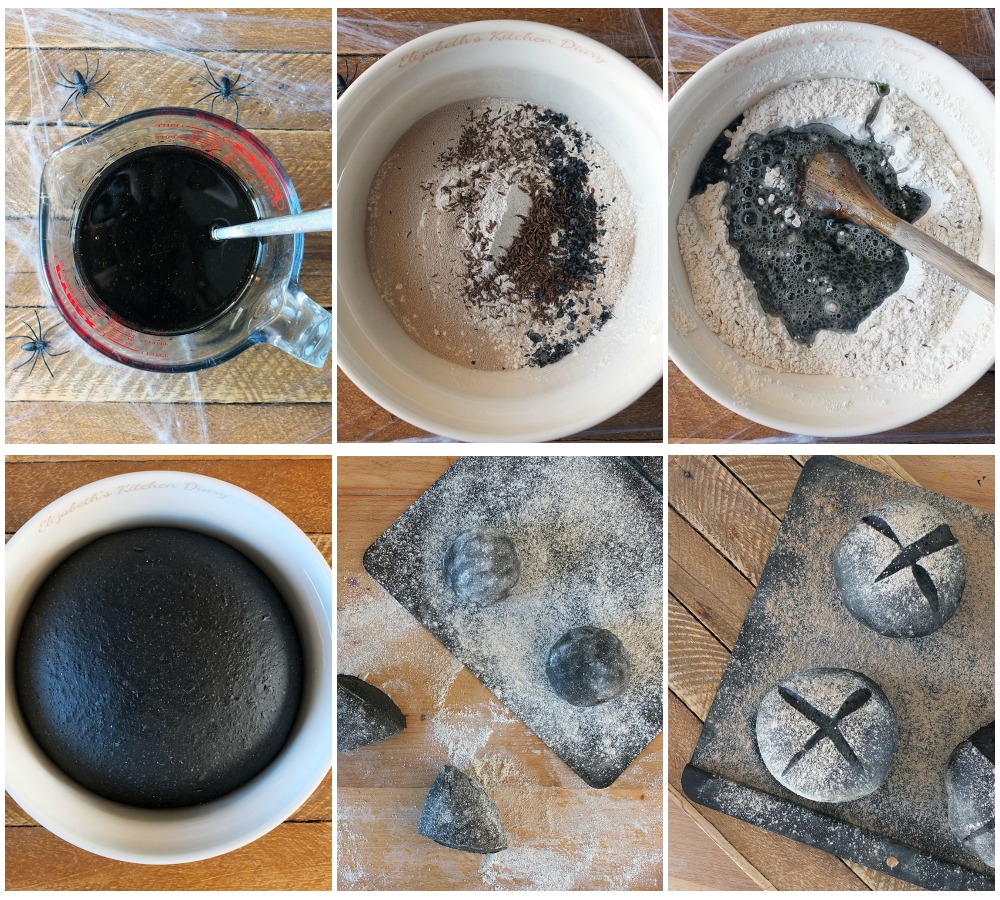 HOW TO MAKE THIS BLACK BREAD RECIPE
Step 1: Place all the wet ingredients in a measuring jug and stir until dissolved.
Step 2: Place all the dry ingredients into a bowl, stir and make a well in the centre.
Step 3: Place the wet ingredients into the dry, and stir well to form a dough. Turn out onto a floured surface and knead for ten minutes.
Step 4: Cover and leave to rise in a warm location until doubled in size.
Step 5: Punch down dough, shape into four bread rolls and leave to rise another half an hour.
Step 6: Dust with rye flour, score the tops and bake in a hot oven.
Halloween Rye & Caraway Black Bread
I've used some Icelandic lava salt in this recipe, although it doesn't impact the flavour or final bake at all – it was just for the novelty value. Regular sea salt will work too.
Cuttlefish ink is available via Amazon (or in Scoop Wholefoods in Lerwick) in 90-gram jars. I have used more than the recommended amount in my recipe as I wanted a rich, dark colour. If you've got some leftover cuttlefish ink after baking this bread you might want to try it in some cuttlefish ink pasta!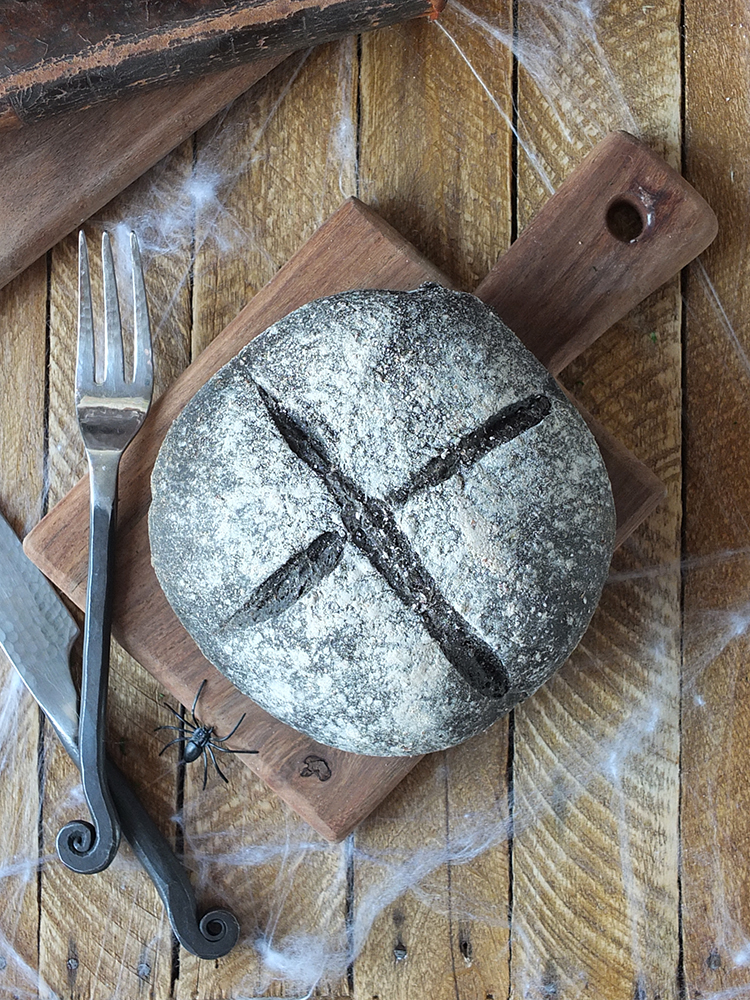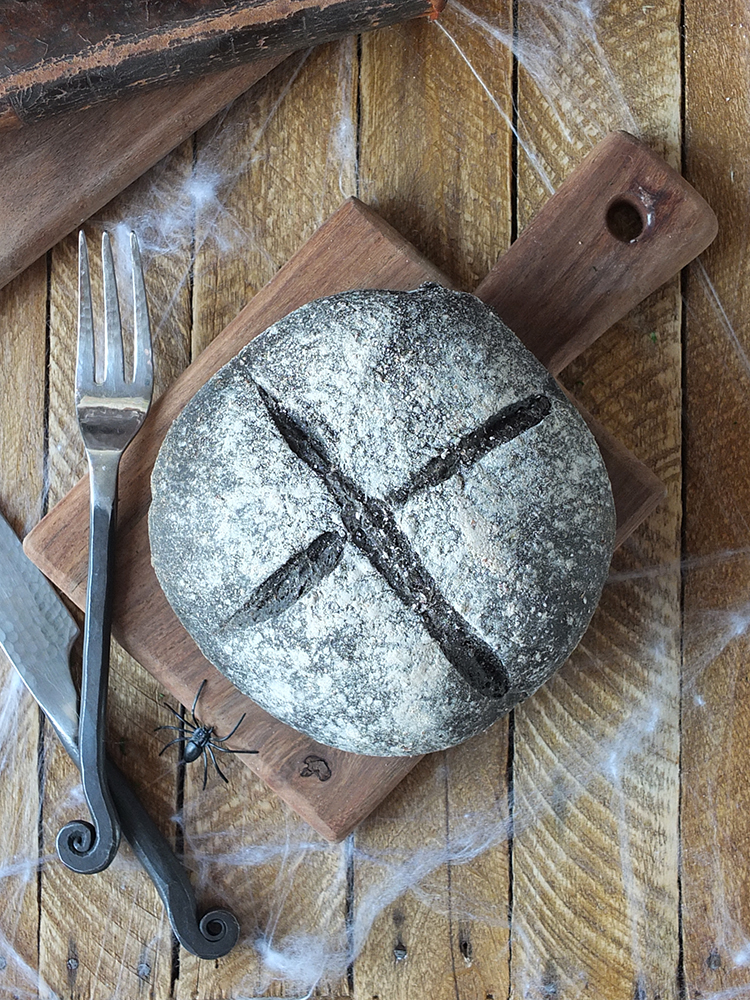 Now, I absolutely love Halloween and Halloween food, but I think as I'm growing older and my tastes are changing, I'm preferring to eat more savoury treats like a cheese/charcuterie board like below. I did also have blackberries and black grapes to add to this board, but I completely forgot to add them in my hunger (and focus on all the gorgeous meat and cheese!)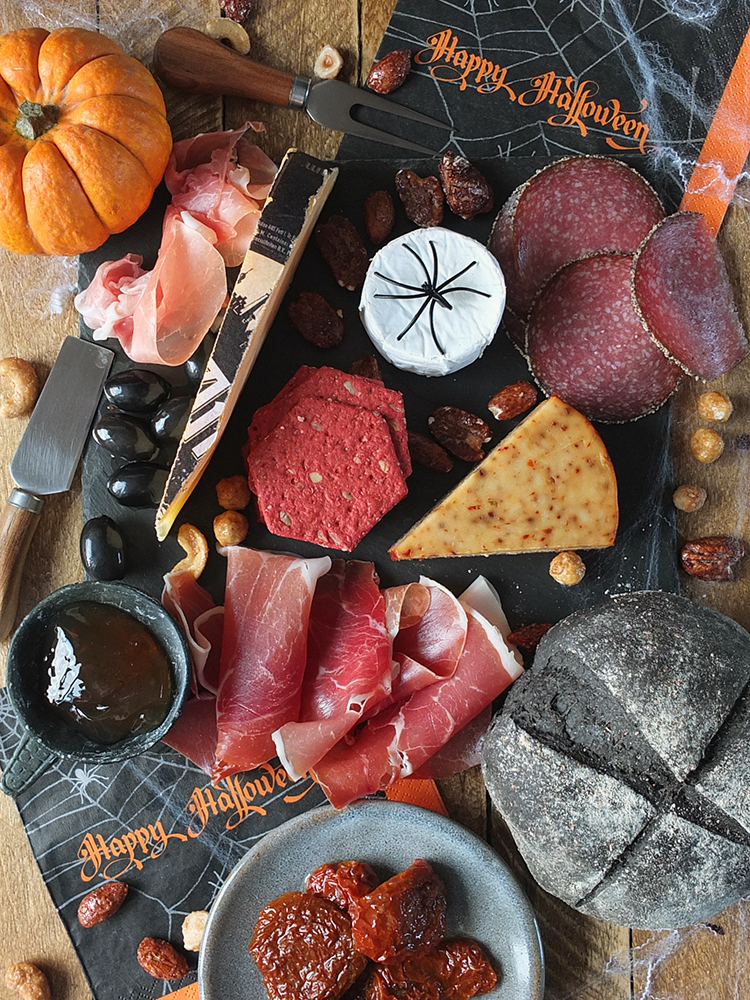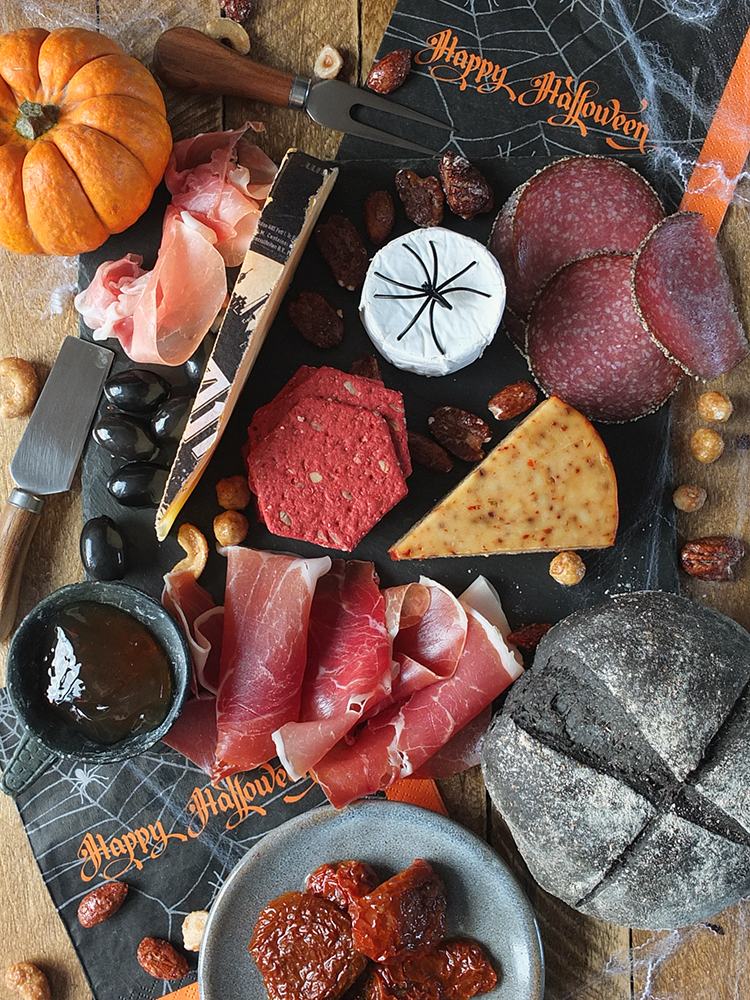 INGREDIENTS FOR A HALLOWEEN CHEESEBOARD
rye & caraway black bread
serrano ham
prosciutto
peppered German salami
goats' milk brie
chilli & jalapeno pepper cheese
Old Amsterdam gouda
sundried tomatoes
black olives – I'm rather fond of unpitted kalamata ones
chilli jam
candied nuts – particularly walnuts (you might like my three-ingredient honey roasted walnuts recipe)
beetroot and seed crackers – I picked mine up at Tesco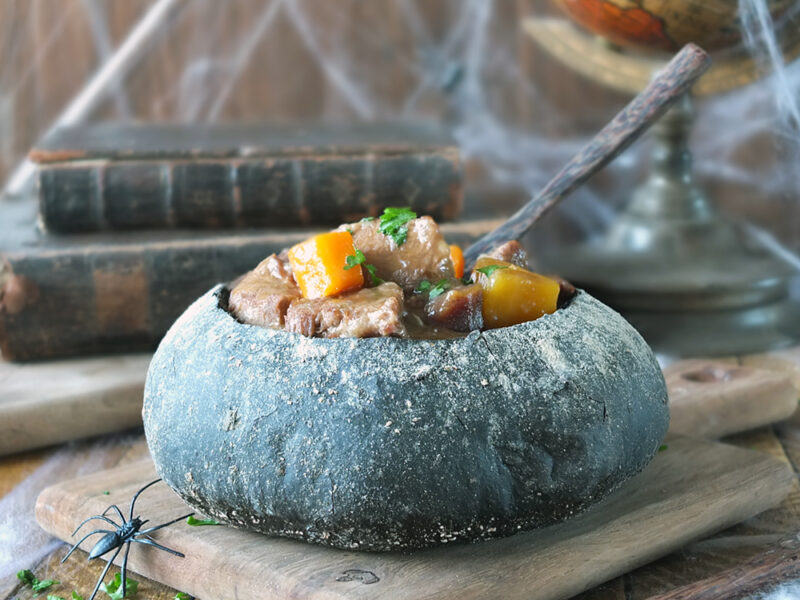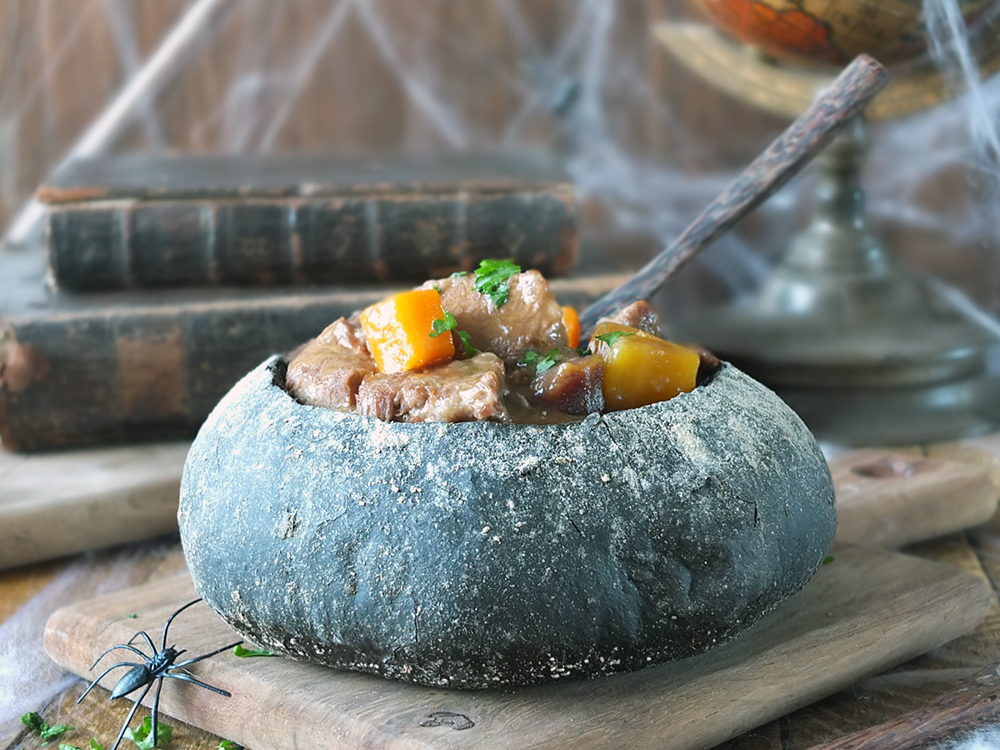 You might also like my Lamb & Ale Stew served in a bread bowl "cauldron". If you're looking for other black coloured foods to serve at a spooky party, you might also like Kavey's Butternut Squash and Black Garlic Cheese Bake with Blue Cheese, or perhaps Choclette's Black Velvet Cheesecake Swirl Brownies with Stout Caramel Sauce. You might also like Helen's deliciously gothic Black Rose Marshmallows recipe.
Have you ever created something spooky like this for a Halloween meal? What would you serve this bread with? Let me know in the comments!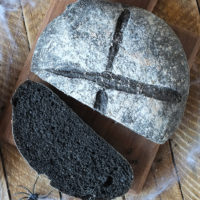 Rye & Caraway Black Bread
Perfect for a Halloween or a Harry Potter themed party, this black bread is easy to make and has a gorgeous rye and caraway flavour. Serve with a hearty stew or a cheeseboard.
Print
Rate
Affiliate Links
This recipe card may contain affiliate ingredient and equipment links. As an Amazon Associate I earn from qualifying purchases.
Instructions
Place the flours, yeast, caraway seeds and salt in a large bowl and mix together.

Add the treacle, cuttlefish ink and olive oil to the water and stir well until everything is dissolved.

Make a well in the centre of the flour, pour in the liquid and stir with a wooden spoon until it begins to come together.

Turn out onto a floured surface (use rye flour for this) and knead well for ten minutes, adding enough rye flour until a soft dough forms.

Place into a large, greased bowl, cover and leave to rise until doubled in size - between 1-2 hours.

Preheat your pizza steel or bread baking stone in the oven at 200 C.

Punch down the bread dough , knead and cut into four even pieces.

Form into bread rolls and place on a baking tray. Leave to rise for a further half an hour.

Dust with extra rye flour, score the tops of the bread and bake in the centre of the oven for 20 minutes.

Cover the warm bread with a tea towel to allow the steam to soften the crusts. Store in an airtight container once cooled.
Environmental Information
PIN THIS HALLOWEEN BLACK BREAD RECIPE FOR LATER