In collaboration with British Sausage Week.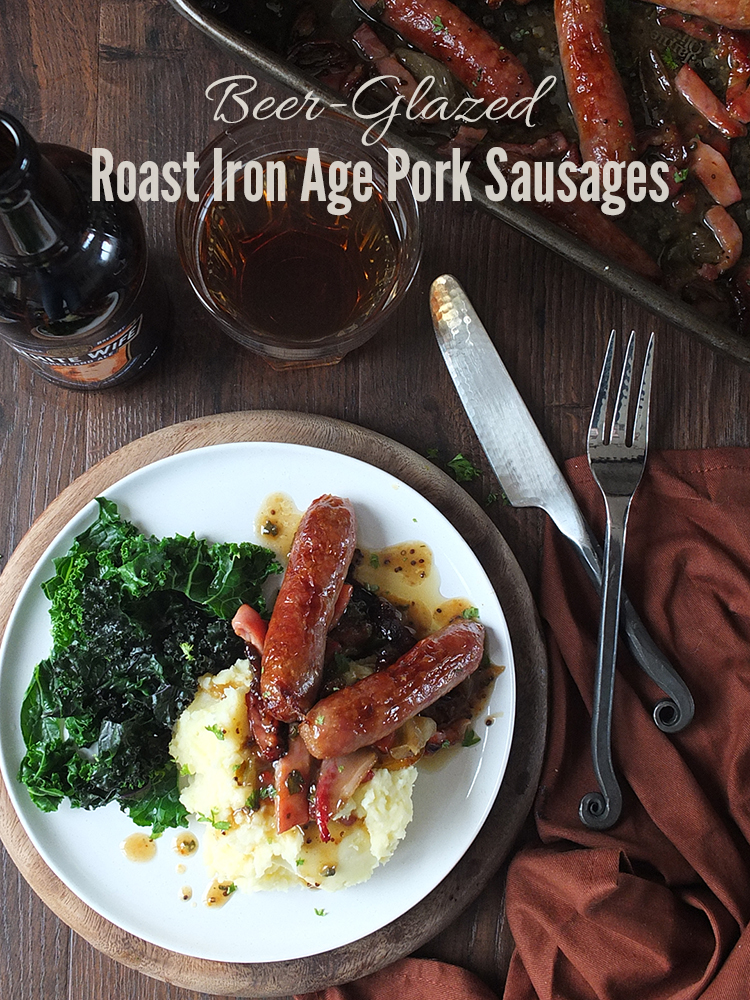 I make no pains to hide the fact I am a meat eater. I love meat, but only good, proper, quality meat that has been locally reared to a high standard, and treated well right until it gets to my fork.
This week (from the 31st October – 6th November) is British Sausage Week, the celebration of all things sausage. Now in its 19th year, British Sausage week aims to highlight the wide range and quality of pork sausages being produced today by British pig farmers.  You'll be glad to hear that the majority of sausages in Britain are made from fresh meat pork rather than processed meat.
Last weekend saw annual Shetland Food Fair on my remote North Sea island home. While there I picked up some hand crafted sausages from my #1 favourite sausage producer: Gateside Croft in Hillswick, Shetland, who rear a rare Iron Age breed of pork on their small family-owned croft.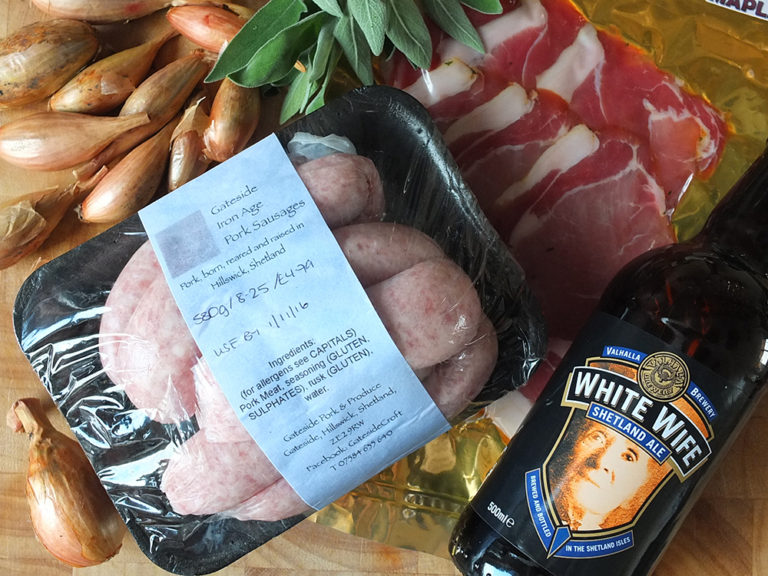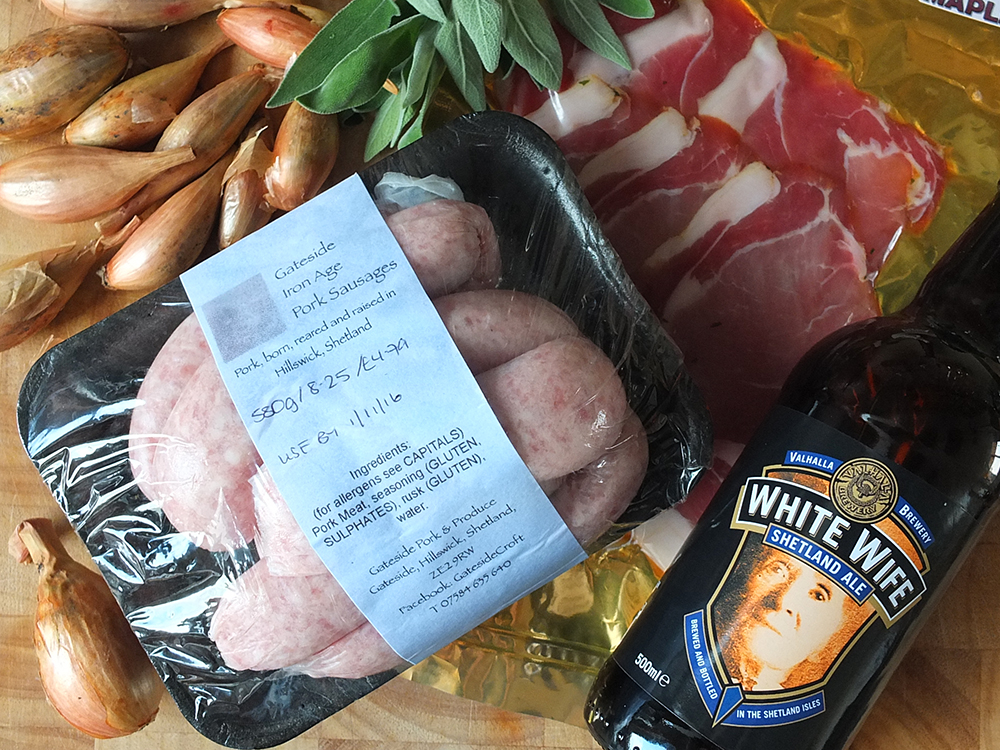 Inspired by the high quality of the produce available at the fair I picked up a few other things to create a locally sourced midweek sausage meal in honour of British Sausage Week. I bought some maple glazed home cured back bacon from the Anderson Butchers in Whiteness and a bottle of White Wife Shetland Ale from the Valhalla Brewery, Britain's most northerly brewery. This ale was named after a ghostly female figure who appears to lone male travellers on a long stretch of local road at night. I combined these ingredients with banana shallots and fresh sage from my Turriefield veg box, and voila – this beer-glazed roast Iron Age pork sausage meal was born.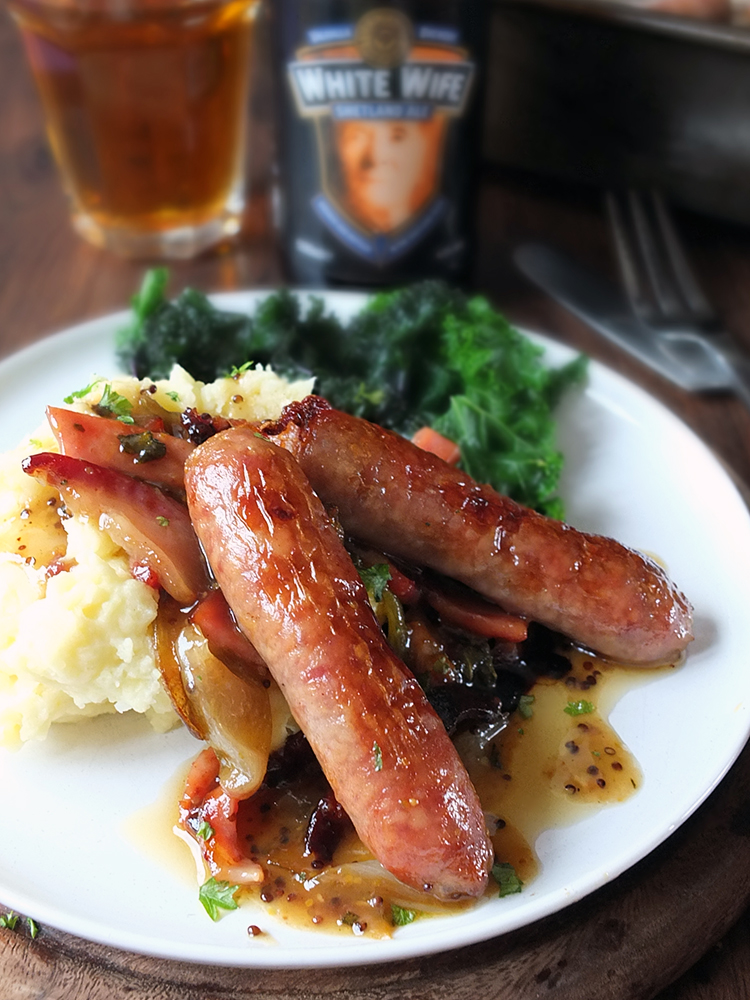 The great thing about this dish is that there is very little prep. I can be really lazy when it comes to midweek meals and I don't want to spend ages chopping and measuring out ingredients, especially when there's the after school chaos to deal with (and so many writing deadlines!).
For this meal you simply throw the halved shallots and meat into a roasting tin, drizzle with oil and roast for 20 minutes. The remaining ingredients get whisked together in a small bowl, poured over the top of the roasting sausages, and popped back into the oven again where they reduce into a lovely, sweet, mustardy ale gravy, perfect for spooning over creamy mash. The most laborious part of the meal is peeling the potatoes (a task that can be easily delegated to younger family members!).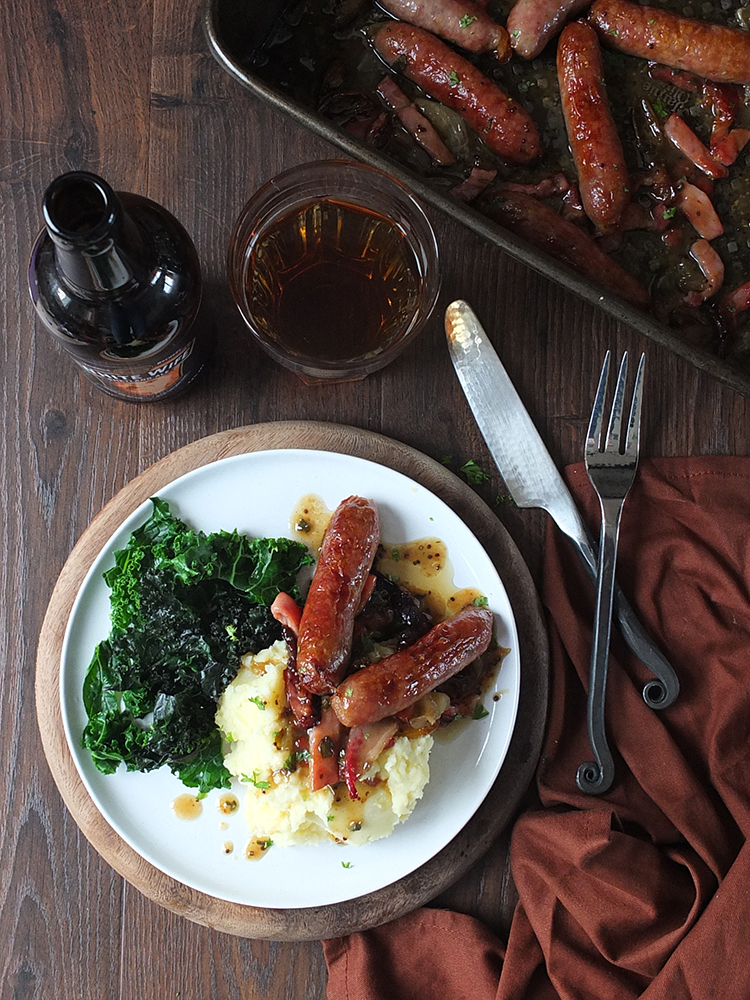 My husband's first words when he taste tested my recipe creation: "Mmmm…. oh my goodness this is SO good! It's like proper restaurant food!" Scoff. Scoff. Seconds.
I might have sat there beaming at the kitchen table. He's not one to dish out compliments unless he genuinely feels they are deserved, so this was a fine accolade!
To serve I boiled some Turriefield potatoes with a peeled and cubed celeriac and a large clove of garlic. This was drained and mashed with butter and milk for a really delicious accompaniment with steamed kale on the side.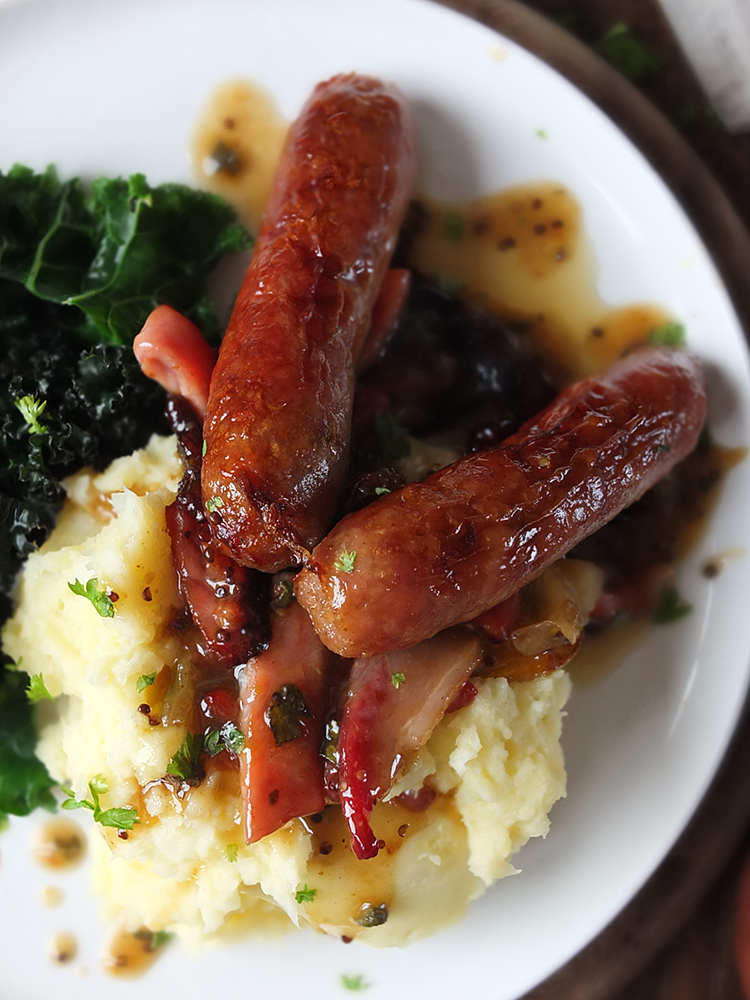 Sausages can be great for the whole family, not only are they versatile but the varieties of flavours available mean they can appeal to a wide group of people. They can also be great value whatever the occasion.
Sausages can be a quick, easy and tasty option for a mid-week meal – fry them, grill them, bake them – serve them with a poached egg, baked beans and oven chips or on a tower of creamy mashed potatoes. I often cook a whole pack at a time and freeze any leftovers – chopping up the defrosted sausages and reheating them with scrambled eggs, or stirring through some pasta and tomato sauce for the children.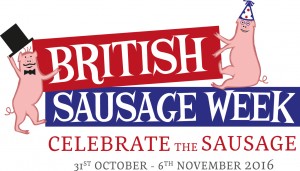 When buying sausages look for a good quality or Red Tractor sourced pork from Britain. Sausage packets that depict a Red Tractor logo are traceable and have been produced responsibly ensuring that it is quality food you can trust.
To discover new ways to enjoy sausages visit British Sausage Week. You can also find them on Twitter and Facebook.
How do you like your sausages? With over 500 varieties of British bangers available there's loads to choose from!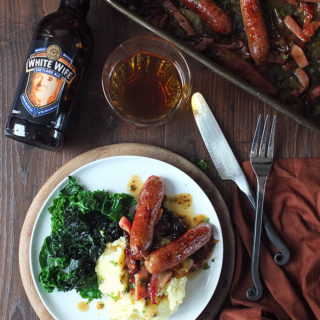 Beer-Glazed Roast Iron Age Pork Sausages
A quick and easy one pan midweek dinner recipe of roasted pork sausages glazed with beer. Serve with creamy mash and a green side.
Print
Rate
Affiliate Links
This recipe card may contain affiliate ingredient and equipment links. As an Amazon Associate I earn from qualifying purchases.
Instructions
Preheat oven to 200 C/ 180 fan. Arrange sausages and halved shallots in a roasting tin.

Slice the bacon into 1 cm strips and add to the roasting tin.

Drizzle with the rapeseed oil and toss everything to coat.

Roast in the middle of the oven for 20 minutes.

Combine wholegrain mustard, maple syrup, beer and cornflour together in a small bowl. Pour over the sausages and stir to coat. Sprinkle with the chopped sage and return to the oven.

Roast for a further 20 minutes until the liquid has reduced, the shallots are soft and the sausages are lovely and browned.

Serve immediately with creamy mashed potatoes (or a mixture of potatoes and celeriac) and some steamed kale.
Notes
Not everyone has access to rare breed Iron Age pork, so simply replace with good quality locally reared pork sausages from your local butcher, or those with the Red Tractor logo on them.
Environmental Information
OTHER SAUSAGE RECIPES YOU MIGHT LIKE
Toadies with Onion Gravy by Jo's Kitchen
Sausage, Feta & Tomato Filo Pie by Foodie Quine
Chorizo-style Sausage and Rigatoni Bake by Gingey Bites
Hoisin & Honey Glazed Chipolatas by the Greedy Gourmet
SHARING WITH SOME BLOG LINKIES
Recipe of the Week by A Mummy Too
This is a paid recipe commission in collaboration with British Sausage Week. Thank you for supporting the brands who make it possible for me to do what I love: mess up my kitchen and share recipe stories.
[color-box]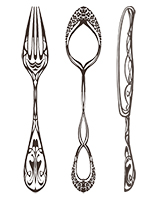 Have you made this recipe?
Take a photo and tag @tangoraindrop or use the hashtag #elizabethskitchendiary and share on Instagram and Twitter. It would make my day to see your creations!
[/color-box]