A homemade donair recipe for all you homesick Nova Scotians out there.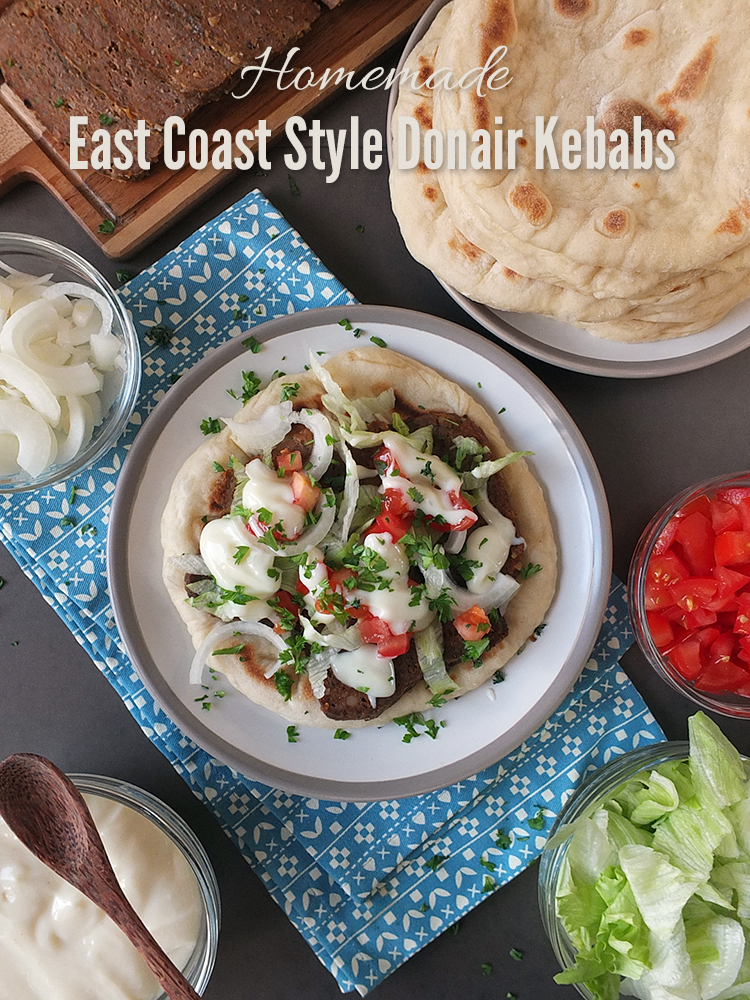 I am a long ways away from Pizza Corner.
Pizza Corner, for those of you who haven't had the privilege of experiencing it, is a downtown city corner in Halifax, Nova Scotia, on the east coast of Canada. There's a ritual that happens there every weekend – night time revellers, when the pubs and nightclubs close, gather there in their droves and order pizza by the giant slice and donairs. Mostly donairs. For Shetlanders, just imagine if Tatties & Point was a kebab shop and there were three of them on one corner (the fourth corner being a churchyard). 
The doan-AIR with the o in doan pronounced like the o in dome, is a uniquely east coast Canadian creation. It's an adaptation of the Turkish doner kebab, with beef mince replacing the traditional lamb and a sweet garlicky sauce replacing the yogurt drizzle.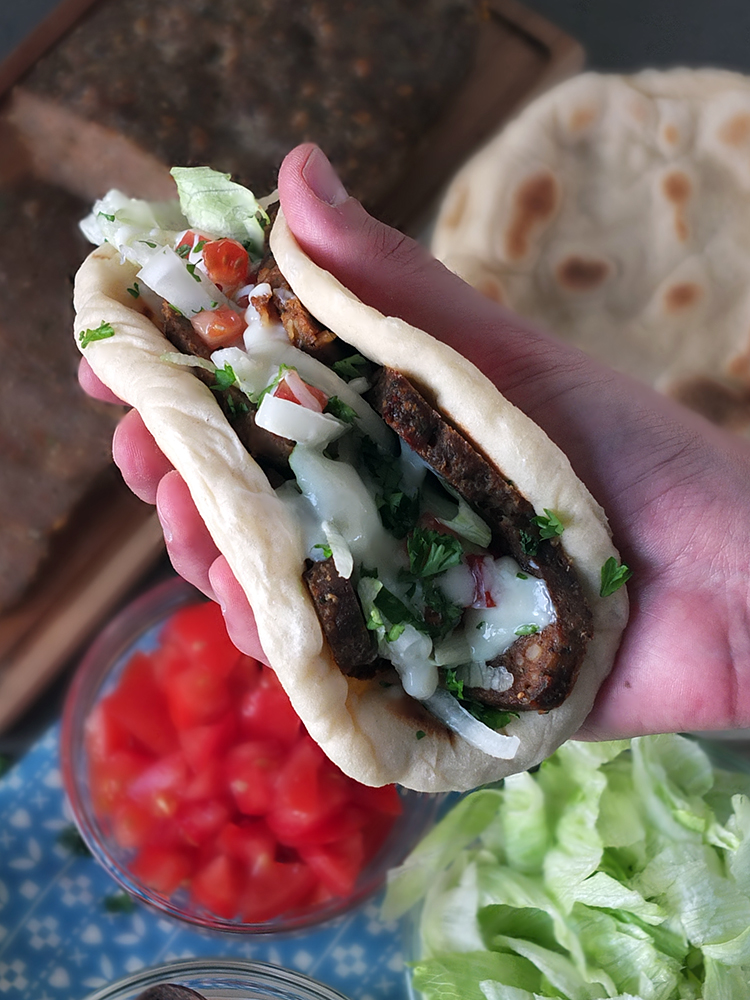 Recently I made a recipe for a rather delicious pistachio and orange crusted lamb roast, which was to be served with jewelled couscous and flatbreads. It's an hour long round trip for me to find somewhere in town to buy flatbread, and so, for the purposes of food photography I experimented with a recipe I found here, adapting it by increasing the olive oil content (why do people fear the olive oil?!), making the dough in the bread machine and UK-ifying the measures. Since my immigration from Canada to Scotland in '99 I've become a grams person. It's the only way to cook. Seriously. 😉
These flatbreads, oh my goodness gracious me, deliciously soft and warm, transported me right back to 3 am at Pizza Corner and those rejuvenating late night donairs. They were the perfect wrap for a donair!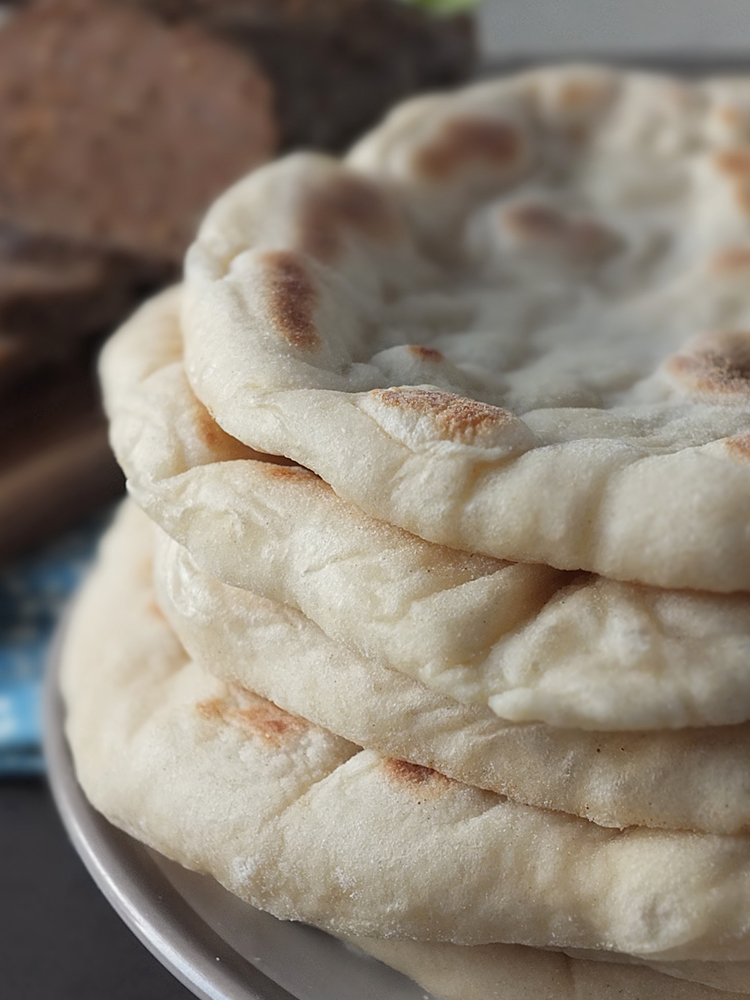 I'll need a bit more practise to perfect them, but I tell you, these flatbreads are something seriously amazing, and so simple to make too. When it comes to bread making I'm a bit lazy, so I throw all the ingredients into my bread machine and select the dough cycle. Easy peasy. When the machine beeps, divide the dough into eight balls and leave it to rest for a few minutes before rolling out and cooking over a medium heat in a dry frying pan.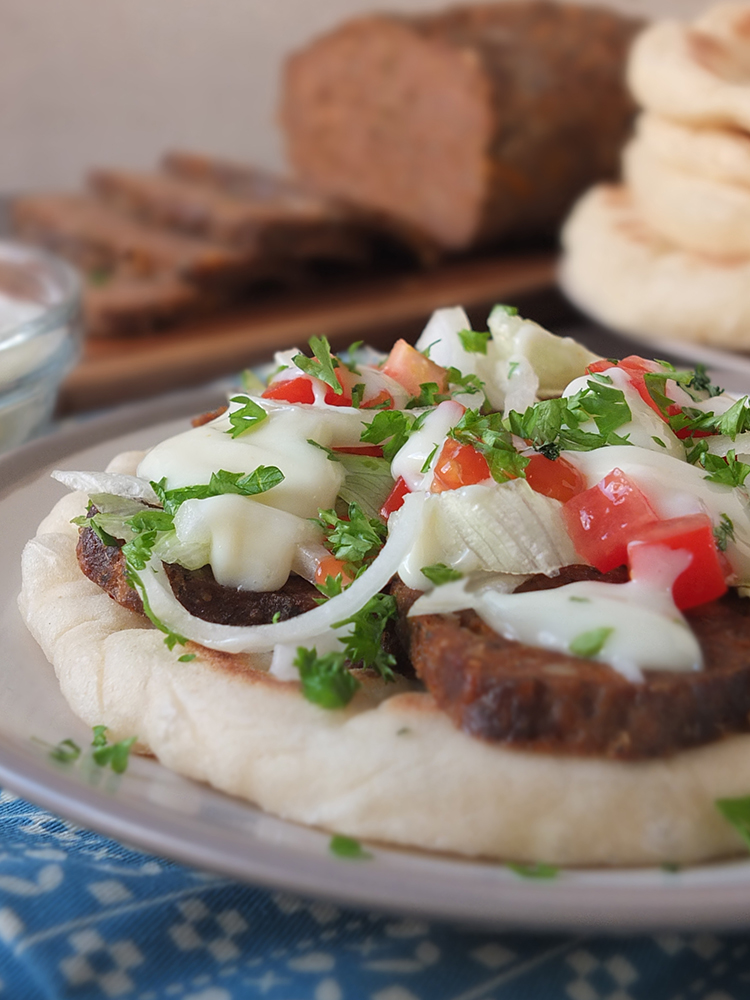 After sorting the bread out I went to my Cape Breton cousin's homemade donair recipe – a recipe I was under strict instructions not to blog when she sent it to me many years ago, so I completely changed it. Her recipe calls for a generous quantity of seasoning salt, something which has never made an appearance in my kitchen so I worked backwards, found a recipe for homemade seasoning salt and adjusted the quantities of salt and spice accordingly.
I have, I confess, reduced the quantity of salt in this recipe. Feel free to double or even triple it if you want a more authentic downtown Halifax taste experience, but for cooking in my home for my family I found one tablespoon sufficient.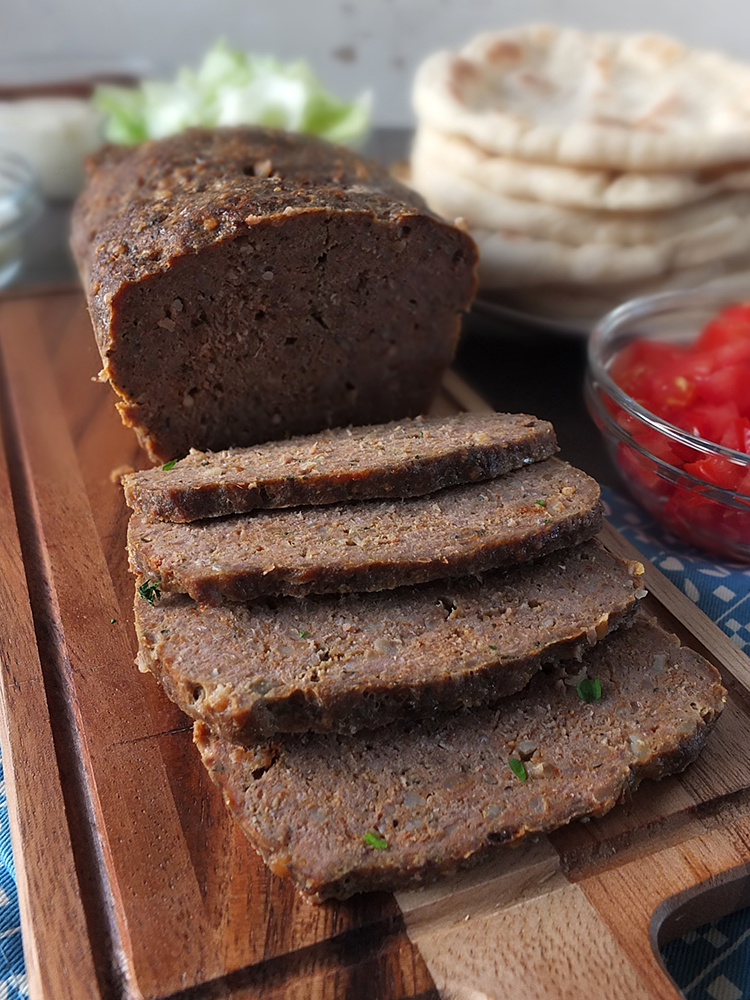 I also changed the recipe by using equal quantities of beef and lamb mince. A traditional East Coast donair is usually made with only beef mince but I like lamb. I also used minced onion instead of onion granules (something I never buy). I did use the garlic granules though as the spice company had sent me some when I worked for them last year, and so it happened to be sitting on my shelf.
Make sure you combine the meat mixture really well. Squeeze it with your hands until it forms a dense meatloaf. You want to be able to finely slice it (finer even then I've shown here) and fry it later.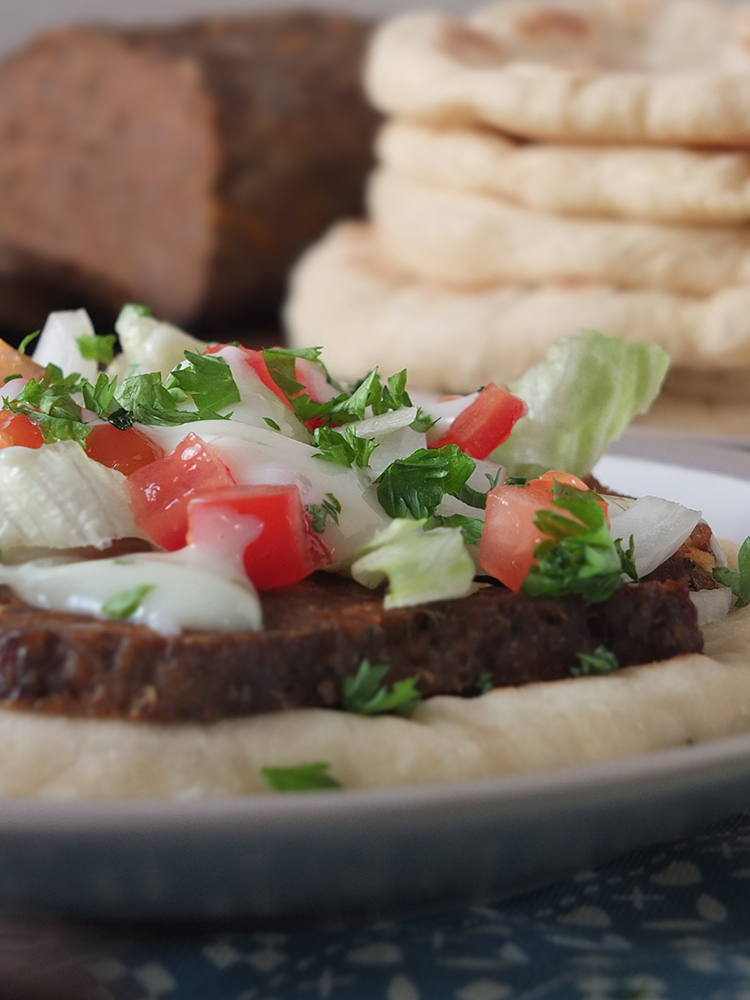 The last key component in a donair is the sauce. There are many different recipes out there either using sweetened condensed milk or condensed milk and a truckload of sugar. This one is quite simple – stir in some garlic granules (adjust to taste) and slowly pour in vinegar until the mixture thickens to a drizzle consistency.
It's an acquired taste, donair sauce, and my family don't really like it. Me, on the other hand, it reminds me of home. My children sat there one lunch time recently and watched me scoff my donair kebab in all its undignified glory.
"Mum, there's… mayonnaise… all over your face." DD expressed in disgust.
The mess: it's part of the experience. This recipe is not for a first date when you are trying to impress. If you're 3000 miles away from Pizza Corner and you get a craving, this recipe is for you. It's been nearly 20 years since I last had an authentic East Coast Canadian donair, and this comes pretty close to how I remember it.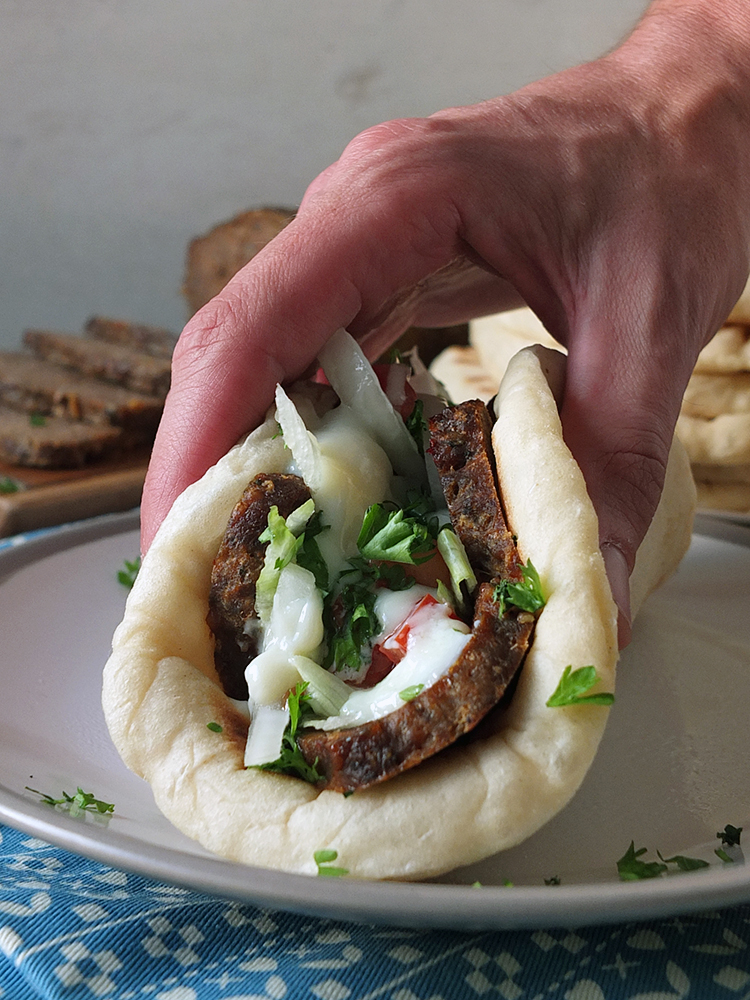 I suppose I should also mention the vegetables too. For the authentic experience you need the merest hint of green (no sprinkling of parsley like I've done). Use the pale white innards of an iceberg lettuce and some chopped tomatoes that have obviously been chopped and kept in the fridge for a couple of days.
The onion has to be white (nothing as civilised as a red onion will work!), and used sparingly. Keep the bowl of sauce nearby to top up too. You'll want more.
Heaven on a plate this, now where's my Alexander Keith's?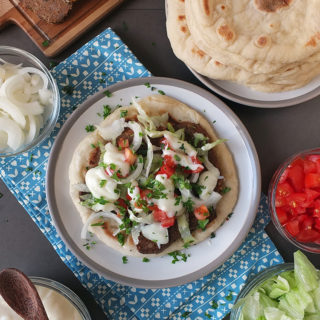 Homemade East Coast Style Donair Kebabs
Heavily spiced ground minced lamb and beef is thinly sliced, fried, and served on a soft flatbread topped with a sweet garlicky sauce.
Print
Rate
Ingredients
Affiliate Links
This recipe card may contain affiliate ingredient and equipment links. As an Amazon Associate I earn from qualifying purchases.
Instructions
Preheat your oven to 150 C/ 300 F.

Combine all the ingredients for the donair meat in a large bowl and knead well with your hands until thoroughly combined. You want to create a dense meatloaf so it needs to be very well combined. Squeeze, knead, shape into a loaf and place into a large bread tin.

Cover with foil and bake in the centre of your oven for two hours. Leave to cool completely before slicing.

To prepare the donair sauce, spoon the condensed milk into a large measuring jug, sprinkle over the garlic granules and slowly stir in the vinegar until it reaches your desired consistency. Pop in the fridge to chill.

To prepare the flatbreads pop all the ingredients into your bread machine in the manufacturer's recommended order and select the dough cycle. Alternatively, mix the dry ingredients together, make a well in the middle and add the lukewarm wet ingredients. Mix well, knead for 10 minutes, cover and leave in a warm place to rise until doubled in size.

When the dough cycle has finished, knock back the dough and divide into eight equal pieces. Leave a further ten minutes for the gluten to relax. This will make it easier to roll out.

Roll out each ball of dough into a 7 inch circle and place on a floured tea towel until ready to cook.

Heat a non stick pan over a medium high heat and cook each flatbread for a few minutes on each side. It's ready to turn when it's bubbled up nicely on the top and has hints of brown on the bottom, check often until you get the hang of it.

Make sure to use a clean tea towel to wipe off any excess flour from the hot pan in between breads, or the excess flour will burn.

Store the bread in a plastic bag until needed to keep them soft.

When the meat has cooled finely slice it and fry until heated through in a non-stick pan.

Top the meat with your vegetables and a generous drizzle of donair sauce. Enjoy!
Environmental Information
OTHER RECIPES YOU MIGHT LIKE
East Coast Garlic Fingers & Donair Sauce from Elizabeth's Kitchen Diary
Halloumi Souvkaki with Tzatziki by Veggie Desserts
[color-box]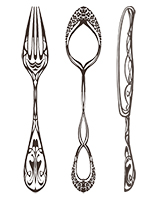 Have you made this recipe?
Take a photo and tag @tangoraindrop or use the hashtag #elizabethskitchendiary and share on Instagram and Twitter. It would make my day to see your creations!
[/color-box]