On the 15th of October 2020, Elizabeth's Kitchen Diary became (quite possibly?) the first food blog in the world to add carbon footprint labels to its recipe cards. Now, at a glance, you can see the environmental impact of our recipes. Find out how, and why…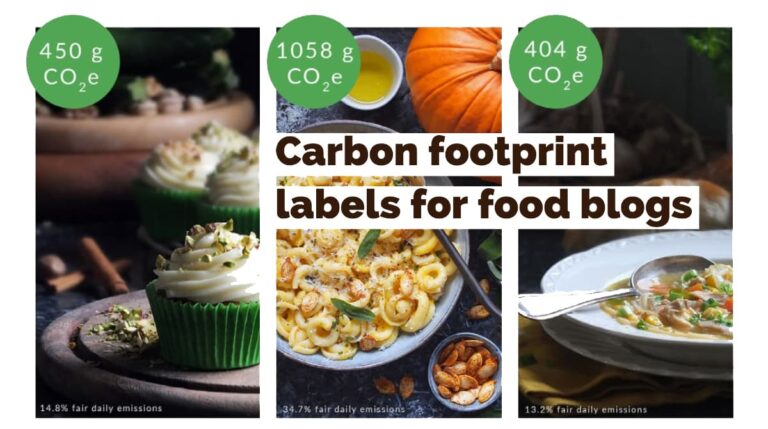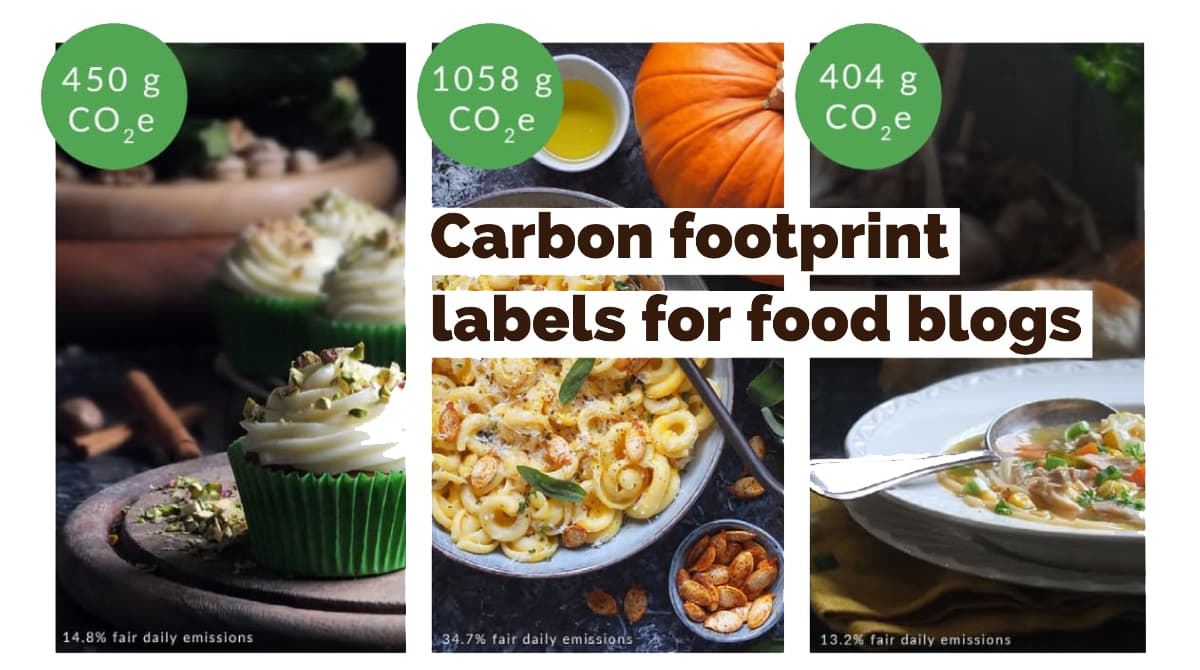 Carbon labelling for food blogger recipes – a world's first
We have teamed up with My Emissions to bring you, at a glance, the carbon footprint per serving of each of our recipes. If you write a food blog yourself, you might also be should be interested in these labels.
Why?
The carbon labelling movement has been gaining momentum over these last few years. Brands such as Quorn and Oatly already displaying their carbon footprint on their packaging, and there are a number of other multinational companies looking into doing the same.
We at Elizabeth's Kitchen Diary believe that carbon labelling will become standard, in the near future, just like the traffic light labelling for food that we're familiar with now. This labelling will help us make informed choices about our diets, and give us insights about how these choices directly impact the environment.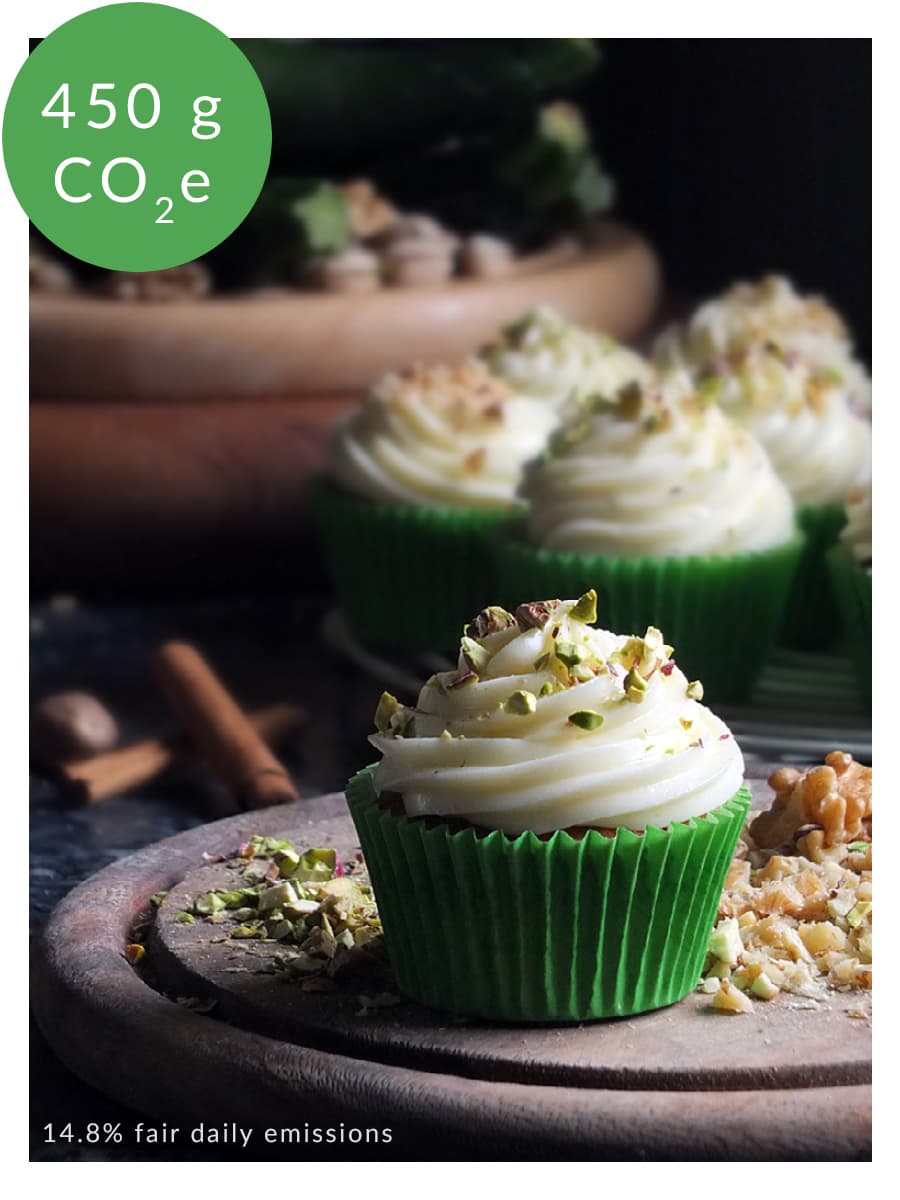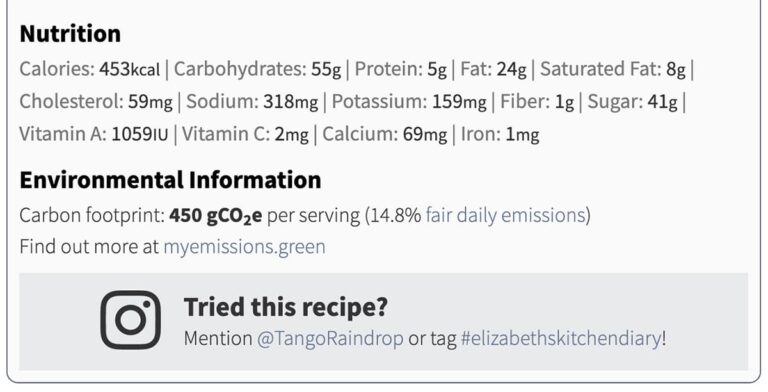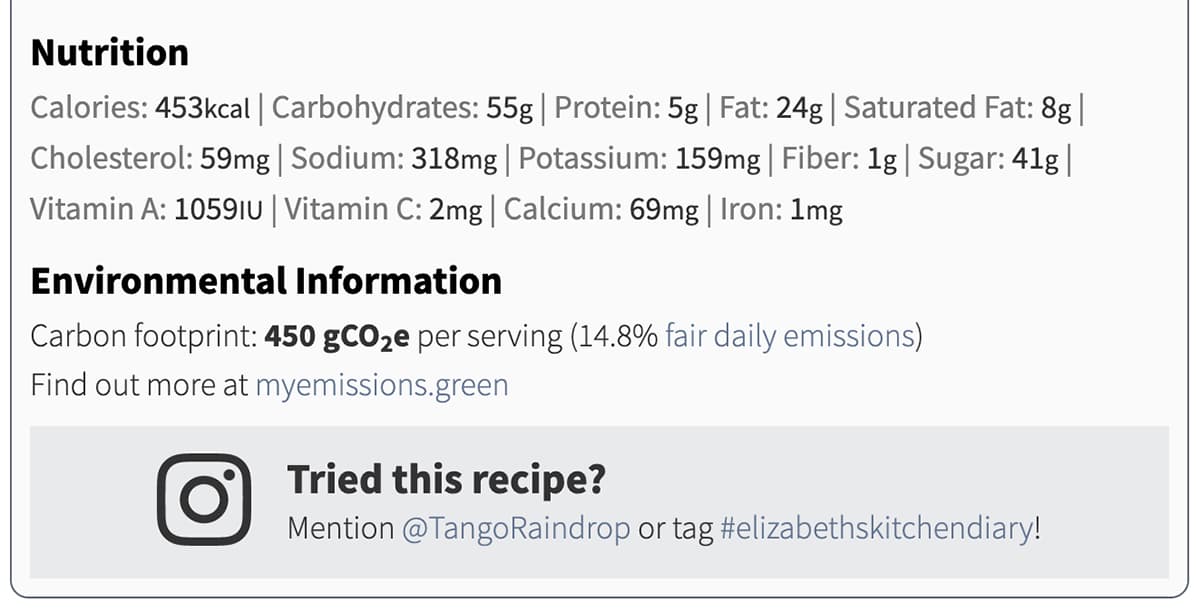 I like how the environmental label from My Emissions fits seamlessly into my recipe card under the nutritional information. You can see, at a glance, the impact that making my recipes will have on the environment. It'll also encourage me to create lower carbon recipes.
My Emissions have come up with a daily fair emissions value too. There's no sense in having a carbon footprint number if we don't know what it means. What's a high number, or a low? They've worked out that in 2020, 3 kg of emissions per person per day is considered fair. You can find out more about this in the text below.
I could wax lyrical about the merits of these labels, where they came from and why we should push food producers and recipe writers to adopt them, but I thought that this information should come straight from the My Emissions developers themselves – Matt and Nathan.
So I asked them a few questions…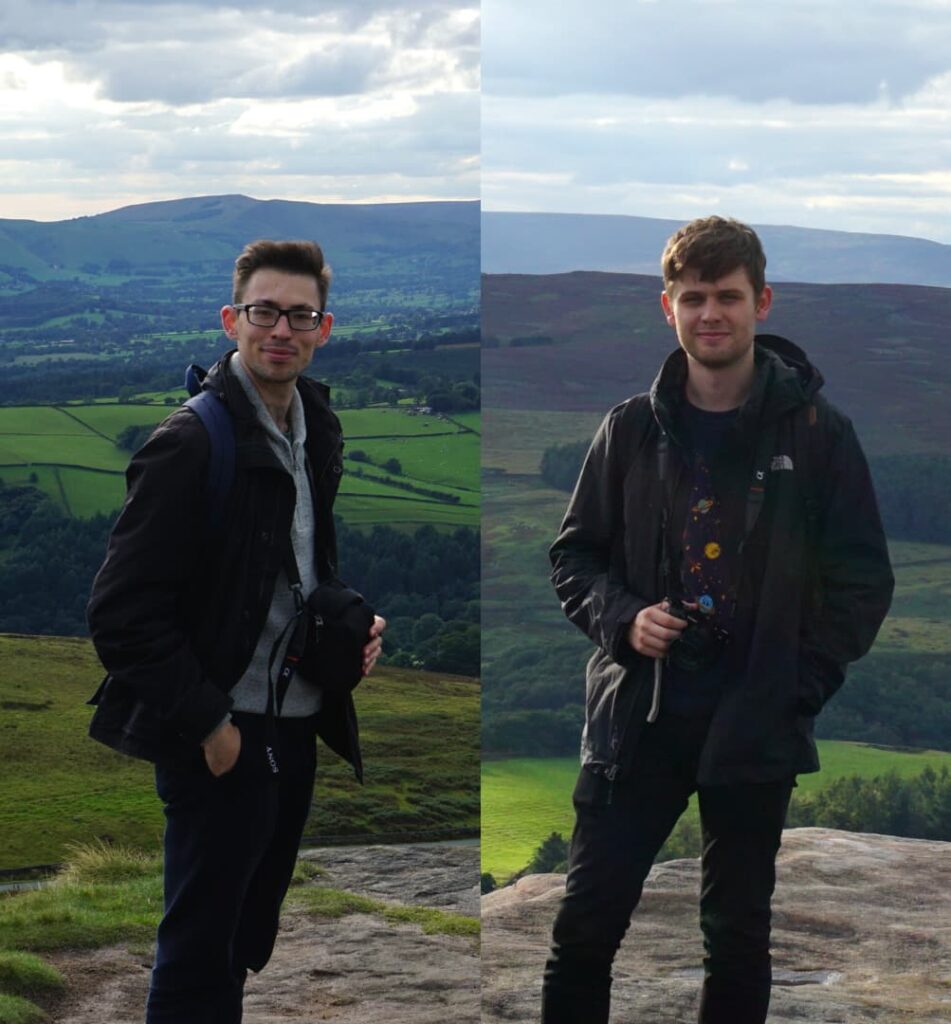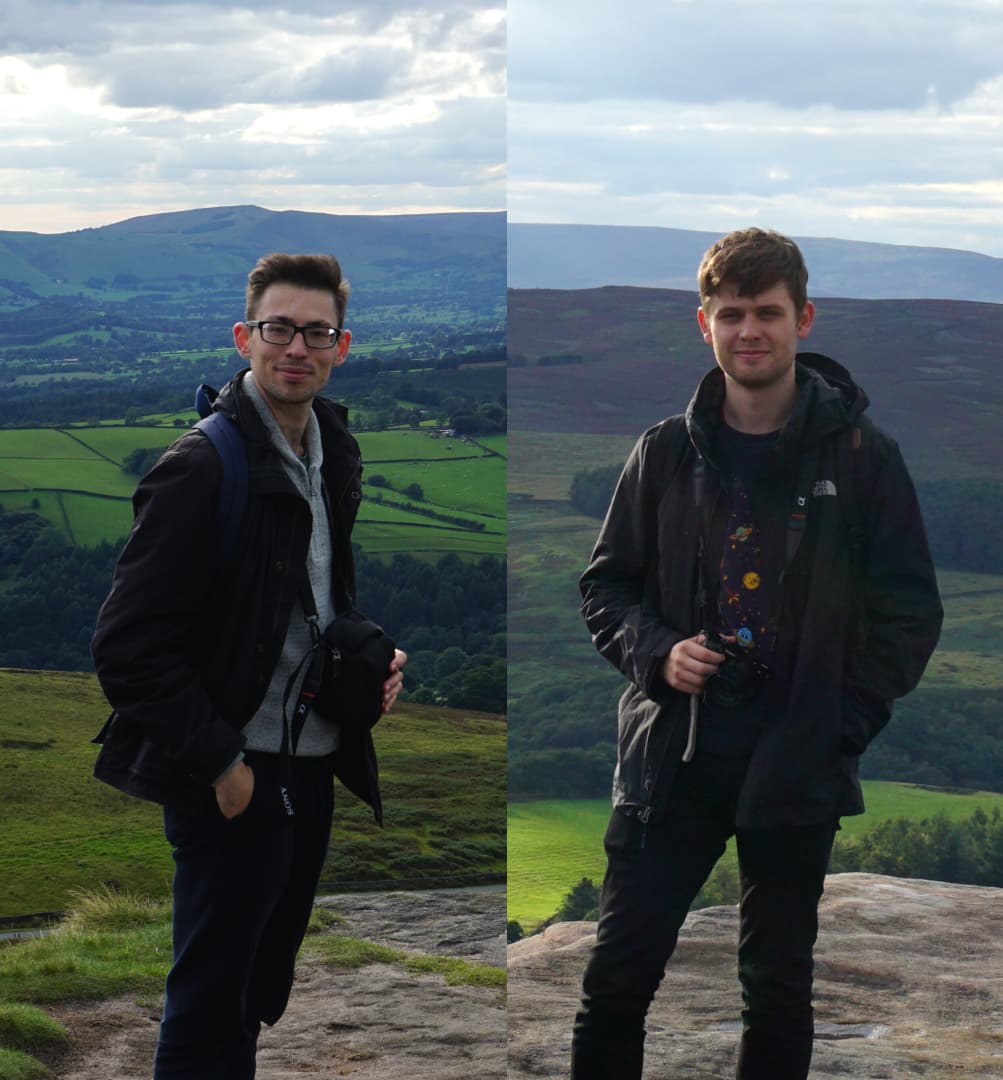 Introduce yourself! Who are you guys and what do you do?
Hi! We're Matt and Nathan, the co-founders of My Emissions. We met in our first year of University, and have been friends for about 5 years now.
We've had a variety of jobs between us, including engineering and tech start-ups, which has prepared us well for our new venture. Broadly, Nathan develops our website and tech, whilst Matt works on our data, sales, and marketing – as with any start-up, though, we end up working on lots of things together!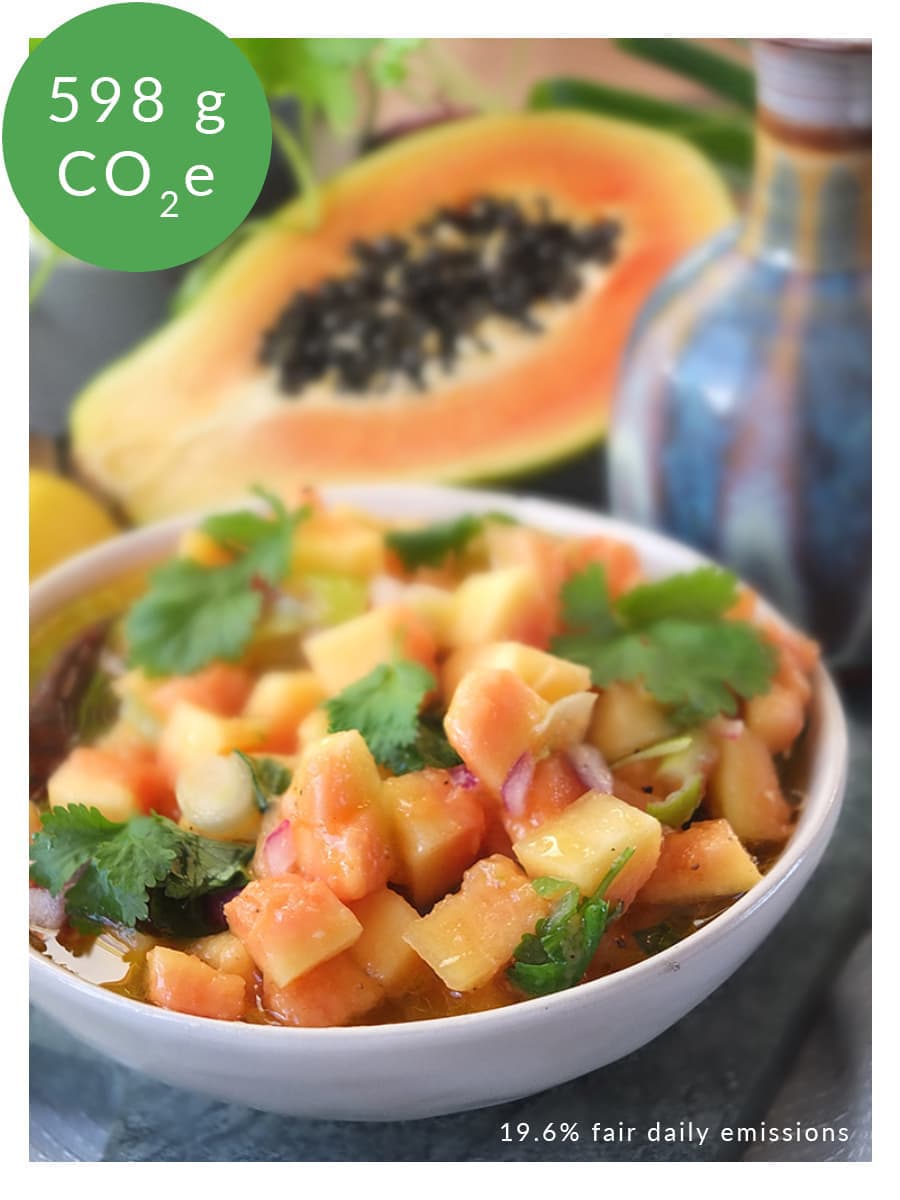 What are carbon emissions?
There are many different types of greenhouse gas emissions, which occur naturally in the world. Human consumption, however, has led to increasing levels of greenhouse gasses in our atmosphere – accelerated by, for example, burning lots of fossil fuels and deforestation.
These gasses stop heat from escaping the world's atmosphere, so rising levels are heating up the planet – it's like the 'greenhouse effect', hence their name.
Carbon dioxide is the main greenhouse gas, but there are many more including methane and nitrous oxide. In order to properly assess the 'global warming potential' (GWP) of a product, all gasses produced are converted into carbon dioxide equivalents (CO2e), allowing us to easily create a single value for the climate impact of each recipe.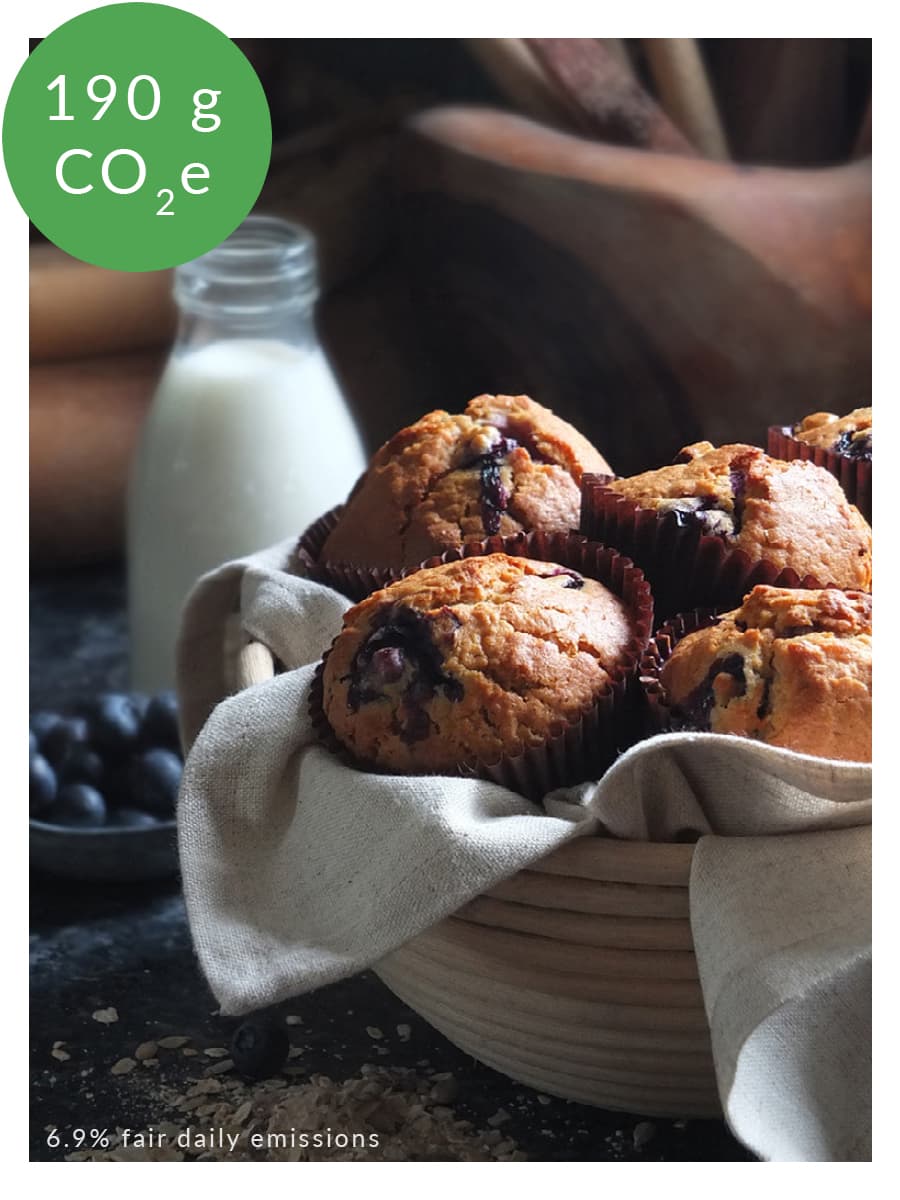 What prompted you to start this project? Where did the idea come from?
It very much started as a 'lockdown project', and it's gone from there really.
In March of this year, we were both left with lots of time and no other work: Matt had been furloughed, whilst Nathan had quit his previous job intending to go travelling, which had to be cancelled.
We both want to live more sustainably, but were frustrated at the lack of clear environmental data. We'd always talked about working on a project together, and after a few visits to the "Virtual Pub," we decided to research what we could do.
After a bit of time, we identified the lack of carbon labels for food, and that's when we properly got to work.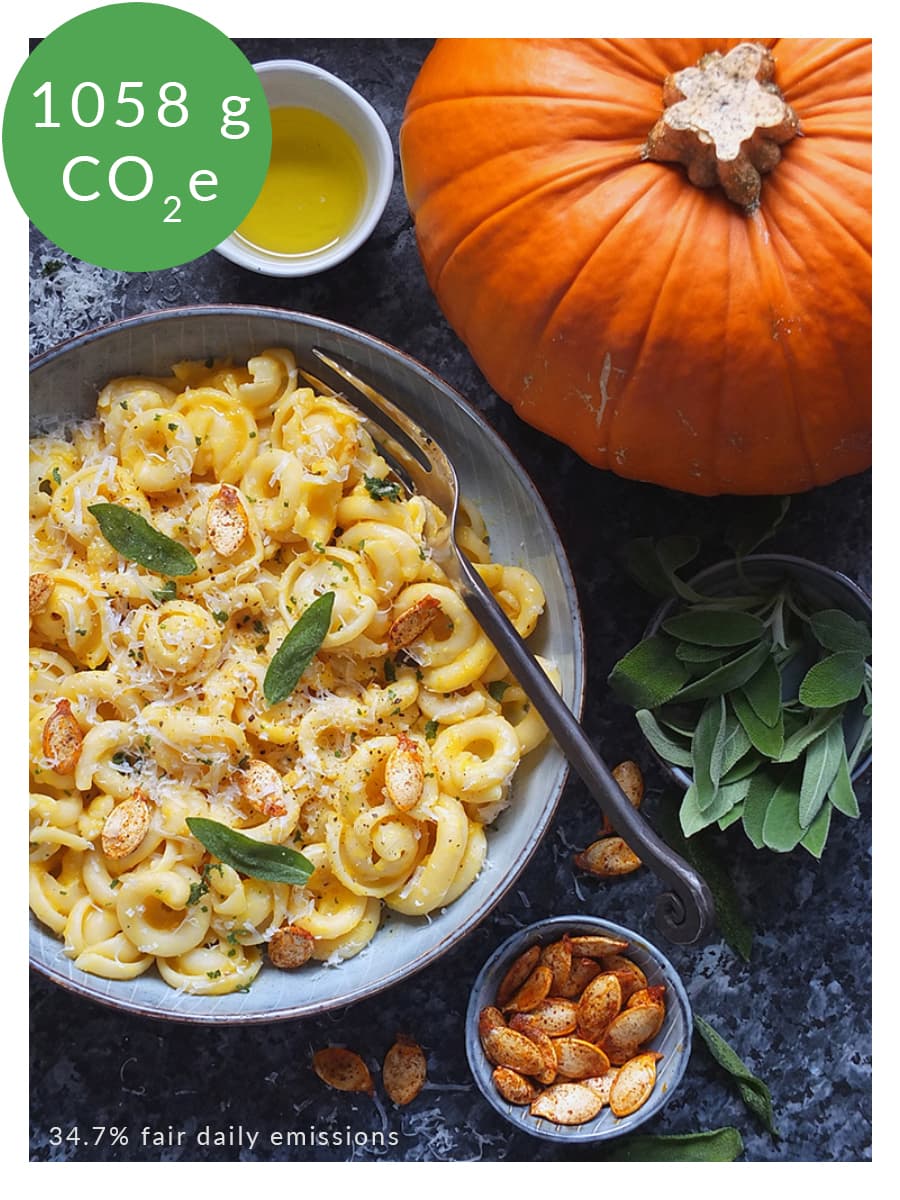 What are environmental labels for recipes?
There are lots of different types of 'environmental labels', including an 'accreditation' based on meeting certain criteria or an aggregating 'score' based on different factors. Our food environmental labels are closer to nutritional information, displaying the quantified carbon footprint of the recipe.
Why do you think carbon labelling is needed?
Without clear environmental information, it's hard for people to know what food is better or worse for the environment. Environmental labels are therefore going to be incredibly important in helping to educate and empower people to make more sustainable choices, just as nutritional information has been for health.
A less talked about benefit is they will force people to think about the climate when choosing their food. Right now, it's very difficult to 'see' the emissions from food – it's not like a car where you can often see and smell exhaust emissions.
Displaying clear values next to each recipe helps people to 'see' the embodied emissions in the food, as well as pointing to the more sustainable options so they can reduce their own carbon footprint.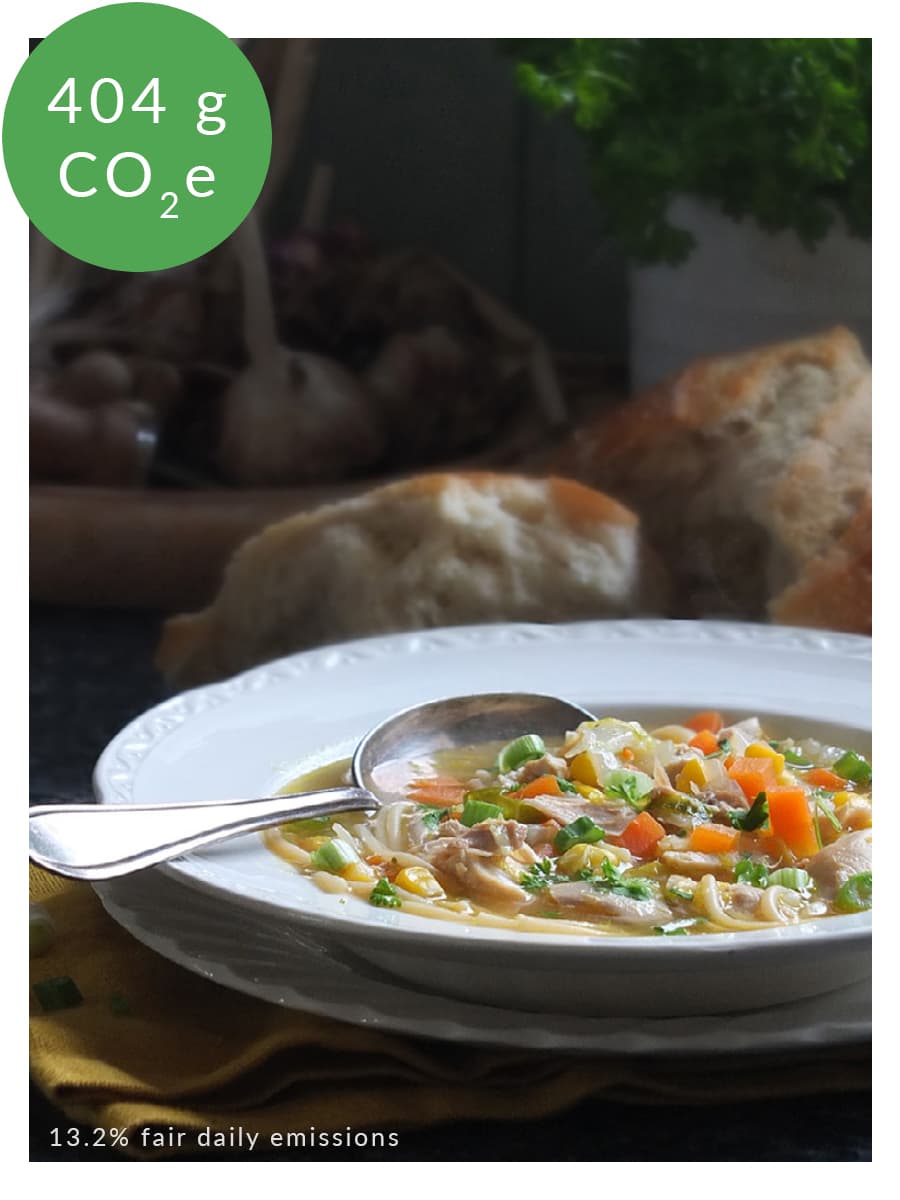 What is the daily fair emissions percentage?
We wanted to give context to our carbon footprint results – we realised that telling someone their food contributed, say, 1kg CO2e didn't really mean a lot. Taking inspiration from nutritional information, we, therefore, calculated a 'fair daily amount', which contextualise whether a recipe's emissions are high or low.
The value we have calculated is about 3 kg CO2e/person/day. This value is based on the estimated global greenhouse gas emissions from food in 2018.
We decided to use a global figure, rather than a figure for each region, as we don't think it's right to ask low-polluting countries to reduce their footprint even further – we believe people with higher carbon footprints bear a greater responsibility to reduce their emissions.
Finally, the value also takes into account the UN's projection that global emissions must fall by 7.6% each year in order to limit global warming to less than 1.5°C.
Find out more: Understanding the Fair Daily Food Emissions Value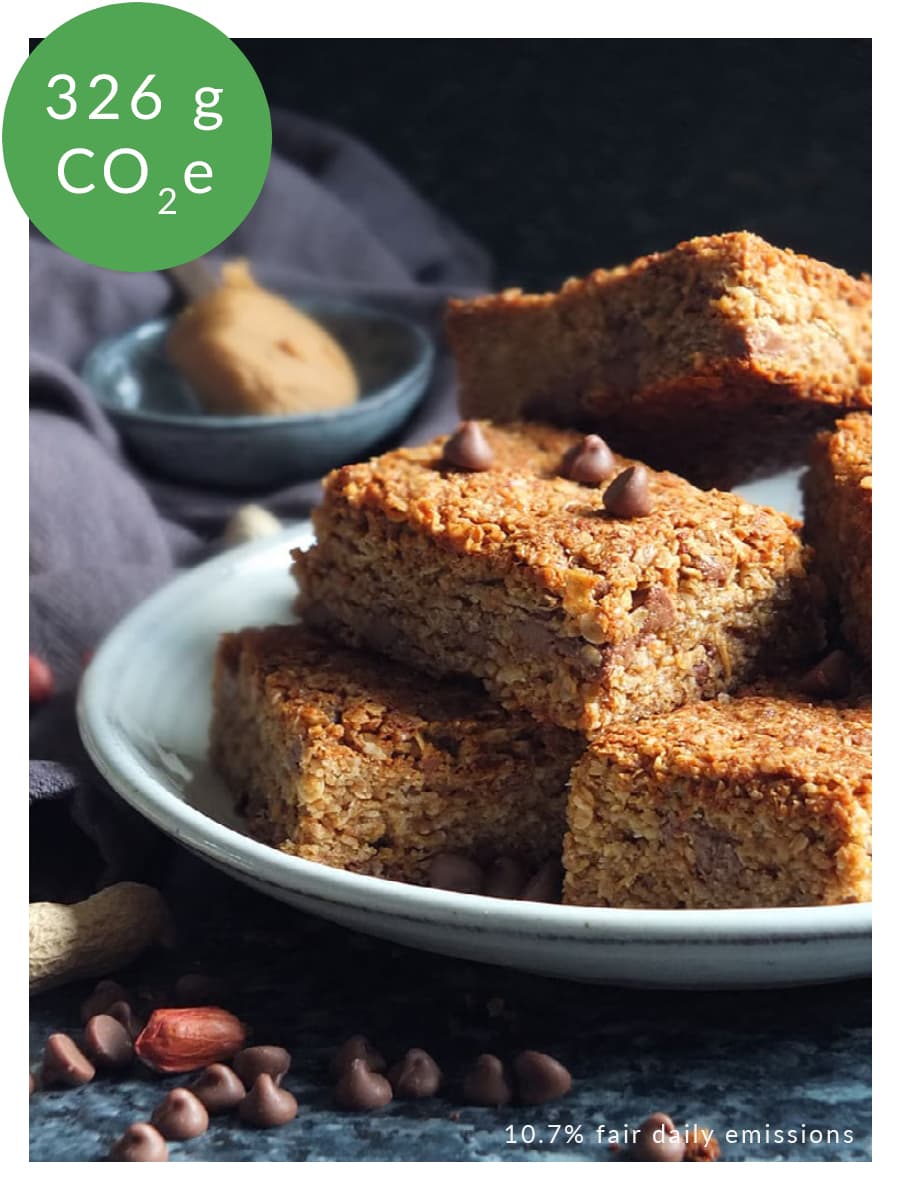 How have you figured out the carbon emissions for each ingredient? Talk us through the background science.
We calculate the average carbon footprint values based on environmental 'life cycle assessments'. There are many studies for each food, which we collect and compare to get an average of each food.
In each study, you map the exact processes required to make a given food, taking into account the farming techniques used, processing, packaging, transport, and more. You can then match each process to the expected greenhouse gas emissions, allowing you to estimate the total climate impact of the food.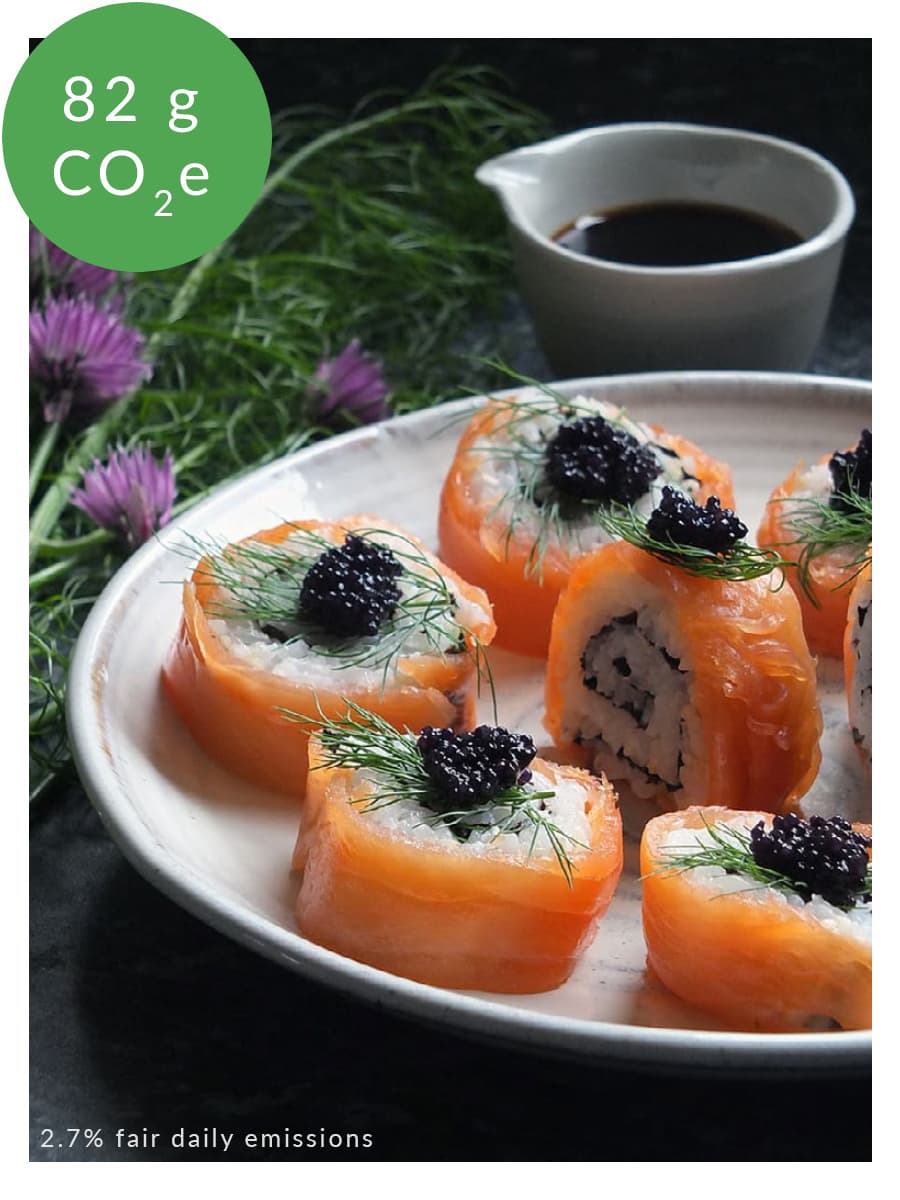 How do you see carbon labelling evolving in the future?
I think they will become much more widespread, and you will start to see carbon labels on food products and in cafes and restaurants. There's a chance it could even become required by law for things like food products to display this information, although for that the cost of each assessment would need to be reduced.
There may also be a shift from the labels we display now, which just present the carbon footprint value, towards a score or rating system, although more research will need to go into that.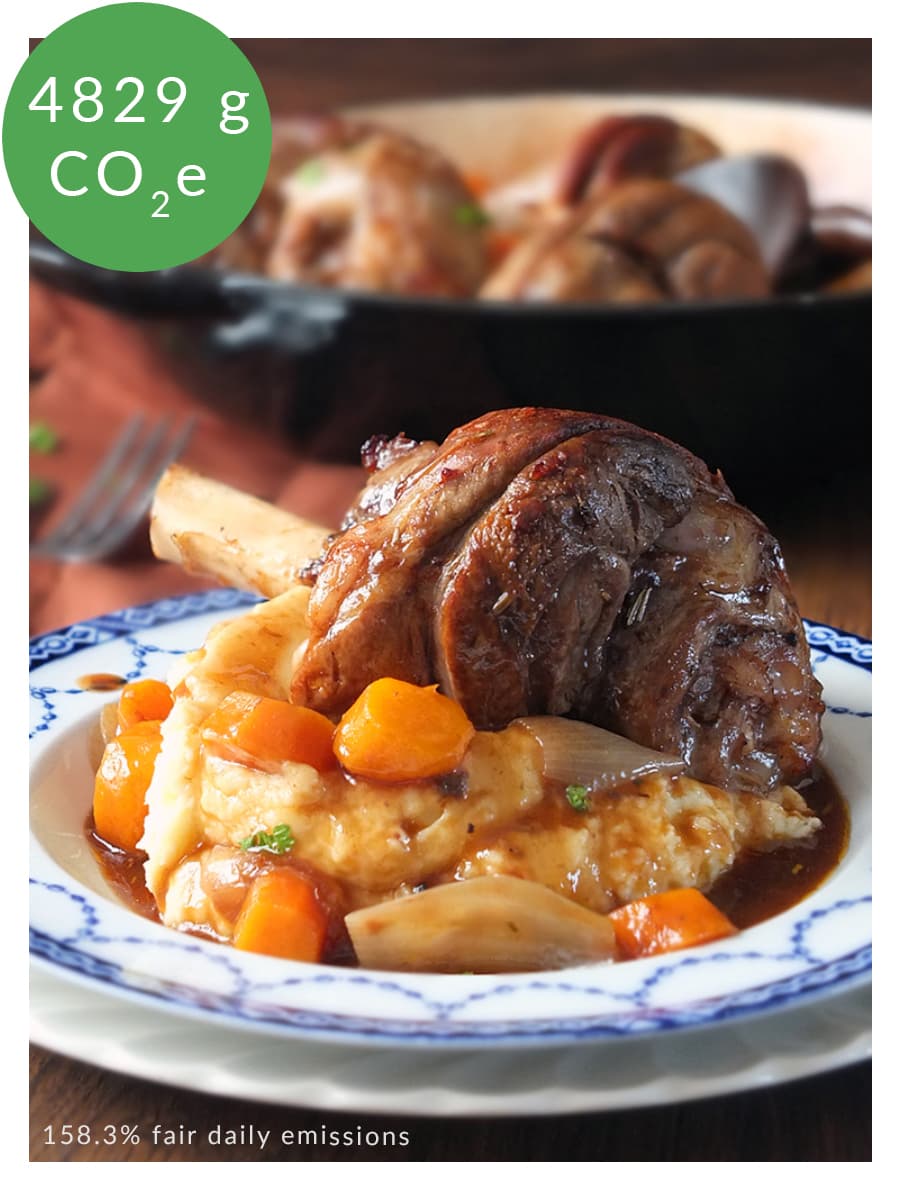 Do you have any tips for reducing the environmental impact of our diet?
The best thing you can do is to reduce your consumption of meat, or any animal-based products. Over their lifestyle, animals emit a very high amount of methane (usually through burping). Methane is over 80 times more potent than carbon dioxide.
The next best things you can do is reduce and avoid food waste – it's estimated that 25% of all food is wasted, which correlates to a whopping 6% of total global greenhouse gas emissions!
Finally, eating seasonal food is also usually much better than eating out-of-season food, which has higher emissions from having to artificially create the right environment.
Anything else you'd like to add?
Only that we're still at the start of our journey, and if you have any ideas or ways we can use the values, or want to use them yourself, then we'd love to hear from you!
Get carbon labels for your recipe website
It's really easy to do – simply visit My Emissions and sign up! Matt and Nathan do all the hard work for you with regards to integrating their affordable carbon footprint label into your blog theme and recipe card, and they're super pleasant to deal with too. They're rather likeable young chaps, they are!
Alternatively, if you want to check what the carbon footprint of a recipe or ingredient is yourself, use their handy food emissions calculator.
Spread the word! Pin this post!
This is not a sponsored post. I am paying My Emissions for their valuable services as it's something I believe strongly in. However, if you do sign up with them via Elizabeth's Kitchen Diary we will earn a small commission (which in turn will help me pay them for their continued work!).